PENNANT ONE: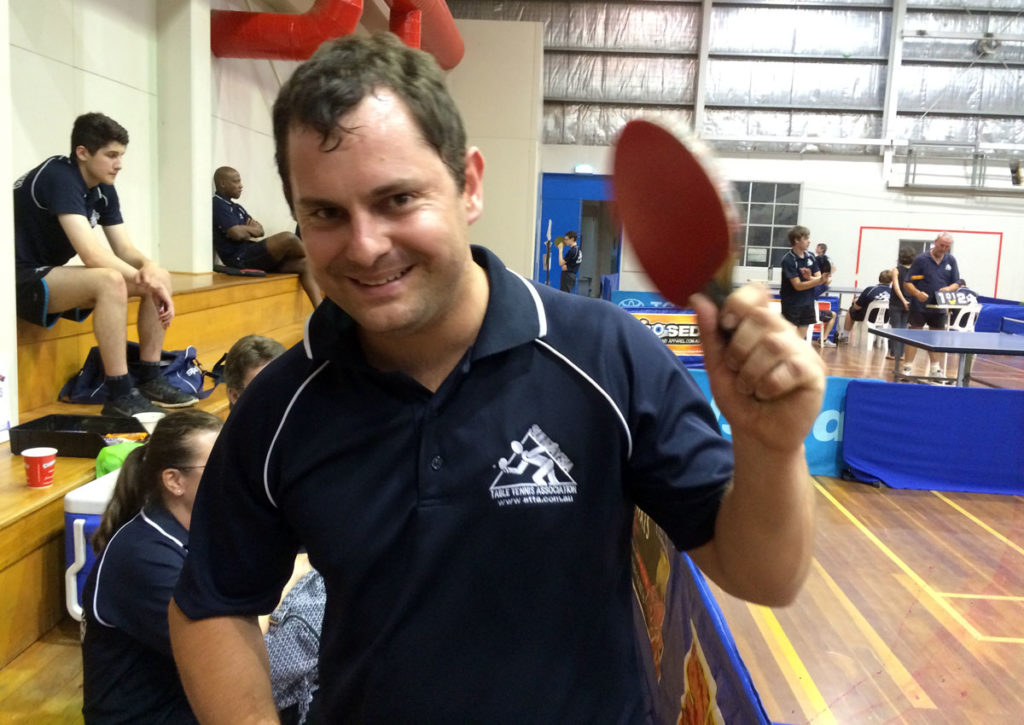 After a two week Covid break Table Tennis has returned with round twelve matches. Three intriguing match ups resulted in some excellent table tennis and final score lines. Second played third and fourth played fifth while top team Tankard Dental played the winless Exposed Signage who have been threatening victory in the past few rounds.
– Cookes Pools & Spas 6 (Joel Thomas 3, Leon Brown, Lee Leeson 1) d Mallee Bearings 5 (Wayne Carmichael, Jackson Tung 2)
The closest match of the round featured third placed Cookes Pools & Spas who narrowly defeated second placed Mallee Bearings 6-5 in a thriller. As a result Cookes join the Bearings combination on seven wins. Mallee Bearings were able to take control early leading 4-2 courtesy of Wayne Carmichael picking up two singles while Jackson Tung won one of his first two singles and then combined with Carmichael in the first doubles to inflict a rare defeat on Joel Thomas and Leon Brown.
In the remaining five rubbers Cookes took control winning four. At five rubbers all Cookes Lee Leeson was under extreme pressure, after winning the first game comfortably against Russell Walder , Leeson struggled over the next two games winning 7 and 0 points and Walder looked in control. However as she did in the previous before the break Leeson recovered well to win 11-5 7-11 0-11 13-11 11-6 a mighty achievement and an important four points for her team. Her skipper Joel Thomas again won three singles while Carmichael and Tung won two each for Mallee Bearings.
– Regional Taxation Services 8 (Kate Carmichael, Reece Kurrle, Thahn Nguyen 2) d Max Miller Carpets 3 (Nicholas Dorman 2, Jackson Murphy 1)
In a surprise result fifth placed Regional Taxation Services proved too strong for fourth placed Max Miller Carpets winning 8-3 to boost their percentage and now move to within one win of their opponents.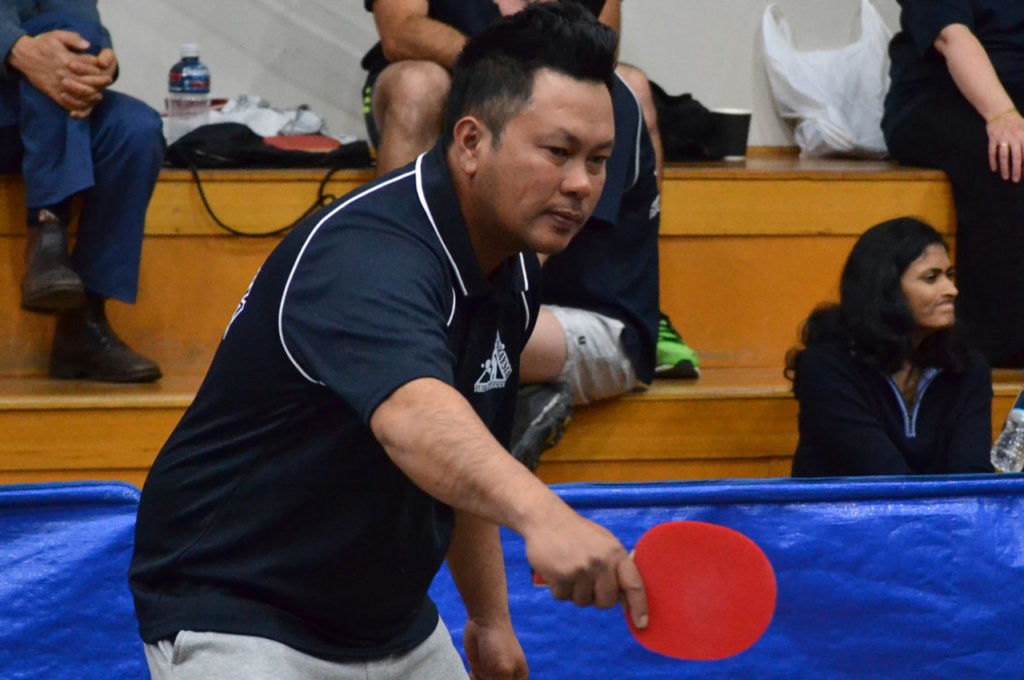 Regional Taxation Services raced to a five nil lead , included in this start were two outstanding wins by Thahn Nguyen and Reece Kurrle in their opening singles. Nguyen in the first match of the night defeated the talented Jackson Murphy in straight sets while Reece Kurrle started on fire against Nicholas Dorman and eventually was able to get over the line in five sets, an impressive win.
In an even display the RTS trio , Kate Carmichael, Kurrle and Nguyen won two singles each as well as tasting success in both doubles.
– Tankard Dental 7 (Matt Ljubic 3, Michael Hensgen 2, Gavin Carmichael 1) d Exposed Signage/Apparel 4 (Kate Carmichael 2, Kevin Johns 1)
Top team Tankard Dental took some time to shake off the winless Exposed Signage team but were able to get over the line 7-4 after the match at one stage was four rubbers all after the second doubles. Tankards Skipper Matt Ljubic continued his good form winning three singles.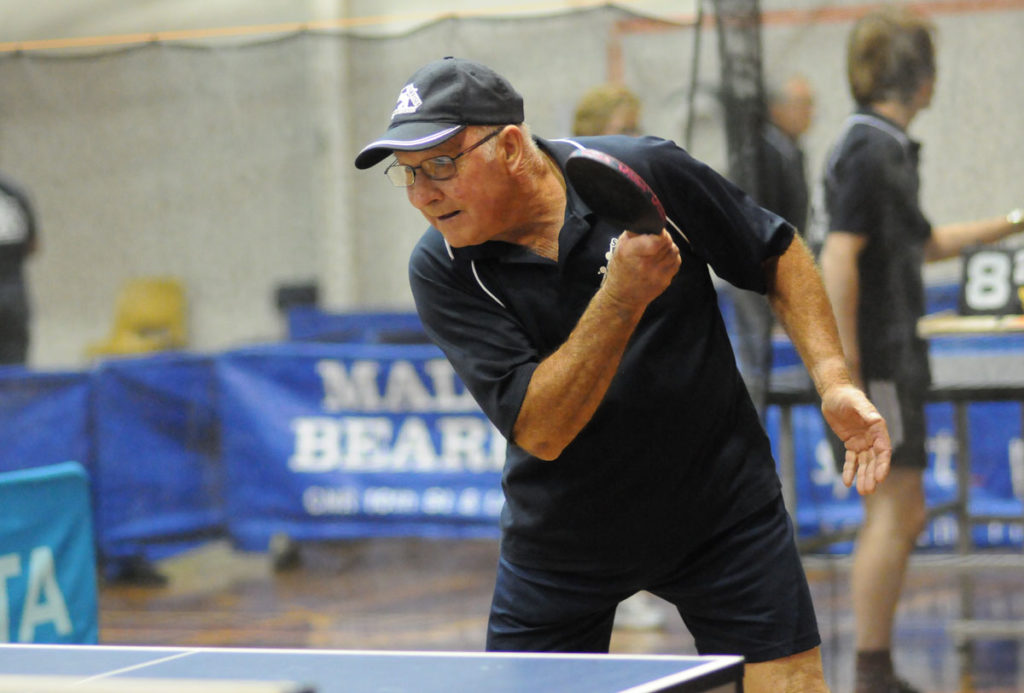 Veteran Kevin Johns played a big part in Exposed staying in the match when he defeated the more fancied Gavin Carmichael in four sets, he then combined with fill in Kate Carmichael in an impressive victory in the second doubles over Matt Ljubic and Michael Hensgen.
For Tankards Michael Hensgen played a key role in victory downing Mark Ljubic in four sets in the first game of the night, later he defeated Kevin Johns in the final rubber enabling Tankards to win the last three singles in a strong finish.
PENNANT TWO:
Just two wins separates the teams placed first to fifth on the ladder, and with another win this week, ladder leaders Cookes Pools & Spas now sit at the head of the ladder one game clear of Pinnacle Packers; Mallee Meats once again proved too strong for Pinnacle Packers, the third time they have beaten Peter Midgley's team this season; and one time ladder leaders MJM Automotive arrested their two game losing streak with a comfortable win against Weightmans Packaging.
– Cookes Pools & Spas 6 (Ashley Morrison 3, John Fitzpatrick, Rohan Reimers 1) d Max Miller Carpets 5 (Paul Kealley, Casper McCarthy 2)
A strong performance from Cookes Pools & Spas captain Ashley Morrison ensured he stayed at the top of the aggregate ladder with three singles wins in this match.
Morrison had good support from team-mates John Fitzpatrick and Rohan Reimers, who both won one singles rubber, and with Reimers, Morrison defeated the Max Miller Carpets duo of Paul Kealley and Andrew Kremor in a topsy-turvy five set contest 11-4, 6-11, 11-4, 5-11, 11-2. This doubles duo is almost unbeatable this season, having won nine of their ten matches thus far.
Max Miller were in the contest right to the end, thanks to two singles wins by both Paul Kealley and Casper McCarthy, and together they pulled off a minor miracle in the first doubles coming back from two sets to love down to defeat Morrison and John Fitzpatrick 7-11, 6-11, 15-13, 13-11, 11-6.
With the scores at 5 all, the two number three's decided the fate of the encounter, Rohan Reimers downing his opposite number Andrew Kremor.
Final scores: 6 rubbers to 5 and 24 games to 18.
– Mallee Meats 6 (Terry Martin 3, Quentin Clark 1) d Pinnacle Packers 5 (Peter Midgley, David Sergi 2, Raymund Manzanares 1)
Mallee Meats recorded their sixth win for the season in this match, and in so doing defeated their opponents here Pinnacle Packers for the third time. Although Mallee Meats are in third spot on the ladder, it looks a bit tenuous, as the teams below them have a better percentage of rubbers and games, and there are still five matches to go.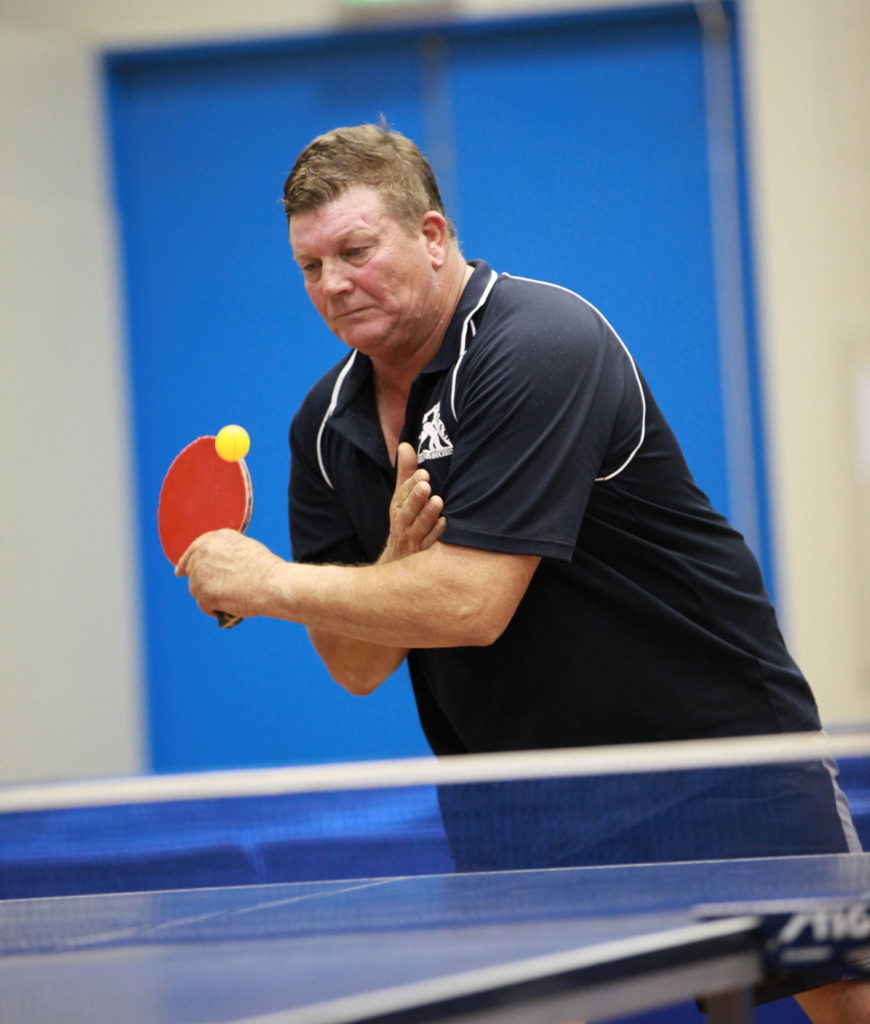 Still, this was a fair performance from Terry Martin's team. In winning three singles rubbers, and one doubles encounter, Martin had a strong night. Martin played a lot of table tennis in this round – three five setters, a four set contest, and one of three sets. After being worked over by
Raymond Manzanares in the second round of singles, in a match where it looked like he had lost his way (then winning 11-7, 11-6, 9-11, 8-11, 11-4), Martin again proved his mettle against Pinnacle Packers captain Peter Midgley with another five set win. Earlier he and Quentin Clark won a hard-fought five set doubles contest against Midgley and Manzanares. Later he teamed with Peter Fitzpatrick to take the second doubles rubber against Manzanares and David Sergi to square the game at four rubbers all at that stage.
Pinnacle Packers kept themselves in the match … captain Midgley and number three David Sergi both won two singles rubbers, Sergi in particular played well. He soundly defeated Quentin Clark in straight sets, and had an entertaining five set match against Peter Fitzpatrick in what was effectively a dead rubber, the match having being decided. None-the-less it was played as though the outcome depended on it!!
The difference between the two sides was the doubles, both were keenly contested (one five sets, the other four), and both of them going to Mallee Meats.
Final scores: 6 rubbers to 5 and 22 games to 23.
– MJM Automotive 7 (Dylan Wood 3, Jeremy Corrin 2, Marcus Cimino 1) d Weightmans Packaging 4 (Jason Gifkins 2, Andrew Jones 1)
MJM Automotive were at the top of the table just three rounds ago, but with the closeness of the competition, after a two-match losing run, went into this round in fifth spot.
Although playing bottom side Weightmans Packaging, MJM Automotive needed a win to keep their finals hopes alive. Also both captains were joint leaders (along with Ashley Morrison) of the aggregate, so that was about to change.
In the event, MJM Automotive won comfortably, captain Dylan Wood winning three, Jeremy Corrin two, and Marcus Cimino one. Wood and Corrin took the first doubles against Jason Gifkins and Andrew Jones in four sets, and came close in the second doubles, but Gifkins and Steve Pongrac took that against Wood and Cimino. It is interesting how the doubles pairings go … take this match for example. Weightmans Packaging's Steve Pongrac has won just one singles rubber for the year, but he and Gifkins have won four doubles (from eight played together). On the other hand, Marcus Cimino from MJM Automotive has had a good year, winning ten singles rubbers, but he and Dylan Wood have only won in doubles twice (from nine played together).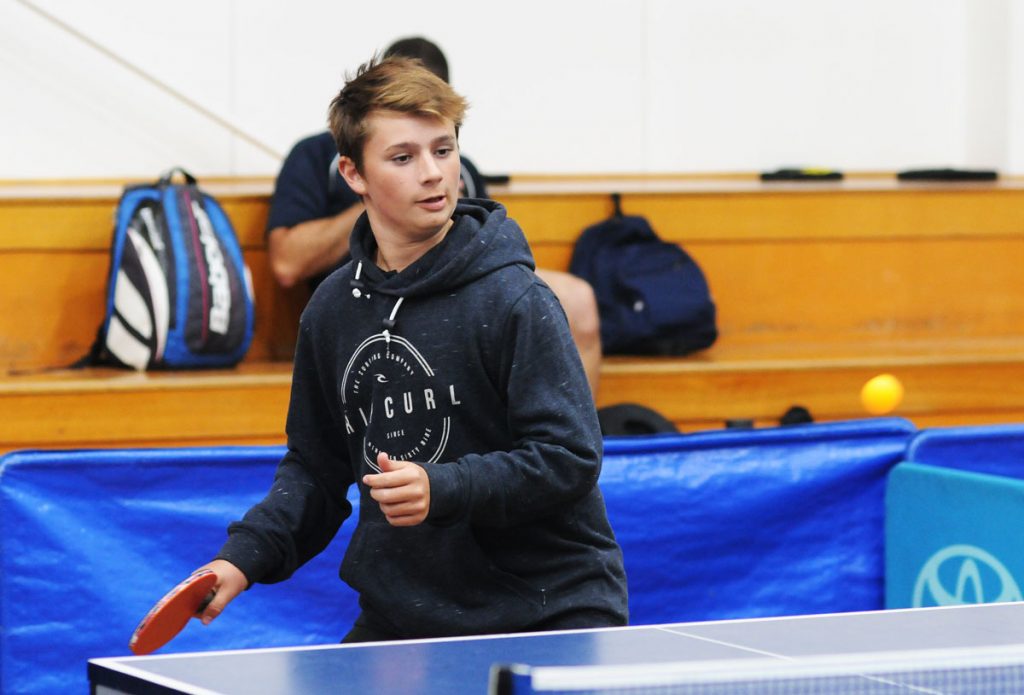 In taking his three singles rubbers in this match, Wood remains at the top of the aggregate (now with Ashley Morrison only), and Gifkins is now a game behind. With just five rounds remaining, it is these three who will fight for the aggregate award.
Final scores: 7 rubbers to 4 and 23 games to 18.
PENNANT THREE:
MJM Automotive avenged their loss against Mallee Meats in the last match before the recent statewide COVID lockdown; and Weightmans Packaging had a comfortable win against Sammy's Slammers.
– MJM Automotive 6 (Isaiah Bettess 2, Nick Kiapekos, Sabrina Fitzpatrick 1) d Mallee Meats 5 (Therese Fitzpatrick 3, Ryan Hensgen, Jamie Kealley 1)
MJM Automotive snuck home against Mallee Meats in this round.
Captain Sabrina Fitzpatrick and number two Nick Kiapekos both had a quiet night, winning just one singles rubber each, Sabrina downing Jamie Kealley who was filling in for Ben Hosking, and Kiapekos getting the better of number three Ryan Hensgen. Their number three Isaiah Bettess performed better than his other team mates, picking up two wins.
Mallee Meats performed better, captain Therese Fitzpatrick again winning all her singles matches, Jamie Kealley, a junior player by the way, winning one, and number three Ryan Hensgen one also. Hensgen has played every match this year, and of the ten played so far, he has been called upon to play the decider seven times, winning five. This game was no different, Ryan just failing to get the job done against Isaiah Bettess, losing in five sets.
What got MJM Automotive across the line was the winning of both the doubles rubbers – Sabrina Fitzpatrick and Nick Kiapekos won in five sets against Therese Fitzpatrick and Jamie Kealley, and later Sabrina and Isaiah Bettess defeated Therese and Ryan Hensgen in five, again. With the chance to equal the scores at 4-4, Mallee Meats gave it their all in this encounter, coming back from two sets to love down, only to lose 11-13, 8-11, 19-17, 11-6, 6-11.
Final scores: 6 rubbers to 5 and 22 games to 21.
– Weightmans Packaging 7 (James Jarvis, Karly Leach 3) d Sammy's Slammers 4 (Huseyin Ismail, Dave Tanner, Brian White 1)
James Jarvis and Karly Leach led Weightmans Packaging to a comfortable win against bottom side Sammy's Slammers in this encounter.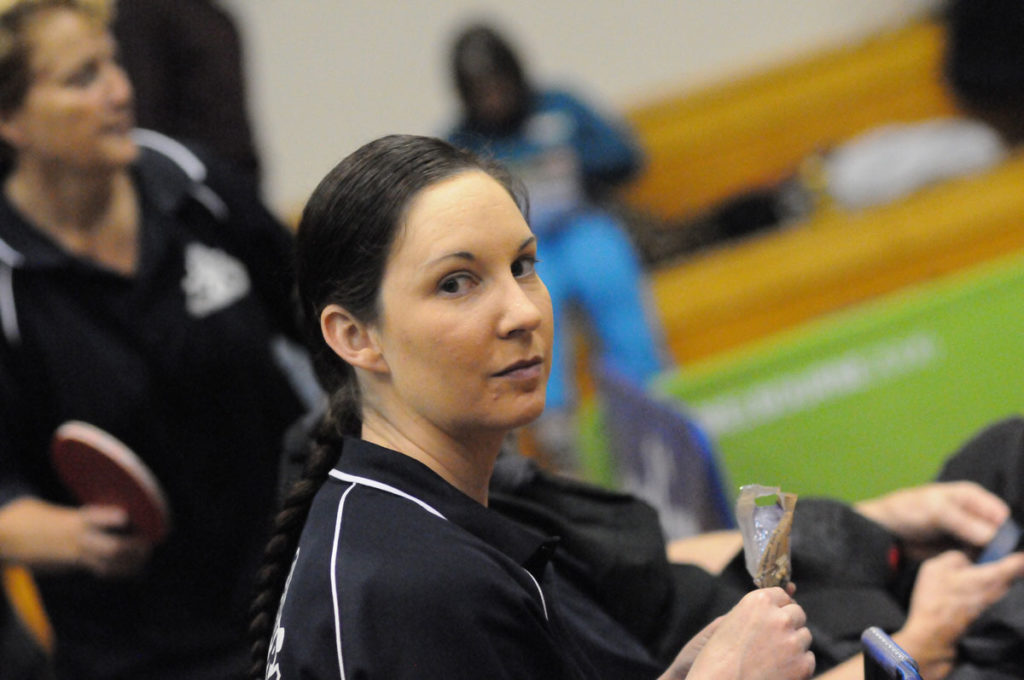 Jarvis and Leach each won three singles rubbers, and together they won the second doubles rubber against the Sammy's Slammers pairing of Huseyin Ismail and Brian White in four sets.
The Sammy's Slammers trio picked up three wins, all of them defeating fill-in Declan Brown, a junior. Dave Tanner crept across the line in his match with Brown, needing five sets to get the better of the youngster 7-11, 11-7, 7-11, 11-9, 11-8.
Ismail and Tanner won the first doubles rubber too, this is four sets against Jarvis and Brown, at that stage making the score 2 rubbers all.
Although beaten here, tis side looks more settled now, probably because captain Huseyin Ismail is back, and no doubt they are looking for a strong end to the season.
Final scores: 7 rubbers to 4 and 24 games to 19
PENNANT FOUR:
After a two-week hiatus, we are back hitting again with this match being played during the unusual timeslot of Monday night.
Dunkley Scales 7 (Wendy Simpson, Ildi Healy, Phuong Hung Nguyen 2) defeated MJM Automotive 4 (Nhat Dat 3)
The last time these two teams played it was MJM Automotive winning 6-5 with Garry Tanner firing on all cylinders. Unfortunately, for MJM, Tanner was not available for this round and Dunkley Scales took full toll on his omission. In an even team display Dunkley's trio of Wendy Simpson, Ildi Healy and Phuong Hung Nguyen all contributed two singles wins for their team. For MJM, Nhat Dat showed his best form of the season with three singles victories; however, his teammates tried hard but were unable to contribute on the scoreboard.
Phuong Hung Nguyen featured in three great matches during the night. Firstly, he took on Tom Gilmour (filling in for Garry Tanner) who is the only player in this Pennant to have played every match so far this season. Nguyen got off to a great start taking the first set 11-4 before Gilmour dug in and claimed the second 11-9. The third was a repeat of the first as Nguyen landed some heavy blows to win the set 11-3. To Gilmour's credit, he upped his defensive game and sent the match into a deciding set winning the fourth 11-9 with some lengthy and entertaining rallies on display. During the fifth set Nguyen again found his range as he blasted a few missiles past Gilmour's defences to claim the set 11-7 and in doing so got his team off to the perfect start.
In our second feature match of the night Nguyen took on Nhat Dat. The first set was punctuated with heavy top spin rallies with Nguyen being the most consistent of the pair in taking it 11-6. Nhat looked in early trouble if this trend was to continue. During the next three sets it was noticed that Nhat changed his tactics that upset Nguyen's attempts at blasting top spin shots past him. In doing so Nhat claimed these three sets 11-8. 11-6, 11-8 and a much-needed win for his side. Later Nhat would continue his great form in defeating Wendy Simpson for the first time in four entertaining sets 12-10, 6-11, 11-4, 11-5.
The last match of the evening saw Nguyen play Maria Starikov. Starikov is building a reputation as being like a brick wall as her defensive game has improved out of sight. Nguyen would find out first hand as he tried his best in the first set to blast through 'the wall' but fell short as Starikov took the first set 11-7. Nguyen had more success in the second set taking this 11-3 but a titanic struggle ensued during the third set. With the game on a knife's edge at one set all and 11 all Nguyen played some great points to take the third 13-11 and continued this momentum into the fourth set to take this 11-7 and the match.
Overall a very good win for Dunkley Scales 7 games to 4 (26-16) against a very competitive MJM Automotive outfit. Well done to players in coming out on a Monday night to play this game given the short notice received to get this match completed.