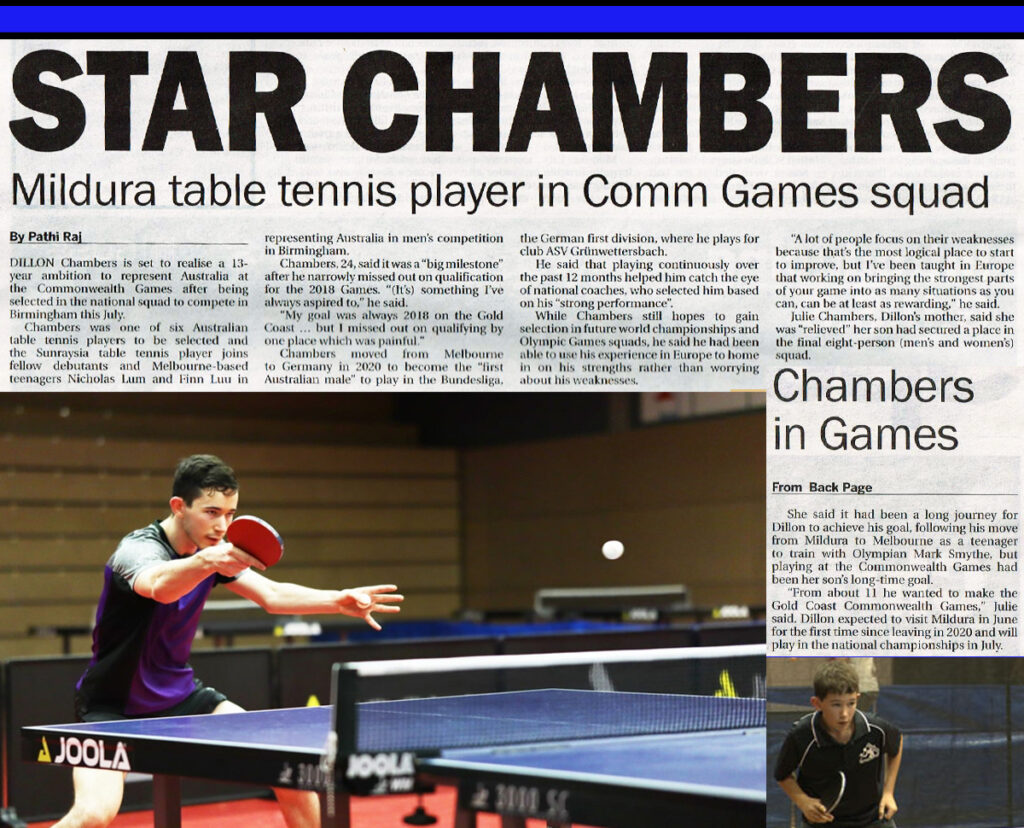 Grand Final Thriller – King Ritchie on fire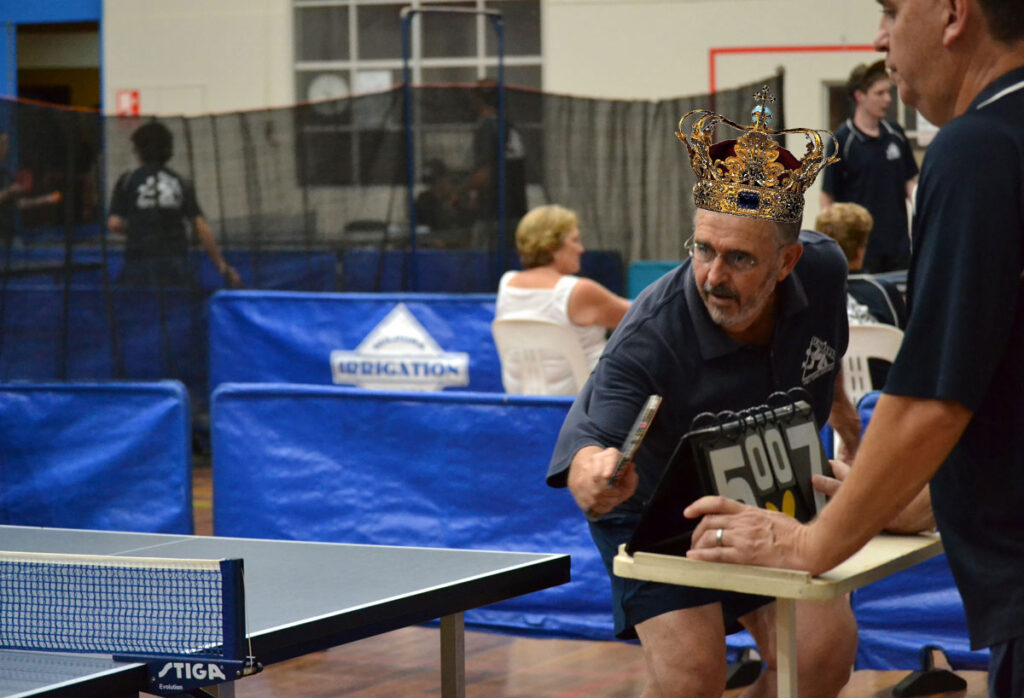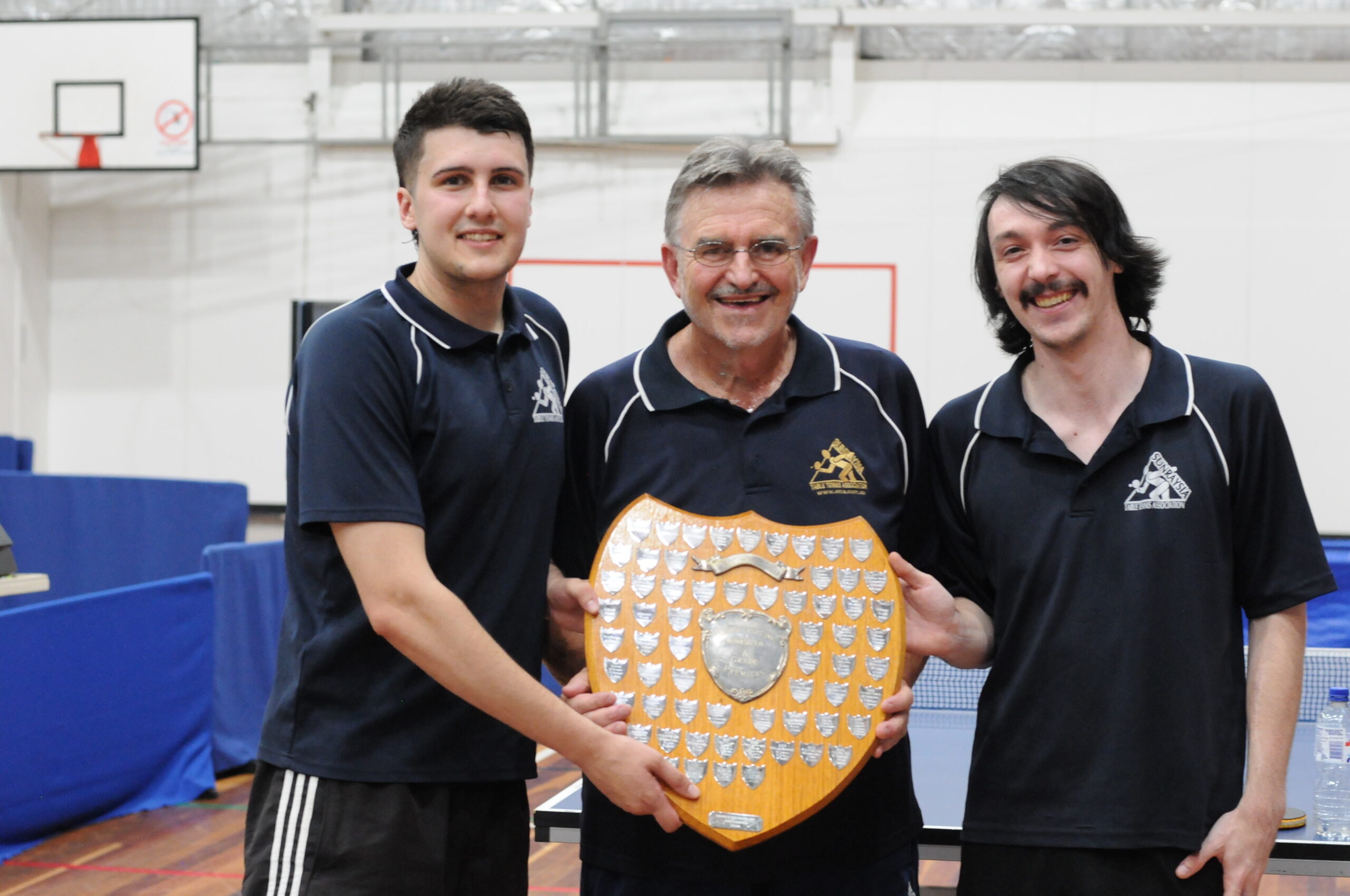 GRAND FINAL
Tankard Dental are the premiers of the Sunraysia Table Tennis association after accounting for Mallee Bearings 6-4 in a tense and exciting finale to the longest season in STTA history.
After such a long hiatus , anything was possible in the final. With players having little competition play over the past three months how would the games pan out and what surprises would there be?
A surprise early did eventuate. In years past the Carmichael brothers have had some classic encounters – with these battles taking place later in the night after the second doubles and with Wayne having the numerical advantage over Gavin. The first surprise of the evening was Mallee Bearings Wayne and Gavin strolling out in the third game of the evening – maybe a tactical decision?
In a tense first set both players set about setting a high standard of play with Gavin being a little more adventurous with his attacking shots to take the first set 12-10. Gavin kept the pressure up in the second set grabbing this 11-5 to lead two sets to love – a position that he has enjoyed before against Wayne but without going on with the job. This time there would be no stirring comeback from Wayne as Gavin coolly diffused the vicious top spin attacking shots from his brother to claim the third 11-8 and the match in straight sets.
Prior to the Carmichaels' singles match Jackson Tung for Mallee Bearings scored a straight sets win over Tankards number three Michael Hensgen , followed by Tankards levelling the scores when skipper Matt Ljubic accounted for Russell Walder. The score line after the first block of three singles was 2-1 in Tankards favour.
All of a sudden the first doubles was crucial, victory to Tankards would allow them to take a hold on the final. The Mallee Bearings pair of Wayne Carmichael and Jackson Tung had proven tough opponents for Tankards Matt Ljubic and Gavin Carmichael throughout this pennant and this match was to be a close tussle right throughout.
In the fourth game Tankards enjoyed a two games to one advantage and a 10-8 lead, they were on the verge of leading the grand final three rubbers to one, however Bearings pair Wayne Carmichael and Tung clawed their way back to win the fourth, Tankards squandering two match points. The Tankard pair trailed late in the fifth and then bounced back and this time held a third match point only for Mallee Bearings again denying them victory. A very brave win by Wayne Carmichael and Jackson Tung in the closest score line possible. What a five setter 7-11 12-10 9-11 12-10 14-12.
The scores were now two rubbers all. The next block of three singles went as expected with Tankards winning two, however as he usually does Bearings Jackson Tung placed extreme pressure on the second best performed player in the STTA , Matt Ljubic. These two played out many fine long rallies before Ljubic was able to win a hard fought four set match.
Going in to the second doubles Tankards took a 4 rubbers to 3 lead.
Mallee Bearings pair Wayne Carmichael and Russell Walder were out of the blocks early taking the first game , Tankards Matt Ljubic and Michael Hensgen then were able to steady combining well over the next three games, Hensgen played some of his best table tennis for the season as Tankards closed out the match 9-11 11-8 11-7 11-3, a strong finish and the lead now extended to five rubbers to three.
With Mallee Bearings now needing to get on a roll and win all remaining matches skipper Wayne Carmichael would need to produce the goods against Matt Ljubic. These two players have enjoyed playing each other over the last five years and Carmichael would need to be at his best to keep his team in the contest. In a high-class match, featuring some unbelievable rallies the crowd was not disappointed as again we were going to a fifth set. Carmichael started the fifth better taking the lead 9-5 before Ljubic rallied to get close – but not close enough as Carmichael went on to win 11-9 in a brilliant match. This was the match of the night with both players outstanding and Carmichael recovering from one game to two deficit , the final score line indicating how close 11-9 11-13 9-11 11-9 11-9.
Tankard Dental's lead was now reduced to 5-4.
The next match featured Tankard's Gavin Carmichael up against Jackson Tung. These two have had some very close matches during the season and a winner would be hard to pick. In a hard fought match, Carmichael took the first set 11-8 before Tung started to find his range. With the tide turning in the second set it seemed that Tung had the ascendency. Carmichael kept chipping away and with his customary staunch defence just hung around and snatched the second set 13-11. A similar pattern would unfold in the third set with Carmichael trailing before rallying late to again put Tung under unbelievable pressure with Tung finally relenting and Carmichael taking the set 13-11 and in doing so Tankard Dental were premiers in what had been an eventful and memorable final .
It would be fair to say that Gavin Carmichael with his three singles wins was the difference between the teams. For Tankard Dental skipper Matt Ljubic had enjoyed a successful season finishing runner up in the singles aggregate. For Ljubic this was his third premiership in pennant one , a great achievement for such a young player. In a short career at this level , this was Michael Hensgen's first grand final success. Hensgen had stepped up and played a vital role in the last two finals of the pennant. For Gavin Carmichael this victory, his fifth grand final win ended a seventeen-year Winter Pennant drought, his last success way back in 2004.
The Mallee Bearings trio of Wayne Carmichael, Jackson Tung and Russell Walder were not disgraced and had played very consistently all year.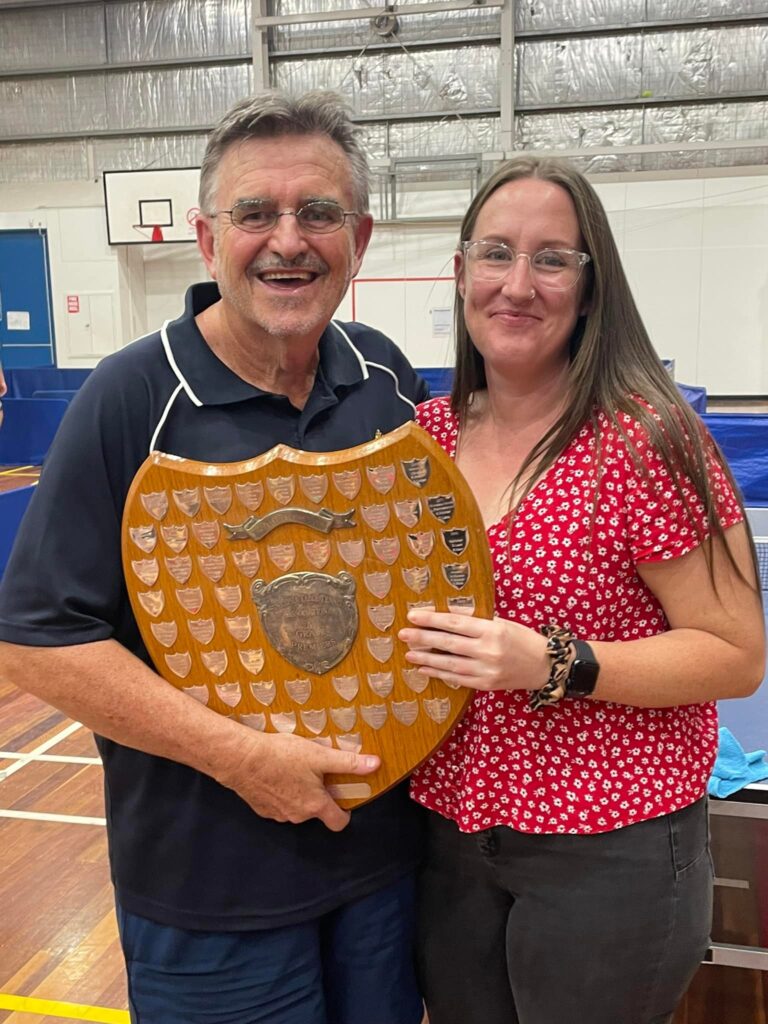 AGM News
The Annual General Meeting of the Sunraysia Table Tennis Association was held on the 13th August, 2021 at the Sacred Heart Tennis Clubrooms. It was a great relief to have the meeting, as it had been postponed three times due to COVID-19 lockdowns and restrictions.
President Mark Dorman presented his report on activities for the last twelve months, and also the highlights of his time as president and committee member of the S.T.T.A., as he was stepping down from both positions. Mark has been involved with the running of the association since about the age of 15. Also stepping down was Treasurer Chris Carmichael, who was also finishing a term as treasurer of close to 30 years. Both these tireless workers will be missed, although they have not cut ties completely, and are only a phone call away!!
The composition of the committee is therefore the most changed for some time.
Peter Fitzpatrick, Vice-President since 2018 was elected President, Mark Ljubic returns as Vice-President, and Sabrina Fitzpatrick has taken on the role of Treasurer. No Assistant-Treasurer was appointed, although it can be imagined that Sabrina's husband, Peter, will be co-opted to that position!! Gavin Carmichael remains in the position of Secretary.
Three General Committee members were appointed – Terry Martin, Wayne Carmichael and Russell Walder.
We all look forward to an upcoming successful twelve months.
https://www.tabletennis.org.au/home/
TABLE TENNIS AUSTRALIA AUSTRALIAN YEARLY TOP 10 RANKINGS – SENIORS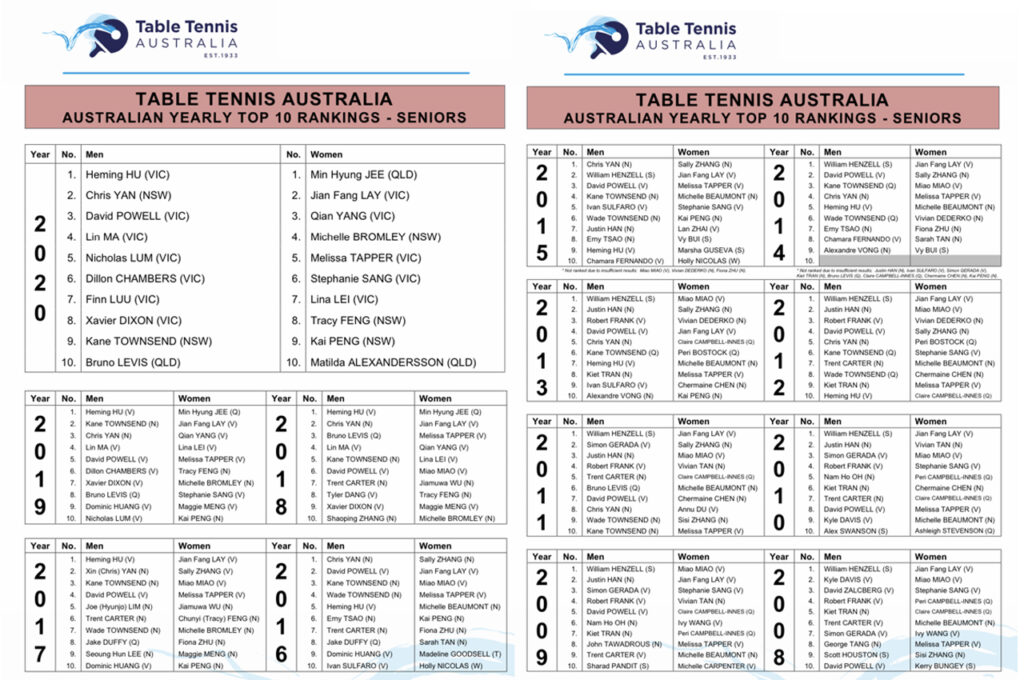 https://cdn.revolutionise.com.au/cups/tta/files/x86rltxxkzblajlj.pdf
28 July 2021
Lay's winning streak stops in the third round of Women's Singles
Jian Fang Lay could not keep her winning streak alive and bowed out of the Olympic table tennis Women's Singles tournament after losing to no.12 seed and 3-time European champion Ying Han of Germany in the third round.
At the end of an exciting match, Han defeated the 48-year-old Australian in straight games (11-9, 11-9, 11-7, 11-8) to clinch a spot in the round of 16.
The result tells only half of the story, as Lay was first off the blocks with an impressive 5-0 start and kept the lead for most of the first game. The German – an Olympic silver medallist from the Team event at Rio 2016 – didn't lose her composure and slowly clawed her way back. She was already within striking distance when a controversial referee decision on a ball that hit the side edge of the table favoured her, much to Lay's dismay. Han took the opportunity to take control of the final rallies and wrap the first game.
The match continued to be fought point for point in the second game, with the two opponents still locked at 9-9. Once again, Han kept her nerve in crunch time to edge Lay 11-9 and win the game, before taking the third in stride.
Lay did not go down without a fight and tried to mount a comeback in the fourth set. She steadily built a lead in the early rallies and looked like she could get a game back when Han scored eight consecutive points to close the contest with her first match point.
Had she won, Jian Fang Lay would have achieved the best result ever for an Australian in the Women's Singles event at the Games, a record she had already tied by qualifying for the third round.
After the match, Lay was very disappointed and said it will take time to appreciate her good result in Tokyo.
"In the first game, I still had a chance. But in the end, I just tried my best. I wanted to get a good result and make my team proud," Lay said.
Head coach John Murphy said table tennis fans can expect some more greatness from Jian Fang Lay.
"From an Australian perspective, we know what Jian can achieve," he said. "We knew coming here that if anyone was going to have big results, that was going to be Jian.
"We are a bit disappointed as I concur with Jian that this was a match that she could win, but when the competition is over we will reflect on her very good result.
"We know that Jian has got more in her. Whether it's going to be at the Commonwealth Games, or at the Olympics again, this is definitely not the end of the road for Jian in terms of big results," Murphy said.
If she qualified for the 2024 Olympics, the Paris Games would be Lay's seventh – tying an all-time record for table tennis.
"I have no idea about that. It's too far away. Four years ahead, a lot can happen," Lay said.
The Tokyo Games are not over for Jian Fang Lay, as she will take to the court again on Sunday 1 August alongside teammates Michelle Bromley and Milly Tapper. Lay and Han might face off again as Australia takes on no.3 seed Germany in the round of 16 of the team event.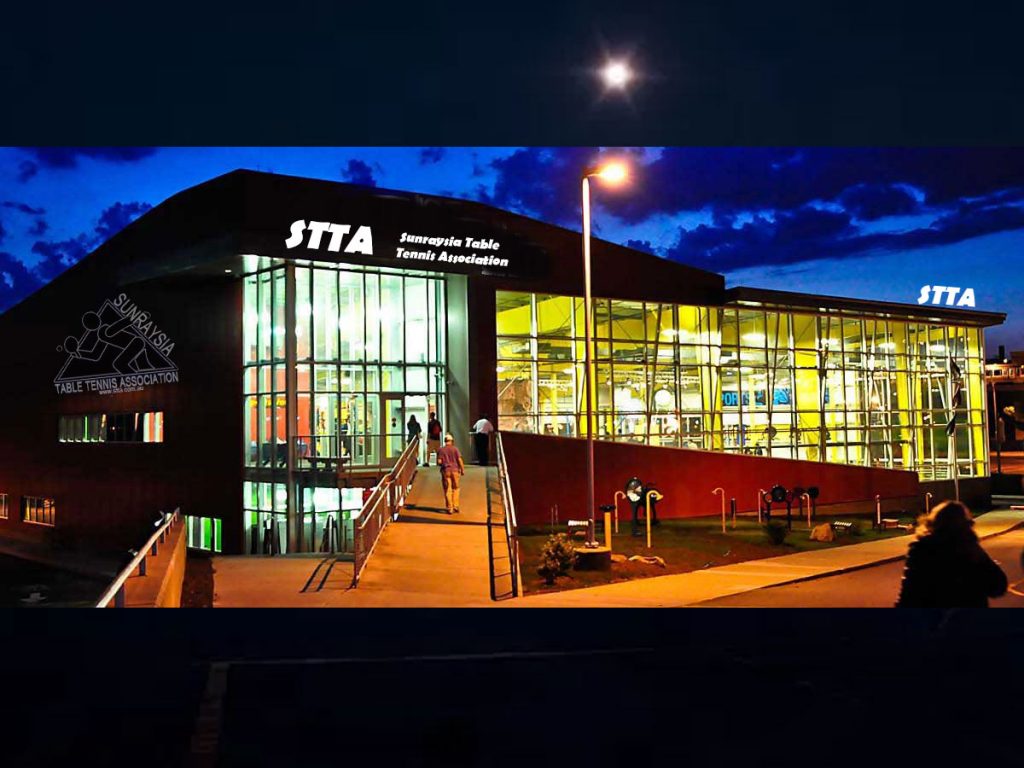 **********************************************************************
STTA 2009 Master Video
https://www.youtube.com/watch?v=9UY7i4JLJSU
STTA 2008 Grand Final Video
https://www.youtube.com/watch?v=ab4WK-VXoPs&t=127s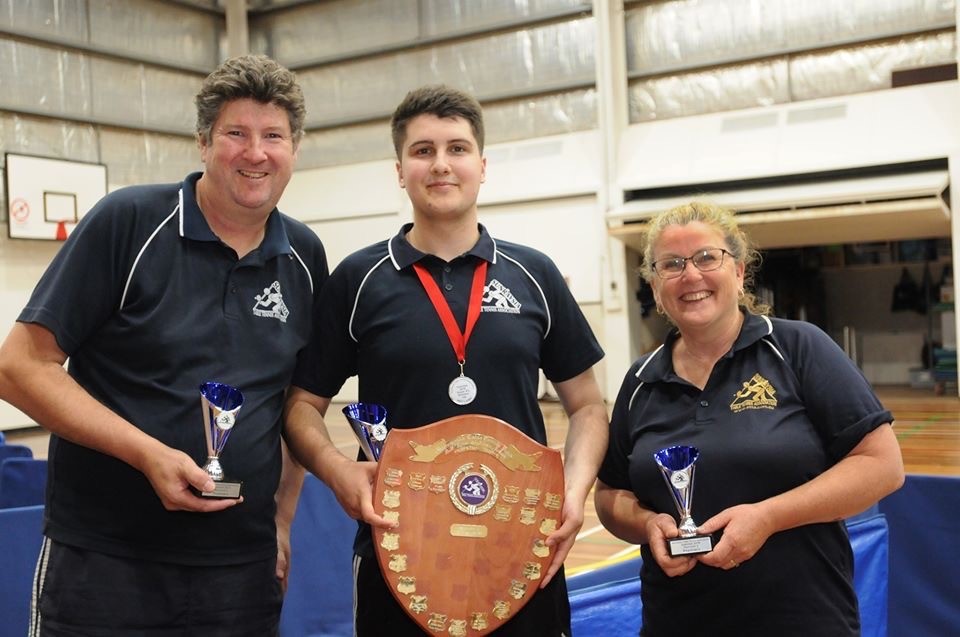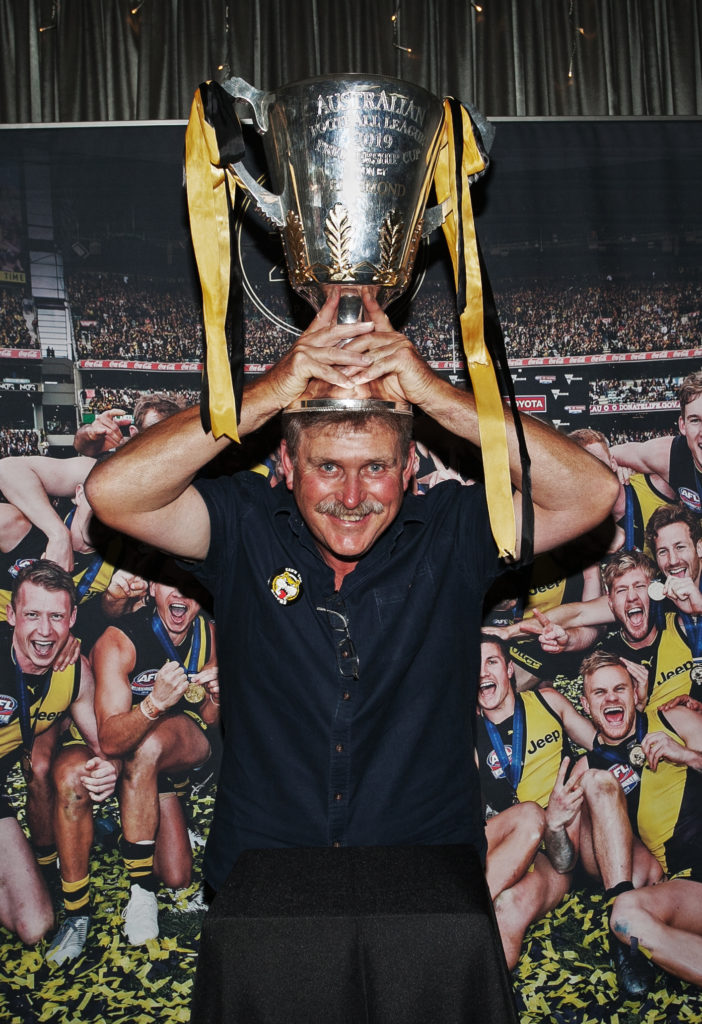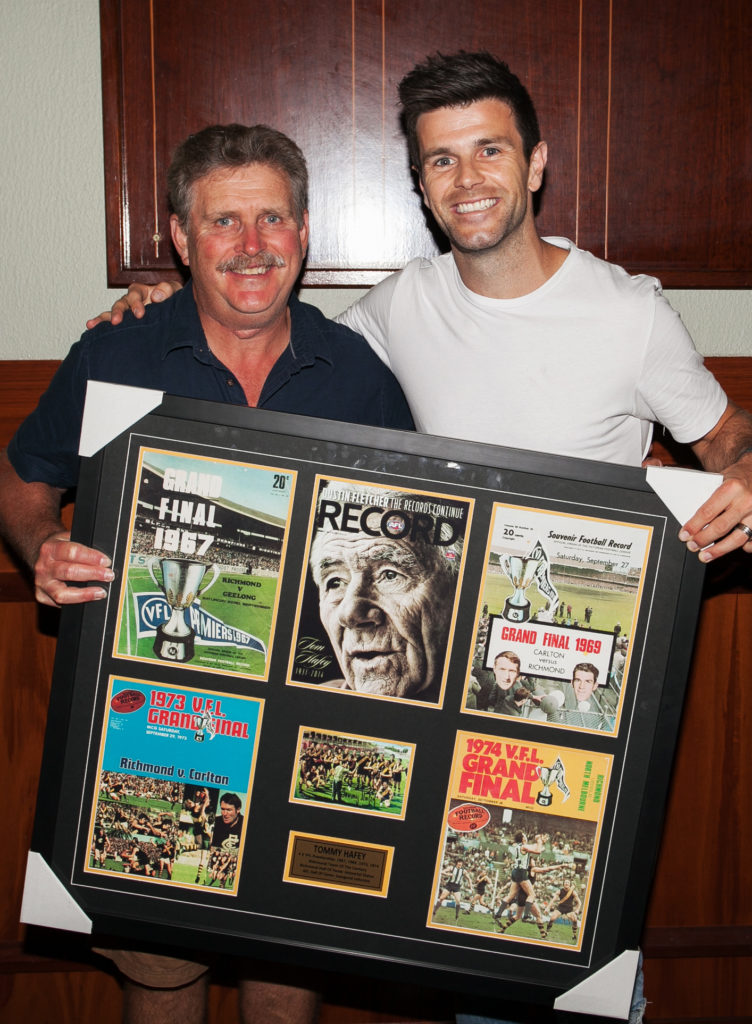 Rnd 10 – Player in Focus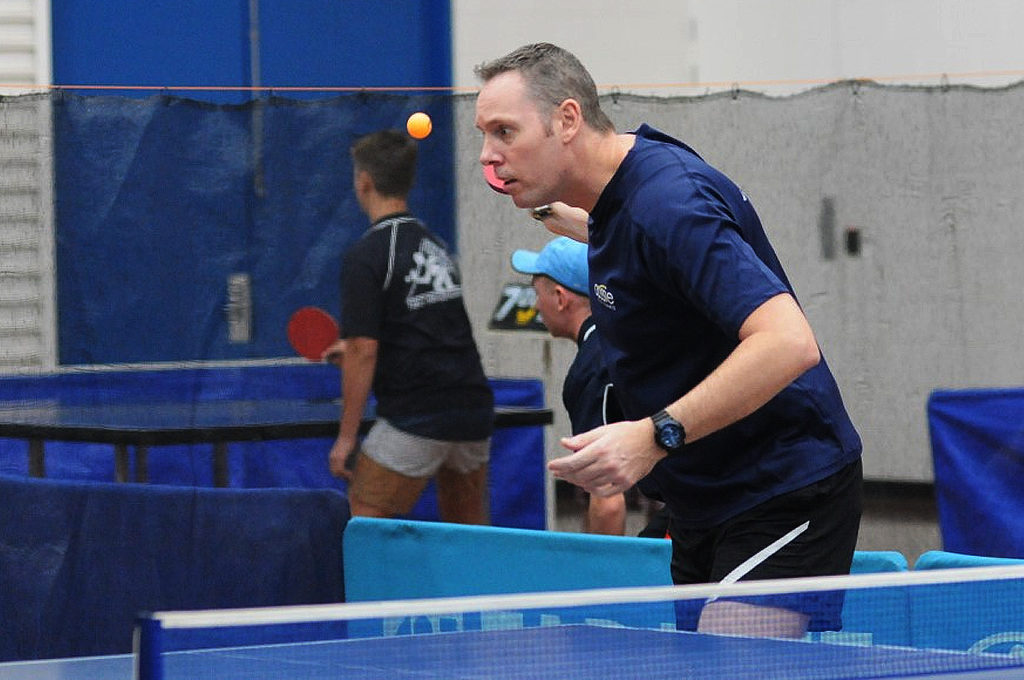 Rnd 9 – Player in Focus