Read Time:
13 Minute, 14 Second
PENNANT ONE:
Round ten matches of the Sunraysia Table Tennis senior pennant produced the most one sided results of the season.

One sided round
First defeated second, Joel T 3 singles, Reece 2
fourth defeated third to go to third , Nicholas and Kate 3 each, first loss for RTS in 6 rounds
6th defeated fifth to go to fifth
Shannon Bowen and Jackson Tung 3 each, is this the start of their march,
Cash Converters first win in 6 rounds…
– Mallee Bearings 7 (Joel Thomas 3, Reece Kurrle 2) d Max Miller Carpets 4 (Phil Smith 2, Gavin Carmichael, Ed Hung 1)
Ladder leaders Mallee Bearings and Max Miller Carpets fought out the closest match with top team Mallee Bearings winning 7-4 and now opening up a two game break on their opponents. Number one player Joel Thomas after a rare loss last round bounced back to control this match cruising through his three singles and then partnering Reece Kurrle and Lee Thomas to win both doubles.
Thomas received good support from Kurrle who won two singles in what was a good result for him. His defeat of Gavin Carmichael in four sets helped his team to victory.
The best match was left to last when Carpeters Ed Hung outlasted Lee Thomas in a marathon five setter which went right down to the wire in Hung's favour 10-12 12-10 11-7 9-11 12-10.
– Exposed Signage/Apparel 8 (Nicholas Dorman, Kate Carmichael 3, Leslie Ncube 1) d Regional Taxation Services 3 (Matt Ljubic, Jackson Murphy 1)
In an unusual twist Exposed Apparel pair Nicholas Dorman and Kate Carmichael were outstanding both winning three singles in their strong 8-3 win over Regional Taxation Services who had won their previous five matches. Both Dorman and Carmichael defeated opposing number one Matt Ljubic in four sets and they also teamed together to continue their recent good doubles form.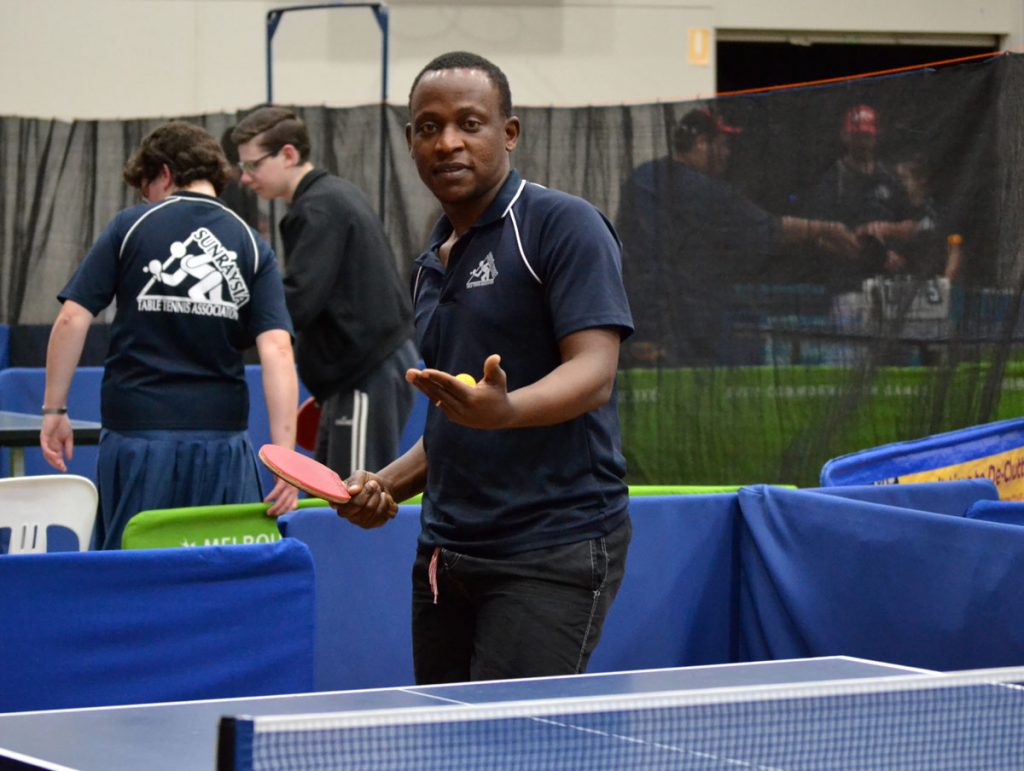 When team mate Leslie Ncube defeated fill in Bernadette Fitzpatrick in the final singles the Exposed trio had enjoyed a percentage boosting win.
– Cash Converters 9 (Shannon Bowen, Jackson Tung 3, Leon Brown 1) d Tankard Dental 2 (Wayne Carmichael, Mark Dorman 1)
Cash Converters after remaining winless in their past five rounds clicked against fifth placed Tankard Dental winning 9-2 an amazing score line given the evenness of the teams. As in the previous match Cash Converters pair Shannon Bowen and Jackson Tung both won three singles , an unusual occurrence which occurred twice in the one round.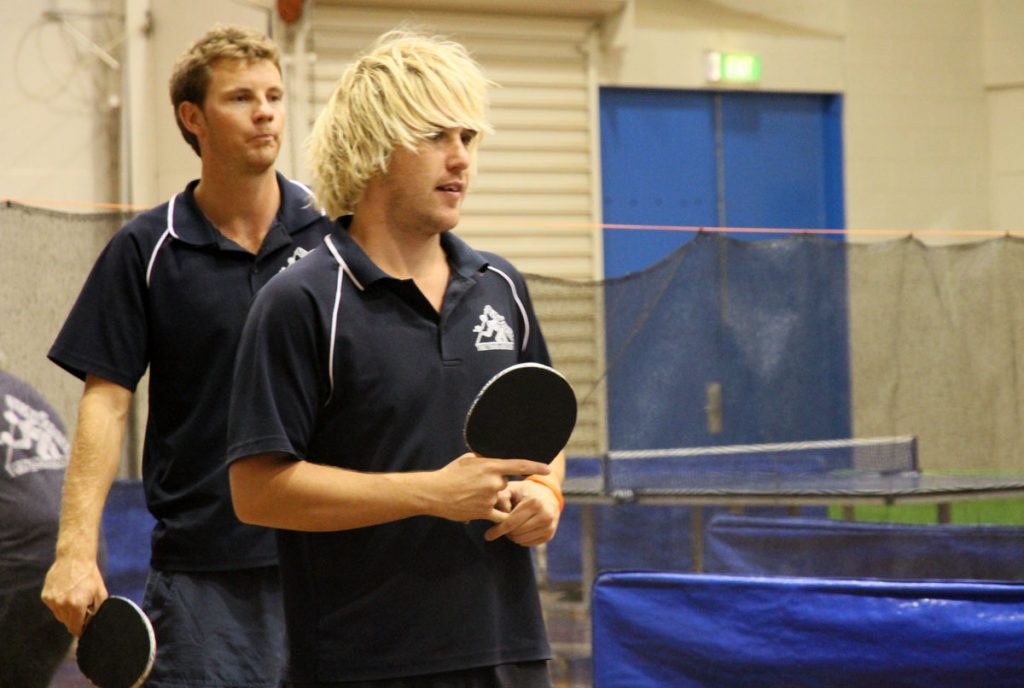 Bowen played as he normally does and was too steady in his three matches for his opponents, while Jackson Tung played outstanding table tennis firstly defeating Wayne Carmichael in a thriller. Tung took the first two games, Carmichael the next two narrowly and the last was point for point with Tung winning 11-9 11-8 10-12 10-12 13-11. Later Tung lost the first two games against Mark Dorman before finishing strongly to win in another five setter.
This win lifted Cash Converters from the bottom of the ladder exchanging places with their opponents albeit by percentage. They sit two games from the four however this win may give them the momentum to make a charge as on paper they have the ability to match it with any team.
PENNANT TWO:
3 x 6-5 results
Thahn and Kev the only 3 game winners in an even round
Three close matches this round, all with a 6-5 result. Hard to believe then, that the top team Max Miller Carpets has won nine matches this season, and the bottom team, MJM Automotive two.
MAX MILLER CARPETS v. WEIGHTMANS PACKAGING
This game was looked forward to with some anticipation as Weightmans Packaging is the only side to have defeated Max Miller Carpets this season. For a while it looked like Kevin Johns and his side might do it again, but fell short, as Max Miller Carpets won five of the last six rubbers to win in the final rubber.
Weightmans Packaging started well, getting away to an early 4-1 lead. Two wins to Johns (including an 11-3, 11-5, 11-9 against Russell Walder) and a stirring five set by Quentin Clark against the explosive Arthur Paar set the scene. Johns and Clark then teamed up to win the first doubles in another five set contest, against Russell Walder and Dylan Wood.
From then on Max Miller Carpets gradually turned the game around. Clark could not reproduce his earlier form against Paar, and fell in four sets to Dylan Wood. The second doubles went to Walder and Paar against Johns and Fitzpatrick, a pair who had performed well in the early part of the season.
At that point, the scores were locked at 4-4. Johns then took his third singles rubber of the night to give Weightmans a temporary lead. However, with the number one and two to come for Max Miller Carpets, the Weightmans Packaging pair of Clark and Fitzpatrick were up against it, and so it proved. Walder conceded the first set to Clark, but mopped up quickly after that, and Wood proved too good for Fitzpatrick, winning in three.
Final scores: 6 rubbers to 5 and 23 games to 18.
PINNACLE PACKERS v COOKE'S POOLS & SPAS
Pinnacle Packers needed wins in both doubles rubbers to take the win against Cooke's Pools & Spas in this round.
Thanh Nguyen again took three singles wins, keeping him at the top of the aggregate ladder, one clear of Kevin Johns, and with his team-mates Jeremy Corrin and Andrew Jones picking up a win each, they were on the brink of victory.
Pinnacle Packers denied them the win however, as both Peter Midgley and Michael Hensgen recorded two singles wins to keep them well and truly in the match. The first doubles rubber was the one which was up for grabs, with Midgley and Hensgen scraping through to win in five sets against Nguyen and Jeremy Corrin 11-9, 6-11, 11-8, 11-13, 11-8.
Cooke's Pools & Spas needed the second doubles rubber to the scores 4-4, but Hensgen and David Sergi were far too good for the pair of Nguyen and Jones, running away in three sets.
With that win under their belt, Pinnacle Packers led 5-3, and they sealed the fate of Cooke's Pools & Spas with Midgley downing Andrew Jones in the next.
Final scores: 6 rubbers to 5 and 22 games to 18.
MALLEE MEATS v MJM AUTOMOTIVE
This was a great scrap between teams fourth and sixth on the ladder.
With no player dominating in singles play, the game was undecided until the final rubber.
The Mallee Meats number one and two, like their MJM Automotive counterparts both won two singles rubbers … Warden defeating Gifkins and Reimers, but falling to MJM Automotive number two Terry Martin. Malycha won against Martin and Reimers, but fell in straight sets to Gifkins. For MJM Automotive, Gifkins defeated Malycha and John Fitzpatrick, but was outsmarted by Warden; and Martin had a good night, downing Warden in four sets, and Fitzpatrick in three; and after coming back from two sets down against Tony Malycha, simply ran out of puff in the fifth set to lose to Malycha 9-11, 3-11, 14-12, 11-3, 4-11.
With the doubles shared, something sides try to ensure, the result of the match really hung on the result of the number threes, John Fitzpatrick for Mallee Meats and Rohan Reimers for MJM Automotive. Fitzpatrick has upped his work rate in the latter parts of this season, and this game saw him take that vital win against Reimers in three sets. To add to John's growing confidence, he and Malycha combined marvellously to defeat Gifkins and Martin in four sets.
Final scores: 6 rubbers to 5 and 19 games all.
PENNANT THREE:
Sammy Slammers keep on keeping on
Sabrina Fitz says debutant fill in Bernard McCarthy can play , he won 3
Marcus making a break in the aggregate
Sammy's Slammers, Mallee Meats and Weightmans Packaging all recorded easy wins in this round.
SAMMY'S SLAMMERS v REGIONAL TAXATION SERVICES
Regional Taxation Services were no match for Sammy's Slammers in this round, managing just three rubbers.
Sammy's Slammers number two Hyseyin Ismail was missing from the line-up for Sammy's Slammers, replaced by Bernard McCarthy. McCarthy played a big part in the win, recording three singles wins and with his son, Casper, the first doubles.
The older McCarthy proved much too strong for the opposition, downing Sabrina Fitzpatrick and Andrew Kremor, the numbers one and two for Regional Taxation Services in four sets each. And in that doubles rubber, he and Casper defeated Fitzpatrick and Kremor in straight sets.
Sammy's Slammers captain Casper McCarthy added two rubbers, with wins in straight sets against Luke Ljubic and Fitzpatrick. And Ryan Hensgen, the number three chipped in with one, that a good five set win against Andrew Kremor. Hensgen almost made it two wins, going down narrowly to Luke Ljubic in five sets in the eleventh rubber.
Final scores: 8 rubbers to 3 and 26 games to 16.
MALLEE MEATS v MJM AUTOMOTIVE
Marcus Cimino added to his list of "perfect" nights – winning all he played in, again, in this round.
Cimino was kept honest however, both Stephan Ljubic and Karly Leach took a set from the aggregate leader. Ljubic, playing at number three for MJM Automotive was particularly impressive. His was a close four set loss 7-11, 16-14, 8-11, 10-12.
Cimino was without his usual number two, Leonie Dunkley for this match, but Leonie had an able substitute in Claire Ljubic. Claire has not played for a couple of seasons, but was immediately competitive, all her matches going to four sets, whether she won or lost!!
Number three for Mallee Meats Ayden Costa continues to improve. Costa led Karly Leach two sets to love in his first singles rubber, only to
see his more experienced opponent wear him down and defeat him in five. Ayden did have some joy though, as he won his final singles match against Nicole Hunt in four sets.
Added to these wins, Mallee Meats took both doubles rubbers – Cimino and Ljubic after dropping the first set to Hunt and Stephen Ljubic proved too strong for their opposition, and later Cimino and Costa downed Hunt and Leach in three sets.
Final scores: 7 rubbers to 4 and 27 games to 17.
WEIGHTMANS PACKAGING v COOKE'S POOLS & SPAS
These two sides played a shortened match, as the number three's were missing for each side.
Weightmans Packaging captain Aidan Riordan went through undefeated in singles play – a competitive five win against opposing captain Therese Fitzpatrick, followed by a three set win against Mick Bacon.
Brice Lock got among the wins too, he also defeating Bacon, in four sets.
For Cooke's Pools & Spas, captain Therese Fitzpatrick was too strong for Lock, defeating him in four, and with Mick Bacon, Cooke's Pools & Spas won the doubles rubber, an entertaining five setter 11-7, 6-11, 11-6, 10-12, 11-9.
Final scores: 5 rubbers to 4 and 18 games to 15
PENNANT FOUR:
In round ten action, we saw some classic five set matches.

While her team struggled Miya continued on her winning way , 3 singles again for the 6th round in succession, great effort.
Isaiah won 3 to maintain the lead in the aggregate race as Miya threatens.
Good luck to those at Country Champs this weekend…………
Mallee Meats 8 (Dave Tanner, Costa Skiadas, Brian White 2) def Dunkley Scales 3 (Miya Lock 3).
The last time these two teams met Mallee Meats Dave Tanner, Costa Skiadas and Brian White all contributed two singles each whilst for Dunkley Scales Miya Lock won three singles. This time around nothing has changed with exactly the same score line achieved. Although the result looked like one-way traffic, there were some very close games.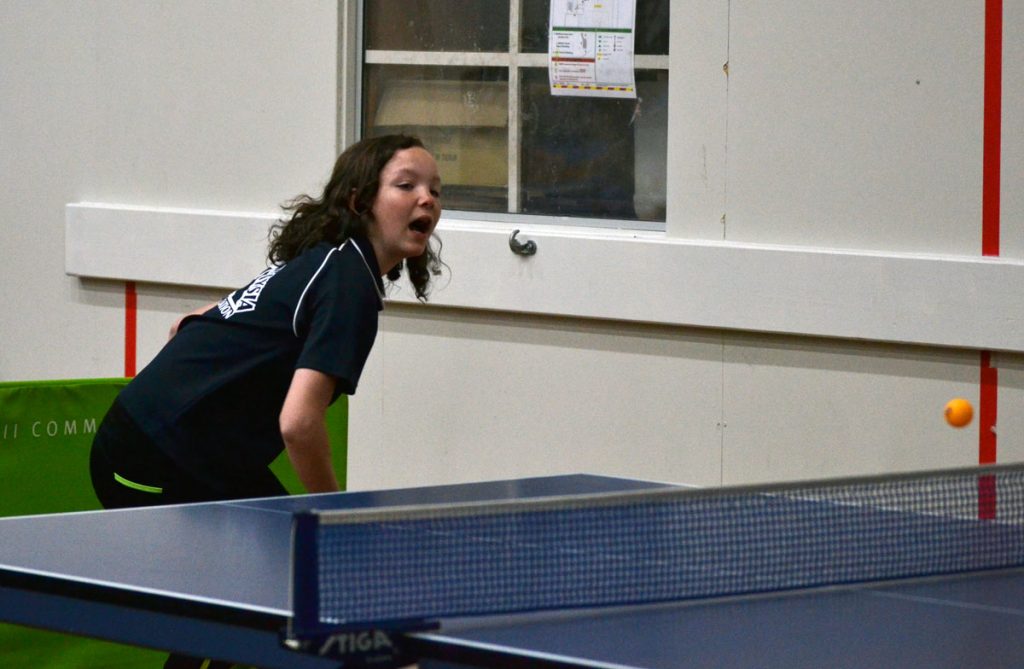 The opposing captains played each other early in the night. Lock, who has had the better of Tanner in past meetings, was looking to continue her winning streak. Tanner has been putting in a bit of practise on Monday night to try to tune his game. Unfortunately, he may have gone a little too hard with his bat not lasting the distance and a replacement used during this match. In the first set, both players had opportunities but Lock prevailed 12-10. The next set, just as keenly contested as the first, with Tanner grabbing this 13-11. Miya stepped up her game in the third to win this set comfortably 11-6 before Tanner hit back to take the next 12-10 to force a deciding set. The fifth set was arguably the best set of the season thus far with no cheap points, great attack, staunch defense and close all the way. Both had match points but it was Lock to take the chocolates 14-12.
Lock had a big night of close matches and was involved in another five set match when she teamed with Raylee Waugh to take on Tanner and Skiadas. In a match that had wild fluctuations of momentum the undefeated Mallee Meats duo snuck over the line 11-9, 8-11, 4-11, 11-7, 11-5. Lock then took on Skiadas in a close match with the first set falling her way 15-13. Skiadas battled on and squared the match two sets all before agonisingly falling short in the fifth 9-11. Skiadas did have the last laugh with his team Mallee Meats in searing form to record a comfortable 8 games to 3 win over Dunkley Scales.
MJM Automotive 8 (Isaiah Bettess 3, Nycole Riordan 2, Joy Sullivan 1) def Tankard Dental 3 (Costa Skiadas 2, Glenn Leeson1)
MJM Automotive have again been impressive, with all players contributing individual singles wins, in their victory over Tankard Dental. In a strange twist in this match Tankard Captain Jacinta Ljubic was unavailable and replaced by two players (Costa and Brian) sharing the duties.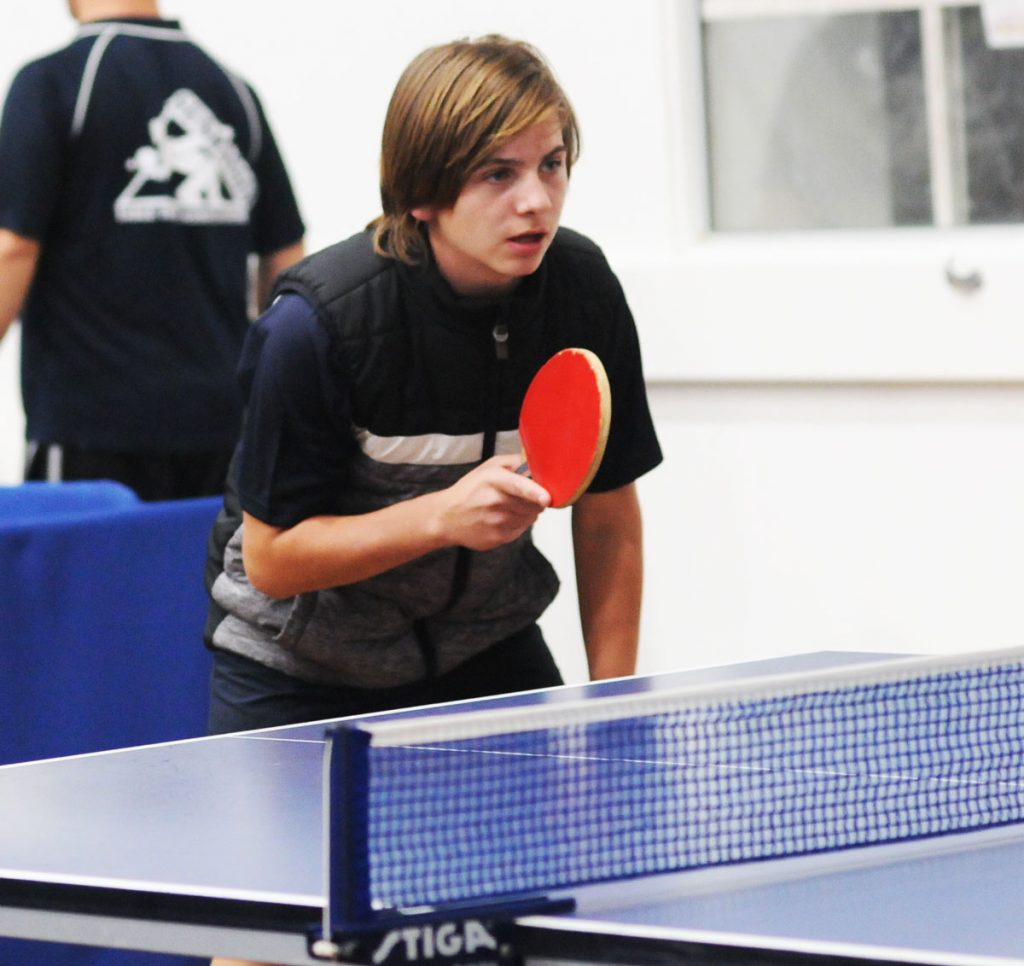 Isaiah Bettess was again in superb form winning three singles and two doubles for the night. Nycole Riordan and Joy Sullivan ably supported Bettess.
This night really was about two players who have had many battles over the years – not just over table tennis. In recent times they have been on their best behavior – in fact so good have they been that their father did not attend their match to keep the girls in check. The match I refer to is "The Battle Of The Sisters IV". Joy Sullivan holds a 3-0 advantage over her sister Wendy Simpson in this head-to-head battle. Last time Sullivan 11-8 in the fifth greeted the judges. The first set in this encounter was a grueling affair with neither willing to concede the game. Eventually Sullivan took the early advantage taking the set 19-17. The second set again required a tiebreak, but not as lengthy this time, as Simpson hit back to take it 12-10 and level the match. The third required another tiebreak with Sullivan taking this 13-11. The fourth set was a cakewalk for Simpson as she won this 11-6 to set up another five set
decider. Both players had their opportunities; Sullivan held her nerve to take the set 11-9 and keep her winning record intact. WHAT A MATCH! On the night MJM prevail 8 games to 3.
Good luck to all those who are playing Country Week. We look forward to bringing back a shield or two.