Read Time:
15 Minute, 4 Second
https://stta.com.au/wp-content/uploads/2019/06/r11-2019-winter.pdf
ROUND 11
PENNANT ONE:
The feature of round eleven matches of the Sunraysia Table Tennis senior pennant was that the top three teams on the ladder were successful against the bottom three however a point here or there could have seen things finish so differently.

Leslie Ncube was on fire winning three singles as Exposed Signage continued their good run
Joel Thomas and Phil Smith also won 3
RTS were oh so close to defeating the top team
– Exposed Signage/Apparel 8 (Leslie Ncube 3, Nicholas Dorman, Kate Carmichael 2) d Cash Converters 3 (Shannon Bowen 2)
Without a doubt the player of the round was Exposed Signage number three Leslie Ncube who was outstanding against Cash Converters winning three singles. Ncube by his own admission has been struggling along this season despite playing his role of winning one singles a week. This round he defeated opposing number one Shannon Bowen in an impressive come from behind five setter and then steam rolled number two Jackson Tung in straight sets. In the final match of the night Ncube then defeated Leon Brown in another lengthy five setter.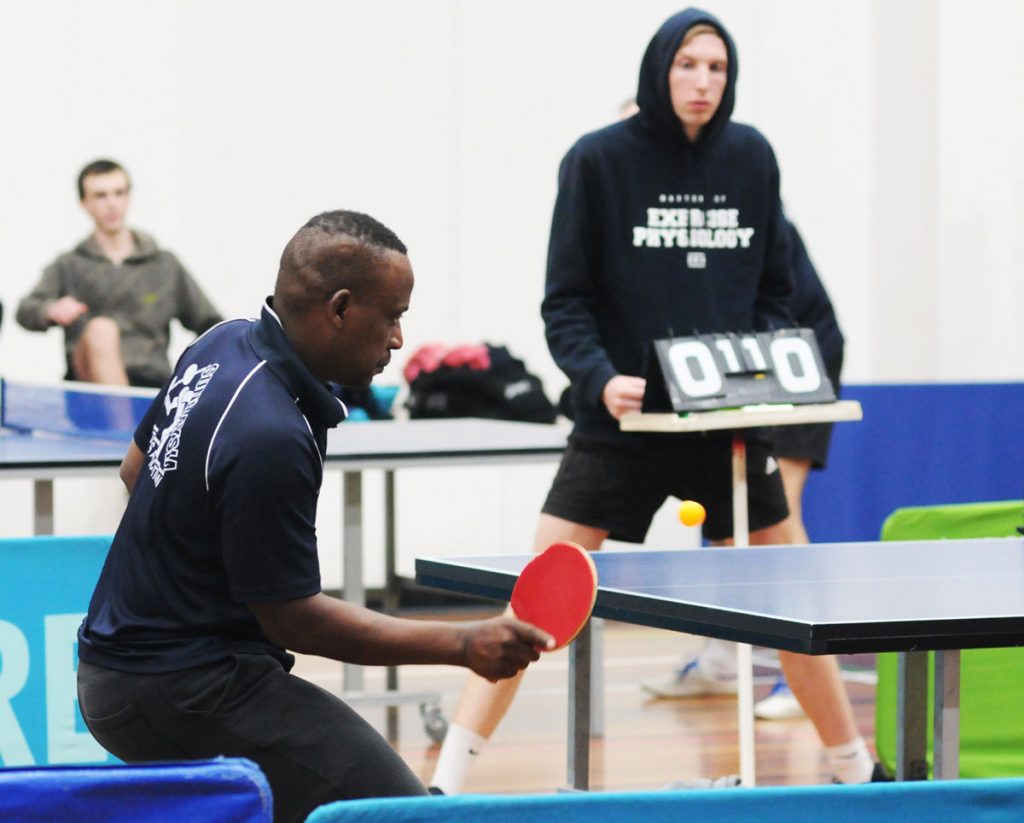 His effort was even meritorious given that Bowen and Tung had won three singles each in the previous round. Ncube is the only number three to win three singles this season and this sounds a warning to other teams as his team mates Nicolas Dorman and Kate Carmichael who won two singles each are in good form.
Their 8-3 win over Cash Converters was Exposed's fourth win in the past five rounds and they now move one game clear in third spot and only one win away from second as teams jostle for the double chance.
Despite Cash Converters Shannon Bowen dropping the singles to Ncube he was able to record two singles victories over Nicholas Dorman and Kate Carmichael respectively to follow up his good form at the Victorian Country Championships.
– Mallee Bearings 7 (Joel Thomas 3, Reece Kurrle 2, Lee Thomas 1) d Regional Taxation Services 4(Matt Ljubic 2, Jackson Murphy 1)
Top team Mallee Bearings were able to maintain their two game break at the head of the ladder courtesy of their 7-4 win over fourth placed Regional Taxation Services. Joel Thomas again won three singles despite a brief scare against Matt Ljubic.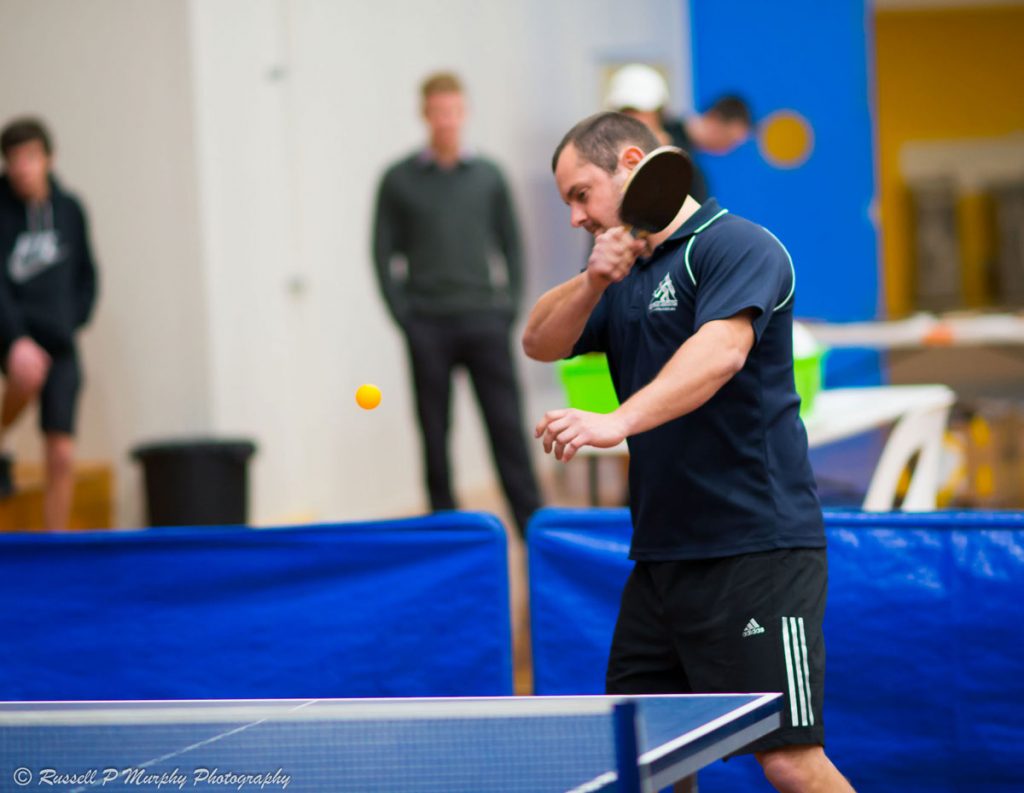 Regional Taxation Services were not far off the mark however as fill in Bernadette Fitzpatrick went down by the narrowest of margins in both singles losses to Reece Kurrle and Lee Thomas respectively. A matter of only a couple of points and the four points could have gone the other way.
A rare loss in the second doubles by Mallee Bearings pair Joel and Lee Thomas at the hands of Matt Ljubic and Bernadette Fitzpatrick in a five set contest levelled the match late however Mallee Bearings were able to finish strongly.
– Max Miller Carpets 6 (Phil Smith 3, Gavin Carmichael 2, Ed Hung 1) d Tankard Dental 5(Wayne Carmichael 2, Mark Dorman 1)
In a strange match fifth placed Tankard Dental took a 5-3 lead over their opponents Max Miller Carpets and it looked like the second team on the ladder were headed for their fourth loss in five rounds and a slide down the ladder however they managed to arrest the position when Carpeters Phil Smith won a hard fought four setter against Wayne Carmichael.
Carpeters Gavin Carmichael then had to recover from a 1-2 deficit against Mark Dorman narrowly winning in five to level the contest at five rubbers all. Ed Hung for the Carpeters took to the table against first year player Liam Wood to decide the four points. Hung raced away to a 7-2 lead only to have the persistent Wood recover well and take the first game. Both players were nervous however the younger Wood controlled the second game to take a 2-0 lead. Hung then had to call on all his experience to claw his way back and never in complete control. There were many fine rallies over the next three games and Hung was able to prevail in an exciting climax 10-12 7-11 11-8 12-10 11-8. Wood was brave in defeat and oh so close to victory.
With Smith winning three singles and Gavin Carmichael two and Hung finishing with one the Carpeters had grabbed the four points by the narrowest of margins despite not winning a doubles.
PENNANT TWO:
In this round, ladder leaders Max Miller Carpets suffer just their second defeat of the season, significantly to second-placed Pinnacle Packers; in the battle for third spot, fourth placed Mallee Meats proved too strong for previously third-placed Weighmans Packaging; and fifth placed Cooke's Pools & Spas took the last two rubbers to deny MJM Automotive their third win of the season.

Ladder leaders Max Miller Carpets lost only their second match for the season defeated 7-4 by second placed Pinnacle Packers
Peter Midgley winning 3 for the victors.
Thahn won another 3 and has now moved 2 clear of Kevin Johns in the aggregate race as Tony Malycha defeated Kev on his way to winning 3

– Pinnacle Packers 7 (Peter Midgley 3, Michael Hensgen 2) d Max Miller Carpets 4 (Russell Walder 2, Dylan Wood, Arthur Paar 1)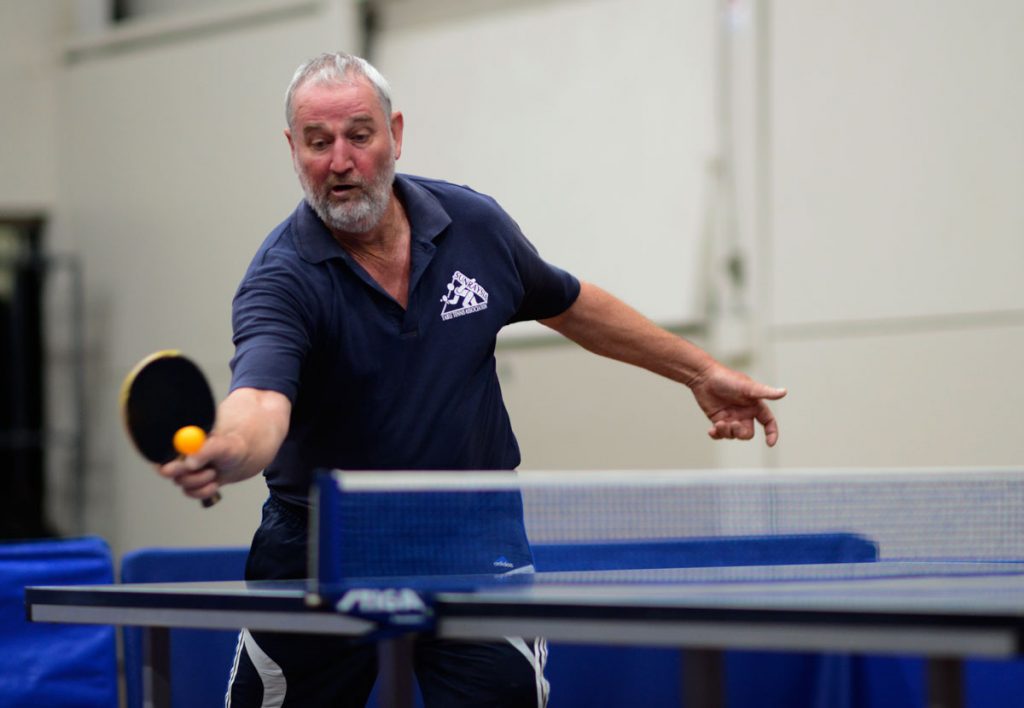 A strong performance by Pinnacle Packers captain Peter Midgley paved the way for a strong 7-4 win against ladder leaders Max Miller Carpets.
Midgley was in fine form, not even dropping a set in singles play, and in the first doubles partnering number two Michael Hensgen to a four set win against Russell Walder and Dylan Wood, a pair who have won as many doubles rubbers as any other in this competition.
Midgley had good support from Hensgen, who picked up two singles rubbers, falling only to Russell Walder in four sets.
Although number three David Sergi failed to win a singles rubber, he and Midgley were a better combination than Walder and Arthur Paar, the Pinnacle Packers duo winning the second doubles in four sets 16-14, 7-11, 11-3, 12-10.
The pickings for Max Miller Carpets were pretty slim in this match, then. The only rubbers won by the side were wins against David Sergi, and Walder picked up a second, downing Hensgen.
Final scores: 7 rubbers to 4 and 25 games to 16.

– Mallee Meats 6 (Tony Malycha 3, Brad Warden 2) d Weightmans Packaging 5 (Kevin Johns 2, Paul Fitzpatrick, Quentin Clark 1)
Weightmans Packaging continue to slide down the ladder, this week dropping from third to fourth, after being defeated by Mallee Meats, who went into this match in fourth spot.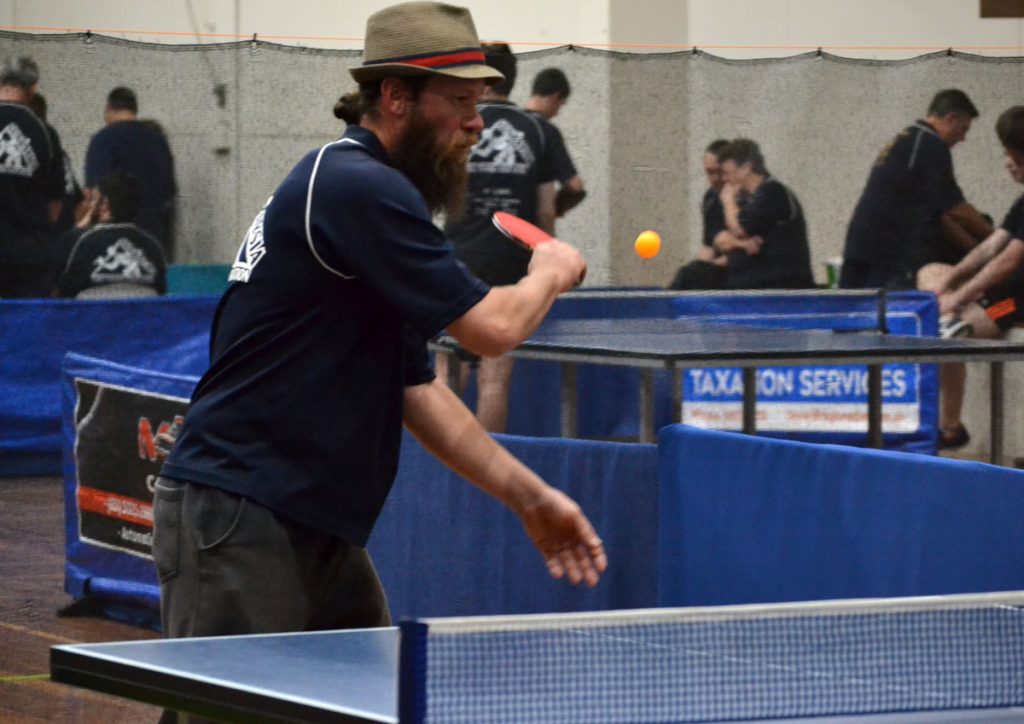 Tony Malycha was the stand-out player for Mallee Meats – Malycha took three singles scalps, including of course that of Kevin Johns who had been closing in on the aggregate lead, but who now sees himself two games adrift of Thanh Nguyen, who again won three this week.
Before Malycha defeated Johns though, he almost came unstuck against Quentin Clark. Clark took Malycha to five sets, only conceding in the fifth 11-6. After that close encounter, Malycha was on full-alert against Johns, and although he dropped the first set 7-11, he controlled the contest thereafter, taking the final three sets 11-6, 11-8, 13-11.
Mallee Meats captain Brad Warden took two important rubbers, and for a while looked like he too might get the better of Johns. However, after leading two sets to love, Warden succumbed to Johns who ratcheted his game up a cog or two to power home in the last three sets 12-10, 11-8, 11-4.
The sixth rubber for Mallee Meats came from the first doubles rubber, Malycha pairing with number three John Fitzpatrick to dispose of Johns and Clark in four sets. This pairing is now equal second on the doubles aggregate, and is proving very successful, having won five of the eight times they have played together.
Final scores: 6 rubbers to 5 and 23 games to 20.

– Cookes Pools & Spas 6 (Thanh Nguyen 3, Jeremy Corrin, Andrew Jones 1) d MJM Automotive 5 (Jason Gifkins, Quentin Clark 2)
Cooke's Pools & Spas defeated MJM Automotive in what was a close match. Thanh Nguyen needed to, and did, win three singles rubbers to secure the win for his side.
MJM Automotive were without their number two, Terry Martin, but Quentin Clark did a great job in subbing for him. Clark won two singles rubbers, and with captain Jason Gifkins the first doubles.
But back to Cooke's Pools & Spas. Nguyen won in four sets against the MJM Automotive numbers two and three, but had a much harder tussle with Gifkins, that match going to five sets, Nguyen winning against the never-say-die Gifkins 10-12, 11-8, 13-11, 7-11, 11-7.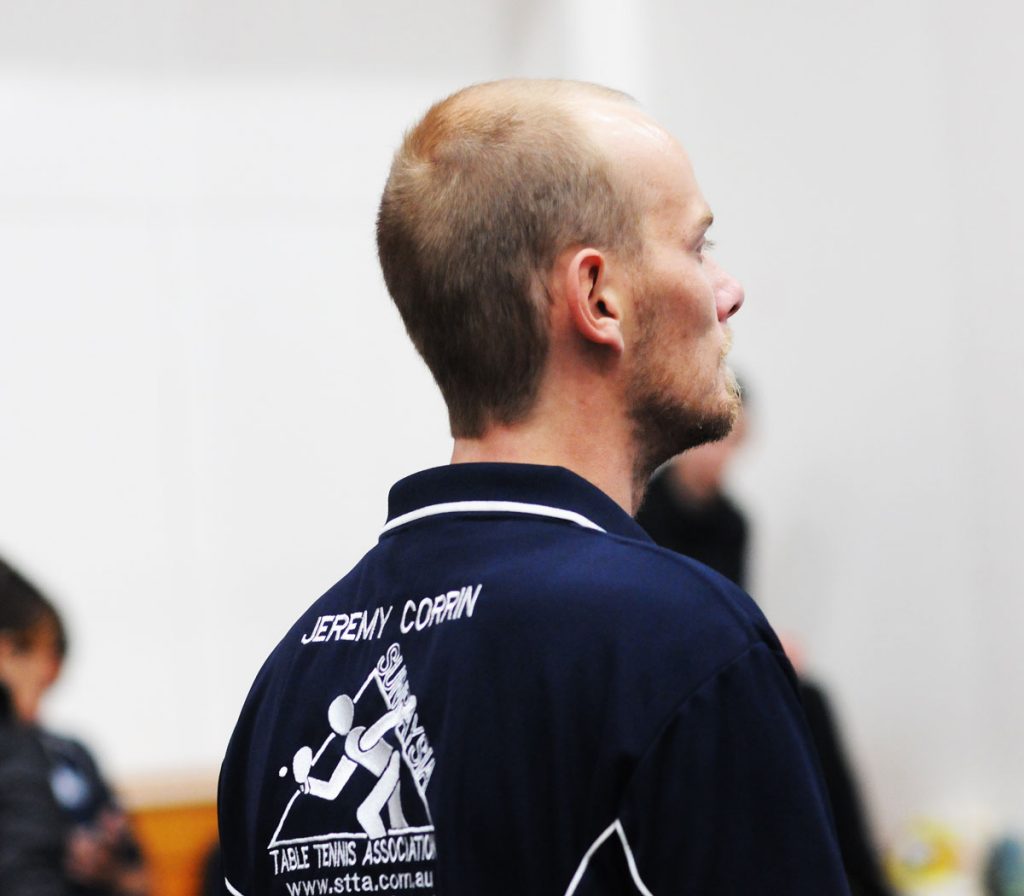 A match of equal significance to the result was the clash between Cooke's Jeremy Corrin and Rohan Reimers for MJM Automotive. Reimers can take sets from almost any player in this pennant, and it appears at times that he can defeat almost any player in this pennant, but finishing appears to be not a strong point. It was the same here … with the sets locked 2-2 after four close sets, Corrin ripped through the fifth set 11-3 to make it look easy, which it was not.
This result sees Cooke's Pools & Spas remain in fifth spot on the ladder, but now only one game away from Weightmans Packaging who are in fourth with five wins. With four rounds still to go, and if the form of the two teams continues, Cooke's Pools & Spas may well make the finals at the expense of Weightmans Packaging.
Final scores: 6 rubbers to 5 and 24 games to 22.
PENNANT THREE:
Ladder leaders Sammy's Slammers lost a close match to second-placed Weightmans Packaging; Regional Taxation Services cemented their third spot on the ladder with a solid 7-4 win against Mallee Meats; and in defeating Cooke's Pools & Spas, MJM Automotive recorded their second win for the season.

Six players out which made it difficult ……..good to see Claire Ljubic playing for a second week in a row and she was busy playing two matches.
Filling in for Andrew Kremor Claire won 3 singles including a defeat of aggregate leader Marcus Cimino.
Bernie MCarthy has been a good pick up too and this week won 2 singles to add to his three last week.
He also defeated Marcus but lost to Leonie who was back after a 3 week break on a cruise.
She proudly displayed her r/up medallion form the table Tennis comp on the cruise. !!!
Other 3 singles winners were Casper McCarthy and Stephan Ljubic who defeated Claire in the other match she played.

– Weightmans Packaging 6 (Aiden Riordan 2, Brice Lock, Nick Kiapekos 1) d Sammy's Slammers 5(Casper McCarthy 3, Ryan Hensgen 2)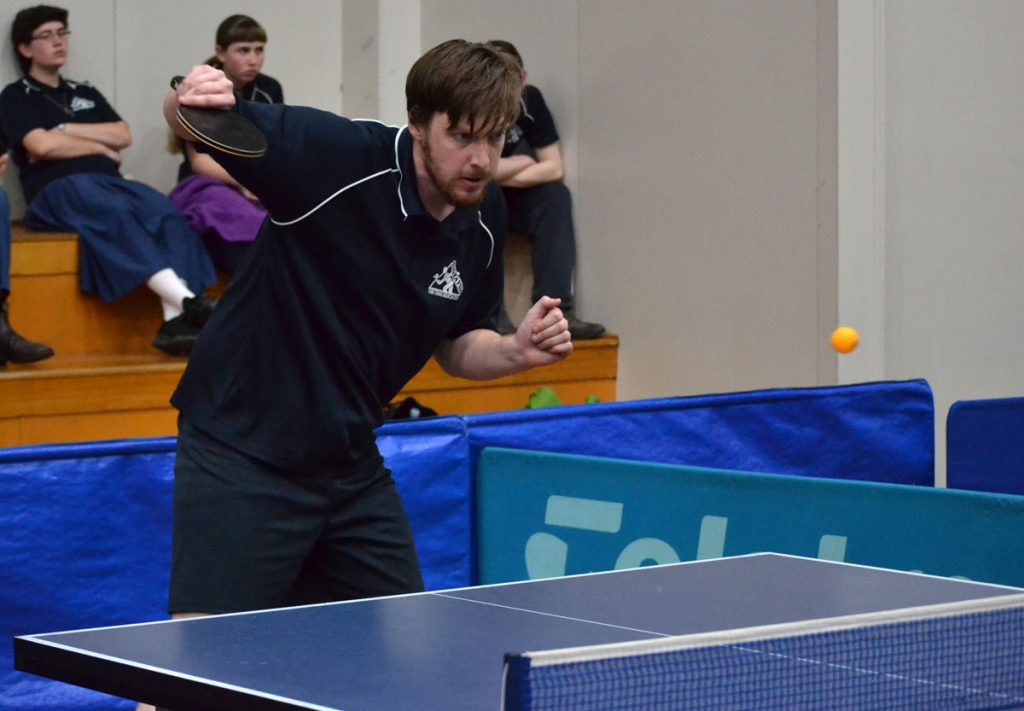 In winning three and two games respectively , the Sammy's Slammers pair of Casper McCarthy and Ryan Hensgen almost did enough to win this round 11 match against Weightmans Packaging.
But it proved to be just not enough. Weightmans Packaging exploited the omission of Huseyin Ismail from the Sammy's Slammers side, with each player defeating fill-in Dave Tanner. Captain Aiden Riordan picked up a second by defeating Hensgen, but that still only gave them four rubbers.
Two more? Well, the doubles of course. Riordan and Brice Lock were much too good for McCarthy and Tanner, winning in three, but the second doubles rubber was a bit different. Riordan and Nick Kiapekos got off to a great start against McCarthy and Hensgen, leading 11-9, 11-6. The Sammy's Slammers pair hit back in the next two sets, taking them 12-10, 11-6 to put themselves right back in the fight. There was really nothing between the two sides in the final set, but Riordan and Kiapekos hung on to win 13-11 and put their side 5-3 up at that stage.
The two captains met in the next rubber, McCarthy taking his third for the night against Riordan in a good five set contest. Brice Lock then secured the win for Weightmans Packaging with his win against Tanner, and Hensgen took the last in four sets against Kiapekos.
Final scores: 6 rubbers to 5 and 25 games to 19.

– Regional Taxation Services 7 (Bernard McCarthy 3, Claire Ljubic 2, Luke Ljubic 1) d Mallee Meats 4(Leonie Dunkley 2, Marcus Cimino 1)
Regional Taxation Services were without their numbers one and two for this match, but they could not have wished for better substitutes in Bernard McCarthy and Claire Ljubic.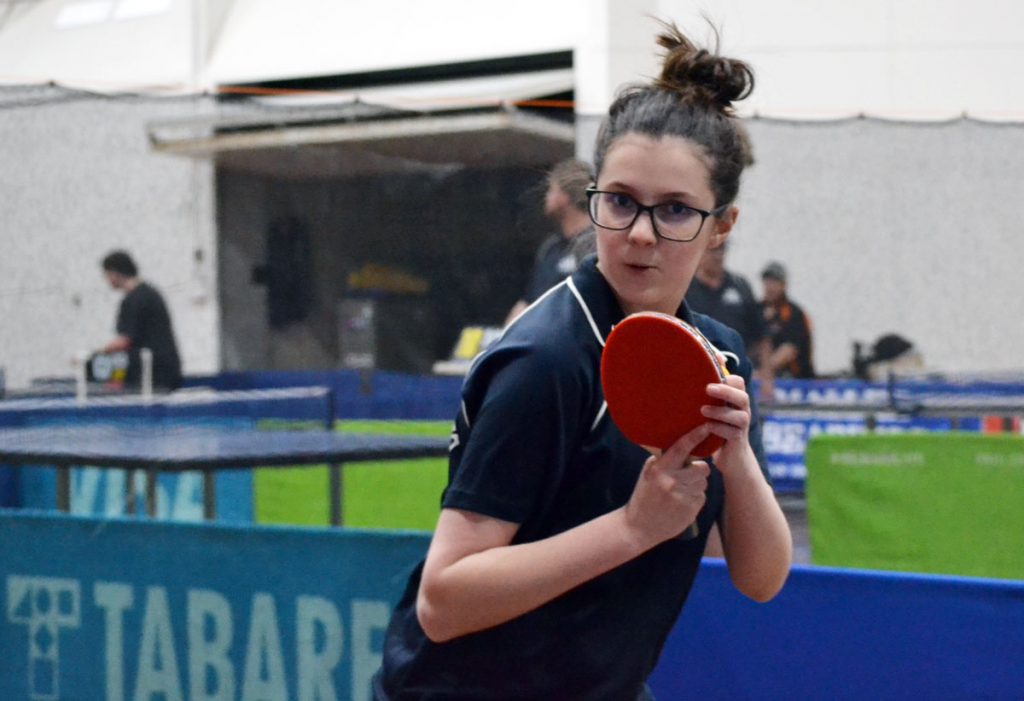 Ljubic, filling in for just the second time this season, and playing at number two in this game, took three singles rubbers. Obviously Claire had somewhere to go, as she took as little time as possible, winning all three matches in three sets.
McCarthy did not have as successful a night as Ljubic, however still took two important rubbers. The most impressive was his easy win against aggregate leader Marcus Cimino, racing away with the game, 11-6, 11-3, 11-7.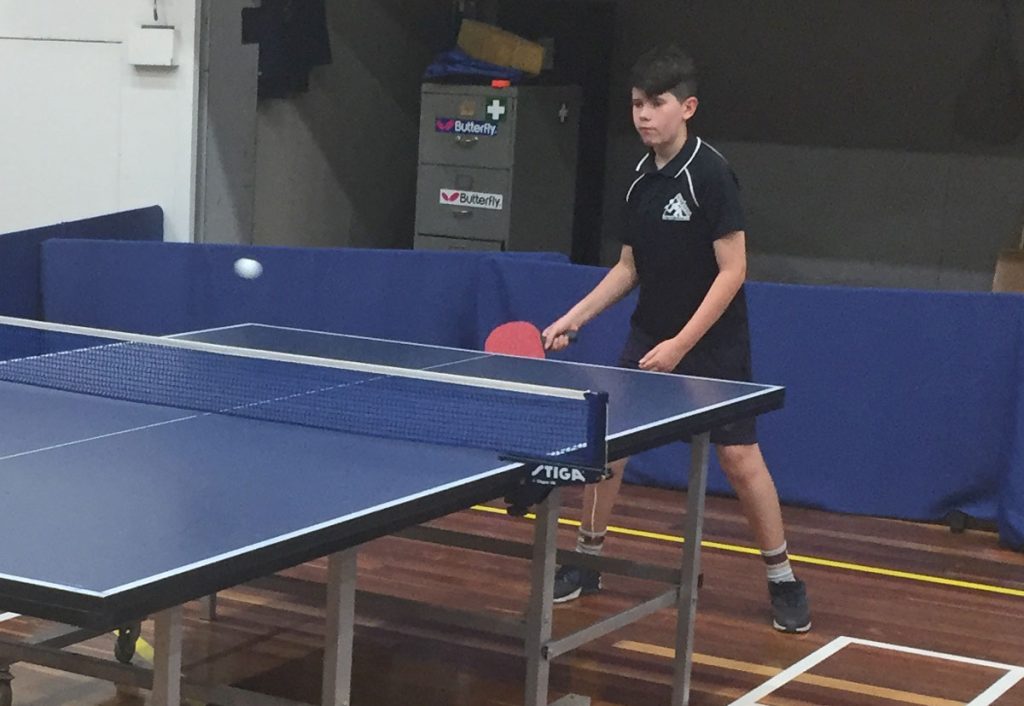 Luke Ljubic won the battle of the number threes, winning in four against Ayden Costa. Costa did manage to squeeze one set from Luke, however, in the other three Luke did it comfortably recording an 11-5, 13-15, 11-6, 11-5 win.
The Regional Taxation pairing of McCarthy and Claire Ljubic took the first doubles rubber against Cimino and the returning Leonie Dunkley in five sets. Leonie's holiday has not dimmed her table tennis, as she took two rubbers here, one being Bernard McCarthy in four sets.
Final scores: 7 rubbers to 4 and 25 games to 16.

– MJM Automotive 5 (Stephan Ljubic 3, Karly Leach 2) d Cookes Pools & Spas 4 (Shah Sandhu 2, Claire Ljubic 1)
After a lean period of six weeks, MJM Automotive took their second win for the season against Cooke's Pools & Spas.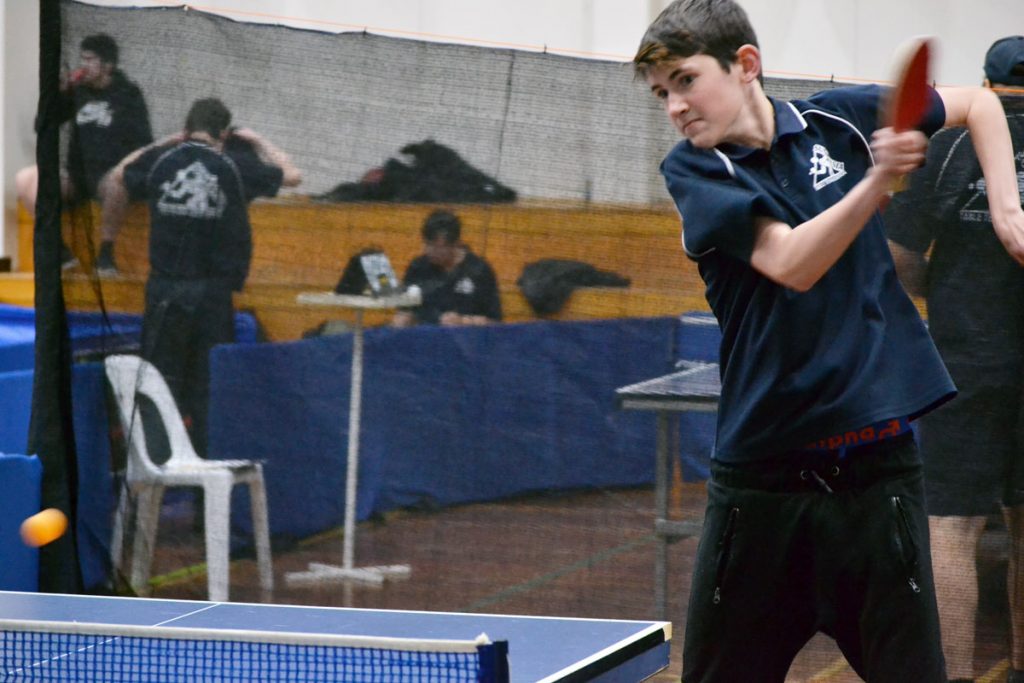 MJM Automotive number three Stephan Ljubic again showed that his recent form is no fluke, going through this match undefeated. He backed up a solid five set win against Shah Sandhu with a good four set win against his sister Claire. After dropping the first set 6-11, Stephan steadied and took the final three sets 9, 8 and 3.
Stephan's team-mate Karly Leach also defeated Claire, and that in straight sets, but then found she was no match for Sandhu, who wasted little time downing Karly 4, 8 and 3.
Claire Ljubic did take one win in this game, though. She and Sandhu proving the better pairing in doubles play against her brother Stephan and Leach, winning in straight sets.
Final scores: 5 rubbers to 4 and 15 games all.
PENNANT FOUR:
In round eleven action, we see one team taking all before them in a comeback that has been likened to Lazarus rising from the dead.
Unfortunatley Miya had to withdraw due to exams just as she was nearing the aggregate lead.
Dave defeated Isaiah last night
The Country Champs CHAMPS Jacinta, Glen and Wendy maintained their excellent form winning their second match of the season, is this a beginning
Of a charge to the finals .
Jacinta won 3 as did Dave
What a massive week in table tennis !!!!!!!!!!!!!!
Tankard Dental 9 (Jacinta Ljubic 3, Wendy Simpson, Glen Leeson 2) def Dunkley Scales 2 (Costa Skiadas 1)
The question has be asked, "Has Tankard Dental been Tanking?" The facts are there for all to see as the Tankard team has been beaten 11-0, 10-1 in two of their recent outings and have not greeted the judges with a win for some seven weeks. As they say, 'a week is a long time in sport'. Over the long weekend the Tankard Dental hit the road and played Country Week in Bendigo with the past form guide giving little hope of success. Well in an astonishing turn around not only did they break their losing streak they won every match to take home the shield. Well done to Jacinta Ljubic, Wendy Simpson and Glen Leeson on this outstanding achievement. In addition, Jacinta was also the aggregate winner in this division – a fine individual effort.
The form displayed in Bendigo has been brought home with Tankard Dental inflicting a 9 – 2 hammering at the expense of Dunkley Scales who were without captain Miya Lock for this match. Brian White and Costa Skiadas shared these duties for the absent Dunkley's Captain. This win has given Tankard renewed hope of better things to come, however they still linger on the bottom of ladder at this stage of the season.
Mallee Meats 7 (Dave Tanner 3, Costa Skiadas 2, Brian White 1) def MJM Automotive 4 (Isaiah Bettess 2, Nycole Riordan 1)
The last time these two teams met it was a surprise win for MJM Automotive over Mallee Meats 6 games to 5. This time around, MJM were without their number two Joy Sullivan and without Joy they lost this encounter 7 games to 4. In a first MJM's Nycole Riordan doubled up and played in place Sullivan. So in viewing the scorecard Nycole appears in no less than eight matches.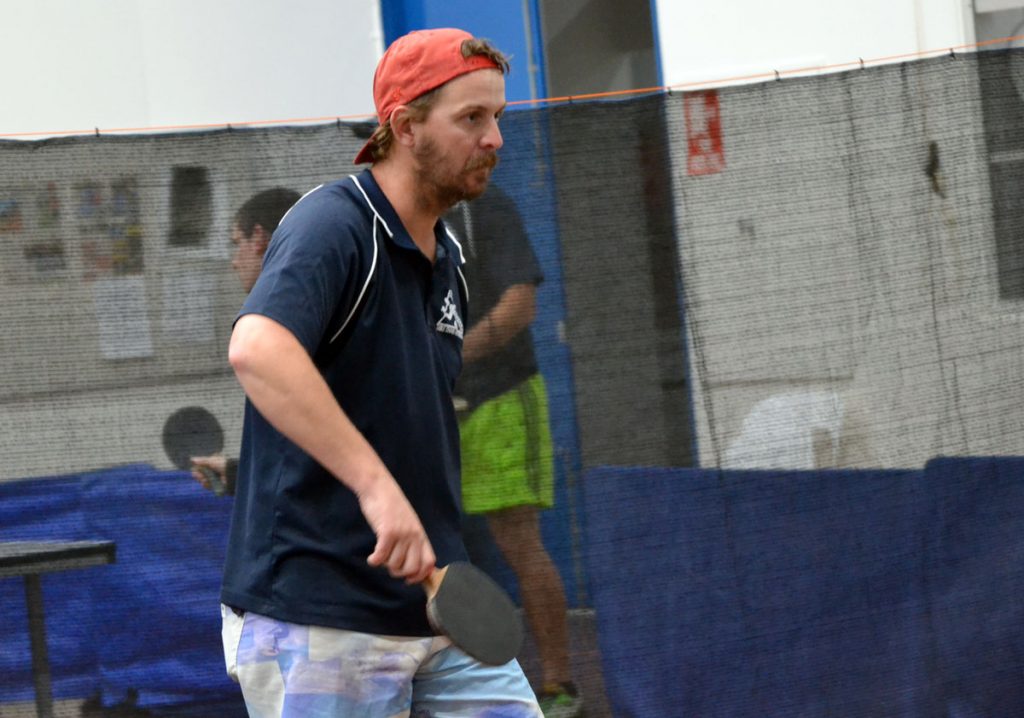 Dave Tanner was a standout during the night winning three singles and along the way defeated Isaiah Bettess in a close five set encounter. All of Bettess' matches went to five sets as he is struggling with a dislocated finger and given this injury is still playing very well. With Tanner's teammates Skiadas and White chipping in with wins it was another solid team effort by Mallee Meats to win the night 7 games to 4 against a determined MJM Automotive team.