Read Time:
11 Minute, 51 Second
PENNANT ONE:

In the most one sided match of the season bottom team Regional Taxation Services proved too strong for Tankard Dental winning 9-2 in round eight of the "Cash Converters" Sunraysia Table Tennis pennant.
– Regional Taxation Services 9 (Leslie Ncube 3, Wayne Carmichael, Reece Kurrle 2) d Tankard Dental 2 (Gavin Carmichael, Jackson Tung 1)
Leslie Ncube was the standout player in this match winning three singles in fine style. His first win was against the experienced Gavin Carmichael in a lengthy five setter 11-6 11-9 9-11 4-11 11-7.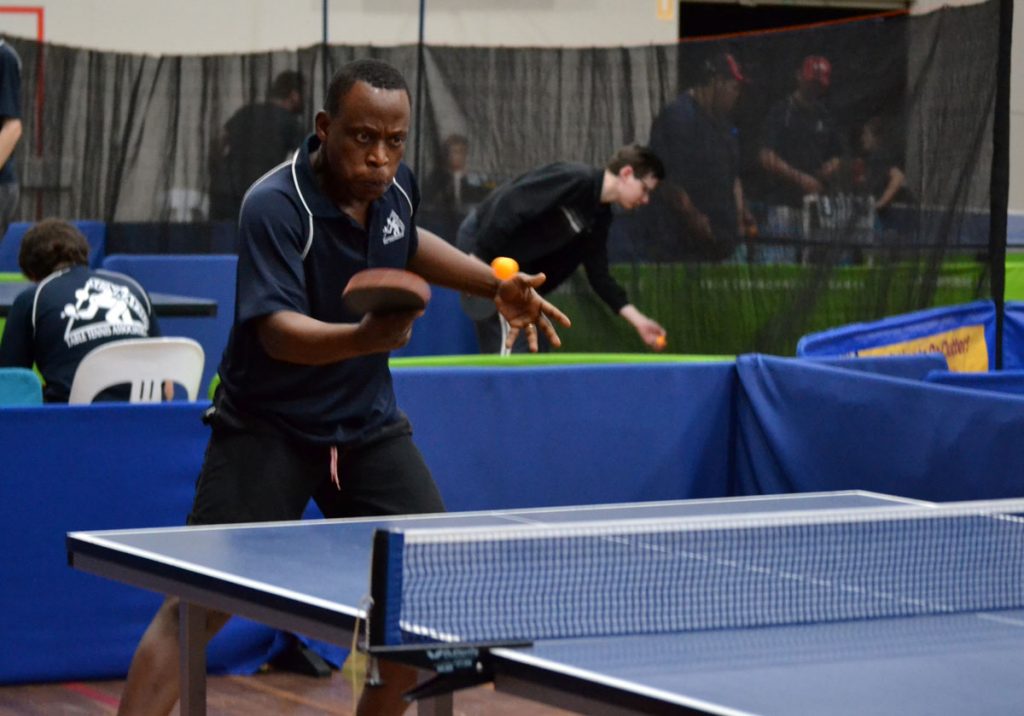 Ncube possesses an outstanding defence mixed with the occasional flashes of attacking play. In the first doubles Ncube partnered his skipper Wayne Carmichael to recover from a 0-2 start to defeat Gavin Carmichael and Jackson Tung in another five setter which took the RTS combination to a four nil lead and from here Tankards could not recover despite Jackson Tung defeating Wayne Carmichael in straight sets. 
With Ncube on fire and Carmichael and team mate Reece Kurrle winning two singles each, RTS showed their best form of the season. This was their second win and while it did not lift them off the bottom of the ladder they are well with in striking distance of the four.
– Cash Converters 7 (Matt Avers 3, Mark Dorman 2) d Max Miller Carpets 4 (Shannon Bowen 2, Kate Carmichael, Jackson Murphy 1)
Second placed Cash Converters, with a methodical 7-4 victory over third placed Max Miller Carpets, have opened up a two game break over their opponents. Cash Converters pair Matt Avers with 3 singles and Mark Dorman two proved to be the difference between the two teams. They also combined in the first doubles to defeat Shannon Bowen and Kate Carmichael in straight sets to set up the four points.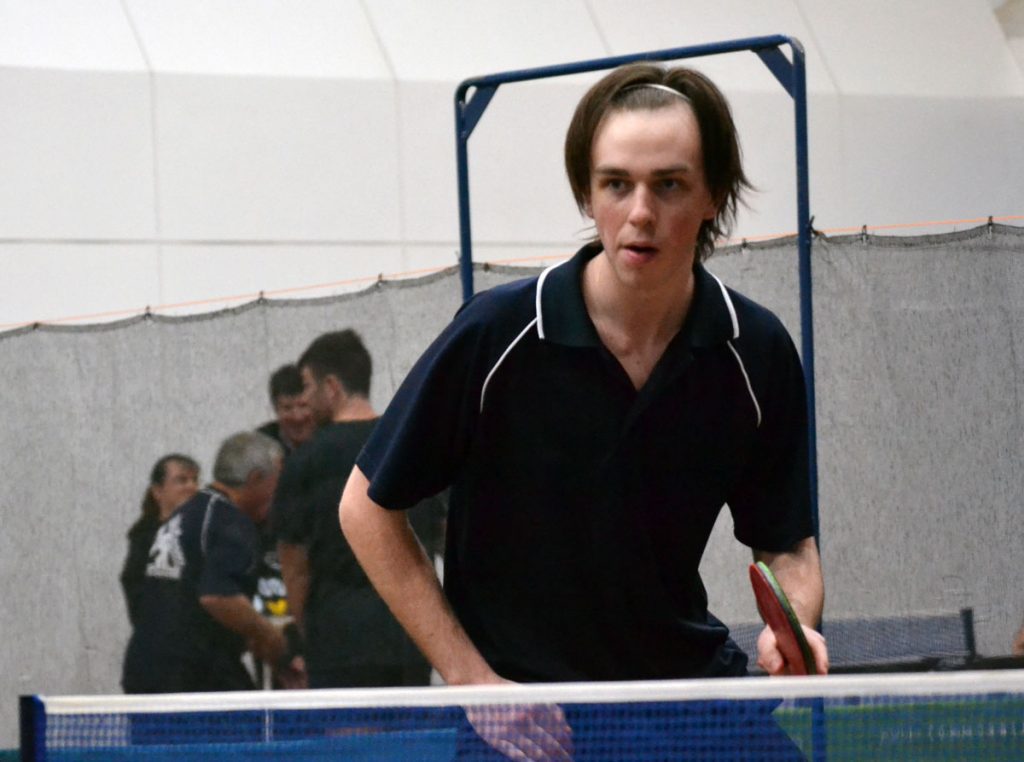 Avers capped off a good night by partnering Kevin Johns to win the second doubles in straight sets against Shannon Bowen and fill in Jackson Murphy.
For Max Miller Carpets Shannon Bowen won two singles both lengthy five setters over Mark Dorman and Kevin Johns respectively.
– Mallee Bearings 7 (Joel Thomas 3, Mark Ljubic, Ed Hung 1) d Exposed Signage/Apparel 4 (Mark Ljubic, Nicholas Dorman 2)
In the remaining match Mallee Bearings won their eighth match in succession to remain undefeated, this round defeating Exposed Signage and Apparel 7-4. Joel Thomas also continued on his winning way with another three singles victories, he has now played 24 matches without a loss. His match against Matt Ljubic was a highlight,
Thomas steamed through the first winning 11-1 before Ljubic bounced back to win the second 12-10, the remaining two games were both won 11-9 by Thomas in a match that contained some outstanding table tennis. Thomas also played in both doubles victories.
For the Exposed team Ljubic and team mate Nicholas Dorman both won two singles each. In an unusual twist despite the loss Exposed Signage moved into the top four given the heavy loss by the previously fourth placed Tankard Dental.  
PENNANT TWO:

Weightmans Packaging go a game clear at the top of the ladder after a win against Pinnacle Packers; Mallee Meats jump from sixth to second as a result of their big win against Cookes Pools & Spas; and MJM Automotive continue their good form defeating Max Miller Carpets.
– Weightmans Packaging 6 (Ash Morrison, Andrew Jones, Nick Barlow 2) d Pinnacle Packers 5 (Peter Midgley 3)
Pinnacle Packers captain Peter Midgley had his best night so far with three singles wins, and wins in both doubles rubbers, but his side still failed to take the win against Ash Morrison's Weightmans Packaging side.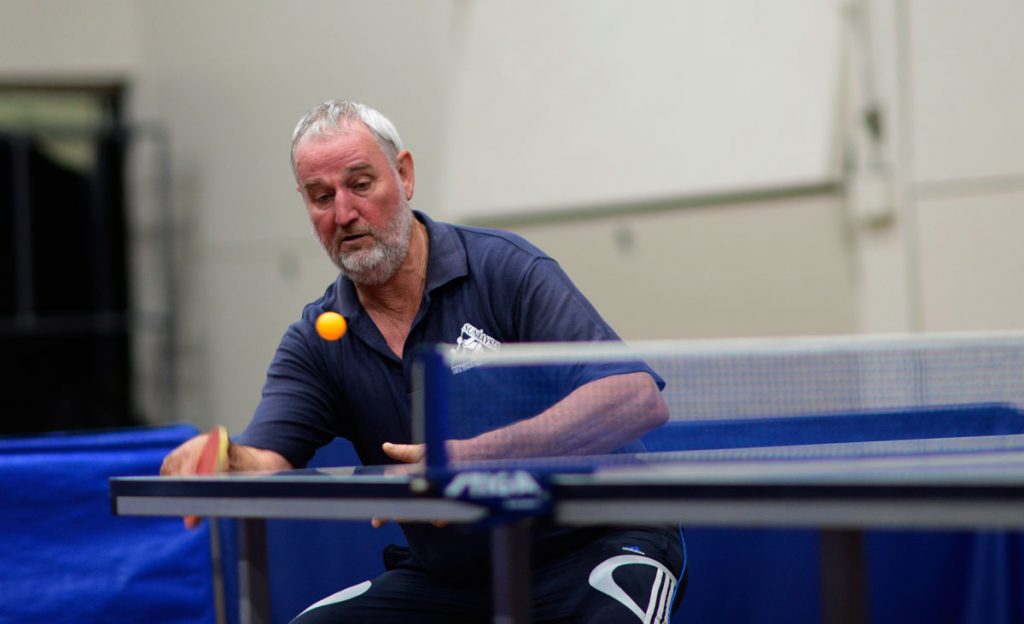 Midgley was in stand-out form, defeating all-comers, but the Weightmans Packaging trio of Morrison, Nick Barlow and Andrew Jones made sure of the win with two singles rubbers apiece.
Pinnacle Packers were hampered, it must be said, by the absence of their number two, Kerry Wallace.  Kerry is still recovering from injury, and once again Liam Wood filled in for her.  Wood had a good week last week with three wins, but could not duplicate that in this match.  Nonetheless he gave a good account of himself, taking a set from both Morrison and Jones, and going down 11-8 in the fifth against Barlow in the match-deciding eleventh rubber.
Brendan Alderton, after not playing last week, failed to take a singles rubber for the first time this year, although he came close.  He led Jones two sets to love in their match, but the game slipped away from him as Jones took the last three sets 7, 8 and 9.
Final scores:  6 rubbers to 5 and 23 games all.
– Mallee Meats 8 (Sony Sefer 3, Russell Walder, Arthur Paar 2) d Cookes Pools & Spas 3 (Lee Thomas 2)
Mallee Meats thumped Cookes Pools & Spas 8-3, and in so doing jumped from last on the ladder to second.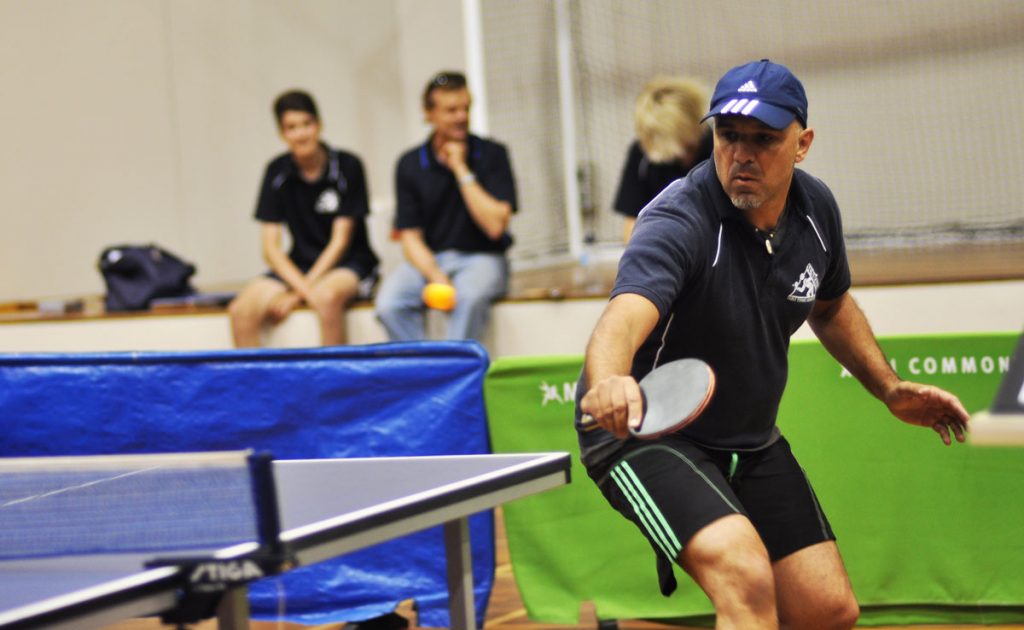 Sony Sefer led the way for Mallee Meats with three wins, which included a fairly easy 11-7, 11-4, 11-7 victory against Lee Thomas, who is currently second on the aggregate ladder.  This win came after he had downed James Chick, who for the second time this year came away with no wins, and continues his current slump with just one win from his last three matches.
Mallee Meats captain Russell Walder and number three Arthur Paar took two wins each; Walder almost made it three wins, but faded in the fifth set against Thomas, who took that rubber 8-11, 11-9, 8-11, 11-7, 11-3.
Cookes Pools & Spas are now without their regular number three Seval Fuat who has gone overseas for the rest of the competition, and his spot is taken by Matt Wilson.  Wilson will probably need a couple of rounds to get up to speed, and this could cost his side in the meantime.
Final scores:  8 rubbers to 3 and 30 games to 12.
– MJM Automotive 7 (Geoff Wright, Jason Gifkins, Quentin Clark 2) d Max Miller Carpets 4(Bernadette Fitzpatrick 2, Tony Malycha 1)
 Geoff Wright continues to push his MJM Automotive side along, and this week they defeated Max Miller Carpets.
MJM Automotive raced away to a 4-0 lead after four rubbers.  Two of these wins were expected, one definitely not.  That rubber was the four set win by MJM Automotive number three Quentin Clark over aggregate leader Bernadette Fitzpatrick.  Clark, it seems, has the ability to defeat almost any player in this grade, and this win furthers his reputation as a danger player.
Although Max Miller Carpets took four of the next five rubbers, MJM Automotive still had the game in hand, Jason Gifkins downing his opposite number Tony Malycha in four, and Clark, after dropping the first set to his opposite number Anthony Fox, took the next three to complete the win.
Final scores:  7 rubbers to 4 and 24 games to 17.
PENNANT THREE:

Ladder leaders Weightmans Packaging were lucky to survive against MJM Automotive in their 6-5 win; Sammy's Slammers were never in danger in their 7-4 victory against Mallee Meats; and after a steady start Regional Taxation Services ran away with their match against Tankard Dental.
– Weightmans Packaging 6 (Dylan Wood, Jeremy Corrin 2, Rohan Reimers 1) d MJM Automotive 5 (Sabrina Fitzpatrick 2, Nick Kiapekos, Tom Morrison 1)
With every player in this match winning at least one singles rubber, a close result was ensured.
MJM Automotive number two Sabrina Fitzpatrick gave her side a chance of a win with a tough five set win against Jeremy Corrin, who is currently riding high on the aggregate ladder (was second, now third).  Fitzpatrick stuck doggedly to her game, finally wearing Corrin down 4-11, 13-11, 10-12, 11-4, 11-4 to give her side a 4-2 lead.
Fitzpatrick's great work was immediately negated however, by the enigmatic Rohan Reimers.  Reimers gave opposing captain Tom Morrison no room to move, and downed his opponent 11-9, 11-9, 13-11.
After losing the first doubles rubber, the Weightmans Packaging pair of Corrin and Reimers were comfortable in the second doubles, winning in four sets against Morrison and Nick Kiapekos.
When Dylan Wood powered past Fitzpatrick in the ninth rubber, Weightmans had hit the front 5-4, however, a determined Kiapekos was too good for Reimers in five sets to level at 5 all.  The final and deciding rubber was between the two captains, and Corrin proved too good for Morrison, ending the contest after four sets.
Final scores:  6 rubbers to 5 and 27 games to 19.
– Sammy's Slammers 7 (Liam Wood 3, David Sergi 2, Brice Lock 1) d Mallee Meats 4 (Peter Fitzpatrick 2, Marcus Cimino 1)
When the first five rubbers of this match went Sammy's Slammers way, it was clear they were in little danger of losing.
And so it proved.
Liam Wood once again went away with a perfect score, three wins, whilst his captain David Sergi took two, and Brice Lock one.  With Sergi and Wood victorious in the first doubles against father and daughter Peter and Therese Fitzpatrick, Sammy Slammers had a comfortable 7-4 win.
Not much to say about Mallee Meats, number one Peter Fitzpatrick, like everyone else in this grade, he is no match for young Liam Wood.  Wood, however, was involved in some great rallies in his matches, in particular his game against Therese Fitzpatrick.  These two youngsters literally slugged it out for points which boasted in the vicinity of twenty shots, providing great entertainment.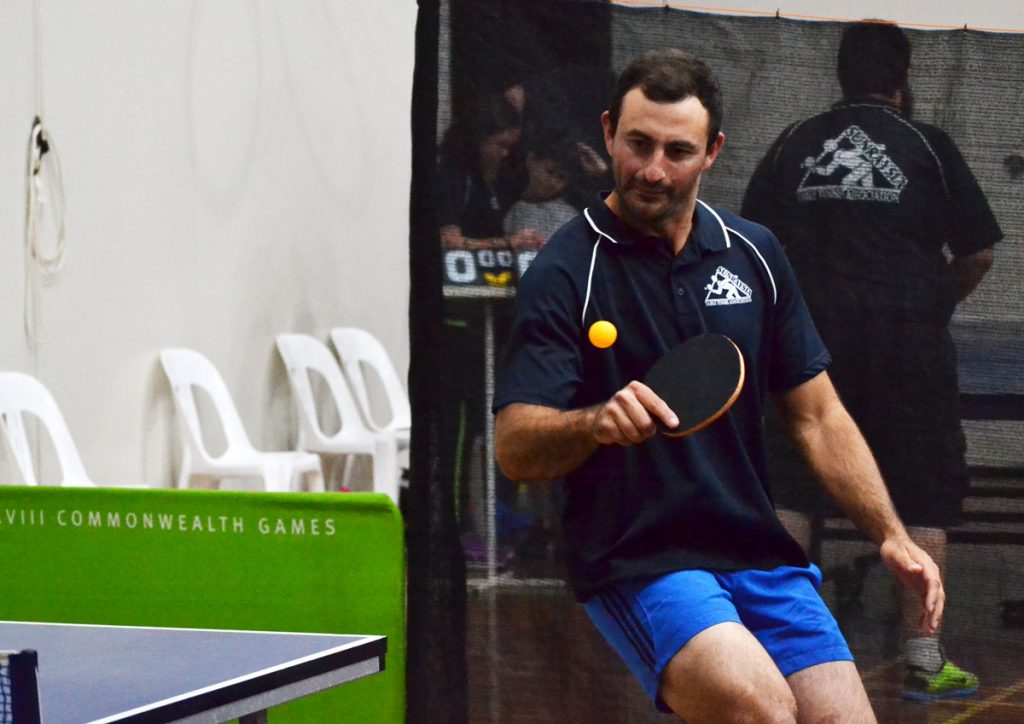 Marcus Cimino subbed for the absent Arnold Jago, and in addition to one singles rubber, combined with Peter Fitzpatrick to take the second doubles in straight sets.
Final scores:  7 rubbers to 4 and 21 games to 16.
– Regional Taxation Services 9 (Paul Fitzpatrick 3, Lachlan Prothero. Huseyin Ismail 2) d Tankard Dental 2 (John Fitzpatrick 2)
After a cautious start to this match, when they led 3-2 after five rubbers, Regional Taxation Services put the hammer down and sped away to a 9-2 victory.
With two singles rubbers to his credit, only Tankard Dental captain John Fitzpatrick could do anything about the Regional Taxation Services steam-roller.  Mind you, he came close to making it three rubbers, but opposing captain, and brother, Paul had other ideas. 
Paul led two sets to love 11-8, 11-7, before John forced his way back into the match, taking the third and fourth sets 11-6, 12-10.  The fifth was tense, but Paul got over the line 11-9.
And the next rubber was no different.  Although the result of the game was well and truly decided, Karly Leach and Lachlan Prothero fought for five sets to get a result, with the result going to Prothero to give him a two game haul for just the second time this season.
Earlier in the night, Leach had played another five setter against Huseyin Ismail.  Karly led two sets to one 8-11, 11-9, 16-14 only for Ismail to work his magic in the next two sets and take the match.
So whilst the result for Tankard Dental was certainly disappointing, it was not as one-sided a game as the raw numbers may suggest.
Final scores:  9 rubbers to 2 and 29 games to 14.
PENNANT FOUR:

In Round 8 Action we saw some tight matches that went right down to the wire.

Dave Tanner getting a nutritious midnight snack from the Golden Arches. When asked if he was feeding the whole family with the jumbo box, his reply was: 'No, all for me.' 
Tankard Dental 6 (Isaiah Bettess 3, Matt Sires 2) def MJM Automotive 5 (Dave Tanner 2, Casey Taplin 1, Shirley Whitecross 1)
This was fight night as the closeness of the scores indicate. The two five set matches that were played both went the way of the 'Dentists' as they extracted a narrow win. Young Isaiah Bettess was the stand out player winning all his three singles matches, but glory didn't come easy as he found himself in a five-set battles with Dave Tanner in both singles and doubles matches. Bettess and Sires outlasted Tanner and Whitecross in a five set thriller but had to overcome a two sets to nil deficit to claim victory 10-12, 7-11, 11-9, 11-5, 13-11 in the tightest of results. Later in the evening Bettess and Tanner again slugged it out over five sets with the scores of 11-3, 8–11, 11-2, 6–11 during the first four sets. Bettess was able to settle the quickest in the 5th and triumphed 11 – 8.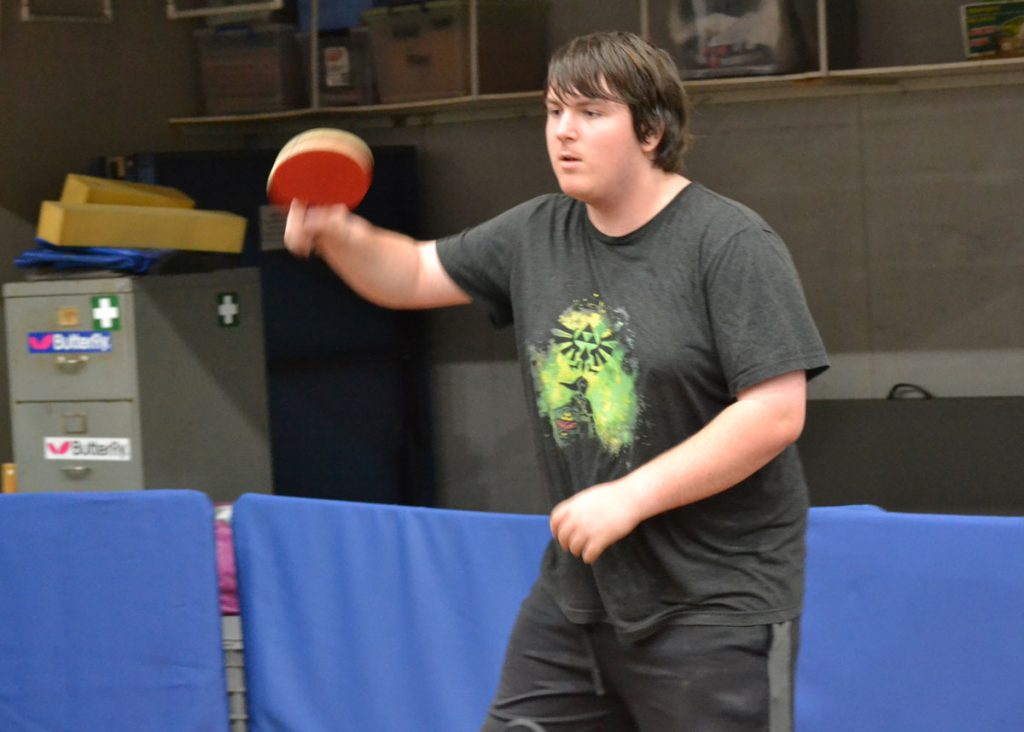 In the second last match of the evening Matt Sires was able to defeat Casey Taplin in four sets to secure the six rubbers needed for victory. It should be noted that MJM did win more sets on the night 20-19, but it is the rubbers that count the most with Tankard Dental winning 6-5.
Dunkley Scales 7 (Kim Avers 3, Karl Whitney 2, Kayla Bettess 1) def Mallee Meats 4 (Andrew Kremor 2, Jacinta Ljubic 1)
Dunkley Scales, with all players contributing, outplayed Mallee Meats who are having an inconsistent season thus far. Kim Avers was back to top form winning 3 singles and she was well supported by Karl Whitney with 2 singles and Kayla Bettess (filling in) with 1. For Mallee Meats Jacinta Ljubic continued her steady form and played well against Avers to take a set off her but lost in four sets. The closest match came late in the evening with Nathan Beard taking on Kayla Bettess.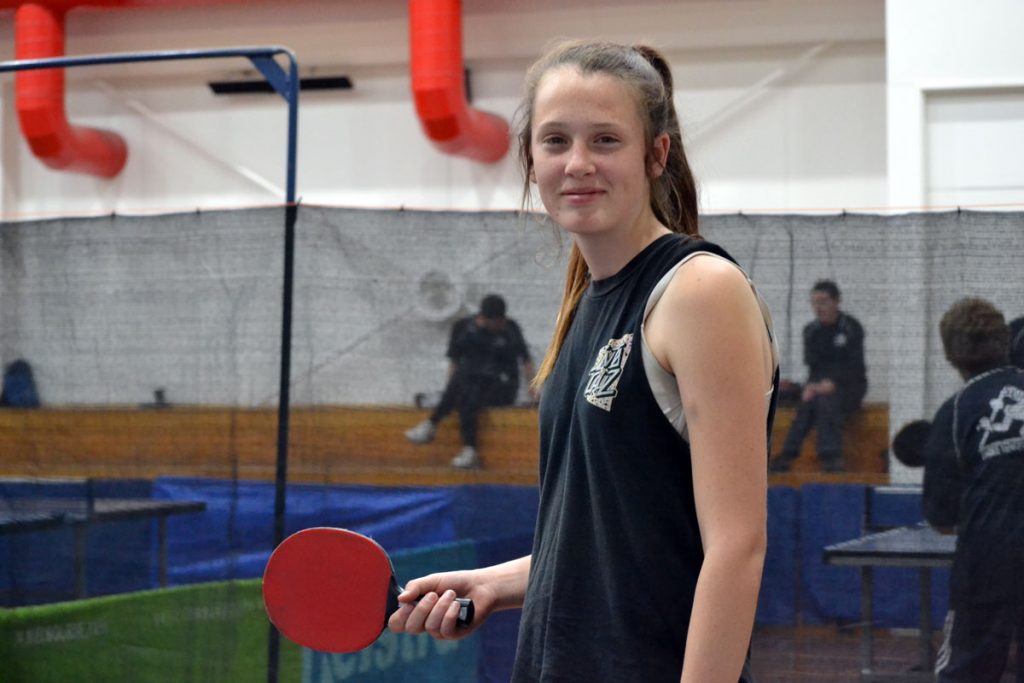 Both of these players have really improved over the last twelve months and it was always going to be a tight battle. In a topsy-turvy match there were many momentum swings before Bettess took out the match 7-11, 13-11, 11-3, 11-13, 11-8. Overall Dunkley Scales were just a cut above Mallee Meats winning 7-4.