Read Time:
20 Minute, 5 Second
With the top two teams defeated in round eight of the Sunraysia Table Tennis "Cash Converters" summer pennant the season is wide open for five of the six teams taking part. With two rounds to play there is a log jam at the top of the ladder and given that five does not fit into four there will be one unlucky team that eventually misses out.
– Tankard Dental 6 (Andrew Cannard, Shane Carmichael, Mark Ljubic 2) d Regional Taxation Services 5 (Gavin Carmichael 2, Matt Ljubic 1)
This round top team Regional Taxation Services lost to fifth placed Tankard Dental for the second time this season. In an even team effort Tankards Andrew Cannard, fill in Mark Ljubic and Shane Carmichael all won two singles in their 6-5 victory. Two matches in succession played a big part in the victory, the first was when Shane Carmichael defeated Matt Ljubic in straight sets 13-11 12-10 11-7 and in the following match Mark Ljubic controlled his singles against Gavin Carmichael to win convincingly 12-10 11-8 11-6.
Victory in both doubles kept Regional Taxation Services in the match and the second doubles was a beauty when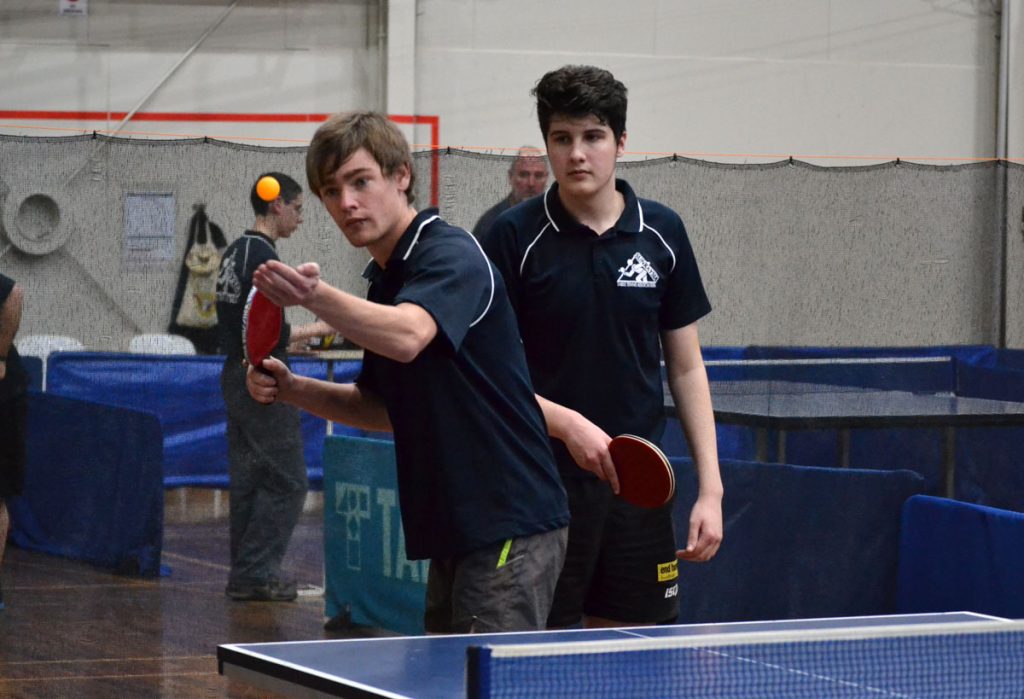 RTS pair Matt Ljubic and Leon Brown combined to defeat Andrew Cannard and Shane Carmichael 11-4 11-9 11-13 11-13 11-6. Tankards skipper Andrew Cannard then stood up for his team when it counted and defeated Matt Ljubic in four sets to snuff out any chance of a resurgence by Regional Taxation Services and this was their first loss in five rounds.
– Weightmans Packaging 7 (Wayne Carmichael 3, Bernadette Fitzpatrick, Leslie Ncube 1) d Cash Converters 4 (Nicholas Dorman, Mark Ljubic 2)
After three victories in succession second placed Cash Converters after taking a 2-0 lead early could not keep up the pace with Weightmans Packaging who went on to a 7-4 victory. This win allowed Weightmans to take second position on percentage and three teams sit at the top of the ladder with a five win two loss ratio.
For Weightmans, Wayne Carmichael was in good form winning three singles in an authoritative display. To cap off an excellent night he also took part in both doubles victories. Carmichael's team mates Leslie Ncube and Bernadette Fitzpatrick both won a singles each and with a doubles win as well this was a confidence boosting match for young Fitzpatrick who has been hitting the ball well of late.
For Cash Converters both Nicholas Dorman and Mark Ljubic won two singles each.
– Exposed Signage/Apparel 6 (Matt Avers 3, Lee Thomas Kate Carmichael 1) d Mallee Bearings 5(Shannon Bowen 2, Reece Kurrle, Ed Hung 1)
Exposed Signage/Apparel went into their match without a win in the past month and opponents Mallee Bearings were striving for their first victory since round one and what a contest it was with the Exposed combination narrowly taking the points 6-5.
Matt Avers continued his fine season winning three singles and now remaining undefeated after eight rounds. He was under extreme pressure from Shannon Bowen who was only two victories behind in the singles aggregate race. Bowen took a 2-1 lead early and forced several errors from Avers before the young lefty fought back to level the match at two rubbers all in what was a high class match. Both players had performed well and it was Avers who was able to steady and win 11-8 8-11 8-11 11-5 11-7 which now ensure he will win the singles title.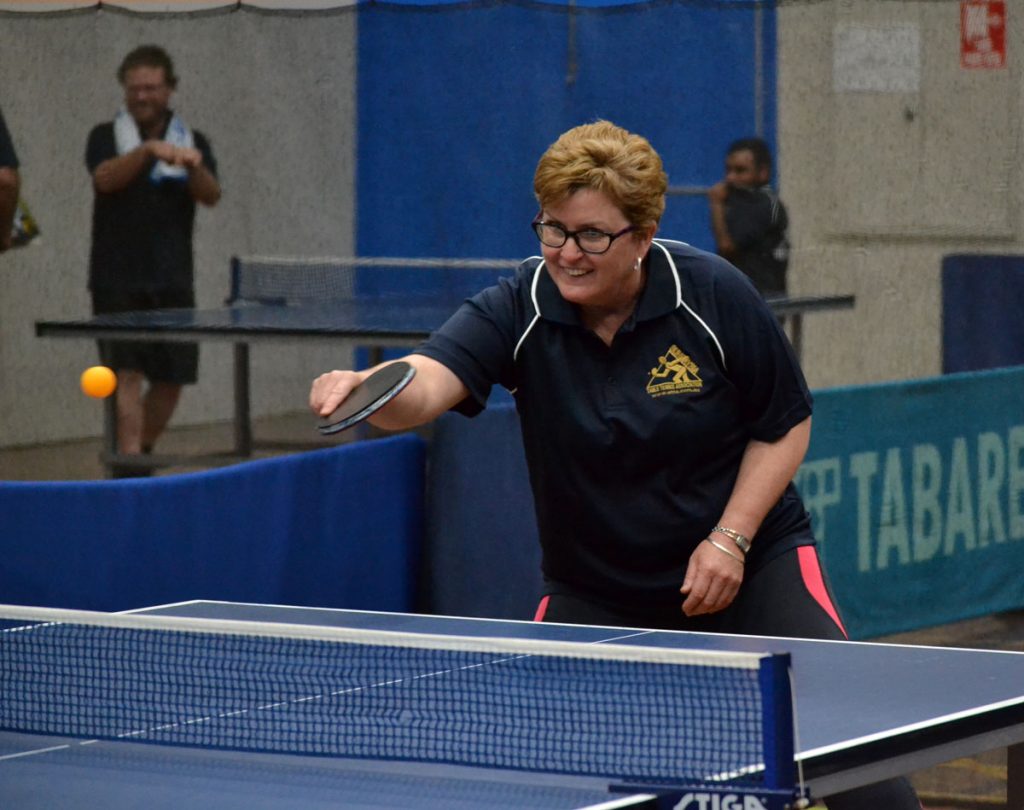 In an outstanding finish to the match Exposed's Lee Thomas took her team to victory in a match she was not expected to win when she accounted for the talented Reece Kurrle. Thomas enabled her team to hold fourth spot with her 11-9 11-4 11-6 victory and they will take confidence from this win as teams now jockey for final four positions in the final two rounds.
PENNANT TWO:

This week, ladder leaders Mallee Bearings brushed aside would-be/could-be contenders Mallee Meats; Pinnacle Packers take their fifth win of the season, and their fifth in a row to take outright second on the ladder; and MJM Automotive record their second win in a row, again a solid 7-4 performance.
– Mallee Bearings 8 (Kevin Johns, Terry Martin 3, Claire Ljubic 1) d Mallee Meats 3 (Peter Midgley, Geoff Peters 1)
For the first half of the season, Mallee Meats looked like a side which might be contenders for the flag come finals time, however in recording their third straight loss this week, they now occupy third spot, one game ahead of fourth and fifth placed teams.  They are now in danger of missing the finals altogether.
In taking the win, Mallee Bearings were not really extended at all.  After six rubbers they led 5-1, and although their opponents took the next two, the final round of singles all went to Kevin Johns and his team, to see the score blow out to 8-3.
Johns had the measure of the Mallee Meats trio in singles play, dropping just one set to Geoff Peters, and the same against opposing captain Peter Midgley.
Terry Martin rubbed salt into the Mallee Meats wound by taking three singles wins too.  On this occasion, he outplayed his captain, in that he dropped just one set in his three rubbers, that in his upset win against Midgley 13-11, 13-11, 10-12, 11-4.
When Johns and Martin paired for the first doubles, they had little trouble in accounting for the Mallee Meats pair of Midgley and Peters, winning 8, 2 and 5.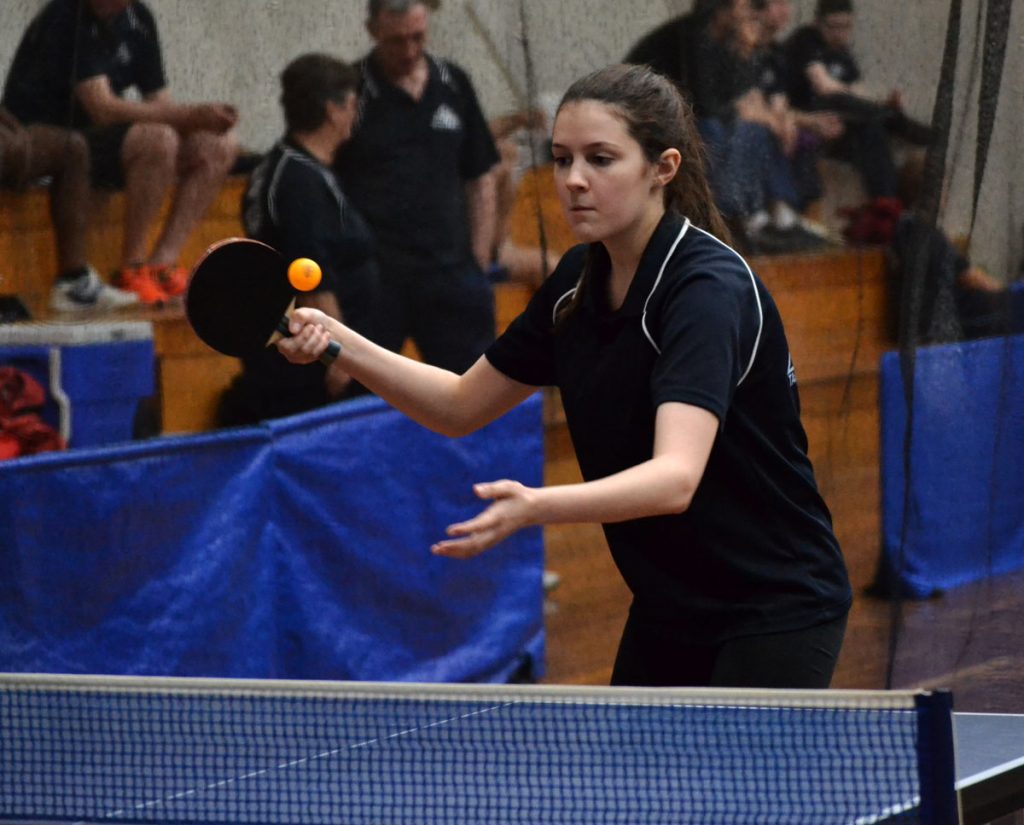 Claire Ljubic chipped in with a rubber too, downing her opposite number Peter Fitzpatrick in the eleventh rubber.
So, for the second week in a row, the Mallee Meats team have conspired to produce a disappointing match, and although they play against teams who are currently below them on the ladder in the final two rounds, those are danger games for this side who currently seems to have lost its way.
Finals scores:  8 rubbers to 3 and 26 games to 14.
– Pinnacle Packers 6 (Ashley Morrison 3, Brendan Alderton, Seval Fuat 1) d Weightmans Packaging 5 (Jackson Murphy, Tony Malycha 2)
There seems to be no stopping Pinnacle Packers now.  As the only team to have won five in a row this season, they are now looking more and more like the team "most likely".
This win was not easy, however.  The win only came in the final rubber, the win set up by captain Ashley Morrison, who was undefeated in singles play.  The rubber which swung the match in favour of Pinnacle Packers was the clash of the two captains.  Morrison took on Jackson Murphy, who only last week was defeated for the first time in a singles rubber.  Well, Morrison inflicted the second defeat this week, and in so doing avenged his own defeat at the hands of Murphy when they last met in round 3.  On that occasion the result went to Weightmans 6-5, this time to Pinnacle Packers 6-5.  The match was a five setter, Morrison the more dominant player, and that was reflected in Morrison taking 54 points to Murphy's 45 in the 10-12, 11-8, 11-3, 9-11, 13-11 win.
Those three wins were like gold to Pinnacle Packers in this game, as other rubbers were hard to come by.  Brendan Alderton and Seval Fuat could only contribute one each – both downing Paul Fitzpatrick in some very entertaining matches.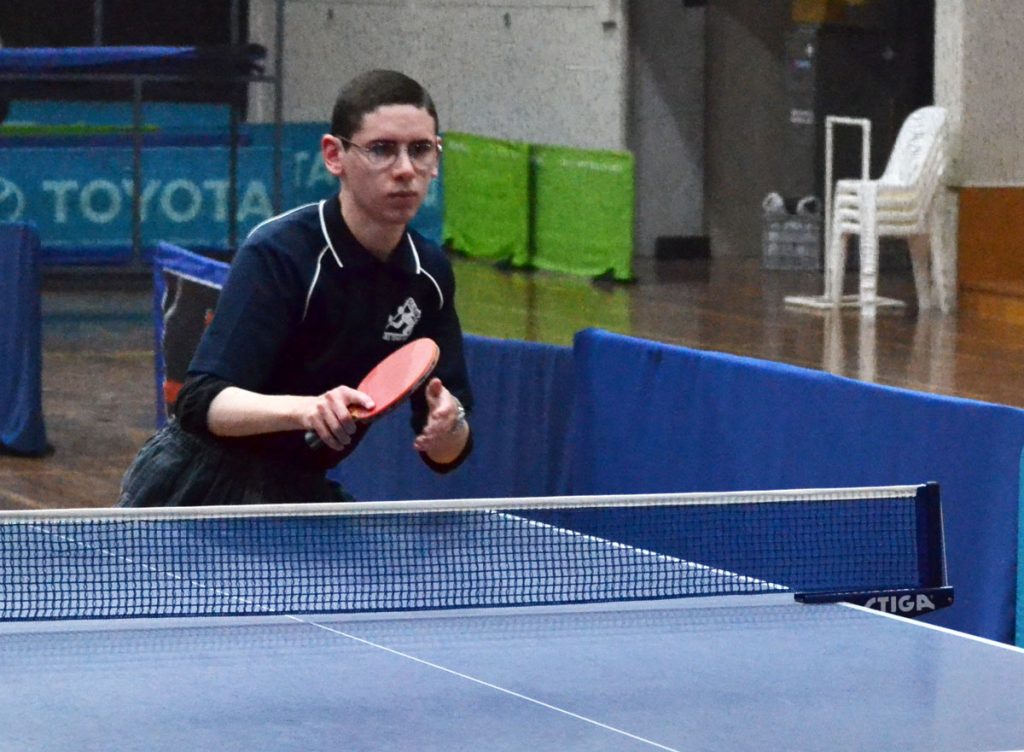 In fact, Fitzpatrick led Alderton two sets to love, before Alderton settled into rhythm and winning 9-11, 6-11, 11-8, 11-6, 11-3.  And although Fuat won in three sets, there were some great rallies with Fitzpatrick a real chance in each set.
Pinnacle Packers took the second doubles, after Morrison and Tony Alderton had been lucky to get a set in the first doubles against Murphy and Malycha, the Weightmans Packaging pair the much more dominant pair, winning 11-6, 10-12, 11-4, 11-2.  The second doubles however, was vital for the Packers, for a loss would have seen them 3-5 down.  Morrison and Fuat played only just a little better than Murphy and Fitzpatrick to record a very close 11-9, 12-10, 11-8 win and evened the score up to 4-4 with the final round of singles to go.
For Weightmans, although beaten by Morrison, Murphy took wins against Alderton and Fuat, and Tony Malycha kept his team in the game with two solid wins, accounting for the wily Fuat in four sets, and then having to draw on all his patience to see off Brendan Alderton 11-7, 11-7, 9-11, 8-11, 11-9 to bring the scores to 5-5.
This was an impressive win for Pinnacle Packers, for although the match looked a bit lop-sided it could have so easily gone to Weightmans Packaging, who although with only two wins to their name, know that this was a top-shelf performance.
Final scores:  6 rubbers to 5 and 23 games to 19.
– MJM Automotive 7 (Michael Hensgen, Zac Healy 3, Arthur Paar 1) d Max Miller Carpets 4 (Quentin Clark, Jason Gifkins, Russell Walder 1)
 In downing Max Miller Carpets in this round, MJM Automotive joined their opponents on three wins for the season, and now have a real chance of making the finals.  Max Miller Carpets remain in fourth spot, however only hold it courtesy of a better percentage.  The final two rounds will be fascinating.
MJM Automotive captain Arthur Paar has been generous with his two young charges, Zac Healy and Michael Hensgen this season, giving them every chance to improve and become proficient in this pennant.  That strategy is now beginning to pay off, this their second win in a row,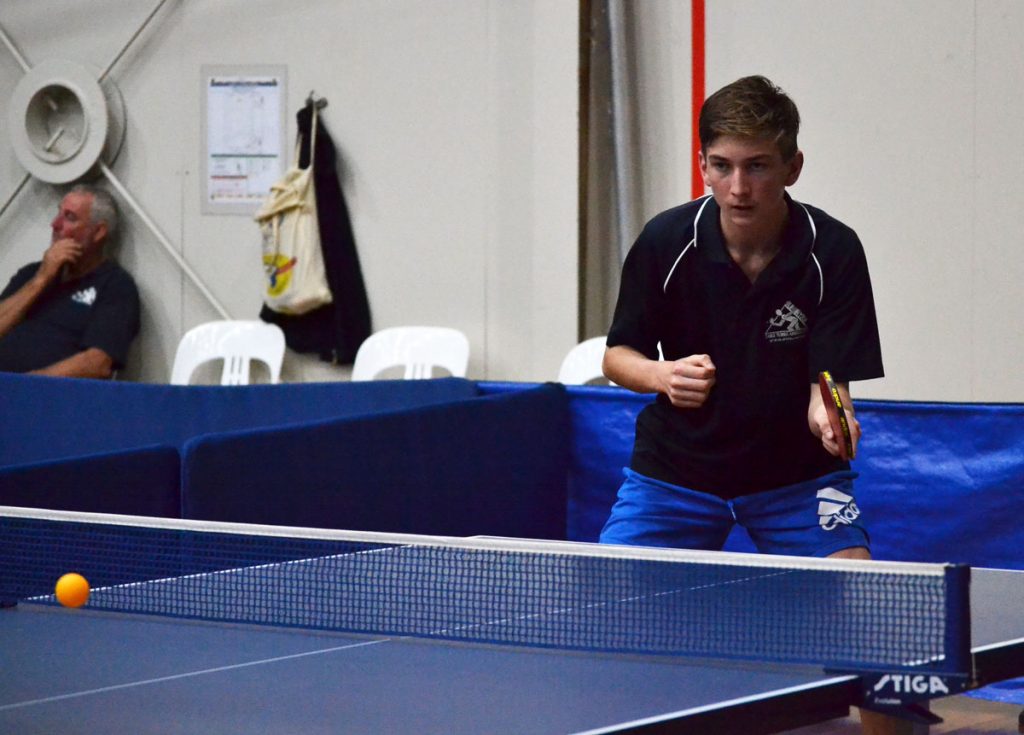 with Healy starring this week, taking three singles wins, dropping just one set in the process !!
In taking two rubbers, Hensgen also fought above his weight.  As well as accounting for his opposite number Quentin Clark, he outlasted Max Miller Carpets captain, the  steady Russell Walder in five sets 11-9, 7-11, 6-11 11-8, 11-6 to swing the game back in favour of MJM.  What would have been a 2-4 deficit, became 3-3.
Paar himself, had a very quiet night, picking up just a single win, this against Jason Gifkins in four sets.  Paar had in the first round of singles fallen to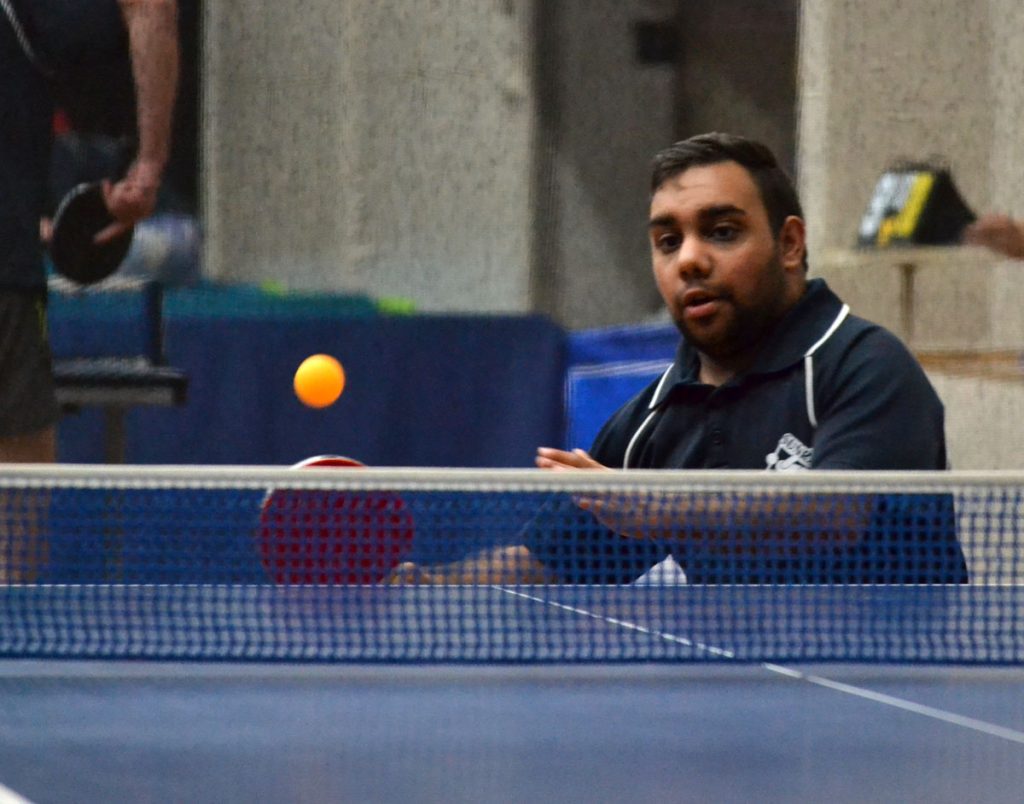 Max Miller Carpets number three Quentin Clark who, despite winning fewer points, somehow managed to keep Paar in check to win 11-9, 5-11, 11-7, 7-11, 11-9.  Quentin in this game managed to do what Michael Hensgen would do a couple of rubbers later – both number three's defeating the much better credentialed number one's.
With six singles rubbers, MJM Automotive rounded off a good team night with victory in one of the doubles.  Both doubles were good matches, victory up for grabs until the final point of the fifth set in each, with Walder and Gifkins winning by the barest of margins.  Winning one point less than their opponents Zac Healy and Michael Hensgen, the Carpeters pair just got home 11-6, 6-11, 11-9, 6-11, 13-11.
The second doubles saw Paar and Healy combine to defeat Gifkins and Clark 11-5, 9-11, 11-5, 11-13, 11-3, the MJM pair clearly the stronger combination.
So, a good win to MJM Automotive, and an indifferent performance by Max Miller Carpets, certainly a great effort by Clark downing Paar, but with Walder falling to the opposition's number two and three, and then defeating Paar, it is clear there is room for improvement.  Gifkins was probably the most consistent – he defeated Hensgen, fell to Paar in four sets in an unsurprising result, and then fell to the now much improved Zac Healy in four sets.  Jason is probably not the only one who is going to have trouble with Zac before the season is out !!
Final scores:  7 rubbers to 4 and 26 games to 19.
Weightmans Packaging brought MJM Automotive's run of five straight wins to an end this week; whilst Regional Taxation Services brought their run of four straight losses to an end; and Dunkley Scales did enough to earn the four points against Mallee Meats.
– Weightmans Packaging 6 (Mark Kerr, Arnold Jago 2, Ryan Hensgen 1) d MJM Automotive 5 (Thanh Nyugen 3, David Sergi 1)
In a very tight match, Weightmans Packaging accounted for MJM Automotive, and is doing so, brought MJM's run of five wins to an end.
Singles games went as expected, and at the conclusion of the eighth rubber the score was 4-4, the MJM Automotive pair of Thanh Nguyen and David Sergi having taken the first doubles in a close four setter against Mark Kerr and Arnold Jago.  Weightmans Packaging retaliated with a win in the second doubles – Mark Kerr and Ryan Hensgen gained confidence as the match progressed and proved too strong for Nguyen and Nick Kiapekos winning 13-15, 11-9, 11-7, 11-4.
In the final round of singles, the clash of the captains saw Nguyen victorious once again, keeping his perfect winning record intact, Arnold Jago evened the score up again by defeating Sergi, and so the decider was between the number three's, Ryan Hensgen and Nick Kiapekos.  Kiapekos edged Hensgen in the first set 12-10, but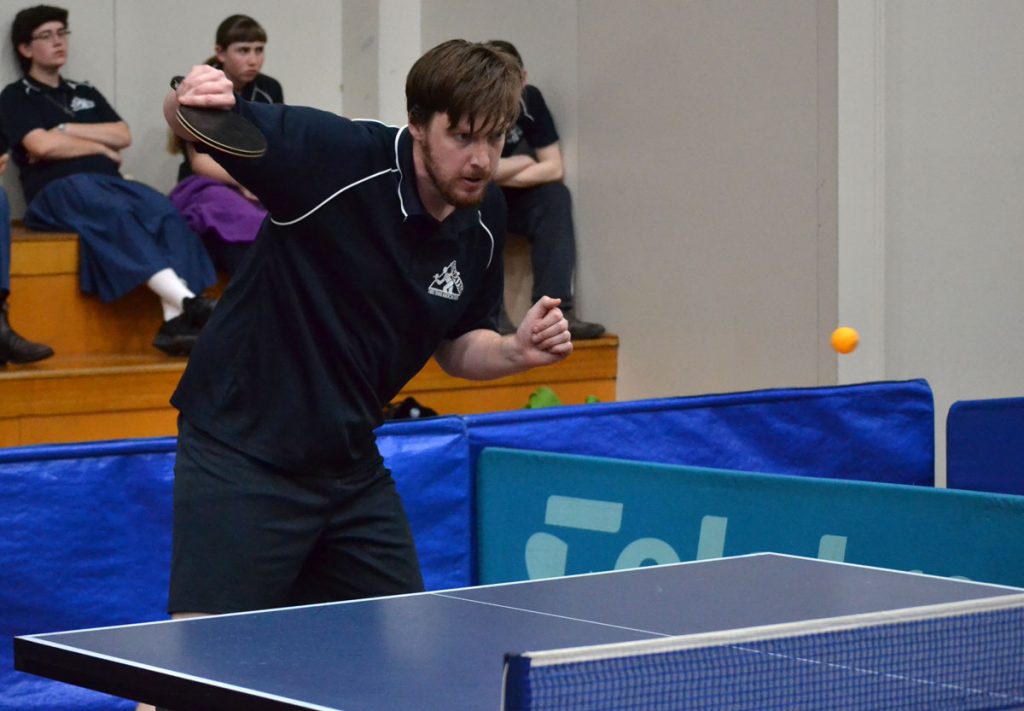 Hensgen took control from then on, winning the last three 7, 7 and 3 to deliver the win to Weightmans.
A loss here would have seen Weightmans drop to second on the ladder, as Dunkley Scales, who were equal with them on wins going into this round, won their game, but as it is, Weightmans retain top spot with better percentage.
The difference in the teams in this contest was that the number two and number three for Weightmans were stronger than their counterparts in the MJM squad.  MJM Automotive number two David Sergi has proved to be the stumbling block for teams in the past; in this game, his inability to win two singles rubbers proved too much for his team to make up.
Final scores:  6 rubbers to 5 and 24 games to 17.
– Regional Taxation Services 9 (Jeremy Corrin 3, Karly Leach, Huseyin Ismail 2) d Tankard Dental 2 (Sam Hensgen 2)
Regional Taxation Services brought their recent run of poor form to an end with a bit 9-2 win against Tankard Dental, but don't be fooled into thinking this was a walk-over.
Six of the first seven rubbers went to five sets, and would you believe Regional Taxation Services won them all !!  And there were some long sets among them too.  Jeremy Corrin did not get much relief against Rohan Reimers.  In what was a tight contest, Corrin defeated Reimers 8-11, 11-9, 7-11, 11-5, 12-10.  The very next rubber Husseyin Ismail did battle with Leonie Dunkley and this was truly a marathon game, with almost 120 points played, Ismail winning 11-4, 17-19, 8-11, 11-8, 14-12.
The first doubles followed on shortly after, and with numbers of 11, 11, 7, 11 and 12 against their names, one could think that Sam Hensgen and Rohan Reimers won.  But not when Corrin and Ismail had 4, 8, 11, 13 and 14 against theirs !!  It would have been very disheartening for Hensgen and Reimers, having taken those first two sets so easily, only to see the game slip away.
But that was only three five setters, there was still three to come.
Reimers led Ismail two sets to one, but faltered in the final two, to lose 11-7, 7-11, 11-7, 8-11, 8-11.  The captains met in rubber number six, and in a match which saw the sets won alternately, Corrin came out on top 11-8 in the fifth.  Karly Leach then added her name to those of her captain and number two in that she too took a five set victory, this against Leonie Dunkley.  Karly won just one point more than Leonie on her way to the 11-9, 11-4, 4-11, 8-11, 11-9 win.
After that, the rubbers were decided in "only" three or four sets, probably because everyone was exhausted !!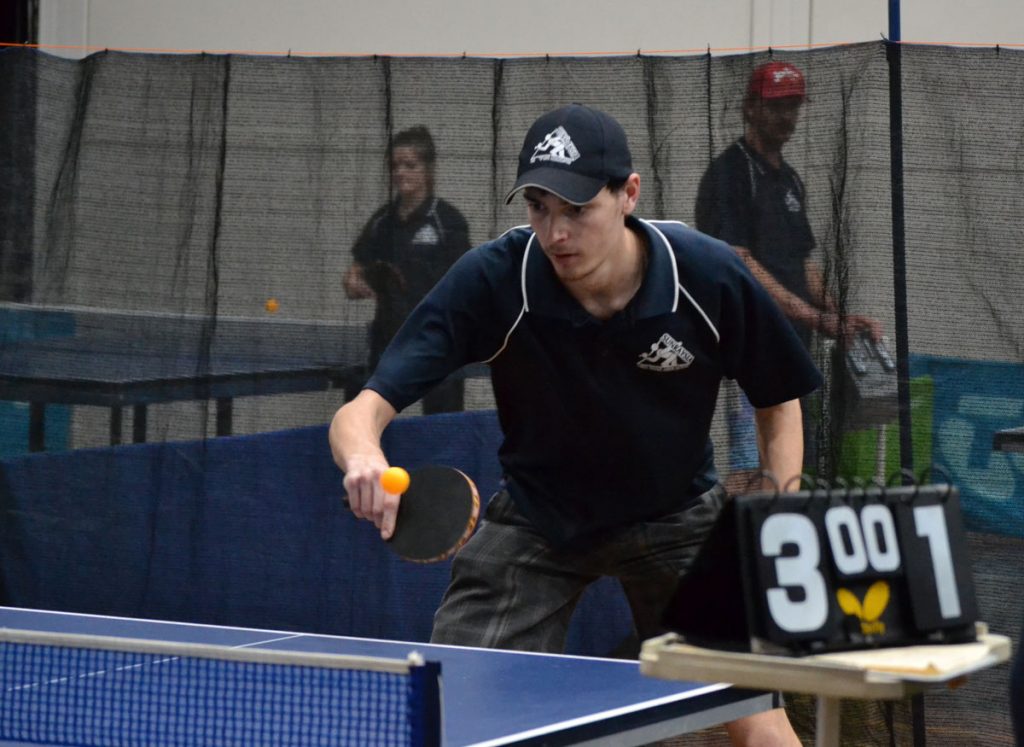 Only Tankard Dental captain Sam Hensgen recorded a win – he took two singles wins, one against Leach in three, 8, 4 and 3, and later a closer three set win against Ismail 11-7, 13-11, 11-8.
Rohan Reimers came away without a win, which is most unusual for him.  Reimers was involved in two of those five setters, losing to Corrin and Ismail, and in the final round of singles, Karly Leach defeated him in four.
Regional Taxation Services really cleaned up.  Corrin took three wins, Ismail and Leach two each, and both doubles went to their end of the table too to make it 9 rubbers to 2.
Final scores:  9 rubbers to 2 and 27 games to 20.
– Dunkley Scales 6 (Rachel Fitzpatrick, John Fitzpatrick 2, Sabrina Fitzpatrick 1) d Mallee Meats 5 (Cambell McKenzie 3, Marcus Cimino 1)
Dunkley Scales had to work hard to take this win against Mallee Meats.
Singles rubbers went as expected up until the eighth rubber, although Dunkley Scales number two John Fitzpatrick tried his hardest to gain an advantage for Team Fitzpatrick in his clash with opposing captain Cambell McKenzie.
In just the third rubber played, it looked like an upset might be coming when John led Cambell two sets to one 13-15, 11-7, 11-9.
  The upset was not to be, however, as Cambell proved too good in the last two sets, winning them 7 and 9.
With the doubles being shared – Rachel and John Fitzpatrick thrashed McKenzie and Marcus Cimino 1, 4 and 7; but then McKenzie and Helen Frania were too consistent for Rachel and mum Sabrina, winning 12-14, 11-4, 11-7, 11-8.
So it came down to the last round of singles to decide this contest.  McKenzie took his third win for the night with a three set victory against Rachel, to give his team the edge at 5-4, but John and Sabrina in just six sets took the next two rubbers against Cimino and Frania respectively to grab the win.
Considering their positions on the ladder, it can be seen that the Mallee Meats trio made their opposition work for this win.  Dunkley Scales now have six wins to Mallee Meats two, but the games for and against gives a clearer indication of the closeness of these two teams.  Dunkley Scales have won 49 rubbers, Mallee Meats 41; Dunkley Scales have conceded 39 rubbers, Mallee Meats 47 – so it is clear there is not a lot between these sides.
Final scores:  6 rubbers to 5 and 22 games to 19.
PENNANT FOUR:

Two 6-5 results and an 8-3 took place in Pennant Four. Mallee Meats and Tankard Dental were first and second on the ladder going into this round and both came within a whisker of losing. Third placed Weightmans Packaging scored a strong win so in the wash up the top three teams were successful over the bottom three teams which virtually settled the top four teams with two rounds to play although positions within were still not finalised.
– Mallee Meats 6 (Tom Morrison, Dave Tanner 2) d Dunkley Scales 5 (Therese Fitzpatrick 3, Jolene Healy, Chelsey Avers 1)
Mallee Meats retained top position when they defeated Dunkley Scales just!!! Dunkley's were hit hard with unavailability with both Stephan Ljubic and Aaron Sawyer out. Their replacements were Therese Fitzpatrick who had a busy night doubling up while former junior player Chelsey Avers was dragged in from the stands as she was there to watch her brother Matt in action….thanks Chelsey.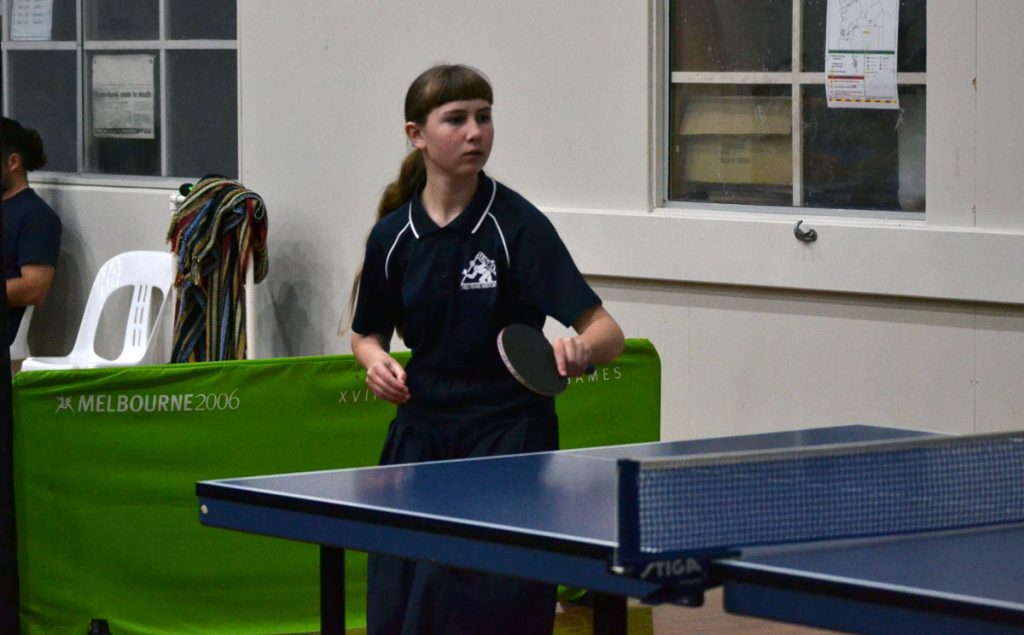 Therese Fitzpatrick was on fire in both her matches and she won three singles to give Dunkley's a chance. Her victory over Thomas Morrison was impressive, these two young players played a lengthy five setter with Therese taking the points 8-11 14-12 11-7 12-14 11-7 a great match. Team mates Jolene Healy won a singles as well defeating Tom cooper in another five setter after trailing two games to love. Chelsey Avers also won a singles however Dunkley's could not pick up a doubles and this is where Mallee Meats were able to pick up the four points.
For Mallee Meats both Thomas Morrison and Dave Tanner won two singles and combined to win the first doubles in four sets over Therese Fitzpatrick and Jolene Healy. In the second doubles the two Tom's Morrison and Cooper proved too steady for Therese and Chelsey winning in four sets.  
This narrow loss by Dunkley's now will make it very difficult for them to make the four as they sit two games out in fifth position with two rounds to play.
– Weightmans Packaging 8 (Brice Lock, Therese Fitzpatrick 3, Miya Lock 1) d MJM Automotive 3 (Joel Hogarth, Paul Kerr 1)
Weightmans scored a big win in this match with both Therese Fitzpatrick and Brice Lock winning three singles each. Brice has really improved in this competition after a good season in pennant two of the junior competition where he won the singles aggregate.
Weightmans were out of the block quickly in this contest and took a 5-0 lead early. Therese and Brice combined in the first doubles to defeat Joel Hogarth and Shirley Whitecross in impressive fashion capping off a great night in addition to their singles victories.
Weightmans number three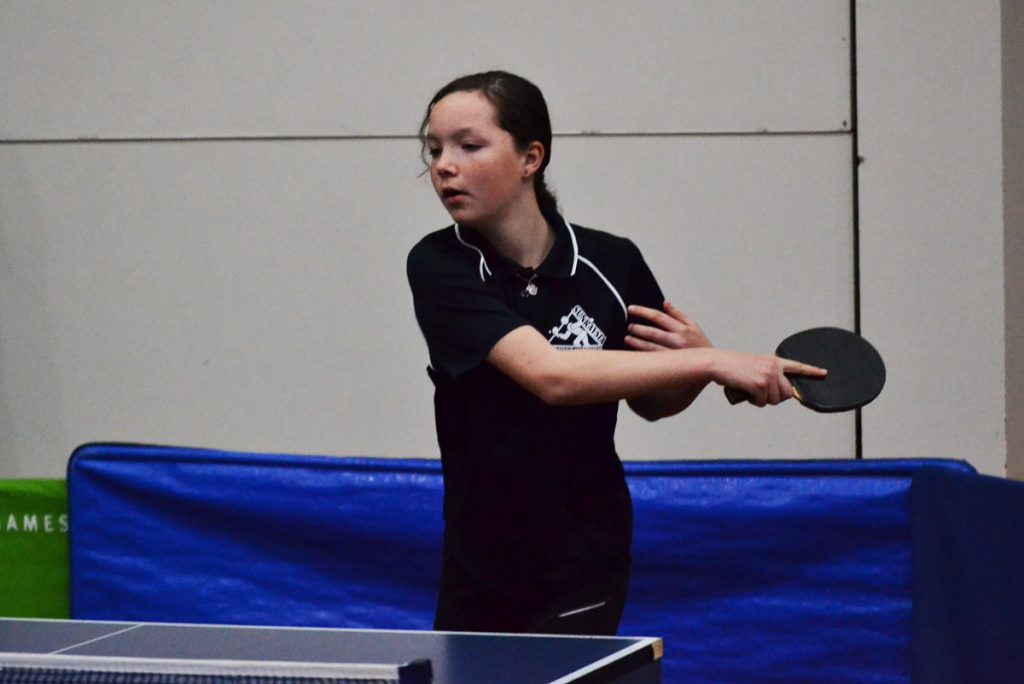 Miya Lock was able to give her team a good start when she outlasted Shirley Whitecross in five sets after trailing two sets to nil. Miya fought back to win 12-14 5-11 11-7 11-7 11-8. Well done to both girls!!!
This victory by Weightmans ensured they would finish safely in the four.
– Tankard Dental 6 (Peter Lock 2, Ben Hosking, Luke Ljubic 1) d Regional Taxation Services 5 (Kim Avers 3, Sarah Hogarth 2)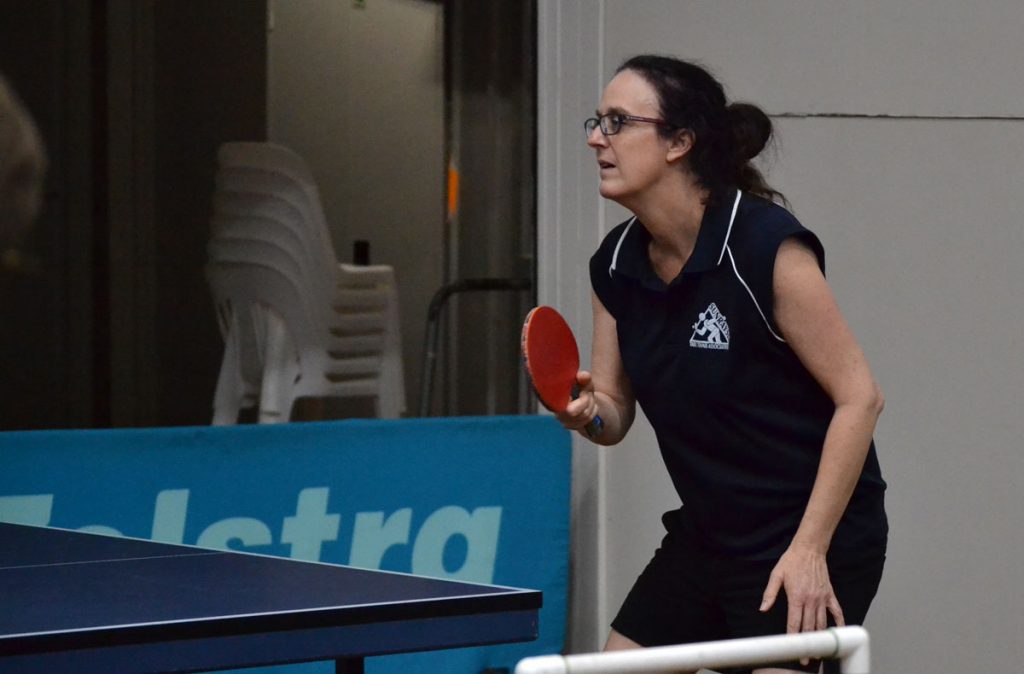 Despite Kim Avers and Sarah Hogarth winning three and two singles respectively for Regional Taxation Services it was not quite enough for their team to pick up the four points although they are most likely to finish in fourth position.
This match was evenly poised however in unfortunate circumstances Regional Taxation Services number three Jacinta Ljubic was unwell late in the match and was unable to participate in the second doubles and was also unable to play her final singles.
In the wash up Tankard Dental were gifted these two matches and I the end were able to creep over the line 6-5 with Peter lock winning two singles while Ben Hosking won one. Luke Ljubic fought hard against Sarah Hogarth however went down in five but when his mum could take to the table at five rubbers all he took the match on a forfeit.
Regional Taxation Services were successful in four five setters which took place with both Kim Avers and Sarah Hogarth both winning two five setters each.
In the end the first doubles was crucial and it was the Tankard pair of Ben Hosking and Peter Lock who proved too good for Kim and Sarah winning in four sets.
The top side managed to scrape through to victory and some might say they were fortunate however victory may have still been possible even if Jacinta was well. Son Luke was quietly confident he would have held his nerve at five rubbers all just as he did in the winter pennant grand final.