Read Time:
16 Minute, 10 Second
Sunraysia Table Tennis 2022 Winter Pennant results Round 10: –
PENNANT ONE:
Again there were some very good table tennis in round 10 action of the Sunraysia Table Tennis winter pennant. There are two certainties each round at the moment , a Max Miller Carpets win and Matt Ljubic winning three singles as he has done each round this season.
– Max Miller Carpets 7 (Shannon Bowen 3, Ed Hung, Leon Brown 1) d Mallee Bearings 4 (Mark Ljubic, Thanh Nguyen 2
With their ninth win in succession, 7-4 over Mallee Bearings, Max Miller Carpets are now two matches clear of second placed Tankard Dental who lost narrowly to Cookes Pools and Spas. With Shannon Bowen in top form winning three singles and taking part in both doubles victories the Carpeters always held the edge despite fill in Mark Ljubic and Thahn Nguyen both winning two singles for Mallee Bearings.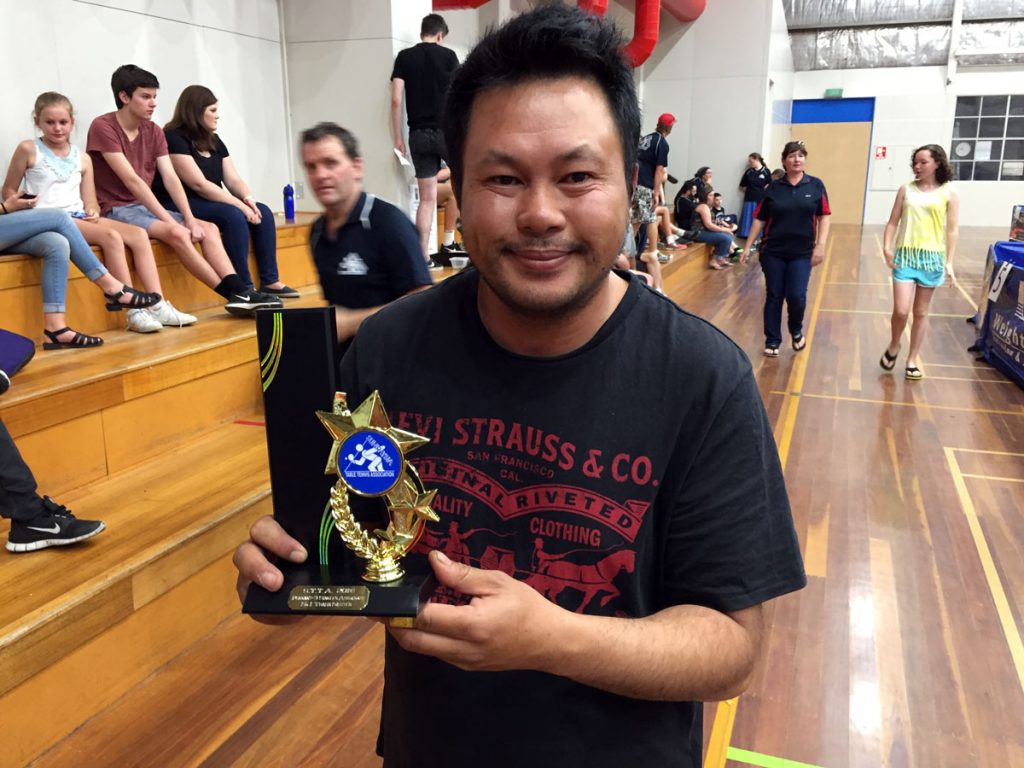 Nguyen played a tremendous match against the in form Leon Brown winning 11-8 8-11 11-3 6-11 11-5.
– Cookes Pools & Spas 7 (Jackson Tung 3, Gavin Carmichael 2, Lee Leeson 1) d Tankard Dental 4 (Kate Carmichael 2, Mark Dorman 1)
Third placed Cookes Pools & Spas kept their faint chances of gaining the double chance alive by defeating second placed Tankard Dental 7-4 in a strong finish. When Tankard's Kate Carmichael and Dylan Wood took the second doubles in four sets over Jackson Tung and Lee Leeson the match was level at four rubbers all with three singles that could go either way to come.
In a strong display Cookes on all three matches courtesy of Jackson Tung defeating Kate Carmichael in a top class five setter, Gavin Carmichael defeated Mark Dorman and then Lee Leeson capped off a good night for Cookes defeating the talented Dylan Wood 11-9 13-11 12-10 in a close tussle.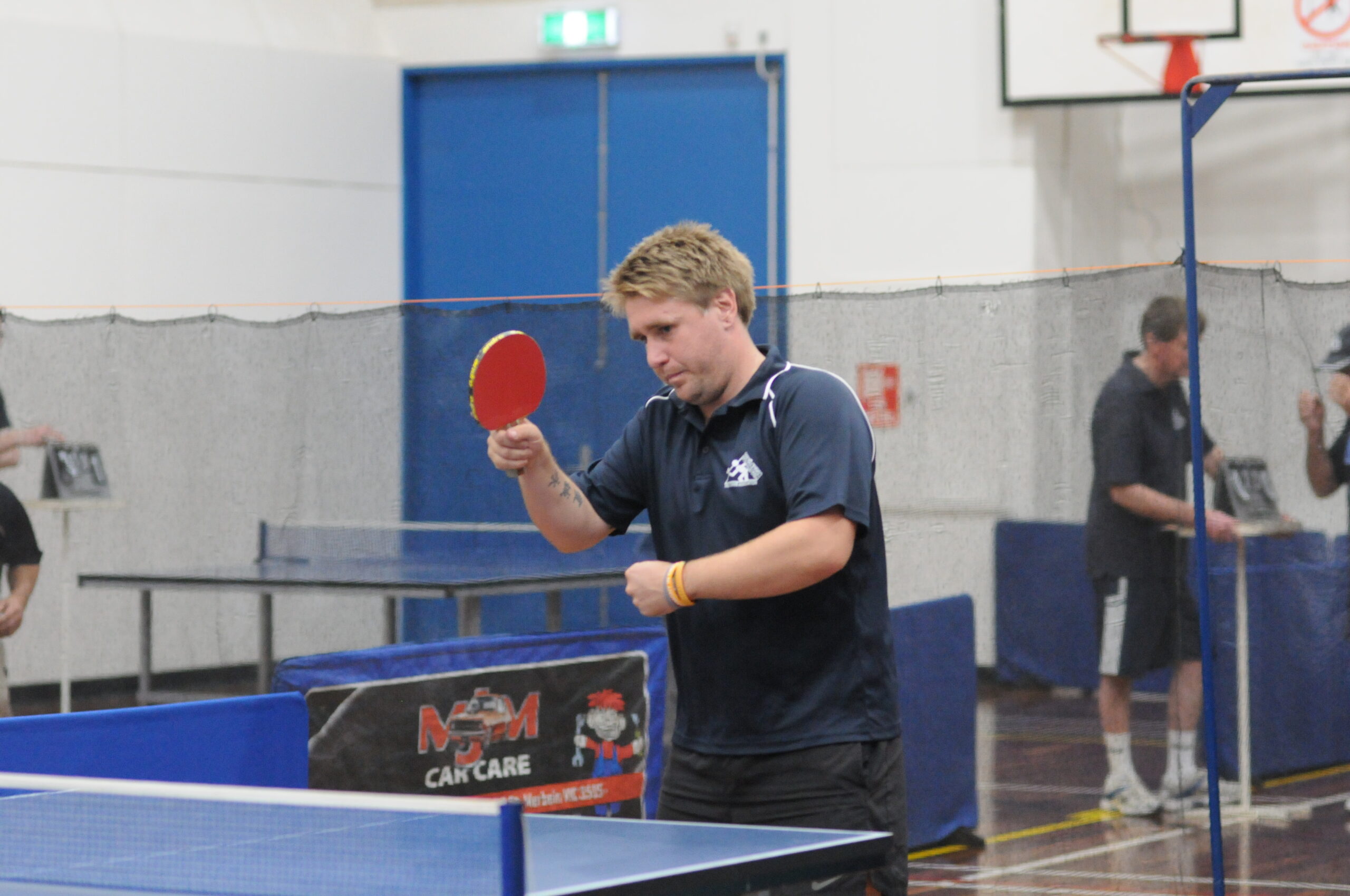 Cookes skipper Jackson Tung was the standout player winning his three singles and teaming with Gavin Carmichael to defeat Kate Carmichael and Mark Dorman in the important first doubles. Tung has enjoyed a consistent season however this was probably his best match , he was tested early by Dylan Wood and Mark Dorman and then played his best match defeating Kate Carmichael in an outstanding five set match.
– Regional Taxation Services 6 (Matt Ljubic 3, Lewis Yang 1) d Exposed Signage/Apparel 5 (Reece Kurrle, Russell Walder 2, Leon Brown 1)
Regional Taxation Services retained fourth spot on the ladder courtesy of a narrow 6-5 win over bottom team Exposed Signage/Apparel. For the Exposed team both Reece Kurrle and Russell Walder played well winning two singles each while fill in Leon Brown won one, however it was their inability to win a doubles which proved costly.
For RTS Matt Ljubic enjoyed a night out again winning three singles to keep his undefeated run intact although Leon Brown did give him a run for his money, Ljubic trailed one game to two before he was able to steady against the determined Brown winning 11-4 12-14 9-11 11-5 11-5.
PENNANT TWO:
Ladder leaders MJM Automotive had an easy win this round, further extending their lead at the top of the ladder to two games; second placed Pinnacle Packers stumbled, falling to the improving Cookes Pools & Spas, who won their third match in the last four rounds, and Max Miller Carpets consolidated third spot on the ladder with a hard fought victory against bottom side Weightmans Packaging.
– MJM Automotive 8 (Casper McCarthy 3, Andrew Jones 2, Therese Fitzpatrick 1) d Mallee Meats 3 (Quentin Clark 2, Marcus Cimino 1)
MJM Automotive continued their march to the finals with an 8-3 win against finals pretenders Mallee Meats in this round.
Going into this round Mallee Meats were fifth on the ladder, equal on games, but behind on percentage with Cookes Pools & Spas, who held fourth. They needed a win, a big win at that, to establish themselves in the four at the head of the ladder. Alas it was not to come in this round, in fact their hopes of making the finals went in the opposite direction.
The MJM Automotive trio of Casper McCarthy, Andrew Jones and Therese Fitzpatrick played a great team match, taking 3, 2 and 1 wins respectively in singles play, and then combining to take both doubles rubbers.
Perversely captain McCarthy had the least trouble in singles against his opposite number, Quentin Clark, disposing of him in straight sets, albeit close ones at that, 11-8, 14-12, 15-13. Against the Mallee Meats number two Marcus Cimino, McCarthy was kept at the table for five sets, eventually getting over the line in a very even match 11-8, 11-8, 8-11, 9-11, 11-8. And fill-in Jamie Kealley (subbing for Isaiah Bettess) acquitted himself well, McCarthy winning in four.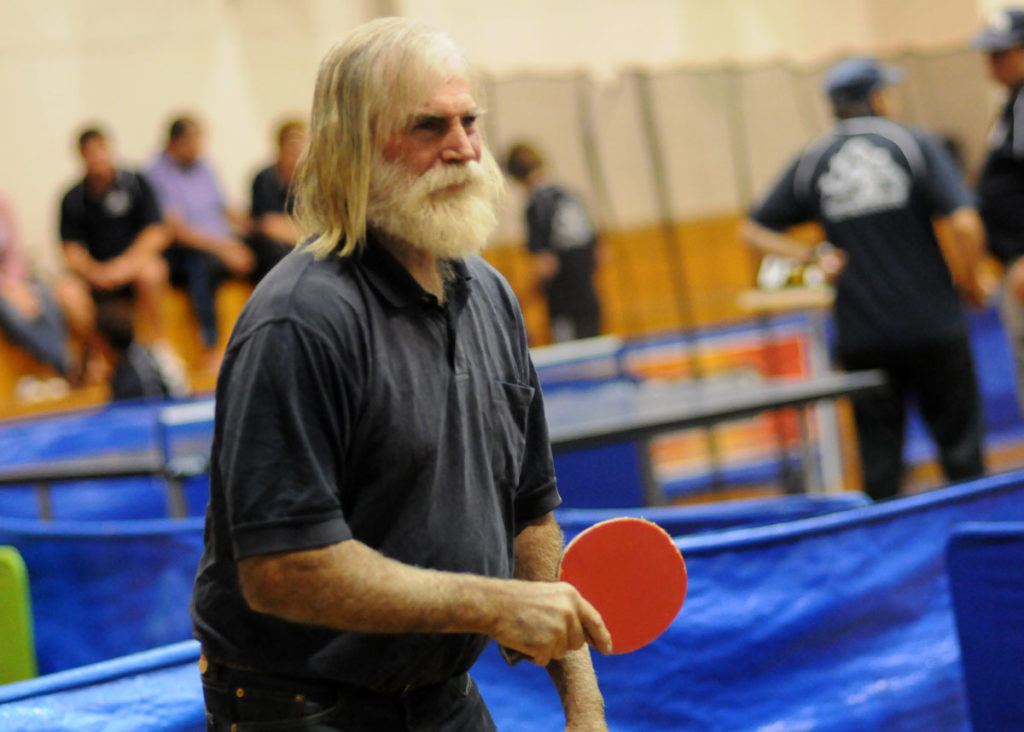 Andrew Jones, enjoying his first new bat in a long time (the old one has been retired to a museum somewhere), picked up two wins, firstly a come-from-behind win against feisty Kealley, and a strong three set win against Marcus Cimino in the penultimate game.
Number three Therese Fitzpatrick won the battle of the number three's, downing Kealley in a match which was not over until it was over. Therese led two sets to love, 13-11, 12-10 and was getting to ready to go home, but Jamie reminded her the game was still going, won the next two sets 11-3, 11-8, before Therese got her act together to close the match out 11-8.
McCarthy and Jones continued their domination in the doubles, winning a four set contest with Clark and Cimino, and later McCarthy and Fitzpatrick won their third match for the year against Clark and Kealley. After starting with wins in the first two doubles they played, they then spent the next six rounds unable to replicate the winning formula, until this round. In all this made eight rubbers to the ladder leaders, and in addition to they now having a two game break at the head of the ladder, this 8-3 win improved their percentage (not that they need to!!).
For Mallee Meats, Clark and Cimino took the crumbs MJM Automotive left behind, Clark defeating Fitzpatrick in four, and later Jones in straight sets, a strange match, Jones winning just nine points in those three sets.
Cimino also defeated Fitzpatrick in four sets, after dropping the first set.
This loss now leaves Mallee Meats in fifth spot, one game behind Cookes Pools & Spas, and only five rounds to go to mount a challenge for the finals.
Final scores: 8 rubbers to 3 and 26 games to 19.
– Cookes Pools & Spas 6 (Terry Martin, David Sergi 2, James Jarvis 1) d Pinnacle Packers 5 (Rohan Reimers 3, Jeremy Corrin 1)
Pinnacle Packers have looked like a certainty for number two spot (at least) on the ladder up until the last couple of rounds, when they have lost, this week to fourth placed Cookes Pools & Spas.
This was a close match, certainly, but it underlines the re-emergence of Cookes Pools & Spas as a force in this competition. They have won three of their last four matches, captain Terry Martin invariably winning 2 singles each round, David Sergi proving his reliability, and James Jarvis improving as the season progresses.
Martin for the fifth week in a row won two of his three singles encounters, Sergi likewise won two, and Jarvis one.
The man none of them could defeat though, was Pinnacle Packers number two Rohan Reimers. Rohan is having a great season, has now won 20 of his 30 singles rubbers, and sits and impressive fourth on the aggregate.
Whilst Reimers had a good night, his captain Jeremy Corrin did not. Jeremy had what could only be called an "indifferent" night. His first match resulted in a win, against Cookes Pools & Spas number three
Jarvis. He and Reimers followed that up with a four set win in the first doubles against Martin and Sergi, but after that it was a night to forget – a loss to Sergi in four sets, a straight sets defeat in the second doubles, and a four set loss to Martin in the final round of singles.
So whilst Pinnacle Packers underperformed, Cookes Pools & Spas were consistent all night. Sergi accounted for the dangerous Ryan Hensgen in the first rubber, then took Corrin out in the second round of singles in a good four setter 5-11, 12-10, 11-9, 11-9. Martin defeated Hensgen too, but his defeat of Corrin was an impressive 11-3, 11-4, 9-11, 11-5. Jarvis proved his worth under pressure, delivering the win to his side in the deciding eleventh rubber. He and Hensgen played a close match, both players scoring 40 points, but Jarvis winning his points at the right time, 12-10, 4-11, 11-8, 13-11.
This loss sees Pinnacle Packers remain in second spot on 7 wins, but Max Miller Carpets are now a game closer to them, whilst Cookes Pools & Spas (4 wins) are a game clear of Mallee Meats.
Final scores: 6 rubbers to 5 and 22 games to 19.
– Max Miller Carpets 6 (Raymund Manzanares, John Fitzpatrick, Jamila Belbaze 2) d Weightmans Packaging 5 (Jason Gifkins 3)
If there was a mid-season draft in this competition, Weightmans Packaging would be on the look-out for two players by the name of Jason.
Weightmans Packaging captain Jason Gifkins has carried this team on his shoulders this season, but all the team has to show for his efforts is one win, that being a 6-5 victory against second-last Mallee Meats in the first round, a long time ago!!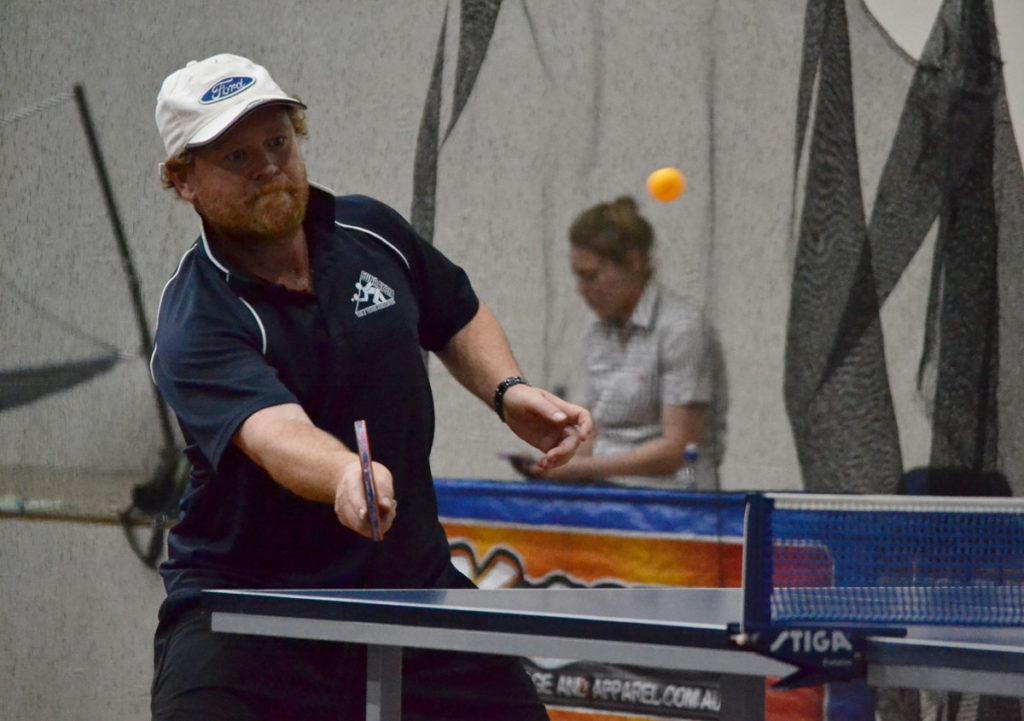 Gifkins won three singles in this match, a straight sets win against Max Miller Carpets number three Jamila Belbaze, a five set victory against never-say-die John Fitzpatrick, a game which Fitzpatrick came close to stealing, and a close four set win against opposite number Raymund Manzanares 11-5, 15-17, 15-13, 11-6. With his two non-Jason teammates, Jason won the first doubles against Manzanares and John Fitzpatrick in three sets 13-11, 12-10, 11-5, and the second doubles in four sets against Manzanares and Belbaze 14-12, 9-11, 11-9, 11-6.
That of course gave Weightmans Packaging five rubbers … but they needed six to win, surely one of the non-Jason's could win one? Unfortunately, no.
One of the non-Jason's, also known as Tague Morris, came close to winning two of his matches though. Morris is in his first season of table tennis and is only playing on a fill-in basis, but has improved week on week. He almost rolled Max Miller Carpets captain Raymund Manzanares in the second round of singles, narrowly losing the fifth set 11-9. And as it turned out, with the match in the balance at five all, Tague was drawn to play Jamila Belbaze. Tague started brilliantly, taking the first two sets 11-8, 11-9, only for Belbaze to turn the match on its head, running through the next three sets 11-5, 11-2, 11-6 to seal the win for her side. That was as close as it got for Weightmans, Max Miller Carpets simply picking up two wins apiece, Manzanares, John Fitzpatrick and Belbaze all defeating Morris and the other non-Jason.
Final scores: 6 rubbers to 5 and 22 games to 21.
PENNANT THREE:
Round 10
After ten rounds we find that each team has played each other twice and that it is still mathematically possible for all teams to play off in this season's grand final. Ladder leader's Mallee Meats seem to think they are assured of finals action as they have 'rested' two players this week with fill in mother and son duo Marita Grace and Jordan Cole performing well in their roles.
Weightmans Packaging 7 (Sabrina Fitzpatrick 3, Jacinta Ljubic 2, Tom Gilmour 1) def Tankard Dental 4 (Shaun Gifford 2, Nick Kiapekos 1)
After a big 10-1 win a few weeks ago Tankard Dental's form had taken a turn for the worse and this trend continued this week as Weightmans Packaging inflicted jet another defeat. Weightmans Captain Sabrina Fitzpatrick was back to her best form in winning her three singles matches. Fitzpatrick received excellent support from Jacinta Ljubic and Tom Gilmour as Weightmans look to consolidate second spot on the ladder. For Tankard Dental Shaun Gifford was in excellent form in winning two singles, while his Captain Nick Kiapekos is still looking to find his own top form in winning one singles match.
There was only one five set match for the evening with Jacinta Ljubic taking on Nick Kiapekos. In a topsy-turvy affair Ljubic won this encounter 11-7, 2-11, 11-9, 9-11, 11-5 to give her team a very important win. Kiapekos didn't have to wait long to avenge this defeat as he and Shaun Gifford then paired in the doubles against Ljubic and Fitzpatrick and duly handed out a doubles lesson in winning 11-7, 11-3, 11-7 to get Tankard's back on track.
The match following match was the encounter of Fitzpatrick V Gifford. On paper it looked a close contest, but this did not play out to script with Fitzpatrick steamrolling Gifford 11-7, 11-5, 11-2 to send a clear signal that she is back to her best form. Fitzpatrick continued to bulldoze her way through her final singles match against opposing Captain Kiapekos and won 11-2, 11-6, 11-6 in another ruthless display. This win by Fitzpatrick secured victory for Weightmans. Tom Gilmour then put some icing on the cake in defeating Phuong Hung Nguyen in straight sets in a confidence boosting display.
Overall Weightmans Packaging have defeated Tankard Dental 7 rubbers to 4 (21 games to 15) to secure second spot on the ladder.
Dunkley Scales 7 (Rodney Galvin, Huseyin Ismail 2, Jim Vale 1) def Sammy's Slammers 4 (Dave Tanner, Ben Hosking 2)
Bottom of the table Dunkley Scales have kept their finals dream alive by outplaying Sammy's Slammers. Captain Rodney Galvin led from the front as he knocked over form player Ben Hosking in four sets during the first match of the evening to get his team off to a dream start. Huseyin Ismail, taking the lead from his Captain, then secured a straight sets victory over Maria Starikov. Galvin and Ismail then combined in the doubles to beat Tanner and Hosking in four sets to give Dunkley Scales a 3-1 lead.
The doubles match between Ben Hosking and Huseyin Ismail was an absolute beauty. Both players hate to give up easy points and this match saw plenty of long rallies. In a must win match for his team, Hosking would prevail 11-9, 9-11, 8-11, 11-9, 11-9 in a hard-fought match.
The following singles match saw Jim Vale up against Maria Starikov. Vale showed his best form of the season as he defeated Starikov in three tight sets. Vale then teamed with Galvin in the doubles
against Starikov and Tanner and Vale's form did not abate as his team won this match in straight sets.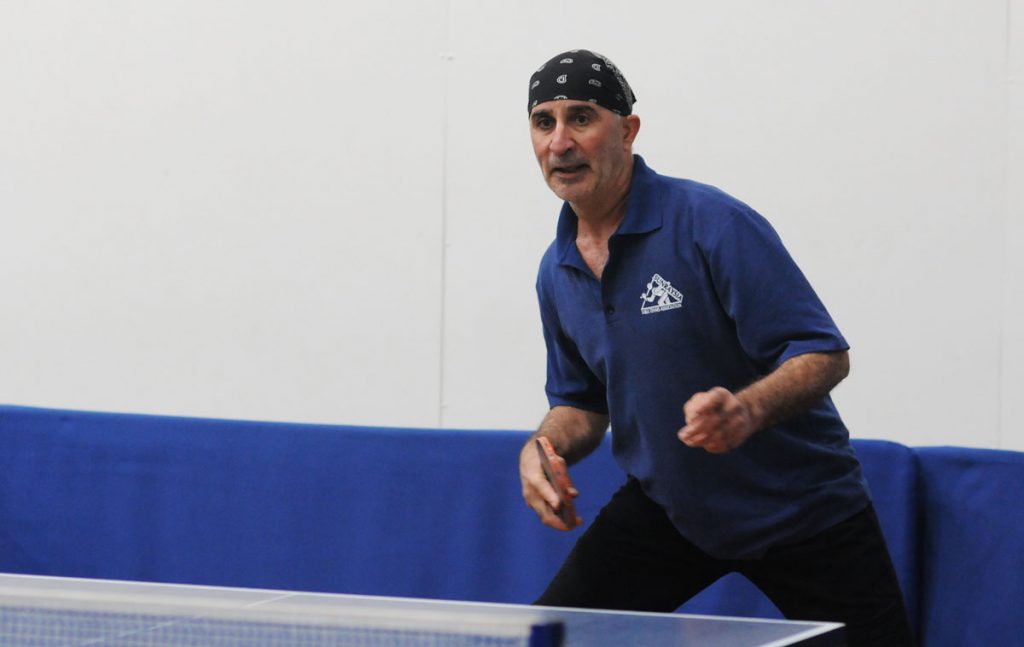 With the Slammers now trailing 4 rubbers to 5 Tanner had to defeat Ismail to keep his team's chances alive. Tanner got off to a bright start winning the first set 11-6 before Ismail returned fire in winning the second in identical fashion 11-6. The third set was a dour struggle with Ismail edging out Tanner 12-10. Tanner hit back in the fourth taking this 11-7 thus setting up a deciding set. The fifth set went right down to the wire with Ismail winning this 12-10 and in doing so gave his team victory.
Overall Dunkley Scales have had a great win over Sammy's Slammers 7 rubbers to 4 (24 games to 16).
MJM Automotive 6 (Karly Leach, Levi Williams 2, Alicia Tyers 1) def Mallee Meats 5 (Jordan Cole 2, Nhat Dat, Marita Grace 1)
MJM have continued their recent winning run with a thrilling victory over Mallee Meats. Every player in this match contributed at least one singles victory for their respective teams – this feat is rarely seen.
The night started in great fashion with Mallee Meats Jordan Cole taking on MJM's Levi Williams in a tight five set contest. Williams was out of the blocks early taking the first 11-5 before Cole steadied to take the second 11-8. The third set saw neither player giving an inch with a lengthy tie-break required to break the deadlock. Williams took this third set 15-13 and was now within grasp of victory. However, Cole had other ideas and took the fourth 11-7 to set up a fifth set. In a point for point slug out it would be Cole who had the final say as he won the last 11-9 in a hard-fought victory for his team.
Williams had little time to recover from his five-set loss and was again involved in another five-set battle against this time against Nhat Dat. In another close battle Dat opened a lead of two games to one advantage before Williams turned the tide to take the final two set and the match. As it turned out this was a crucial victory for MJM in the final analysis.
The next match saw another five-set battle – this time Karly Leach and Marita Grace went toe-to-toe. It has been reported that Grace has been in Monday night training camps and that her form over a short period of time has greatly improved. Leach won the first set; however, Grace won the next two sets rather comfortably before Leach squared the match by taking the fourth set. The fifth set was a lengthy battle and Grace's training camps ultimately paid off as she secured the fifth set 12-10 to hand Leach a first singles loss in quite some time.
Later in the evening Mallee Meats had opened a 5 rubbers to 4 lead over MJM Automotive and with it all on the line Karly Leach had to beat Jordan Cole to keep the match alive. Leach started this match in grand style in taking the first set 11-6 before Cole went on a blitz to win the next two 11-2, 11-7 and looked on course for victory.
Leach would not give in and took the fourth 11-9 and repeated the dose in the fifth 11-9 to keep her team alive.
The final match of the evening was against Marita Grace and Levi Williams. Grace had already taken a big scalp when she defeated Karly Leach earlier in the evening and Williams had enjoyed mixed success with the lengthy matches he had previously played. Williams would prevail in this match in four tight sets to give MJM victory.
In conclusion MJM have enjoyed their third victory in a row as they have narrowly beaten Mallee Meats 6 rubbers to 5 (22 games to 21)