Read Time:
13 Minute, 3 Second
ROUND 3
PENNANT ONE:
After the school holiday break Table Tennis has recommenced at the Irymple Leisure Centre with round three taking place and featuring success for Exposed Signage / Apparel who maintained their undefeated run with a hard working 6-5 victory over Mallee Bearings.
– Exposed Signage/Apparel 6 (Nicholas Dorman, Thanh Nguyen 2, Leon Brown 1) d Mallee Bearings 5 (Joel Dorman, Gavin Carmichael 2)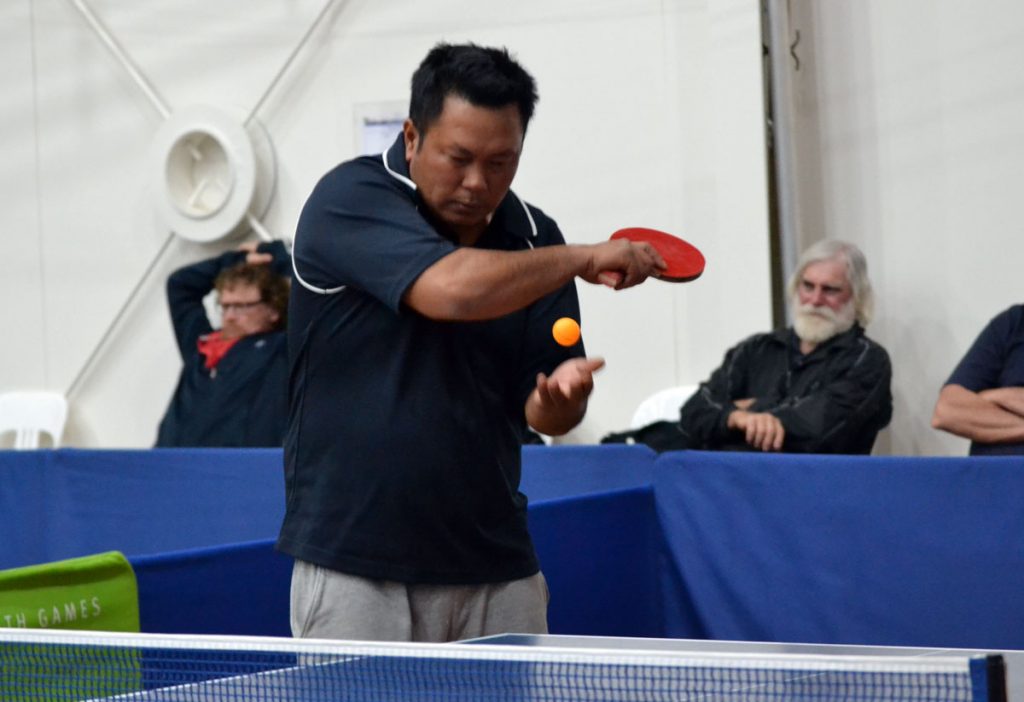 The Exposed team were out of the blocks early taking a three rubbers to love lead with Leon Brown defeating Michael Hensgen in straight sets and then the inform Thahn Nguyen caused an upset when he defeated opposing number one Joel Dorman 15-11 21-19 in a high class affair Nguyen's skipper Nicholas Dorman then after a slow start outlasted Gavin Carmichael 11-15 15-12 15-9 to give his team the first three singles.
The Exposed team were out of the blocks early taking a three rubbers to love lead with Leon Brown defeating Michael Hensgen in straight sets and then the inform Thahn Nguyen caused an upset when he defeated opposing number one Joel Dorman 15-11 21-19 in a high class affair Nguyen's skipper Nicholas Dorman then after a slow start outlasted Gavin Carmichael 11-15 15-12 15-9 to give his team the first three singles.
Mallee Bearings then mounted a comeback winning three of the next four matches including the first doubles, a win by Joel Dorman and Gavin Carmichael over Nicholas Dorman and Leon Brown 15-9 12-15 15-9. Exposed Signage composed themselves to win the second doubles and took a 5-3 lead. Then followed the best match of the night when the Dorman brothers took to the table. Joel held an advantage in the first before Nicholas fought back to win this game narrowly, Joel in the second was able to maintain control this time , spectators witness many fine exchanges of deft touch followed by some outstanding attacking shots from both players. With the four points on the line Joel was able to break away in the third and while Nicholas made a late recovery it was not enough and Joel took the match and kept his team alive.
Gavin Carmichael for Mallee Bearings then levelled the match with a straight sets win over Leon Brown. The scores were locked at five rubbers all and it was Thahn Nguyen capping off a successful night by winning his second singles when he accounted for Michael Hensgen 15-8 11-15 15-8. Hensgen had tried valiantly however Nguyen was too steady and his team Exposed Signage sit at the head of the ladder, the only undefeated team.
– Regional Taxation Services 9 (Kate Carmichael, Mark Dorman 3, Ed Hung 1) d Tankard Dental 2 (Wayne Carmichael, Reece Kurrle 1)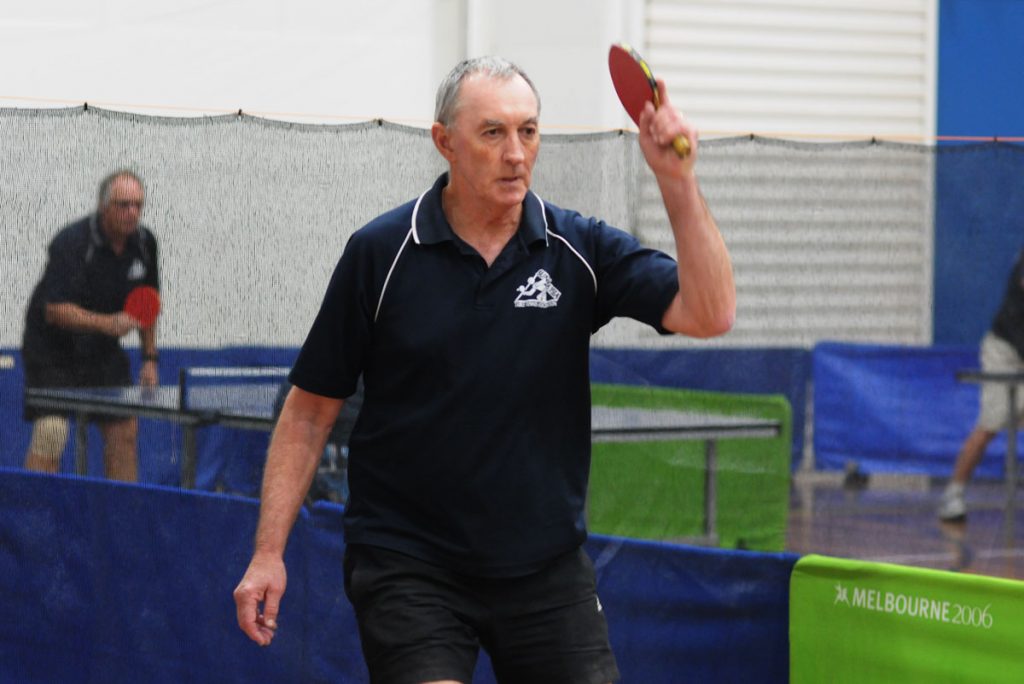 With both Kate Carmichael and Mark Dorman in top form winning three singles each Regional Taxation Services proved far too strong winning 9-2 over Tankard Dental. Carmichael won her third singles of the night when she recovered from a bad loss in the first game 3-15 against her Uncle Wayne to win in three sets. She capped off a successful night by taking part in two doubles victories.
This percentage booster will take her team to second place on the ladder.
– Cash Converters 7 (Phil Smith 3, Jackson Murphy, Liam Wood 1) d Max Miller Carpets 4 (Matt Ljubic 2, Jackson Tung, Lee Thomas 1)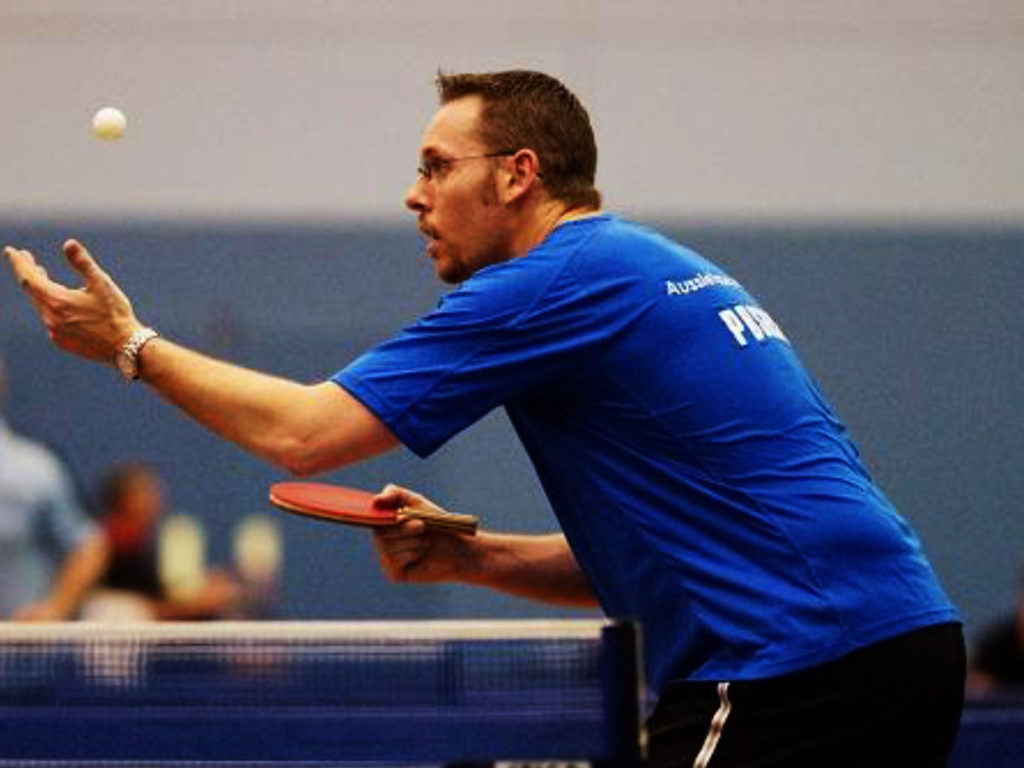 With Phil Smith back in the team and playing excellent table tennis Cash Converters defeated the more fancied Max Miller Carpets 7-4. Smith struggled in round one , did not play in round two however bought his A Grade game this round and was able to win three singles including an outstanding three set victory over the previously undefeated Matt Ljubic. This match contained many long looping rallies of high quality with Smith winning 15-13 9-15 15-13. Smith also played a big part in both narrow three set doubles victories.
Team Mates Jackson Murphy and Liam Wood also offered good support winning a singles each.
PENNANT TWO:
Max Miller Carpets replaced MJM Automotive as ladder leaders after the clash of teams placed first and second on the ladder; third-placed Pinnacle Packers defeated Weightmans Packaging who hold fourth spot; and in the battle between teams to had yet to win a match, Cooke's Pools & Spas defeated Mallee Meats.
MAX MILLER CARPETS v. MJM AUTOMOTIVE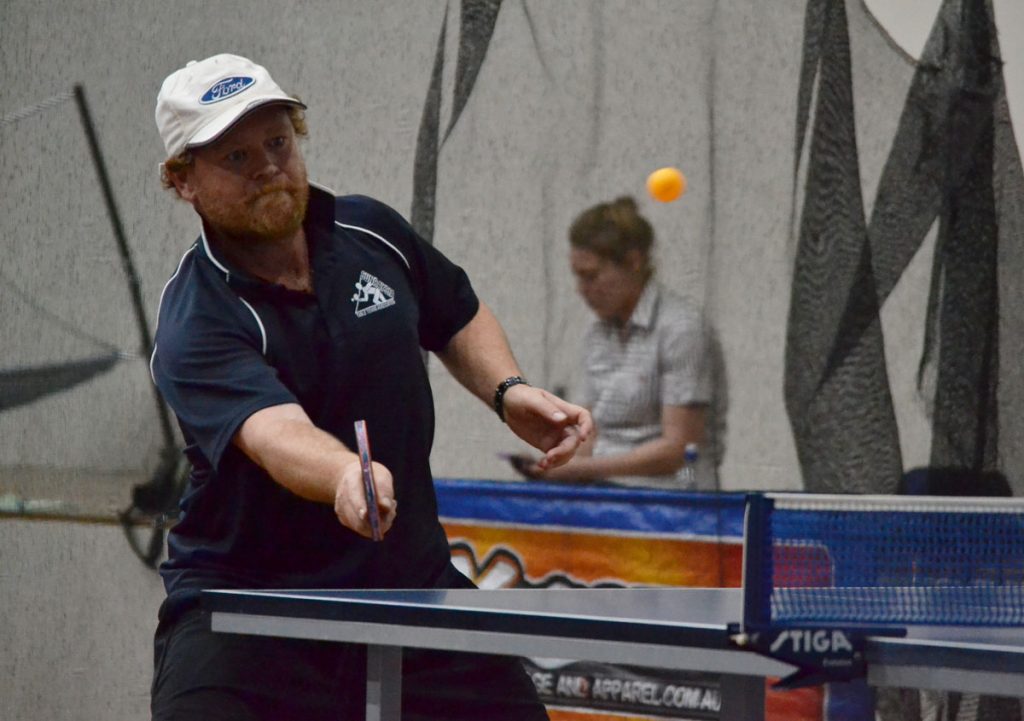 Max Miller Carpets scored an impressive 7 rubbers to 4 victory against MJM Automotive, the teams which had prior to this round led the competition.
As he did in round 2, Max Miller Carpets captain Jason Gifkins won three rubbers. He hardly raised a sweat in any of them, winning them all in two sets.
Team-mates Arthur Paar and Jeremy Corrin took a win each – number two Paar defeating his opposite number Terry Martin in a good three set contest 6-15, 15-12, 15-10; and number three Corrin won his match also in three sets against his opposite number Marcus Cimino 10-15, 15-8, 15-12.
Both doubles rubbers went to the victors – Gifkins and Paar downed MJM Automotive captain Paul Kealley and Martin in an entertaining three setter; whilst later Gifkins and Corrin did not have too much trouble against Kealley and Cimino, winning in two sets 15-8, 15-11.
With Gifkins winning three singles rubbers and his team both doubles rubbers, MJM Automotive could not really get into the match. Captain Paul Keally won two, which included a very competitive match against Arthur Paar 11-15, 15-13, 15-12. Martin defeated Corrin, and Cimino showed his potential in his three set win against Paar 15-10, 10-15, 16-14 in the first rubber of the match.
Final scores: 7 rubbers to 4 and 14 games to 13.
PINNACLE PACKERS v WEIGHTMANS PACKAGING
Pinnacle Packers scampered home to victory in the final rubber against Weightmans Packaging.
In a game which Weightmans Packaging appeared to have a winning lead, their hopes of victory were thwarted by Pinnacle Packers number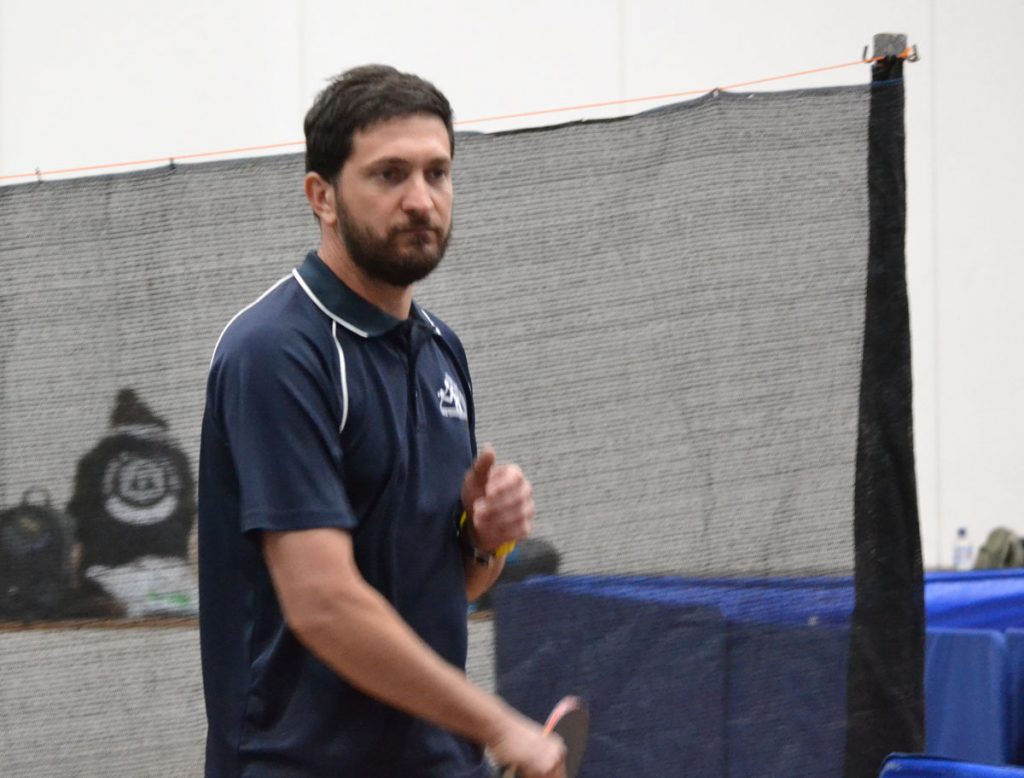 three David Sergi. Sergi played Weightmans Packaging number two Dylan Wood with the scores locked at five rubbers all. Wood had earlier in the night downed his opposite number Bernard McCarthy, but was simply outplayed in the decider by the persistent Sergi 15-13, 15-13.
In taking three singles rubbers, Pinnacle Packers captain Ashley Morrison led the way for his team. Morrison was largely untroubled, winning all in two sets. With a rubber each from Bernard McCarthy and Sergi, a win in one of the doubles rubbers was imperative. That came in the second doubles rubber, Morrison and Sergi (having a good night) defeated Tony Malycha and John Fitzpatrick 15-9, 15-13.
Weightmans Packaging did not play badly, this was just a game that got away, when it looked like it was there for the taking. Captain Tony Malycha won two rubbers and both Wood and Fitzpatrick defeated their opposite numbers, Bernard McCarthy and David Sergi respectively. Wood's win over McCarthy showed total commitment by the youngster, Wood winning 12-15, 21-19, 15-10. And John Fitzpatrick also had to come from a set down to best Sergi, winning 11-15, 17-15, 15-13. By defeating Morrison and McCarthy, Malycha and Wood also won the first doubles rubber 15-11, 15-13.
Final scores: 6 rubbers to 5 and 15 games to 11.
COOKE'S POOLS & SPAS v MALLEE MEATS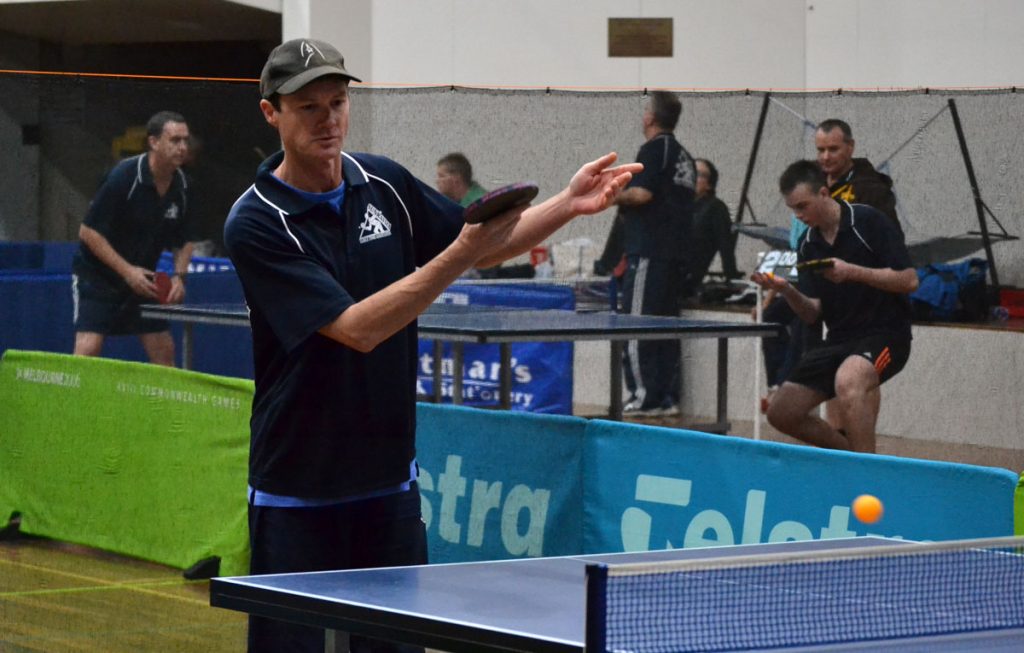 Going into this round, neither of these sides had won a match, Mallee Meats occupied fifth spot on the ladder by virtue of better percentage.
With both doubles rubbers going to Mallee Meats, Cooke's Pools & Spas relied on singles rubbers for victory.
Captain Russell Walder took three rubbers, conceding just 20 points against opposing captain Brad Warden, 12 points against number two Quentin Clark and a miserly 8 points to Peter Fitzpatrick.
Walder's number two Casper McCarthy is finding his feet in this grade – as he took two rubbers, the first against Warden in three sets 15-10, 6-15, 15-13.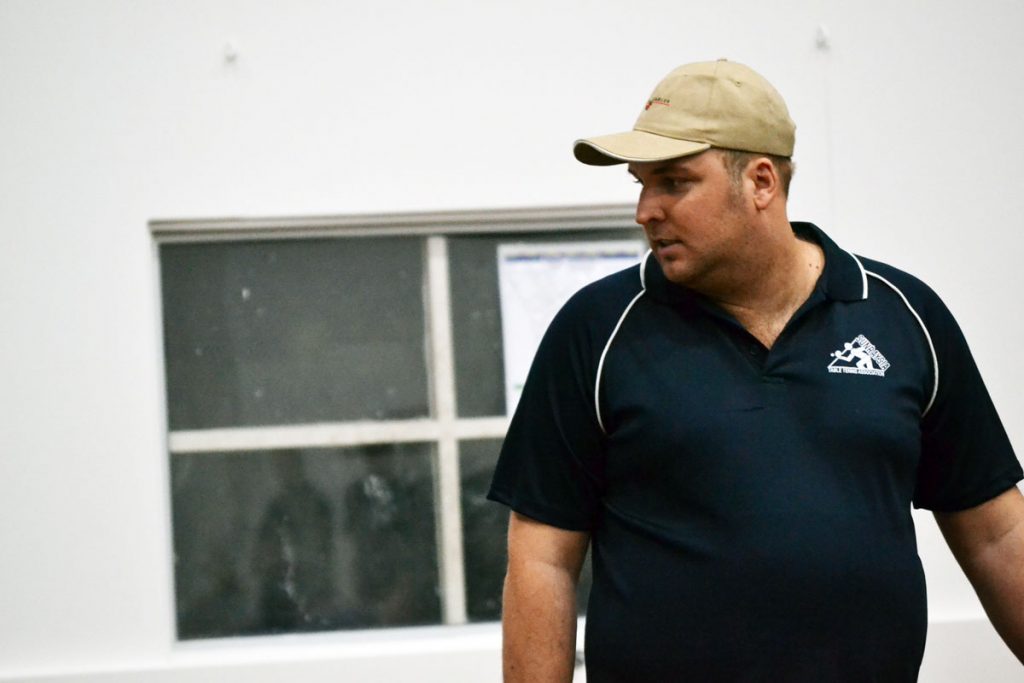 Number three Rohan Reimers recorded his first win of the season when he defeated his opposite number Fitzpatrick.
Mallee Meats then, kept themselves in the match by virtue of wins in both doubles rubbers – Warden and Clark won in three sets against Walder and McCarthy; and later Warden and Fitzpatrick had an easy two set win against Walder and Reimers.
For the second week in a row, Quentin Clark outscored his captain, this week with two wins to Warden's one.
Final scores: 6 rubbers to 5 and 15 games to 12
PENNANT THREE:
Weightmans Packaging recorded their third win for the season to retain top spot on the ladder; Mallee Meats likewise took a big 9-2 win against Sammy's Slammers to hold second spot; and Cooke's Pools & Spas kept the unlucky Regional Taxation Services winless.
WEIGHTMANS PACKAGING v MJM AUTOMOTIVE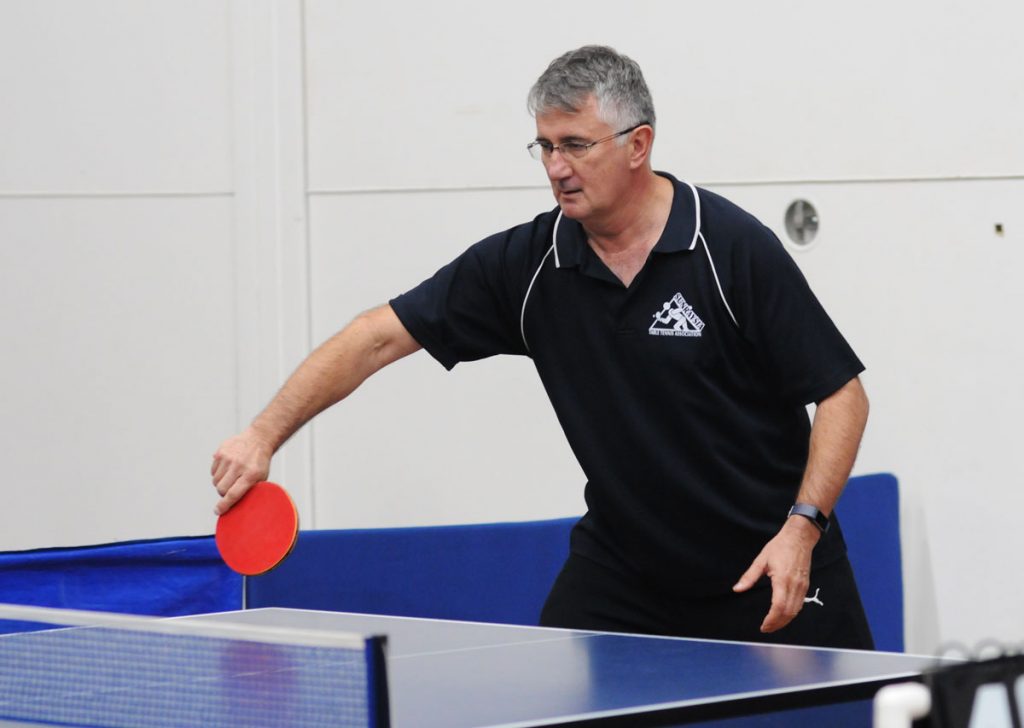 MJM Automotive had a couple of opportunities to win this match, and they both had the name of Nicole Hunt on them. Weightmans Packaging took the win 6-5, and MJM's Hunt played in two close three set contests, and lost them both. It was certainly not for a want of trying that MJM Automotive went down.
Their captain Andrew Kremor won his three singles rubbers, and with number three James Jarvis the second doubles rubber. Jarvis took the final rubber, when the game was decided, but that Hunt won either of those matches earlier in the game, the score would have been reversed, MJM Automotive 6, Weightmans Packaging 5.
However it was not to be, firstly Isaiah Bettess held Hunt off 15-4, 10-15, 15-7, and in the second last rubber, in an attempt to level at 5 all Hunt played Nick Kiapekos. Kiapekos denied Hunt the win in a top-class match 14-16, 15-11, 16-14.
Weightmans Packaging were without captain Sabrina Fitzpatrick. Her son Paul subbed for her, and with two singles rubbers helping the team to the win. He and Kiapekos combined to defeat Kremor and Hunt in two sets in the first of the doubles rubbers – with two singles rubbers also, Kiapekos had a good night too.
Number three Isaiah Bettess took one rubber, that against Hunt.
Final scores: 6 rubbers to 5 and 13 games to 12.
MALLEE MEATS v SAMMY'S SLAMMERS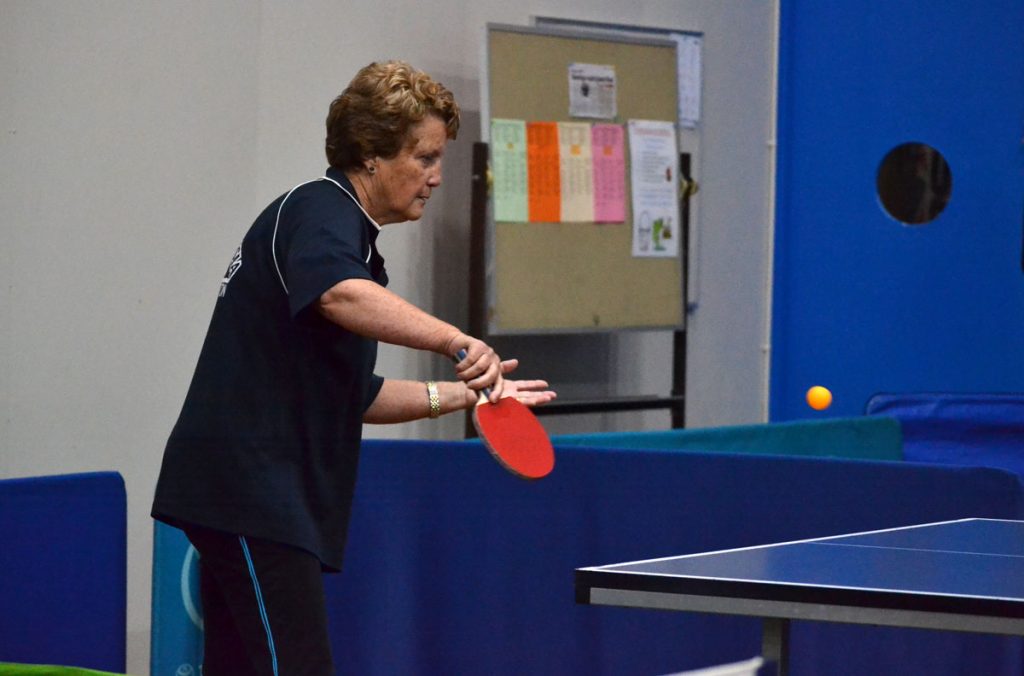 Mallee Meats soundly defeated Sammy's Slammers 9 rubbers to 2.
Such was their dominance, that even the 2 rubbers they lost were not a fore-gone conclusion. Karly Leach won just a single rubber for the evening, and lost to Leonie Dunkley 9-15, 15-5, 14-16 and later lost to Ryan Hensgen with a very similar score 9-15, 15-10, 14-16.
Everything else, Mallee Meats won. Both Aidan Riordan and Brice Lock took three rubbers, not even conceding a set between them in doing so.
Similarly, both doubles went to Mallee Meats – Riordan and Lock much too good for Hensgen and Dunkley, winning in two; and later Riordan and Leach took a much closer contest against Hensgen and Costa Skiadas 16-14, 9-15, 15-13.
Sammy's Slammers won just the two rubbers already mentioned against Leach, but can take some encouragement from this match. Costa Skiadas in particular showed great fight, going down in two sets 15-10, 18-16 to Brice Lock and in three sets to leach 12-15, 15-12, 15-13.
Final scores: 9 rubbers to 2 and 20 games to 6.
COOKE'S POOLS & SPAS v REGIONAL TAXATION SERVICES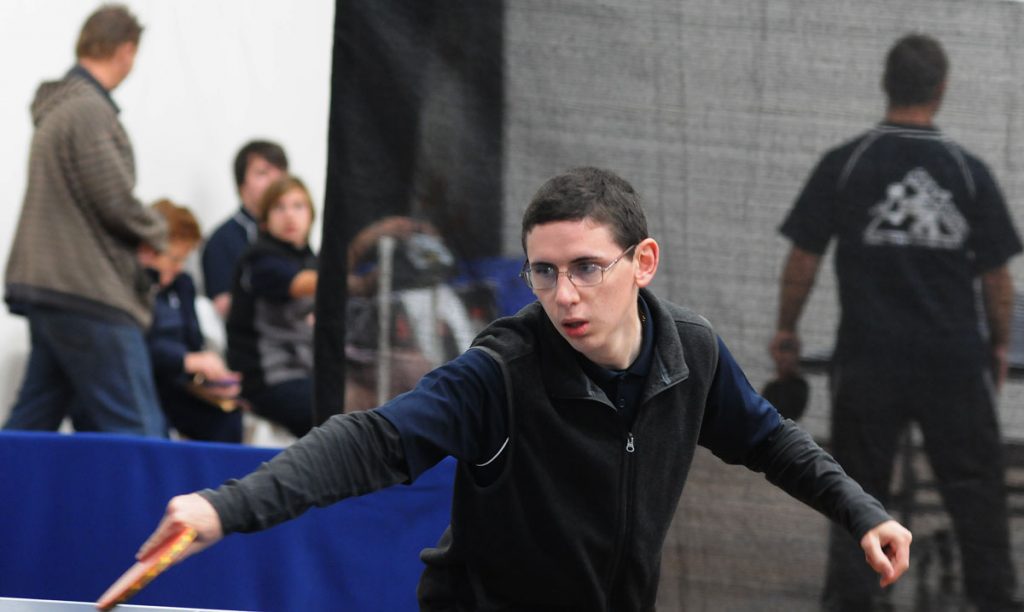 Cooke's Pools & Spas won this match, shortened to a 2×2 contest.
Paul Fitzpatrick, at the same time he was subbing for his mother in the Weightmans Packaging – MJM Automotive match, subbed for his sister Therese in this game. In both cases he helped his adopted team to the win.
After downing Brian White, Paul found Keiran McRae a bit more of a handful, and needed three sets to take the win 15-10, 11-15, 15-5. He was ably backed by Miya Lock who defeated Brian White in straight sets, and almost took McRae to three sets in their match, McRae winning 15-7, 19-17. The Cooke's Pools & Spas pair won the doubles too – in a close three set match Fitzpatrick and Lock proved the better combination than McRae and White, winning 12-15, 15-10, 15-10.
Final scores: 6 rubbers to 3 and 12 games to 8.
PENNANT FOUR:
In this Week's action, we see a hard fought victory for MJM Automotive and a runaway win for Tankard Dental.
–MJM Automotive 6 (Jamie Kealley, Nycole Riordan 2, Jim Vale 1) def Dunkley Scales 5 (Kelsey Davey, Glenn Leeson 2)
MJM Automotive have prevailed in a close contest against a gallant Dunkley Scales outfit. MJM were without regular captain Ben Hosking but have the services of experienced campaigner Jim Vale to turn to.
Jamie Kealley again played well in winning two singles, however it was the form his teammate, Nycole Riordan that was the talking point. In an even contest with the scores locked at four games all Riordan found herself up against Dunkley's Kelsey Davey. Davey has acquitted herself well in the first few rounds, so with the pressure on it loomed as a great contest. Riordan took the first 15-9 and did not let he young opponent settle as she rattled off the second game 15-7 to give her team a five games to four lead.
With the contest on a knife's edge, Dunkley's Raylee Waugh had to defeat Kealley to take this match to the eleventh game. Waugh started brightly in taking the first set 15-9. Kealley then steadied and found more consistency in his game to take the next 15-8. Momentum had clearly shifted and Kealley kept rolling on to secure the match 15-8. With the night done and dusted for Dunkley Scales Glenn Leeson took home a consolation win in the last match of the evening.
Overall a great contest, but there can only be one victor. Well done to MJM Automotive with their 6-5 win.
– Tankard Dental 9 (Brian White, Billy Stephens 3, Tim Finck 1) def Mallee Meats 2 (Dave Tanner, Wendy Simpson 1)
This game saw a runaway win for Tankard Dental, however it is noted that both teams had late changes to their line-ups with both team captains Jacinta Ljubic and Joy Sullivan unavailable. In an ironic twist, it would be Brian White and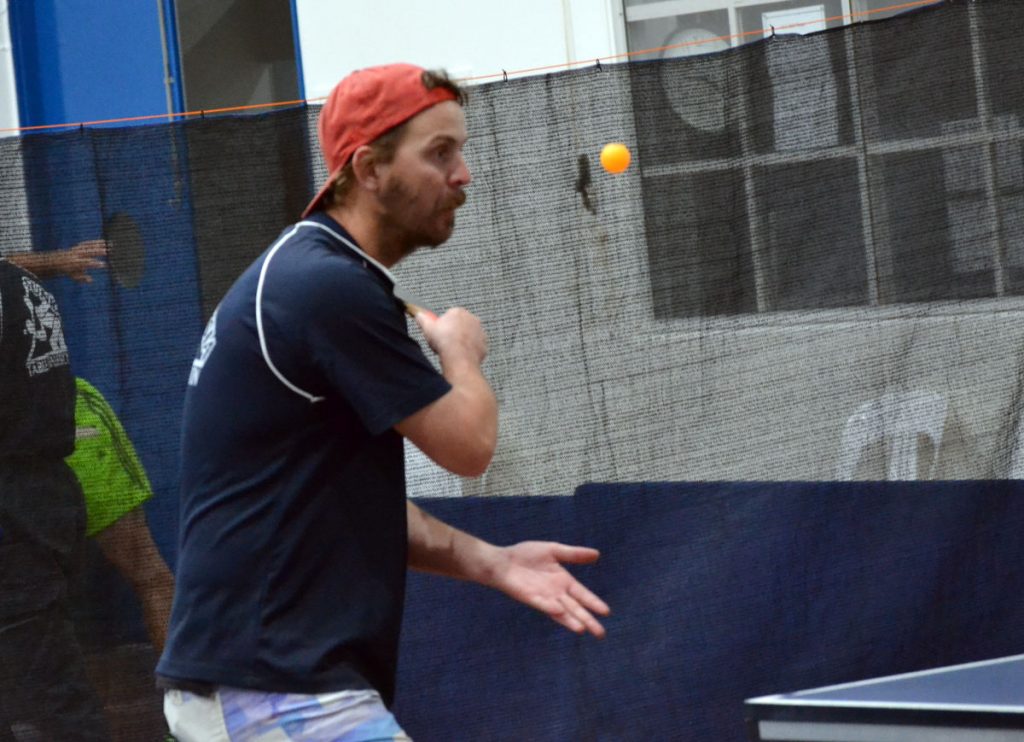 Dave Tanner (who last season teamed to win the premiership) who would be opposing captains.
In a complete team performance Tankard's were never in trouble and with Billy Stephens firing on all cylinders in winning three singles for the first time the result was never in doubt. Brian "Mirror" White also won three and now has bragging rights over former teammate Tanner who he beat comfortably in two sets. To top off the win was Tim Finck who contributed one singles win. It was very nearly two as Meats Wendy Simpson held on to win 16-18, 16-14, 15-12 in a very lengthy match (this match being the first of the evening – the only time Meats were in front for the night.)
So in conclusion an impressive display by Tankard Dental who have 'filled their boots' this week with a big 9-2 percentage booster win over Mallee Meats.