Read Time:
15 Minute, 2 Second
PENNANT ONE:
Round eleven matches of the Sunraysia Table Tennis Association featured the battle of first and second on the ladder. Top of the table Max Miller Carpets despite being under pressure early proved too strong for Tankard Dental who tried gamely to halt the Carpeters ten match winning streak.
– Max Miller Carpets 7 (Shannon Bowen 3, Ed Hung, Leon Brown 1) d Tankard Dental 4 (Kate Carmichael 2, Mark Dorman, Dylan Wood 1)

For Tankard Dental Mark Dorman and Dylan Wood were able to get their team off to a perfect start with Dorman  defeating the inform Leon Brown in a lengthy five setter while young gun Dylan Wood won in straight sets against veteran Ed Hung.
Carpeters skipper Shannon Bowen then grabbed the initiative back by defeating Kate Carmichael in four sets and he then combined with Leon Brown to defeat Carmichael and Mark Dorman in the first doubles. Bowen's  team mate Ed Hung then scored a significant victory defeating Dorman in five sets.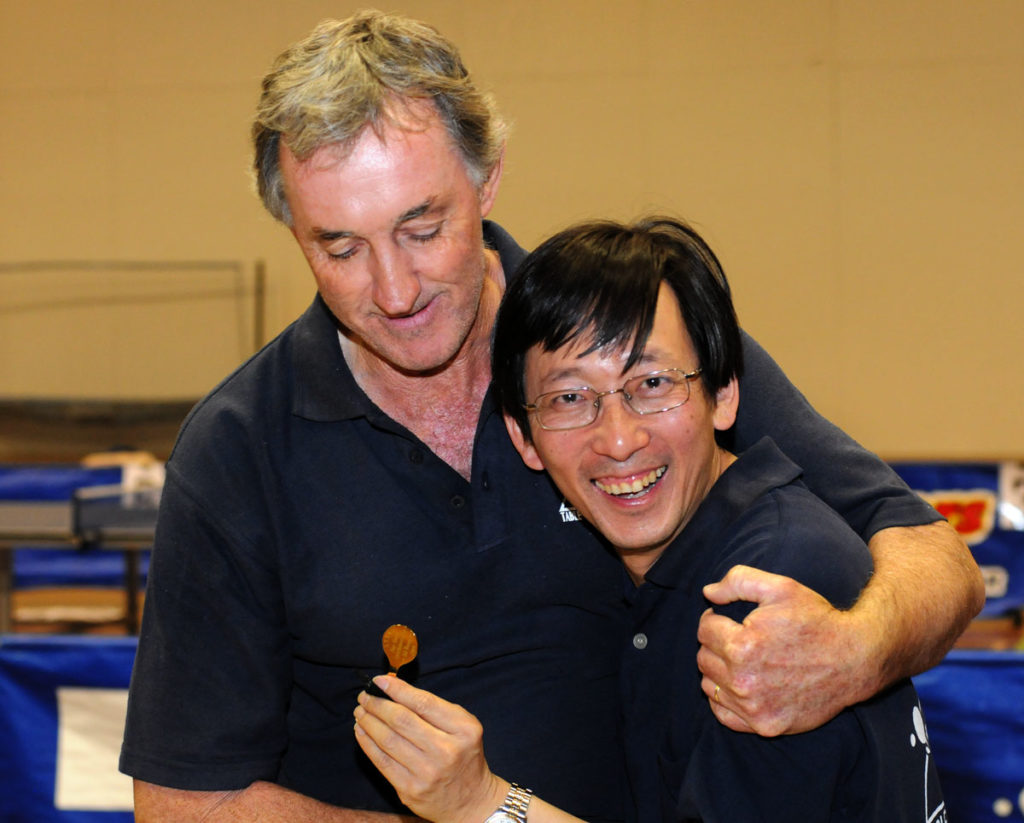 Later the Carpeters took a five three lead before Tankards Carmichael reduced the deficit to 4-5.
Shannon Bowen then survived a scare at one stage trailing one game to two before steadying against Mark Dorman to win 15-13 9-11 7-11 11-8 11-7.
Leon Brown then followed the pattern of Bowen by winning in five against Dylan Wood after trailing one game to two. In all there were four five set results in this match with three won by Max Miller Carpets.
– Cookes Pools & Spas 7 (Jackson Tung, Gavin Carmichael 3) d Exposed Signage/Apparel 4 (Mark Ljubic, Reece Kurrle, Russell Walder 1)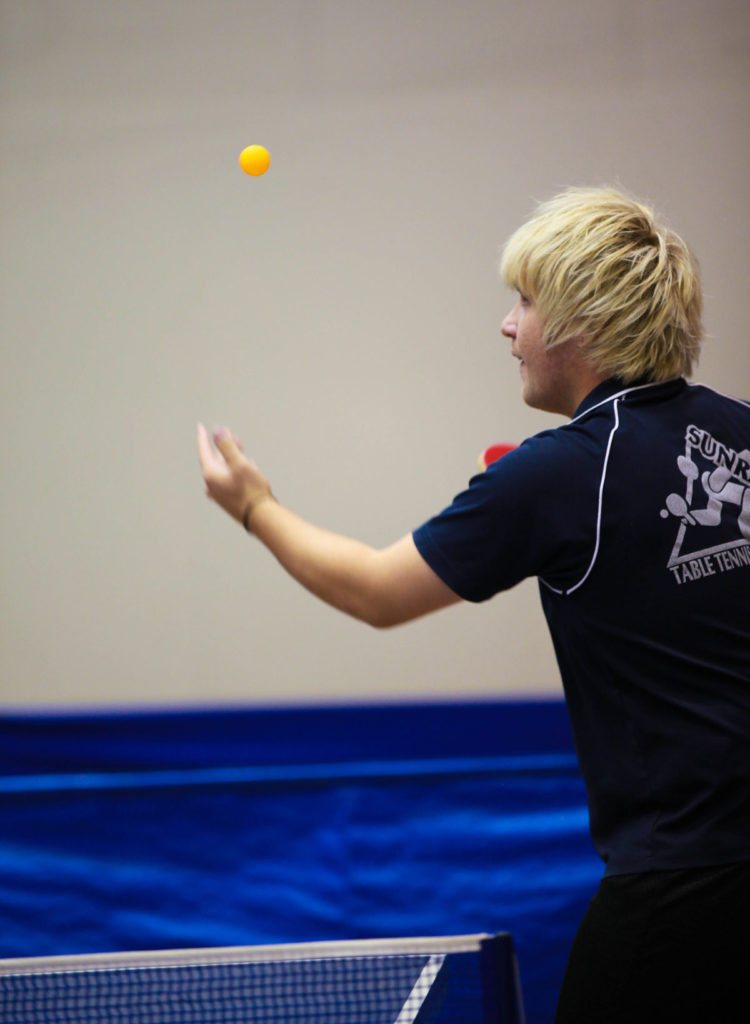 With both Jackson Tung and Gavin Carmichael in goo form winning three  singles Cooke's Pools and Spas proved too good for Exposed Signage &  Apparel winning 7-4.
The highlight match was the singles between Tung and fill in Mark Ljubic which went to five. Tung was under extreme pressure with Ljubic leading two games to one and 6-4. At this point Tung rattled off ten points in succession taking the fourth 11-6 and then taking a three love lead before Ljubic tried to claw his way back, an outstanding rally took place with Tung's heavy top spin loops being countered by Ljubic 's excellent control. In the end Tung would prevail 11-5 9-11 8-11 11-6 11-7, a great match.
This victory enables Cooked to have a glimmer of hope of grabbing the all-important double chance.
– Regional Taxation Services 6 (Matt Ljubic 3, Jackson Murphy 1) d Mallee Bearings 5 (Wayne Carmichael, Thanh Nguyen 2, Ashley Morrison 1)
Fourth placed Regional Taxation Services kept fifth placed Mallee Bearings at bay by winning 6-5. RTS skipper Matt Ljubic led the way winning three singles and taking part in both doubles victories. Both doubles went to five and the first was decided by the barest of margins indicating how close the match was.
A crucial singles was the match won by Matt Ljubic over Wayne Carmichael in four sets. Carmichael and Thahn Nguyen won two singles for Mallee Bearings while Ash Morrison won one however the doubles was the difference between winning and losing.
PENNANT TWO:
A night of surprises. Jason Gifkins, who has led the aggregate ladder since round one, lost the lead to Casper McCarthy … the previously undefeated doubles combination of Casper McCarthy and Andrew Jones defeated … and bottom side Weightmans Packaging crash to their worst defeat of the year, allowing Mallee Meats to steal fourth place back on the ladder.
–  MJM Automotive 6 (Casper McCarthy 3, Andrew Jones 2) d Cookes Pools & Spas 5 (Peter Midgley 2, David Sergi, James Jarvis 1)
Cookes Pools & Spas have been the team on the improve in recent weeks, and this week's clash promised to be a reckoning of sorts, to see if they could really mix it with ladder leaders MJM Automotive. The anticipation of the clash was a little deadened by the omission of Cookes Pools & Spas captain Terry Martin, who contracted COVID. However, he had a very worthy replacement in Peter Midgley, the only question mark there being that Peter has not played at all this year, and would be a bit rusty.
For all the worries, and uncertainties, though, this was a good match.
Midgley more than held his own, winning two singles rubbers, only falling to MJM Automotive captain Casper McCarthy in the final round of singles. Midgley was given a huge scare in his first match of the night, a "Welcome Back" game really, when MJM Automotive number three Therese Fitzpatrick almost rolled him. It was a cracker of a game, Midgley winning 6-11, 13-11, 11-9, 13-15, 11-8 against this young lady who tests her opponents constantly with her ferocious forehand drives.
David Sergi and James Jarvis each picked up a win each to add to Midgley's, and Midgley and Sergi won the first doubles to give the Cookes Pools & Spas team five rubbers for the night.
MJM Automotive, however, played just that little bit better. Their captain, Casper McCarthy, won his three singles, dropping just a single set in the process, and in winning his three moved to 29 wins for the season. This puts him equal with Jason Gifkins (who was kept winless this round, see below), and by virtue of accumulating his wins over ten rounds, to Jason's eleven, he has a better percentage than his Weightmans Packaging rival, and so assumes the lead in the aggregate race. Buy your tickets now for next week's round, because MJM Automotive are drawn to play Weightmans Packaging, and an outright leader is certain to emerge!!
Andrew Jones picked up two important wins, a straight sets win against James Jarvis, and in the penultimate match, a five set victory against his opposite number David Sergi.
Despite her almost toppling Peter Midgley in the first round of singles, Therese Fitzpatrick could not get over the line for a win, she, like Jones had a five set contest with Sergi, only this time Sergi took the win. And in the last round of singles, she lost to Jarvis in four sets. She did, however, win the second doubles with her captain, McCarthy, in straight sets against Midgley and Jarvis.
What hasn't been talked about yet is the first doubles, the MJM Automotive pairing of McCarthy and Jones defeated here for the first time this season, and Midgley must surely be part the reason for that win, he and Sergi combining to take the rubber in five sets, 11-8, 10-12, 9-11, 12-10, 11-8.
Final scores: 6 rubbers to 5 and 24 games to 19.
– Pinnacle Packers 6 (Rohan Reimers 3, Jeremy Corrin 2) d Max Miller Carpets 5 (Raymund Manzanares 2, John Fitzpatrick, Jamila Belbaze 1)
Coming off losses in the last two rounds, this was a danger match for Pinnacle Packers. Not only were their opponents here now just one game behind them on the ladder (six wins to Pinnacle Packers seven), they had form on their side, having won their last three matches.
The game was close, Pinnacle Packers prevailed, and decided in the second last rubber of the night. The man who did the damage for Pinnacle Packers was their number two, Rohan Reimers. Reimers was in fine form, winning three singles rubbers without dropping a set. He was stingy in the amount of points he conceded too – Raymund Manzanares took the most, 23, Jamila Belbaze got 14, and John Fitzpatrick 15.
Reimers' captain Jeremy Corrin could not match him, indeed Corrin won only two of his singles encounters, falling in straight sets to Max Miller Carpets captain Manzanares in three sets.
Number three Ryan Hensgen failed to win a singles rubber, but he and Corrin did win the second doubles against Manzanares and Fitzpatrick in straight sets.
For Max Miller Carpets, the trio all defeated the Pinnacle Packers number three, Hensgen. Manzanares won a second, that one against Corrin, and
Manzanares and Belbaze took the first doubles in five sets, after a good contest with Corrin and Reimers.
This win again gives Pinnacle Packers a bit of cushion between themselves and Max Miller Carpets, they are now on eight wins to their opponents six, and it sees these two sides second and third on the ladder, respectively.
Final scores: 6 rubbers to 5 and 20 games to 17.
– Mallee Meats 10 (Quentin Clark, Marcus Cimino 3, Isaiah Bettess 2) d Weightmans Packaging 1 (Andrew Kremor 1)
This has been a season to forget for Weightmans Packaging, as they continue their drought of wins, in this round chalking up their tenth straight defeat in a row.
The only "consoling" thing has been that their captain Jason Gifkins has been at the head of the aggregate ladder, going into this round he had won 29 of the 30 singles rubbers played. Well, even that consolation disappeared this round.
Mallee Meats recorded their biggest win, and indeed the biggest win of any team this season in this match, with a 10-1 demolition of the bottom side.
Mallee Meats captain Quentin Clark led the way, winning his three singles rubbers in the minimum three sets. He conceded just 15 points to Andrew Kremor, 17 to Peter Fitzpatrick, and against aggregate ladder leader Jason Gifkins, just 22. A fine performance.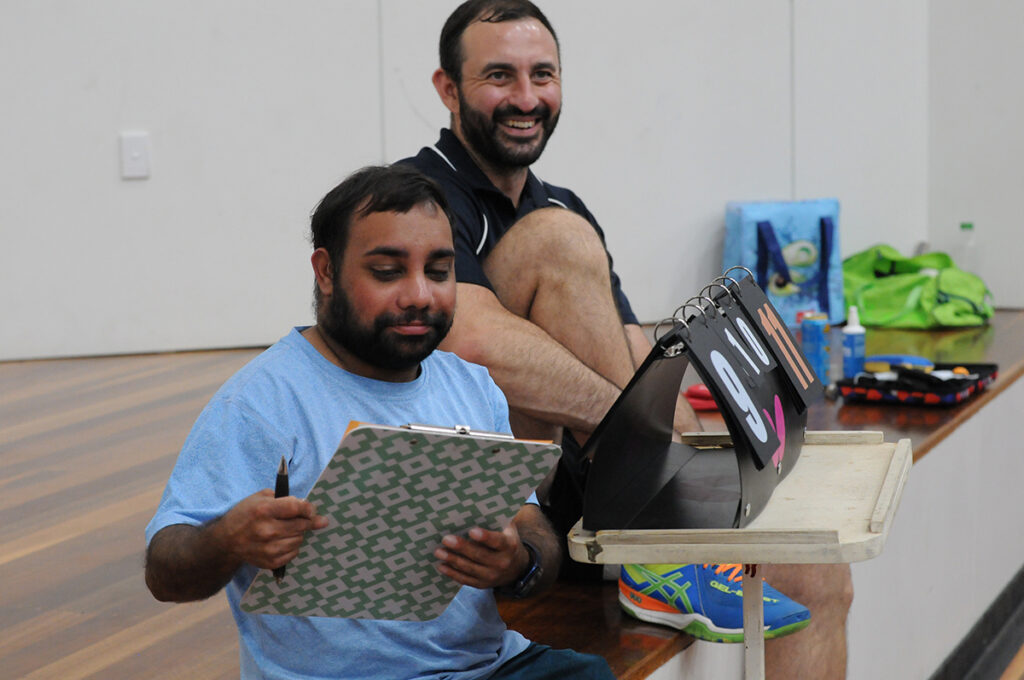 Quentin's number two Marcus Cimino matched him for wins, taking an entertaining five setter against Peter Fitzpatrick, another five set win against Gifkins in the second round of singles, and capped off the night with a four set win against his opposite number Andrew Kremor.
And number three Isaiah Bettess had his best night of the year, taking two wins, a five set win against Gifkins in the first round of singles, which really set the tone for the match, and later, defeating Fitzpatrick in four sets.
That made eight rubbers already, but the pain was not about to stop there. Clark and Cimino played like their lives depended on it, winning the first doubles rubber against Gifkins and Kremor in five, and when Bettess
paired with Clark, the result was the same, but in shorter time, a four set win against Gifkins and Fitzpatrick.
The only result which prevented a clean sweep was a win by Weightmans Packaging number two, Andrew Kremor returning after having played only once in the previous six rounds. A player in form? Apparently so!!
So, a great result for Mallee Meats – with this great percentage boosting win, they once again equalled Cookes Pools & Spas for games won for the season. Incredibly, both these sides have won and lost the same number of rubbers this season (56 won, and 65 lost) and are separated only because Mallee Meats presently has a better win/loss ratio in the number of games won – 232 won and 247 lost against Cookes Pools & Spas 211 won and 252 lost. There is almost nothing in it, and these two sides will be checking the ladder every week from now until the end of the season with great interest. Each match will be like a Grand Final!!
As for Gifkins and the aggregate, well, he now has to bank on MJM Automotive's Casper McCarthy dropping a match between now and the end of the season, and having a perfect run himself. His zero wins here has potentially cost him the aggregate title.
Final scores: 10 rubbers to 1 and 30 games to 14.
PENNANT THREE:
In this round we saw some closely contested matches that were decided late into the night and we say Bon Voyage to Huseyin Ismail who is heading overseas for an extended period of time.
Sammy's Slammers 6 (Jordan Cole 3, Dave Tanner 2) def MJM Automotive 5 (Karly Leach 2, Levi Williams, Alicia Tyers 1)
Sammy's Slammers have put an end to the recent winning run of MJM Automotive as they have claimed a hard-fought victory. With the unavailability of Slammer's Ben Hosking this week Jordan Cole has really stood up to the plate in winning his three singles victories. Slammer's Captain Dave Tanner had a busy night as he all his singles matches went to five sets with two of these being important victories for his team. For MJM Karly Leach again played well in winning two singles with Levi Williams and Alicia Tyers contributing one singles victory each in some closely contested matches.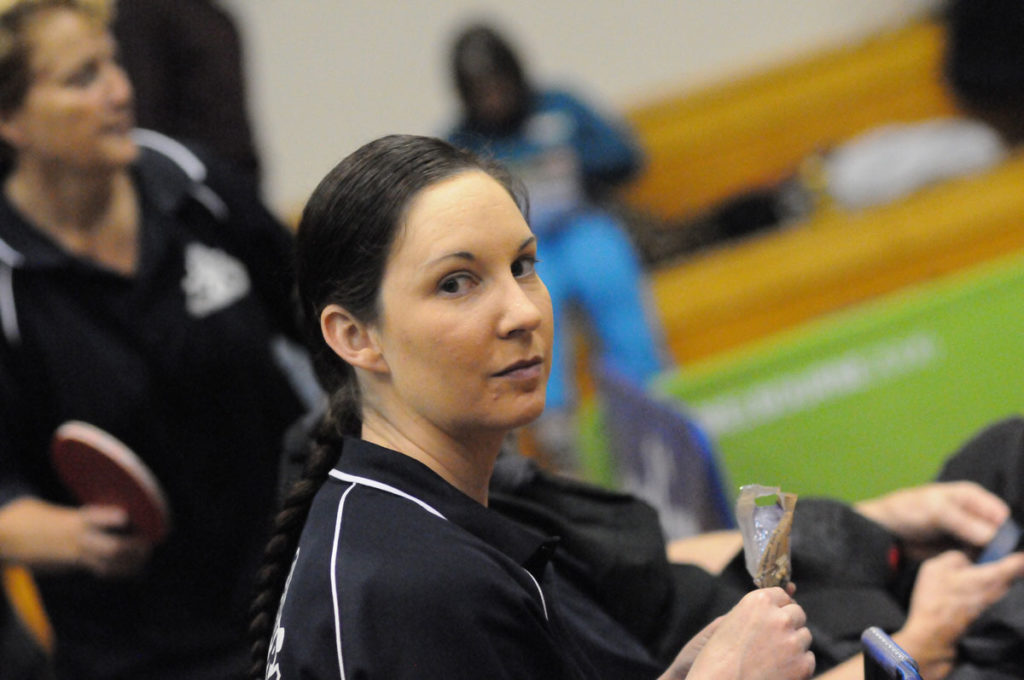 The pivotal match of the evening was the matchup between Leach and Cole. Leach has been in outstanding form of late and Cole has steadily improved his game. This shaped to be a close contest – however Cole came out with all guns blazing and ran through this match in straight sets to put his team on path to victory. Leach tried hard to arrest the momentum of Sammy's Slammers and found herself in a five-set battle with Tanner late in the night with her team trailing 3 rubbers to 5 and was desperate to keep her team in the contest. Leach trailed this match two sets to one before Tanner went off the boil and Leach claimed the last two sets 11-7, 11-7 to keep her team hope. This hope quickly faded as Cole quickly took care of business in defeating Williams in straight sets to give Sammy's Slammers an unassailable lead. The last match of the evening saw Alicia Tyres have a consolation win in three sets against Maria Starikov.
Overall a great match with Sammy's Slammers getting the chocolates as they have defeated MJM Automotive 6 rubbers to 5 (21 games all).
Mallee Meats 7 (Steve Pongrac 3, Nhat Dat, Marita Grace 1) def Tankard Dental 4 (Nick Kiapekos, Shaun Gifford 2)
Mallee Meats have turned up the heat this week and have defeated Tankard Dental. Meats Captain Steve Pongrac was back this week and he didn't show any signs of rustiness after a week off in securing three singles victories. Pongrac was well supported by Nhat Dat and Marita Grace as both these players contributed one singles victory each and teamed with their Captain and enjoyed doubles success in these matches. For Tankard Dental Nick Kiapekos was steady with two singles victories as was Shaun Gifford with his own brace of singles victories.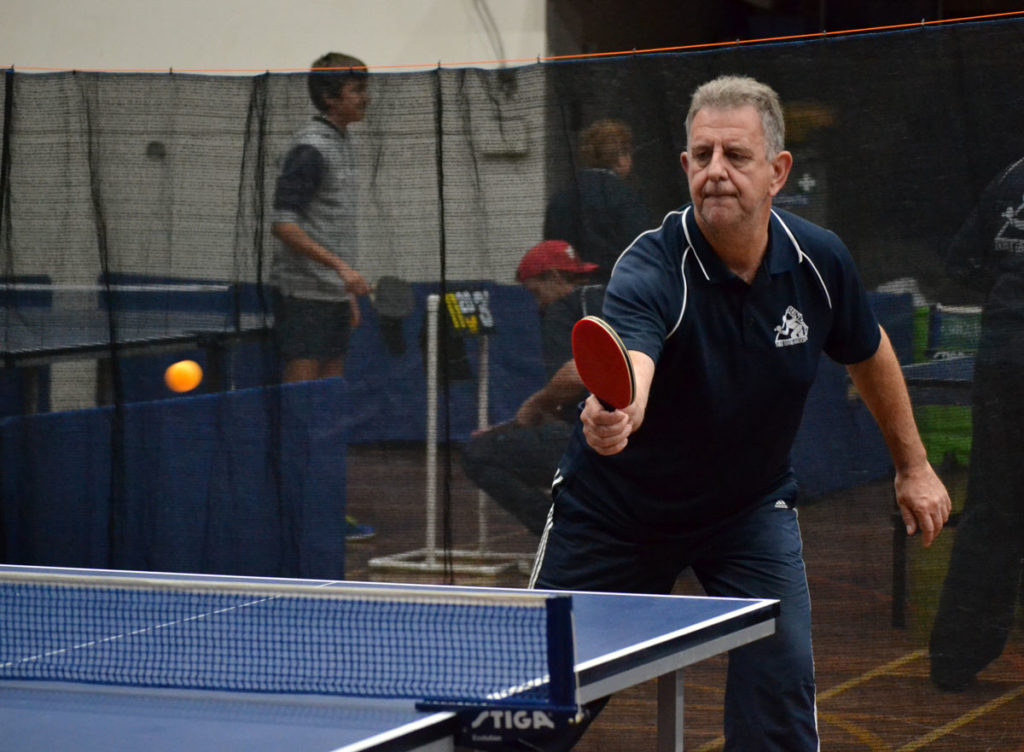 The scoreboard for Mallee Meats could have shown a more dominant victory as Marita Grace gave Nick Kiapekos a real fright in losing in a five-set classic (11-13 in the fifth set). Grace was also involved in another five-set match against Shaun Gifford and again just fell short in the fifth set.
The last match of the night saw Nhat Dat and Phuong Hung Nguyen play an entertaining match. These two players match up well against each other and it is impossible to predict who should win on any given night. This time it was Mallee Meats Dat putting some mint sauce on the lamb with a very good four set victory over Nguyen.
Overall Mallee Meats have prevailed over Tankard Dental 7 rubbers to 4 (26 games to 17). Tankard Dental will need to regroup quickly as it appears their season is quickly slipping away.
Weightmans Packaging 6 (Sabrina Fitzpatrick 3, Jacinta Ljubic, Tom Gilmour 1) def Dunkley Scales 5 (Rodney Galvin, Huseyin Ismail 2)
Weightmans Packaging have had a narrow victory against a very competitive Dunkley Scales outfit. Weightmans Captain Sabrina Fitzpatrick played very well in securing three singles victories with her partners Jacinta Ljubic and Tom Gilmour contributing one important singles victory each. For Dunkley Scales Rodney Galvin and Huseyin Ismail each played well in winning two singles victories and teamed well in their double match which they won in five close sets.
The first match of the evening saw Galvin and Ljubic go head to head. One may recall a battle between these two in round one in which Galvin won in the fifth set on the 123rd point of this lengthy match. Well the same couldn't be seen this week as Galvin took control early and didn't look back in claiming this match in straight sets.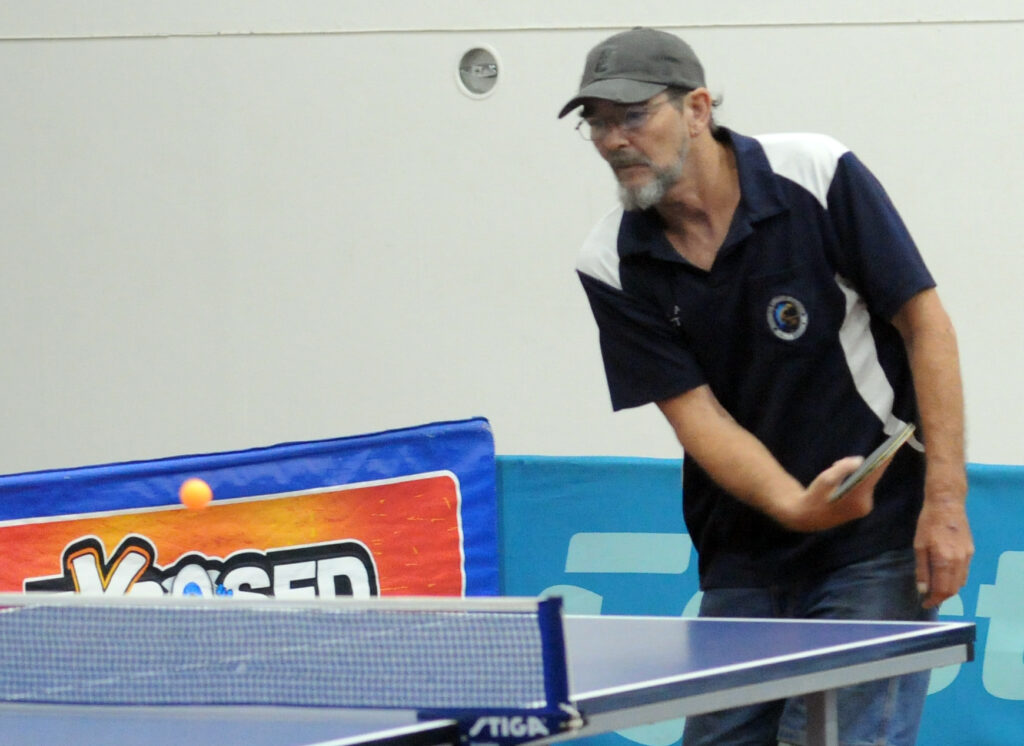 With an early setback for Weightmans Packaging it would be Tom Gilmour who would step up and win some crucial matches for his team. The first of these matches was against Jim Vale. In a match punctuated with long rallies these two slugged it out with neither of them giving an inch. Gilmour would take the first set 11-8 before Vale steadied to take the second 11-9. Vale looked to have broken Gilmour's spirit in taking the third 12-10 but Gilmour kept persisting in winning the fourth 13-11. The last set saw Gilmour get on top and win 11-7 to secure victory for his team. Gilmour and Fitzpatrick then took on Galvin and Vale in the doubles match which again saw Gilmour wear a winning smile with Weightmans taking this match in straight sets.
With the match all square at 4 rubbers all Fitzpatrick and Ismail then played an entertaining match. This would be Ismail's last match for the season. Ismail started erratically and lost the first two sets 5-11, 5-11. The third set saw Fitzpatrick go on the attack with the view of ending this match quickly. Ismail had other ideas and showed great spirit in defending a lot of hard-hit balls in his direction and saved a few match points to get the set back to 13 all. However, the dam wall did eventually break with Fitzpatrick claiming the final set 15-13 to give her team a slender 5 rubbers to 4 lead. Ljubic then ended proceedings quickly in defeating Vale in straight sets to give Weightmans victory. The last match of the evening saw Galvin having a consolation straight sets victory against Gilmour.
Overall, another great match with Weightmans Packaging winning 6 rubbers to 5 (21 games to 18).