Read Time:
14 Minute, 12 Second
https://www.facebook.com/649788492/videos/1608635079655000/ – Country Week wrap
PENNANT ONE:
A feature of round twelve results of Sunraysia Table Tennis was the form of the number three players in each winning team.
In the closest match of the night Cookes Pools & Spas number three Lee Leeson won two singles as did Tankard Dental number three Dylan Woods and Max Miller Carpets Ed Hung an unusual statistic.
– Tankard Dental 9 (Kate Carmichael, Mark Dorman 3, Dylan Wood 2) d Exposed Signage/Apparel 2 (Mark Ljubic 1)
Tankard Dental were out of the blocks early in their match against Exposed Signage/Apparel winning the first five rubbers and then later the final three rubbers to record a percentage boosting 9-2 victory.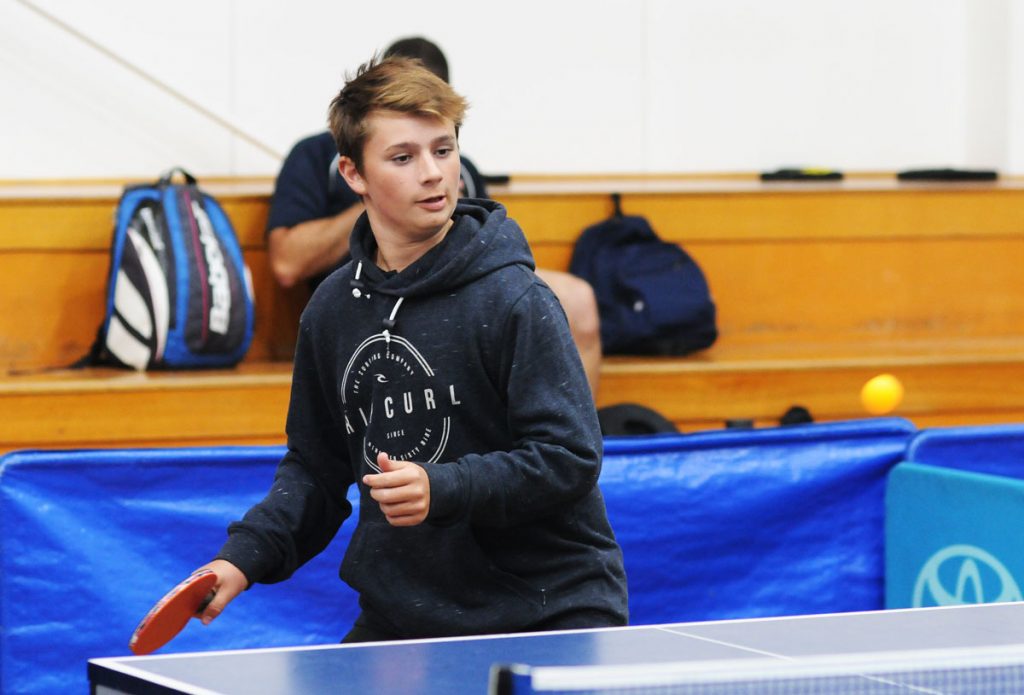 As mentioned earlier Dylan Wood played well defeating the talented Reece Kurrle in straight sets in the first singles of the night to get his team off to a flyer. Woods team mates Kate Carmichael and Mark Dorman were in good form winning three singles each as well as teaming together to win the first doubles. Personally this was Dorman's best result for the season and his singles versus Reece Kurrle was entertaining o say the least. Kurrle won two of the first three games and when he took a 6-0 lead I the fourth it looked like the match was over however Dorman had other ideas and slowly recovered , Kurrle did have a match point late in the fourth however he could not capitalise and from there Dorman took control and went on to win in five 9-11 14-12 8-11 14-12 11-6.
– Max Miller Carpets 7 (Shannon Bowen, Leon Brown, Ed Hung 2) d Regional Taxation Services 4 (Matt Ljubic 3)
In an even team performance ladder leader Max Miller Carpets continued on their winning way with a 7-4 victory over Regional Taxation Services. The Carpeters trio of Shannon Bowen , Leon Brown and Ed Hung scored two singles victories each. For RTS Matt Ljubic continued his unbeaten run in singles win another three wins.
The highlight match in this contest was the first doubles with the Carpeters duo of Bowen and Brown just taking the points over Ljubic and Lewis Yang 11-7 8-11 10-12 12-11 13-11, a thriller.
– Cookes Pools & Spas 6 (Gavin Carmichael, Lee Leeson 2, Jackson Tung 1) d Mallee Bearings 5 (Wayne Carmichael 3, Thanh Nguyen 1)
In a topsy turvy match third placed Cookes Pools & Spas edged out fifth placed Mallee Bearings 6-5.Cookes won the first two matches courtesy of an important victory by number three Lee Leeson winning the first against the in form Thahn Nguyen. Mallee Bearings pair Wayne Carmichael and Thahn Nguyen then featured in four victories in succession to turn the match around.
Carmichael defeated brother Gavin in five sets, then combined with Nguyen to defeat Jackson Tung and Gavin Carmichael in the first doubles. Nguyen then scored his best victory for the season defeating Tung in five sets after trailing 0-2. Carmichael then accounted for Lee Leeson in straight sets to give Mallee Bearings a 4-2 lead.
Cookes Pools & Spas then proceeded to win four of the next five matches to secure the four points. The second doubles was very important and it was Cookes Tung and Leeson who outlasted Wayne Carmichael and Ashley Morrison in a further five set tussle.
With the scores locked at five rubbers all Leeson for Cookes capped off a successful night for her by outlasting Morrison in four sets.
PENNANT TWO:
In this week's matches, top side MJM Automotive met bottom side Weightmans Packaging with a predictable result; second placed Pinnacle Packers took on fourth placed Mallee Meats; and third placed Max Miller Carpets were left with fifth placed Cookes Pools & Spas. Fourth placed Mallee Meats and fifth placed Cookes Pools & Spas were both looking for a win this round as they are locked together on four wins, separated by percentage only, in the race for the fourth spot on the ladder.
– MJM Automotive 7 (Casper McCarthy 3, Andrew Jones 2, Therese Fitzpatrick 1) d Weightmans Packaging 4 (Jason Gifkins 2, Tom Morrison 1)
No-one really doubted the outcome of this match from the get-go. MJM Automotive have been virtually unstoppable this season, with just one defeat, that coming in round 8 against Max Miller Carpets.
The interest in this match was the clash of the two captains, MJM Automotive's Casper McCarthy and Jason Gifkins of Weightmans Packaging. McCarthy had seized the lead of the aggregate in the previous round, albeit with the same number of wins, having gained his 29 match wins from 30 matches played, whereas Gifkins had played 33 matches for his 29 wins. So the interest was to see if McCarthy was the "real" aggregate leader …
The short answer is, yes, Casper is the "real" leader. He and Gifkins met in the ninth rubber with MJM Automotive leading 5-3. With something to play for, Gifkins started well, taking the first set 11-8, but McCarthy settled quickly after that, taking the next three sets 7, 7 and 9. That was the third win for McCarthy, he having defeated substitutes Tague Morris (subbing for Andrew Kremor) and Tom Morrison (subbing for Peter Fitzpatrick). In an encouraging performance, both Morris and Morrison got a set from McCarthy, showing their improvement as fill-ins.
Andrew Jones scored another 2 wins for MJM Automotive, his well-honed consistency (and new bat) proving too much for Morris and Morrison, whom he defeated in three sets each.
Therese Fitzpatrick kept her aggregate tally ticking over with another win here, this time against Morrison in the first rubber. Morrison was certainly competitive, but Therese had too many guns, winning 13-11, 11-9, 11-9.
The seventh rubber for the winners here was a three set win in the second doubles played by McCarthy and Jones against Gifkins and Morris.
For Weightmans Packaging, with Gifkins only winning two of his three singles rubbers, that was never going to be enough to give his side a
chance of a win. However, Tague Morris, filling in for the fifth time in this side, picked up his first win for the season, a high-scoring five set affair against Therese Fitzpatrick. This was after he paired with Gifkins to win the first doubles rubber in four sets against McCarthy and Fitzpatrick.
Final scores: 7 rubbers to 4 and 27 games to 15.
– Pinnacle Packers 6 (Jeremy Corrin 3, Rohan Reimers 2) d Mallee Meats 5 (Quentin Clark 2, Marcus Cimino, Isaiah Bettess 1)
The Pinnacle Packers pair of Jeremy Corrin and Rohan Reimers made sure of the win in this important match against Mallee Meats. Corrin won all his singles rubbers, Reimers two, and together, they won the first doubles.
Mallee Meats were coming off a big 10-1 win from round 11, and with a win here, looking to pull clear of Cookes Pools & Spas, with whom they are tied on four wins. A loss for Pinnacle Packers would see them drift back towards Max Miller Carpets; they really want to keep their two game buffer between themselves and the rest of the pack.
With their clinical attitude front of mind, Pinnacle Packers won five of the first six rubbers – Corrin and Reimers doing all the damage, as they picked up two singles rubbers each, plus that doubles. And the team did not take their foot off the accelerator at that stage either. Although they only needed one for the win (and that is all they eventually got), they fought hard; number three Ryan Hensgen losing two five set singles matches, and going down in the second doubles with Corrin, also in five sets.
Mallee Meats tried hard, but Pinnacle Packers were too good when it counted. Captain Quentin Clark only won one singles rubber, Marcus Cimino did better winning two rubbers, he and Clark losing their doubles narrowly in five sets. Isaiah Bettess played well; he won the clash of the number three's, defeating Ryan Hensgen in five sets, and proving a capable doubles partner when he and Clark downed Corrin and Hensgen in the second doubles in five sets.
Final scores: 6 rubbers to 5 and 26 games to 20.
– Max Miller Carpets 6 (Raymund Manzanares 3, John Fitzpatrick, Jamila Belbaze 1) d Cookes Pools & Spas 5 (Terry Martin 2, David Sergi, James Jarvis 1)
Along with MJM Automotive, Max Miller Carpets is currently the form side of the competition. These two teams have won four of their last five
matches, and Max Miller Carpets were keen to keep the gap of at least two games to Mallee Meats.
But unlike Pinnacle Packers in their match with Mallee Meats, Max Miller Carpets were unable to stamp their authority on the match. After six rubbers the score was 3-3, and it was a great run of three wins which got them home.
John Fitzpatrick had to work extremely hard to defeat the fast-improving James Jarvis in five sets. Max Miller Carpets followed up this win in the next rubber, the second doubles, Raymund Manzanares and Jamila Belbaze combining well to outclass Terry Martin and Jarvis in three sets. And the match which sealed the result was a great captain's win by Manzanares, needing five sets to get the result against opposing captain Terry Martin. Manzanares took the first two sets easily 11-4, 11-6 but could finish Martin off. Terry worked extremely hard to take the next two sets 11-8, 12-10 to take the rubber to the decider. In a real nail-biter, Manzanres held on to take the final set 13-11 and in so doing clinch the precious sixth rubber for the round.
Manzanares took all his singles rubbers, John Fitzpatrick one, and Jamila Belbaze one, and after conceding the first doubles (Manzanares and Fitzpatrick have not won a doubles encounter all year) to the stronger pairing of Martin and Sergi, Manzanares and Belbaze won the second doubles as stated above.
For Cookes Pools & Spas, Terry Martin two two, and David Sergi and James Jarvis one each, with Martin and Sergi winning the first doubles.
Final scores: 6 rubbers to 5 and 22 games each.
PENNANT THREE:
This week we saw the return of the three Amigos (Ildi Healy, Wendy Simpson and Raylee Waugh) – Welcome back ladies. Congratulations to Shaun Gifford, Jacinta Ljubic and Alicia Tyers for coming second in their division at the recent Victorian Country Championships – a great effort. With only a handful of rounds left to play some teams are starting to make their move.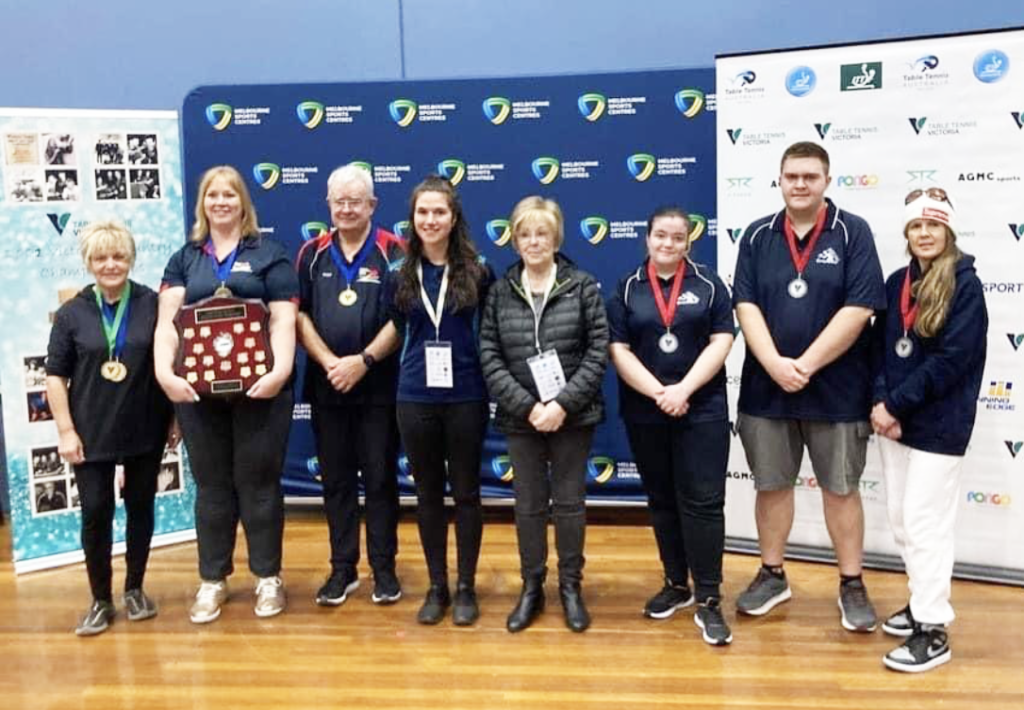 Sammy's Slammers 6 (Dave Tanner 3, Luke Ljubic 2) def Mallee Meats 5 (Nhat Dat 2, Steve Pongrac, Ildi Healy 1)
The last time these two teams met Mallee Meats ground their way to an impressive 10-1 victory. Well that was last time as Sammy's Slammers have enjoyed an excellent win over Mallee Meats. Slammers Captain Dave Tanner was in great form winning three singles. With the unavailability of Ben Hosking, a worthy replacement in Luke Ljubic won two singles and combined with Tanner to win an important doubles match. For Mallee Meats Nhat Dat was again in excellent form in winning two singles and was unlucky not to pouch three buy virtue of his narrow loss to Tanner. Steve Pongrac had a quiet night in winning one singles match and the returning Ildi Healy contributed one singles victory.
The match of the night was Tanner Vs Dat. Both players have had both hot and cold steaks and to pick a winner at the start of this match would be impossible. The first set saw Tanner off to good start in winning this closely fought set 13-11. Dat then turned the momentum in his favour and belted Tanner 11-7, 11-4 and looked on course for victory. Tanner dug deep in the fourth to square the match at 2 sets all. The fifth was a battle with Tanner pulling away late to take the set 11-8 and the match. This win for Tanner was a pivotal in the outcome of the evening.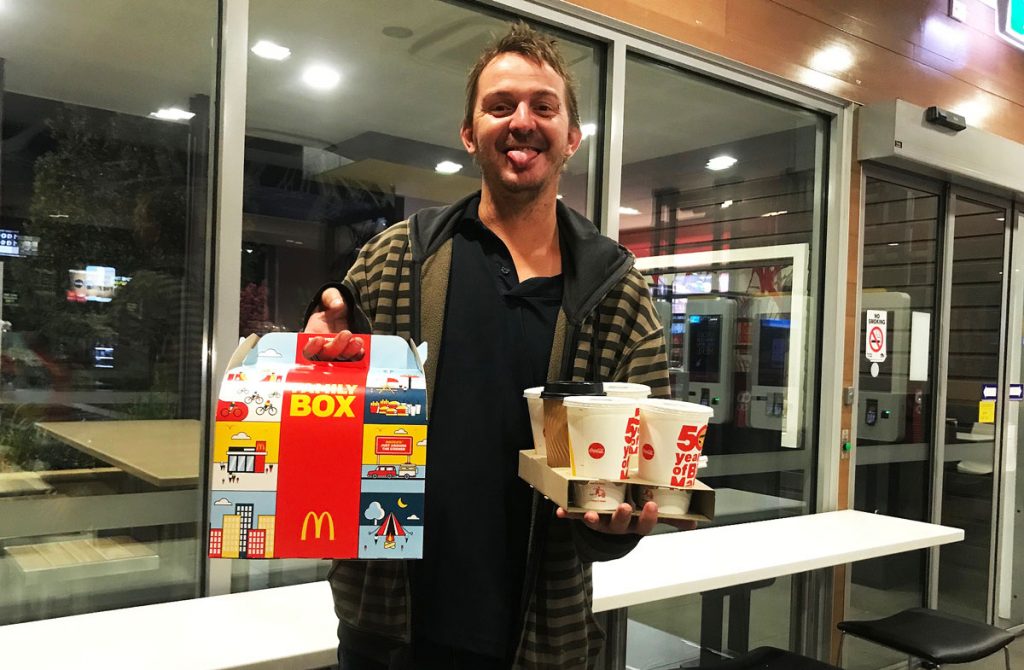 Overall, Sammy's Slammers have cemented their spot in the top four with a 6 rubbers to 5 (20 games to 19) over Mallee Meats. The Butchers still are on top of the ladder but are faltering. Can they regain their composure next week? Time will tell.
MJM Automotive 8 (Karly Leach 3, Levi Williams, Marita Grace 2) def Weightmans Packaging 3 (Jordan Cole 2)
It should be noted regular players were missing from both teams with some of this due to workload issues (Alicia Tyres and Jacinta Ljubic playing too hard on and off the court at the Country Week Championships?).
MJM Captain Karly Leach was again instrumental in a big win for her team as she won three singles matches. She was well supported by Levi Williams and Marita Grace who both contributed two singles each. For Weightmans Jordan Cole played well in winning two singles.
There were several five set matches during the night with the first being Son Vs Mother – in other words Cole Vs Grace. These two have played before with Cole being the victor last time in a close match. This match was no different with both after bragging rights this match went down to the wire with Cole breaking free in the last set to record an import win for his team.
Cole then teamed with Tom Gilmour to take on Karly Leach and Levi Williams. In an entertaining five set match that saw some quite significant momentum swings Leach and Williams crept over the line by the barest of margins 11-9 in the fifth set. If this wasn't enough five set action Cole was again involved in another lengthy match against Williams. This game saw Williams up two sets to one up before Cole staved off defeat in the fourth 13-11 before going on to win the fifth comfortably. I think the finance committee need to investigate increasing Cole's ball fees as he is clearly getting more
than his money's worth of play each night. Even when Cole gets the job done in three sets there are usually some big numbers in the scores. Again, this was evident when Cole and returning player Raylee Waugh teamed to defeat Leach and Grace 11-6, 11-9, 20-18 in the second doubles match.
Overall an excellent win for MJM Automotive 8 rubbers to 3 (28 games to 11) over Weightmans Packaging. This win an important victory as MJM hang on to fourth spot on the ladder.
Tankard Dental 8 (Shaun Gifford 3, Nick Kiapekos, Phuong Hung Nguyen 2) def Dunkley Scales 3 (Rodney Galvin 2)
The last time these two teams met in round 7 it was smiles all around for Tankard Dental as they went on to record an emphatic 10-1 win. However, in recent rounds there have only been frowns as Tankard Dental have found the going tough; whereas their opponents Dunkley Scales have enjoyed much more success in this same period. Tonight, Tankard Dental may have turned their season around with a solid win against Dunkley Scales.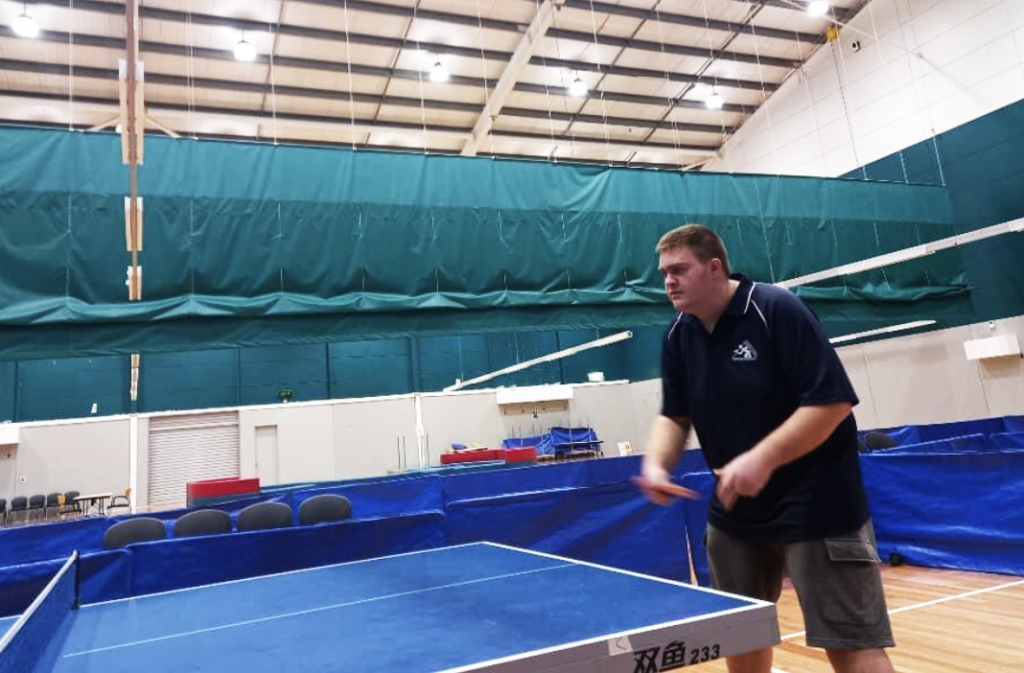 Tankard number two player Shaun Gifford is having a great season and again was at his best in winning three singles matches. His Captain Nick Kiapekos steadily added two singles victories as did Phuong Hung Nguyen who also had a great night. For Dunkley Scales Rodney Galvin played well in winning two singles.
The match of the evening was up against two players who have improved their games from the start of the season to now. Gifford was up against Galvin in the battle of the 'G's. Gifford would take the first set comfortably 11-6. The second set was a nail-biting affair with the game going past 10 all and then some. With the scores deadlocked at 18 all the umpire was considering using fingers and maybe toes as the numbers would soon run out on the scoreboard. To the umpire's relief Gifford scored the next two points to take the second set 20-18. Galvin wasn't done and maintained a high standard of play to outlast Gifford 11-9 in the third before Gifford would seal the deal in taking the fourth 11-8. This win giving consolidating Gifford's number one placing in the individual aggregate and giving Tankard Dental the lead 3 rubbers to nil lead in the overall standings.
Galvin would get some late revenge in defeating the opposing Captain Kiapekos in three sets; however, Tankard Dental have recorded a much-needed win to keep their finals hopes alive 8 rubbers to 3 (26 games to 12) against Dunkley Scales.
With this loss the only way Dunkley Scales can make the finals is NEXT SEASON