Read Time:
14 Minute, 14 Second
PENNANT 1:
– Mallee Bearings 6 (Shannon Bowen 2, Matt Ljubic, Nicholas Dorman 1) d Cash Converters 5(Rick McMeekin 3, Jackson Tung, Leslie Ncube 1)
Although receiving a scare top team Mallee Bearings won their fifth match in succession in round twelve action of the Sunraysia Table Tennis "Cash Converters" winter pennant. On the grand stand court Mallee Bearings took the points 6-5 against bottom team Cash Converters who late in the match had taken a 5-3 lead and were a real chance to take the victory and remain in the finals race.
For Cash Converters skipper Rick McMeekin was in good form winning three singles while team mates Jackson Tung and Leslie Ncube both won one to give themselves a real chance however it was their inability to pick up a doubles which left Cash Converters agonisingly one rubber short.
Cash Converters number two Jackson Tung had a mixed night, in his first match he pushed opposing number one Shannon Bowen right to the limit after dropping the first two games easily, Bowen did an Eddie and hung on to win 11-4 11-5 8-11 9-11 11-8. Tung later accounted for the inform Nicholas Dorman in four sets and then when his team were within sight of victory he unfortunately went down in straight sets to Matt Ljubic.
This had been an eventful contest between two sides desperate to grab the points and a further indication of how close this competition is.
– Regional Taxation Services 7 (Wayne Carmichael 3, Mark Ljubic, Reece Kurrle 1) d Weightmans Packaging 4 (Gavin Carmichael, Shane Carmichael 2)
In the second versus third match up Weightmans Packaging went down to Regional Taxation Services 4-7 on the stage court. Wayne Carmichael led the way for the victors winning three singles as well as participating in both doubles victories. Two matches were crucial in the win and both involved Carmichael Wayne. The second doubles featured he and team mate Mark Ljubic up against Gavin Carmichael and fill in Matt Ljubic.
This was a lengthy five setter however the RTS pair were too steady winning 10-12 11-3 11-6 8-11 11-5 over Gavin Carmichael and fill in Matt Ljubic. The next singles was also crucial and Wayne Carmichael won his third when he outlasted brother Gavin 11-7 9-11 10-12 12-10 11-7 in another match that contained many long rallies.
With Matt Ljubic filling in it gave him the opportunity to play father Mark again this round and it was Mark, with his "clunker" of a bat that is now getting inside Matts head, who prevailed in four sets of interesting table tennis.
In this contest there were four five setters with Regional Taxation Services taking three of these. For Weightmans Shane and Gavin Carmichael won two singles each however no doubles victories was costly.
– Tankard Dental 6 (Joel Thomas 3, Kate Carmichael 1) d Exposed Signage/Apparel 5(Michael Hogarth, Matt Avers 2, Mark Dorman 1)
In an important match to both teams fourth placed Tankard Dental matched up against fifth placed Exposed Signage/Apparel on centre court. Both teams were only separated by a narrow percentage in fact only one rubber over eleven rounds. The four points were vital to both teams given there is only three rounds remaining and the quality of table tennis did not disappoint.
Tankard Dental skipper Joel Thomas, after a successful Country Championships where he won eleven singles from 15 matches in A Grade, led his team as he normally does by winning three singles and in an outstanding display he also participated in both doubles victories against very tough opposition. Early in his singles against Matt Avers, mentor Thomas looked to be under pressure when Avers took the first 11-6 and mid-way through the second Avers led 8-5 before Thomas then lifted a gear before going on to win in four sets 6-11 11-8 11-9 11-3 in a top class match.
The doubles were a turnaround from when these teams last met with Thomas and Kate Carmichael defeating Avers and Mark Dorman in straight sets while later Thomas teamed with Leon Brown to continue their good form in this concept of the game by defeating Avers and Michael Hogarth in four sets.
Two singles matches also stood out with Michael Hogarth defeating Kate Carmichael in four sets. This match brought the stadium to a standstill not so much for the standard of table tennis which was good but more for the fact that Kate happened to knock the table over. Michael had returned a ball very high which just landed over the net and was spinning its way back over the net, she managed to get a bat to it however in her haste she bowled the table over causing a great commotion and forcing Michael to retreat in a hurry. Fortunately both players survived.     
Carmichael was later able to redeem herself and contain her embarrassment by defeating the experienced Mark Dorman in a long five setter 11-7 13-11 3-11 6-11 11-8 a great tussle.
This loss ended a three game winning streak for Exposed Signage whose form has been excellent of late, they remain outside the four by one win. For Tankards this was an important win, their second in five rounds and gives them third positon inside the four by one win.
PENNANT 2: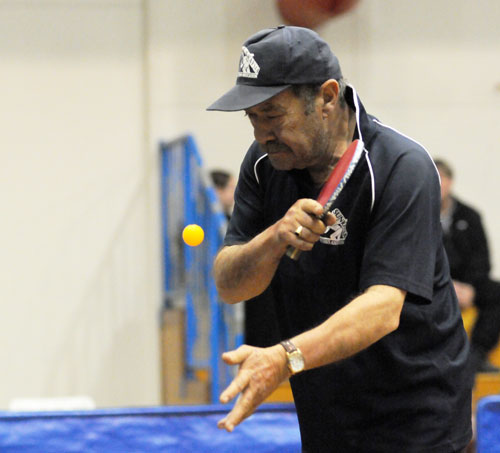 Max Miller Carpets continued their quest for a spot in the finals with a win against Mallee Bearings; Mallee Meats continued their miserable run of form going down badly against Pinnacle Packers; and MJM Automotive got their third win for the season, and in the process giving Weightmans Packaging a few headaches.
– Max Miller Carpets 6 (Ed Hung 3, Brendan Alderton 2) d Mallee Bearings 5 (Lee Thomas 2, Jackson Murphy, Terry Martin 1)
Max Miller Carpets has not given up on a spot in this year's finals, and after this win against Mallee Bearings the teams joins Weightmans Packaging, who lost this week, on five wins.  Weightmans still hold fourth spot on the ladder, but only by percentage.
Ed Hung was in fine form, winning three singles, and one doubles, with Sony Sefer.  Sefer, however, had an off night, unable to snare a singles win, although he came close twice, losing in five sets to both Lee Thomas and Terry Martin.
So, with Sefer having a quiet night, Brendon Alderton stepped up with two wins – he rounded up Mallee Bearings captain Jackson Murphy in just four sets, Murphy getting just one set at 13-11, Alderton winning the others 9, 8 and 5.  His second win was one of persistence – two sets down to Terry Martin 9-11, 5-11, Alderton took the next three sets 5, 6 and 4 to give his team a 4-3 lead at that point.
Max Miller Carpets had the game won after nine rubbers – Lee Thomas then picked up her second rubber defeating Alderton in four sets,
followed by Martin picking up his only win, in five sets against Sefer.
Final scores:  6 rubbers to 5 and 23 games to 21.
– Pinnacle Packers 9 (Peter Midgley 3, Kevin Johns, Jason Gifkins 2) d Mallee Meats 2 (Geoff Wright 2)
Mallee Meats continued their recent miserable run, when they lost their fifth game from the last six, in this defeat at the hands of Pinnacle Packers.  They sit third on the ladder, a game clear of Weightmans Packaging and Max Miller Carpets, with a slight percentage advantage.  If they have aspirations of playing in the finals, they will have to arrest their poor form very soon.
But in this round, Pinnacle Packers gave them no room to hide – only Mallee Meats captain Geoff Wright took any rubbers from them, and only two.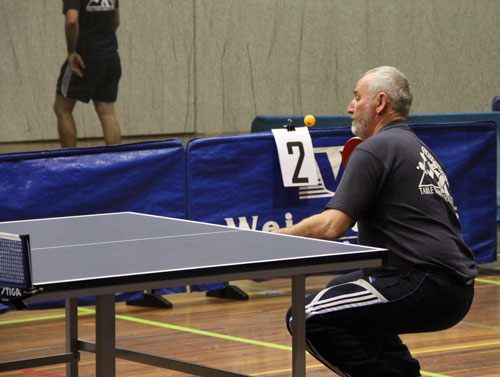 For the second week in a row, Peter Midgley outscored his captain, Kevin Johns, and in so doing, jumped him, to be now fifth on the aggregate.
All round though, it was an easy win to Pinnacle Packers, and it lifts them one game clear at the head of the table from Mallee Bearings.
Final scores:  9 rubbers to 2 and 27 games to 13.
– MJM Automotive 9 (Bernadette Fitzpatrick 3, Seval Fuat, Tony Malycha 2) d Weightmans Packaging 2 (Ashley Morrison 2)
MJM Automotive may be the team which will help shape the final four in this grade.
This week they took just their third win from twelve games – not a great strike rate, yet of the nine losses, five have been by the smallest of margins, 5-6.
In this game they demonstrated their true ability, captain Bernadette Fitzpatrick won all her singles, Tony Malycha and Seval Fuat won two each, and the team took both doubles contests.
The rot set in early when Tony Malycha downed Arthur Paar in four sets, and Seval Fuat put Weightmans on notice by leading Ashley Morrison two sets to one, but to eventually lose in five.
The first doubles was close – Fitzpatrick and Malycha defeating Morrison and Paar in five sets.  After that, Weightmans only added a further singles win by Morrison to their score, and the MJM trio taking the last five rubbers to run out easy winners.
Weightmans were looking to join Mallee Meats on six wins, but this loss sees them stay on five wins, and puts them in dangerous territory as the resurgent Max Miller Carpets claw their way up the ladder, and join them on five wins also.
Final scores:  9 rubbers to 2 and 29 games to 16.
PENNANT 3:
The three top teams defeated the three bottom teams in this round, cementing their positions for the finals.
– Tankard Dental 10 (Michael Hensgen, Zac Healy 3, Rohan Reimers 2) d Weightmans Packaging 1(Paul Fitzpatrick 1)
As is their want, Tankard Dental ran up a big win against another opponent this week – this time Weightmans Packaging being the team on the receiving end.
Only a solitary singles win by Weightmans Packaging captain Paul Fitzpatrick against Rohan Reimers prevented a white-wash.
In a very one-sided match, seven of the ten wins came in three sets only.
Both Michael Hensgen and Zac Healy, who both took three singles wins, dropped just one set in their singles rubbers, and in the doubles, Hensgen and Reimers won in three against Fitzpatrick and Sam Hensgen, while Hensgen and Healy won in five against Fitzpatrick and Leach.
Whilst these scores may be reassuring for Tankard Dental at this stage of the season, they know that their biggest opposition, Mallee Meats, have been them twice from three meetings, and their win against Mallee Meats was a very close 6-5.  They know they will have to play better than this come finals time.
Final scores:  10 rubbers to 1 and 30 games to 7.
– Mallee Meats 8 (Rod Healy, Claire Ljubic 3) d Regional Taxation Services 3 (Quentin Clark, David Sergi, Vin Brown 1)
Mallee Meats defeated Regional Taxation Services easily in this game.
Marcus Cimino, who has starred for Mallee Meats in the last two rounds, was kept without a win in this game, indeed, he won only one set in his three singles rubbers.
As it transpired, those three rubbers were the only ones Regional Taxation Services earned, as Quentin Clark, Vin Brown and David Sergi could do little to stop Rod Healy and Claire Ljubic claiming three rubbers each. 
Healy went through the night without dropping a set, and that includes in doubles play.  Ljubic dropped only three sets in her singles rubbers to complement her captain.
Mallee Meats remain at second on the ladder, equal with Tankard Dental on ten wins, but with an inferior percentage.
Final scores:  8 rubbers to 3 and 25 games to 12
– MJM Automotive 7 (Peter Fitzpatrick, Jeremy Corrin 2, Anthony Sergi 1) d Dunkley Scales 4(Rachel Fitzpatrick 2, Huseyin Ismail, Cambell McKenzie 1)
In the game which provided the closest score in this grade, MJM Automotive had the win in the bag against Dunkley Scales after six rubbers.
Unexpected wins by MJM Automotive's number three Anthony Sergi, and number two Jeremy Corrin, against Dunkley Scales captain Cambell McKenzie in the second and fifth rubbers, ensured that the win was going their way.
With the win in the bag, MJM Automotive were keen to extend the score, but Dunkley Scales had other ideas, and took four of the final five rubbers.
Rachel Fitzpatrick was their stand-out player, firstly defeating the giant-killing Sergi, and then denying Jeremy Corrin a three rubber haul, something he was quite confident he would achieve.  Their match went to five sets, Rachel winning 11-7, 5-11, 7-11, 11-8, 11-6.
After his earlier losses,
McKenzie came good against his opposite number, Peter Fitzpatrick, downing him in three sets.  Huseyin Ismail completed the trifecta of wins in the final round of singles, downing Sergi 5, 8 and 2.
Final scores:  7 rubbers to 4 and 23 games to 16.
PENNANT 4:
After round 12 matches this pennant continues to be close with Weightmans Packaging and Regional Taxation Services both on six wins while the remaining three teams have enjoyed four wins. Weightmans held top position by percentage despite having the bye. Every match now becomes very important as all teams mathematically can still play finals.
– Regional Taxation Services 7 (John Fitzpatrick, Dave Tanner 2, Brice Lock 1) d Dunkley Scales 4(Leonie Dunkley 3, Joel Hogarth 1)
Second placed Regional Taxation Services outlasted Dunkley's Scales to win 7-4 in this contest and in doing so opened a two game break between the two sides on the ladder with three matches remaining although Dunkley's have had their three byes while RTS still have a bye to come in round 13.
For Regional Taxation Services Shirley Whitecross was out with a knee and the always keen Dave Tanner came into the line-up. Dave played a key role in the win and this was his best performance since commencing three rounds ago. Dave is super keen and is the son of Gary who played many years ago. With his team five four up Dave matched up against the promising Joel Hogarth and this was a great five set tussle. Joel took the early ascendancy winning the first two games however Dave would not go away and he fought back well to win 4-11 9-11 11-9 12-10 11-7 a tough slog.
Earlier in the first match of the night Joel played fellow youngster Brice Lock and again this was a marathon five setter with this time Joel taking the points 11-6 9-11 11-9 8-11 and the fifth an amazing 18-16!
John Fitzpatrick won two singles for the victors as well as Dave however John also took part in both doubles victories which was important for his team to grab the four points. For Dunkley's Leonie Dunkley played very well to win three singles including a four set victory over aggregate leader John Fitzpatrick.
The singles aggregate race has become interesting with John two wins ahead of Ryan Hensgen. Both players still have a bye to come while in round 14 they actually match up against each other.
– MJM Automotive 6 (Stephan Ljubic, Kim Avers 2, Jacinta Ljubic 1) d Mallee Meats 5 (Ryan Hensgen 3, Ben Hosking 1)
This was a clash of fourth vs fifth and it was fifth placed MJM Automotive who prevailed 6-5 in a close tussle. At one stage Mallee Meats took a 5-4 lead when Ryan Hensgen won his third singles for the evening when he defeated Stephan Ljubic in four sets.
Immediately following this match MJM Kim Avers accounted for fill in Ben Hosking 14-12 7-11 11-0 11-9 to win her second singles. Earlier Kim gave Ryan Hensgen a real scare just going down 12-14 in the fifth.
With the match at five rubbers all it was a real family affair match with Mallee Meats Luke Ljubic up against mum Jacinta. Luke was quickly into his stride and took the first two games before mum was able to steady. Jacinta took the third narrowly and from here she was able to gain control. In a close finish Jacinta took the match and the four points for her team with a score line of 10-12 7-11 11-9 11-1 11-9. Luke had played well and just came up short.
Jacinta has made a habit this season of winning at five rubbers all to be an important cog in her team's success rate. Stephan Ljubic won two singles as did Kim Avers who also played well in an important match.
Despite taking the points MJM remain fifth on the ladder by a narrow percentage, one rubber over 12 rounds.