Read Time:
6 Minute, 23 Second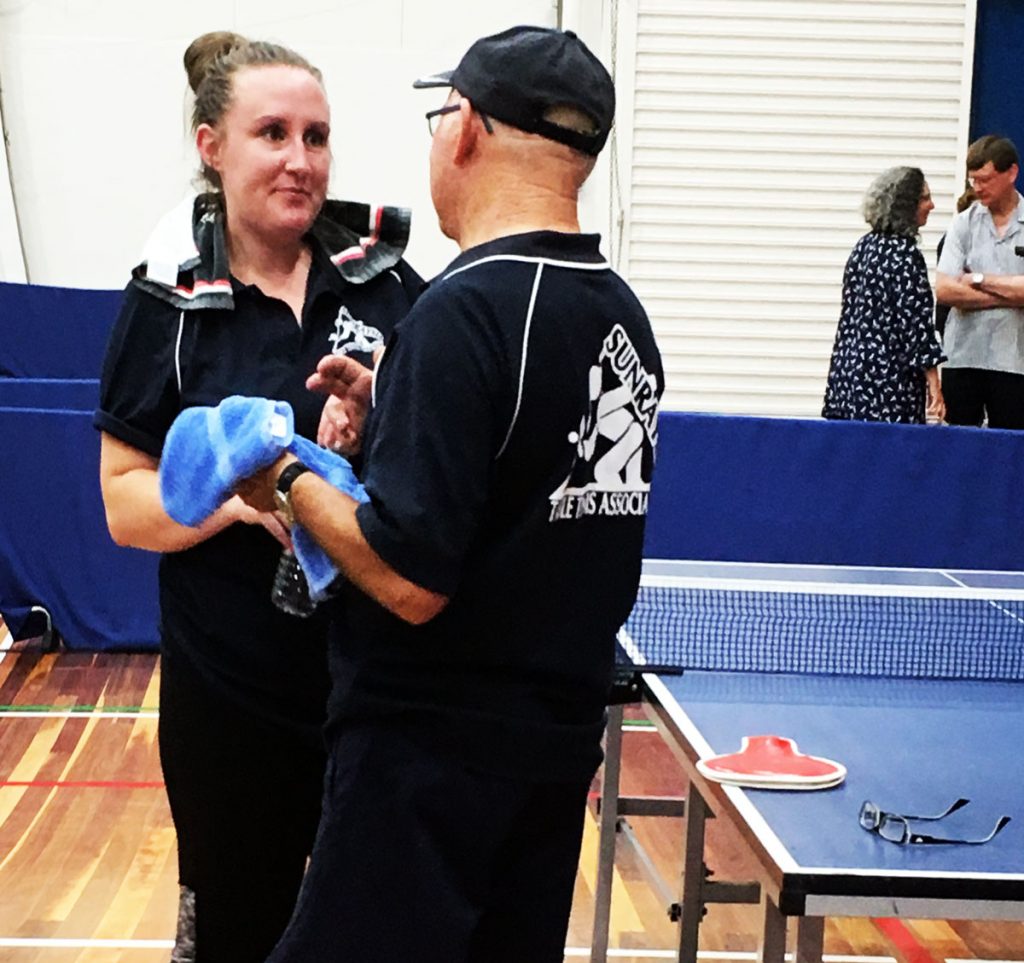 With Kevin Johns back in the P1 stable, plotting and planning coupled with strategic meetings throughout the evening were playing out. Kev seen here talking of another set play.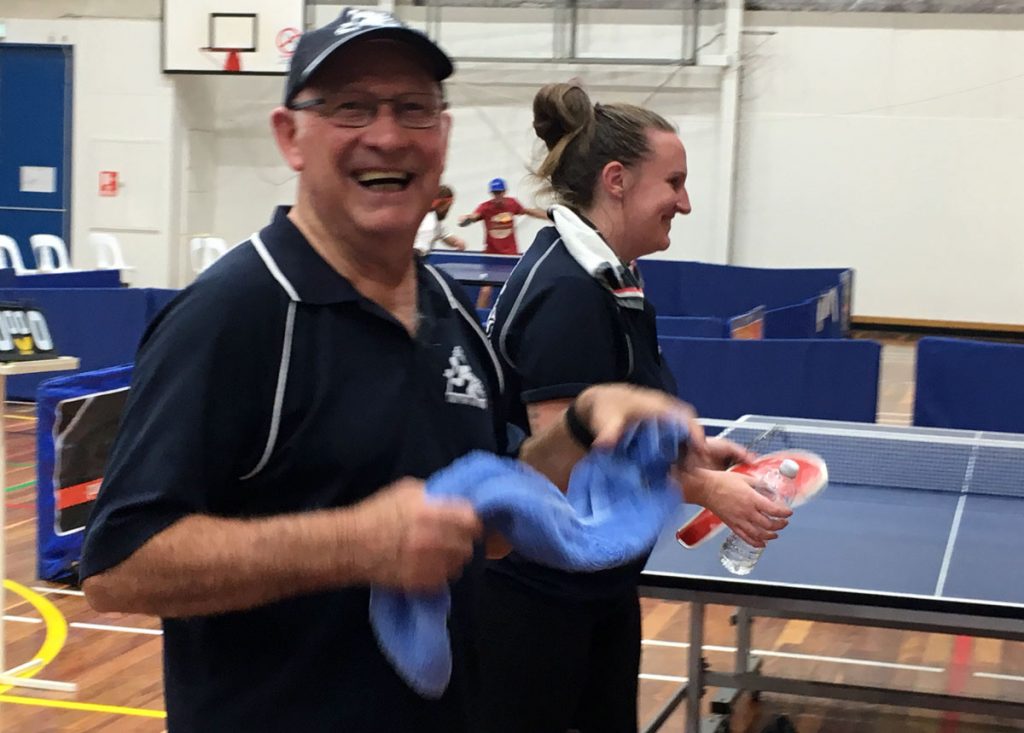 You bloody ripper! Kate takes out Mark Dorman in the 10th to seal victory. Kev: 'All you need is decent plan and execution – The rest is history'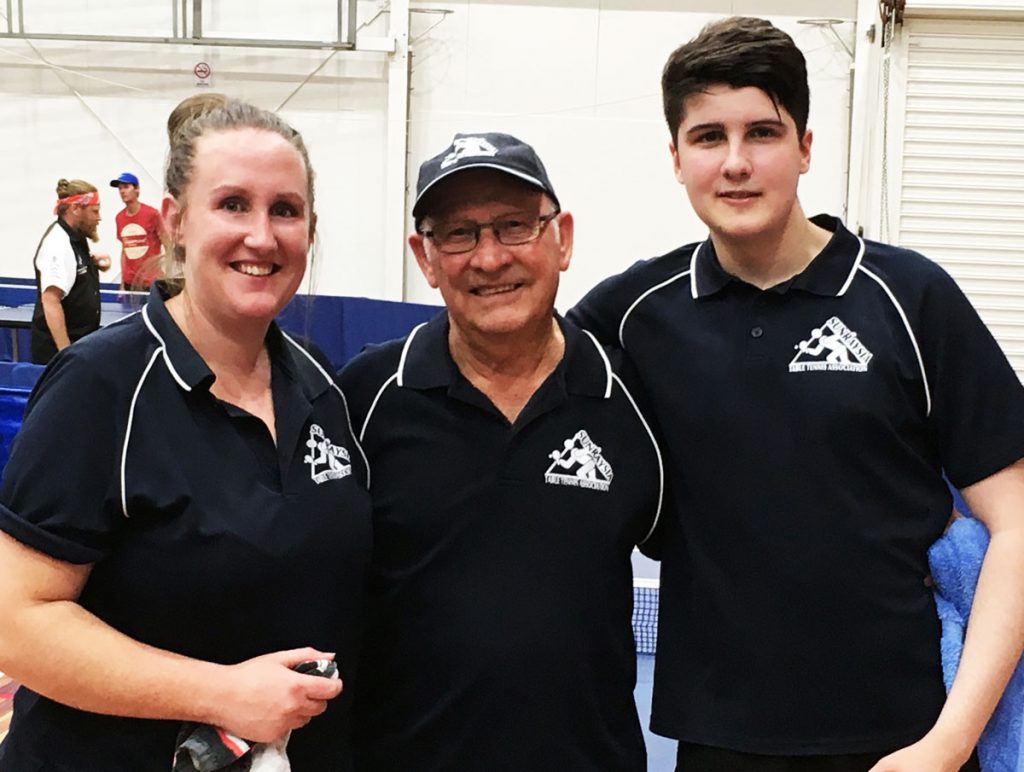 Champions – Cash Converters of 2017 – Kate Carmichael, Kevin Johns & Matt Ljubic.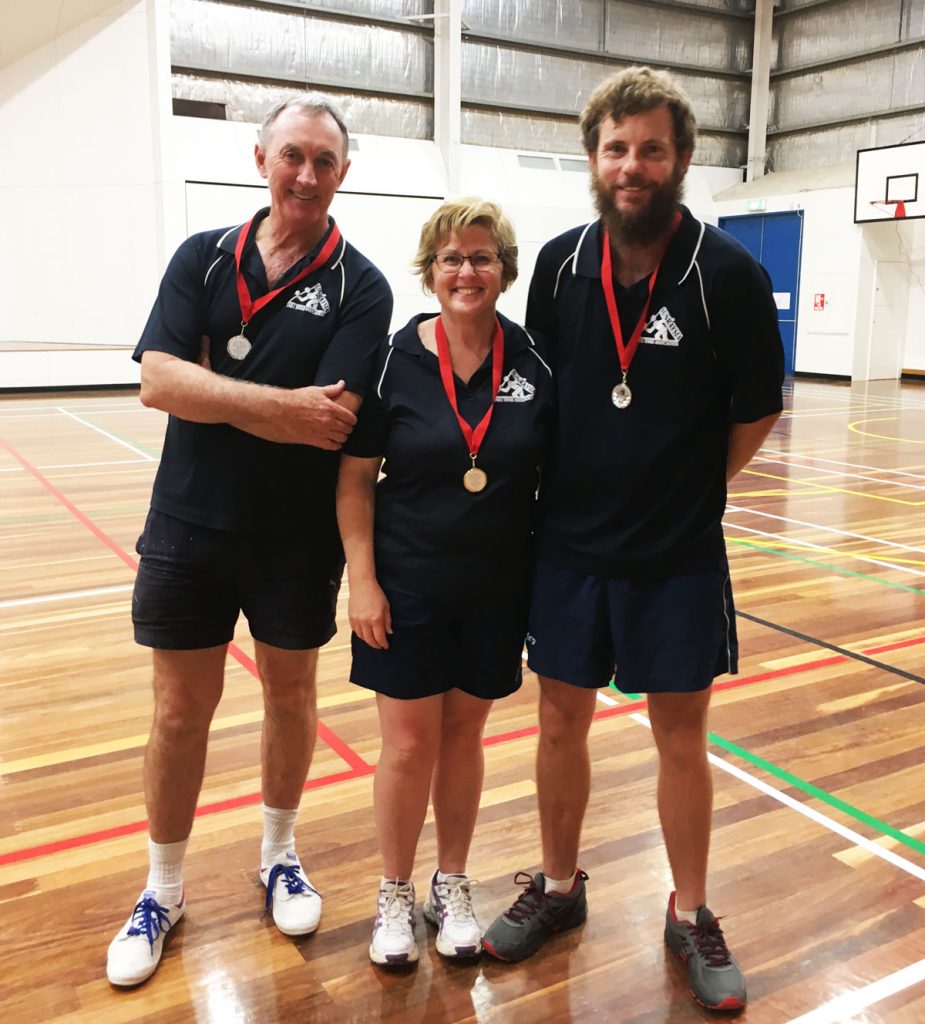 Runners up – Regional Taxation Services of 2017 – Mark Dorman, Lee Thomas filling in for (Ed Hung – absent) & Shannon Bowen.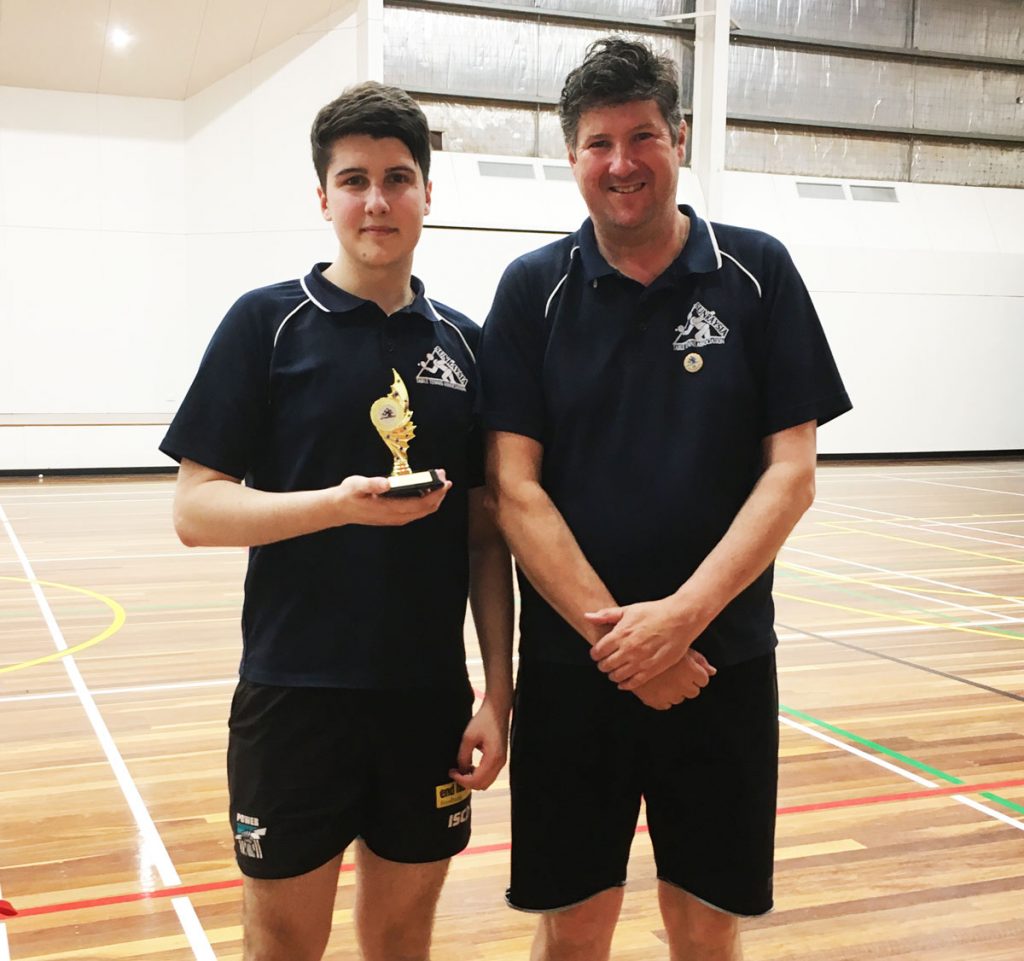 Matt Ljubic took out the most improved in Pennant 1 for the second year running. Looks like young Matt is sorting out some unfinished business that El Presidente of STTA – Mark Ljubic had left behind. Mark was heard saying that he himself had a brilliant two seasons from 1991 to 1993 before his luck turned.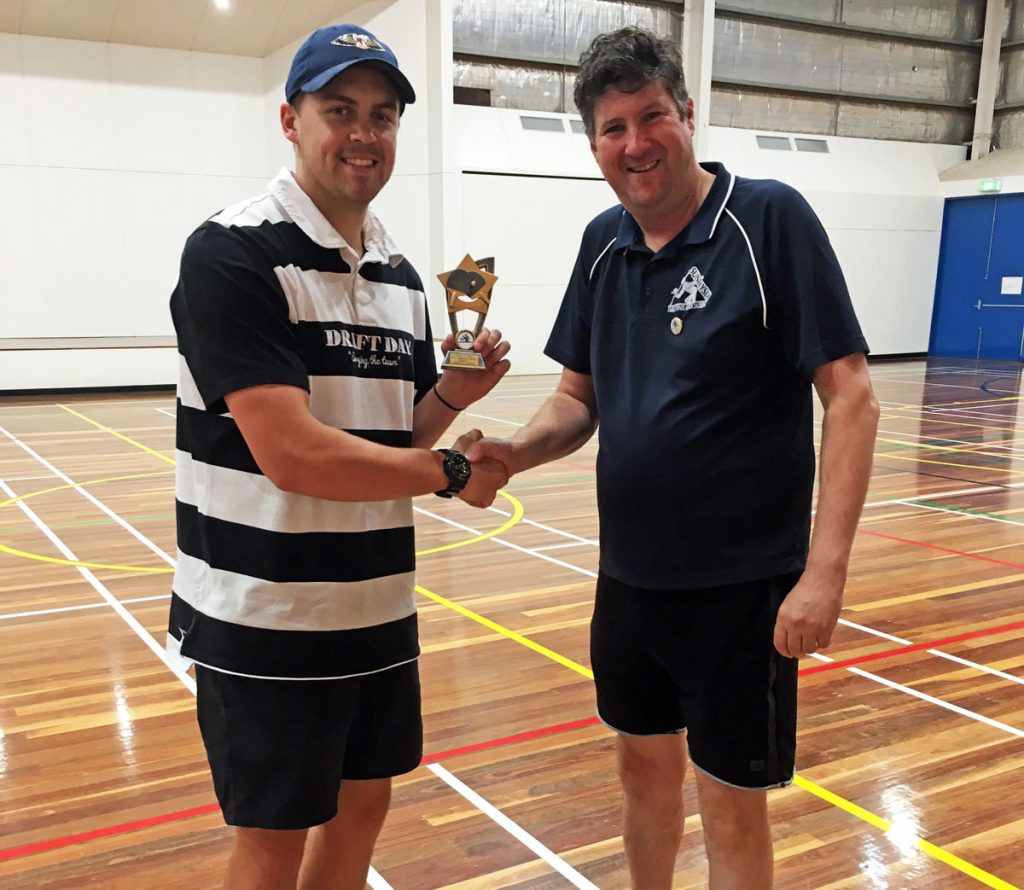 Nicholas Dorman took out the Aggregate win for number two players in Pennant 1. Another good season and along with Matt Ljubic and Matt Avers look to be the new generation of top end talent to dominate Stta rankings over the coming years.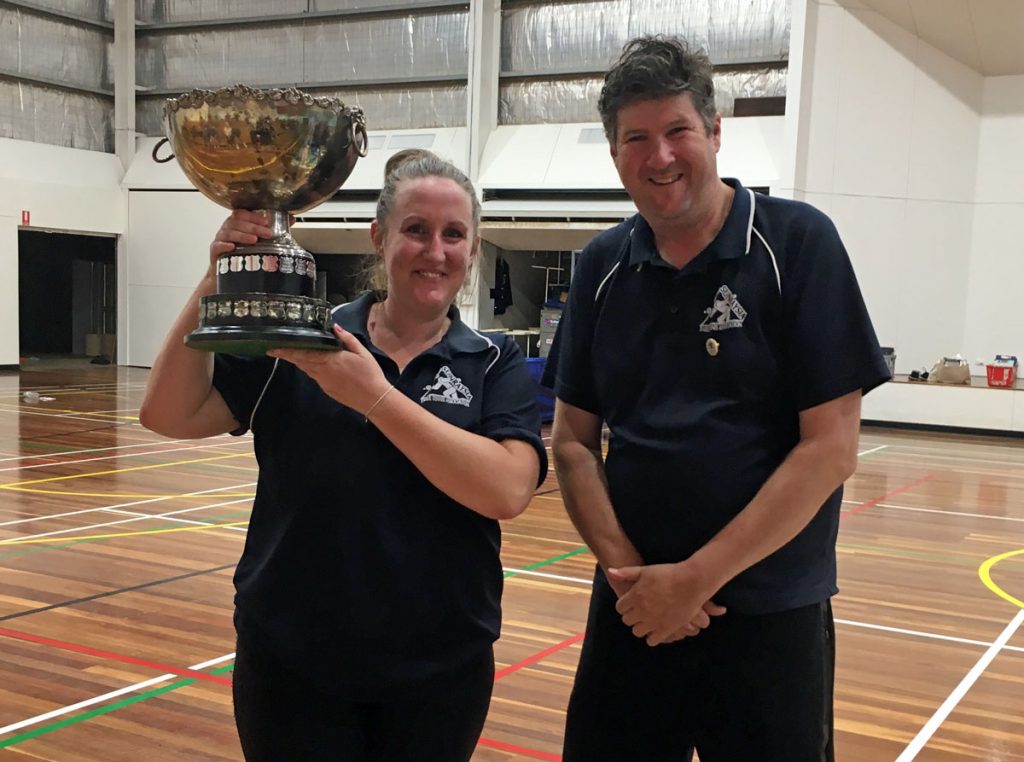 And of course Kate going back to back in winning the Womens Country Victoria Championship. The focus now shifts to next season in which she will play to defend the title and in doing so make it a hatrick of titles and straight into "THE HALL OF FAME" …. Now wouldn't that bring a tear to Richies eye!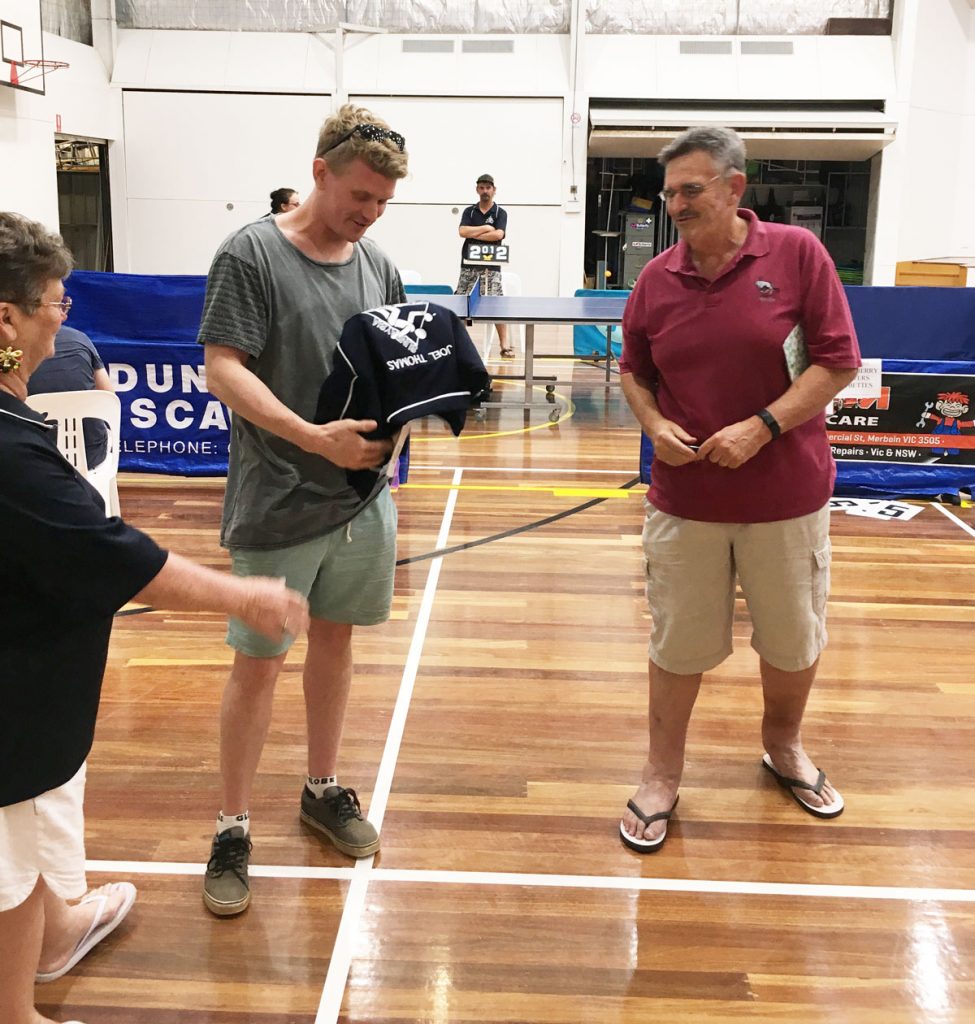 A fourpeat – Joel Thomas was presented with his 2017 Super 8's championship shirt. Richie reminding Joel that he has now  picked up four Winter titles from 2014 to 2017. A first in Stta history. Denise is just checking that the pin striping meets Stta protocol.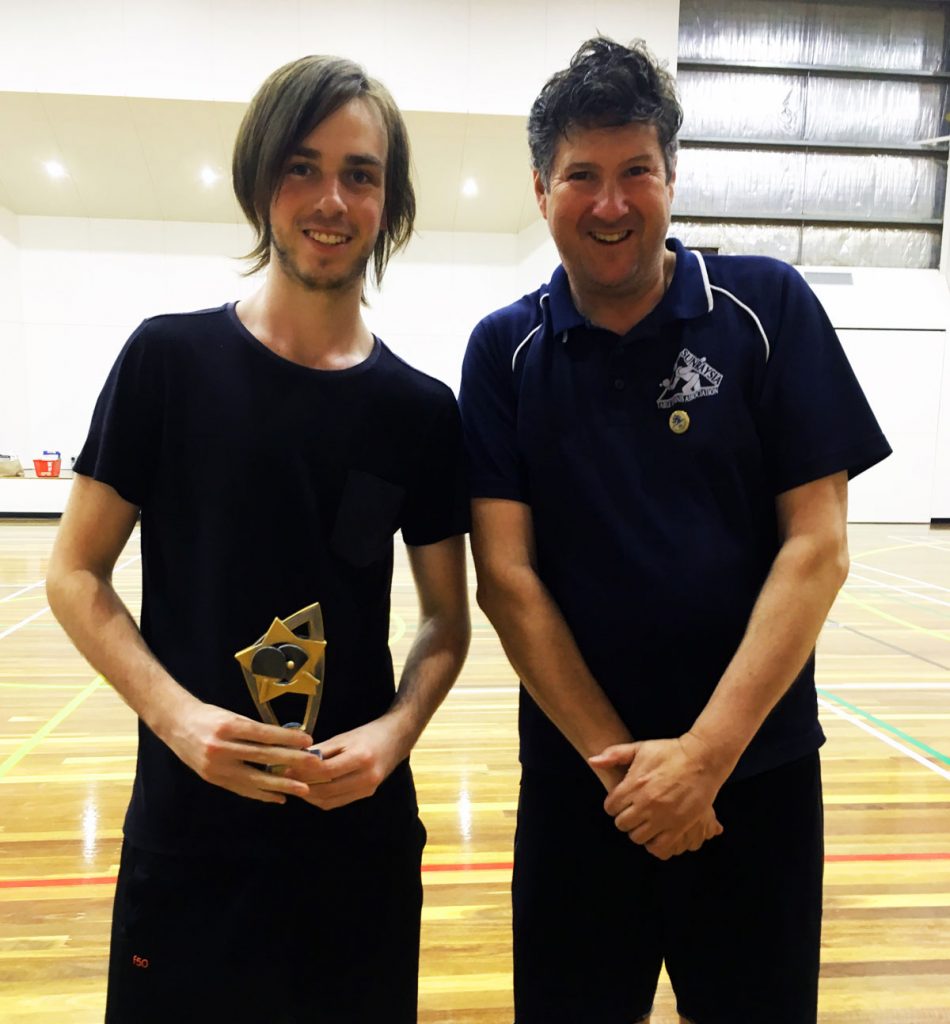 Matt Avers picked the number one player aggregate trophy. Losing just one game for the season was testament to the level he has now got to.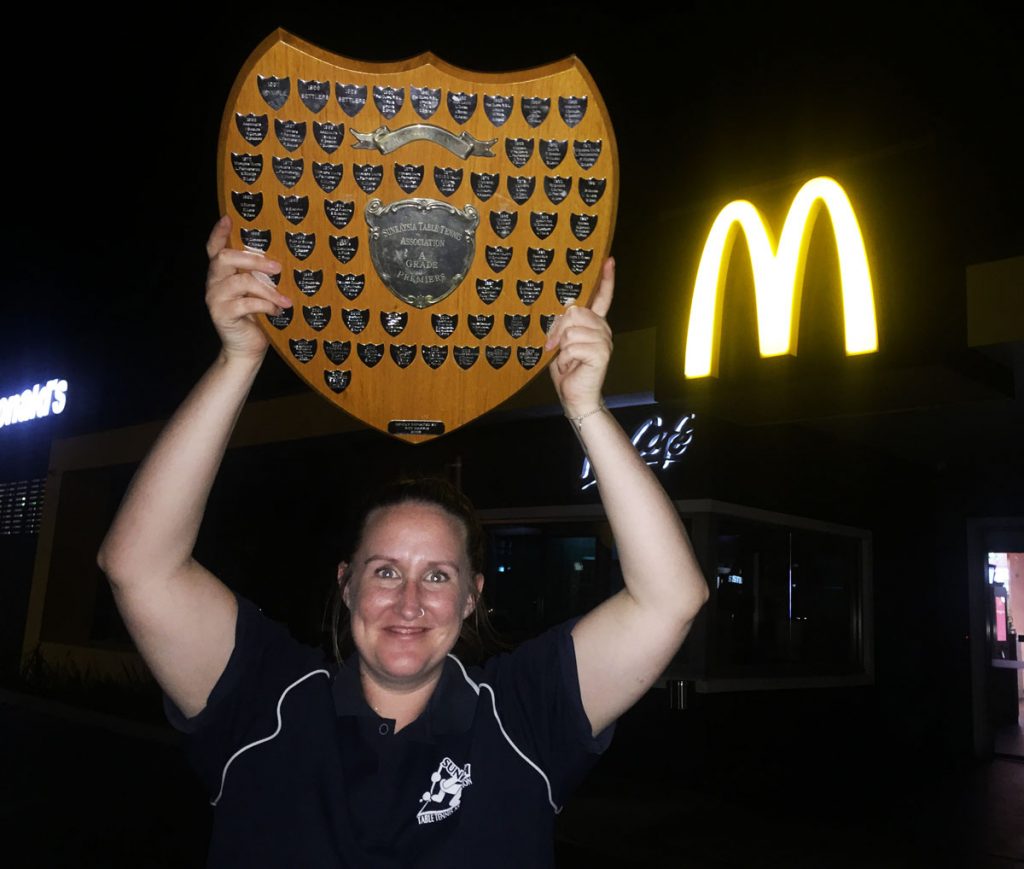 And of course a visit to Macca's to celebrate the win …. Well until the lights were turned off at 1am!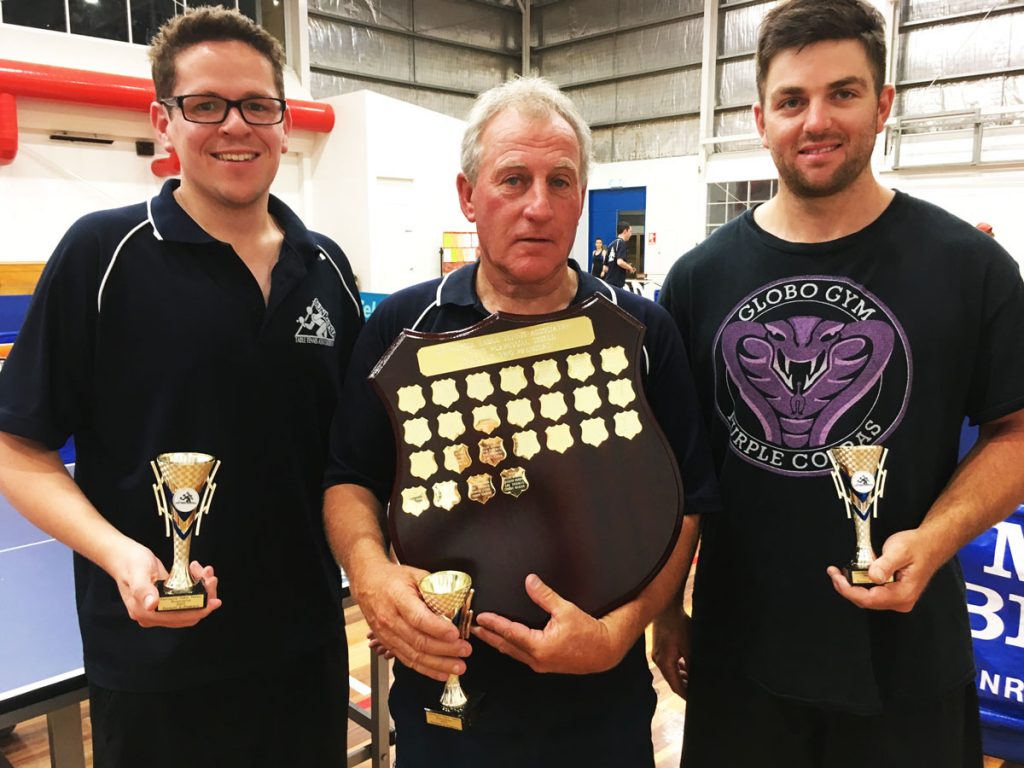 The Pennant 2 battle was over in record time. A picture can tell a bigger story – The fact that Geoff Wright had his mouth closed for a millisecond was akin to a Film-maker capturing a rare shot. Pinnacle Packers reached top spot in the final round and never looked back. Brendan Alderton (injured for over half of the season), Geoff Wright (injured for the whole season and sheer miracles each week got him over the line – according to the book of Wrighteous) and James Chick (who just turned up each week and got the job done)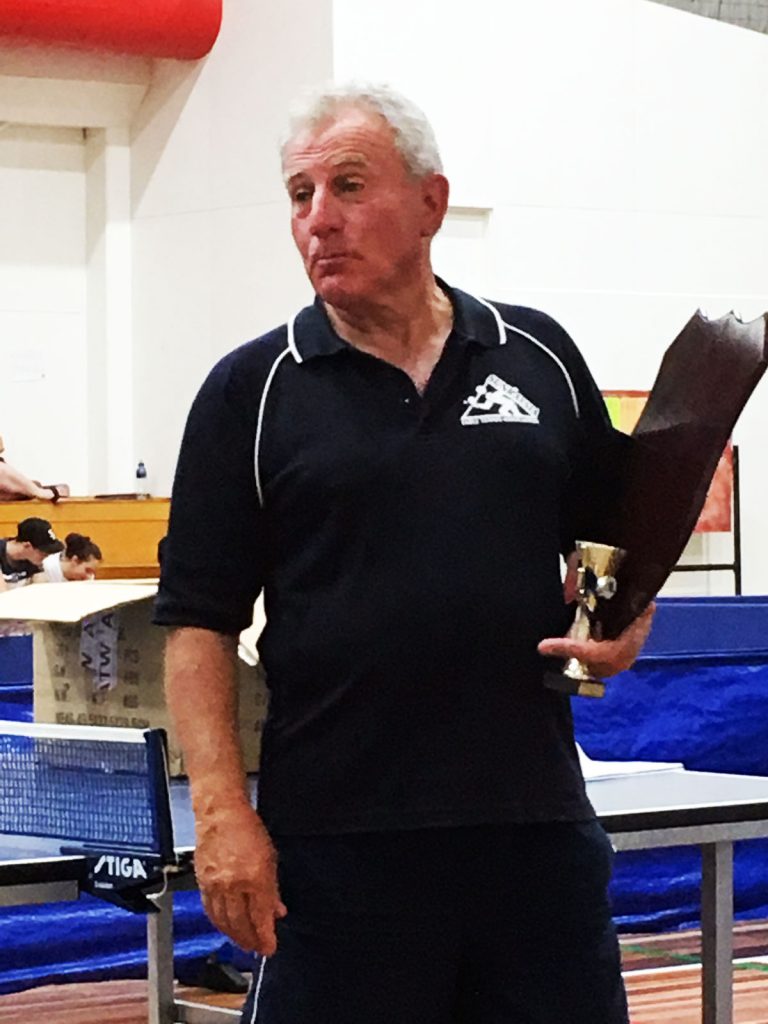 And then there was speech time …..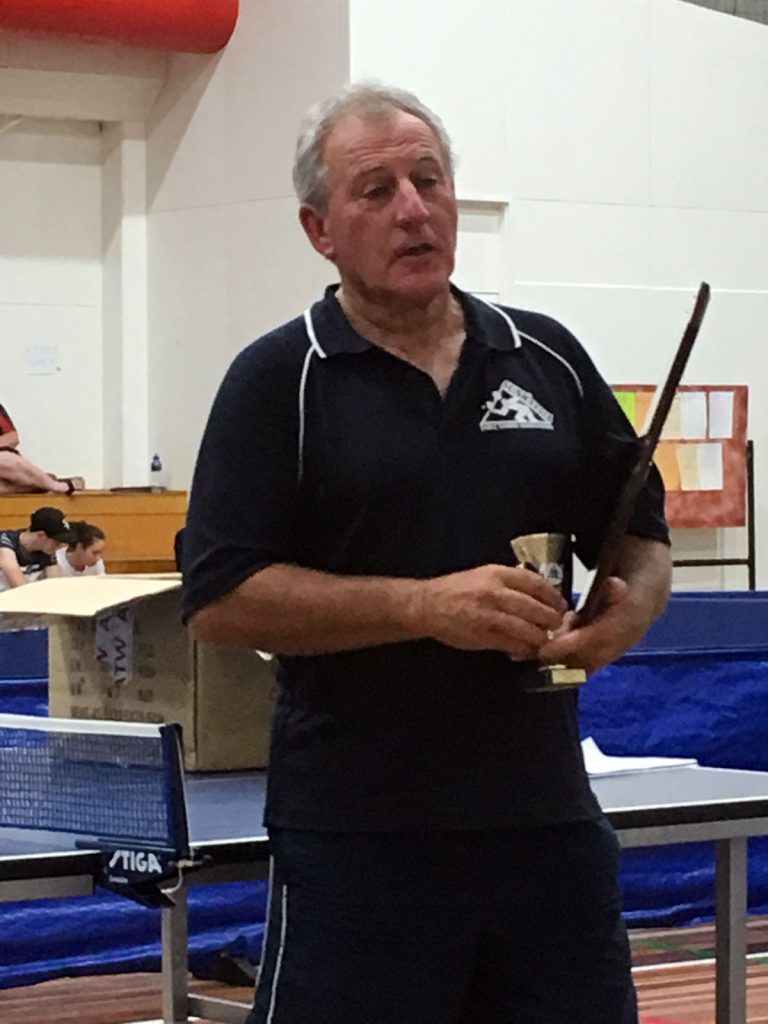 And it just went on an on! Firstly I'd like to thank myself, then the Doctor etc etc etc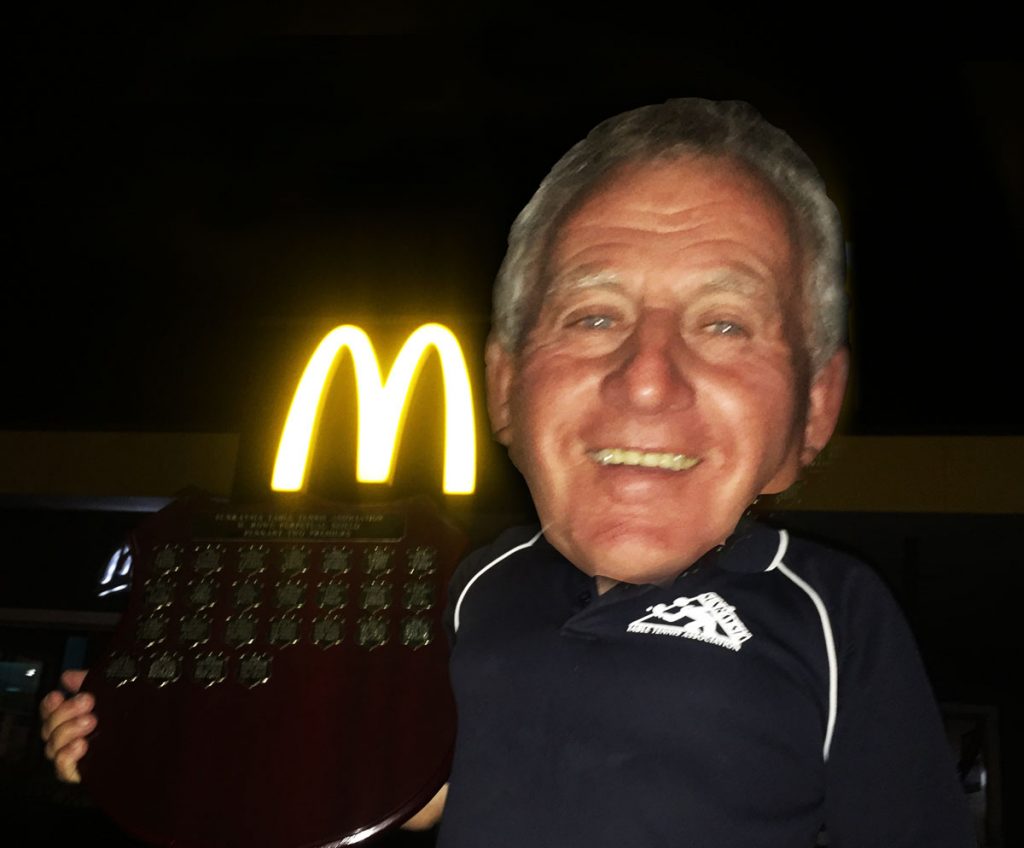 By the time he got to Macca's something had to give!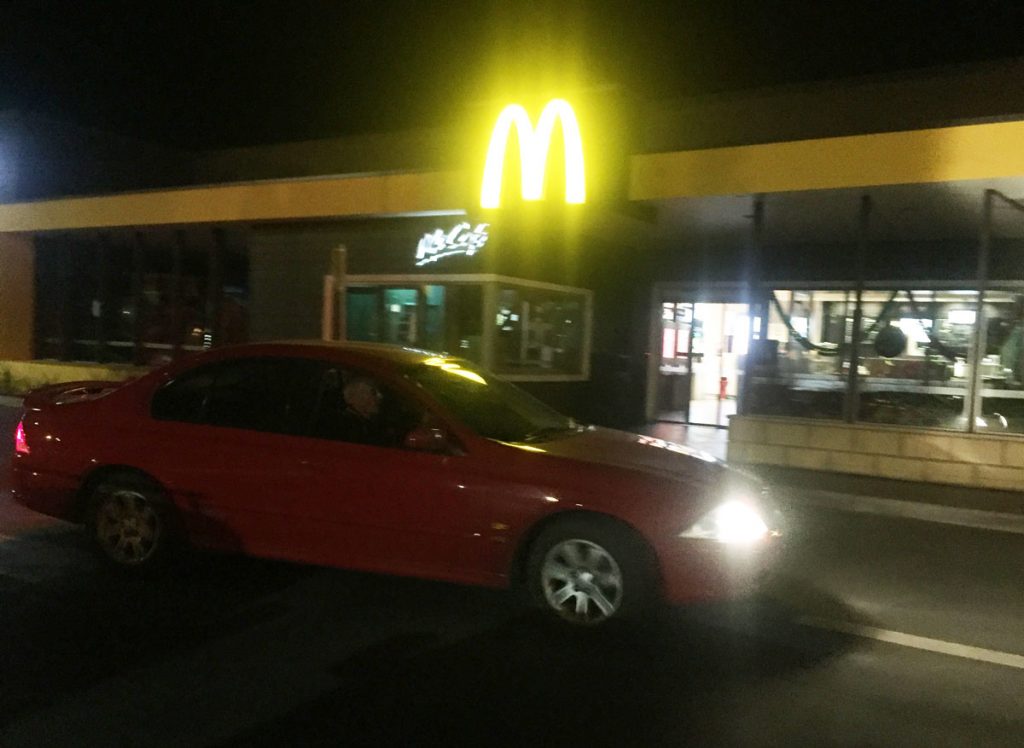 And in customary fashion Fangio had to leave a lasting impression …..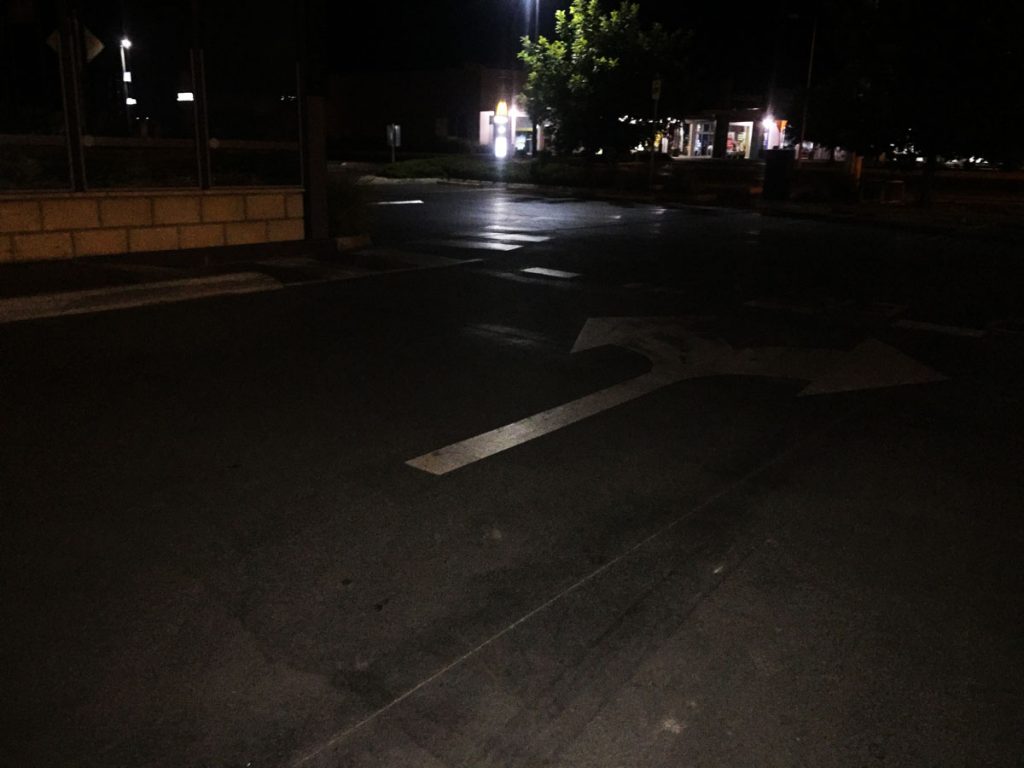 Yes a single track skidmark ….. How formula one hasn't heard of this bloke leaves us all in bewilderment.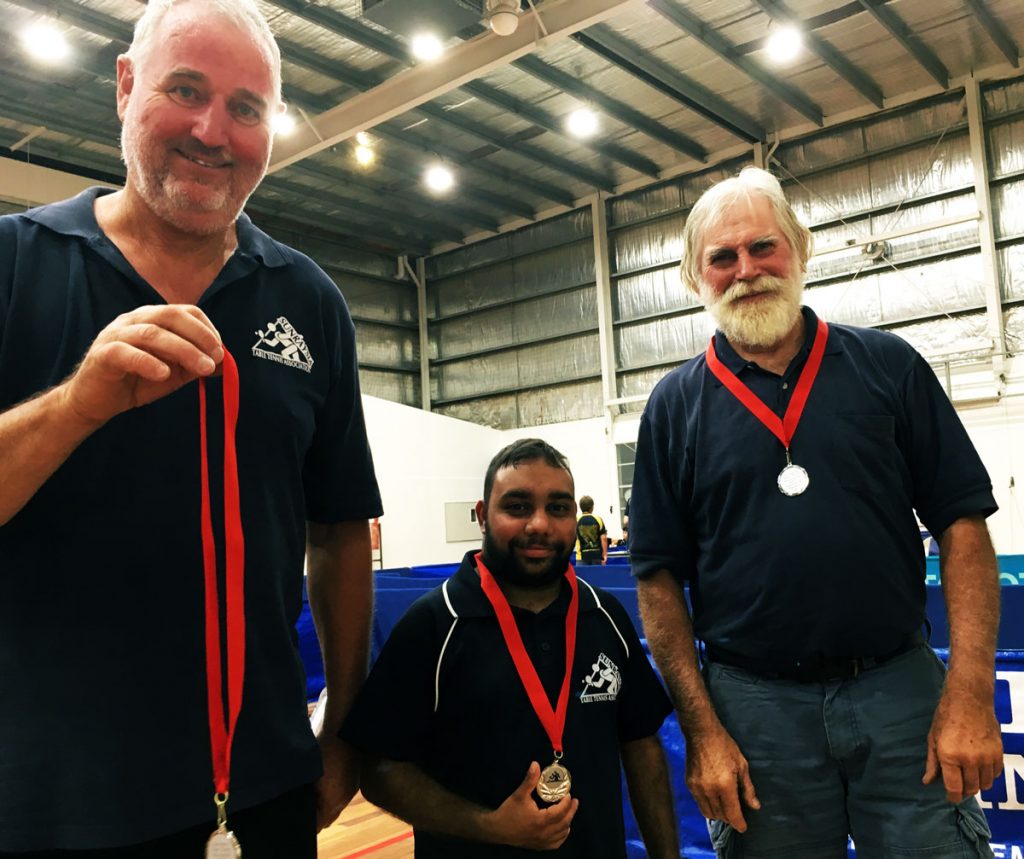 Runners up Mallee Bearings were competitive all season. Peter Midgley, Quentin Clarke and Andrew Jones. Midge seemed to take the loss to Wrighty's team a little harder than most as this image shows. Yes Peter, you can now throw the medal down the well!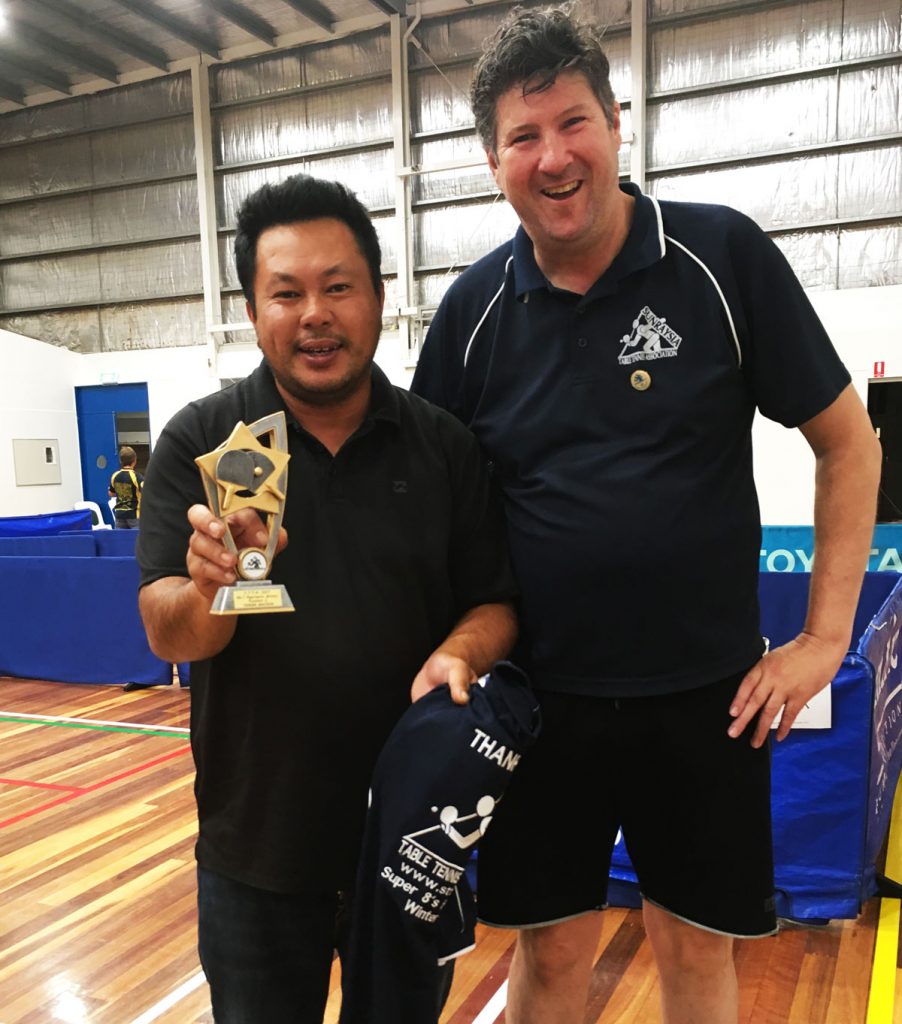 Thanh Nyugen has caused the grading committee sleepless nights for over two seasons now. And again this season he played well above what he was expected to do and in so winning the no.1 player aggregate in P2 as well as the Super 8's title. Next year will be his third season and perhaps in horse-racing terms the powers that be might whack a bigger weighted handicap on him.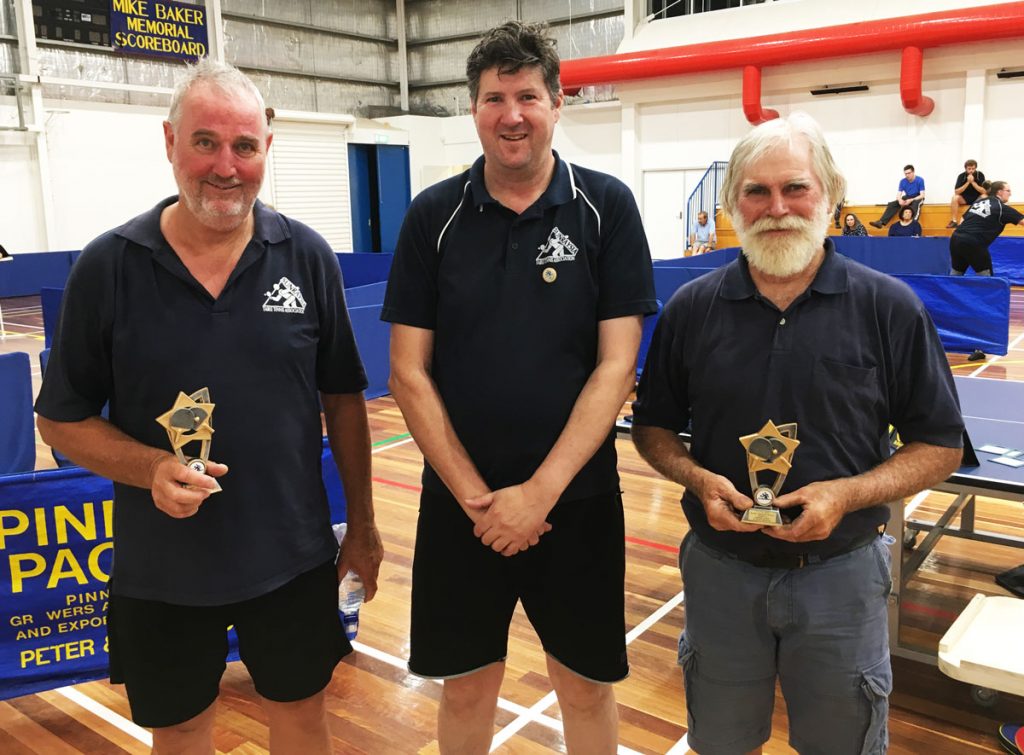 Midge and Jonesy picked the the doubles award in P2 – Must have been Midge's timekeeping on punctuality that got Jonesy over the line.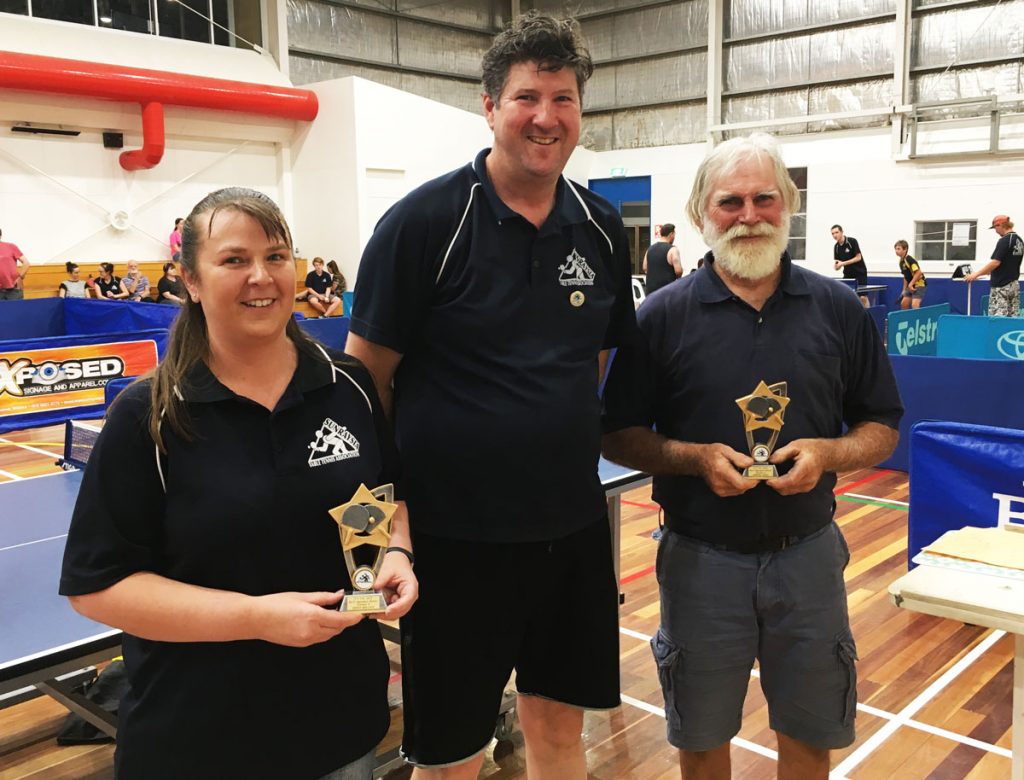 Kerry Wallace and Andrew Jones picking up the aggregate win for number two players in P2 tieing on 14 wins.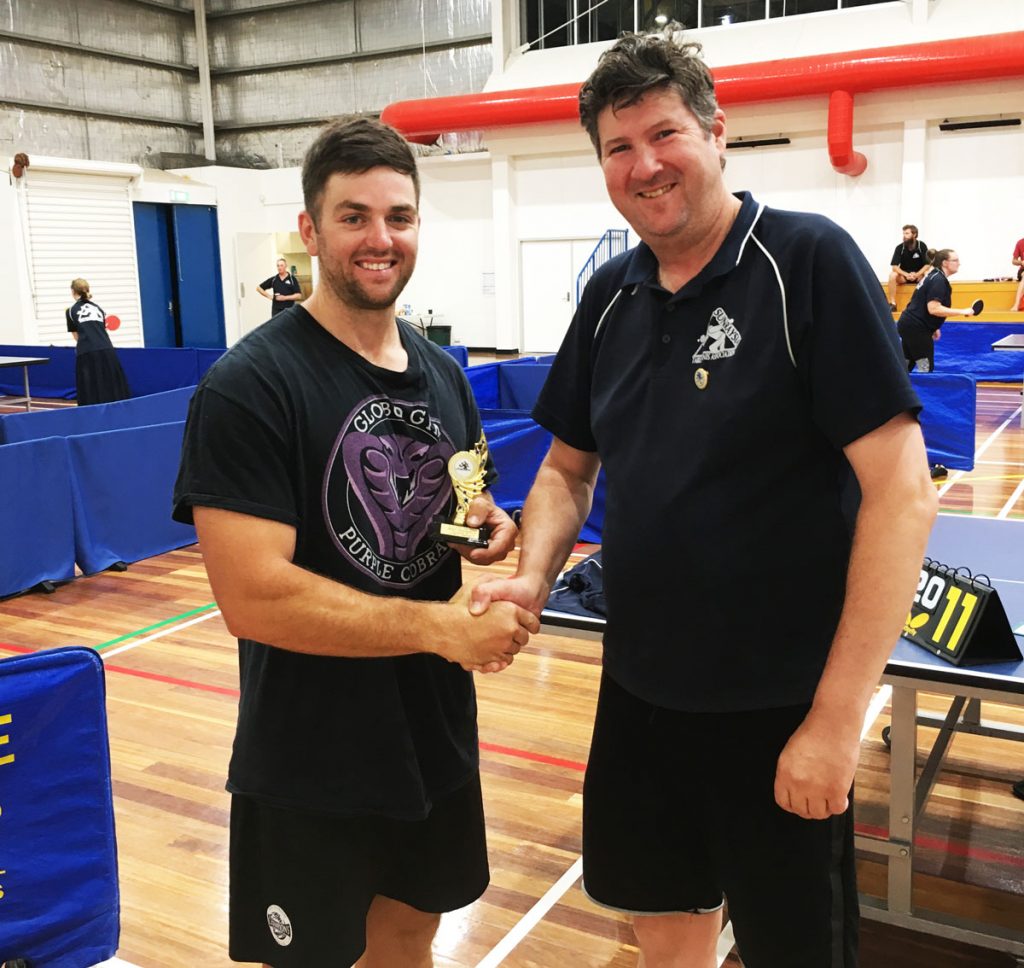 James Chick winning the number 3 player aggregate in p2 as well as runner up in the Super 8's and a premiership. Its been a Dusty kind of a year for James. And all that with Geoff as his captain for the season …. Could it get any better than this?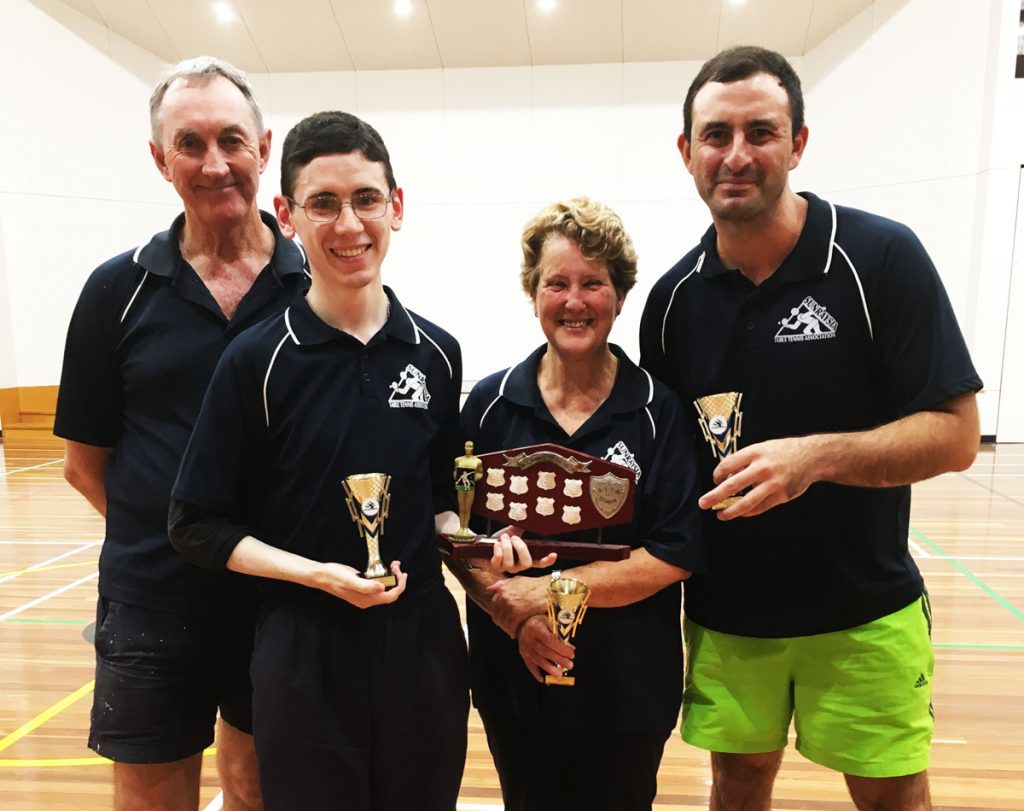 With Leonie Dunkley requesting the name Sammy's Slammers as a tribute to the late Sam Hensgen, this premiership win was extra special. And given that they did it from third spot completed a remarkable tale. Paul Fitzpatrick, Leonie Dunkley and Marcus Cimino are the P3 premiers for 2017.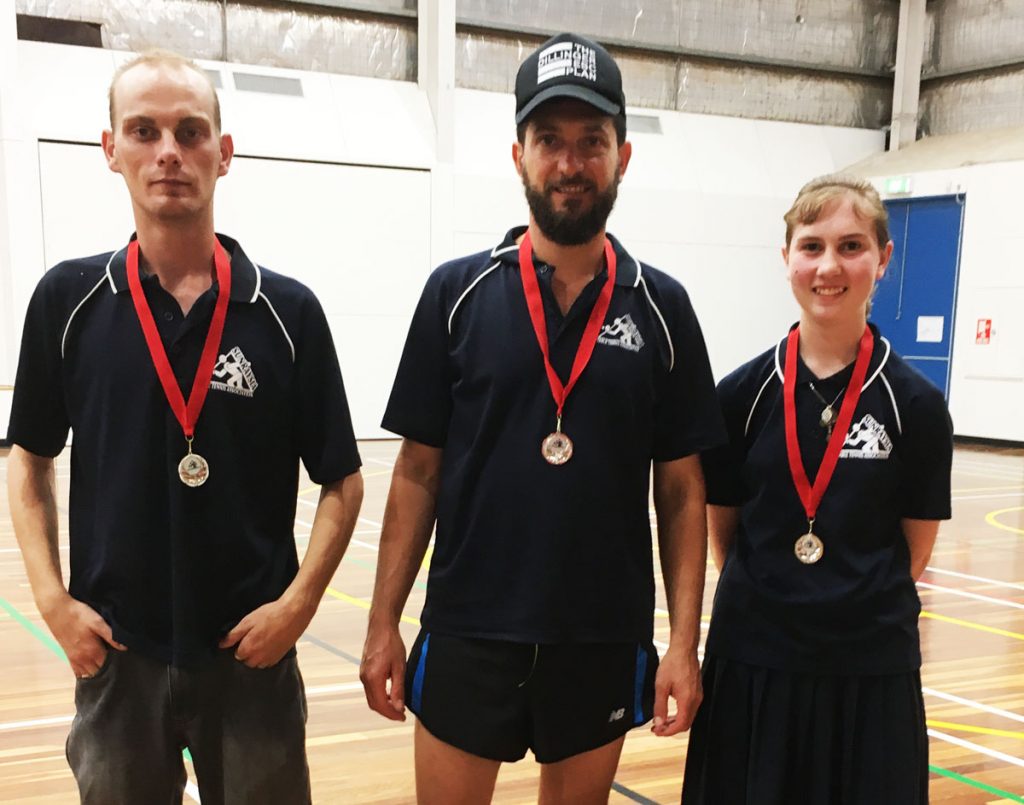 Mallee Meats enjoyed a good run in finals and fancied their chances in the big one. An in form Sammy's Slammers ended their run but it was much closer than most would think.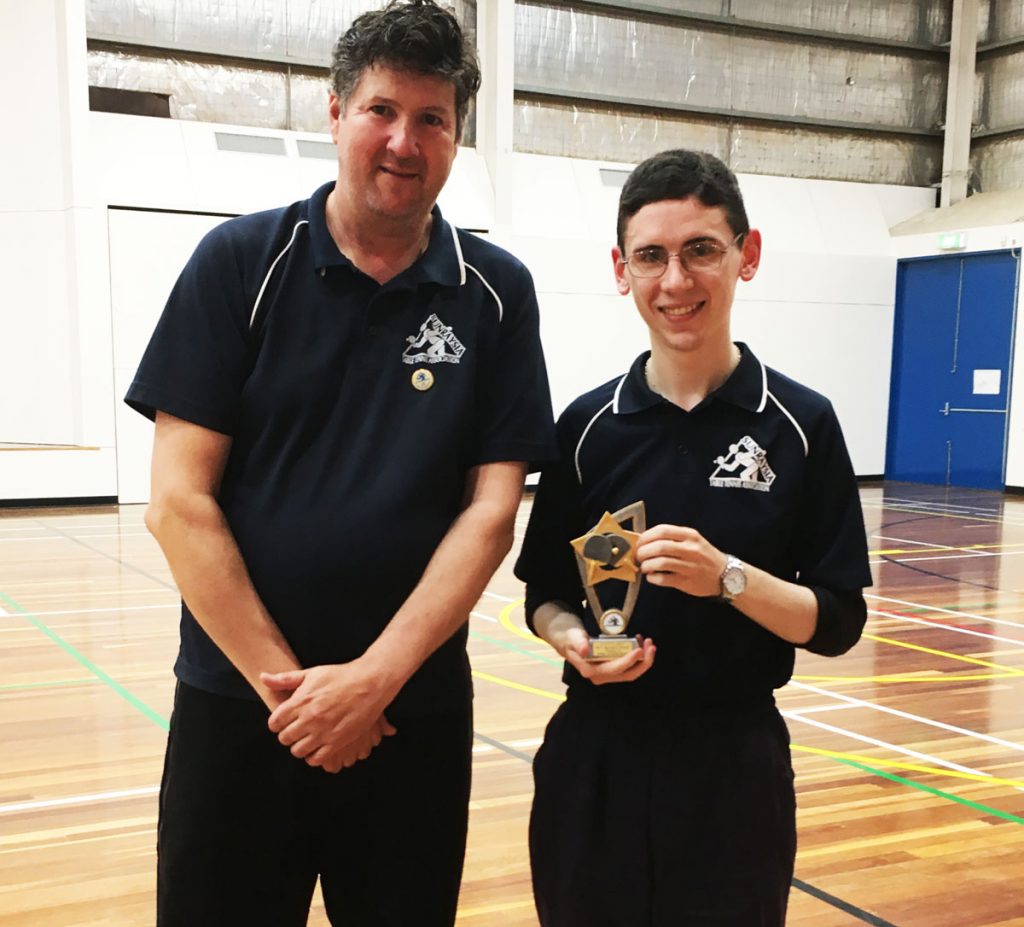 Paul Fitzpatrick had a great season personally winning the no 1 player aggregate in P3 as well as picking up the premiership. A close preliminary final loss in the Super 8's could have gone the other way and potentially have completed the Triple Crown.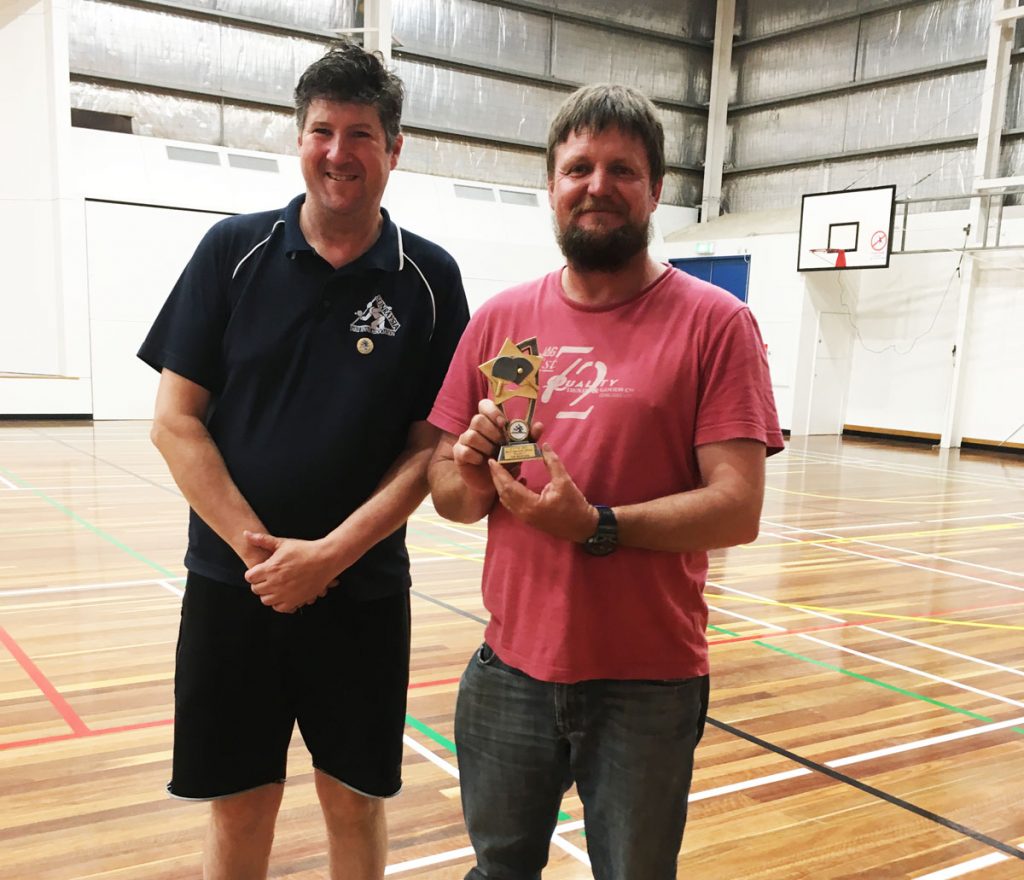 Ash Morrison representing Morrison inc as young Tom had Star Wars duties on presentation night. Tom picked up the number 3 player aggregate award in P3 and also came runners up in the Super 8's. Finishing third in the aggregate was a special effort and looks to have a bright future in the Stta. Dad making it back into P1 was also a special effort.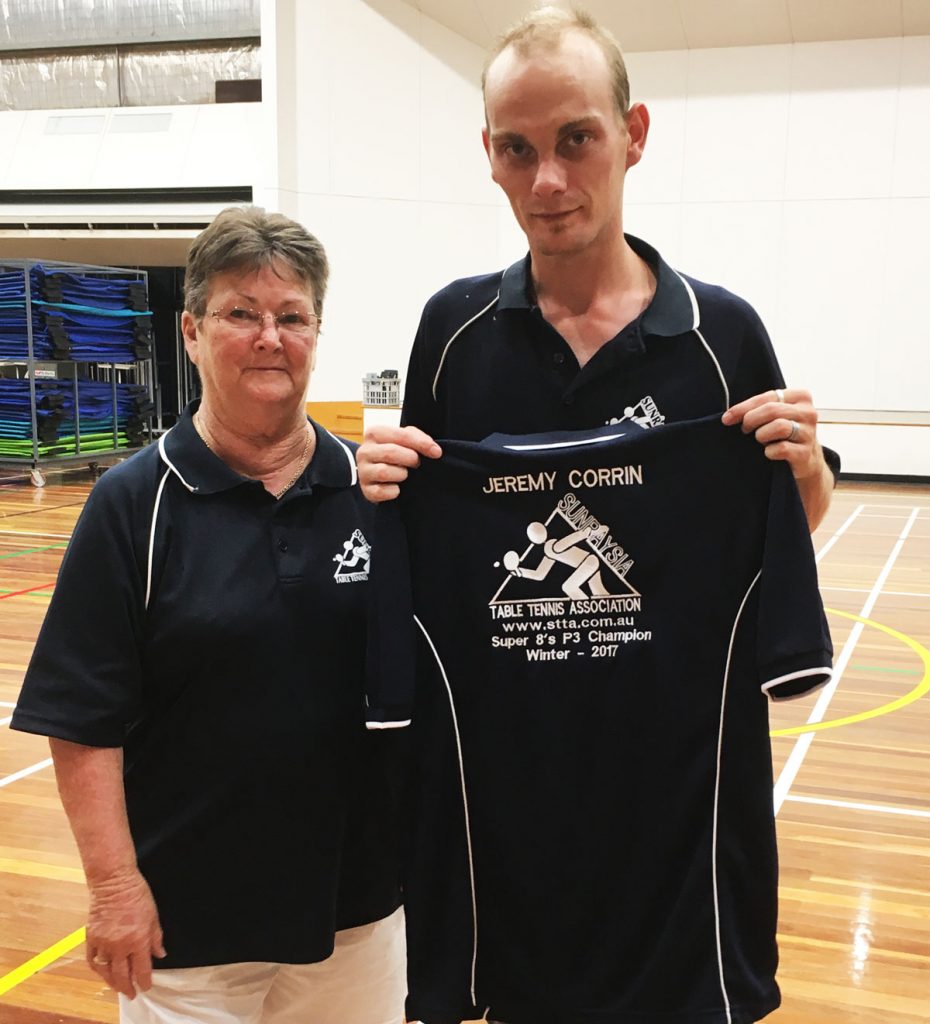 Jeremy picking up his first Super 8's title. Yes Denise did eventually pass the new pin striped shirts. That is after Kevin Johns signed off on them.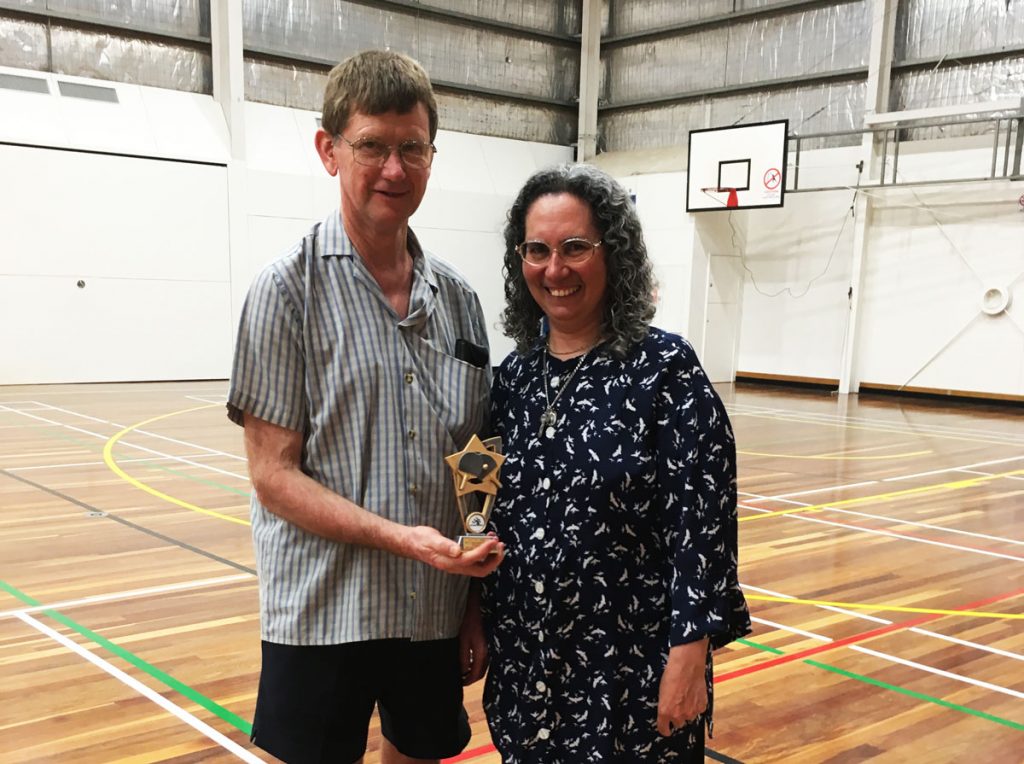 Peter and Sabrina picked up the no 2 player aggregate award for Rachel. Their was plenty of silverware going to the Fitzy's on the night but surprisingly a quiet run for Mum and Dad. Perhaps a changing of the guard as the kids rise through the ranks.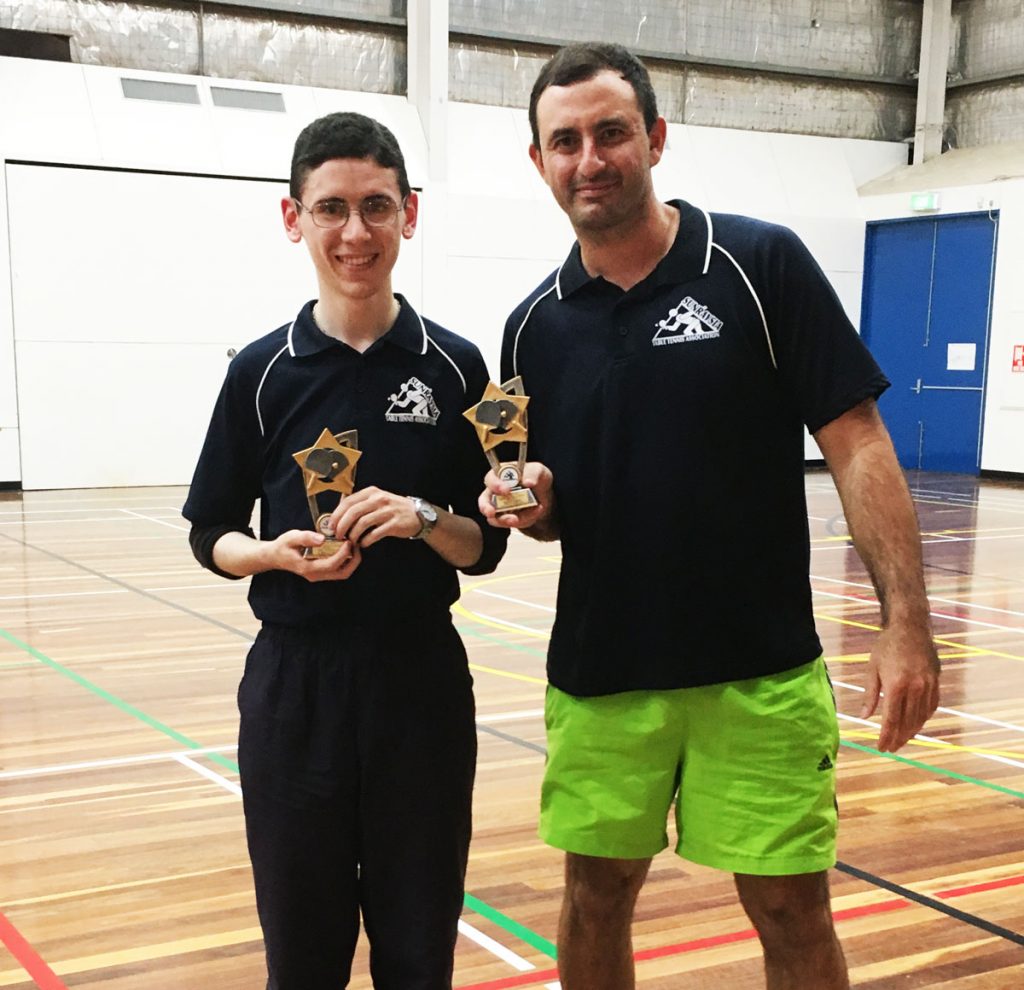 Paul and Marcus picked up the doubles award in P3 as well as a premiership along the way.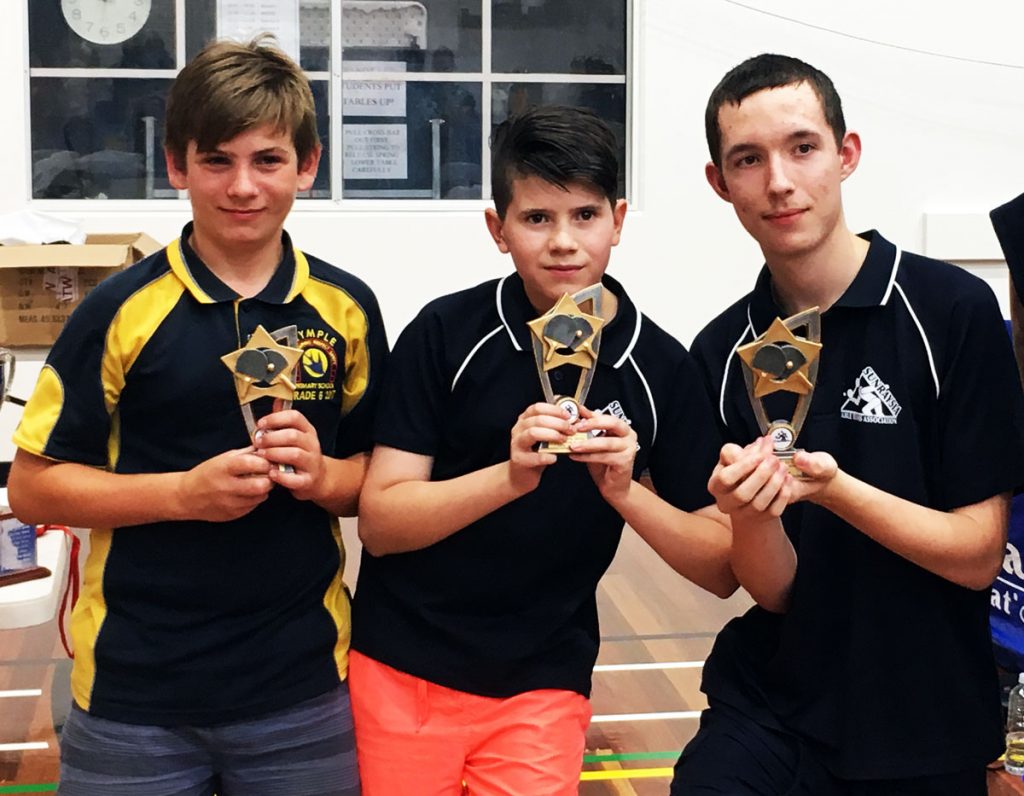 Premiers Dunkley Scales picked up the P4 premiership. Going through the season undefeated and with a games and rubbers percentage of 700% and 332% respectively it set new records on the Stta scrolls. Rumours were going around that the Grading Committee went late into the night by the time they had completed P4 teams.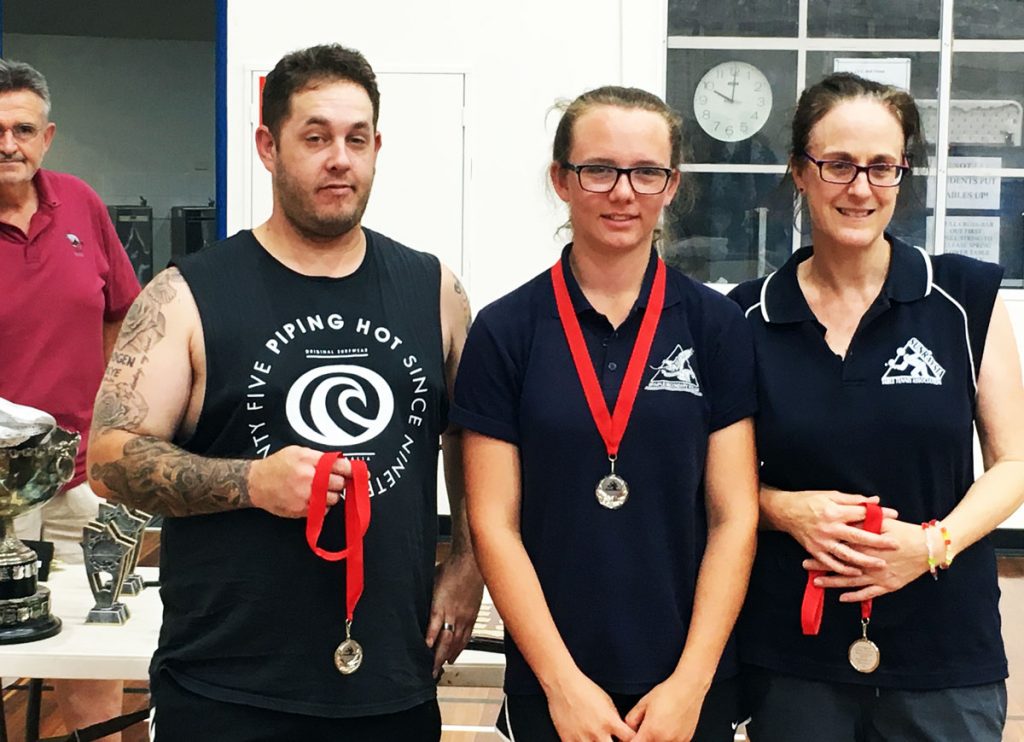 MJM Automotive were the runners up. They pushed the favourites all the way and had their chances on GF night. Matt Cherry (Hate this second placed stuff), Laura Bettess (my glasses are nicer than yours Kim) and Kim Avers (We nearly got those untouchables).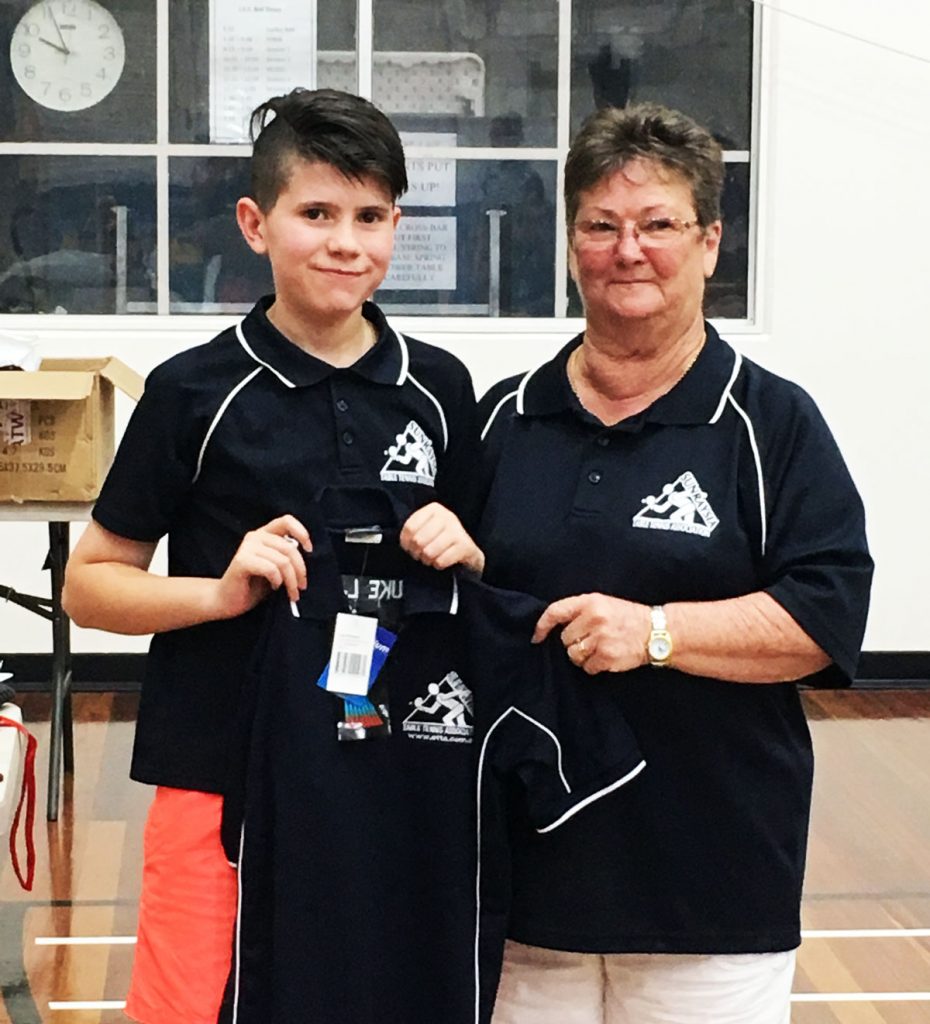 The triple Crown – Luke Ljubic took all before him in P4. A premiership win, no 1 player aggregate award win (shared with Brice) and the Super 8's title. Between Matt and Luke, the Ljubic household was full of silverware. Time for another trophy room extention Dad.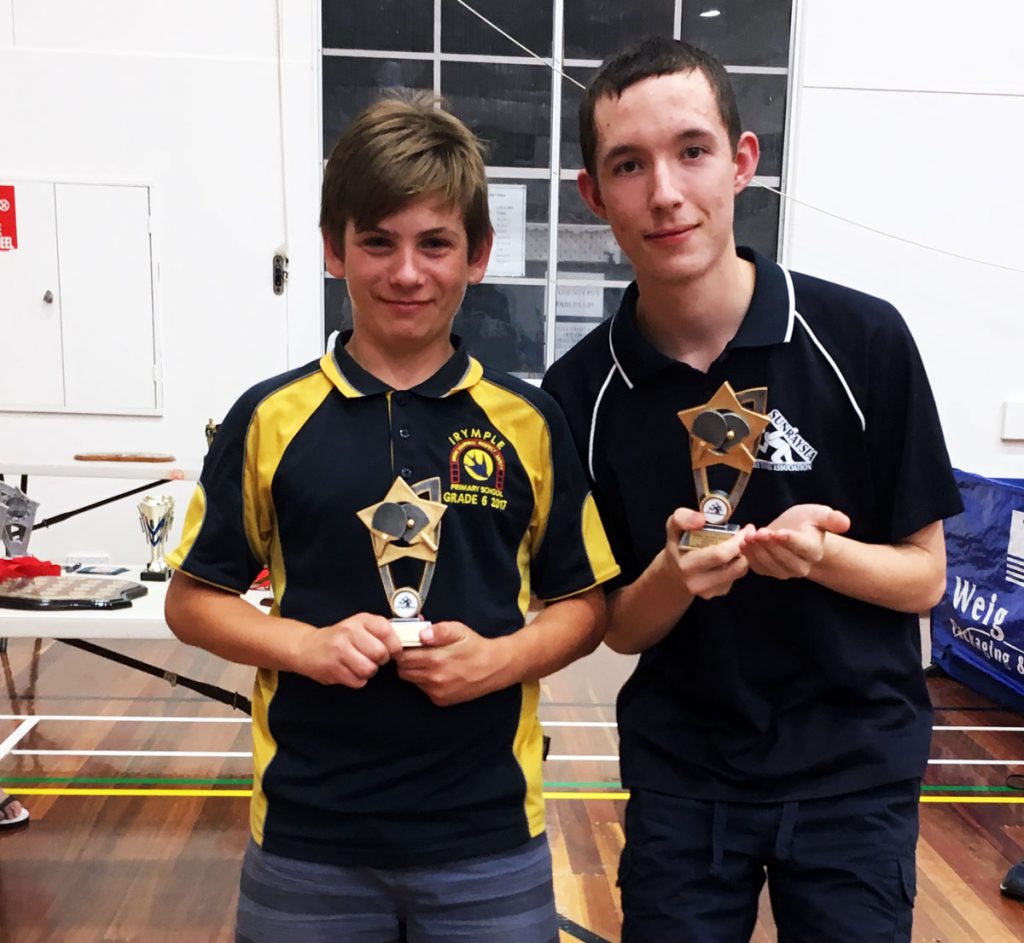 Isaiah and Brice picking up the doubles award in P4.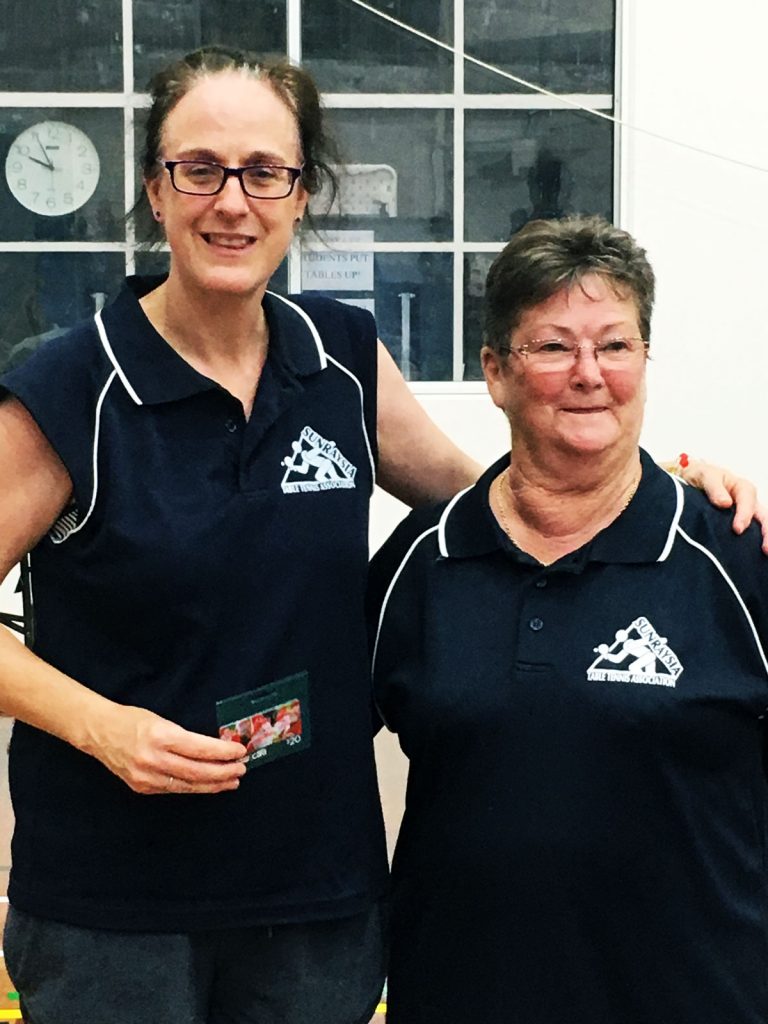 Kim picking up the Super 8's runner up award. In an amazing run Kim knocked over Luke in a qualifying final, then Brice in a preliminary final and then to go down to Luke in a tight 5 set Grand final. The fact that Brice and Luke were undefeated in season competition gives great credit to Kim's effort.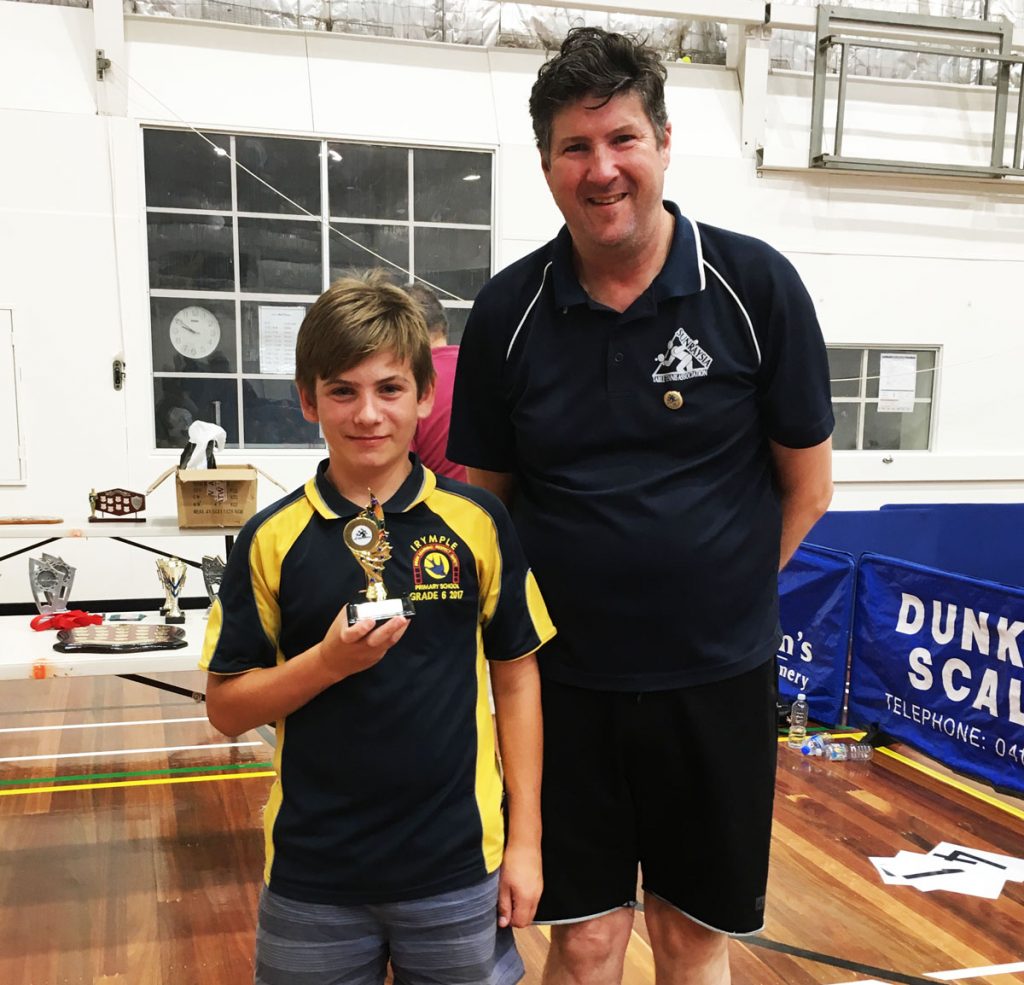 Isaiah picked up the number 3 player aggregate award in P4.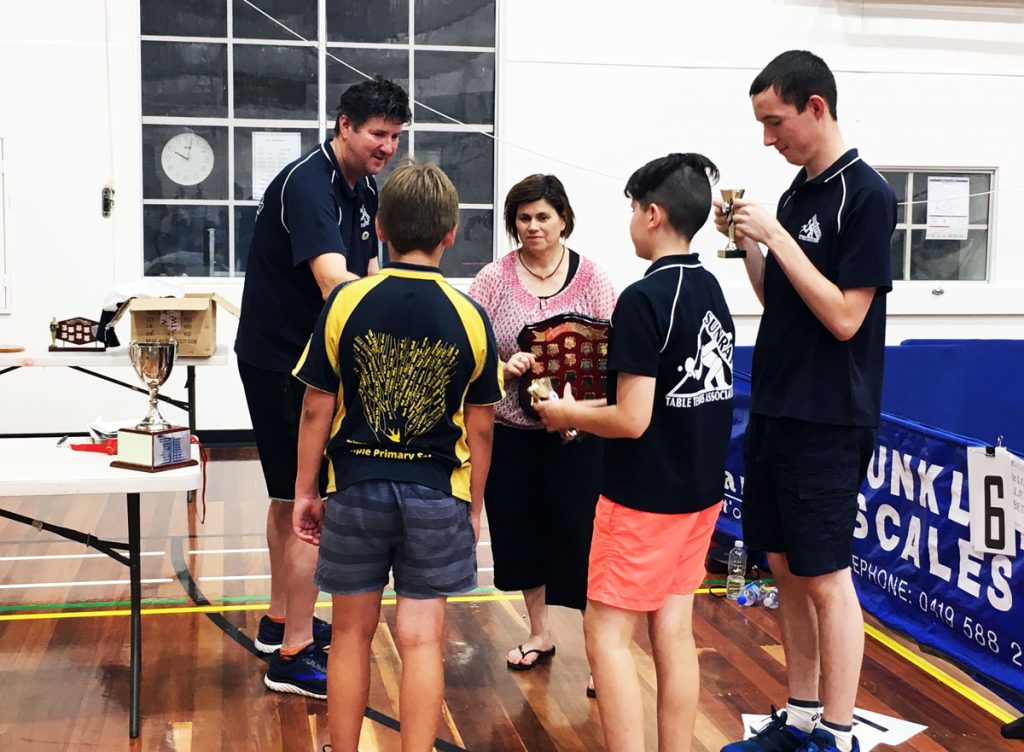 We complete the season with Chris Carmichael awarding the P4 shield to Dunkley Scales. Brice perhaps sums up the season …. Oh it does shine.
See you all next season!