Read Time:
12 Minute, 14 Second
ROUND 6
PENNANT ONE:
The highlight of round six matches of the Sunraysia Table Tennis Winter pennant was the continued good form of Max Miller Carpets. With their fifth win on the trot, this round they defeated Tankard Dental 6-5, the Carpeters have moved to top position on the ladder with Tankards dropping to second place.
-Max Miller Carpets 6 (Shannon Bowen 3, Leon Brown 2, Ed Hung 1) d Tankard Dental 5 (Kate Carmichael 2, Mark Dorman 1)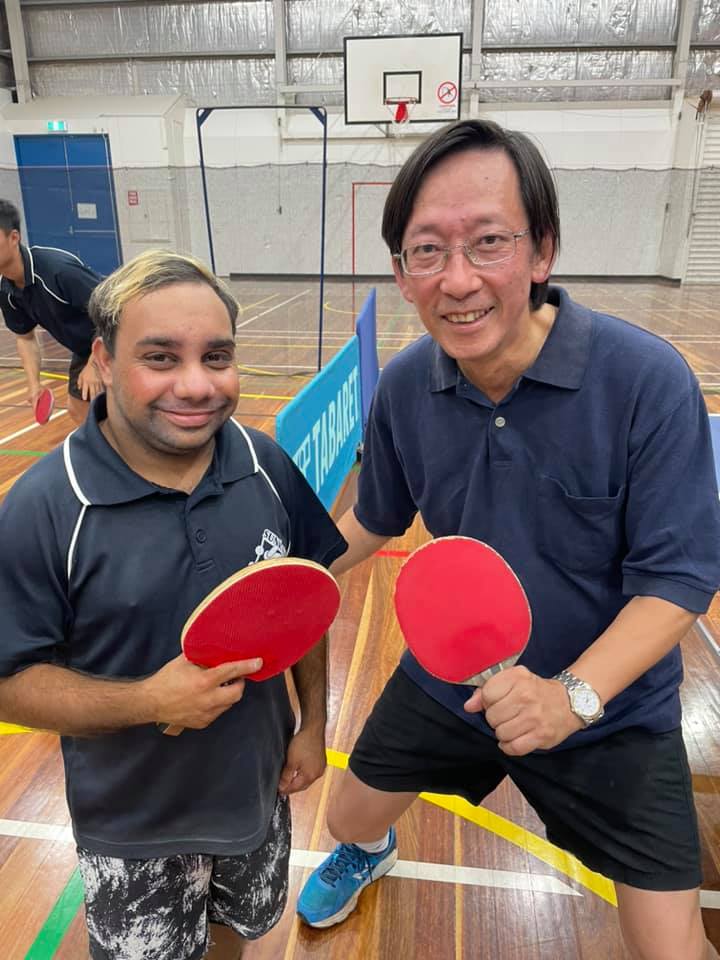 The Carpeters trio of skipper Shannon Bowen, Leon Brown and Ed Hung were in good form winning three, two and one singles respectively. Victory came despite not winning a doubles , both won by Tankards in close five set tussles.
Overall there were five five set matches further indicating how close the contest was. The Carpeters have now defeated every team below them, their only stumble in round one came at the hands of Tankards.
– Exposed Signage/Apparel 6 (Leon Brown, Reece Kurrle 2, Russell Walder 1) d Cookes Pools & Spas 5 (Jackson Tung 2, Gavin Carmichael, Lee Leeson 1)
Another highlight this round was the first victory by Exposed Signage/Apparel who defeated Cookes Pools & Spas 6-5 in another tight contest. With Sang Mang out injured Leon Brown was a late replacement and he continued his consistent season winning two singles as he has done each week, team mate Reece Kurrle also continued his good form of late winning two singles. After losing to opposing number three Lee Leeson in a five set match Kurrle hit form winning the first doubles with Brown against Jackson Tung and Gavin Carmichael in five sets.
In his next match Kurrle then defeated opposing number one Jackson Tung again in five sets and in a further five set contest Kurrle accounted for Gavin Carmichael in another important win.
With the scores locked at five rubbers all Exposed's Russell Walder won in straight sets against Lee Leeson enabling his team to grab their first points for the season.
– Regional Taxation Services 8 (Matt Ljubic, Lewis Yang 3) d Mallee Bearings 3 (Mark Ljubic, Thanh Nguyen, Ashley Morrison 1)
Regional Taxation Services now hold fourth position on the ladder after their solid 8-3 victory over Mallee Bearings. Wayne Carmichael was replaced by super sub Mark Ljubic in the Bearings line up however RTS with both Matt Ljubic and Lewis Yang in fine form winning three singles each were just too strong. They also combined to win the first doubles.
Yang is a new recruit to the association and had showed some good signs however this was his best form the season. The highlight in this match was the singles contest between Matt Ljubic and Mallee Bearing's number
two player Thahn Nguyen. Ljubic was expected to breeze through the match however Nguyen had other ideas and took the match to a fifth before Ljubic steadied and took control.
PENNANT TWO:
Three close games this round, all with a 6-5 result. Top of the table side MJM Automotive had to come from behind to defeat Cookes Pools & Spas, Pinnacle Packers, who went into the round one game in front of their opponents Max Miller Carpets, took the win and now see themselves clear of that same team, whilst fourth and fifth placed teams Mallee Meats and Weightmans Packaging swapped spots on the ladder as a result of the Mallee Meats win.
– MJM Automotive 6 (Casper McCarthy 3, Andrew Jones 2) d Cookes Pools & Spas 5 (Terry Martin 2, David Sergi, James Jarvis 1)
MJM Automotive have had some big wins this year, and considering they were playing the side on the bottom of the ladder, this was a close thing for them. Their five wins before this one were 9-2, 8-3 and 7-4 (3 times).
Cookes Pools & Spas have won just one game for the season, but that may soon change as captain Terry Martin is starting to hit his straps. Two wins from the first three games and seven from the next three show that Terry is headed in the right direction.
Cookes Pools & Spas started well in this match and led 3-1 after four rubbers and 4-2 after six, but in the second half of the match MJM Automotive's Casper McCarthy and Andrew Jones cemented their stake as the form side, the team winning four of the remaining five rubbers.
McCarthy for the fourth time won his three singles rubbers, and now sits outright second on the aggregate, four games behind leader Jason Gifkins. That gap would be smaller but for the fact McCarthy did not play in round 2.
Jones picked up two wins here and is next on the aggregate one behind McCarthy. They paired up to take the second doubles against Martin and James Jarvis, winning a close five setter.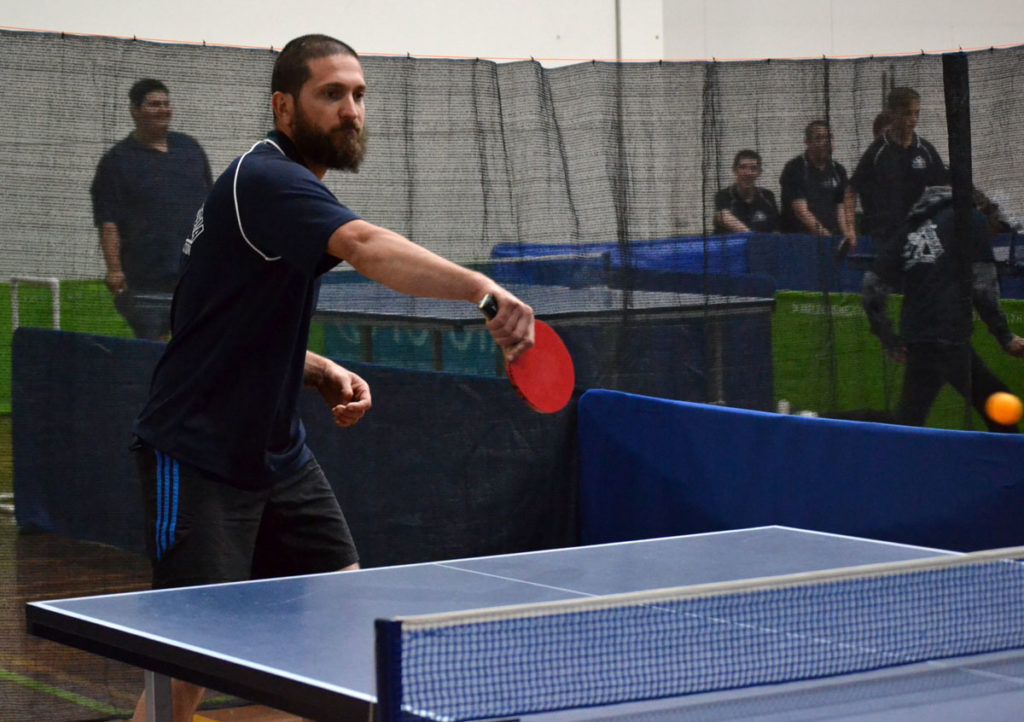 For Cookes Pools & Spas, Martin won two singles, and David Sergi and Jarvis one each. Martin and Sergi took the first doubles in straight sets against McCarthy and Therese Fitzpatrick.
Final scores: 6 rubbers to 5 and 21 games to 20.
– Pinnacle Packers 6 (Jeremy Corrin 3, Rohan Reimers 2) d Max Miller Carpets 5 (Jamila Belbaze 3, John Fitzpatrick, Raymund Manzanares 1)
Coming into this match, Pinnacle Packers (on four wins) were keen to keep Max Miller Carpets (three wins) at arm's length on the teams ladder. Barring a complete team disaster, Pinnacle Packers would still have
retained their second spot on the ladder if they lost, but Jeremy Corrin was rather keen to make the gap two games!!
Corrin and his number two Rohan Reimers were the stand-out performers for Pinnacle Packers, winning five singles rubbers between them. Reimers took an impressive four set win against Max Miller Carpets captain Raymund Manzanares to get his side back into the match. At the time they were trailing 3-1, and Rohan's win was timely, as a 4-1 deficit is hard to defend with 6 rubbers still on offer.
The sixth rubber came via courtesy of the second doubles, when Corrin and Ryan Hensgen won a close five set match against Manzanares and John Fitzpatrick.
Max Miller Carpets were best served by their number three Jamila Belbaze, who took two singles wins, and almost made it three. She started off with a straight sets win against Reimers, then almost toppled the Pinnacle Packers captain Corrin, losing 11-8 in the fifth. At the rate Jamila is improving, expect to see Jeremy more on Monday nights!! She rounded out the night defeating her opposite number Ryan Hensgen.
Manzanares and John Fitzpatrick could only muster a single win each (John lost a close five setter to Reimers), and together they almost stole the second doubles, losing to Corrin and Hensgen as already stated.
This was a match either side would claim as a good win, but credit to Pinnacle Packers, they did enough to get the four points.
Final scores: 6 rubbers to 6 and 21 games to 22.
– Mallee Meats 6 (Quentin Clark, Marcus Cimino 2, Isaiah Bettess 1) d Weightmans Packaging 5 (Jason Gifkins 3, Sony Sefer 1)
Mallee Meats bounced back from two defeats to get the better of Weightmans Packaging in this round.
Quentin Clark and Marcus Cimino led the way, winning two singles rubbers apiece, and together the first doubles.
Clark in particular was looking for a night he could be satisfied with. He had won just one singles rubber from the last six played, so to pick up two here was a good nights work. The one he lost, he lost in five sets.
Cimino is becoming harder to play by the minute. His "unconventional" style of play does not allow opponents to identify any sort of rhythm to the game, and he came perilously close to breaking Weightmans
Packaging captain Jason Gifkins' perfect stat of not having lost a singles rubber in this competition. Gifkins won the first set 11-8, as Cimino started to work his magic, he had to work a lot harder for the second 14-12, Cimino then took control of the game in the third and fourth sets 11-8, 11-6 and it seemed the game was his for the taking. Gifkins regrouped though, and took the final set 11-8. Marcus' other wins were in three sets and four sets.
Mallee Meats sixth rubber came from their number three, Isaiah Bettess who proved too good for his opposite number Peter Fitzpatrick, outclassing him in three sets.
For Weightmans Packaging, Gifkins kept his record intact with another three game haul here. Jason does look vulnerable at times though, as evidenced by his match against Cimino, mentioned above. Later in the night he was two sets to one down against Quentin Clark, but regrouped to win, taking the fifth 11-9.
Sony Sefer, subbing for the absent Andrew Kremor improved as the night went on, and in the final rubber picked up a win in four sets against Isaiah Bettess.
Gifkins and Sefer also combined successfully in the second doubles to defeat Clark and Bettess in straight sets.
Final scores: 6 rubbers to 5 and 23 games to 19
PENNANT THREE:
This week we welcome back Rachael Fitzpatrick to competition play and also welcome Declan Brown makes his first appearance in pennant three. This week we saw two close matches and one – well not so close.
Weightmans Packaging 9 (Rachael Fitzpatrick, Jacinta Ljubic 3, Tom Gilmour 2) def Dunkley Scales 2 (Rodney Galvin 1)
Weightmans Packaging have had a huge win as they downed Dunkley Scales. Weightmans Skipper Sabrina Fitzpatrick gave some clear tactical instructions to daughter Rachael (who was filling in for Sabrina) which were fully carried out with brutal efficiency. Rachael had a great night winning three singles along with Jacinta Ljubic also winning three in a great form reversal from last week.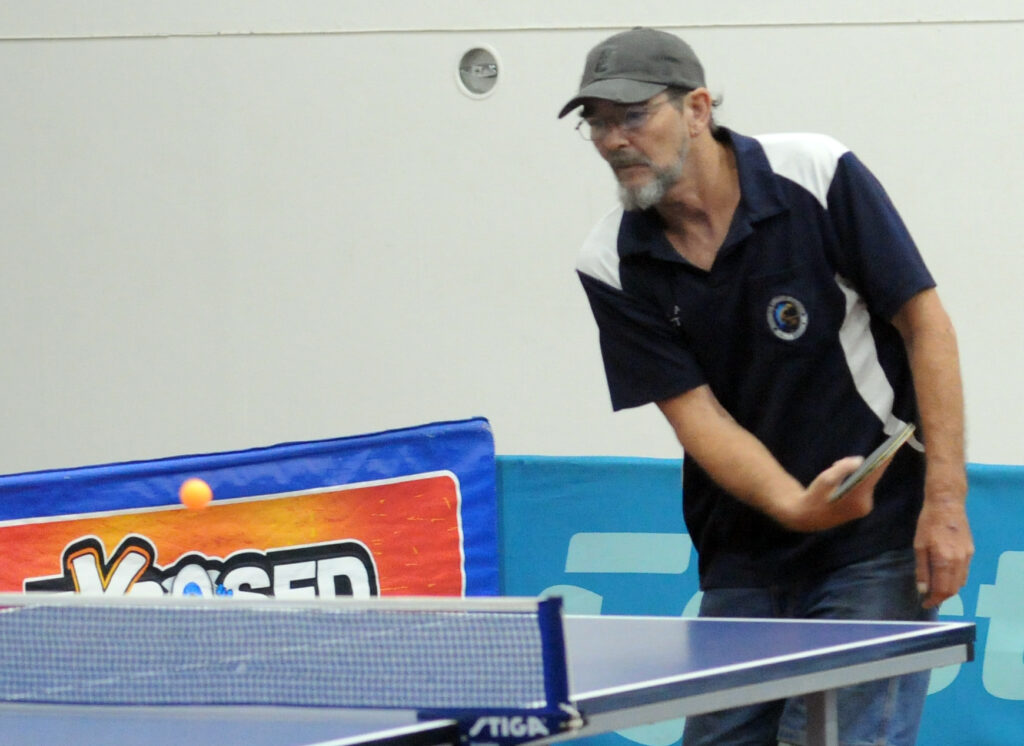 Tom Gilmour also had a productive night in winning two singles matches to put this result beyond doubt. For Dunkley Scales Rodney Galvin secured one singles victory while Declan Brown (making his debut) didn't win a singles match but steadily improved his game throughout the night.
In conclusion Weightmans Packaging have parcelled up a stunning team effort to deliver a 9 rubbers to 2 (29 games to 10) victory over an understrength Dunkley Scales.
Sammy's Slammers 6 (Ben Hosking 3, Dave Tanner) def MJM Automotive 5 (Karly Leach 2, Levi Williams, Alicia Tyres 1)
Ben Hosking has starred for Sammy's Slammers this week by winning three crucial singles matches and was the difference between these two teams. Ben was ably assisted by his Captain Dave Tanner who returned this week to win two singles matches. For MJM every team member again contributed wins but just fell short this week.
The returning Dave Tanner was in a hurry and the first set of the night against Levi Williams was over before Williams opened his eyes (11-0). When Williams did open his eyes his table tennis improved as the next two sets were tightly contested before Tanner ran away with the fourth set 11-4 to ultimately win in four sets to get his team off to a dream start.
Hosking's first match of the night may well have set his team on path to victory as he took on MJM Captain Karly Leach. In a dour struggle in the first set Hosking prevailed 12-10. Leach hit back in the second taking this 11-8, but this is where the comeback finished as Hosking controlled the match in the last two sets taking these 11-8, 11-7 to secure an upset win.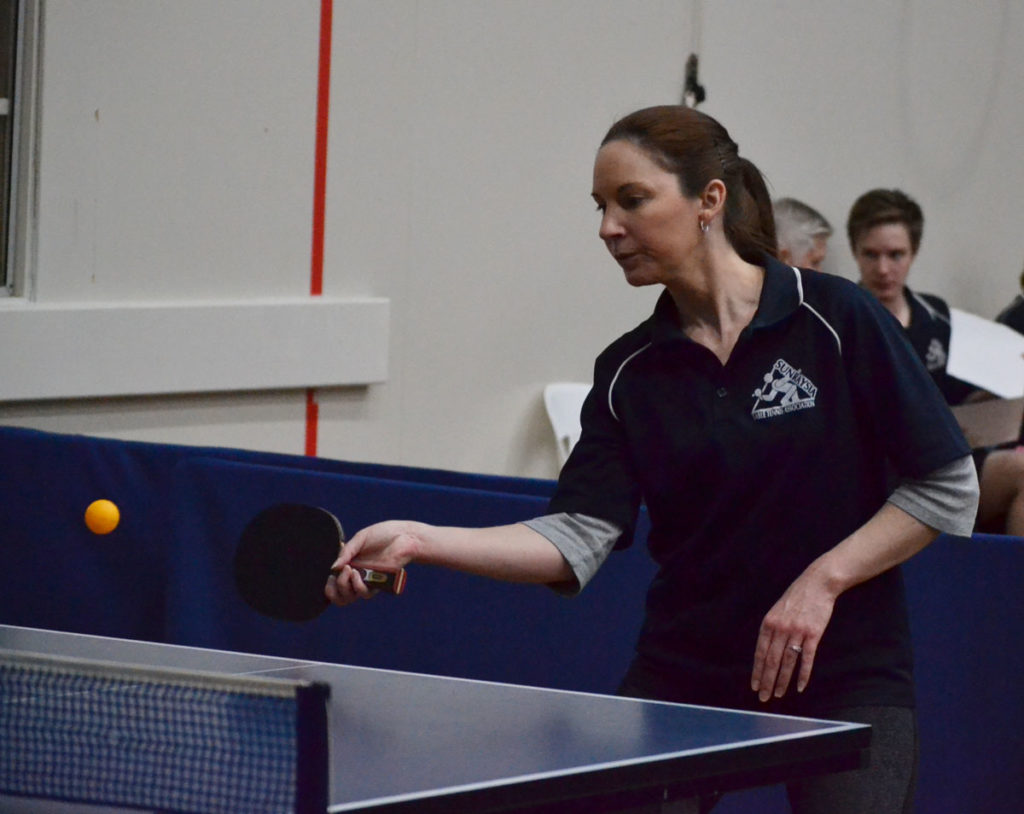 Leach did keep her team in the contest as she outplayed her opposing Captain Tanner in straight sets 12-10, 11-8, 13-11 for the game score to be tied at 3 rubbers all. When Leach defeated Maria Starikov in three sets later in the night MJM Automotive were on the brink of victory leading 5 rubbers to 4. Hosking then calmly steadied the ship as outplayed Levi Williams in three sets 11-8, 11-5, 11-5 to tie the match at 5 rubbers all with one to play. The last match saw Dave Tanner pitted against Alicia Tyres. The more experienced Tanner showed all his tricks in defeating Tyres in straight sets and thus securing victory for his team.
In conclusion a very good match for which Sammy's Slammers have prevailed 6 rubbers to 5 (20 games to 18) against a gallant MJM Automotive.
Mallee Meats 6 (Steve Pongrac 2, Nhat Dat, Jordan Cole 1) def Tankard Dental 5 (Tague Morris 3, Shaun Gifford 2)
Mallee Meats have fought off a great challenge from Tankard Dental to secure the points this week. Mallee Meats Captain Steve Pongrac returned refreshed this week after a week off (rested?) to win two singles matches.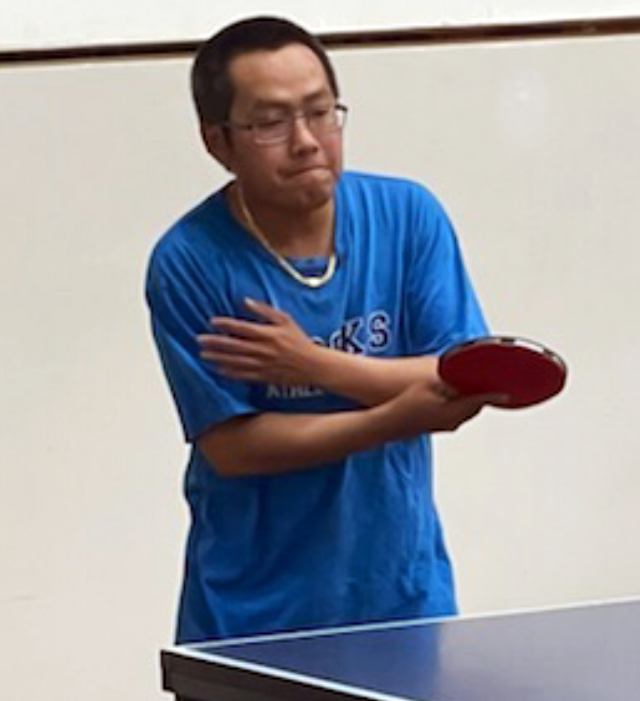 Last week we saw Nhat Dat in blistering form; however, this week he didn't quite have the same sizzle, but he still secured one important win. For Tankard Dental Tague Morris played very well to secure all his three singles victories. He was well supported by Shaun Gifford in winning two singles; however, the lack of doubles victories on the night thwarted their chance of victory.
Both doubles matches went to five sets. The first of these matches was the pairing of Steve Pongrac and Jordan Cole up against Tague Morris and Shaun Gifford. Morris and Gifford got off to a great start winning the first two set comfortably 11-6, 11-5 and looked on course for victory. The fortunes of Pongrac and Cole improved in the third as they wrested the momentum back winning 11-9. The next two sets were a mirror reflection of the first two sets with Pongrac and Cole going on to win these 11-2, 11-6 to seal a great comeback win for Mallee Meats.
The second doubles match saw Pongrac team with Dat as they took on Morris and Nguyen. As in the first doubles Tankard Dental won the first two sets 12-10, 11-9 before Pongrac and Dat turned the momentum in their favour to win the next two sets 11-9, 11-8. The last set saw Mallee Meats turn the heat right up as Pongrac and Dat cruised through the decider 11-4.
Overall, this was a tight contest that could have gone either way. Tankard Dental may feel as they let a few chances slip through their hands as Mallee Meats have prevailed 6 rubbers to 5 (23 games to 18) in an entertaining evening of table tennis.