Read Time:
15 Minute, 26 Second
PENNANT ONE:

The feature of round five matches of the Sunraysia Table Tennis "Cash Converters" summer pennant was the defeat of top team Exposed/Signage Apparel by second placed Regional Taxation Services. As a result of this these two teams have exchanged positions on the ladder.
– Regional Taxation Services 6 (Leon Brown, Gavin Carmichael 2, Matt Ljubic 1) d Exposed Signage/Apparel 5 (Matt Avers 3, Kate Carmichael 1)
The match was close all the way and the final score line of 6-5 was achieved in the last when Leon Brown defeated Kate Carmichael for the first time in competition play. Brown was outstanding in this match and won in straight sets in a match that was not expected to go his way. The win was even more commendable given Carmichael had started the night strongly defeating RTS number one Matt Ljubic in an entertaining four setter.
Brown earlier recovered from a one – two deficit against Lee Thomas to go on and win 11-8 8-11 7-11 11-7 11-6.
This was Brown's best form for the year and in the end he proved to be the match winner for RTS.
For Exposed Signage Matt Avers gave his team the lead early and he again won three matches to lead the singles aggregate at the half way mark of the season. In this round he was under pressure against Gavin Carmichael however he was able to steady in the fifth to win 14-12 11-2 9-11 8-11 11-7 an impressive win over a much more experienced opponent. This levelled the scores at five rubbers all. It was then that Brown won his second singles for the night, over Carmichael, to grab the four points for his team.
– Weightmans Packaging 7 (Wayne Carmichael 3, Leslie Ncube 2) d Mallee Bearings 4 (Shannon Bowen 2, Reece Kurrle, Ed Hung 1)
Third placed Weightmans Packaging proved too good for sixth placed Mallee Bearings winning 7-4. In singles matches Wayne Carmichael and Leslie Ncube were in good form for the victors winning three and two singles respectively.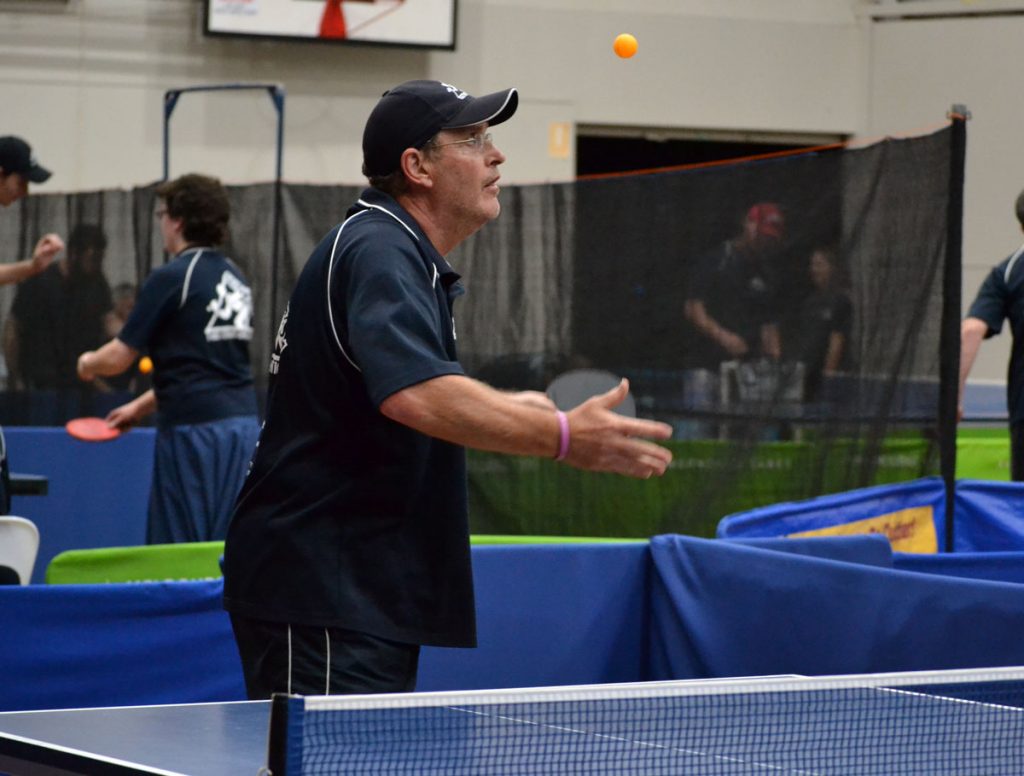 Carmichael was in fine form winning all his matches in straight sets. Normally he and opposing number one Shannon Bowen will fight out a five set slog however on this occasion Carmichael proved too strong. Ncube was not far off winning three as he pushed Bowen to the limit before going down 11-3 13-11 6-11 9-11 11-9. This was an outstanding match with many fine rallies and Bowen considered to have played the shot of the season when he retrieved an outstanding smash by Ncube.
For Mallee Bearings Bowen won two singles while his team mates Ed Hung and Reece Kurrle won one each. It was their inability to win a doubles which was costly.
– Cash Converters 7 (Mark Dorman, Mark Ljubic 2, Bernadette Fitzpatrick 1) d Tankard Dental 4 (Darren Robinson 2, Shane Carmichael, Andrew Cannard 1)
Fourth placed Cash Converters opened up a one game break over their opponents Tankard Dental by winning 7-4. Victory in both doubles to Cash Converters proved to be an important factor. In the first doubles Mark Dorman and Mark Ljubic defeated Andrew Cannard and Darren Robinson in four sets while the second was a marathon five setter when Mark Ljubic and fill in Bernadette Fitzpatrick teamed up to defeat Andrew Cannard and Shane Carmichael 4-11 9-11 11-2 11-9 14-12 a thriller.
For Cash Converters both the Mark's Ljubic and Dorman won two singles each while Bernadette Fitzpatrick defeated Shane Carmichael in four sets.
For Tankard Dental Darren Robinson was impressive winning two singles. His only blemish was in the battle of the "pimples" when he went down to Mark Ljubic in a five set slog.
PENNANT TWO:

Ladder leaders Mallee Bearings suffer their first defeat of the season at the hands of Pinnacle Packers, who make it two in a row; after coming so close last week to a win, Weightmans Packaging slump in this round and are defeated soundly by Max Miller Carpets; and Mallee Meats take a fairly unspectacular win against MJM Automotive.
– Pinnacle Packers 6 (Seval Fuat, Ashley Morrison 2, Brendan Alderton 1) d Mallee Bearings 5 (Kevin Johns 3, Claire Ljubic 1)
For the first time this season, Pinnacle Packers had their full line-up of players; Seval Fuat having returned last week, and Brendan Alderton this round.  With the return of Fuat last week, Ash Morrison was able to steer the team to its first win, and with Alderton back this week, they recorded their second win, and in the process trounced the previously undefeated ladder leaders Mallee Bearings.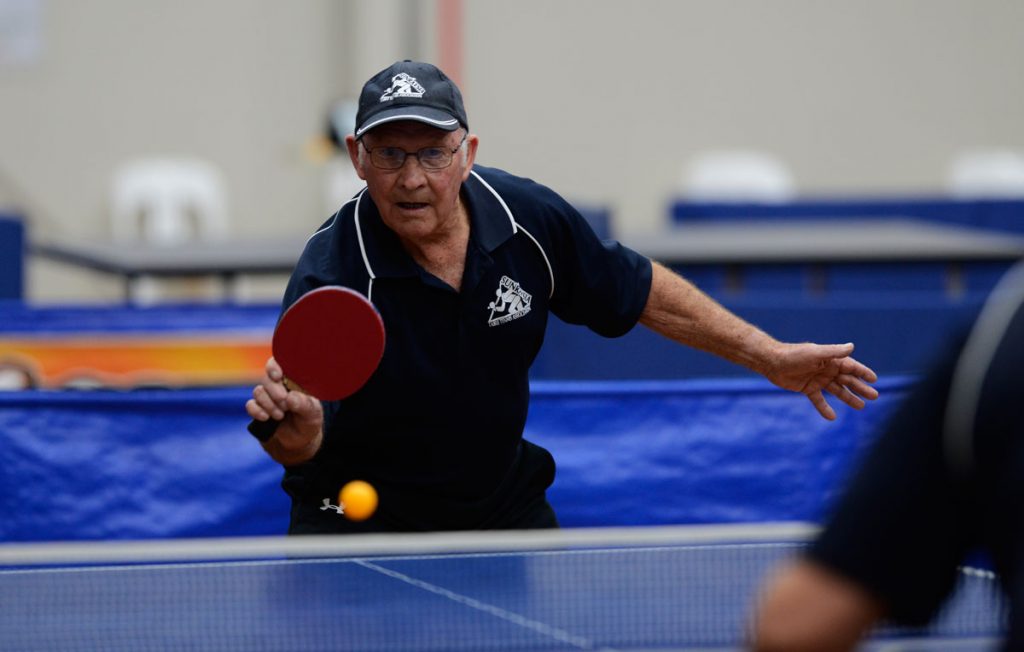 Mallee Bearings captain Kevin Johns remains at the top of the aggregate ladder, having picked up another three wins here, but with both Morrison and Fuat taking two singles, and Alderton one, Pinnacle Packers set themselves nicely for the win.
Pinnacle Packers number two Alderton might consider himself unlucky that he had to play Mallee Bearings number three Claire Ljubic in the first rubber.  Having not held a bat for close on two months, Alderton lost to Ljubic in five sets.  It will be interesting to see how he goes against Claire in round 10.  By the time Alderton later met his opposite number Terry Martin, he had played a further two rubbers and was pretty much back to his old self.  He downed Martin in five sets to level the scores at 5 all at that point.
It was a quiet night for Martin, who was kept without a win and up until this round was scoring 2 wins a week, but as well as going down to Alderton, Fuat too defeated him, also in five sets.
Pinnacle Packers sixth rubber came from the first doubles – Morrison and Fuat too good for Johns and Martin, winning 9, 10 and 8.
Final scores:  6 rubbers to 5 and 23 games to 22.
– Max Miller Carpets 8 (Jason Gifkins, Russell Walder, Quentin Clark 2) d Weightmans Packaging 3 (Jackson Murphy 3)
The Max Miller Carpets trio of Russell Walder, Jason Gifkins and Quentin Clark proved too strong for the Weightmans Packaging team in this round.
Only Weightmans captain Jackson Murphy could provide any real opposition to them in this game, Murphy again took three singles wins, and gave his team a real chance of taking both doubles, although ultimately unsuccessful, for Walder and Gifkins defeated Murphy and Tony Malycha in five sets, and later Gifkins and Clark did the same to Murphy and Paul Fitzpatrick.
So, with neither Malycha nor Fitzpatrick taking a win here, and both doubles going to Max Miller Carpets, the scoreline was a wide 8-3.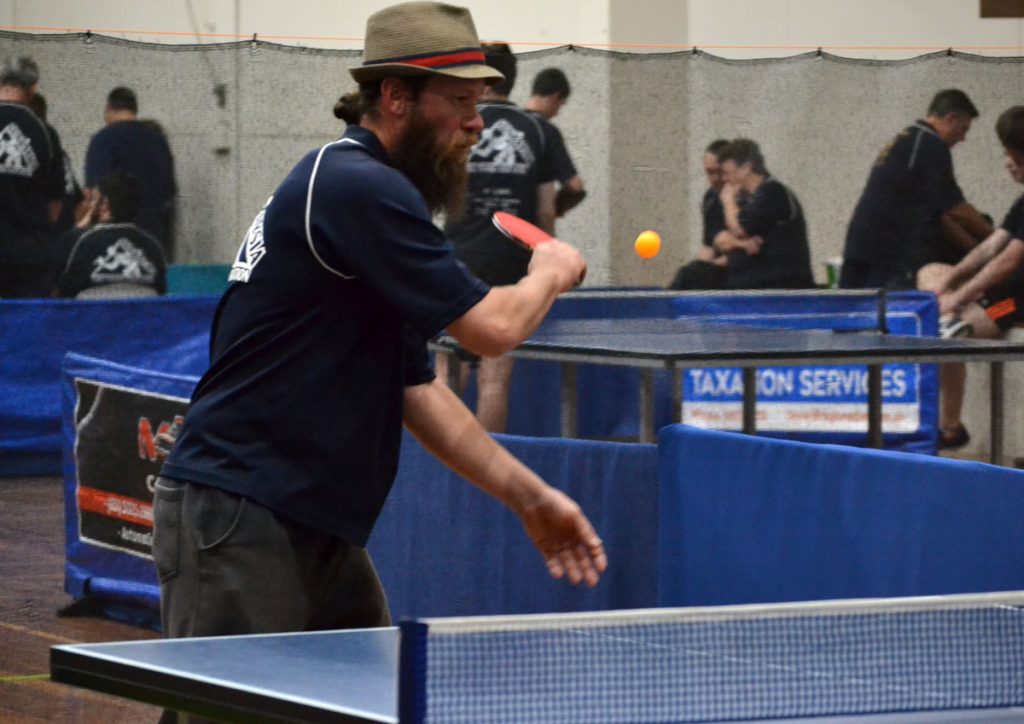 Malycha did look a chance against Gifkins, but in the end fell 11-9, 7-11, 7-11, 11-5, 7-11.
Final scores:  8 rubbers to 3 and 26 games to 16.
– Mallee Meats 7 (Peter Midgley 3, Andrew Jones, Peter Fitzpatrick 1) d MJM Automotive 4 (Sony Sefer, Zac Healy 2)
 Mallee Meats took their fourth win from five starts in this game.  Both sides were playing with substitutes – Andrew Jones in the Mallee Meats side for Geoff Peters, and Sony Sefer for the absent MJM Automotive captain Arthur Paar.
Mallee Meats captain Peter Midgley finished the night undefeated – three singles wins, and guiding his side to wins in both doubles rubbers.  His match against Zac Healy is worthy of note … although Midgley won in four sets 11-9, 11-9, 6-11, 11-6, he only won four more points than his opponent, and that was a fair indication of the closeness of the game too.
The Mallee Meats pairs dropped the first set in both doubles encounters – Midgley and Jones bouncing back from a very close 11-13 loss to Sefer and Healy to hold sway 8, 8 and 3 in the final three sets, and later Midgley and Fitzpatrick weathered the storm for three sets 7-11, 12-10, 11-8, before easily taking the fourth 11-2 against Healy and Michael Hensgen.
Andrew Jones and Peter Fitzpatrick both took a win each – they both defeated Michael Hensgen,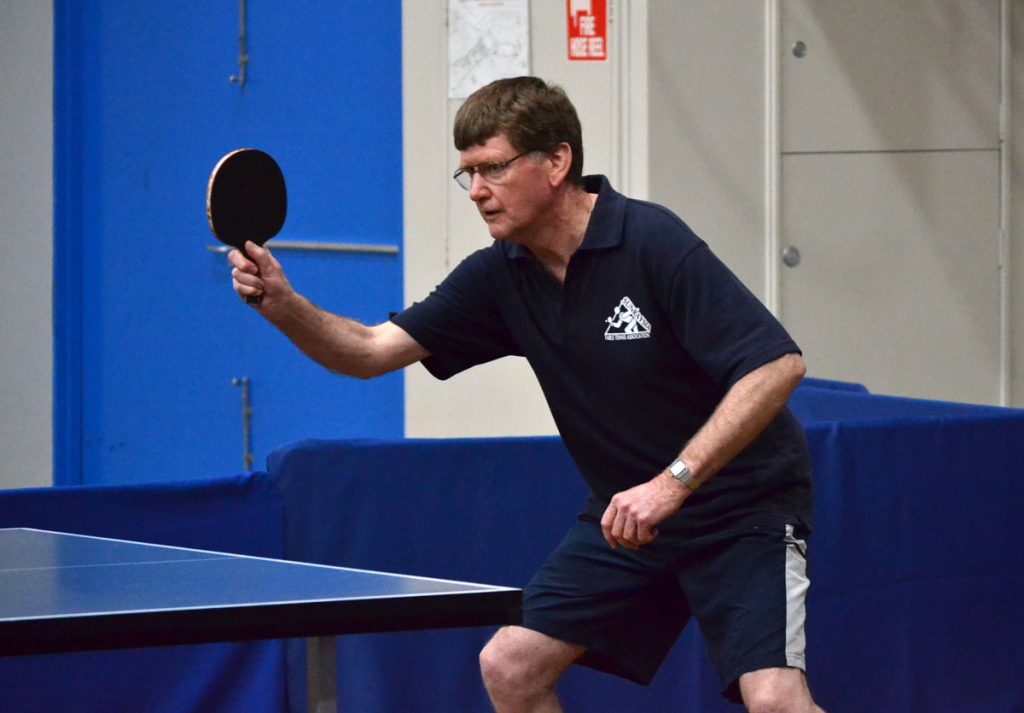 Fitzpatrick coming back from two sets to love down to win in five, and in his match, Jones dropped the first set 9-11, but was pretty much in control after that, winning 7, 9 and 2.
Final scores:  7 rubbers to 4 and 22 games to 19.
PENNANT THREE:

MJM Automotive take their third win for the season, and now look a real threat to the sides above them; Weightmans Packaging move a game clear of Regional Taxation Services, their opponents in this round; and Dunkley Scales or Team Fitzpatrick as they are sometimes called, jumped to second spot on the ladder, and in so doing kept Tankard Dental winless for the season.
– MJM Automotive 7 (Thanh Nyugen 3, David Sergi 2) d Mallee Meats 4 (Cambell McKenzie 2, Marcus Cimino, Helen Frania 1)
Thanh Nguyen continues his domination in this pennant, again picking up three wins, and contributing to the side's doubles victories.
Nguyen was untroubled in singles play, conceding just 22 points to Marcus Cimino, 19 to Helen Frania, and to opposing captain Cambell McKenzie, a miserly 15 points.  The only time he took his jacket off was to play five sets with David Sergi in the first doubles against McKenzie and Cimino.  That was a close match, and the Mallee Meats pair was not outclassed at all; the MJM Automotive pair winning the clash 13-11, 8-11, 11-9, 8-11, 11-8.
Nguyen was backed up well by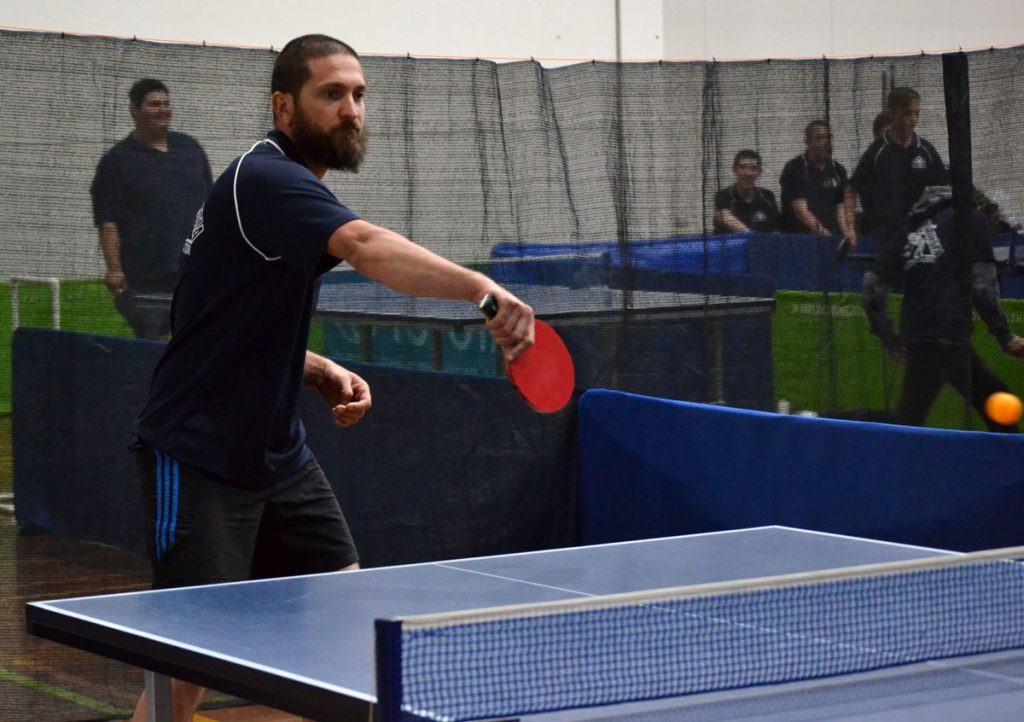 David Sergi, who came away with two wins, both in three sets against Cimino and Frania.
For Mallee Meats, Cambell McKenzie took two wins – against Sergi and Nick Kiapekos; Cimino and Frania likewise both took a win against Kiapekos.
Final scores:  7 rubbers to 4 and 21 games to 14.
– Weightmans Packaging 6 (Mark Kerr 3, Arnold Jago 2, Ryan Hensgen 1) d Regional Taxation Services 5 (Jeremy Corrin 2, Huseyin Ismail 1)
These two sides sat first and second on the ladder going into this game, equal on three wins apiece, separated by percentage.  And although the scoreline was a close 6-5 win to Weightmans Packaging, Regional Taxation Services dropped to third, being overtaken by Dunkley Scales, who won their match against Tankard Dental.
Weightmans Packaging have been bolstered of late by the inclusion in their team of Arnold Jago.  Jago, playing at number two contributed to the win, as did captain Mark Kerr and Ryan Hensgen.  It was only singles play that got the team home, as Regional Taxation Services snared both doubles rubbers.
Those rubbers were the highlights of this game – Jeremy Corrin and Husseyin Ismail, despite winning fewer points, just outlasted Kerr and Jago in the first 14-12, 7-11, 11-9, 5-11, 12-10.  Later Corrin and Karly Leach took the second rubber against Kerr and Hensgen in five sets too, but their control of the game was evident in the 11-4, 9-11, 11-7, 4-11, 11-2 scoreline.
Weightmans Packaging had the answers though, when it came to singles play;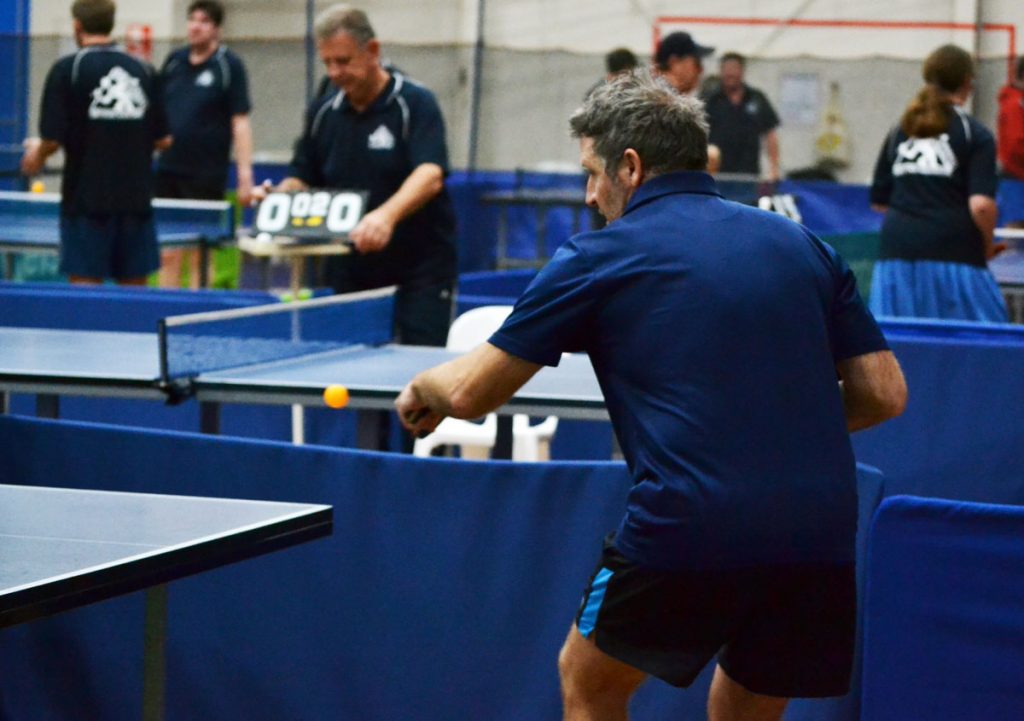 Mark Kerr in winning three rubbers dropped just one set; Arnold Jago took two rubbers, falling in straight sets to Corrin, and Ryan Hensgen was too good for his opposite number Karly Leach, winning also in straight sets.
Final scores:  6 rubbers to 5 and 25 games to 17.
– Dunkley Scales 7 (John Fitzpatrick 3, Rachel Fitzpatrick 2, Sabrina Fitzpatrick 1) d Tankard Dental 4 (Sam Hensgen 2, Rohan Reimers 1)
Dunkley Scales continued their impressive form, winning their fourth match in a row, this round defeating Tankard Dental 7-4.
Playing at number two, John Fitzpatrick continued his strong form, picking up three singles wins in another impressive performance.  He dropped a set to Tankard Dental number three Leonie Dunkley, but had little trouble with number one Sam Hensgen, winning 13-11, 11-6, 11-6 and against his opposite number Rohan Reimers an easier 7, 5 and 6 win.
With Dunkley Scales captain Rachel Fitzpatrick taking two strong wins – 11-5, 11-9, 12-10 against Reimers, and 13-11, 12-10, 11-8 against Leonie Dunkley, the side was well placed to take the four points for a win.
Number three Sabrina Fitzpatrick contributed one win with a five set victory against Dunkley in the eleventh rubber.  Sabrina had to come from two sets to love down to win 8-11, 7-11, 11-7, 11-9, 11-6.  Three rubbers before that win, Sabrina and Rachel took the second doubles 12-10, 11-4, 11-8 for an easier win against Hensgen and Dunkley.
This win sees Dunkley Scales jump up to second on the ladder, equal on four wins with Weightmans Packaging.  One game behind are two teams, Regional Taxation Services and MJM Automotive, in that order, and separated by percentage.  Things are very crowded at the top however, as there are only three games difference between first placed Weightmans Packaging and third placed Regional Taxation Services, so every rubber won or lost could see a team slide or jump on the ladder !!
Final scores:  7 rubbers to 4 and 26 games to 15.
PENNANT FOUR:

This round second defeated first which was the first defeat for Mallee Meats, fourth were too good for third while fifth placed Dunkley's Scales just got over the line 6-5 against the unlucky MJM Automotive who are yet to open their account.

In the singles aggregate race Stephan Ljubic again won three matches as did Therese Fitzpatrick while Thomas Morrison won two. Stephan leads on fourteen wins from 15 starts one victory clear of both Therese and Thomas. Thomas and Therese play each other next round.
– Tankard Dental 7 (Ben Hosking, Peter Lock 2, Luke Ljubic 1) d Mallee Meats 4 (Tom Morrison, Dave Tanner 2)
In the clash of one and two on the ladder second placed Tankard Dental inflicted the first defeat on their opponents Mallee Meats winning 7-4. It was the doubles which proved to be the difference in the final result with Tankards winning both in marathon five setters.
The first doubles was a great contest with Tankard pair Ben Hosking and Peter Lock outlasting Tom Morrison and Dave Tanner. There were many fine rallies and in the end the score line of 11-13 13-11 11-7 7-11 11-8 indicated what a good match it was.
The second doubles was even closer when Ben Hosking and Luke Ljubic paired up against the Mallee Meats combination of Tom Morrison and young fill in Jessie Romeo. This was close all the way and every game was decided by the barest of margins. Despite a great battle from their opponents Ben and Luke took the match 11-9 13-15 9-11 12-10 12-10 an outstanding match.
For Tankard Dental skipper Ben Hosking won two singles as well as the two doubles he participated in.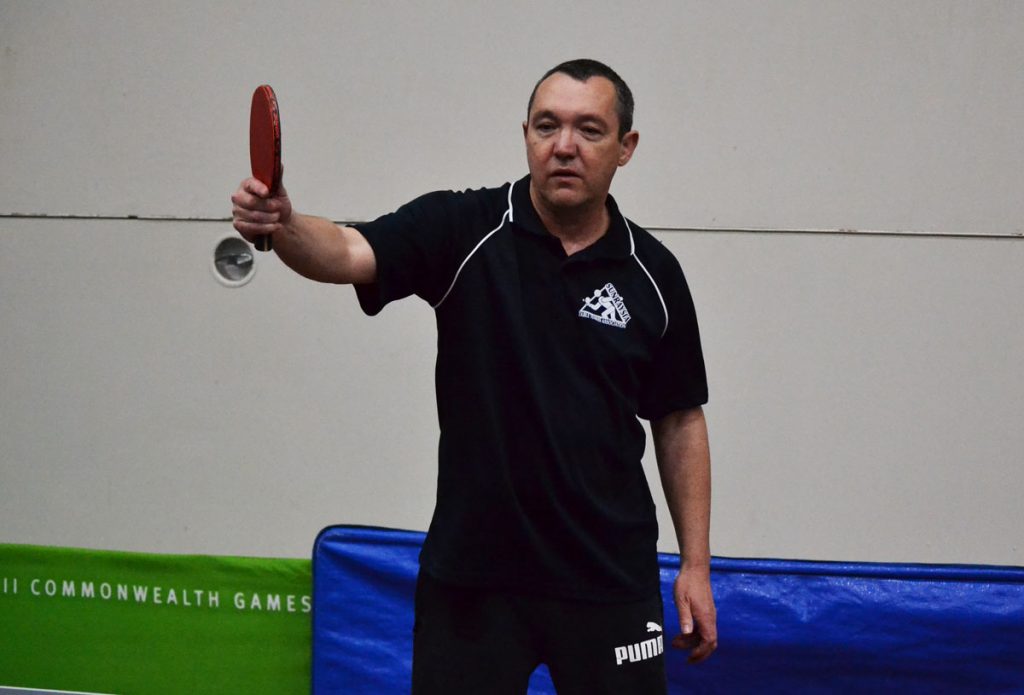 Team mate Peter Lock won two singles as well and he was able to inflict only the second defeat of the season on Tom Morrison who has been playing well. Luke Ljubic also chipped in for a singles win for Tankards who now move to the top of the ladder albeit by percentage.
– Weightmans Packaging 8 (Therese Fitzpatrick 3, Brice Lock, Luke Ljubic 2) d Regional Taxation Services 3 (Kim Avers 2)
In an even team effort Weightmans Packaging won this match 8-3.  Regional Taxation Services were without the inform Sarah Hogarth while Miya Lock was out for Regional Taxation Services.
Weightmans skipper Therese Fitzpatrick continued her good form winning three singles for the victors while Brice Lock and fill in Luke Ljubic won two each. Brice's only loss was a titanic five set singles against Kim Avers who won 8-11 11-4 11-7 9-11 12-10 a great tussle of patience by Kim.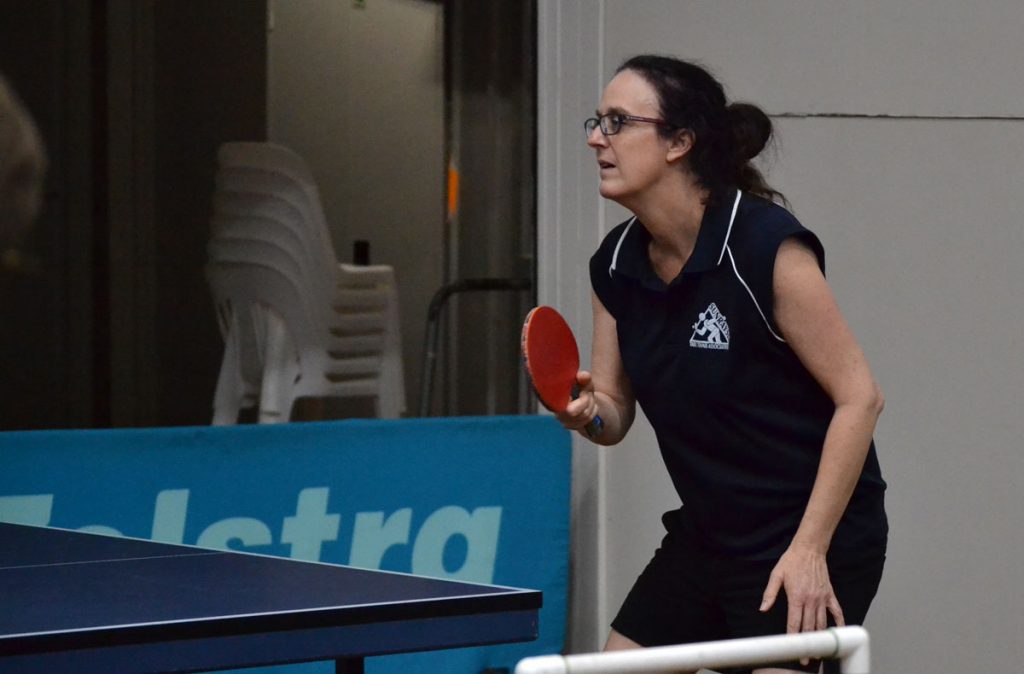 Kim played well for her team winning two singles and in the second doubles she partnered Jacinta Ljubic to defeat Therese Fitzpatrick and Luke Ljubic 11-8 9-11 4-11 11-3 11-7 in another impressive match.
For Regional Taxation Services Tomas Hawkes played as substitute for Sarah Hogarth in his first match for a few seasons. It was good to see him hitting again.
– Dunkley Scales 6 (Stephan Ljubic 3, Cy Romeo 1) d MJM Automotive 5 (Joel Hogarth, Paul Kerr 2, Shirley Whitecross 1)
Oh so close!!! MJM Automotive were attempting to break through for their first win and after trailing 1-4 at one stage they almost recovered but in the end Dunkley's Scales took the win 6-5. In all there were three five setters which were all won by Dunkley's, MJM had been unlucky.
Shirley Whitecross played two of these five setters for MJM however despite playing well she went down in both. In the first game of the night junior fill in Cy Romeo stepped up to the table against Shirley and this was a beauty. Cy surprised Shirley in the first two games before Shirley levelled the match. In the fifth Cy took control against his more experienced opponent to win 11-5 11-4 9-11 7-11 11-3. In her second singles Shirley took control early against aggregate leader Stephan Ljubic and a boilover was on the cards however Stephan was able to turn the tables and recover to win 5-11 8-11 11-4 11-3 11-5 a good comeback.
The second doubles was the third five setter won by Dunkley's when Stephan and Cy teamed up against Joel Hogarth and Paul Kerr. Despite trailing 1-2 after three games Stephan and Cy were able to steady and go on and win 9-11 11-8 8-11 12-10 11-6.
This win took Dunkley's to a 5-3 lead and when Stephan Ljubic outpointed Joel Hogarth in four sets Dunkley's had banked the four points.
MJM then won the final two singles courtesy of Shirley Whitecross and Paul Kerr to make the score line 5-6. This was possibly the one that got away for MJM however Dunkley's had done enough to grab the four points.