Read Time:
9 Minute, 36 Second
PRELIMINARY FINAL
By continuing her good form from the home and away season Kate Carmichael played a key role for her team Cash Converters in the preliminary final of the Sunraysia Table Tennis "Cash Converters" table tennis pennant.
– Cash Converters 6 (Matt Ljubic, Kate Carmichael 2) d Exposed Signage/Apparel 2 (Gavin Carmichael, Nicholas Dorman 1)
Cash Converters were up against ladder leader Exposed Signage /Apparel and in two meetings this season they had been unsuccessful and it was Carmichael that took control early resulting in her teams outstanding 6-2 win enabling them to advance to this weeks grand final.
Carmichael lined up in the first match against Leon Brown, she took the first two games comfortably before Brown steadied to win the third, in the fourth Brown had a chance to take the match to a fifth before Carmichael took control to win in four 11-5 11-3 8-11 16-14.   
In her second singles Carmichael scored a huge win by downing father Gavin in straight sets 11-7 11-9 11-7. This was her first success against him at this level and gave her team a commanding lead of 4-1. Earlier she had combined with skipper Matt Ljubic to win the first doubles in a tight match 17-15 11-9 12-10 over Gavin Carmichael and Nicholas Dorman.
Matt Ljubic, like Carmichael, won two singles in the victory including an important win over Nicholas Dorman 11-7 9-11 12-10 11-5. These two always have a close tussle and offer good entertainment.
With the Converters leading 5-2 the second doubles was crucial for the Exposed pair of Dorman and Brown who were up against Ljubic and Kevin Johns. After dropping the first game Dorman and Brown took the following two games before Ljubic and the steady Johns too control to go on and win 11-8 8-11 8-11 11-6 11-8.
The Grand Final will be played this Wednesday at the Irymple Leisure Centre from 7.30pm with the Cash Converters combination of Matt Ljubic, Kate Carmichael and Kevin Johns up against the Regional Taxation Services team of Shannon Bowen, Mark Dorman and Lee Thomas. Spectators are welcome.  
PENNANT TWO:

Weightmans Packaging lost their chance to play in this year's Grand Final by the narrowest of margins, in a game of heartbreak and surprise.
 – Mallee Bearings 6 (Adrian Fox 3, Peter Midgley 2, Andrew Jones 1) d Weightmans Packaging 5(Kerry Wallace 2, Nick Barlow 1)
In their two meetings during the year, Mallee Bearings had comfortable wins against their opponents here, nine rubbers to two in round 4 and seven rubbers to four in round 9.  For this crucial game, Mallee Bearings' Quentin Clark was absent, and Adrian Fox played in his place. Fox, playing at number three, made his intentions known in rubber number one when he quickly disposed of Weightmans Packaging number two Kerry Wallace in straight sets, 2, 8 and 8.
 The two captains were drawn to play in the very next rubber, and this is the heartbreak part of the headline.
 Mallee Bearings' Peter Midgley and Weightmans Packaging Arthur Paar went blow for blow for five sets, well, almost five sets.  Paar led 10-6 in the fifth, and to his increasing anguish, lost six points in a row, to lose the set 12-10 and give his opponents a 2-0 lead, when it had looked tantalisingly like a one all scoreline.  The fact that Weightmans Packaging took the next three rubbers only added to Arthur's misery, what could have been an almost unassailable 4-1 lead was just a modest 3-2 score.
 Those three rubbers came courtesy of Nick Barlow outlasting Andrew Jones 12-10, 11-7, 21-19, the first doubles Barlow and Wallace a fighting five set win against Midgley and Fox 11-5, 9-11, 15-13, 6-11, 11-9.  The third of these rubbers was a surprise five set win by Wallace against Midgley.  Midgley remember finished second on the aggregate with a strike rate of 90%, Kerry somewhat lower with a strike rate of 52%.  That Midgley served a fault on match point underlined the pressure the players were feeling.
 Mallee Bearings took the next two rubbers, Fox again scoring, this time against Nick Barlow.  Fox stayed cooler, winning 14-12, 5-11, 12-10, 13-11 to keep the game to four sets.
 Andrew Jones continued Arthur Paar's misery – after trailing two sets to one, Jones held on bitterly to win the fourth set 18-16, taking the game to the fifth, then deflating Arthur 11-6 to take the match.
 Weightmans Packaging were not done yet, though.  Wallace and Paar evened the score at four rubbers all winning the second doubles against Midgley and Jones 10-12, 11-4, 12-10, 6-11, 11-5.
 And so to the final round of singles – Midgley as expected defeated Nick Barlow, but not a straight-forward win.  Barlow, remember, made the final of the recent Super Eights competition, and came close to taking this game to the fifth rubber against Midgley who won 11-9, 9-11, 11-5, 18-16.
 Next, Wallace, who was probably thinking she had been caught off-guard against Fox in that first rubber (because she had won every match since), levelled the scores by defeating Andrew Jones in four sets.
 So the match came down to the eleventh rubber, and the number three for Mallee Bearings Adrian Fox about to spring a surprise on Weightmans Packaging number one Arthur Paar.  Fox dropped the first set 9-11, but that was good as it got for Paar.  Arthur could not exceed seven points in the next three sets, losing them 7, 7 and 7.  Surprise on surprise, the number three had won three singles rubbers, captain Peter Midgley two, and Andrew Jones one.
 A great finals match, the unexpected happening, pressure mounting throughout the night … but as always there can be only one winner, no matter what.
 Final scores:  6 rubbers to 5 and 25 games to 22.
 PENNANT THREE:

Minor Premiers MJM Automotive were unceremoniously bundled out of the finals race in this preliminary finals match with Sammy's Slammers.
– Sammy's Slammers 6 (Paul Fitzpatrick 2, Marcus Cimino, Leonie Dunkley 1) d MJM Automotive 2 (Peter Fitzpatrick 2)
MJM Automotive had had a pretty good season until the finals.  After losing in round 1 six rubbers to five to Weightmans Packaging, they took all before them, reeling off seven wins in a row.
The opponents in the two finals matches they played, however, made them look pretty ordinary.
Last week Mallee Meats downed them 6-5, and although the score was close, the reality was that MJM Automotive never really threatened their opponents.
In this game, Sammy's Slammers played like a team possessed, and as a result MJM Automotive struggled.
Sammy's Slammers captain Paul Fitzpatrick continued in his aggregate winning style, defeating his sister Rachel in the first round of singles in three competitive sets, 12-10, 11-7, 11-7, and in the second accounting for Tom Morrison, also in three sets.
Paul's team-mates, Marcus Cimino and Leonie Dunkley had both taken a lesson from Paul, and whilst they both lost to MJM Automotive captain Peter Fitzpatrick, they both bested the other MJM players – Marcus in the first rubber of the night caused an upset by defeating young Tom Morrison to win a good five setter 11-8, 8-11, 11-8, 10-12, 11-9.  On their two meetings during the year, Tom had won both, in three.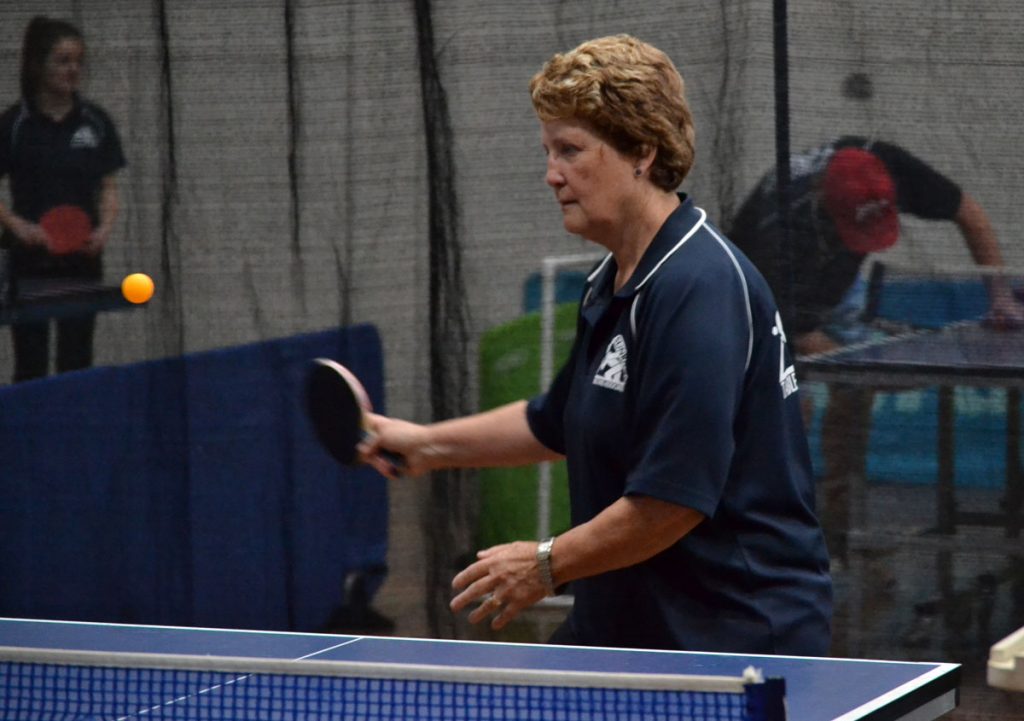 Leonie Dunkley had only played Rachel Fitzpatrick once during the year, losing in five.  In this match, that was reversed, Leonie winning in five.
Any idea of staying in the game with wins in the doubles were also swept away.  The first doubles was a no-contest affair, Peter and Rachel Fitzpatrick accumulating just eight points in a three set walk-over against Paul Fitzpatrick and Marcus Cimino.  The MJM Automotive pairing of Peter Fitzpatrick and Tom Morrison made a better fist of the second doubles, they actually led two sets to one, but faded badly in the final two sets to concede the game (and match), 13-15, 11-8, 19-17, 6-11, 8-11.
Final scores:  6 rubbers to 2 and 19 games to 12.
PENNANT FOUR:

 Head to head through the season it was one win each to the preliminary final combatants. In round 2 MJM had won 6-5 without any fill ins, in round 7 Mallee Meats bounced back to win 8-3 however each side did have a fill in. This was expected to be a close contest.
– MJM Automotive 6 (Kim Avers, Matthew Cherry 2) d Mallee Meats 2 (Dave Tanner, Miya Lock 1)
 Mallee Meats were first to get on the score board courtesy of Miya Lock who defeated Laura Bettess 11-7 11-7 11-4. This victory was the last for some time as MJM were able to get on a roll.
In the remaining two singles before the first doubles Kim Avers defeated Nathan Beard in straight sets and the match of the night then took place with MJM Matt Cherry taking on Mallee Meats skipper Dave Tanner. Dave started well and took the first game however Matt worked hard in the second and third to narrowly take these, his top spin forehands had played a major role returning some good attacking shots from Dave. Dave bounced back to win the fourth however Matt then took control in the fifth and went on to win a great match 7-11 12-10 12-10 7-11 11-4.
MJM now were up 2-1 going in to the first doubles. When they last matched up in round 2 Matt and Kim had defeated Dave and Miya and this was the way this result went as well with Matt and Kim too steady winning 11-7 11-5 11-9.
With the score now 3-1 Mallee Meats were desperate to win a game and Miya Lock gave it her best however the fast improving Kim Avers took the match 11-5 11-5 11-4.MJm now took a 4-1 lead before Dave Tanner reduced the deficit to 2-4 when he defeated Laura Bettess 11-4 11-3 11-6.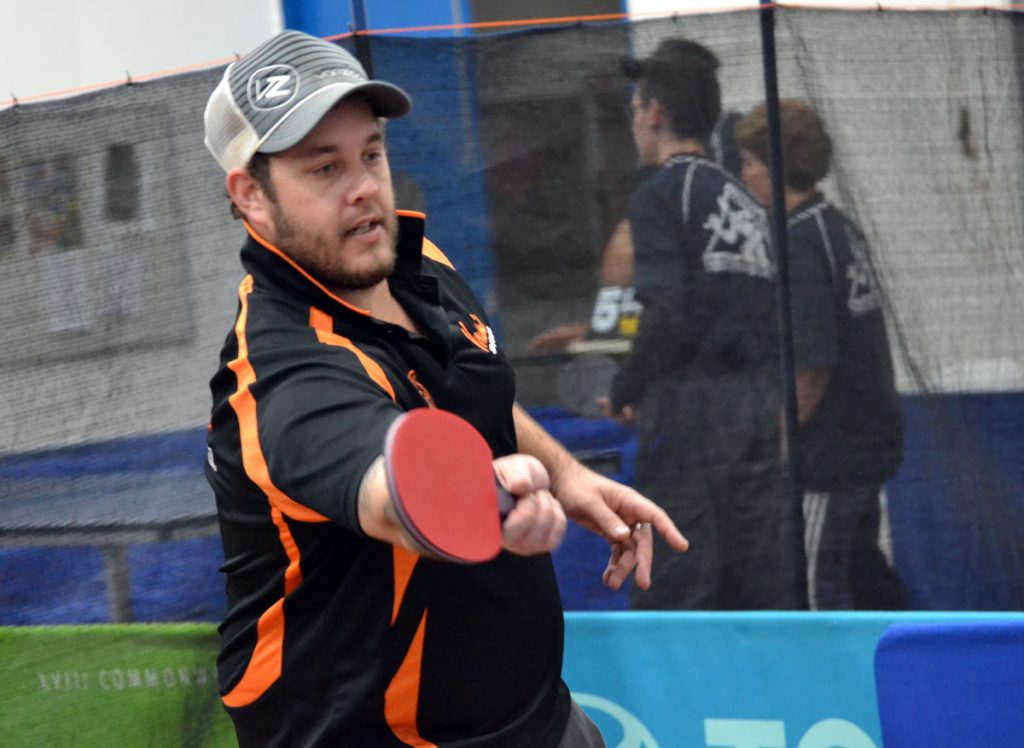 MJM Matt Cherry then extended the lead to 5-2 when he accounted for the determined Nathan Beard in straight sets.
Mallee Meats pair Dave Tanner and Nathan Beard knew their season was on the line when they stepped up in the second doubles against Matt Cherry and Laura Bettess and this was a fantastic struggle with Dave and Nathan winning two of the first three games and looking a chance to keep their team alive. After some long rallies and keenly fought points Matt and Laura were able to fight back to win 4-11 13-11 5-11 11-9 11-8. Dave and Nathan were not disgraced and gave it their best.
This doubles win took MJM to a 6-2 win and a spot I the grand final.
For the victors both Kim Avers and Matt Cherry won two singles while Matt took part in both doubles victories.
Dunkley Scales are red hot favourites but with Kim Avers at the top of her game and Matt Cherry improving each week you never know!!!!!