Read Time:
11 Minute, 30 Second
PENNANT 1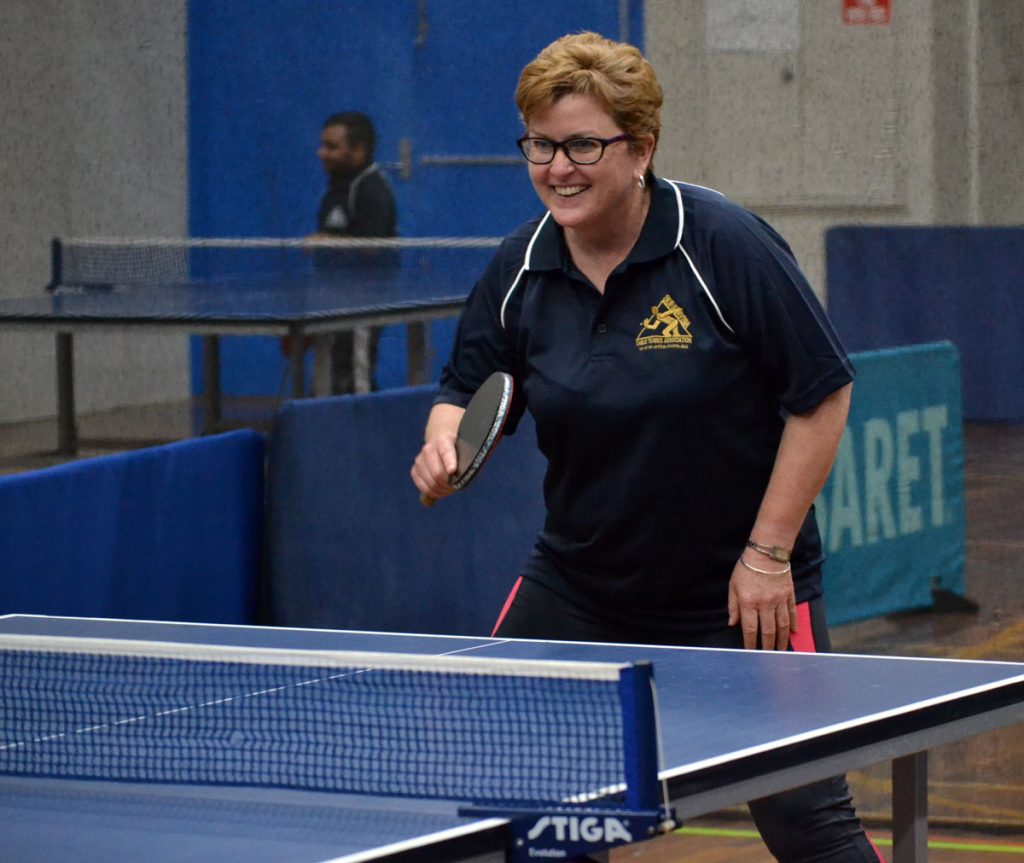 After a lengthy break due to last November's storm table tennis has resumed at the Irymple Leisure Centre with round one of the Sunraysia Table Tennis "Cash Converters" 2017 pennant taking place.

 Despite the long break the association is pleased to have twenty two teams taking part over four pennants with several players playing competition for the first time.

 Even though no competition has taken place for near to twelve months the standard of play in pennant one was excellent. Two matches were decided by a 7-4 margin while the remaining match went to a closer 6-5 score line.

Sunraysia's leading player Joel Thomas won three singles on his return to pennant play. Other players to win three singles were Matt Avers and Nicholas Dorman and this trio showed signs they will be a force in this ten week competition.
– Tankard Dental 6 (Joel Thomas 3, Reece Kurrle) d Weightmans Packaging 4 (Wayne Carmichael, Leslie Ncube 2, Jackson Murphy 1)
 Thomas's team Tankard Dental started their season with a 6-5 victory over Weightmans Packaging in a match which featured five five set results. For Weightmans number three Jackson Murphy it was a mixed night as he was involved in two of these five set matches.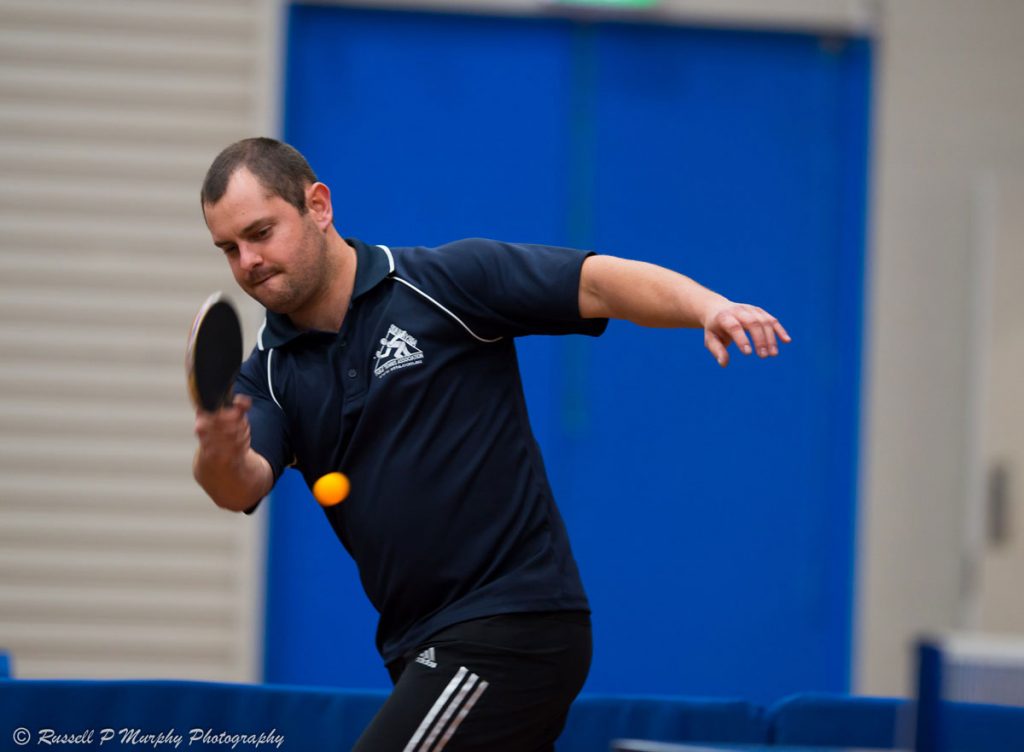 Despite leading both two games to love against Reece Kurrle and Ashley Morrison respectively it was a narrow loss to Kurrle and good victory over Morrison.
 Tankard's skipper Joel Thomas enjoyed a successful night winning three singles including a straight sets victory over Wayne Carmichael and by participating in both doubles victories he ensured his team victory.
The first doubles was a highlight with Thomas and team mate Reece Kurrle winning the first two games, opponents Wayne Carmichael and Leslie Ncube hit back hard storming through the third and fourth before Thomas and Kurrle steadied to win 11-9 in the exciting fifth.
–  Exposed Signage/Apparel 7 (Nicholas Dorman 3, Gavin Carmichael 2, Leon Brown 1) d Cash Converters 4 (Matt Ljubic 2, Kate Carmichael 1)
Exposed Signage/ Apparel grabbed top position on the ladder albeit by a small percentage margin by defeating Cash Converters 7-4. Nicholas Dorman was the stand out player in this match winning three singles with his 7-11 11-7 16-14 9-11 13-11 over Matt Ljubic a highlight.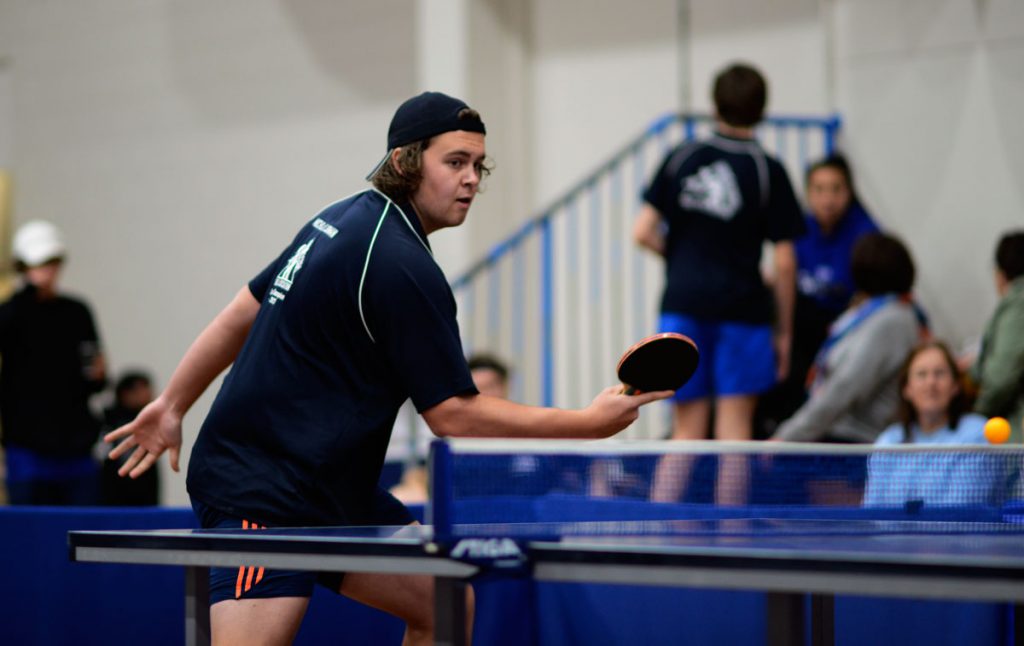 These two players played a fine match with many spectacular rallies and both will feature well in the singles aggregate at the seasons end.
 Dorman's team mates Gavin Carmichael and Leon Brown won two and one singles respectively while the doubles were shared. For Cash Converters Matt Ljubic won two singles including an impressive 18-20 11-6 11-2 11-8 victory over Carmichael.
– Mallee Bearings 7 (Matt Avers 3, Lee Thomas 2, Shane Carmichael 1) d Regional Taxation Services 4 (Shannon Bowen 2, Mark Dorman 1)
In the remaining match Mallee Bearings started their season strongly with an impressive 7-4 victory over the pre-season flag favourite Regional Taxation Services.   Young emerging star Matt Avers played well to win three singles over his more experienced opponents however it was number three Lee Thomas who stole the show  starting off as she finished in 2016.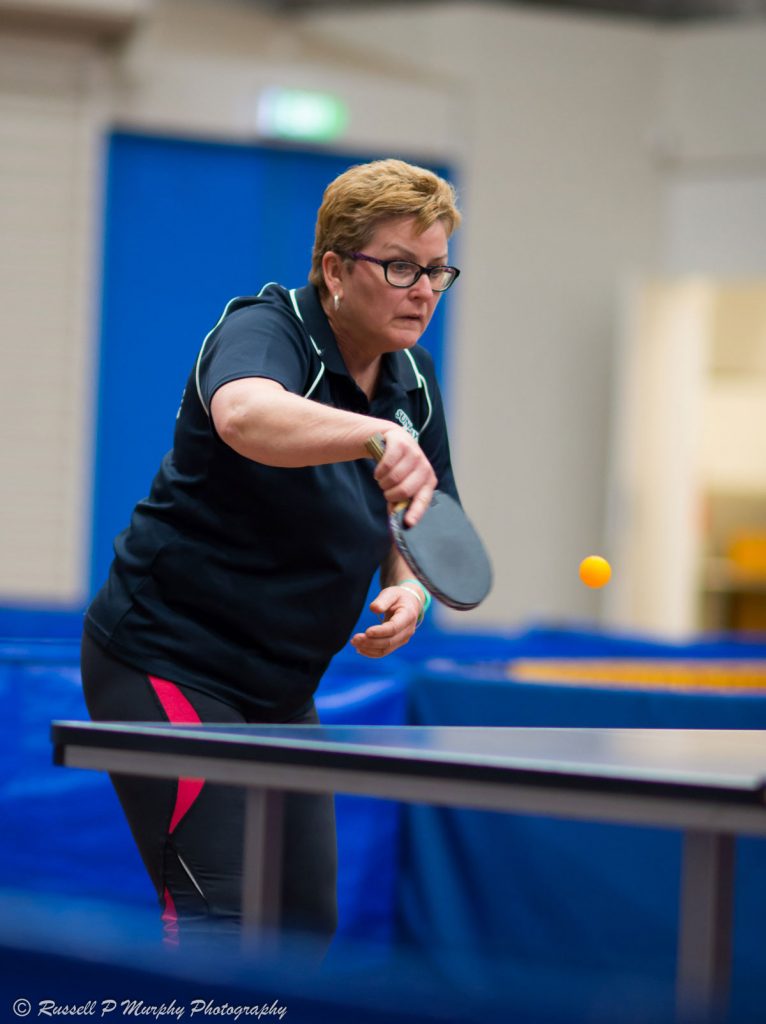 Her first singles was a marathon victory over Mark Dorman 11-9 7-11 12-10 8-11 13-11 a thriller and her best victory to date in pennant one.
 Later in the match Thomas partnered Matt Avers in the second doubles defeating Shannon Bowen and Ed Hung in four sets while in the last singles of the night she was able to account for Hung in four sets to finish the match with two singles victories and a doubles win playing a big part in her team's victory.
 For Regional Taxation Services Shannon Bowen won two singles to be his team's best performer.
PENNANT 2
Pinnacle Packers comprehensively defeated Max Miller Carpets in this first round of the 2017 competition; Mallee Bearings almost duplicating that feat in their match with MJM Automotive; and Weightmans Packaging needing both doubles rubbers to get the four premierships points against Mallee Meats.
– Pinnacle Packers 8 (Geoff Wright 3, James Chick 2, Brendan Alderton 1) d Max Miller Carpets 3(Russell Walder 2, Tony Malycha 1)
The Pinnacle Packers trio of Geoff Wright, James Chick and Brendan Alderton took 3, 2 and 1 rubbers respectively in this match against Russell Walder, Michael Hensgen and Tony Malycha.
Wright was only really extended when he played Hensgen in the ninth rubber – after leading two sets to love, he only finished the job with an 11-3 score in the fifth set.  He limited his other two rubbers to three sets.
James Chick played like he had never been away; taking two solid wins – downing Hensgen in five and Malycha in four.
Alderton played his usual stubborn style, and came within a whisker of making it two rubbers won.  He had a good opening stoush with Russell Walder, losing in four, then defeated Hensgen in a good five setter.  In the final rubber of the night, after leading two sets to love, he narrowly lost to Tony Malycha 12-10, 11-6, 11-13, 4-11. 11-13.
The icing on the cake for Pinnacle Packers though was that they took both doubles rubbers, Wright and Alderton in a close three setter 11-9, 12-10, 12-10 against Walder and Hensgen, and later Alderton and Chick after dropping the first set, came back to defeat Hensgen and Malycha in four 5-11, 11-3, 11-7, 12-10.
Final scores:  8 rubbers to 3 and 27 games to 17.
– Mallee Bearings 7 (Peter Midgley, Andrew Jones, Quentin Clark 2) d MJM Automotive 4 (Thanh Nyugen 3)
Peter Midgley, Andrew Jones and Quentin Clark took two singles wins apiece in this match against MJM Automotive.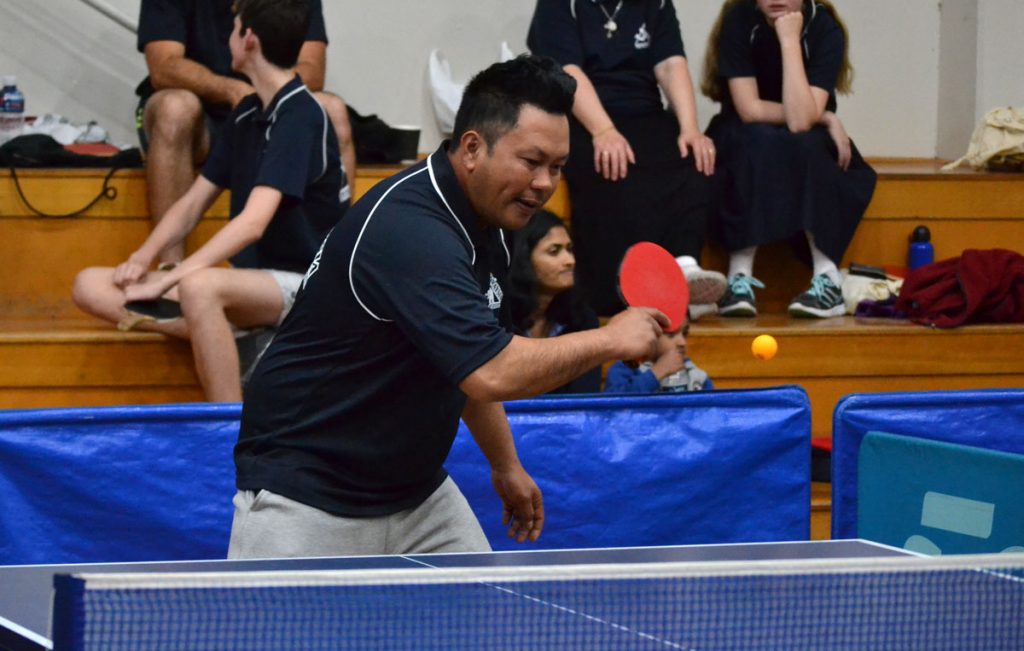 The only player none of them could defeat was Thanh Nyugen.
With seven of the eleven rubbers being determined in just three sets, this game was decided fairly smartly.  Unfortunately for MJM Automotive, their number two Anthony Fox was unavailable, and whilst Mark Kerr did an admirable job filling in, they will no double welcome Fox into the side next week.
To demonstrate the ease with which Mallee Bearings won this game, consider that of the six singles rubbers won, just one went beyond three sets, and that only to four !!
The doubles went one apiece, Midgley and Jones taking the first against Nyugen and Kerr in the fourth set dramatically 19-17.  They had led 11-9, 11-8, then lost the third 1-11.  Surely, had this gone to the fifth set, the MJM Automotive pair would have had the psychological advantage, but it was not to be …
Nyugen and Claire Ljubic comfortably took the second doubles against the pairing of Midgley and Clark 9, 8 and 7.
Final scores:  7 rubbers to 4 and 24 games to 14.
– Weightmans Packaging 6 (Nick Barlow 2, Kerry Wallace, Arthur Paar 1) d Mallee Meats 5 (Russell Walder, Geoff Peters 2 Seval Fuat 1)
 In the closest match of the round, Weightmans Packaging took the points against Mallee Meats.  For Mallee Meats, in addition to playing for his own team, Russell Walder filled-in for the absent Jason Gifkins.
Mallee Meats took five of the nine singles rubbers, but lost out in the doubles.  Both the doubles rubbers went to five sets – Arthur Paar and Kerry Wallace taking the first against Walder and Geoff Peters 11-8, 13-11, 9-11, 11-13, 11-6 to give their side a handy three rubbers to one lead at that stage.
By the time the second doubles came around, Mallee Meats had narrowed the deficit to 4-3, and another good match followed – this time Paar and Nick Barlow, returning to the game after a few years away, taking control in the fifth set against Peters and Seval Fuat to win 11-13, 11-6, 7-11, 11-8, 11-3.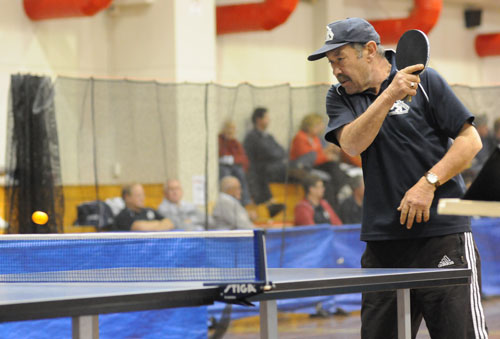 Fuat brought the score back to 4-5 with a win against Wallace in the next rubber, but Barlow sealed the win for his team with a bruising win against Geoff Peters 12-10, 11-13, 11-9, 11-8.
Walder rescued what he could for his adopted team, winning the eleventh rubber in three sets against Paar to reduce the deficit and tie the games.
Final scores:  6 rubbers to 5 and 23 games all.
PENNANT 3
Five teams are entered in this Pennant Three competition, necessitating a bye each week.  If this first round is anything to go by, this will be a close competition.  Both matches ended in a 6-5 result, with the winning margin being 2 and 1 games.
– Sammy's Slammers 6 (Paul Fitzpatrick 3, Marcus Cimino 1) d Mallee Meats 5 (Jeremy Corrin, David Sergi 2, Therese Fitzpatrick 1)
Paul Fitzpatrick played magnificently to lead his team to a 6-5 win against Mallee Meats.
Fitzpatrick was in fine touch … conceding just three sets in the five rubbers he played.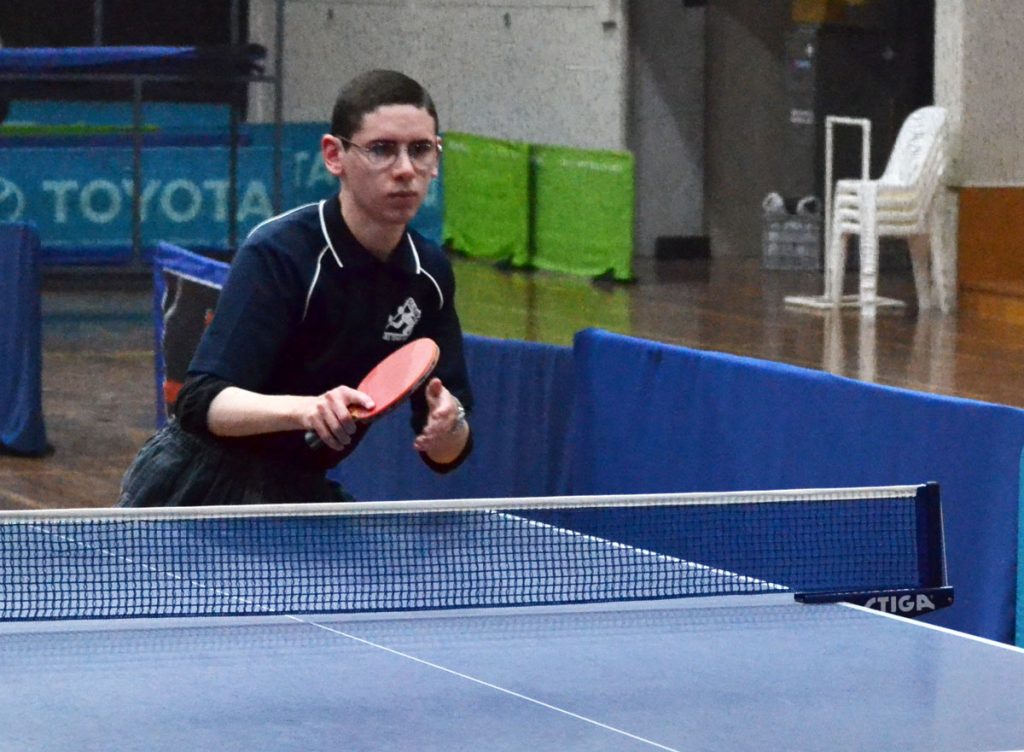 And it was just as well Paul was playing well, as only his number two Marcus Cimino could help the score-board along with a close three set win against Therese Fitzpatrick in the opening rubber 11-9, 17-15, 11-9.
Paul's match-up with opposing captain Jeremy Corrin in the ninth rubber was crucial, and as it turned out, had the result gone the other way, Sammy's Slammers would have lost.  The result was never in doubt, though, after the first set which went to 15-13.  Paul took control, outplaying Jeremy 11-5, 11-7 in the following sets.
For Mallee Meats … well, they did not play badly as both Corrin and David Sergi took two singles wins, and Therese Fitzpatrick one.  Therese's win against her opposite number Leonie Dunkley was impressive – leading 11-8, 11-5, she tumbled to a 4-11 loss in the third set, and had to stave off Dunkley's attempts to take the match to the fifth set, taking the fourth 15-13 after some tense play.
Final scores:  6 rubbers to 5 and 20 games to 18.
– Weightmans Packaging 6 (John Fitzpatrick 3, Rohan Reimers 1) d MJM Automotive 5 (Rachel Fitzpatrick, Tom Morrison 2, Peter Fitzpatrick 1)
Like his brother Paul, John Fitzpatrick won everything in sight to lead Weightmans Packaging to a 6-5 win over MJM Automotive.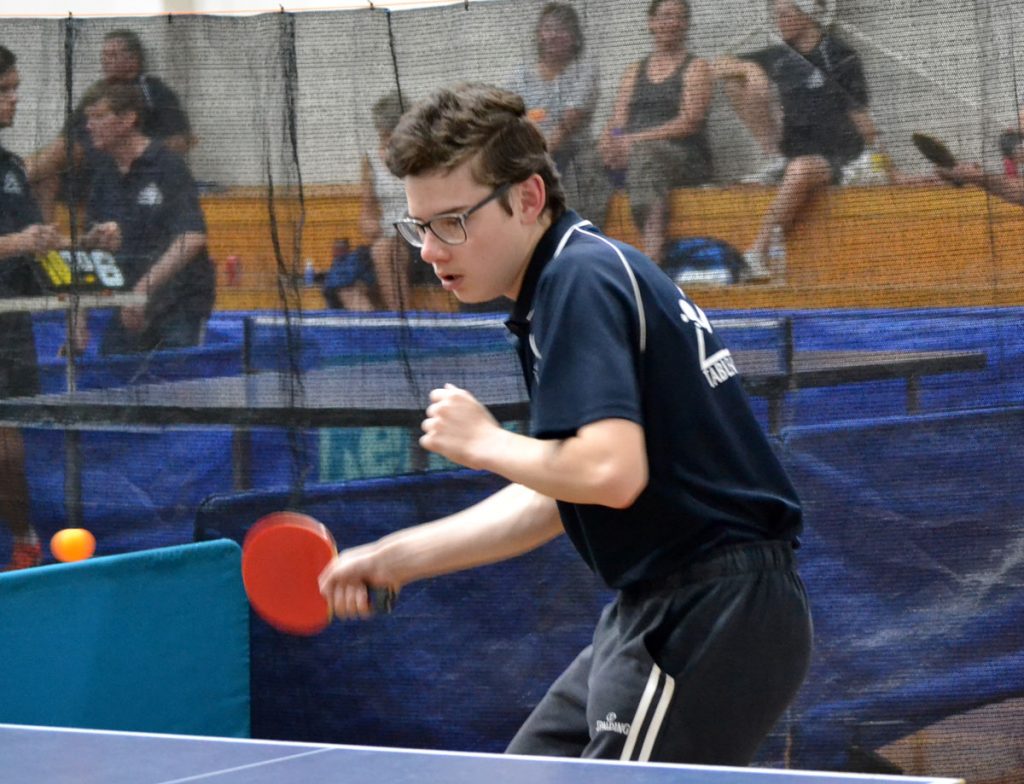 John had to fight a bit harder than Paul though … he and sister Rachel had a ding-dong battle in the first round of singles, John just doing enough to win 10-12, 12-10, 11-7, 9-11, 13-11.  His first doubles with Huseyin Ismail was also a five set affair, downing Rachel and father Peter 11-13, 11-8, 5-11, 11-5, 11-7.  And like the previous match, only one other team member could add to the captain's tally – in this case Rohan Reimers chipped in with a singles rubber.
For MJM Automotive, both Rachel Fitzpatrick and Tom Morrison played well, both picking up two wins.  Morrison played well in the second doubles, partnering his captain Peter Fitzpatrick.  Although they lost in four sets, it was a close contest and John Fitzpatrick with Rohan Reimers had to work for their 11-7, 10-12, 12-10, 13-11 win.
Final scores:  6 rubbers to 5 and 22 games to 21.
PENNANT 4
Pennant four is made up of five teams with eight of the fifteen players playing competition table tennis for the first time.

This round Regional Taxation Services trio Matt Sires, Austinn Taylor and Casey Taplin had the bye.
– MJM Automotive 7 (Kim Avers 3, Matthew Cherry 2, Laura Bettes 1) d Tankard Dental 4 (Paul Kerr 2, Shirley Whitecross 1)
 MJM were quick out of the blocks in this match winning five of the first six rubbers and from this point Tankard Dental while staying determined were unable to recover from the early deficit going down 4-7.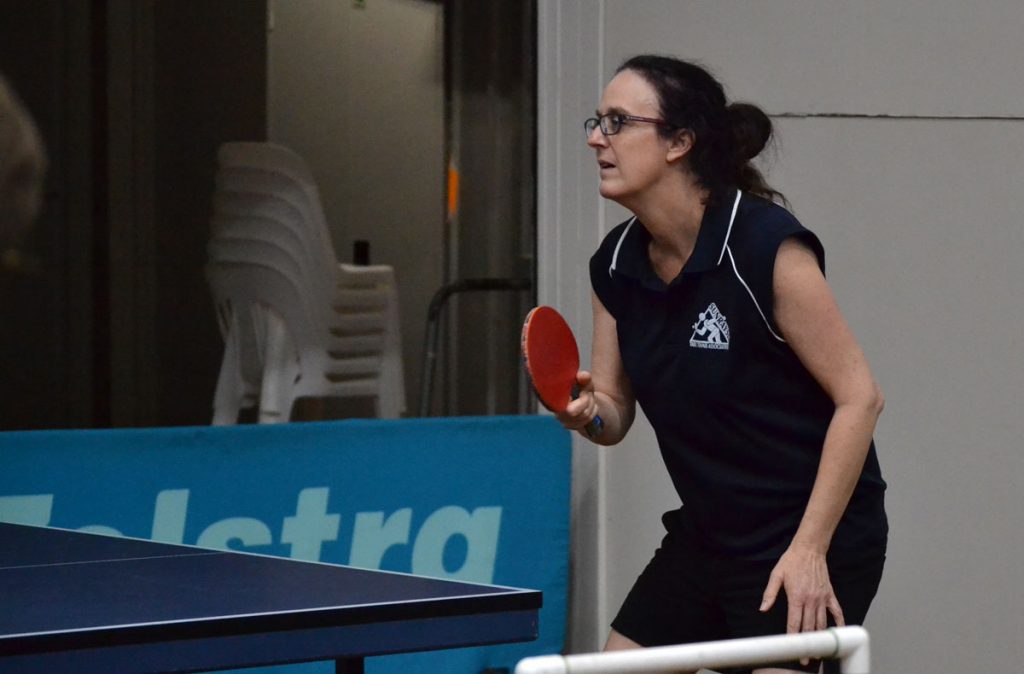 For the victors number two Kim Avers played well to win three singles while debutant Matt Cherry won two singles. In the first doubles they combined to play Shirley Whitecross and Paul Kerr. This was a great tussle with Shirley and Paul taking the points in a lengthy five setter 11-9 7-11 11-8 5-11 11-6.
For Tankard's Paul Kerr played well to win two singles along with his doubles success.
Sisters Laura and Kayla Bettes are playing their first pennant of table tennis and in this match they lined up against each other in what turned out to be another entertaining five set slog. MJM's Laura was able to outlast her sister winning 13-11 12-14 11-6 9-11 11-8 a great match.
– Dunkley Scales 9 (Luke Ljubic, Brice Lock 3, Isaiah Bettes 1) d Mallee Meats 2 (Dave Tanner, Miya Lock 1)
 In an outstanding performance Dunkley's Scales proved too strong for Mallee Meats 9-2.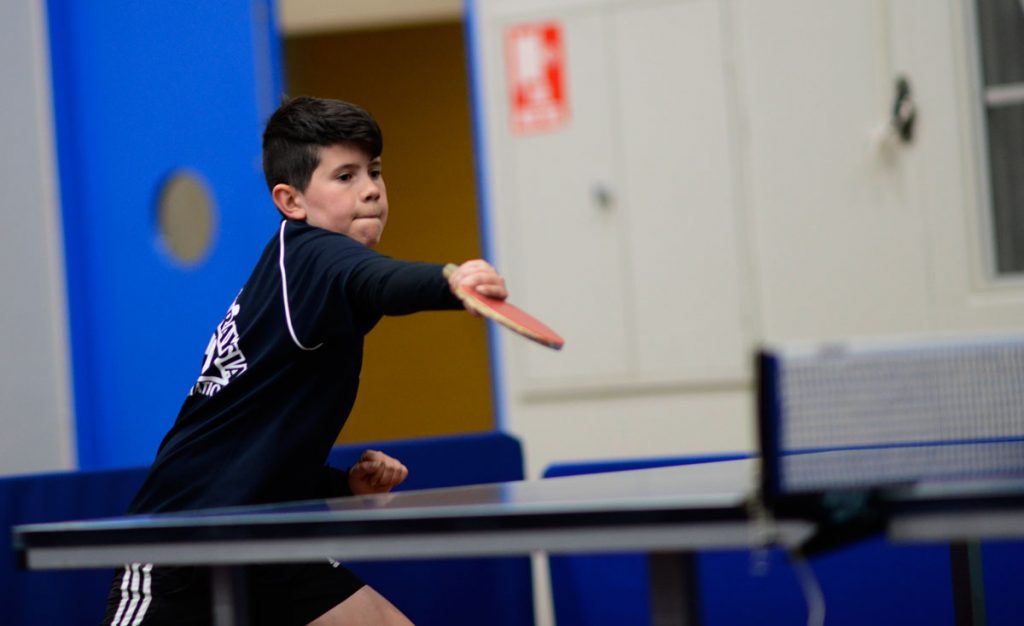 Both Brice Lock and Luke Ljubic started the season on fire winning three singles each an impressive effort given they were up against Mallee Meats talented Dave Tanner and fast improving Miya Lock.
Brice capped off a great night by participating in both doubles victories, his form indicates he has not lost much touch despite the large break from competitive table tennis. His number three player Isaiah Bettes was another playing his first match of table tennis and he performed well winning a singles as well as the doubles he took part in.
With this big win Dunkley's Scales head the ladder by a healthy percentage.