Read Time:
3 Minute, 32 Second
Two Years Between Games – Country Championships Finally Made Its Return
Published Thu 16 Jun 2022
---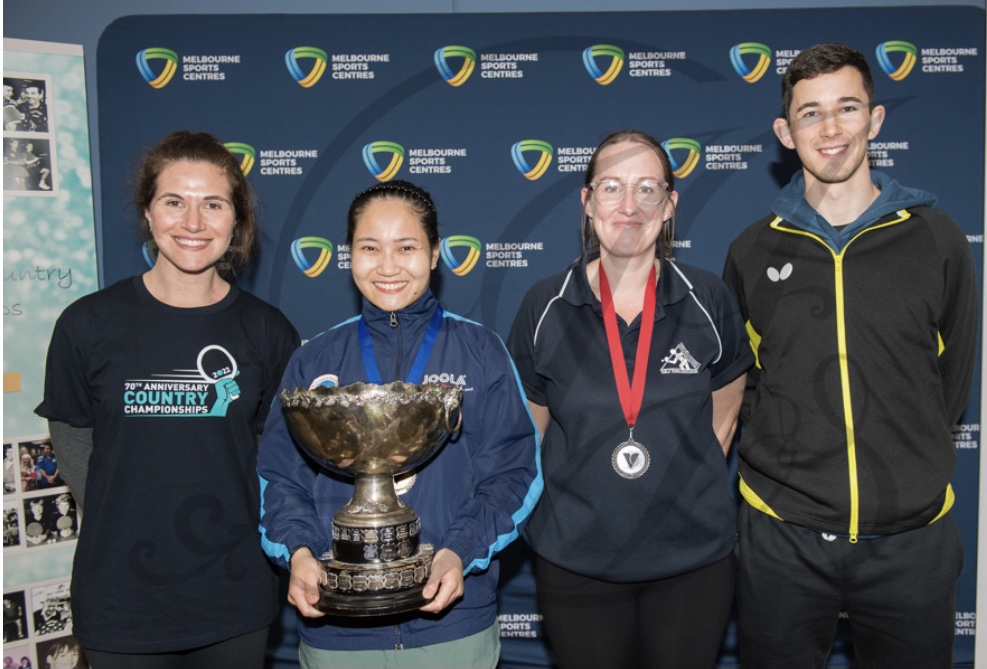 The 70th Victorian Country Championships swarmed the tables of MSAC over the Queen's Birthday long weekend following two years of cancellations due to COVID-19. Teams from all over regional Victoria made the trip to Albert Park to compete in one of TTV's most beloved events.
Teams from as far as Bairnsdale, Albury Wodonga, Wonthaggi, and Mildura competed across 12 grades in an effort to bring home the winners' Shields. Players from each team also battled it out for Individual titles on Sunday night.
From 8 am on Saturday morning through to Monday afternoon MSAC was bustling with table tennis action as the Country Week Shields were up for grabs for the first time in two years.
The A Grade Shield was won by the Geelong team of Matthew Avers, Stefan Edlund, Richard Li, and Ben Taylor who won all five of their rounds, with the Albury Wodonga trio of Max and Levi Geering alongside Sam Palmer finishing runners-up.
In a similar fashion, the Peninsula team of Jarryd Cathcart, David Griersmith, Matt Hayes, and Charlie Hollow won each of their five rounds to claim the B1 Grade Shield ahead of the Sunraysia team.
The B2 Shield was tightly contested with five out of the six teams finishing with a 3-2 record. The division was won by Sunbury's David Kumar, John Scott, and David Zara who won 36 out of their 55 games.
In the other grades, Geelong won a further three shields, Wonthaggi took home two while Sunbury, Leongatha, Ballarat, Cobram, and Albury Wodonga tasted victory in one grade each.
| | | |
| --- | --- | --- |
| Grade | Club | Team |
| A1 | Geelong | Matthew Avers, Stefan Edlund, Ben Taylor & Richard Li |
| B1 | Peninsula | Jarryd Cathcart, David Griersmith, Matt Hayes & Charlie Hollow |
| B2 | Sunbury | David Kumar, John Scott & David Zara |
| C1 | Leongatha | Michael Chang, Zac Difabrizio & Dirk Holwerda |
| C2 | Ballarat | John Bowers, Shagun Punani & Emma Wang |
| C3 | Geelong | Colin Brackley, Jhonny Bucales & Daryl Rogers |
| D1 | Geelong | Niksa Jarausek, Austin Seg & Noah Tanis |
| D2 | Cobram | Rod Armstrong, Martin Kong & Jeffrey Russell |
| D3 | Geelong | Sebastian Brondou, Jan Paolini & Willa Yu |
| E1 | Wonthaggi | Braden Andrighetto, Andrew Chetcuti & Callum Martin |
| E2 | Wonthaggi | Brad Andrew, Leanne Costello & Michael Steenbergen |
| E3 | Albury Wodonga | Michelle Bowd, Lyn Forke & Wolfgang Forke |
In the Individual's tournament Geelong pair Stefan Edlund and Ben Taylor went head-to-head in the Open Men's Singles with Edlund coming out on top in a five-set match. Bairnsdale's Danica Alburo made her way through the Open Women's Singles draw undefeated to claim the title over Kate Carmichael.
Ben Taylor and Matthew Avers (Geelong) defeated Albury Wodonga's Sam Palmer and Max Geering in the Open Men's Doubles, Avers also won the Open Mixed Doubles with Kate Carmichael, while Danica Alburo and Simran Benyani (Bairnsdale) took out the Open Women's Doubles.
Attending her first Country Championships, CEO Gen Dohrmann was thrilled with the turnout and excited to be a part of Country Week's return in Victoria.
"We were delighted to finally be able to hold our 70th anniversary Country Championships at MSAC on the weekend. Both the table tennis hall and the badminton hall were full of table tennis activity, and it was great to see so much camaraderie between the country teams," said Dohrmann.
"A big congratulations to everyone who competed and a big shout out to Geelong who took out several of the division titles including the top A1 division. A big thank you to Claire from the TTV office for managing the event and thank you to our referee Bruce and the team of TTV staff and Deakin University Sports Society interns for making it all happen."
TTV would also like to thank the Ballarat Table Tennis Club for allowing us to use their barriers for the weekend, Costa Farms for the boxes of bananas that were supplied, sponsors Pongo, S-Trend, and AGMC for their contributions to the Country Championships showbags, as well as Alan Wilson for his support and presenting the Andrew Wilson Memorial Award and Mark LeGassick for presenting the Alan Cleaves awards and finally Kameron Chan for uploading the results to Ratings Central.
We can't wait to see all of the players and clubs next year for the 71st edition of the Victorian Country Championships.
Full Country Championships results.