Read Time:
15 Minute, 42 Second
PENNANT ONE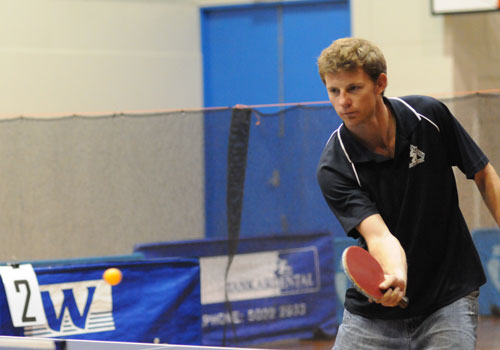 Mallee Bearings have advanced from third to first position on the ladder after their 8-3 victory over previously second placed Weightmans Packaging in round ten action of the Sunraysia Table Tennis "Cash Converters" winter pennant.
– Mallee Bearings 8 (Shannon Bowen, Nicholas Dorman 3, Matt Ljubic 1) d Weightmans Packaging 3 (Gavin Carmichael, Jackson Tung 1)
This win by Mallee Bearings is their third in succession, they are the form team and no other team can match their record over the past three rounds.
Against Weightmans skipper Shannon Bowen led the way winning three singles, two of these 12-10 victories in the fifth over Gavin Carmichael and fill in Jackson Tung respectively. Bowen's team mate Nicholas Dorman also won three singles for the second time in three rounds and his form in the past five rounds has been outstanding.
Young Dorman accounted for Gavin Carmichael in four sets as he did against Tung and later he defeated Shane Carmichael in straight sets to cap off an excellent night.
Weightmans after winning five in succession are now struggling with two big defeats in as many rounds.
– Tankard Dental 7 (Joel Thomas 3, Kate Carmichael 2, Leon Brown 1) d Cash Converters 4(Rick McMeekin 2, Darren 'Cupper' Robinson 1)
After dropping their last two matches Tankard Dental bounced back this round with a solid 7-4 win over Cash Converters.
Joel Thomas for the tenth round in succession won three singles to keep his undefeated run intact. He received good support from his team mates Kate Carmichael and Leon Brown who won two and one singles respectively. For Brown his win was especially pleasing as it was his first in what is a very tough competition.
Cash Converters skipper Rick McMeekin tried hard to win two singles and the highlight for his team was the win in the second doubles when he and fill in Darren Robinson recovered from a two game to love deficit against Thomas and Brown to win 10-12 10-12 11-8 12-10 11-9 in a thriller.
– Exposed Signage/Apparel 6 (Matt Avers, Mark Dorman 2) d Regional Taxation Services 5 (Wayne Carmichael 3, Reece Kurrle, Mark Ljubic 1)
Exposed Signage/Apparel for the first time this season have strung two wins together and this round in a nail biter defeated Regional Taxation Services 6-5. Both Mark Dorman and youngster Matt Avers won two singles each while RTS skipper Wayne Carmichael won three.
It was the doubles which decided the result with both won by the Exposed Signage combinations 14-12 in the fifth after the first two games had been lost.
In an exciting climax and with his team leading 5-4 Mark Dorman matched up against RTS number three Reece Kurrle and this was an outstanding contest with all games decided by the barest of margins. Kurrle actually took a two games to one lead against his more experienced opponent. The rallies at time were long and it was Dorman who held his nerve in the fourth and fifth to win 14-12 9-11 10-12 11-9 11-9. This had been a top class match and Dorman's victory gave his team the all-important four points. Kurrle had been very game in defeat.     
PENNANT TWO
Mallee Bearings brought Pinnacle Packers' run of three wins to an end in this round; MJM Automotive scored their second win for the season, toppling third placed Mallee Meats to do so; and the now-invigorated Max Miller Carpets defeated Weightmans Packaging to join them on four wins.
– Mallee Bearings 8 (Lee Thomas 3, Jackson Murphy, Terry Martin 2) d Pinnacle Packers 3(Kevin Johns, Peter Midgley 1)
Pinnacle Packers started the season in a hurry, winning the first four rounds.  Since then, however, wins have been harder to come by, and they have won only three of their last six games.  In this round, with the absence of number three Jason Gifkins, Pinnacle Packers were forced to forfeit all his rubbers, and Mallee Bearings downed them decisively 8-3 and join them at the top of the ladder on seven wins.  Pinnacle Packers retain top spot only by the slimmest of margins, on percentage.
Pinnacle Packers led after four rubbers, three rubbers to one.  Captain Kevin Johns and number two Peter Midgley both took singles wins, then combined to take the first doubles.  But that is where the winning stopped for them, as the combination of unforced losses, and some good play by their opponents saw the score blow out.
With three wins here, Mallee Bearings' Lee Thomas stays three games clear at the top of the aggregate ladder.  After two tight sets against Pinnacle Packers captain Johns 9-11, 13-11, Lee took control of the game and won the last two sets quite easily, 11-5, 11-5.  Her encounter with Peter Midgley was somewhat harder.  In the only five set contest of the night, Thomas trailed two sets to one 11-6, 8-11, 12-14, and after a close 11-8 win in the fourth, accelerated away to win 11-1 in the fifth.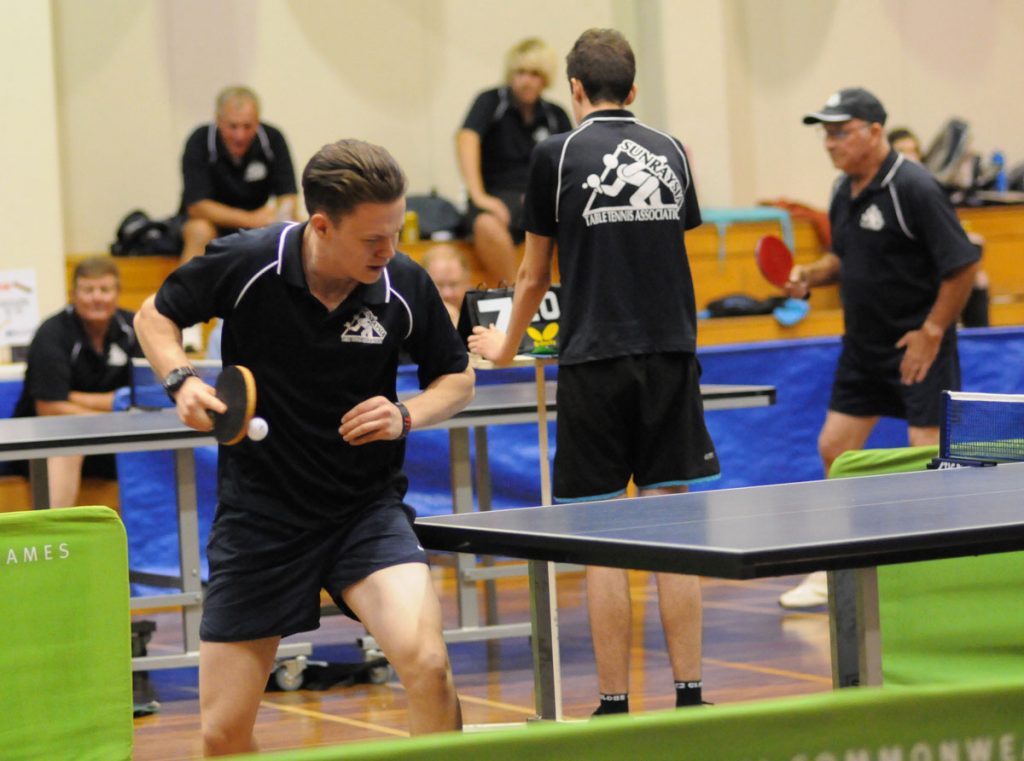 Mallee Bearing captain Jackson Murphy accounted for Johns in straight sets, whilst Terry Martin, after earlier losing to Johns, toppled the consistent Midgley in four.
Final scores:  8 rubbers to 3 and 26 games to 13.
– MJM Automotive 7 (Bernadette Fitzpatrick 3, Tony Malycha 2) d Mallee Meats 4 (Russell Walder 2, Andrew Jones, Geoff Wright 1)
MJM Automotive has been threatening to win their second match of the season for the last three weeks, and this week finally pulled it off.  In those last three matches, the team has lost 6-5 each time, coming close to a win, but not close enough.
Their opponents here, Mallee Meats were equal on six wins with Mallee Bearings going into this match, and since their opponents were the bottom side, were expecting to perhaps jump Mallee Meats, as they, Mallee Meats, played the top side, Pinnacle Packers.  Not so.  In a very satisfying result, MJM Automotive simply outplayed their better credentialed opponents, winning seven rubbers to four.
Bernadette Fitzpatrick picked the right time to take three wins, this for only the second time this season.  She was in good form too, dropping only twelve points to Andrew Jones in an easy three set win, and later dropping one set each to Russell Walder and Geoff Wright.
Her number two Tony Malycha continued his recent good form, picking up two valuable rubbers.  Tony was unable to down Mallee Meats number three Walder, losing in four sets, but he did the damage against Geoff Wright and Andrew Jones.  He had to come from behind to win both matches.  Against Wright he trailed 11-7, 6-11, 3-11 and looked gone, however he fought back to take the fourth set 11-9 and finished Wright off 11-7 in the fifth.  He position against Jones was worse – here he trailed two sets to love 11-9, 11-8 and Tony needed all his skill and luck to even get back into the match.  He took the third set 11-8, then a nail-biting fourth 12-10 and finally a close 11-9 fifth set.
These five rubbers put MJM Automotive in the same position they have been the last three weeks, and it was their excellent doubles play that gave them the win.
Fitzpatrick and Malycha went set for set with Wright and Walder, ultimately winning the contest in five.  And later, Bernadette, and Alyce Carmichael, who was subbing for an ill Seval Fuat, made short work of the fancied pairing of Wright and Jones.  Although they dropped the first set 6-11, the confidence of the two young ladies grew as the game went on, and they took the next three 7, 8 and 7 in a fine display.
Final scores:  7 rubbers to 4 and 22 games to 21.
– Max Miller Carpets 6 (Ed Hung, Sony Sefer 2) d Weightmans Packaging 5 (Ashley Morrison, Arthur Paar 2, Kerry Wallace 1)
Max Miller Carpets continued their improvement in this game, defeating Weightmans Packaging, who might consider themselves a little unlucky.
Two players from each team scored two wins – Ed Hung and Sony Sefer for Max Miller Carpets, and Ashley Morrison and Arthur Paar for Weightmans Packaging.  Kerry Wallace (Weightmans) took the final singles rubber.
With the singles therefore being scored 5-4 in Weightmans' favour, it was the doubles that decided the contest, and it was the Max Miller Carpets team that held sway in both contests.
Firstly, Hung and Brendon Alderton took on Ashley Morrison and Kerry Wallace.  Wallace was not at her best, nursing stitches in her right (bat) hand.  So Kerry was not her usual powerful self.  Nonetheless she and Morrison lost a close five set match to their opponents 8-11, 11-9, 9-11, 11-8, 9-11. 
Later Hung and Sefer took on Morrison and the hard-hitting Arthur Paar.  Again it was a five setter, and once again Ed and his partner took the win, this time 11-6, 4-11, 6-11, 11-9, 11-3.
This game sees Max Miller Carpets draw level with Weightmans Packaging on four wins, but a long way behind on percentage.  Max Millers, still in fifth spot, will have to keep winning to keep alive any hopes they may have of playing in the finals.
Final scores:  6 rubbers to 5 and 23 games all.
PENNANT THREE
Regional Taxation Services upset Weightmans Packaging plans of taking fourth spot; Tankard Dental took another big win (when don't they !!), this time against Dunkley Scales, and Marcus Cimino turned defeat into victory for Mallee Meats in the match against MJM Automotive.
– Regional Taxation Services 8 (David Sergi 3, Vin Brown, Quentin Clark 2) d Weightmans Packaging 3 (Paul Fitzpatrick 2)
When these sides met in round five, Weightmans Packaging won 6-5.  That never looked like happening this time around.
Regional Taxation Services number three David Sergi was the player of the night with three singles wins.  Playing more like a number one in this game, Sergi, in his first rubber, refused to allow Weightmans captain Paul Fitzpatrick to dictate play.  Fitzpatrick took the first set 11-4, and Sergi quickly took the initiative and the next two sets 8 and 3.  Paul stormed through the fourth set 11-2 to make this a five setter, but Sergi wasn't done.  Both players had chances to take the match, but it was Sergi who did, 13-11. 
Next David downed Weightmans number two Sam Hensgen, the only player incidentally, who has so far defeated aggregate leader Rod Healy.  This was again a five set match and once again Sergi was two sets to one down, this time taking the last two sets 9 and 6.  His win against his opposite number then, was fairly straight forward – a win of three sets against Karly Leach.  David let the stadium with a big smile on his face, for not only did he win all his singles, but he and captain Quentin Clark won their doubles match against Fitzpatrick and Leach in four close sets 8-11, 13-11, 11-8, 11-8.
Both Clark and Vin Brown took two singles wins – both of them beating Hensgen and Leach to set up this big win.
For Weightmans Packaging, only Paul Fitzpatrick offered much resistance.  After his loss to Sergi in the first round of singles, Paul beat Vin Brown in four, and then denied Clark the chance of taking three singles wins in a keenly contested five setter.  Paul and Sam Hensgen took the first doubles in five sets too – after trailing 5-11, 9-11, they settled to win the final three 7, 8 and 8.
Final scores:  8 rubbers to 3 and 29 games to 19.
– Tankard Dental 8 (Michael Hensgen, Zac Healy 3, Rohan Reimers 1) d Dunkley Scales 3 (Cambell McKenzie, Huseyin Ismail 1)
After a slow start, for them, Tankard Dental raced through Dunkley Scales to win this match 8-3.
Dunkley Scales led three rubbers to two after five had been played –
Huseyin Ismail playing well to down Rohan Reimers in four sets, later Cambell McKenzie also defeated Reimers in three, and in between these two wins, McKenzie and Rachel Fitzpatrick won the first doubles in five sets against Michael Hensgen and Reimers.
Tankard Dental had taken two wins courtesy of Zac Healy and Michael Hensgen.
At this point in the game, Tankard Dental put the hammer down, and gobbled up the last six rubbers.
Both Hensgen and Healy ended the night with three wins apiece, Reimers, after his earlier losses downed Rachel Fitzpatrick to grab one, and the Dunkley Scales pair of McKenzie and Ismail could not replicate the earlier doubles result, losing in four to Hensgen and Healy.
As each week goes by, this team of Michael Hensgen, Rohan Reimers and Zac Healy is looking like the one to beat in the Grand Final.
Final scores:  8 rubbers to 3 and 27 games to 16.
– Mallee Meats 7 (Rod Healy 3, Claire Ljubic, Marcus Cimino 2) d MJM Automotive 4 (Peter Fitzpatrick 2)
Mallee Meats won this match thanks to their number three Marcus Cimono.  (Sorry Marcus – Unbelievably no picture of you) Cimino has had a modest season, having now won 7 rubbers from 10 matches.  In this game, he won two, the second time he has done so.
The Mallee Meats trio were the favourites for the win here, but MJM Automotive had enough chances to take the game away from them.  The first chance was in the first rubber when Anthony Sergi led Claire Ljubic two sets to love 11-7, 11-8.  Claire is having a good season and sits fourth on the aggregate, and in this game showed why.  Despite being these two sets down, she continued to blaze away, and with that took the last three sets 6, 6 and 8.  One chance gone for MJM, one rubber to Mallee Meats.
After that early loss, things went the way they were expected – MJM captain Peter Fitzpatrick defeated Cimino in three, Mallee Meats captain Rod Healy did the same to Jeremy Corrin.  Fitzpatrick and Corrin, although this was not entirely expected, won the first doubles against Healy and Ljubic in four sets.  Two rubbers all.
Then it became three rubbers all, Fitzpatrick very careful in his win over Ljubic, and Healy disposed of Sergi in three.
Then the first of the Cimino games.  In this second round of singles Marcus was drawn to play MJM's number two Jeremy Corrin.  On the last occasion these two played, Corrin won in four sets, and expected a win again.
  Corrin started well, winning the first set 11-6, but then dropped his guard and allowed Cimino to dictate the play, with his difficult spinning forehands and sometimes, backhands.  Corrin was seemingly powerless to retaliate, and lost the next three sets 7, 7 and 5.  MJM Automotive needed that rubber to have any hope of a win – they did not and Mallee Meats now led 4-3.
MJM did equal again at 4-4 with a win in the second doubles, but it was going to be difficult to win two of the next three singles.
And so it proved.  Fitzpatrick fought hard against Healy, but could only get one set, Ljubic had the measure of the distracted Corrin, and Cimino added some shine to his, and his team's night, by coming back from two sets to love down against Anthony Sergi to win 6-11, 3-11, 11-8, 11-6, 13-11.
A good team effort, Cimino shining.
Final scores:  7 rubbers to 4 and 24 games to 19.
PENNANT FOUR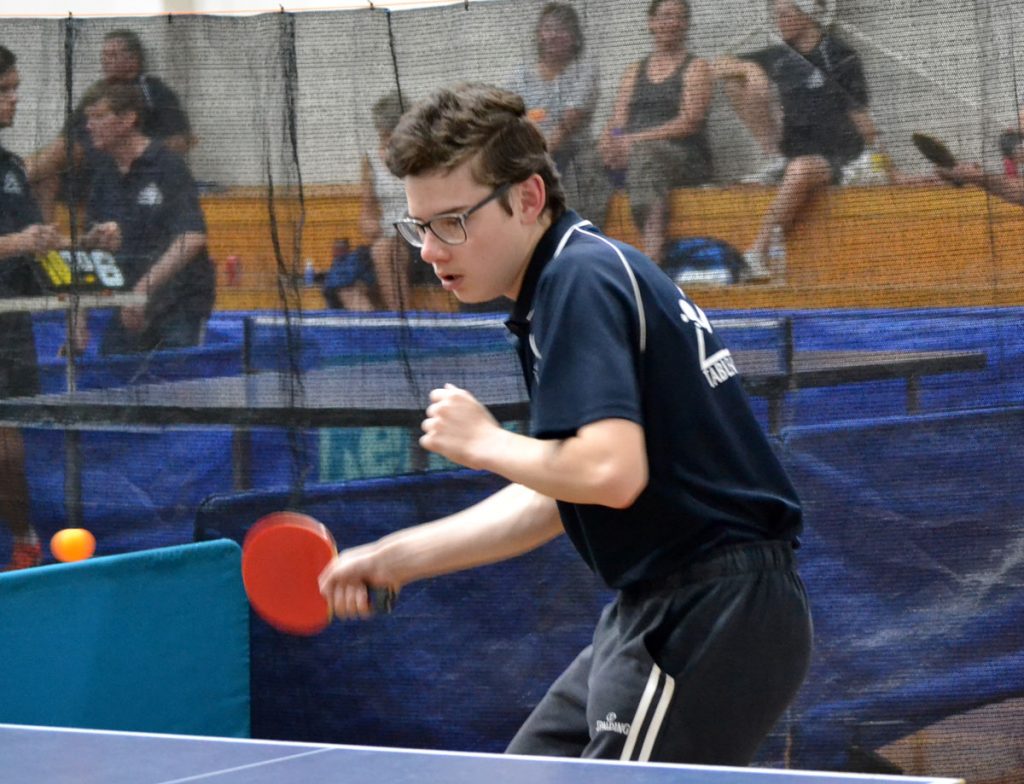 In the wash up of results in this round only two wins separates the top team from the fifth team as this grade continues to be close. Top team Weightmans Packaging were defeated narrowly by Regional Taxation Services which helped RTS get to second by percentage.

Mallee Meats had the bye.
– Regional Taxation Services 6 (John Fitzpatrick 3, Shirley Whitecross, Brice Lock 1) d Weightmans Packaging 5 (Sabrina Fitzpatrick, Helen Frania 2)
This was a nail biter and with the scores at five rubbers all Brice Lock for Regional Taxation Services matched up against Tom Cooper. Both these players also match up against each other in the junior competition on a Monday and both are relatively new to table tennis.
In a very long match Brice recovered from a 1-2 deficit to go on and win 9-11 11-7 10-12 11-3 11-8 to give his team an important 6-5 win over the ladder leaders Weightmans Packaging.
The second doubles also involved these two players with Tom paired up with skipper Sabrina Fitzpatrick, back from her travels to New Zealand. Brice's partner was John Fitzpatrick and again another lengthy five setter. John and Brice grabbed the first two games while Sabrina and Tom fought back to grab the third and fourth before John and Brice steadied to win the match 16-14 12-10 9-11 6-11 11-8.
The mother / son contest between the two number one players saw John defeat Sabrina 12-10 9-11 11-6 11-9 in a good four set tussle. Maybe it was the lack of practice for Sabrina as she took in the wonderful sights on show in New Zealand.
John won three singles for the victors while Shirley Whitecross won one as did Brice.
For Weightmans Packaging both Sabrina Fitzpatrick and the inform Helen Frania won two singles each.
– Dunkley Scales 6 (Leonie Dunkley, Joel Hogarth 2) d MJM Automotive 5 (Stephan Ljubic 3, Kim Avers, Dave Tanner 1)
Dunkley's Scales with skipper Leonie Dunkley back at the helm this round were able to defeat MJM Automotive 6-5 in another close one despite Stephan Ljubic playing well for MJM and winning three singles.
For Dunkley's Scales both Leonie and Joel Hogarth won two singles each. They also teamed up in the first doubles to defeat Stephan and his partner Kim Avers 11-13 11-9 11-5 11-6. The doubles were crucial as Dunkley's won both and in the second Leonie and Caitlin Elstone matched up against Stephan and fill in Dave Tanner 10-12 13-11 11-8 11-9.
Dunkley's now sit on four wins and four losses in third position on the ladder, the same wins for and against as second and third. MJM are only one win in arrears in a very close competition.