Read Time:
14 Minute, 30 Second
Round 4
Scoresheets-Summer-2019-Rnd-4.pdf
PENNANT ONE:
Phil Smith continued his good form winning 3 singles and two doubles.
Matt Ljubic bounced back to form winning 3 and the reliable other M Ljubic back in the team , MMC looked good.
Despite winning 3 singles Wayne's team yet to grab a win.
After a slow start to the season Cash Converters number one player Phil Smith, for the second week in succession, has won three singles and participated in both winning doubles to lead his team to victory in round four matches of the Sunraysia Table Tennis summer pennant.
– Cash Converters 7 (Phil Smith 3, Liam Wood 2) d Regional Taxation Services 4 (Kate Carmichael 2, Mark Dorman, Ed Hung 1)
Cash Converters now sit second on the ladder with three wins and one loss. Smith received good support from rising youngster Liam Wood who won two singles including a straight sets defeat of veteran Mark Dorman, he teamed with captain Smith to win the second doubles and in the final rubber of the night Wood proved too strong for opposing number three Ed Hung to finish a successful night.
– Max Miller Carpets 6 (Matt Ljubic 3, Mark Ljubic 2) d Exposed Signage/Apparel 5 (Nicholas Dorman 2, Leon Brown, Thanh Nguyen 1)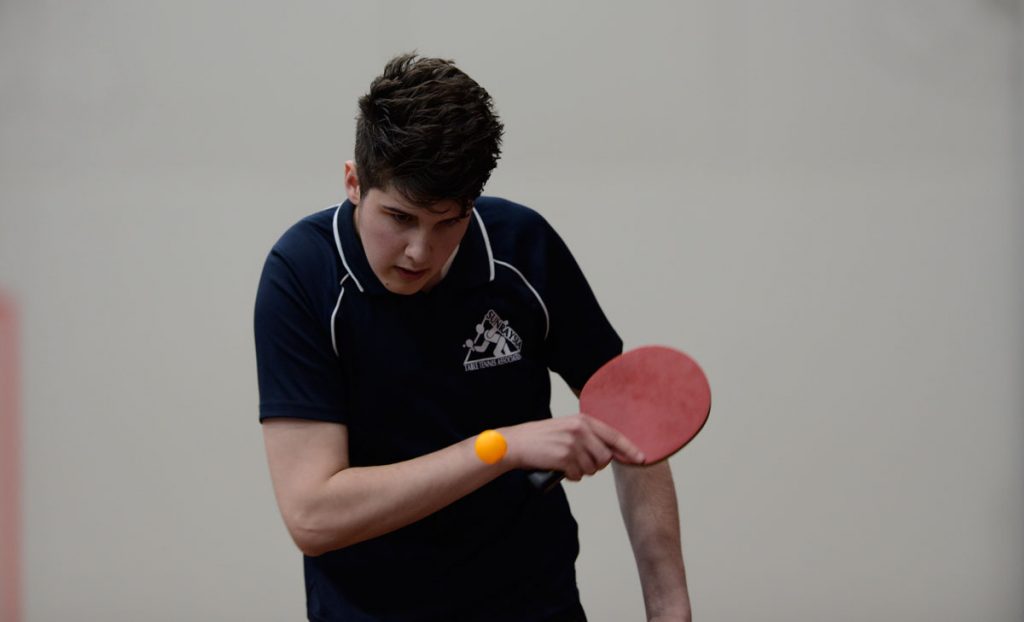 With Matt Ljubic in good form winning three singles and Mark Ljubic back in the team after missing last round Max Miller Carpets narrowly took the points 6-5 over the previously undefeated Exposed Signage / Apparel. The Exposed team were able to hold a narrow lead early in the match however it was the eighth and ninth rubbers of the contest , both three setters, which were to prove the difference. Firstly Matt Ljubic and Lee Thomas in the second doubles were able to outlast Nicholas Dorman and Thahn Nguyen 11-15 15-8 17-15 followed by an entertaining singles between Matt Ljubic and Dorman which Ljubic was able to win by the barest margin in the third. As usual these two talented players put on a good show.
Max Miller Carpets took the four points when Mark Ljubic defeated Leon Brown in straight sets and now the Carpeters hold fourth position by percentage.
– Mallee Bearings 6 (Joel Dorman, Gavin Carmichael 2) d Tankard Dental 5 (Wayne Carmichael 3, Reece Kurrle, Kevin Johns 1)
Last round Tankard Dental were trounced and in round four they suffered a defeat again however it was a much improved showing just falling short 5-6 against Mallee Bearings .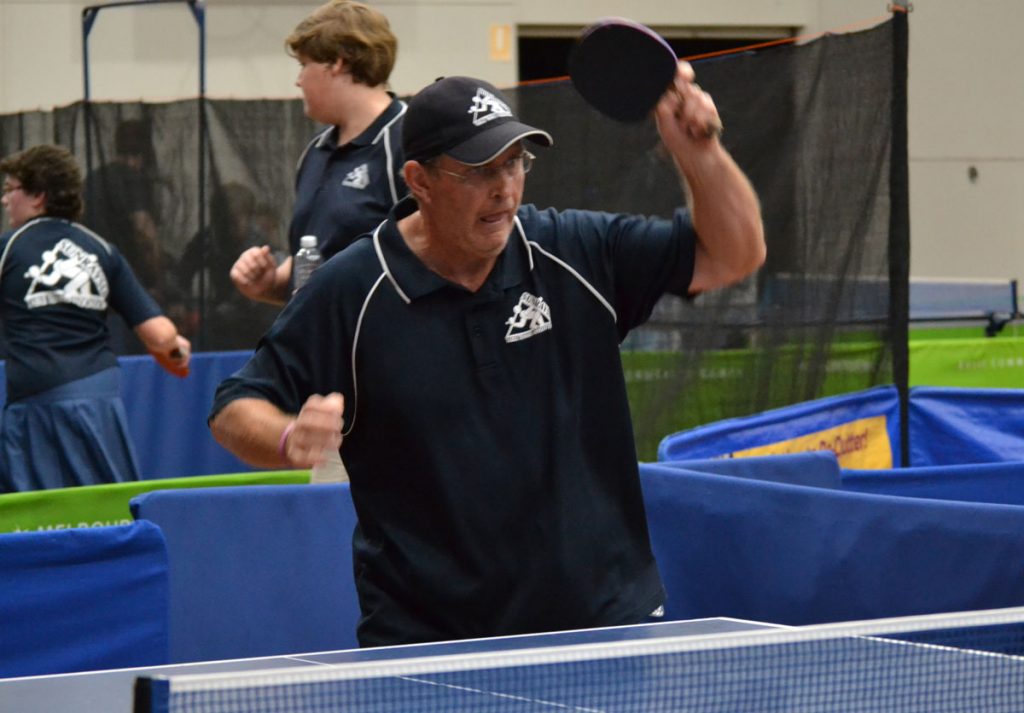 For Tankards Wayne Carmichael showed improved form winning three singles however it was the inability of his team to trouble the scorers in the doubles which was too prove costly.
For Mallee Bearings both Joel Dorman and Gavin Carmichael won two singles. Dorman featured in both doubles victories and in particular the second was crucial when he teamed with fill in Bernadette Fitzpatrick to defeat the seasoned pair of Wayne Carmichael and Kevin Johns 11-15 17-15 15-11. Victory for Mallee Bearings has levelled them on two wins with teams third and fourth on the ladder however they sit in fifth place on percentage.
PENNANT TWO:
Max Miller Carpets recorded another strong win this round; MJM Automotive, after losing to Max Miller Carpets last round took a close 6-5 win against third placed Pinnacle Packers; and Cooke's Pools & Spas after gaining their first win last round, won again this round against Weightmans Packaging.
Jason Gifkins and Russell Walder won 3 each and are tied in the aggregate race in first place.
A great effort by Bernard McCarthy to win 3 however his team went down 5 – 6 as number one Ash Morrison was defeated by Marcus who won 2 ……great effort.
MMC led by Jason are undefeated.
– Max Miller Carpets 8 (Jason Gifkins 3, Arthur Paar 2, Jeremy Corrin 1) d Mallee Meats 3 (Quentin Clark 2, Brad Warden 1)
Max Miller Carpets are the only undefeated side after four rounds of competition. Their wins have been impressive, three at 7-4, and this week 8-3 against bottom side Mallee Meats.
The win was fairly routine in the end … at three rubbers each after the first six rubbers it looked like Jason Gifkins and his team might have had a bit of competition, however, they then proceeded to reel off the next five rubbers to run away with the match.
Gifkins for the third time in this competition took three singles wins, number two Arthur Paar kept things ticking along taking two, and Jeremy Corrin won the battle of the number threes.
Added to these six rubbers, Max Miller Carpets were victorious in both doubles encounters. Both went to three sets, but Gifkins and Paar proved the stronger combination against Brad Warden and Quentin Clark, and later Gifkins and Corrin proved the same against Warden and Peter Fitzpatrick.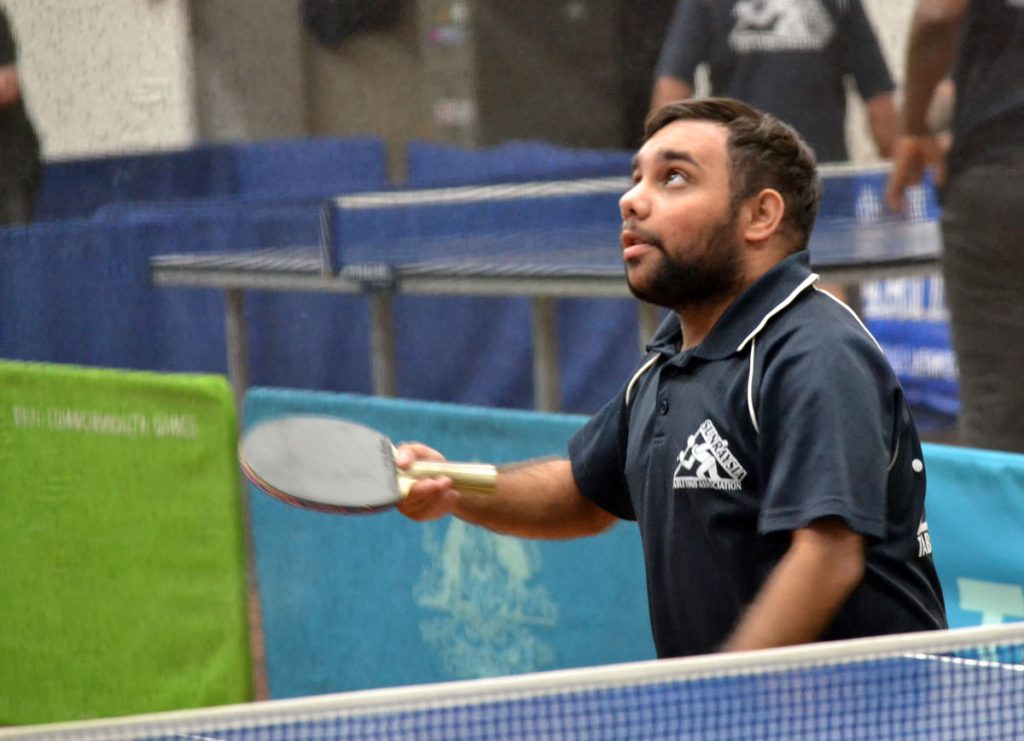 For Mallee Meats, only Quentin Clark proved a threat to the Max Miller Carpets trio. Clark again won two rubbers, defeating his opposite number Paar comfortably in two sets, 15-9, 15-11, then coming back from a set down to account for Jeremy Corrin in a big hitting contest 7-15, 15-11, 15-12. Clark almost made it three wins, but Gifkins proved the steadier in their contest, Clark losing 6-15, 16-14, 13-15.
Final scores: 8 rubbers to 3 and 18 games to 10.
– MJM Automotive 6 (Paul Kealley, Marcus Cimino 2, Terry Martin 1) d Pinnacle Packers 5 (Bernard McCarthy 3, Ash Morrison 1)
MJM Automotive took a narrow win against Pinnacle Packers in this round.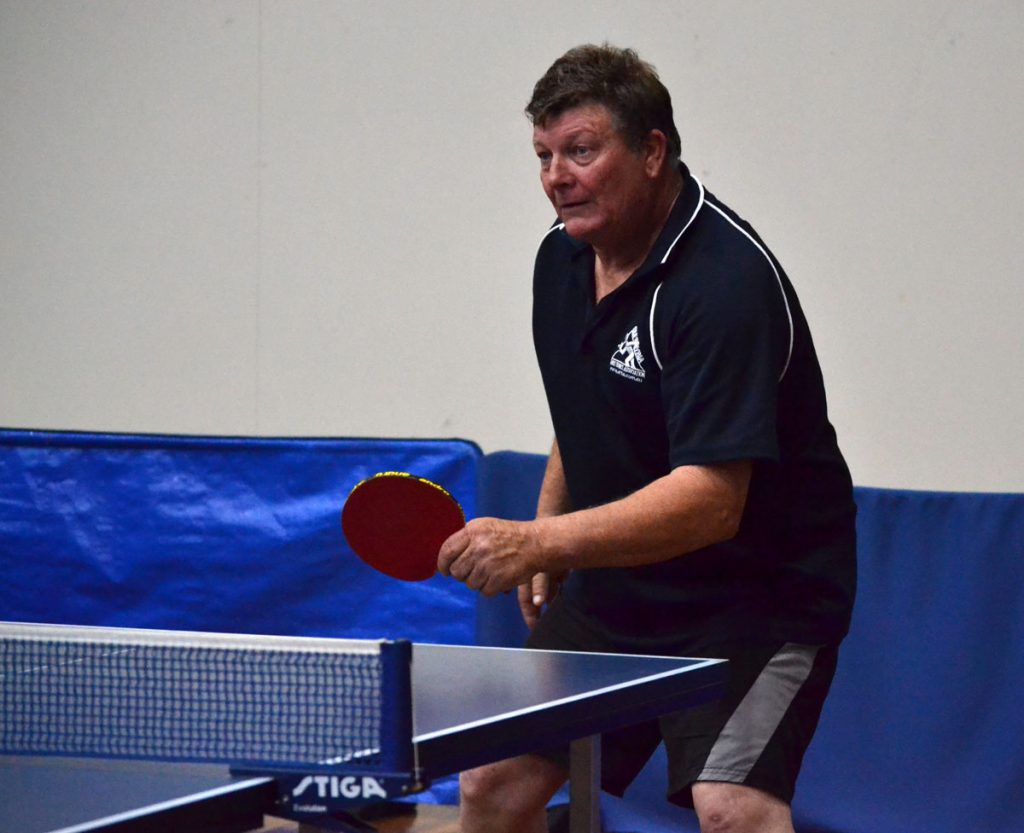 The game was won in the final rubber when Terry Martin defeated David Sergi, taking his only win of the night.
The stand-out performance in this match was the performance of the number two for Pinnacle Packers and the number thee for MJM Automotive. Firstly, Bernard McCarthy, number two for Pinnacle Packers took three singles wins – against MJM Automotive captain Paul Kealley he took an impressive three set win 6-15, 15-11, 16-14. Then playing his opposite number Terry Martin it was all over in two comfortable sets, and a similar result against number three Marcus Cimino.
At the other end of the table Marcus Cimino was doing a bit of giant-killing of his own. Cimino warmed up with a three set win against his opposite number David Sergi in the opening rubber, winning 15-13, 13-15, 15-4. In the next round he really sprung a surprise on Pinnacle Packers captain Ashley Morrison. Cimino held Morrison out in the first set 15-13; Morrison settled down and took the second 15-11 to set the stage for the decider. Normally, a game between players of these rankings, the third set is a formality for the higher ranked player, but Cimino did not know that, and outfoxed Morrison to record the win in the third 15-11.
Doubles rubbers were shared – Keally and Martin too strong for Morrison and McCarthy winning 16-14, 15-7; and later Morrison and Sergi wore down Kealley and Cimino to win in three sets 16-18, 17-15, 15-8 to even the scores at that point, four rubbers each.
Final scores: 6 rubbers to 5 and 15 games to 14.
– Cookes Pools & Spas 7 (Russell Walder 3, Casper McCarthy, Rohan Reimers 1) d Weightmans Packaging 4 (Tony Malycha 2, Dylan Wood, John Fitzpatrick 1)
Cooke's Pool & Spas took their second win for the season, downing Weightmans Packaging 7-4.
Cooke's Pool & Spas captain Russell Walder again won three singles rubbers, to put him equal top on the aggregate ladder with Jason Gifkins. He did not have much trouble, winning them all in straight sets.
Team-mates Casper McCarthy and Rohan Reimers picked a win each – McCarthy a hard fought three setter against opposite number Dylan Wood 15-17, 15-13, 15-10. Reimers defeated his opposite number too, John Fitzpatrick in three sets 15-10, 6-15, 15-10.
The big difference between the teams was the fact that Cooke's Pools & Spas won both doubles rubbers. They won them comfortably too, both in two sets.
For Weightmans Packaging, captain Tony Malycha won two rubbers, a hard fought three setter against McCarthy 15-9, 14-16, 15-10, and a straight sets victory over Rohan Reimers.
Dylan Wood won a single rubber, against Reimers, and number three John Fitzpatrick was at his best when he defeated McCarthy in the seventh rubber 15-11, 7-15, 15-13 to give his side the lead 4-3 at that point. Sadly, that was the last rubber the side won, as the remaining four rubbers went to Russell Walder and his men.
Final scores: 7 rubbers to 4 and 16 games to 10.
PENNANT THREE:
Mallee Meats defeated Weightmans in the clash of the two top sides; Cooke's Pools & Spas won against Sammy's Slammers in the clash of teams placed third and fourth; and MJM Automotive took the last two rubbers to deny Regional Taxation Services their first win.
One close one and 2 lop sided matches
Team mates Aidan Riordan and Brice Lock on fire winning 3 each in the battle of the undefeated teams.
Team Mates Therese Fitzpatrick and Emily Carmichael also won 3 singles each for Cookes
Again Keiran McRae won 3 singles , he and Brice are level I first place in the aggregate.
– Mallee Meats 8 (Aiden Riordan, Brice Lock 3) d Weightmans Packaging 3 (Sabrina Fitzpatrick, Nick Kiapekos, Isaiah Bettess 1)
Placed first and second on the ladder, this was the first real test of ladder supremacy in this grade. In the event Mallee Meats won easily.
The Mallee Meats pair of Aidan Riordan (captain) and Brice Lock (number two) both won all their singles matches to set up the win for their side.
It must be said the Weightmans Packaging side put up a good fight throughout this game, Riordan needing three sets to defeat opposing captain Sabrina Fitzpatrick 15-10, 9-15, 15-11 and his wins against Nick Kiapekos and Isaiah Bettess required some work, even though he won them in straight sets.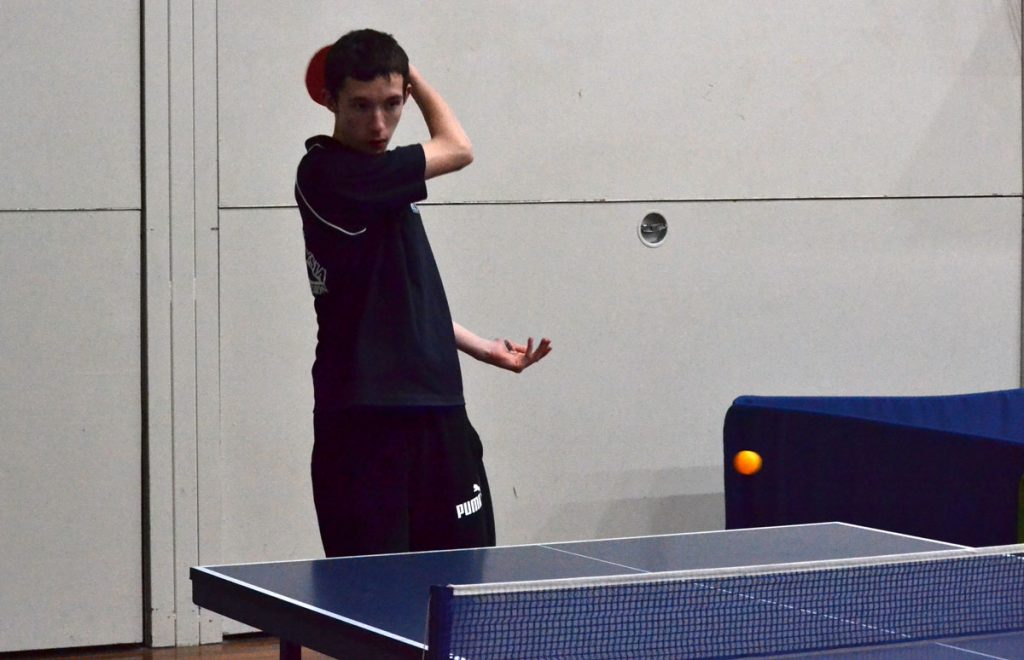 Brice Lock, too, had to work for all his wins. Nick Kiapekos won the first set of their match 15-13, but Lock proved stronger in the next two winning them 15-11, 15-10. Isaiah Bettes, who started the season with three wins in the first two games, showed Lock why that was so, Lock just getting home 16-14 in the third set. And after dropping the first set to Sabrina Fitzpatrick, Lock had to up his game to win that encounter also.
Both doubles rubbers were won by Mallee Meats, both in straight sets, and both were close. Riordan and Lock defeated Fitzpatrick and Kiapekos in the first rubber 15-13, 15-13, and later Riordan and Karly Leach won a close match against Fitzpatrick and Bettess 16-14, 18-16.
Weightmans Packaging could only grab three rubbers, all defeating Karly Leach.
Final scores: 8 rubbers to 3 and 16 games to 10.
– Cookes Pools & Spas 9 (Therese Fitzpatrick, Emily Carmichael 3, Miya Lock 1) d Sammy's Slammers 2 (Ryan Hensgen, Leonie Dunkley 1)
This was pretty much a girls night out for Cooke's Pools & Spas. Captain Therese Fitzpatrick and number two Emily Carmichael had a wonderful time, taking three rubbers each, and number three Miya Lock continued her consistent form with a win too.
Therese was taken to three sets by the very-consistent Leonie Dunkley, winning 15-8, 13-15, 15-13. Her other two wins came in two sets, conceding just 17 points each to Dave Tanner (subbing for Costa Skiadas) and to opposing captain Ryan Hensgen.
Carmichael actually did it easier, all her wins coming in straight sets, and moving her to eighth spot on the aggregate table.
Miya Lock prevailed against Tanner, whom she played in the recent winter competition, 12-15, 16-14, 15-9 in the final rubber of the night.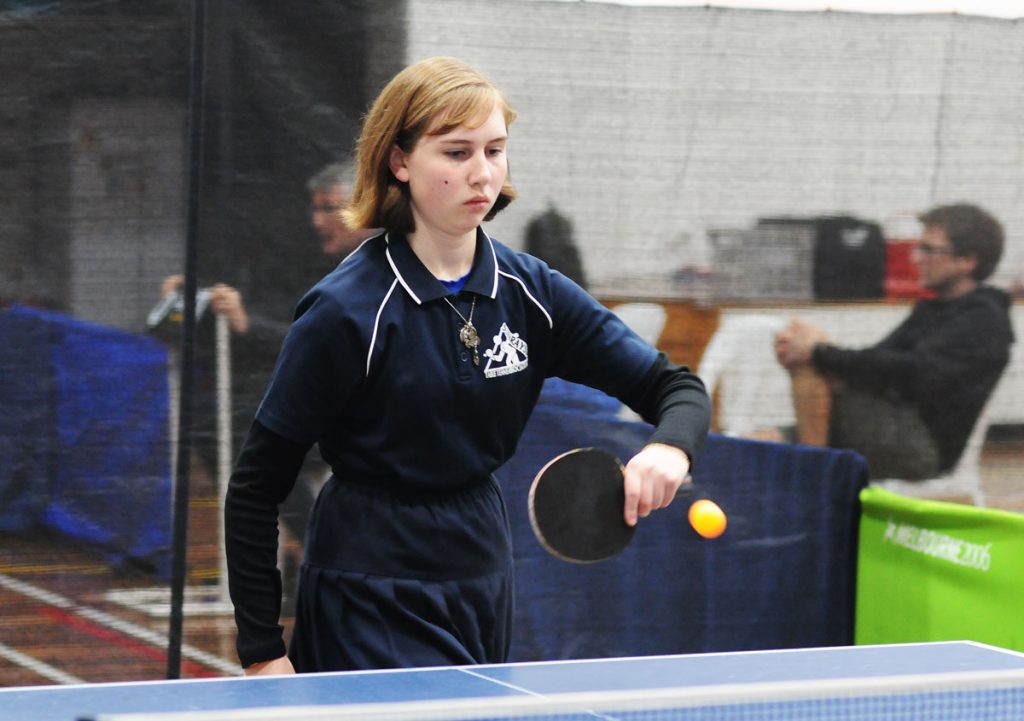 Cooke's won both doubles rubbers, Fitzpatrick and Carmichael in three sets against Hensgen and Dunkley; and later Fitzpatrick and Lock in straight sets against Hensgen and Tanner.
Final scores: 9 rubbers to 2 and 18 games to 7.
– MJM Automotive 6 (Brice Lock 2, Andrew Kremor, James Jarvis 1) d Regional Taxation Services 5 (Keiran McRae 3, Nick Kiapekos 2)
These two sides had not won a match prior to this round, and it seems are the two most evenly matched sides in the competition.
Both sides lost their first two rounds 6-5, MJM Automotive lost round three 6-5, again, whilst Regional Taxation Services lost round three 6-3 due to a shortfall in players. So everything really was as good as equal.
The result here? 6-5 of course.
Once again, Regional Taxation Services captain Keiran McRae won three singles rubbers (for the third time), and that keeps him on top of the aggregate ladder with Brice Lock.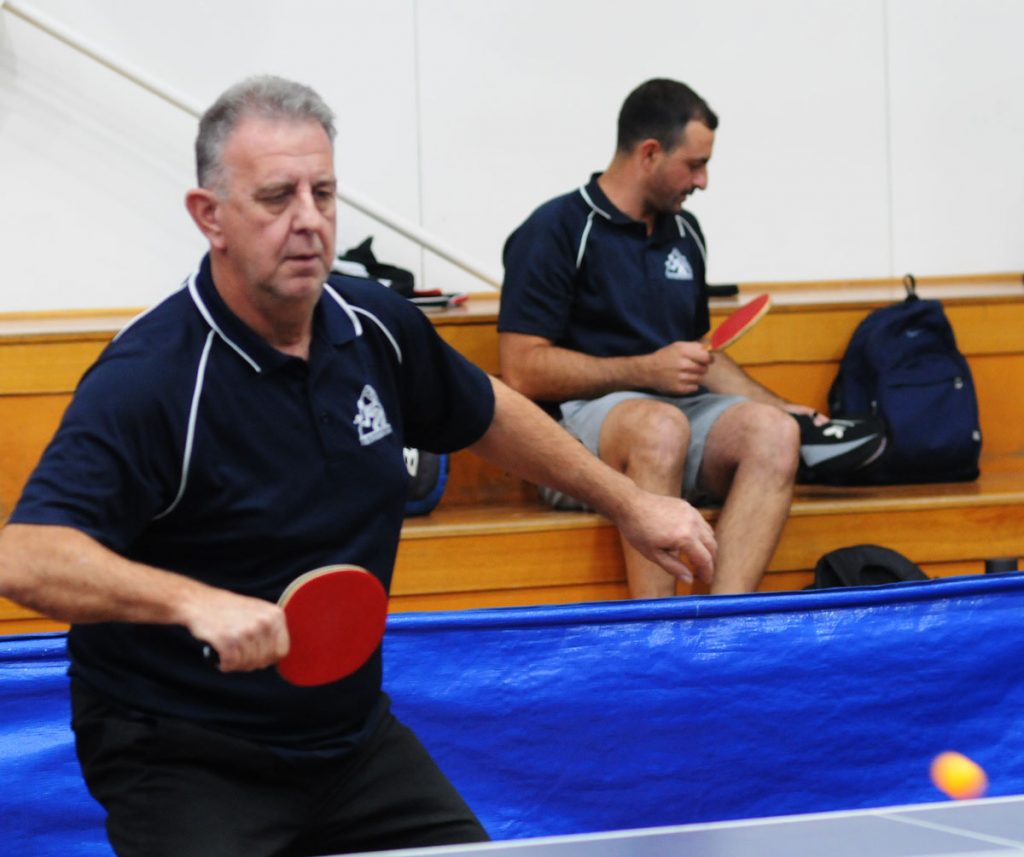 Nick Kiapekos (subbing for Huseyin Ismail), backed up McRae with two good wins, first a solid three set 15-13, 9-15, 15-9 win against James Jarvis, then a bit of an upset really when he downed MJM Automotive captain Andrew Kremor in three sets 7-15, 15-13, 15-11.
But that was as far as the scoring went for Regional Taxation Services, as MJM Automotive owned the rest of the match.
Lock, although joint aggregate leader with McRae, was soundly defeated by him 15-3, 15-7. He did, however, win his other singles rubbers.
Captain Andrew Kremor and number three James Jarvis picked up one apiece, and with both the doubles rubbers going to MJM Automotive, the denied Regional Taxation Services the win.
Final scores: 6 rubbers to 5 and 15 games to 12.
PENNANT FOUR:
Dunkleys Scales won their first match a big win over Mallee Meats 9-2
Both Glen Leeson and Kelsey Davey were on fire winning 3 each
MJM won the first three matches and then opponents Tankards strung 5 together and went on to win 7-4
In this rounds action we witnessed a resounding win by Dunkley Scales and another fighting effort by Tankard Dental to snatch victory from the jaws of defeat.
Dunkley Scales 9 (Kelsey Davey, Glenn Leeson 3, Jim Vale 1) def Mallee Meats 8 (Wendy Simpson, Dave Tanner 1)
Dunkley Scales have turned the tables on Mallee Meats. The last time these two teams locked horns the Butchers dished out an 8-3 hiding. This time Dunkley's have taken the Butchers to the slaughterhouse and have dominated in recording a 9-2 victory.
Dunkley's Kelsey Davey was in sparking form as she recorded the perfect night in winning all three singles matches as well as both doubles clashes. Glenn Leeson, who also contributed three singles victories, brilliantly supported her and Jim Vale played his part in winning one singles match.
There were few highlights for Mallee Meats; however, they should be bolstered next week with the return of Captain Joy Sullivan. Overall, a great night for Dunkley Scales who are deserved winners 9 games to 2.
Tankard Dental 7(Jacinta Ljubic, Billy Stephens 2, Tim Finck 1) def MJM Automotive 4 (Wendy Simpson 2, Jamie Kealley, Nycole Riordan 1)
The last time these two teams met, it was a resounding win for MJM 8-3. Early in the night, this result again seemed more than likely. MJM raced to a 3 games to nil advantage thanks to their skill in winning the first three matches in tight three set contests. First up MJM's Nycole Riordan outlasted Tankard's Jacinta Ljubic 12-15, 15-11, 15-10. It was then Wendy Simpson's turn to defeat Billy Stephens 15-9, 10-15, 15-13. Simpson's teammate Jamie Kealley then turned up the heat on opponent Tim Finck in winning 15-13, 3-15, 15-10.
So now to the doubles – would this change the fortunes of a struggling Tankard Dental outfit? The answer is yes. After Ljubic and Stephens lost the first set 12-15 their fortunes turned around in a big way as they took the next two sets and the match 15-13, 15-5. The dam wall had broken as Tankard's took the next four matches to be on the brink of an unlikely victory.
With the match result at 5-3, Tankard's way, it was up to Simpson to try to arrest this momentum surge. Simpson struggled in the first set as her younger opponent Tim Finck took his chances to claim set 15-13. Simpson then rallied to take the next two sets and the match 15-8, 15-8. Next to play was Tankard's Captain Jacinta Ljubic who was looking to close the deal as she was up against Jamie Kealley. The more experienced Ljubic used all her guile to defeat Kealley in straight sets and thus give her team a great come from behind victory. Billy Stephens then added the final singles to the tally so the end result was Tankard Dental 7 games to 4.