Read Time:
12 Minute, 0 Second
PENNANT ONE: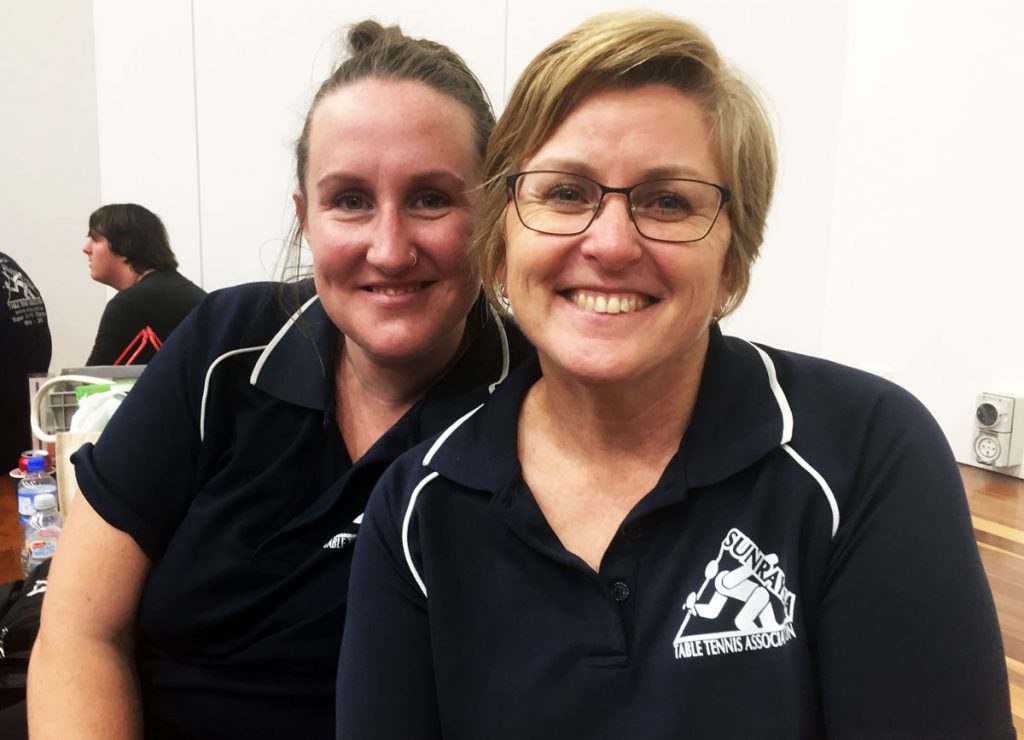 By winning three singles and participating in both doubles victories Shannon Bowen for Regional Taxation Services was the stand out player in round seven matches of the Sunraysia Table Tennis "Cash Converters" 2017 pennant.
– Regional Taxation Services 7 (Shannon Bowen 3, Mark Dorman 2) d Weightmans Packaging 4(Zac Healy 2, Jackson Murphy, Leslie Ncube 1)
Bowen has enjoyed a consistent season and with three rounds to play his team is positioned well in second place on the ladder one win behind Exposed Signage. Bowen led his team to a 7-4 victory over Weightmans Packaging who have been showing good form over the past two rounds. Victory in both doubles played a big factor in the victory as well as good support from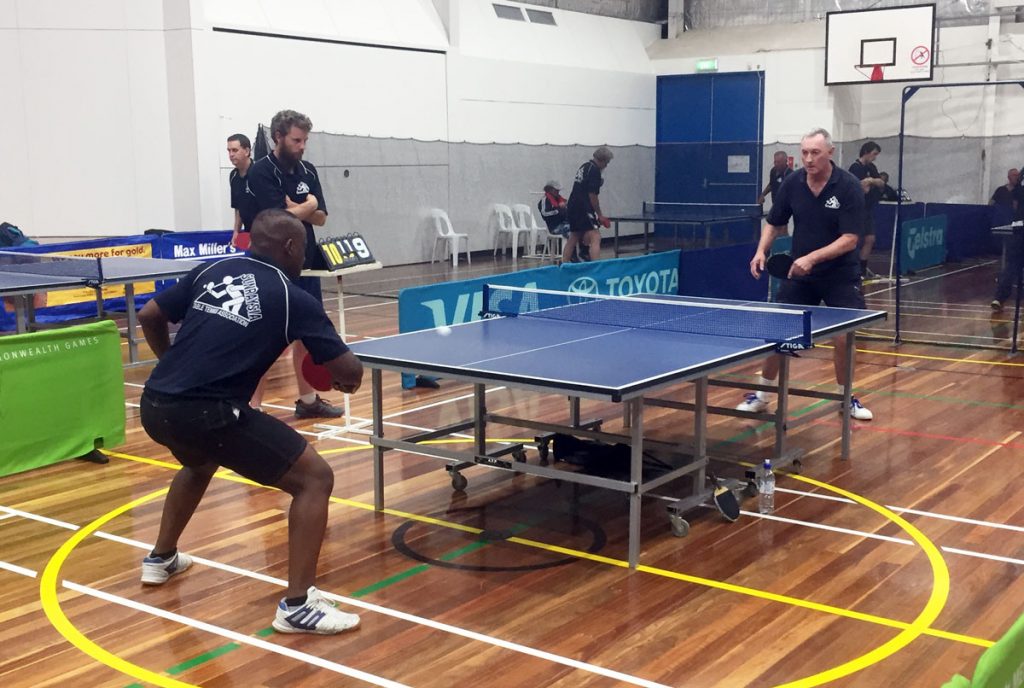 Mark Dorman who won two singles including a thriller 3-11 11-8 9-11 13-11 11-9 over Leslie Ncube.
For Weightmans fill in Zac Healy back from injury showed good signs winning two singles. His five set match against the experienced Mark Dorman was a nail biter. In the fifth Healy took a 10-2 lead and all thought the match was over except Dorman who amazingly fought back to grab a match point at 11-10. Healy was able to remain calm and eventually won 13-11 in an exciting climax.
– Mallee Bearings 6 (Matt Avers 3, Shane Carmichael 2, Lee Thomas 1) d Cash Converters 5(Matt Ljubic 2, Kate Carmichael 1)
Despite losing both doubles a good team performance form the Mallee Bearings trio of Matt Avers, 3 singles, Shane Carmichael, 2 singles, and Lee Thomas one win saw them defeat Cash Converters 6-5 despite trailing 3-5 late in the match. With Converters leading 5-3 Matt Avers and Matt Ljubic played a classy match as they did in their previous meeting. Ljubic came within a point of inflicting the first defeat on Avers for the season however it wasn't to be and Avers was able to recover in the fourth to win 11-8 6-11 10-12 14-12 11-6. These two have produced great matches this season and with this win Avers had reduced the deficit to 4-5.
Mallee Bearings number two Shane Carmichael then defeated Kate Carmichael in a further five setter as he had also done against Kevin Johns earlier.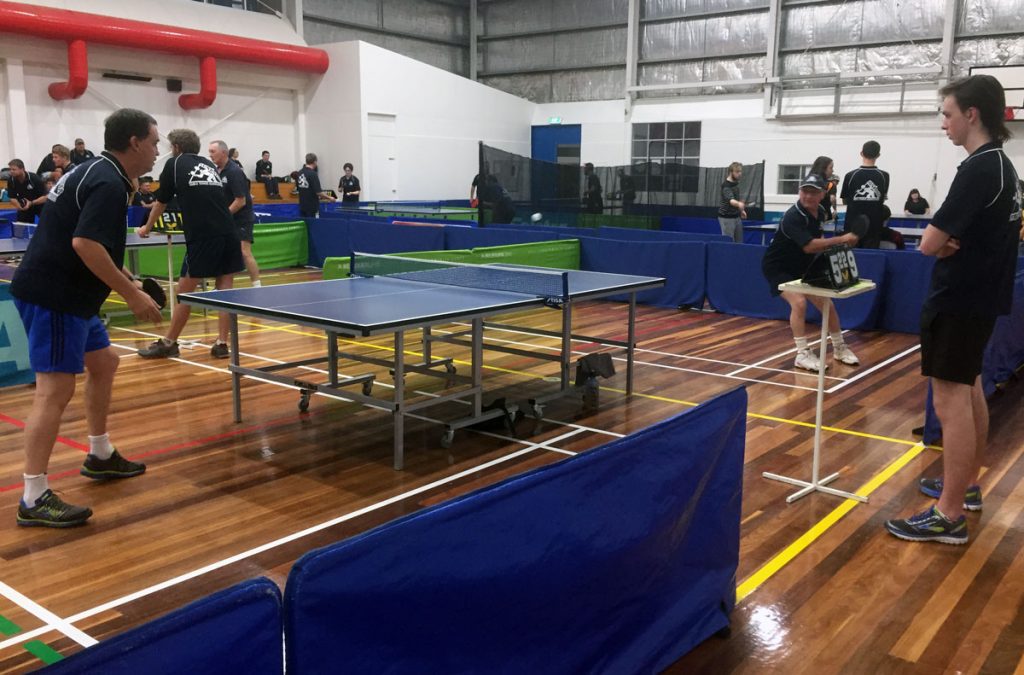 This was Carmichael's best form for the season and when Lee Thomas accounted for Johns' in three sets in the last Mallee Bearings had completed a sensational comeback to win, their first victory since way back in round one and now find themselves in fourth spot by a narrow percentage margin.
– Exposed Signage/Apparel 6 (Nicholas Dorman, Gavin Carmichael 2, Leon Brown 1) d Tankard Dental 5 (Joel Thomas 3, Reece Kurrle 1)
In a further close contest ladder leader Exposed Signage/ Apparel found themselves on the verge of defeat against fifth placed Tankard Dental. When Tankards Joel Thomas won his third singles his team took a 5-4 lead however with the scores at five rubbers all Leon Brown again played a key role for his team defeating Ash Morrison 11-5 12-10 11-6 to give his team a narrow win.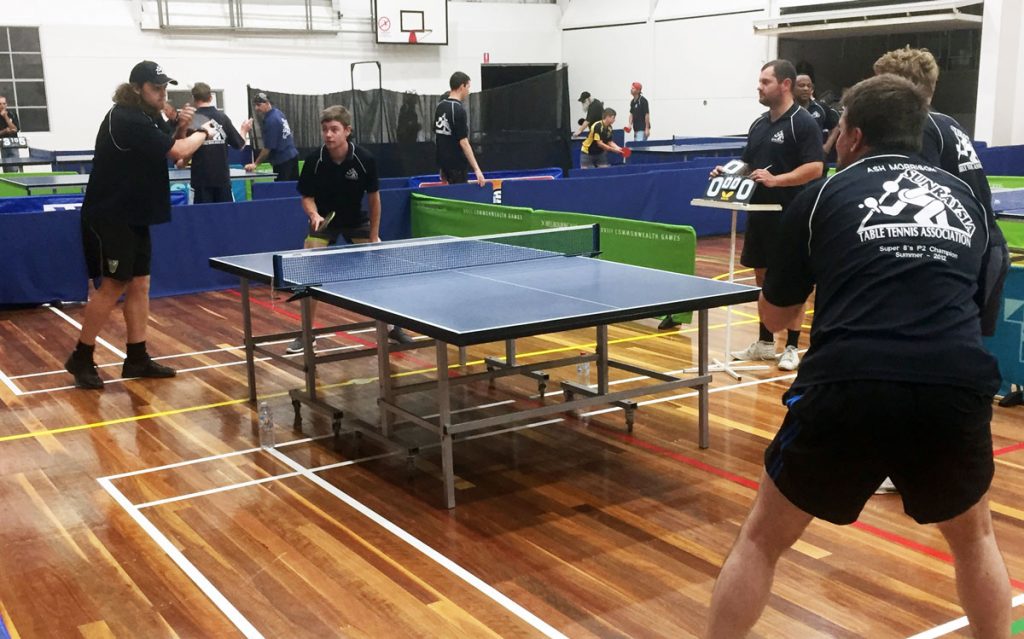 Earlier Brown had combined with Nicholas Dorman in the second doubles where they saved a match point in the fourth against Joel Thomas and Morrison to go on and win in five which was crucial in the end result. In addition to Brown's crucial singles win both Dorman and Gavin Carmichael won two singles each as the top team Exposed Signage hold on to first place by one win in what is a close competition.  
PENNANT TWO: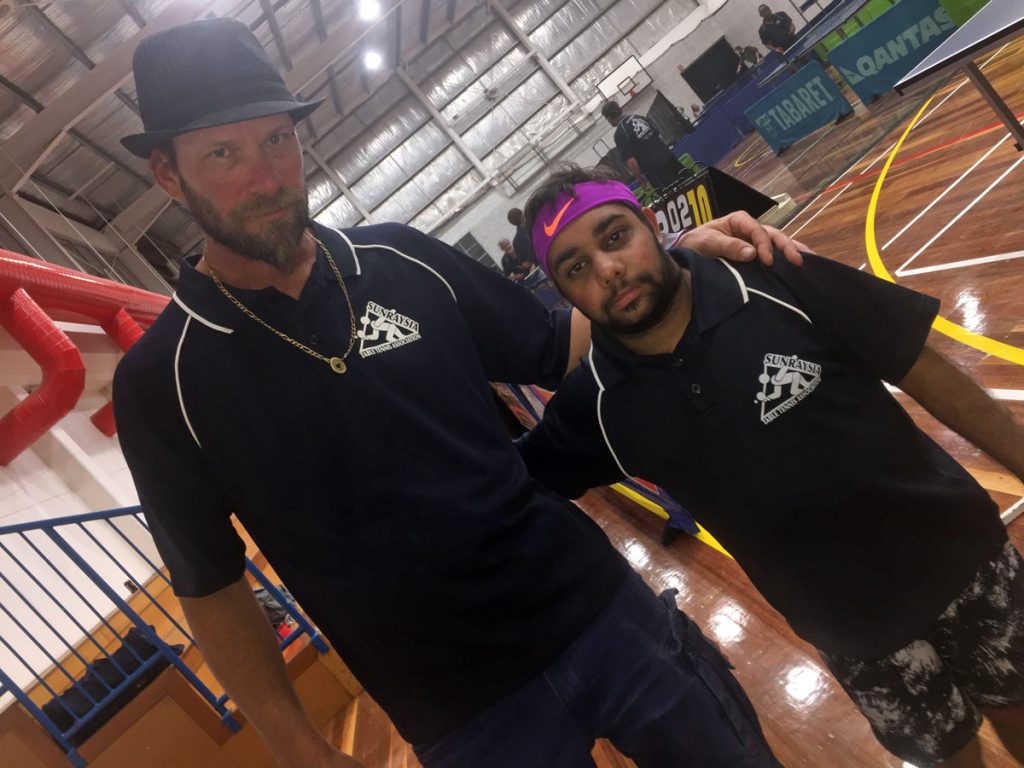 The top three teams all had wins this week, confirming their status on the ladder.
– Mallee Bearings 7 (Peter Midgley 3, Andrew Jones 2, Quentin Clark 1) d Max Miller Carpets 4 (Russell Walder 2, Tony Malycha 1)
Mallee Bearings stamped their authority early in this game with Max Miller Carpets, sprinting away to a 4-1 lead after five rubbers.
A combination of three wins to Peter Midgley, two to Andrew Jones and one to Quentin Clark in singles, added to the first doubles gave Mallee Bearings a comfortable 7-4 win.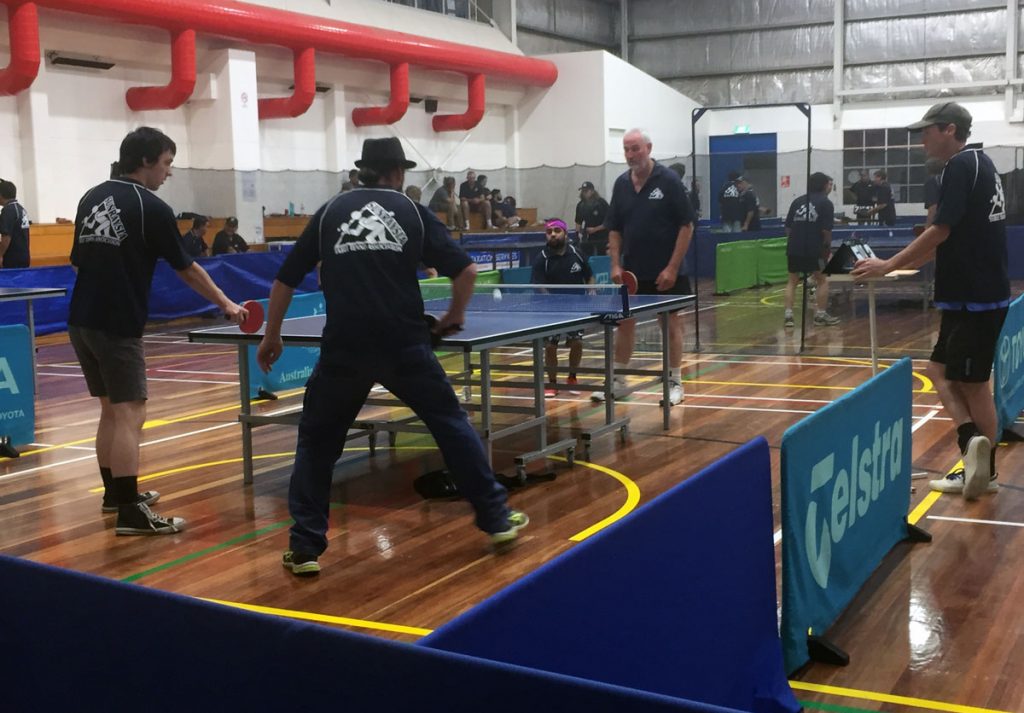 Midgley played well, winning his three singles, although it appears his opponents are starting to work him out at this stage of the competition.  Although he lost in three sets, Michael Hensgen improved as the game progressed, going down 3-11, 9-11. 10-12.  Both Russell Walder and Tony Malycha took a set from Midgley, and had chances to take their games into the fifth set, but Midgley closed both out in the fourth, 11-9 against Walder and 13-11 in the case of Malycha.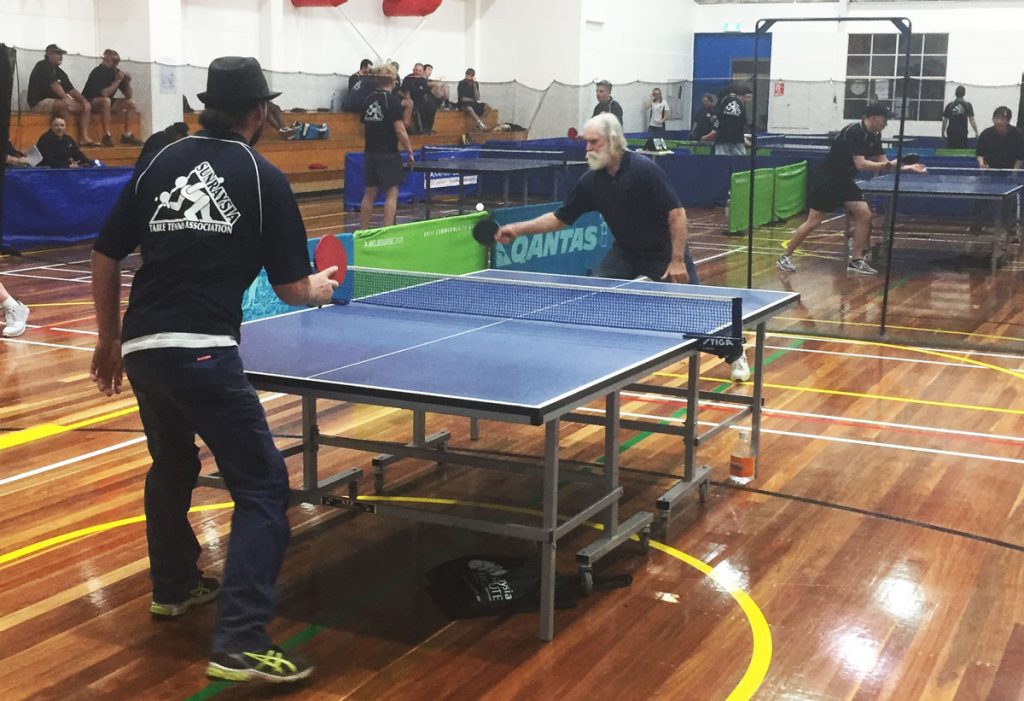 Andrew Jones played consistently to take two singles – he and Tony Malycha evenly matched in their five set encounter, Jones winning 12-10 in the last.
The first doubles belonged to Mallee Bearings; Midgley and Jones winning in straight sets against Walder and Hensgen, while in the second Midgley and Clark played two close competitive sets against Hensgen and Malycha to be a set all, but then collapsed 6-11, 1-11 to lose in four.
For Max Miller Carpets, Russell Walder took two singles, Tony Malycha one, and with the second doubles, that made their four rubbers.
Final scores:  7 rubbers to 4 and 23 games to 17.
– Pinnacle Packers 9 (Geoff Wright 3, Sony Sefer, James Chick 2) d Mallee Meats 2 (Seval Fuat, Jason Gifkins 1)
Pinnacle Packers kept Mallee Meats without a win, with a resounding 9-2 victory here, in a one-sided game.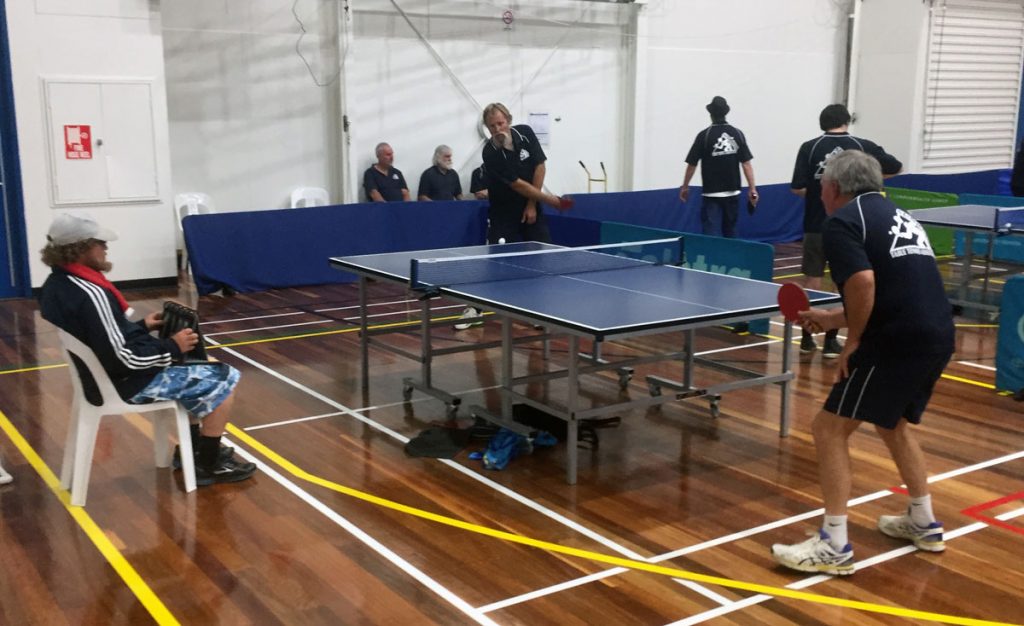 Geoff Wright, Pinnacle Packers captain, helped himself to another three rubber haul to keep himself in equal second spot on the aggregate ladder with Peter Midgley, still three behind undefeated leader Thanh Nyugen.
Both James Chick and Sony Sefer contributed two rubbers each, Sefer subbing for the absent Brendan Alderton.  This is Sefer's third game for the season, and after a winless game last round, he really warmed to the game on this occasion.  After losing the first two sets to Geoff Peters in his first singles rubber 7-11, 9-11, Sefer steadied and held Peters off to take the last three sets 9, 7 and 7.  In the final round of singles, he and Seval Fuat played an entertaining five setter, Sefer winning 12-14, 11-4, 11-6, 8-11, 11-4 against a tiring Fuat.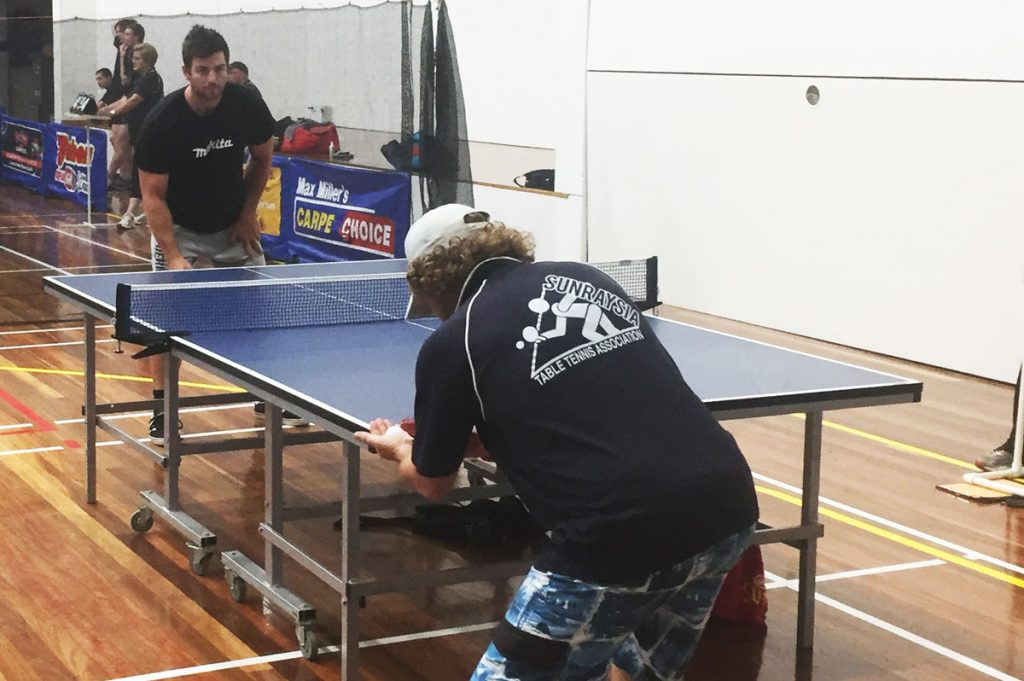 With only Jason Gifkins and Seval Fuat taking a solitary singles win each, (against Sefer and Chick respectively), there was not much to cheer about at Mallee Meats.
Final scores:  9 rubbers to 2 and 28 games to 15.
– Weightmans Packaging 8 (Arthur Paar, Kerry Wallace, Nick Barlow 2) d MJM Automotive 3(Thanh Nyugen 3)
 After an up and down start to the season, Weightmans Packaging have strung three wins together in the last three rounds, and now sit third on the ladder, with five wins, the same as second placed Pinnacle Packers and one game behind ladder leaders Mallee Bearings.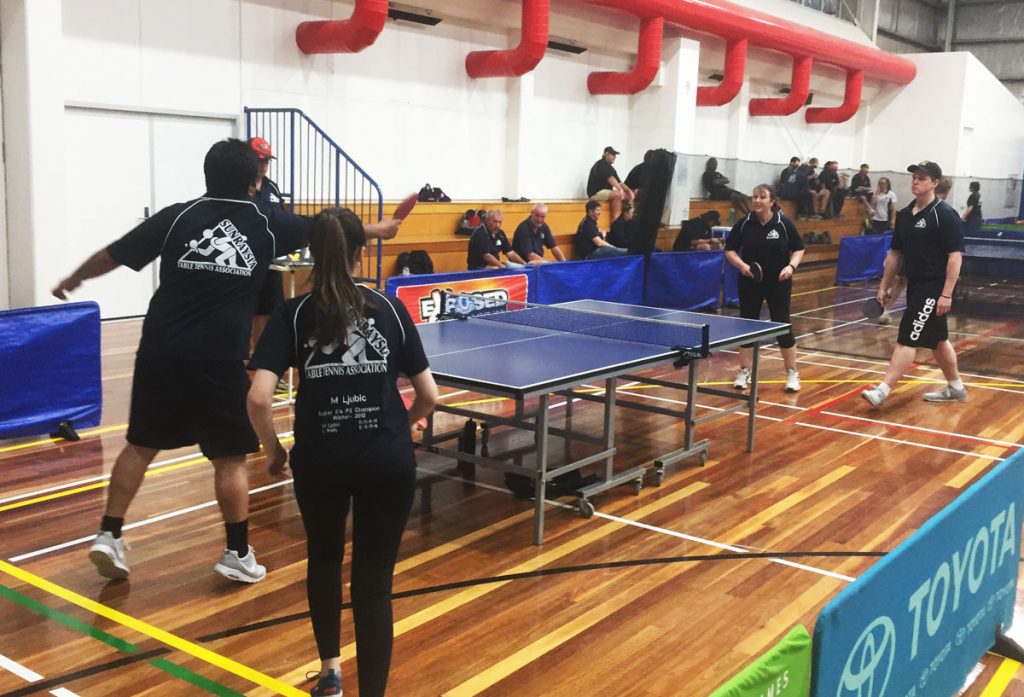 In this game, captain Arthur Paar, Kerry Wallace and Nick Barlow all took two wins each, but were all bested by Thanh Nyugen, who remains undefeated on the top of the aggregate ladder with 21 wins.
After dropping a set to Claire Ljubic in their match, Paar just survived a fast-finishing Anthony Fox in the ninth rubber.  Fox stuck with Paar all the way, and although Fox had his chances to take the match, Arthur snuck home 15-13 in the fifth.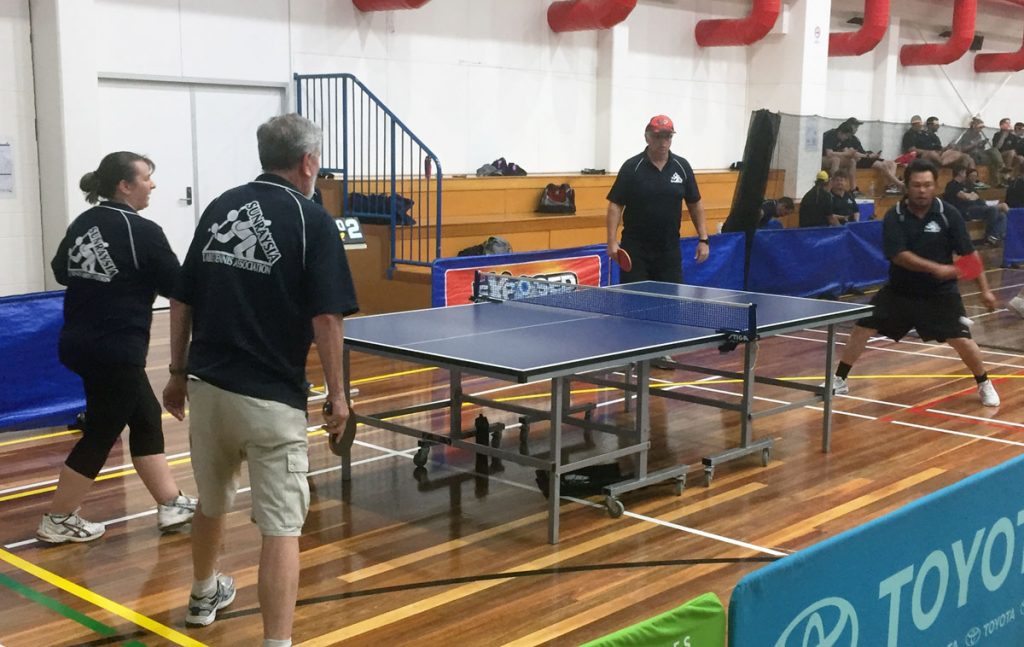 Weightmans seem to have settled on a strong doubles set-up.  Despite being the number one, Paar has elected Kerry Wallace to play both doubles, and it paid handsomely in this game.  Wallace and Barlow beating Nyugen and Ljubic 12-10, 11-5, 11-9 in the first doubles, while later she and Paar had an even easier time of it against Nyugen and Fox, winning 7, 7 and 6.
Final scores:  8 rubbers to 3 and 26 games to 13.
PENNANT THREE: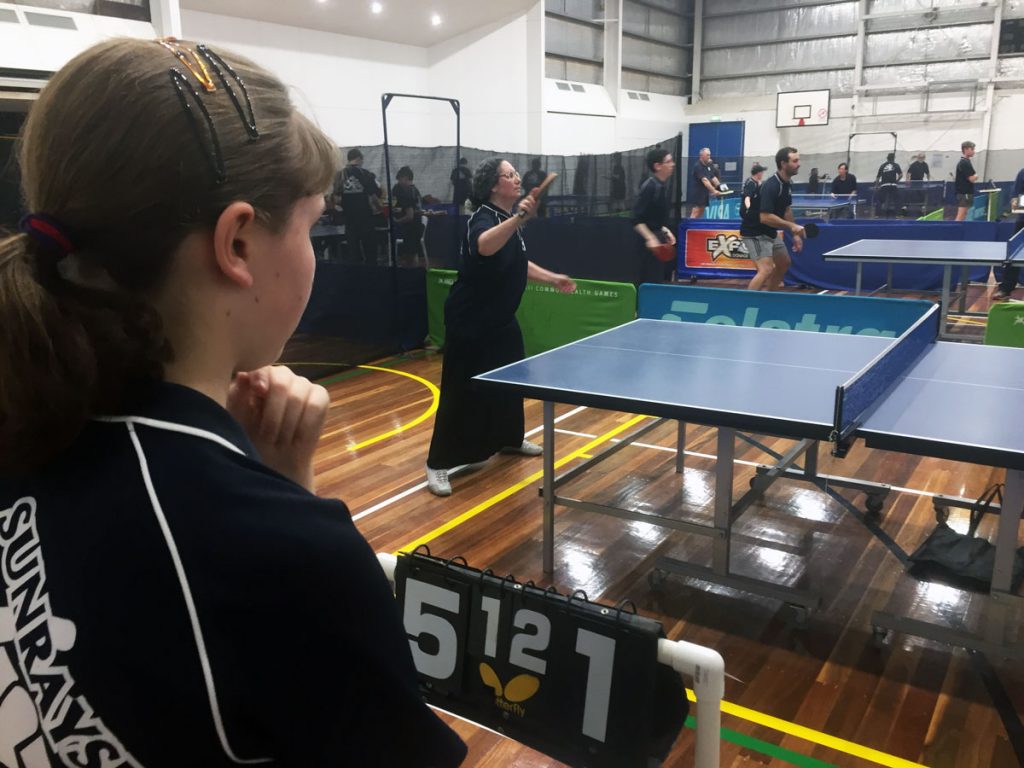 MJM Automotive and Mallee Meats both won again this week, and remain first and second on the ladder.
– MJM Automotive 7 (Peter Fitzpatrick 3, Rachel Fitzpatrick, Tom Morrison 2) d Sammy's Slammers 4 (Paul Fitzpatrick 2)
Sammy Slammers captain Paul Fitzpatrick kept his side in this game for as long as he possibly could.
Before the second doubles, MJM Automotive led 4-3, and those three rubbers for Sammy's Slammers came from two singles wins by Paul, plus the first doubles.  Knowing that the two captains had to play immediately after the second doubles, MJM Automotive were looking to take that doubles match, to give themselves a little buffer going into the final round of singles.
Alas, Paul and Huseyin Ismail proved too strong when it counted against Peter Fitzpatrick and Tom Morrison, in that second doubles, taking a disciplined three set victory, 14-12, 13-11, 12-10 to level at four rubbers apiece.
When the two captains did meet, Paul blinked first, conceding to his father Peter in a gritty four set brawl.  Paul took the first set comfortably 11-6, but father Peter fought back 11-7 in the second, the last two sets were fairly scrappy, but the win went to the MJM captain 14-12, 15-13, and Paul had been beaten for just the second time this season.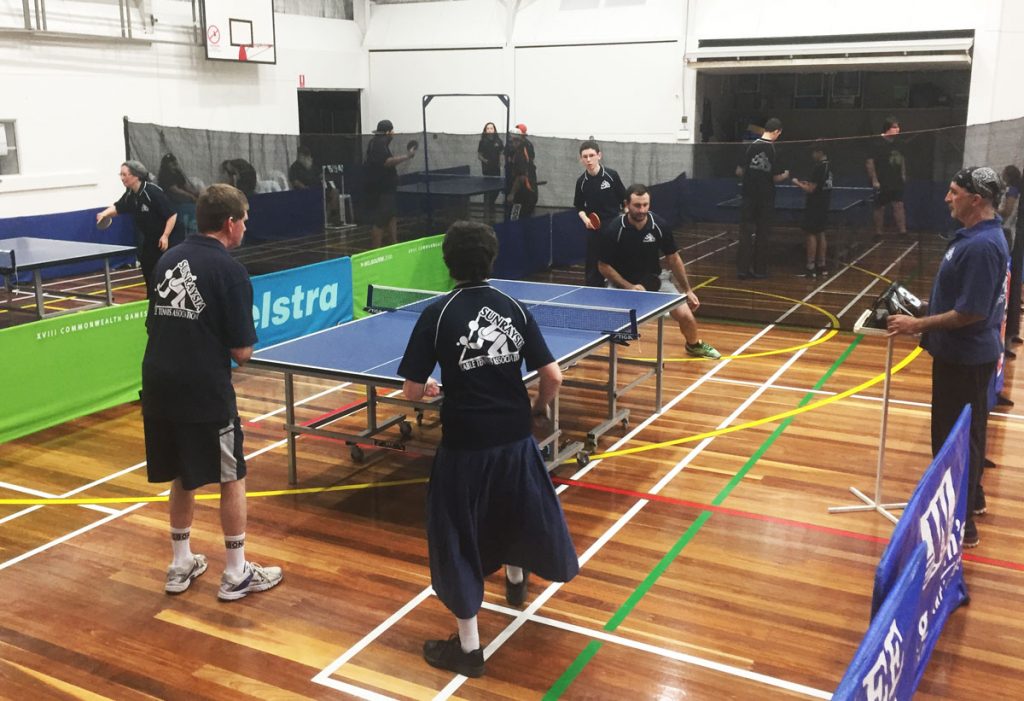 Rachel Fitzpatrick and Tom Morrison finished the job for MJM Automotive against a pair of spirited Sammy's Slammers players.  Marcus Cimino made Rachel work for her 11-8, 12-10, 10-12, 11-8 win, and Huseyin Ismail borrowed shots from his magic bag to run Tom Morrison to four sets also, retrieving shots wide of the court to return and get and edge!!, – Tom eventually tamed Huseyin 11-5, 15-13, 8-11, 11-9.
Final scores:  7 rubbers to 4 and 23 games to 18.
– Mallee Meats 6 (Jeremy Corrin 3, David Sergi, Therese Fitzpatrick 1) d Tankard Dental 5 (Rohan Reimers 2, Sabrina Fitzpatrick, Nick Kiapekos 1)
Tankard Dental must be wondering how well they have to play to get a win in this competition.
This match feature six five set results, and Tankard Dental could only snare one of them.  A second would have given them their maiden win for the season …
Mallee Meats captain Jeremy Corrin won his three singles rubbers, but not without some stern competition from Nick Kiapekos and Sabrina Fitzpatrick.
Kiapekos, a vastly under-rated player, gave Corrin no chance to take control of their game, and only conceded 12-10 in the fifth.  Later, Sabrina led Jeremy two sets to love 11-6, 11-6, before Jeremy got going and grafted the last three sets 11-9, 12-10, 11-8.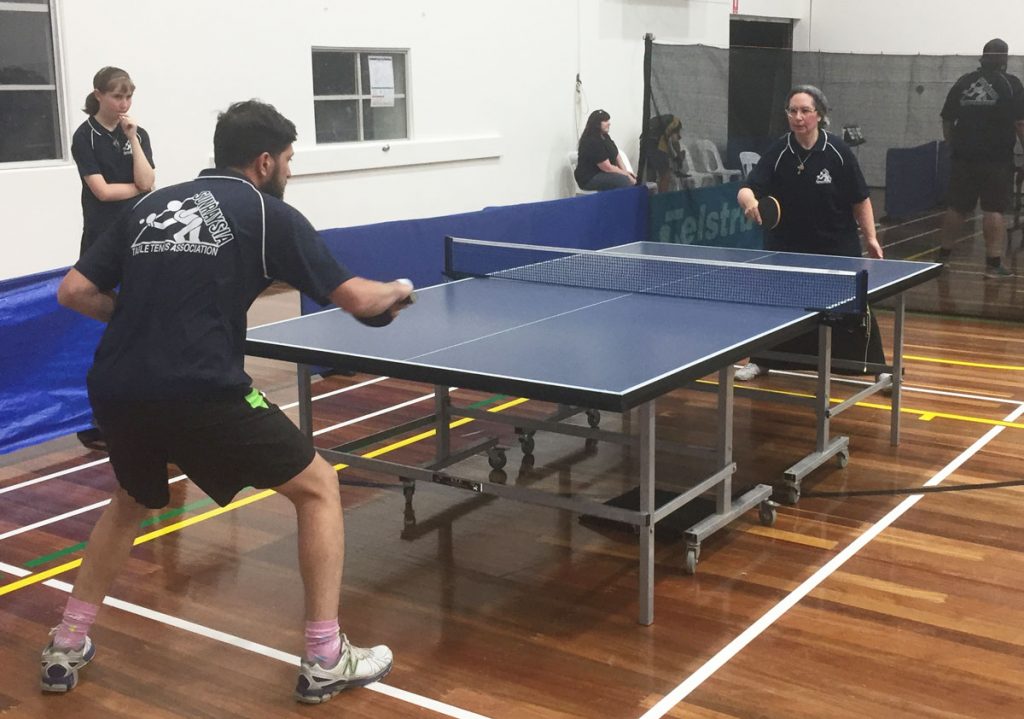 David Sergi and Therese Fitzpatrick took a singles win each – Sergi in five sets against that man Kiapekos again, and Therese, showing the value of playing correct strokes again and again, when she wore her mother Sabrina down to win 8-11, 7-11, 14-12, 11-6, 11-9.  Therese almost pulled the same trick against Nick Kiapekos, trailing two sets to love 3-11, 9-11, Therese started to take control to win the third 12-10, and almost took the game to fifth, something Nick was dreading, but Nick managed to scramble a 14-12 win in the fourth to put an end to Therese's run.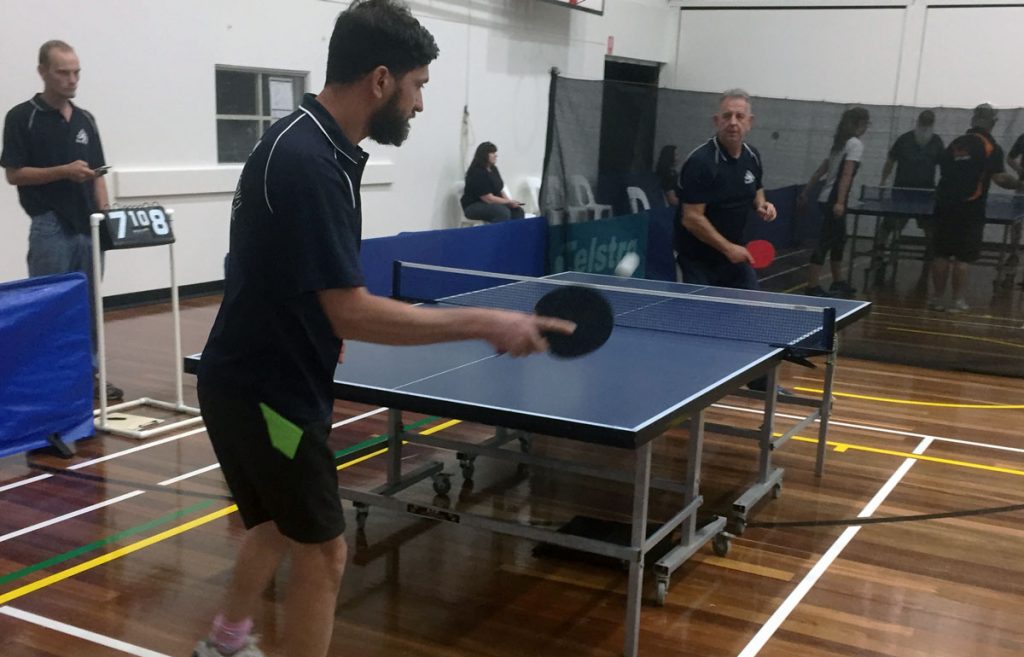 Of those five set losses – well, Nick Kiapekos lost to Jeremy Corrin 12-10 in the fifth, Sabrina lost to Therese 11-9 in the fifth, Kiapekos again, this time to David Sergi 11-9, Sabrina and Nick lost the second doubles to Corrin and Thesese 11-9 and finally, Sabrina fell to Jeremy 11-8 in the fifth of the captains match.  All close, but Mallee Meats came up trumps at the end in all of those rubbers.
Final scores:  6 rubbers to 5 and 22 games to 25.
PENNANT FOUR: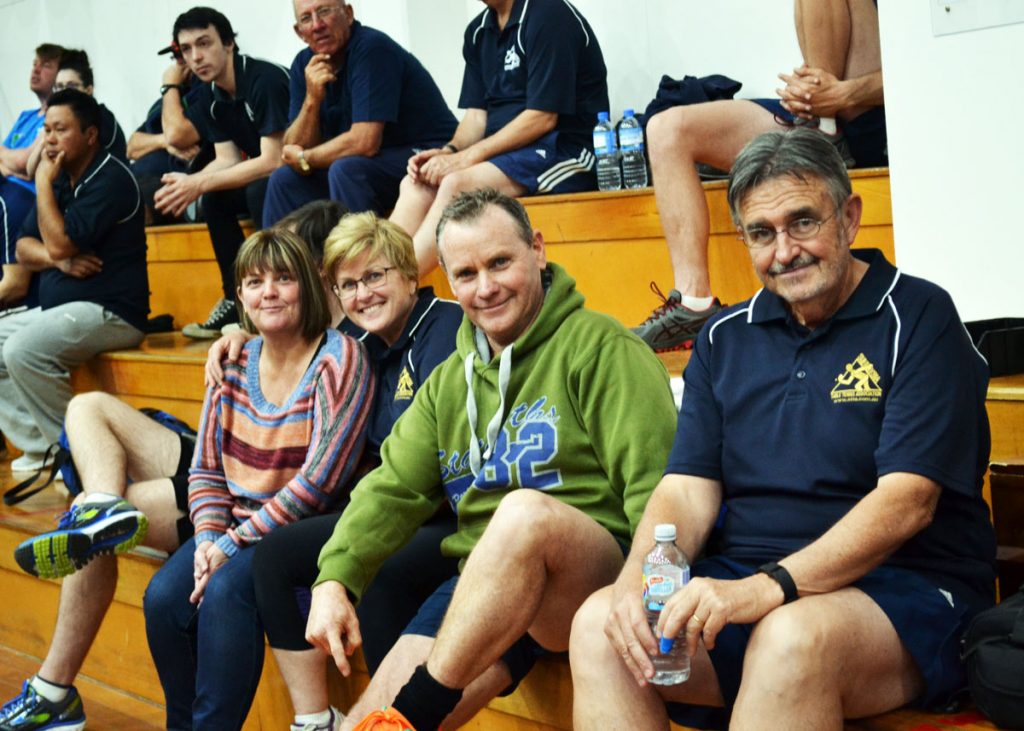 Round seven featured Dunkley Scales continuing on their winning way and their percentage is now a whopping 843% while third placed Mallee Meats proved too good for second placed MJM Automotive.

Shirley Whitecross, Paul Kerr and Kayla Bettes of Tankards Dental had the bye and will be refreshed for the run to the finals.
– Mallee Meats 8 (Dave Tanner, Miya Lock, Gary Tanner 2) d MJM Automotive 3 (Ben Hosking 2, Matthew Cherry 1)
In an even team display Mallee Meats trio of Dave Tanner, Miya Lock and fill in Garry Tanner won two singles each to enable their team to score an 8-3 win over MJM Automotive who went into the match without the inform Kim Avers.
Garry Tanner , Dave's father, came into the Mallee Meats team as Nathan Beard was out and this was Garry's first competition match in over twenty years when he played in the STTA, he looked at home winning two matches in straight sets and narrowly going down 6-11 in the fifth against Ben Hosking who was filling in for Kim Avers.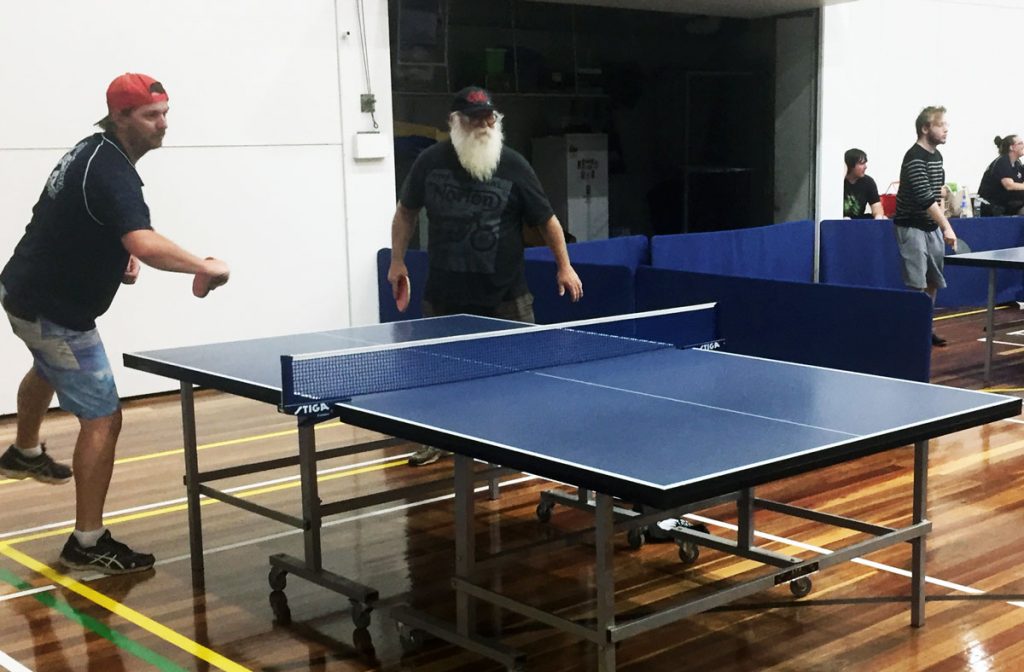 Garry then partnered Dave in the second doubles to defeat Matt Cherry and Laura Bettes 11-4 11-7 11-6 a great win by Dad and Dave!!!!
Mallee Meats in fact won both doubles while for MJM Ben Hosking won two singles while Matt Cherry won one.
– Dunkley Scales 10 (Luke Ljubic, Brice Lock 3, Isaiah Bettes 2) d Regional Taxation Services 1(Matt Sires 1)
 Dunkley Scales continued on their winning way with a sound 10-1 victory over Regional Taxation Services. Again for the seventh round in succession Brice Lock and Luke Ljubic won three singles each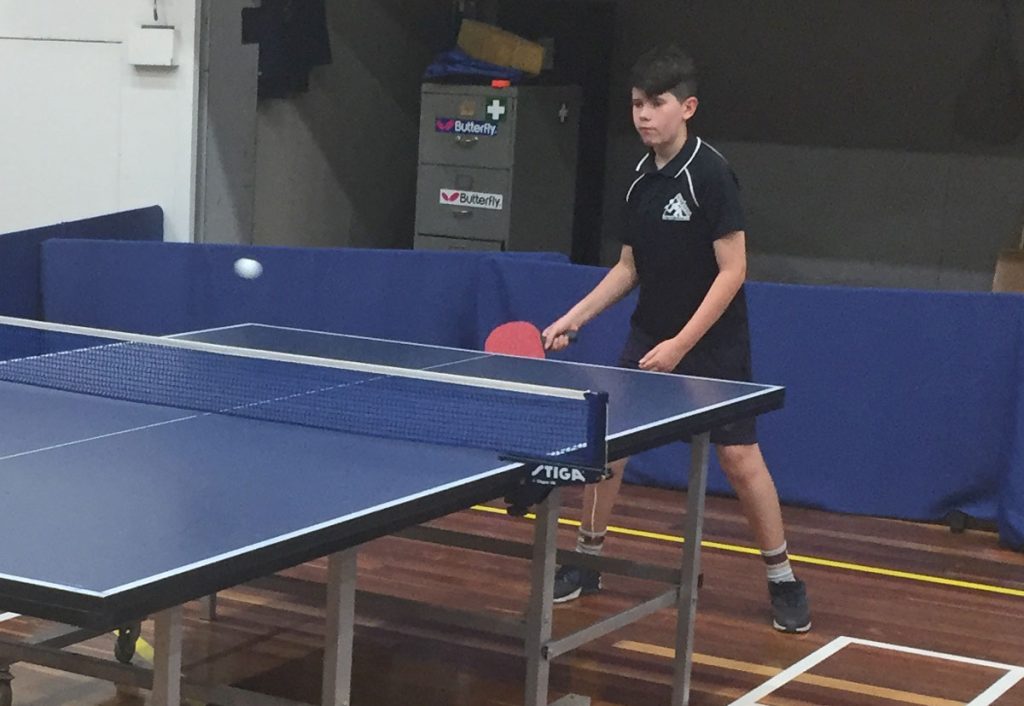 however Luke did have a scare against Matt Sires and they fought out a very exciting five setter with Luke prevailing in a lengthy match 14-12 13-15 11-6 6-11 11-8. Matt did win the one and only match for Regional Taxation Services defeating Isaiah Bettes.
Isaiah has been improving each week since commencing competition table tennis this season and he was able to win two singles. He and Brice had a great struggle with Matt Sires and Casey Taplin in the second doubles winning 17-19 11-13 11-5 12-10.