Read Time:
11 Minute, 7 Second
An early premiership favourite!
The last taste of premiership success may have been way back in 1993, but one senses the union between Mark Ljubic and Wayne Carmichael may be an ominous sign for the rest of the competition. Throw in a ever improving Reece Kurrle as a no.3 and we have the ingredients for our first premiership favourite of Winter 2016.
PENNANT ONE:
Round two of the Sunraysia Table Tennis "Cash Converters" Winter Pennant featured two close matches and a one sided affair in another round of excellent table tennis.
– Regional Taxation Services 9 (Wayne Carmichael, Mark Ljubic 3, Reece Kurrle 2) d Weightmans Packaging 2 (Gavin Carmichael 1)
Regional Taxation Services scored a thumping 9-2 win over a struggling Weightmans Packaging. Again Wayne Carmichael won three singles as did Mark Ljubic who recovered from a deficit against Gavin Carmichael to win 4-11 11-7 8-11 11-4 11-9.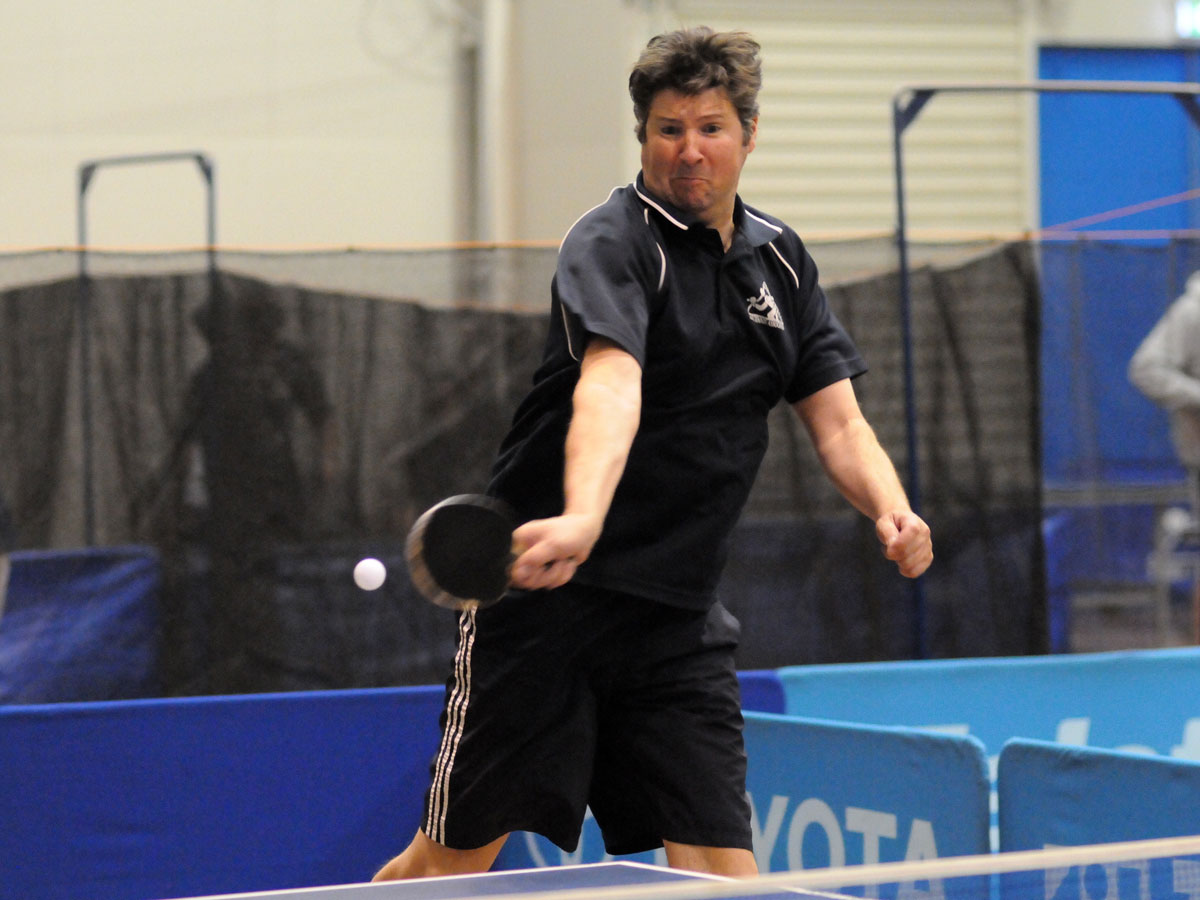 Ljubic has won five of six singles this season and is in form. His only blemish came in round one at the hands of his son Matt. Mark Ljubic's team mate Reece Kurrle also was in form defeating both Isaac Liu and Shane Carmichael in impressive fashion and he was not far from scoring three singles wins either, going down to Gavin Carmichael in a close five setter.
Weightmans plight could have been worse, the first doubles featured Gavin Carmichael and Isaac Liu matched against Wayne Carmichael and Mark Ljubic and at two rubbers to one down and trailing 4-10 in the fourth all looked lost for Carmichael and Liu however amazingly they recovered from here to go on and win the match 11-8 13-15 9-11 12-10 11-9. Weightmans will now need to regroup during the holiday break.
– Cash Converters 6 (Rick McMeekin 3, Jackson Tung 2) d Mallee Bearings 5 (Shannon Bowen 2, Matt Ljubic, Nicholas Dorman 1)
In the closest match of the night Cash Converters scored an exciting 6-5 victory over Mallee Bearings. This match could have gone either way and it was the combined efforts of Rick McMeekin and Jackson Tung that bought about victory. McMeekin won three singles in style, two involved exciting five setters, his match against Matt Ljubic was the one that got away for young Ljubic. After dropping the first game McMeekin took control in the second and third however Ljubic then turned the match winning the fourth and taking a 10-5 lead in the fifth to be one point away from causing a boil over and potentially turning around the overall match result.
McMeekin then clicked into gear and managed to get on a roll which Ljubic could not adjust to. McMeekin with a little fortune from the net levelled at ten all and in a stirring finish won 8-11 11-4 11-4 9-11 12-10, a great comeback.
McMeekin's team mate Jackson Tung won two singles including a five set slog against Nicholas Dorman at five rubbers all for Cash Converters to take the points. McMeekin and Tung also combined to win the all-important first doubles in another five setter against Shannon Bowen and Matt Ljubic.
– Tankard Dental 7 (Joel Thomas 3, Kate Carmichael 2) d Exposed Signage/Apparel 4 (Matt Avers 2, Mark Dorman, Michael Hogarth 1)
Tankard Dental made it two wins from two rounds when they accounted for Exposed Signage 7-4.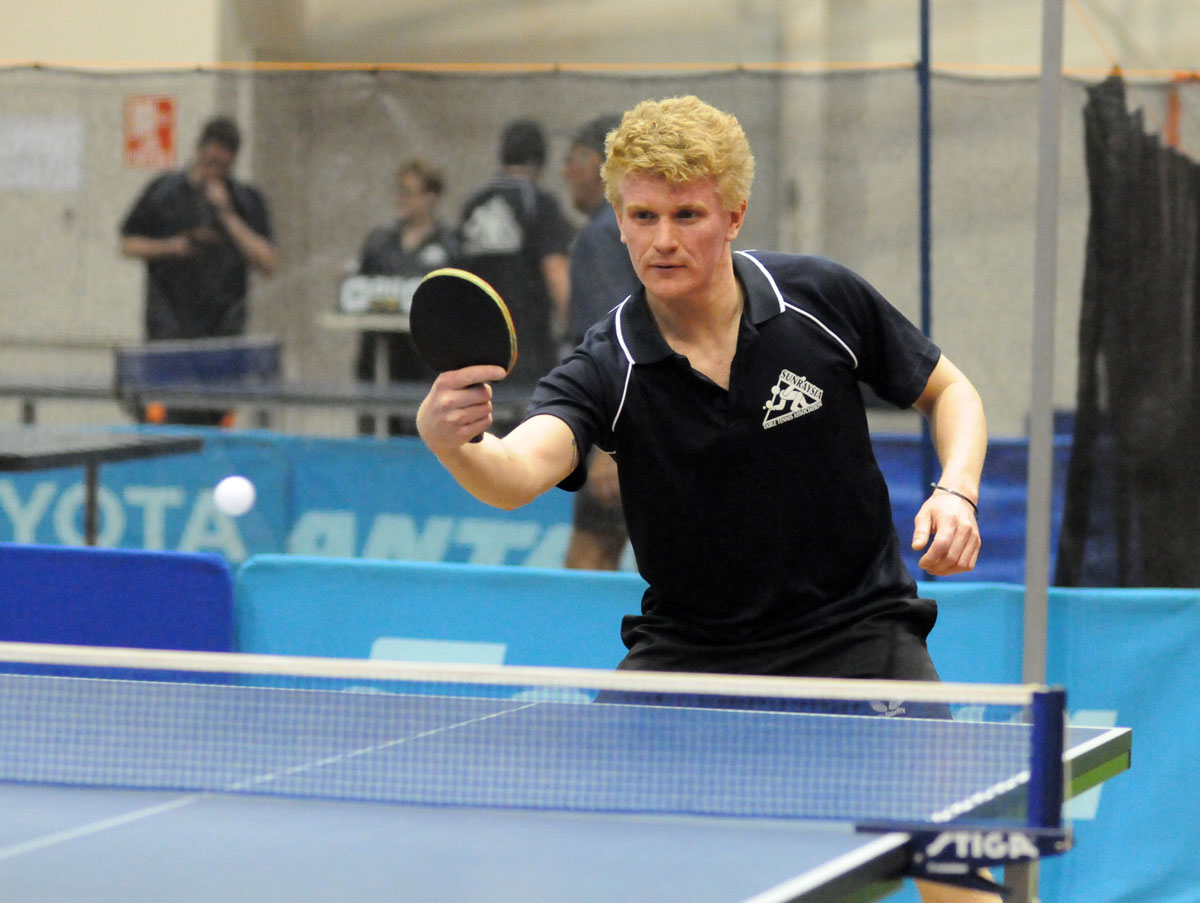 Joel Thomas again showed why he is the number one player in Sunraysia winning three singles and combining with team mates Kate Carmichael and Leon Brown respectively to win both doubles contests.
Kate Carmichael offered good support to Thomas winning two singles including a five set struggle against the experienced Mark Dorman, this was a match of much concentration and plenty of chopping until Carmichael could get to her favoured back hand. The final score of 10-12 12-10 11-5 10-12 11-8 indicates a close contest.
 PENNANT TWO: 
Mallee Bearings and Pinnacle Packers took wins again this week, whilst Weightmans Packaging took their first in a come from behind game against MJM Automotive.
– Mallee Bearings 6 (Jackson Murphy, Lee Thomas 2, Terry Martin 1) d Max Miller Carpets 5 (Ed Hung 3, Brendan Alderton 1)
Ed Hung took three singles wins for Max Miller Carpets in this match, but it was not enough to get his side home.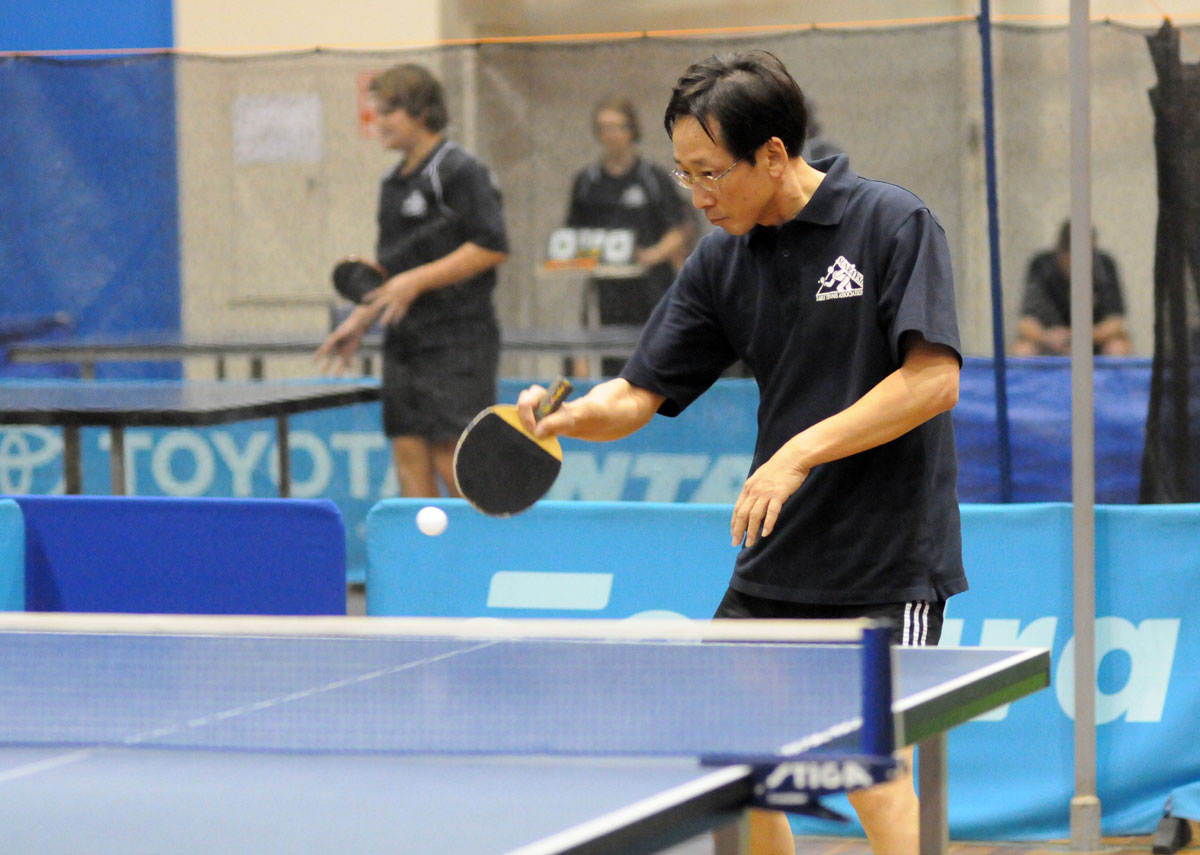 Ed's opponents, Jackson Murphy, Lee Thomas and Terry Martin played consistently, taking two, two and one win respectively.  Murphy was much too good for Mallee Bearings Arnold Jago and Brendan Alderton, defeating them both in three sets.  Similarly, he was downed by Hung in their clash in three.
But where the Mallee Bearings side all contributed to the singles tally, only Brendan Alderton could help Hung.  Arnold Jago fell to Murphy and Thomas in straight sets, and disappointingly for him, after leading Terry Martin 2-0, he could not sustain the momentum, Martin coming back to take the last three sets.
The doubles were shared: Hung and Jago going down in four against Murphy and Thomas, whilst the second match-up was a beauty.  In a very close match, Murphy and Martin led 11-8, 11-9 after two sets, but Hung and Alderton kept their heads down, taking the last three sets 14-12, 11-9, 11-9.
Final scores:  6 rubbers to 5 and 22 games to 20.
– Weightmans Packaging 6 (Ashley Morrison 3, Arthur Paar 2) d MJM Automotive 5 (Bernadette Fitzpatrick 2, Tony Malycha, Seval Fuat 1)
After leading 3-1 and 4-2, MJM Automotive could not eke out the final rubber, falling one short in their match against Weightmans Packaging.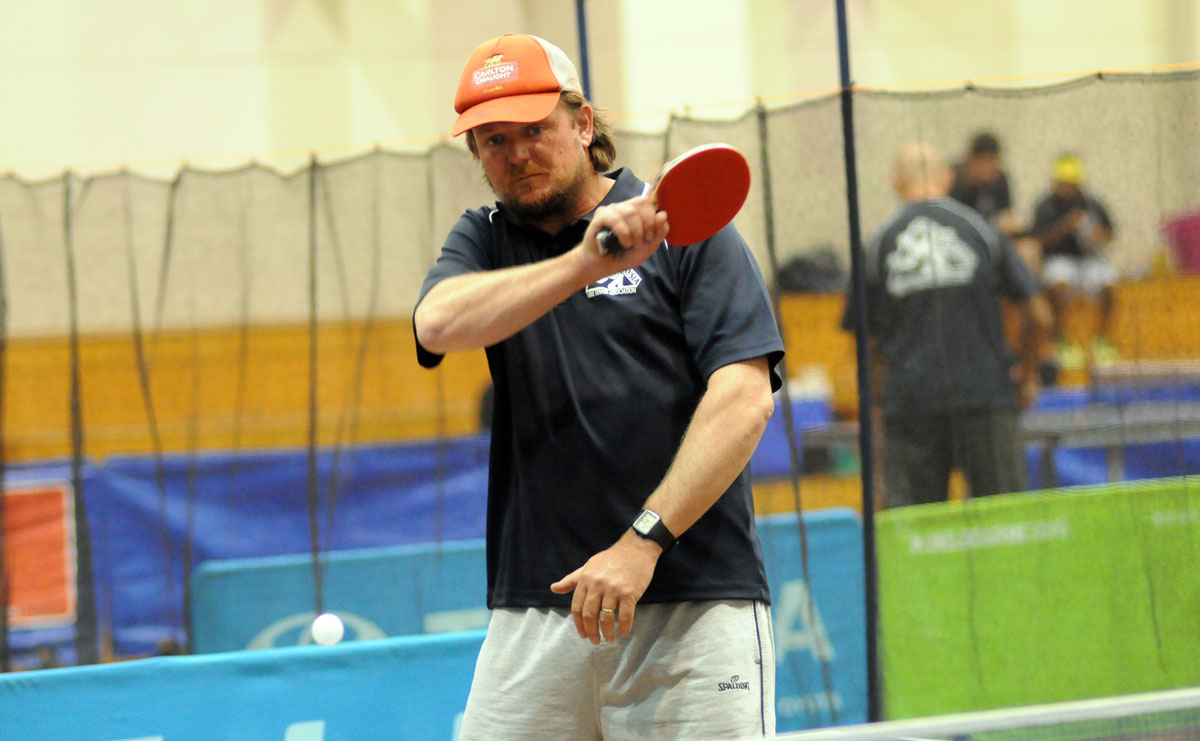 In taking three singles wins Weightmans Packaging captain Ashley Morrison led from the front, and was well backed-up by Arthur Paar, who took two.
All the MJM Automotive players contributed, captain Bernadette Fitzpatrick with two, having fallen to opposing captain Ashley Morrison in a very even five set contest.  Tony Malycha and Seval Fuat contributed one each, both downing Kerry Wallace in three and four sets respectively.
The doubles were shared, Fitzpatrick and Malycha coming from two sets to love down to win a high class five set contest against Morrison and Paar 13-15, 5-11, 11-8, 13-11, 11-8.  The second doubles was a disappointment for the MJM pairing of Fitzpatrick and Fuat, as they seemed to run out of puff; after leading Morrison and Wallace 13-15, 11-7, 15-13, they meekly conceded the final two sets 6 and 3.
Final scores:  6 rubbers to 5 and 22 games to 21.
– Pinnacle Packers 8 (Peter Midgley 3, Geoff Peters 2, Jason Gifkins 1) d Mallee Meats 3 (Andrew Jones 2, Russell Walder 1)
Pinnacle Packers have started the season with a bang, their second win, and another 8-3 result.
Pinnacle Packers captain Kevin Johns was absent this round, replaced by the difficult to manage Geoff Peters.  Peters proved his worth, with two wins, one against Andrew Alderton (filling in for the injured Geoff Wright), and later a four set win over last week's surprise Russell Walder.  He also won the first doubles with Peter Midgley in five sets.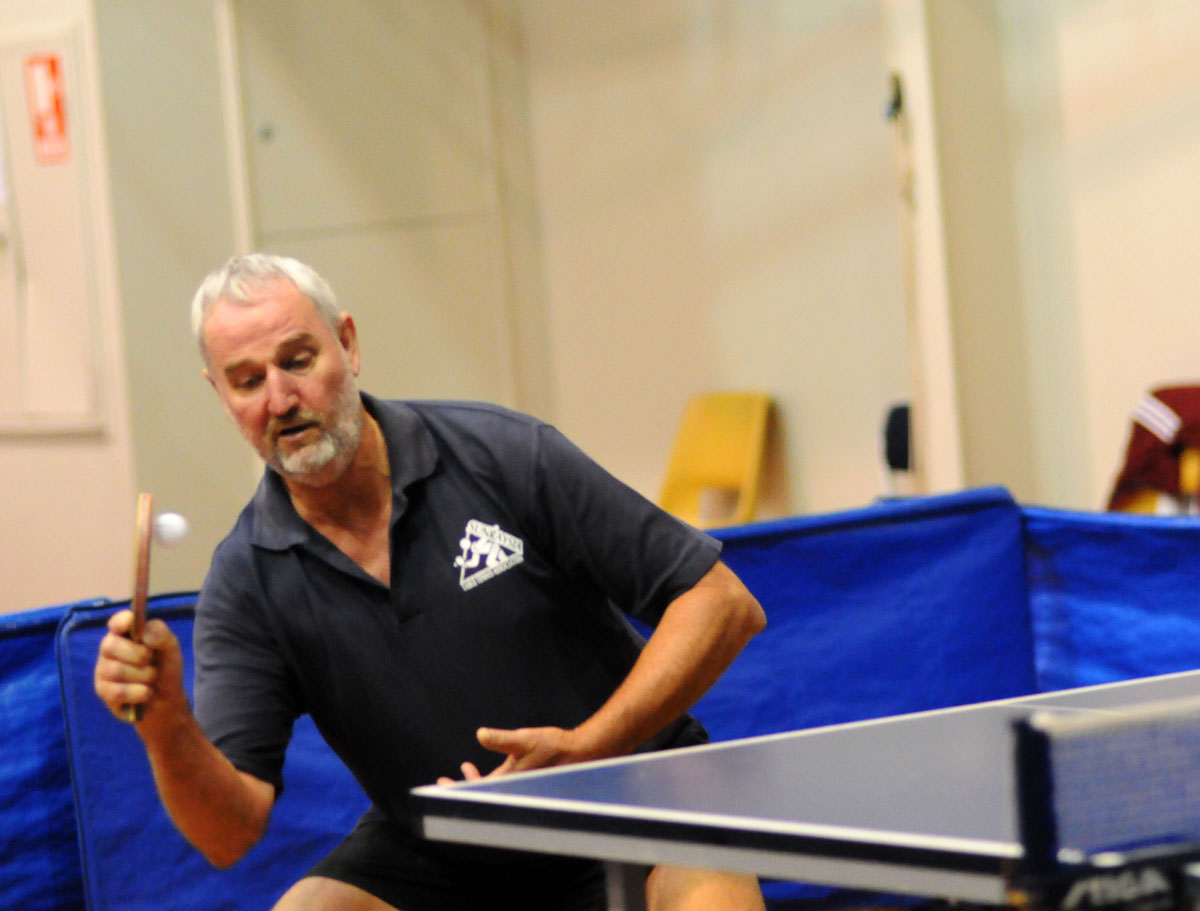 Midgley had a good night; in the absence of Johns, Peter assumed the captaincy, winning three singles and playing in and winning both doubles.
Number three Jason Gifkins took just the one rubber, this against Alderton in four sets.
For Mallee Meats, Andrew Jones took two wins; downing Gifkins in four and Peters in three, and losing out to Midgley 11-9 in the fifth set of that match.
Walder was kept quiet this week, defeating only Gifkins, and that in five sets.
Final scores:  8 rubbers to 3 and 27 games to 18.
PENNANT THREE: 
MJM Automotive and Mallee Meats took their second wins, and Tankard Dental romped home against Weightmans Packaging.
– MJM Automotive 6 (Peter Fitzpatrick 2, Jeremy Corrin, Sabrina Fitzpatrick 1) d Dunkley Scales 5 (Cambell McKenzie 3, Rachel Fitzpatrick 2)
In the closest game of the round, MJM Automotive defeated Dunkley Scales in the final rubber.
The MJM trio started strongly, leading 3-1 after the first four rubbers, and 5-3 with the final block of singles to go.
Up to that point both captains had taken two singles wins, and MJM Automotive both doubles.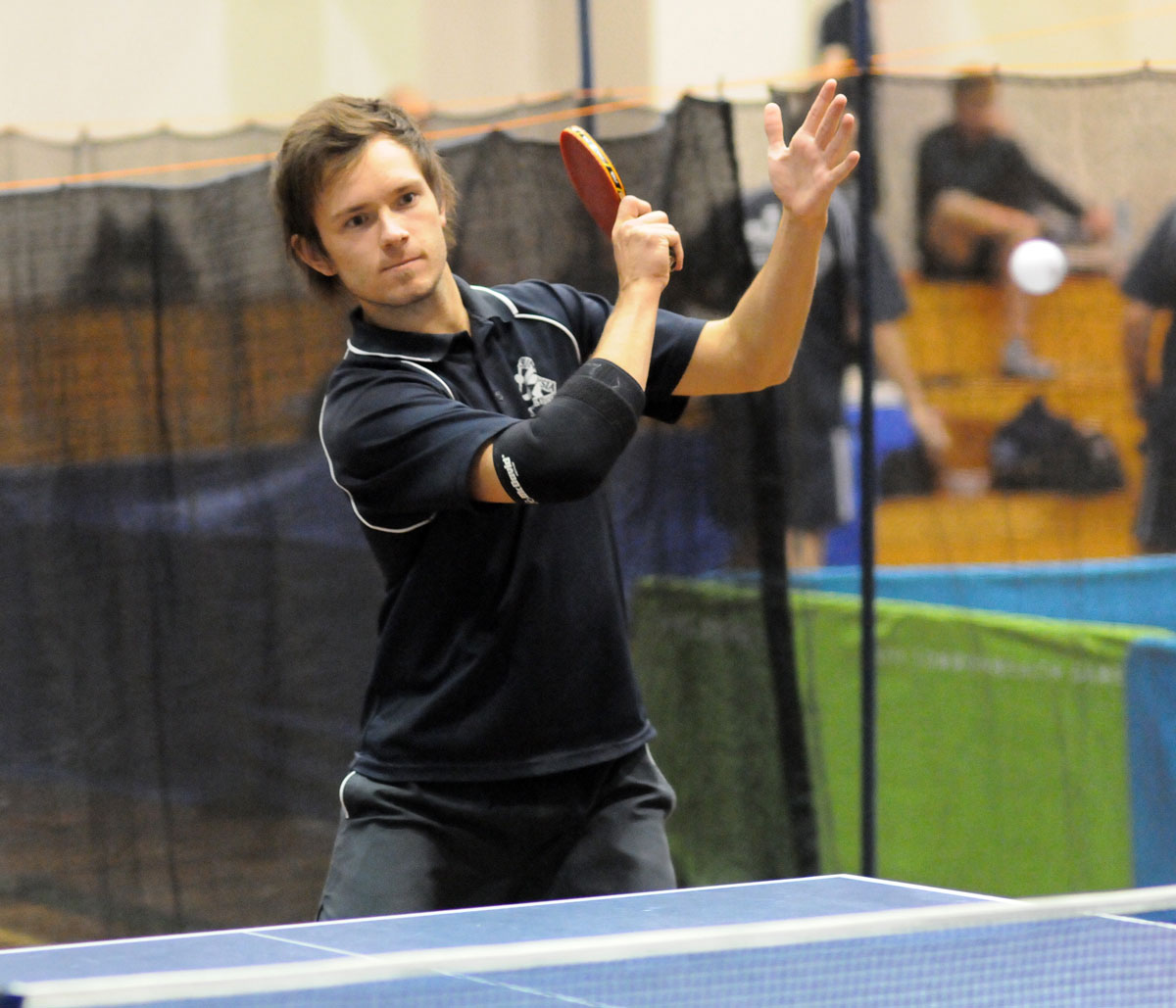 Dunkley Scales levelled the score after the second of the final block of singles though, after Cambell McKenzie disposed of Peter Fitzpatrick in straight sets, and Rachel Fitzpatrick came back from the dead MJM's Jeremy Corrin.  Jeremy led two sets to love 11-6, 13-11, at which point Rachel got her game together, taking the last three sets 6, 8 and 9 in a similar manner to her final singles last week against Sam Hensgen.
That levelled the scores, with MJM Automotive fill-in Sabrina Fitzpatrick to play Huseyin Ismail.  Sabrina prevailed in three sets, giving her team a narrow win.
Final scores:  6 rubbers to 5 and 25 games to 15.
– Mallee Meats 7 (Rod Healy 3, Claire Ljubic 2, Marcus Cimino 1) d Regional Taxation Services 4 (Quentin Clark 2, Vin Brown 1)
Another strong performance from the Mallee Meats trio of Rod Healy, Claire Ljubic and Marcus Cimino in this round against Regional Taxation Services.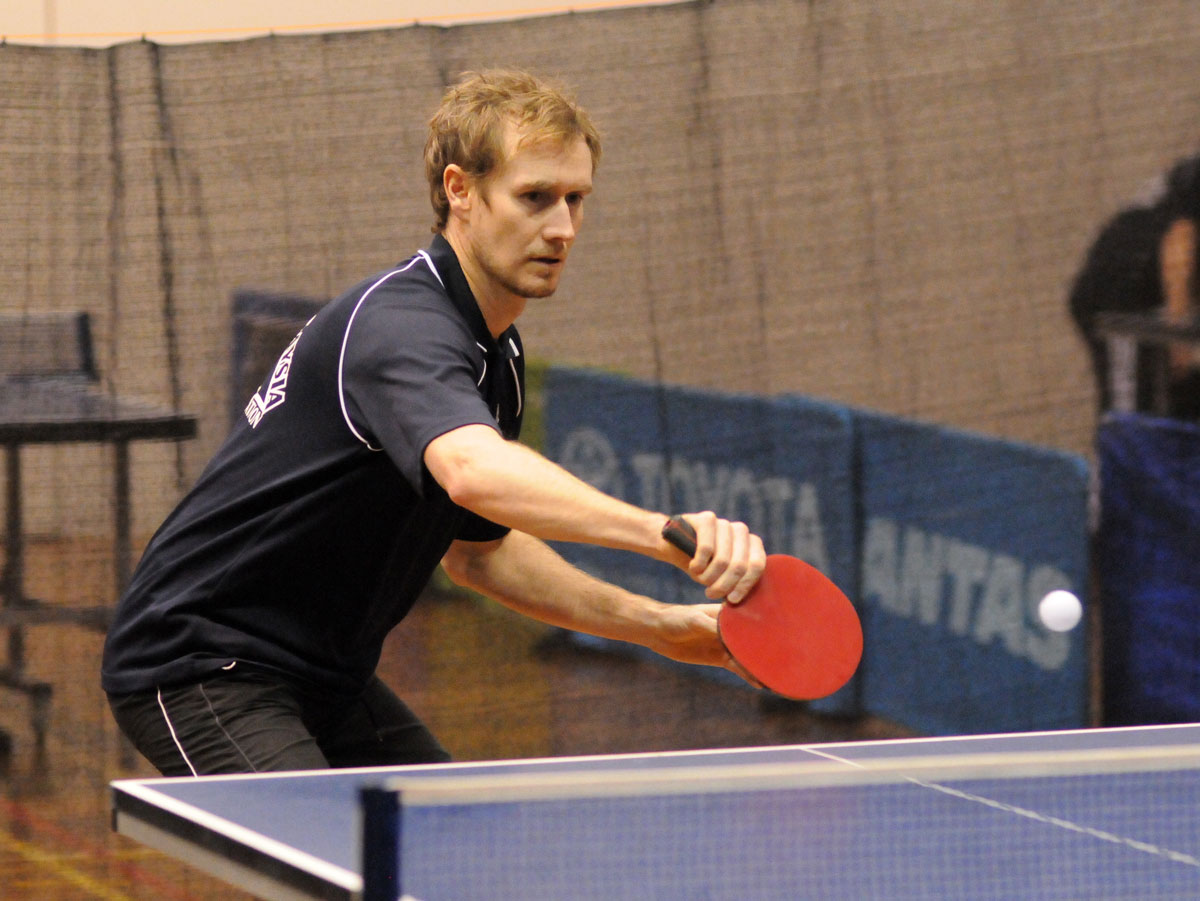 Healy cleaned up, dropping only one set on his way to three singles wins.  Claire Ljubic, after her perfect start last week, backed up with two wins, and Cimino one.
The doubles were shared, Healy and Ljubic losing in straight sets to Quentin Clark and Vin Brown, and later Healy and Cimino similarly defeated Clark and David Sergi.
Regional Taxation Services led after five rubbers 3-2, however Mallee Meats took the next five rubbers, in the process dropping just two sets, to take the win.
Final scores:  7 rubbers to 4 and 23 games to 16.
– Tankard Dental 10 (Michael Hensgen, Zac Healy 3, Rohan Reimers 2) d Weightmans Packaging 1 (Paul Fitzpatrick 1)
Weightmans Packaging began the season with an 8-3 win; Tankard Dental and 8-3 loss.
No-one would have predicted that this week Tankard Dental would trounce Weightmans Packaging 10-1.
In defeating Rohan Reimers, only Paul Fitzpatrick could prevent a Tankard Dental white-wash.  Even that game was a struggle.  Reimers led 2-1 and Fitzpatrick had to work hard to take the final two to secure his team's only rubber.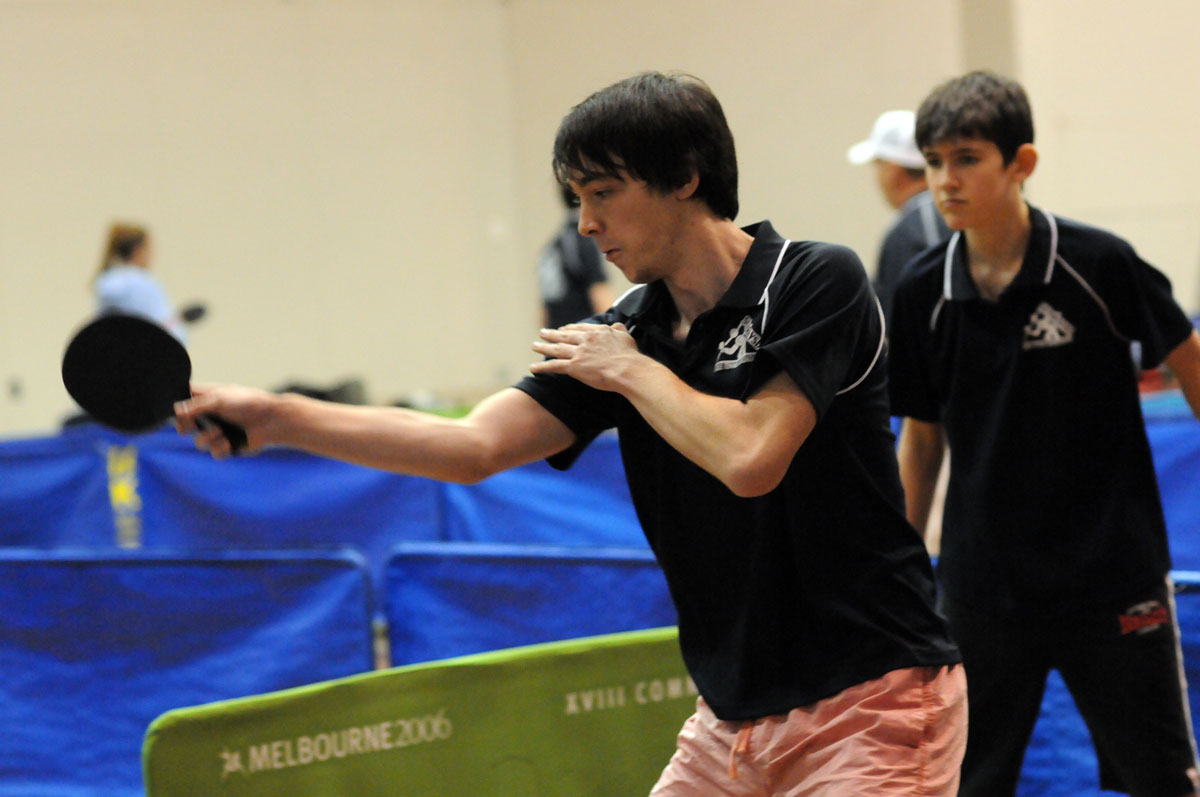 For Tankard Dental, Michael Hensgen and his number three Zac Healy took three rubbers apiece and Reimers two.
Sam Hensgen gave Healy a run for his money, but lost in five.  Also, the second doubles between Hensgen and Healy against Fitzpatrick and Karly Leach almost fell to Weightmans; Weightmans, after levelling at 2-2, were edged out in the fifth set 11-9.
Not much joy for Weightmans in this match, but a good percentage booster for Tankard Dental.
Final scores:  10 rubbers to 1 and 32 games to 9.
PENNANT FOUR: 
After their win last round Weightmans Packaging enjoyed a rest and Sabrina Fitzpatrick, Helen Frania and Mike Sheather had a bye leading into the two week school holiday break. Skipper Sabrina actually lined up in pennant three receiving the call up from husband Peter. A woman's work is never done………..
– Regional Taxation Services 6 (John Fitzpatrick 3, Shirley Whitecross. Brice Lock 1) d Dunkley Scales 5 (Leonie Dunkley, Joel Hogarth 2)
This was a close match and could have gone either way but with Regional Taxation Services skipper John Fitzpatrick leading the way and winning three singles his team was successful 6-5 over the hardworking Dunkley Scales.
Dunkley's were off to a flyer early and at one stage took a 3 rubbers to one lead however Regional Taxation Services were able to steady. Number three player Brice Lock played an important role in his team's win, firstly he matched up with John Fitzpatrick in the second doubles against Leonie Dunkley and debutant Caitlin Elstone. This was a titanic struggle with the boys just taking the points 12-10 13-15 11-7 8-11 11-8, Leonie and Caitlin put on the pressure right through the match but it was not to be.
In the last singles with the scores locked at five rubbers all Brice capped off a good night by defeating Caitlin in straight sets to give his team two wins from two starts.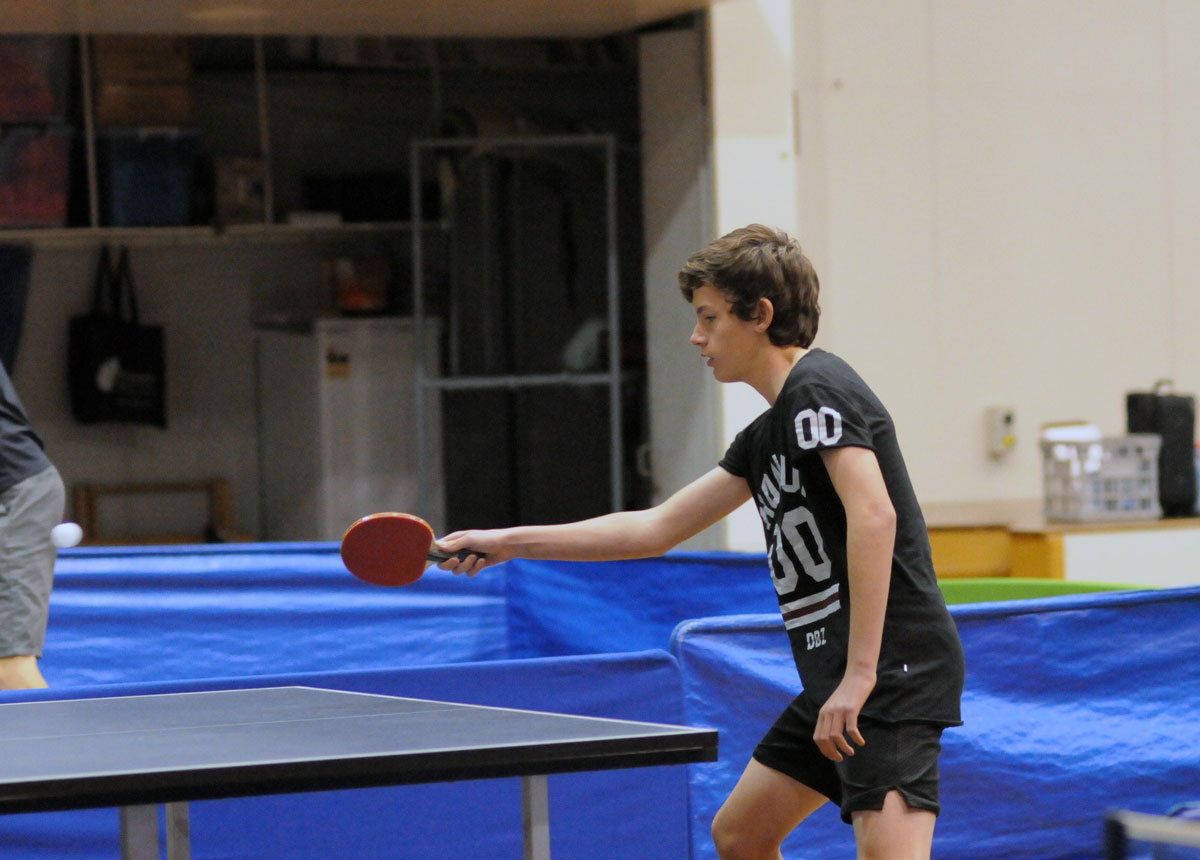 For Dunkley's, Leonie Dunkley and Joel Hogarth tried hard winning two singles each.
– Mallee Meats 7 (Ryan Hensgen, Nick Kiapekos 3) d MJM Automotive 4 (Stephan Ljubic, Kim Avers, Jacinta Ljubic 1)
With both Ryan Hensgen and Nick Kiapekos in top form winning three singles each, Mallee Meats took the four points over MJM Automotive 7 rubbers to four.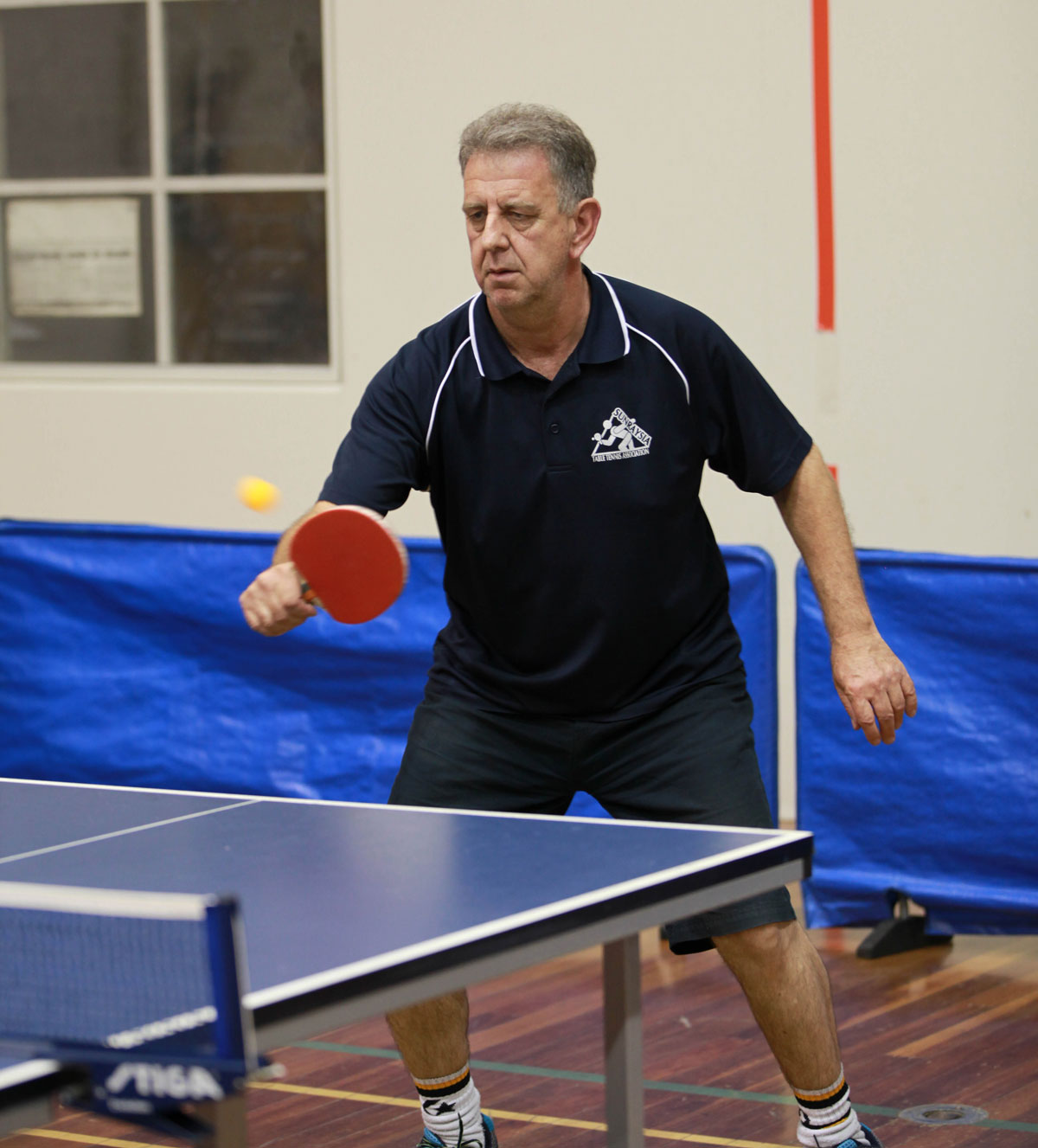 In his first full season Nick Kiapekos displayed his best form since joining the association late in the last summer pennant. He also partnered Ryan to win the first doubles 11-7 11-8 11-9 against Stephan Ljubic and Kim Avers.
The second doubles was a different story when mother and son combination Jacinta and Stephan Ljubic combined to defeat Ryan Hensgen and Luke Ljubic in a real family affair.