Read Time:
18 Minute, 28 Second
After such a long hiatus, anything was possible in the Pennant 1 Grand Final. With players having little competition play after three months how would the games pan out and what surprises would there be? Well we did not have to wait long for the unexpected to happen.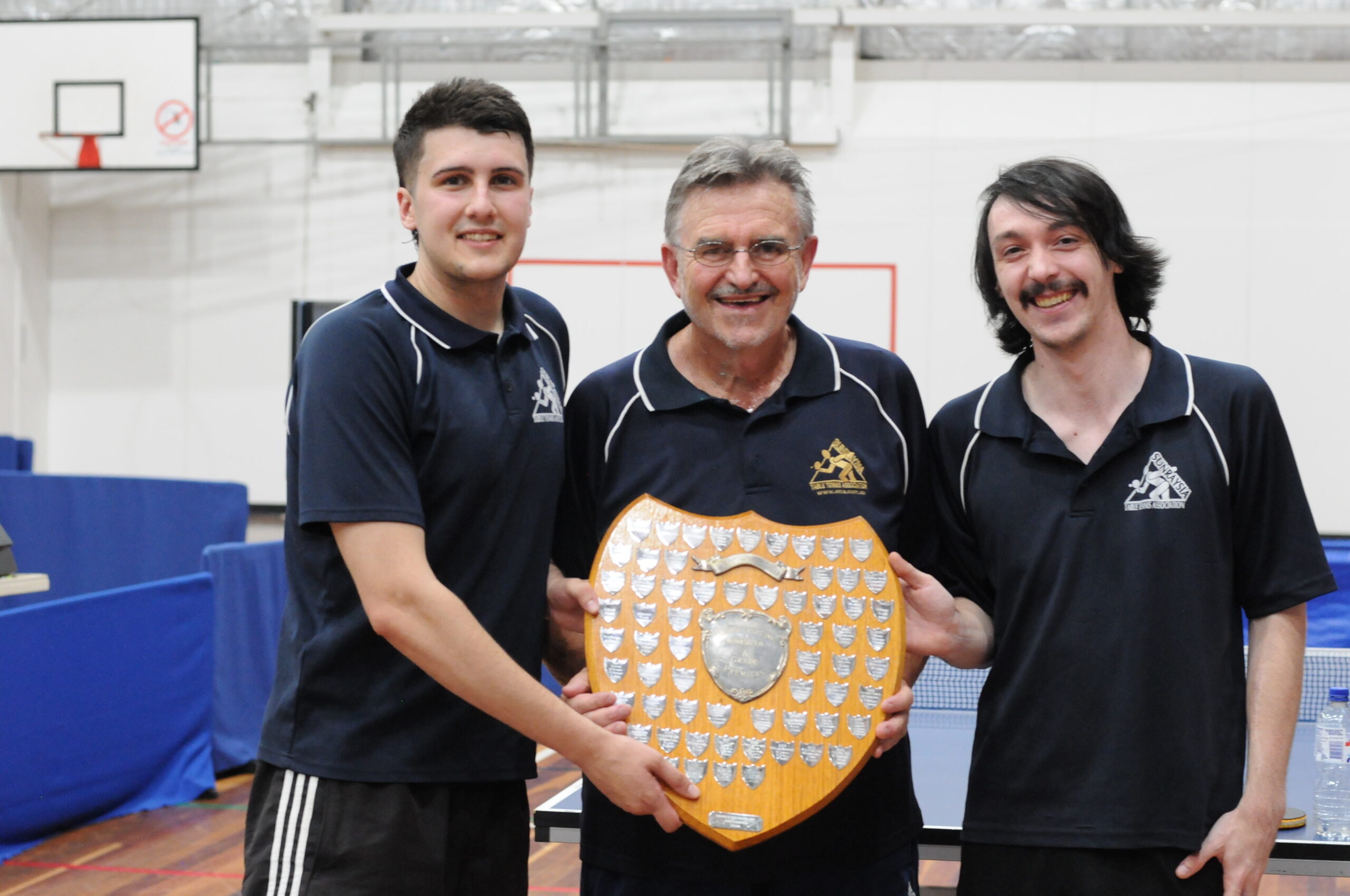 Thought Tankards may have blown it after having match points in the fourth and fifth of the first doubles …a great match
Great win by Matt and Michael in the second doubles.
The singles game between Matt and Wayne was the match of the night and the standard lifted the longer it went on
P1 – Winter Grand Final 2021
Tankard Dental 6 (Gavin Carmichael 3, Matt Ljubic 2) def Mallee Bearings 4 (Wayne Carmichael 2, Jackson Tung 1)
In years past the Carmichael Brothers have had some classic encounters – with these battles taking place later in the night after the second doubles and with Wayne having the numerical advantage over Gavin. Well the first surprise of the evening was Wayne and Gavin strolling out in the third game of the evening – maybe a tactical decision? In a tense first set both Gavin and Wayne set about setting a high standard of play with Gavin being a little more adventurous with his attacking shots to take the first set 12-10.
Gavin kept the pressure up in the second set grabbing this 11-5 to lead two sets to love – a position that he has enjoyed before against Wayne but without going on with the job. Well there would be no stirring comeback from Wayne as Gavin coolly diffused the vicious top spin attacking shots from his brother to claim the third 11-8 and the match in straight sets.
With this win, Tankard Dental was in a great position and the next doubles match featuring the Carmichael Brothers would again be involved a classic affair. Paired with Gavin was Matt Ljubic and with Wayne was Jackson Tung. It should be noted that last week three of these four players tied in the annual Red Cliffs Doubles competition – sorry Jackson that was not you. In a pulsating five set match, many momentum swings were witnessed – and not surprisingly, a length fifth set was required to split these teams with Mallee Bearings getting the chocolates 14-12 to get their grand final campaign back on track.
The second doubles match of the evening was again a highlight with Tankard's Matt Ljubic and Michael Hensgen taking on Mallee Bearings Duo of Wayne Carmichael and the perineal grand finalist in Russell Walder. I cannot remember the last time that Russell had not featured in a grand final – something the grading committee will need to fix! Back to the action and as we may have already guessed another fifth set was required to split these teams. Tankard Dental prevailed in a great fifth set 11-9 to be on the precipice of victory.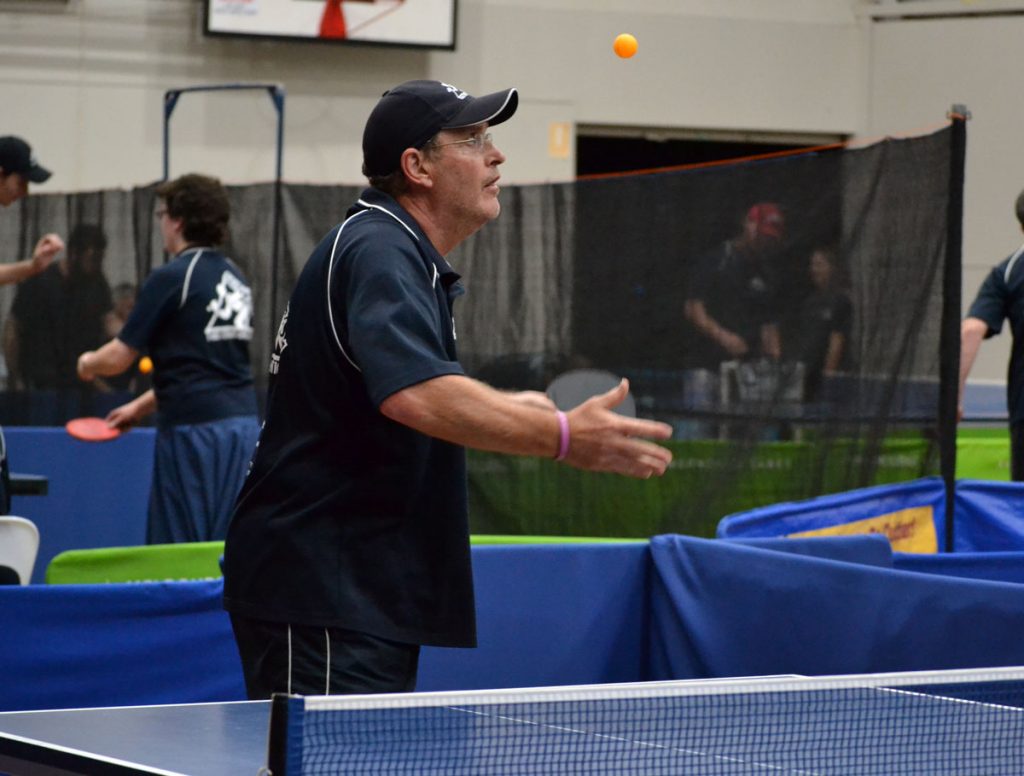 With Mallee Bearings needing to get on a great roll and win all remaining matches Wayne Carmichael would need to produce the goods against Matt Ljubic. These two players have enjoyed playing each other over the last five years and Carmichael would need to be at his best to keep his team in the contest. In a high-class match, featuring some unbelievable rallies the crowd was not disappointed as again we were going to a fifth set. Carmichael started the fifth better taking the lead 9-5 before Ljubic rallied to get close – but not close enough as Carmichael went on to win 11-9 in a great match.
The next match featured Gavin Carmichael and Jackson Tung. These two have had some very close matches during the season and a winner would be hard to pick. In a hard fought match, Carmichael took the first set 11-8 before Tung started to find his range. With the tide turning in the second set it seemed that Tung had the ascendency. Carmichael kept chipping away and with his customary staunch defence just hung around and somehow snatched the second set 13-11. A similar pattern would unfold in the third set with Carmichael down and out before rallying late to again put Tung under unbelievable pressure with Tung finally relenting and Carmichael taking the set 13-11.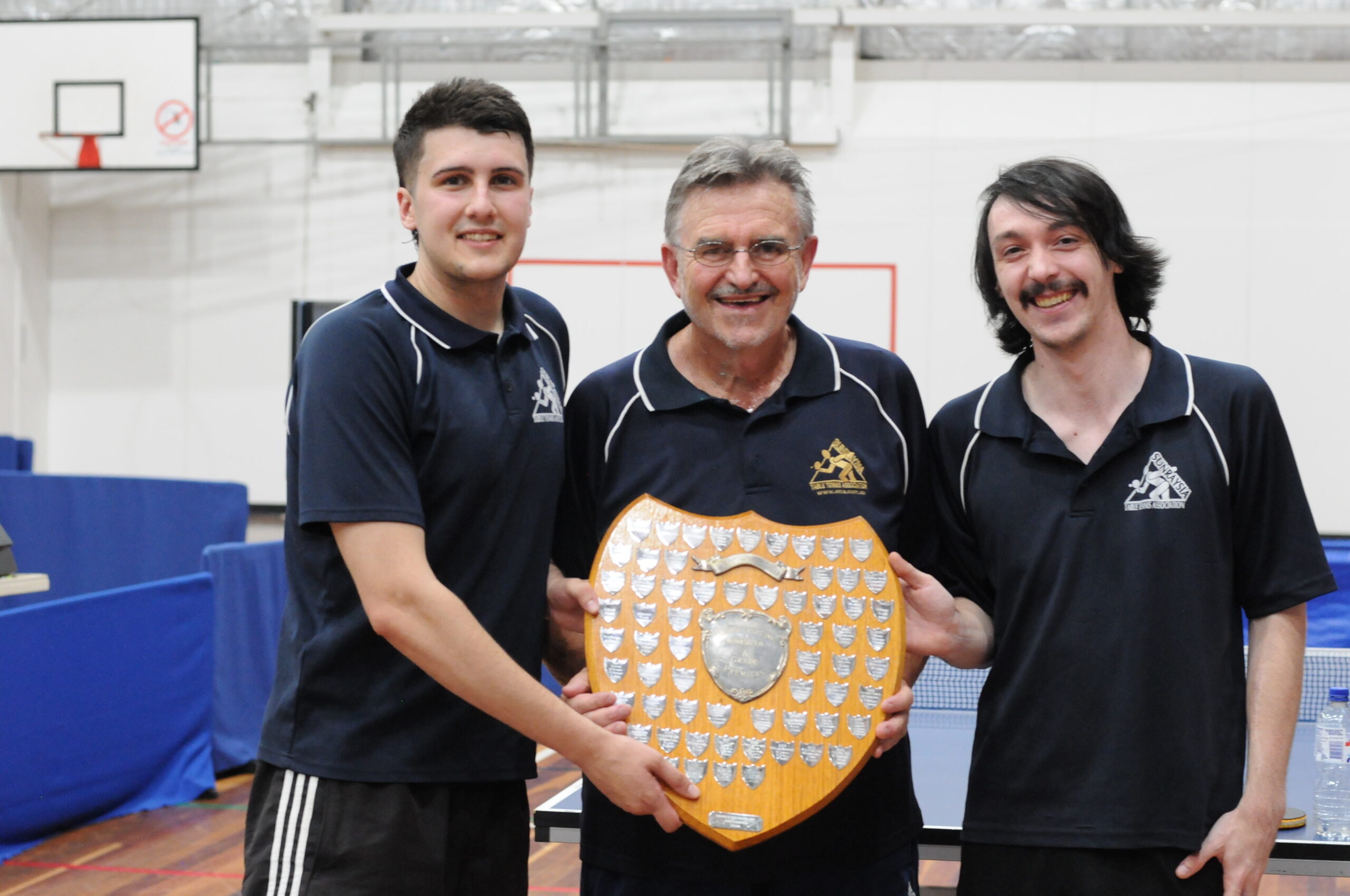 It would be fair to say that Gavin Carmichael with his three singles wins was the difference between the teams. Well done to Tankard Dental players Gavin Carmichael, Matt Ljubic and Michael Hensgen on a great win; hence ending a seventeen-year Winter Pennant drought for Gavin.
Final Result Tankard Dental 6 (Gavin Carmichael 3, Matt Ljubic 2) def Mallee Bearings 4 (Wayne Carmichael 2, Jackson Tung 1)
P2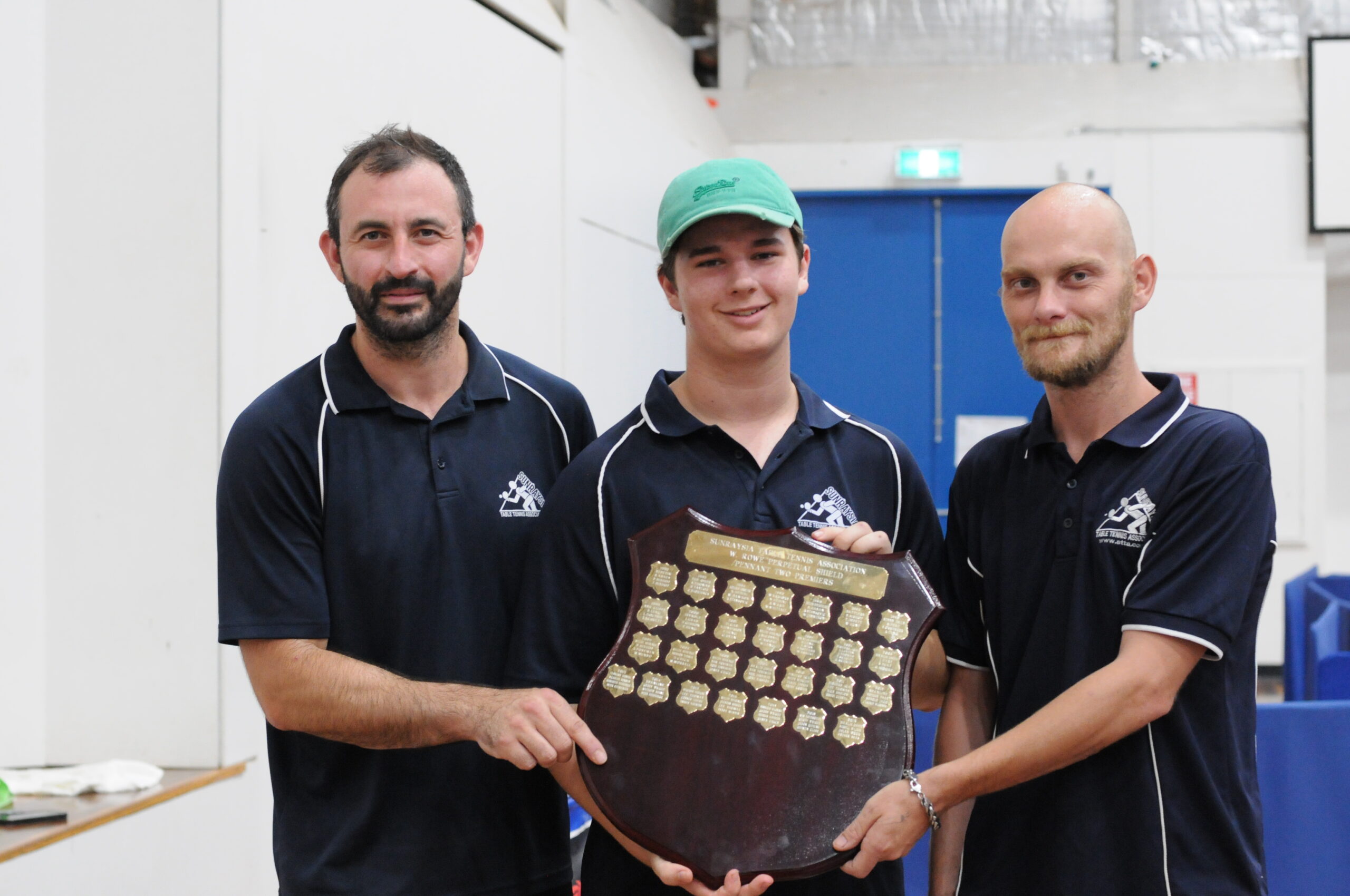 – MJM Automotive 6 (Dylan Wood 3, Jeremy Corrin, Marcus Cimino 1) d Cookes Pooles & Spas 3 (Ash Morrison 3)
Despite Paul and Casper winning 3 and 2 singles respectively it wasn't enough and MJM won 6-5 , Marcus sealing the deal in the last.
Both doubles went to five and were oh so close and Dylan defeating Casper 13-11 in the fifth was crucial
Dylan has gone back to back….he and Casper are putting pressure on the grading committee…..just saying
Max Miller Carpets and MJM Automotive finished first and second respectively on the ladder after fifteen rounds, with Max Miller Carpets winning ten of those fifteen rounds, MJM Automotive winning nine. However, even with one win less than Max Miller Carpets, MJM Automotive had a better percentage, having won more games, and conceded fewer.
This match was keenly anticipated for all sorts of reasons, one being that it was three and a half months since these two sides qualified for the Grand Final.
MJM Automotive boasted Dylan Wood, who had won 38 of a possible 45 singles games during the season, and in so doing won the aggregate prize, one game clear of joint second placed Jason Gifkins and Ashley Morrison.
The first round of singles went as expected, Max Miller Carpets winning two of them – number two Casper McCarthy defeating MJM Automotive number three Marcus Cimino, and captain Paul Kealley downing MJM Automotive number two Jeremy Corrin. Dylan Wood put MJM Automotive on the board with a win against Max Miller Carpets number three Andrew Kremor. All these rubbers were decided in three sets.
The first doubles rubber featured the captains and number two's of each side pitted against each other. Wood and Corrin took the first set 11-9, but Kealley and McCarthy bounced back in the next two 11-9, 11-8. The game was played at a high level, with tight rallies and the MJM Automotive pair edged ahead in the fourth set, taking it 11-9. Kealley and McCarthy regrouped for the fifth set, once again a tight contest, but they could hold the MJM Automotive pair, who took the fifth set 11-8 to square the score at 2-2.
The next round of singles also went as expected, except that Casper McCarthy gave Dylan Wood a big fright, taking the game to the fifth set, and only losing 13-11 in the decider. Paul Keally defeated Marcus Cimino, and Jeremy Corrin accounted for Andrew Kremor. Two rubbers to MJM Automotive, and one to Max MillerCarpets.
The second doubles emerged as a pivotal game. Max Miller Carpets needed to win it to bring the score back to 4-4, MJM Automotive wound
be in the box seat if they won, as the score would be 5-3, and they would only need one win in the final round of singles to win the match.
Once again Max Miller Carpets led two sets to one, Keally and Kremor conceding the first set 4-11, but taking the second and third 11-9, 11-6. Wood and Cimino then came to life, running through the fourth set 11-5, then taking the fifth after a tight contest 11-9. So, 5 rubbers to MJM Automotive, 3 to Max Miller Carpets.
Max Miller Carpets started well, Paul Keally defeating Dylan Wood in straight sets 11-6, 11-6, 11-3, Casper McCarthy followed up this win with another for his side, a ding-dong battle with Jeremy Corrin. The quality of play in this match was that at various times it appeared that the player who was at that time in the ascendency could run away with the match, but their opponent always struck back keeping the contest tight. McCarthy eventually prevailed against Corrin 11-7, 11-5, 13-15, 7-11, 11-8.
So after almost nine months after starting this competition, it would be decided by the number three's in the final rubber. MJM Automotive's Marcus Cimino was always in control of the contest, and did not let Andrew Kremor into the game, and went on to win 11-6, 11-7, 11-7.
Max Miller Carpets came oh-so-close, Kealley won three singles, McCarthy two, but the team lost both doubles rubbers.
Final scores: 6 rubbers to 5 and 20 games to 21.
P3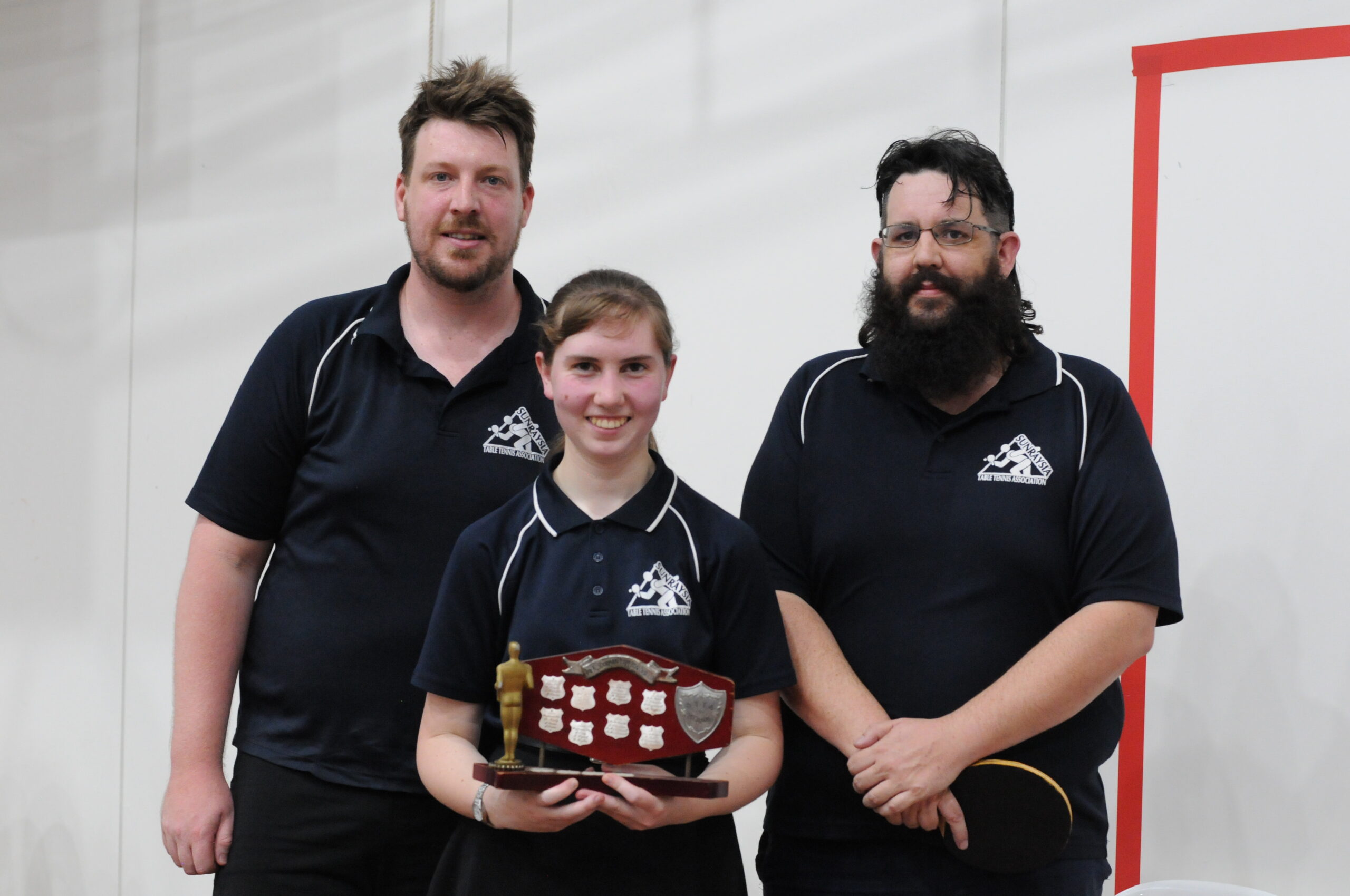 – MJM Automotive 6 (Isiah Bettess, Sabrina Fitzpatrick 2) d Sammy's Slammers 2 (Huseyin Ismail, Brian White 1)
Wow what can I say…….Mallee Meats steal victory from jaws of defeat.
After trailing 3-5 with 3 singles to go Mallee Meats win last 3 …….Therese comes back after trailing one game to two against Isaiah after losing the third 0-11
Ryan too steady for Sabrina and then the finals specialist Ben Hosking goes to work , I see it but I dont believe it.
Ben defeats Nick in four after stealing the first two 12-10 after trailing in both. Sensational effort.
MJM Automotive were the form team of the season, winning thirteen of their fifteen home-and-away matches, four wins clear of their opponents here, Mallee Meats, who finished second.
Mallee Meats captain Therese Fitzpatrick was looking to win the Triple Crown if she could get side over the line in this Grand Final. She had already won the individual singles aggregate for the year with 37 wins, three games clear of second placed James Jarvis, and had also won the Super Eights.
The match started well, Mallee Meats taking two of the first three rubbers: Ryan Hensgen defeating Nick Kiapekosin three sets, whilst Therese downed her mother Sabrina in four. Isaiah Bettess put MJM Automotive on the score board, defeating Ben Hosking.
MJM Automotive squared the scores at 2 all after the first doubles. Bettess and Kiapekos defeated Therese Fitzpatrick and Hensgen in five sets 12-14, 11-1 (what happened there??!!), 6-11, 13-11, 11-7 in a fairly unusual match.
The next round of singles, like the first went as expected, this time MJM Automotive won two of the three: Isaiah Bettess picking up his second win with a four set victory against Ryan Hensgen, and Sabrina Fitzpatrick in straight sets over Ben Hosking. Therese Fitzpatrick kept her side in the match with a straight sets win against Nick Kiapekos.
MJM Automotive were on the verge of winning after the completion of the second doubles – Isaiah Bettess and Sabrina Fitzpatrick taking just three sets to defeat Therese Fitzpatrick and Ben Hosking 11-5, 12-10, 13-11. They now led 5-3 and needed just one of the final three singles, and Mallee Meats had it all to do.
Therese Fitzpatrick got the first of the singles, but her opponent Isaiah Bettess must have thought, after the third set that it was his for the taking. At that point Bettess led 11-7, 7-11, 11-0 (once again, what happened there??!!). Well, whatever happened, Therese regrouped and took thelast two sets convicingly 11-7, 11-5.
Next up Mallee Meats Ryan Hensgen against MJM Automotive captain Sabrina Fitzpatrick. Ryan completely dominated the game, winning 8, 4 and 5. So, it came to the two number three's to determine the game, Ben
Hosking for Mallee Meats, and Nick Kiapekos for MJM Automotive. The match was very close for the first two sets, Hosking just edging Kiapekos 12-10 in each of them. Kiapekos then got the game he threatened to get, taking the third 11-4, and it seemed he was right back in the contest. But it was not to be, Hosking came out firing in the fourth, running through the set 11-4 to lift the trophy for Mallee Meats.
Mallee Meats had won by virtue of singles superiority, Therese won three, Ryan Hensgen won two, and Hosking won the all-important eleventh rubber. For MJM Automotive Isaiah Bettess won two, Sabrina Fitzpatrick one, and the team took both doubles rubbers.
Final scores: 6 rubbers to 5 and 21 games to 19.
P4 – Winter Grand Final 2021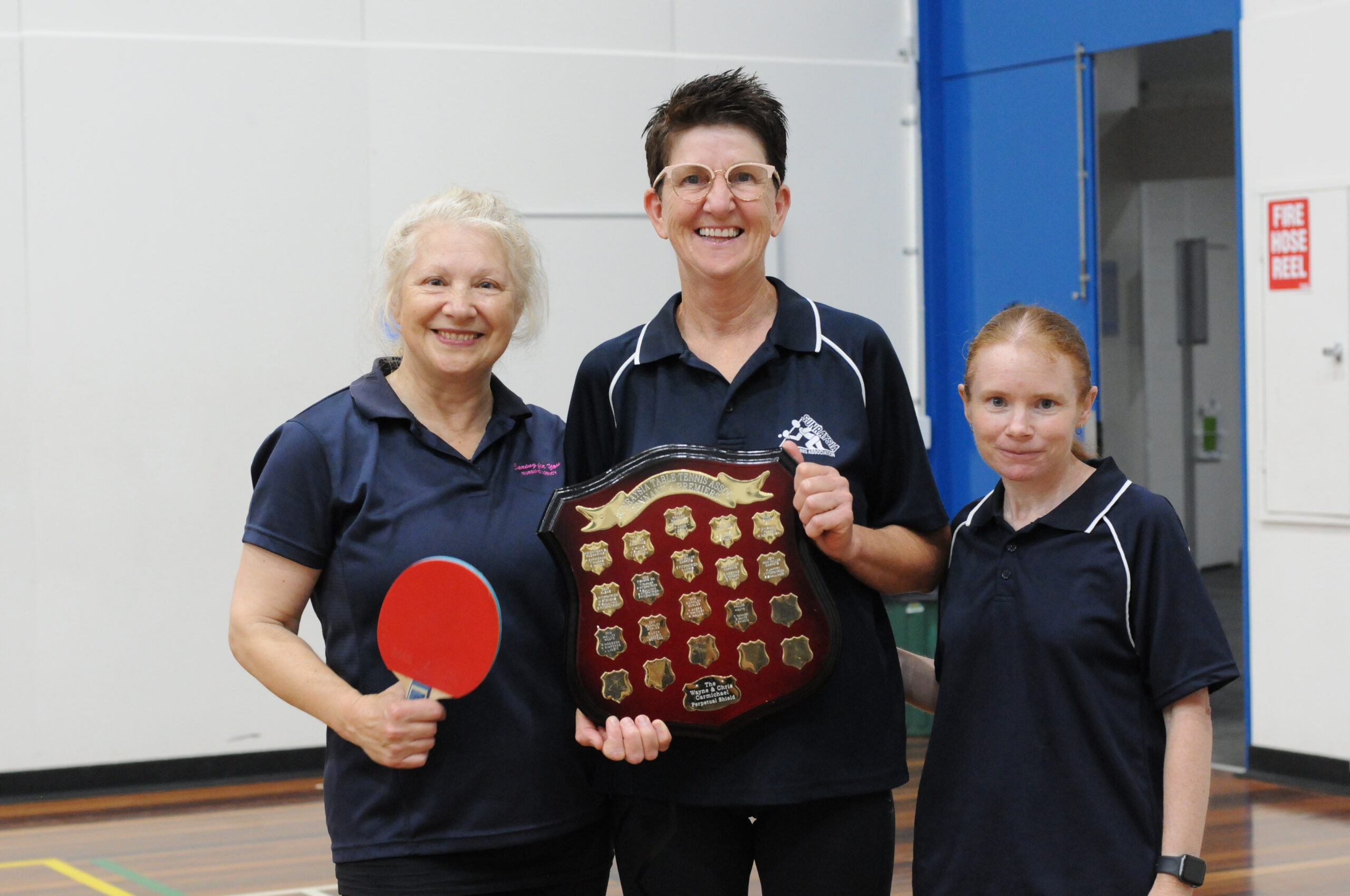 Dunkley Scales 6 (Wendy Simpson, Ildi Healy 2, Maria Starikov 1) def Tankard Dental 5 (Jacinta Ljubic 3, Tom Gilmour 1)
Magic match , Ildi and Tom played a ripsnorter …….
After a stop/start season and a long wait we are finally here. It would appear to be a little ironic that the Winter Grand Final be played on the first day of summer – but that would be furthest from the minds of the Pennant 4 players. The team of Dunkley Scales (Wendy Simpson, Ildi Healy and Phuong Hung Nguyen) have enjoyed a stellar season. Their opponents Tankard Dental (Jacinta Ljubic, Tom Gilmour and Jim Vale) have been consistent throughout but had lost to Dunkley Scales multiple times during the season. With this in mind Dunkley Scales on paper would appear be the clear and overwhelming favourites to take home the Pennant 4 Carmichael Family Shield.
As has been the case for the entire season in this pennant the availability of all players would unfortunately again be an issue. Due to the delay in this Grand Final Phuong Hung Nguyen was unavailable due to interstate commitments. Luckily, Maria Starikov was available to play in place of Nguyen. This Pennant has been closely contested all year and tonight would be no different with no straight sets matches being played. Okay enough small talk – here is the action as it unfolded!
The first match of the evening saw Ildi Healy up against Jim Vale. Healy hasn't lost against Vale this season but these stats count for nought when playing in finals matches. Vale used all of his guile and experience to take the first set 11-4 before Healy had a chance to settle. Healy squared the match taking the second set 11-8. The third set was punctuated with same very long rallies with Vale narrowly taking this set 12-10. An upset looked on the cards with Healy needing to win the final two sets. Healy started the fourth in brilliant style and easily accounted for this set 11-3. The momentum had clearly swung in Healy's favour and with Vale, still feel the effects of that tight third set, was able to win this set comfortably 11-4 and the match to get Dunkley Scales off to the perfect start.
The second match saw Jacinta Ljubic up against Maria Starikov. Ljubic, being the aggregate winner in this pennant, would have been expecting a straightforward win in this match against Starikov. This would be Ljubic's first hit in over three months and this showed as Starikov took the first set 11-9 and was well on track to win the second before Ljubic found her touch to narrowly win the set 11-9. The next two sets were very lengthy as both players enjoy keeping the ball in play with Ljubic eventually prevailing in a tight four set win to get Tankard's off the mark.
The third match saw Wendy Simpson up against Tom Gilmour. These players have had some good battles over the season and a close game was again expected. Simpson started well and had Gilmour on the ropes early in taking the first set 11-7. Gilmour was then able to tighten his game up and exact more pressure on his opponent in taking the second set 11-8. Simpson then matched Gilmour's play and started to gain the ascendency in general play with her serve setting up some attacking shots to follow in taking this set 11-9. This trend was to continue in the fourth set with Simpson taking this 11-6 and the match.
Doubles are always crucial in any match. Tankard Dental have struggled in this department all season and their job would not be made any easier as Ljubic and Vale were up against last weeks' Red Cliffs Doubles Champions pairing of Simpson and Healy. This match went to script with Simpson and Healy claiming victory in four sets as they propelled Dunkley Scales to a very handy 3 – 1 lead.
With Tankard desperately needing a win, it would be their captain Jacinta Ljubic up against Dunkley's Ildi Healy. These two both play a similar game and the ball is always in play. Not only do they have lengthy rallies but also lengthy conversations between points – which adds to great sportsmanship that has been on display throughout this Pennant 4 season. Ljubic accounted for the first two sets 11-5, 11-9 before Healy took the third 11- 6. Ljubic then took control of the fourth winning 11-6 with Healy claiming, "She played too well – too consistent." Thanks Ildi this summed up this match well.
The next game saw Wendy Simpson up against Jim Vale. As in his first match Vale came out all guns blazing in taking the first set 11-8 before seemingly to run out of ammunition with Simpson winning the next three sets to now have her team Dunkley Scales leading 4 – 2.
Tankard Dental now needed to make their run with Tom Gilmour now taking on Dunkley's Maria Starikov. These two have played some tight matches over the year with Gilmour just shading Starikov in these matches. Starikov started this match the better of the two with Gilmour going on the attack and Starikov blunting all these shots to frustrate Gilmour into error – Starikov winning the first set 11-7. Gilmour then became a little more circumspect with his shot selection, which ultimately paid off as he won the next three sets to get his team back on track.
The second double was make or break for the Tankard pairing of Ljubic and Gilmour. As has been often the case this season Tankard's had found themselves in early trouble in the doubles as Dunkley's duo of Simpson and Starikov whipped through the opening set 11-6. The second set was tight with neither team gaining a significant break during the set. Ljubic and Gilmore found a way to win this set 13-11; this not being the longest game in this match. The third set as an absolute thriller with both teams having multiple opportunities to gain the ascendency with Simpson and Starikov winning this set 14-12. The next two sets were tight but relatively short with Ljubic and Gilmore winning these 11-9 and 11-8 to now square the overall match games at 4 all.
The next match was the battle of the Captains. Tankard's Jacinta Ljubic had not lost to Wendy Simpson during this season and Ljubic was hoping this trend was to continue. The first two sets found Ljubic at the top of her game in claiming these sets 11-6, 11-8. Simpson fought back in the third claiming this 11-6 to turn the momentum in her favour. The fourth set was filled with long rallies and great shots with both players playing at their peak. It would go down to the tie breaker with Ljubic prevailing 12-10 to give Tankard Dental the match lead for the first time of the evening as they now led 5-4.
With all on the line, Ildi Healy now had to win against Tom Gilmour to keep this match alive. Healy leads the head-to-head battle against Gilmore; however, in recent times, Gilmour has had the edge in these matches. Healy started strongly in this match taking the first two sets 11-8, 13-11 and looked on track for a straight sets win. However, Gilmour was determined for this not to be the case and has a knack of extending matches to five sets – in fact, he has been involved in more five set matches than anyone across all Pennants this year! Gilmour set about his comeback by taking the third set 11-8 and the fourth 11-7. Gilmore looked set for a great comeback win as he lead early 2-0 in the fifth and everything seemed to be going his way. In a massive momentum swing, Healy peeled off the next seven points to dash the hopes of Gilmour and went on to win the deciding set 11-7.
With the match score at 5 all this was going down to the last game of the evening – or so we thought! Maria Starikov was due to play Jim Vale; however, Vale had left the venue before playing this match. The exact reason for Vale's exit at the time of writing is unknown. I hope all is okay. So with Vale unavailable to play the match was awarded to Starikov on forfeit.
Wayne Carmichael presented the Carmichael Family Shield to the winning team of Dunkley Scales. When doing so he mentioned that the quality of play during the season had improved markedly and that the spirit in which the Pennant was played week after week was sensational. Well summed up Wayne. The final analysis: Dunkley Scales 6 (Wendy Simpson, Ildi Healy 2, Maria Starikov 1) def Tankard Dental 5 (Jacinta Ljubic 3, Tom Gilmour 1).
Finally, I, the unknown editor of P4, would like to thank all of you in P4 for the way you play the game and the genuine friendship you have created in the group. I have enjoyed following your journeys throughout the year. Bring on 2022.
Now one more event to go…….Presentation night