Read Time:
14 Minute, 57 Second
ROUND 5
Scoresheets-Summer-2019-Rnd-5.pdf
PENNANT ONE:
One sided matches were the feature of round five results of the Sunraysia Table Tennis Summer Pennant. Two matches were decided by a score line of eight rubbers to three while Max Miller Carpets were on fire against Regional Taxation Services winning 9-2.
– Cash Converters 8 (Phil Smith 3, Liam Wood 2, Jackson Murphy 1) d Mallee Bearings 3 (Joel Dorman 2, Gavin Carmichael 1)
By winning their fourth match in succession Cash Converters have moved to first position on the ladder one win ahead of Exposed Signage/ Apparel who lost their second match in succession, at the hands of the previously winless Tankard Dental.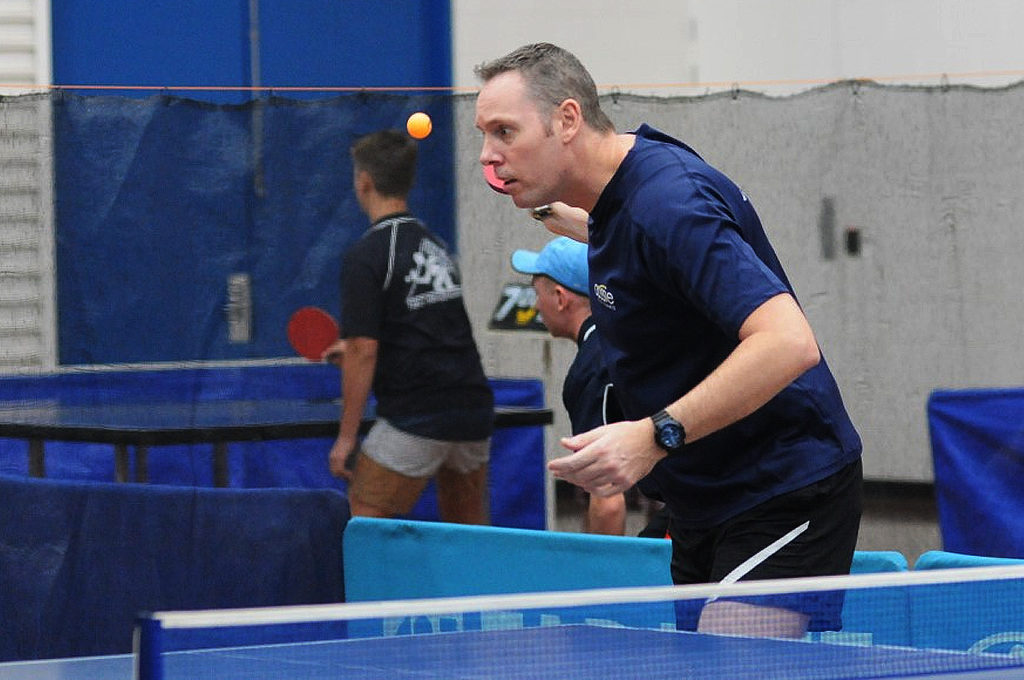 Cash Converters skipper Phil Smith continued his excellent form in his team's 8-3 win over Mallee Bearings. Smith again won three singles and along with team mates Liam Wood and Jackson Murphy they were able to win both doubles. Smith was well supported again this round by youngster Liam Wood who won two singles including an outstanding three set win over Gavin Carmichael 9-15 15-11 15-11 in the first match of the night which gave the Converters the ideal start from which they did not look back.
– Tankard Dental 8 (Wayne Carmichael 3, Reece Kurrle 2, Kevin Johns 1) d Exposed Signage/Apparel 3 (Nicholas Dorman 2, Leon Brown 1)
In an amazing turnaround Tankard Dental who had not tasted success at all this season played excellent table tennis to defeat ladder leaders Exposed Signage / Apparel. Skipper Wayne Carmichael who has had a topsy turvy season by his standards played his best table tennis to win three singles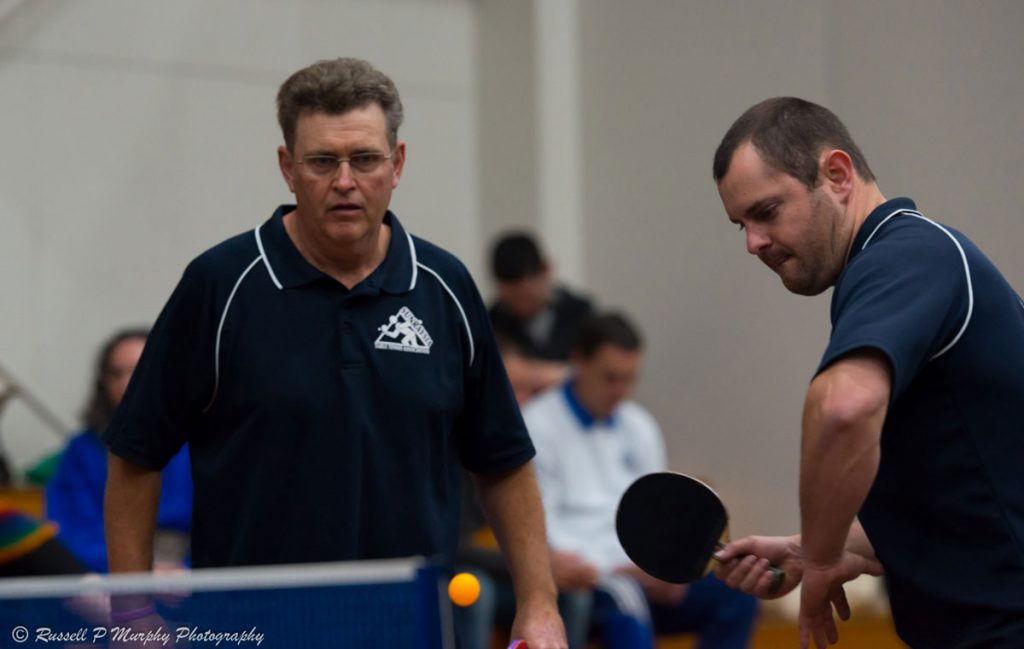 while teammate Reece Kurrle, after a pep talk from Carmichael, found his mark with some outstanding attacking forehand drives in his two singles victories. Team mate Kevin Johns capped off a successful night for his team by defeating the dangerous Thahn Nguyen in the final game to give Tankards a resounding 8-3 win knocking their opponents from the top of the ladder to second position.
– Max Miller Carpets 9 (Matt Ljubic, Mark Ljubic 3, Lee Leeson 1) d Regional Taxation Services 2 (Kate Carmichael, Mark Dorman 1)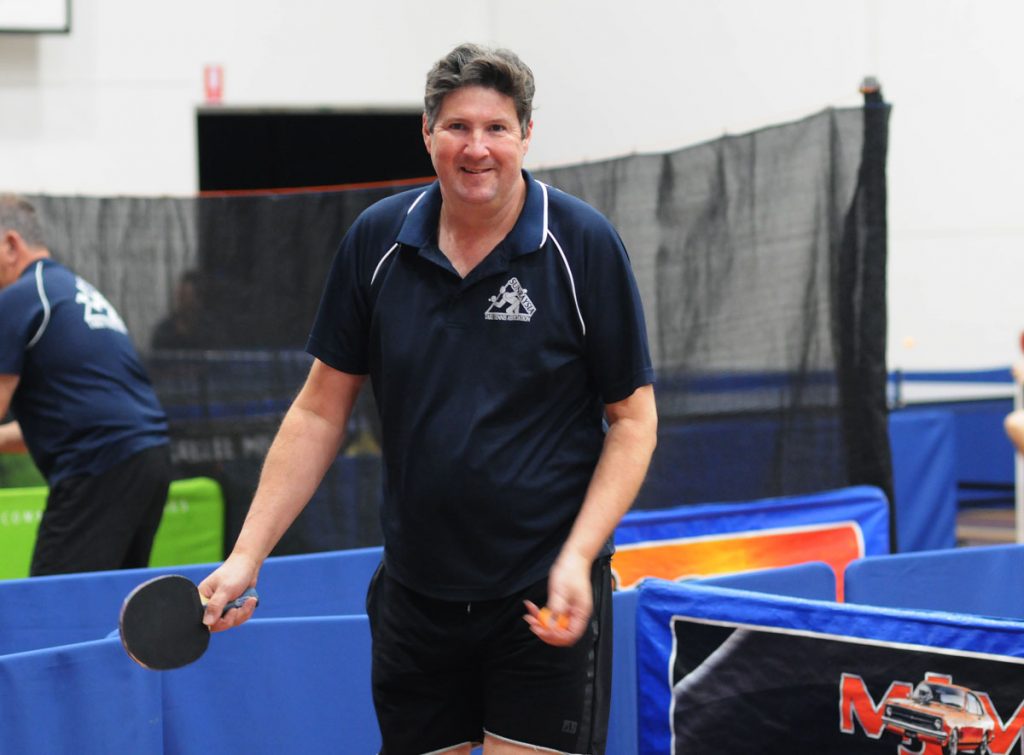 The final match featured the Ljubic show with father and son combination of Mark and Matt winning three singles each in Max Miller Carpets 9-2 win over the luckless Regional Taxation Services. Both Ljubic's were in fine form fine form and despite the score line looking one sided it should be mentioned that RTS lost all the three setters played by the barest of margins in the third , an amazing statistic. Two examples being Mark Dorman holding a match point against Matt Ljubic only to just stumble at the end and later Kate Carmichael easily outpointing Mark Ljubic for the first game and a half only to see Ljubic senior win 19-17 in the third in a big comeback.
PENNANT TWO:
At the half way point of this competition, Max Miller Carpets is the only undefeated team, and this week recorded a huge 9-2 win over fifth-placed Weightmans Packaging; second-placed MJM Automotive defeated bottom side Mallee Meats; and Russell Walder's Cooke's Pools & Spas side ran out east winners against Pinnacle Packers.
– Max Miller Carpets 9 (Jeremy Corrin 3, Jason Gifkins, Arthur Paar 2) d Weightmans Packaging 2 (Tony Malycha 2)
Five games down and wins against every side in the competition – that is the story line for the Max Miller Carpets side so far this season.
Team members Jason Gifkins, Arthur Paar and Jeremy Corrin sit third, seventh and eighth respectively on the aggregate, and it seems that when member of the trio has an off night, one of the other two step up. This week it was number three Jeremy Corrin who filled that role. Not that Gifkins and Paar played all that badly mind, as they both won two singles anyway.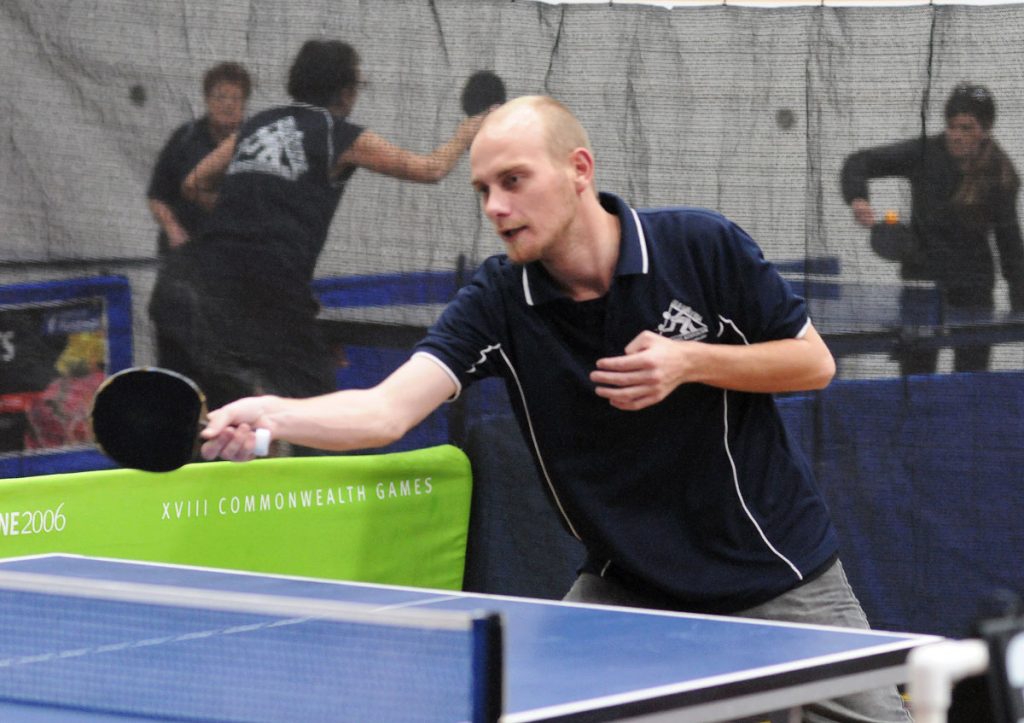 However, three wins by a number three is noteworthy … firstly, Corrin defeated opposite number John Fitzpatrick in three sets in a game where he was just more consistent. The second round of singles saw him against Weightmans Packaging number two Dylan Wood, and Corrin was a class above Dylan in this game, winning 15-5, 15-13. Jeremy's third game was against Weightmans captain Tony Malycha. Obviously a much bigger contest, Corrin lost the first set 14-16, but that only stirred him on to bigger and better things. There was next to nothing between the pair in the next two sets, but Corrin out played Malycha to take them both, 15-13, 15-13.
As mentioned, Gifkins and Paar won two singles rubbers, both fell to Malycha – Gifkins a close loss in three, and Paar falling cheaply in two sets.
On a night when they could do little wrong, the Max Miller Carpets took both doubles rubbers, but not without a fight. Paar and Gifkins lost the first set to Malycha and Wood 13-15, then took control in the last two 15-9, 16-14. It was a similar story in the second doubles, Gifkins and Corrin dropped the first set to Malycha and Fitzpatrick 10-15, then came from behind to win the next two 15-10, 15-12.
Although the winning margin was wide, 9-2, the contest was not a walkover, as there were six rubbers which went to the full three sets. The telling fact though, is that Max Miller Carpets won five of those rubbers.
Final scores: 9 rubbers to 2 and 19 games to 9.
– MJM Automotive 7 (Paul Kealley 3, Terry Martin, Marcus Cimino 1) d Mallee Meats 4 (Andrew Jones, Quentin Clark 2)
Mallee Meats were without their captain, Brad Warden for this game, Andrew Jones subbing for him. Considering Jones has not played at all for about three months, he did well, winning two singles rubbers, and with Quentin Clark, almost the first doubles rubber.
The night, however, saw MJM Automotive win with a solid 7-4 scoreline. Led by Paul Kealley, the MJM trio kept the pressure on throughout the contest. Kealley was the standout player, winning all his singles rubbers, although Jones did give him some concern early in his match. Jones took the first set 15-10, Kealley improved in the second to take it 15-12, but then ran away with the third 15-5, although it must be said Jones was suffering a little from dehydration towards the end of the game.
MJM Automotive number two Terry Martin struggled to win one rubber – that against Mallee Meats number two Peter Fitzpatrick. Fitzpatrick took the first set 15-12, Martin the second 15-12, and although Martin was not at his best, Fitzpatrick could not lift his game enough to take the advantage, and Martin ran out the winner in the third set 15-8.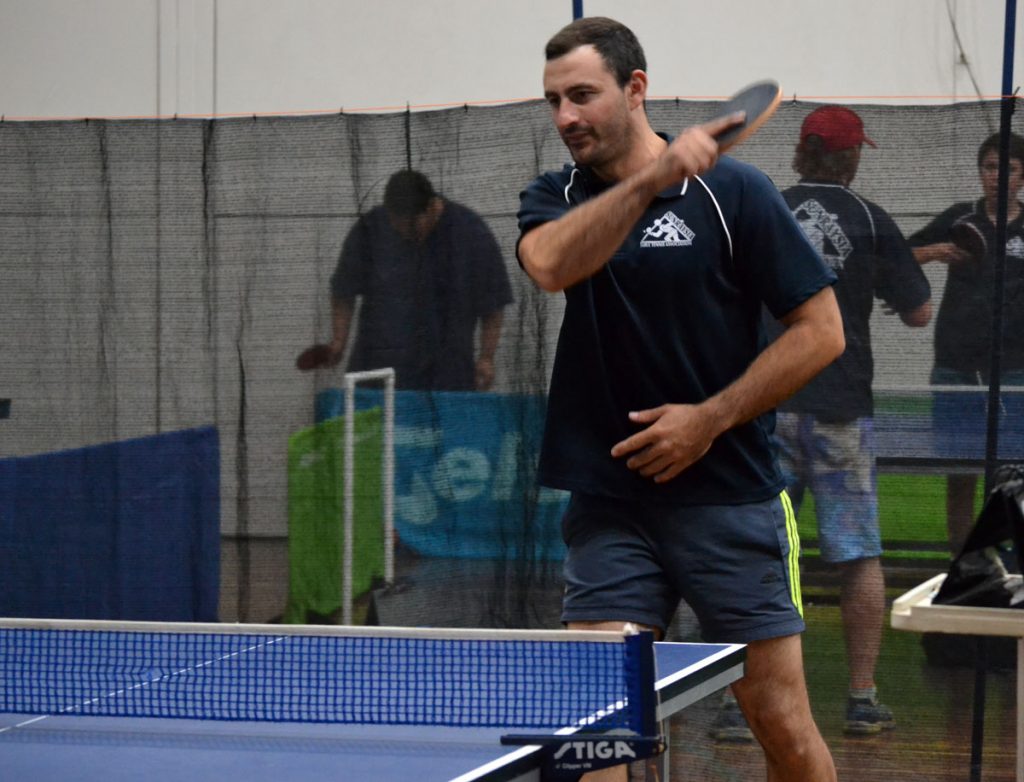 Number three Marcus Cimino likewise defeated Fitzpatrick, but he did it much more easily than Martin, in straight sets.
That was five rubbers for the winners, and wins in both doubles rubbers sealed the victory. Keally and Martin squeaked past Jones and Quentin Clark in three sets 15-13, 12-15, 15-12. Keally and Cimino were the better combination in the clash with Clark and Fitzpatrick, winning in two sets, 16-14, 15-10.
Final scores: 7 rubbers to 4 and 16 games to 11.
– Cookes Pools & Spas 8 (Russell Walder, Casper McCarthy, Rohan Reimers 2) d Pinnacle Packers 3 (Ash Morrison 3)
After losing their first two games in this competition, Cooke's Pools & Spas have begun to find form, the week thumping Pinnacle Packers 8-3, and in the process jumping them, and going to third spot on the ladder.
Although none of the Cooke's Pools & Spas side could defeat Pinnacle Packers captain Ashley Morrison, the three of them did win their other
two singles contests, giving the team six of the nine rubbers on offer. Pinnacle Packers were dealt a blow though, as number two Bernard McCarthy was away. McCarthy, a new recruit, is finding his feet in this grade, and last week won three singles rubbers, so his absence was certainly felt. Mark Kerr subbed for McCarthy and played well, but a lack of match practise ensured his could not overcome any opponent.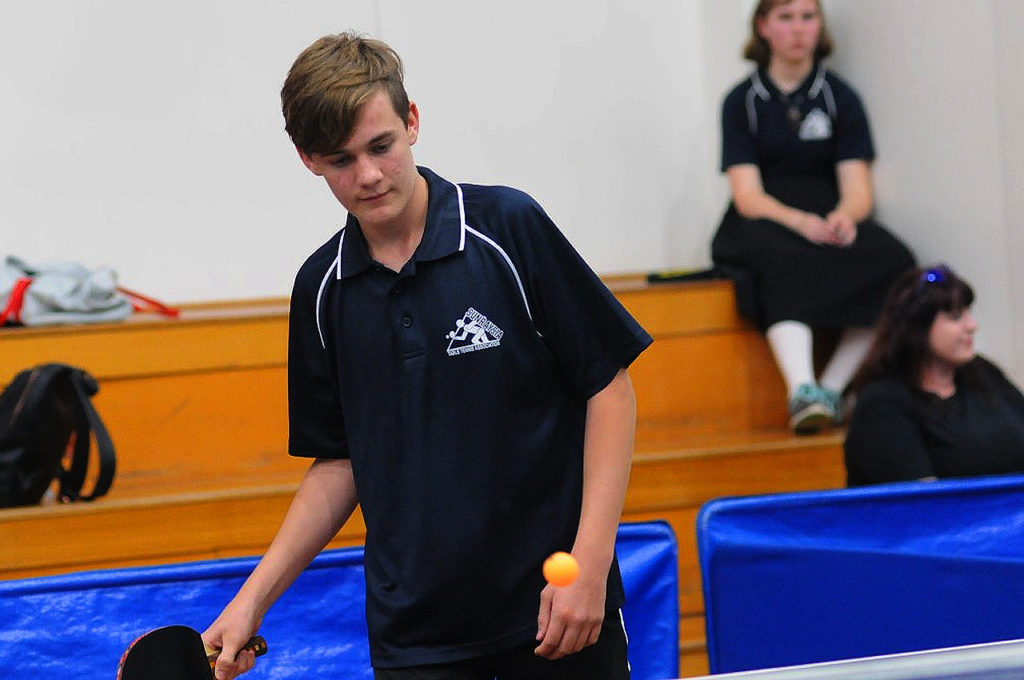 With six singles rubbers in the bag, Cooke's Pools & Spas completed their win in style, with wins in both doubles, and both in two sets. Russell Walder and Casper McCarthy proved a better combination than Morrison and Kerr winning 15-11, 15-13, and Walder and Rohan Reimers won easily against Morrison and David Sergi 15-9, 15-9.
Final scores: 8 rubbers to 3 and 18 games to 9.
PENNANT THREE:
Teams first and second on the ladder were defeated in this round, whilst MJM Automotive earnt a solid fourth spot on the ladder, two games clear of the next best side.
– Cookes Pools & Spas 8 (Therese Fitzpatrick 3, Emily Carmichael 2, Miya Lock 1) d Mallee Meats 3 (Karly Leach 2, Rachel Fitzpatrick 1)
Mallee Meats captain Aidan Riordan was missing this week, and it seems that was the catalyst for the big win by Cooke's Pools & Spas. Even though Cooke's Pools & Spas join them on four wins for the season, Mallee Meats retain top spot by virtue of a better percentage.
Riordan was replaced by Rachel Fitzpatrick, making a return to the game after more than twelve months away, and she was unlucky to come up against the all-girl side of her sister Therese Fitzpatrick, Emily Carmichael and Miya Lock, who all seem to be improving individually and collectively as this season is progressing.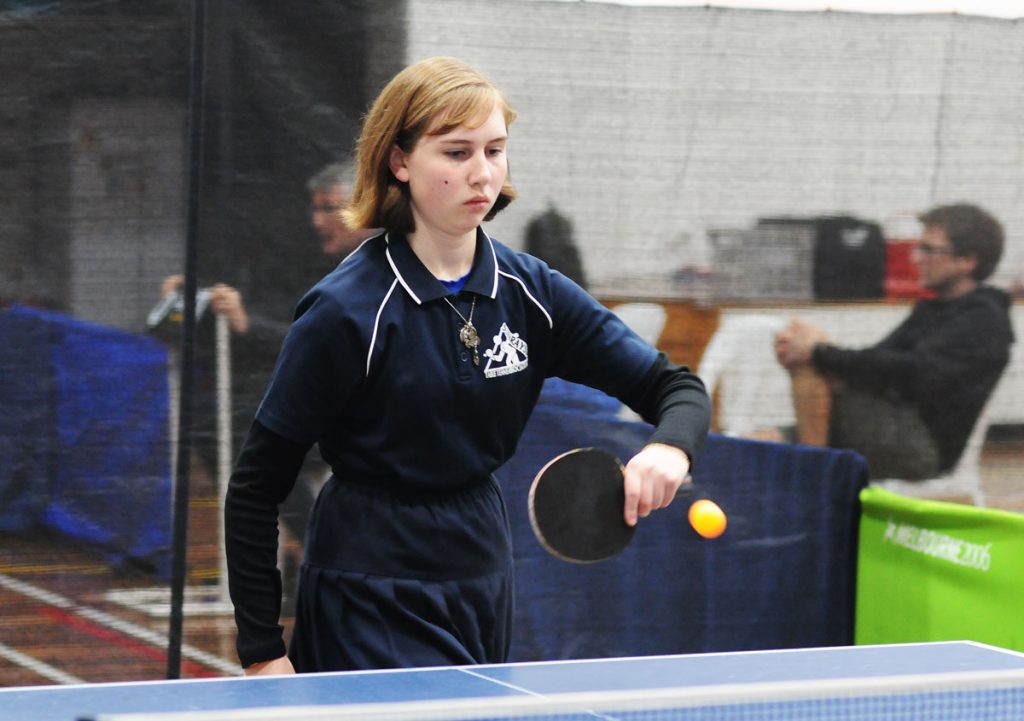 As usual, Therese played her "take no prisoners" style of game, dropping sets here and there, but then beating her opponent into submission. She defeated Karly Leach in three sets 13-15, 15-13, 15-7, Brice Lock in three sets 7-15, 15-10, 15-9, and finished the night with a two set win against Rachel 15-10, 16-14.
Both doubles went to Cooke's – Therese and Emily beat Rachel and Brice in two sets 15-10, 15-13, and in the second Therese and Miya were too good for Rachel and Karly winning 6 and 12.
With wins against Rachel and Brice, Emily Carmichael won two singles, and Miya also had the satisfaction of beating her brother Brice 18-16, 15-9.
Mallee Meats did not go down without a fight though – Rachel won a close match against Miya in three sets. After losing the first set 7-15, Rachel buckled down and took the game to Miya, and was repaid with close wins in the next two sets 15-13, 17-15. Karly Leach took two wins too – a very good three set win against Carmichael 15-11, 13-15, 15-13, and in the in the final rubber, a two set win against Miya 15-8, 15-10.
Final scores: 8 rubbers to 3 and 18 games to 8.
– Regional Taxation Services 6 (Kieren McRae 3, Peter Rhodes 2) d Weightmans Packaging 5 (Isaiah Bettess 2, Sabrina Fitzpatrick, Nick Kiapekos 1)

Regional Taxation Services did in this round what they have been threatening to do for the whole of the season – that is, record a win.
Regional Taxation Services captain Kieren McRae has lost just one singles rubber so far, and his team has lost by the narrowest of margins in three of the previous four rounds. It was a just reward then, that the team finally cracked its duck.
McRae once again won three singles, and with Brice Lock failing to add to his tally in his match (see above), McRae is now three games clear at the head of the aggregate table. McRae was in good form, winning all his matches in straight sets, and was ably backed up by his new number two Peter Rhodes, who made an impressive debut with two singles wins and with McRae,
the first doubles over the steady pair of Sabrina Fitzpatrick and Nick Kiapekos 15-13, 16-14. Rhodes defeated Fitzpatrick in three sets in their singles match, Kiapekos in two, and fell to youngster Isaiah Bettess in a good three setter.
Weightmans Packaging were on the back foot for the first half of the game – after winning the first rubber, Regional Taxation Services took the next four and looked like running away with the contest. Weightmans hit back, however, to level the scores after the second doubles, but with McRae and Rhodes defeating Fitzpatrick and Kiapekos in the final round of singles, Regional Taxation Services were celebrating.
Final scores: 6 rubbers to 5 and 14 games to 11.
– MJM Automotive 7 (Andrew Kremor 3, James Jarvis 2, Nicole Hunt 1) d Sammy's Slammers 4 (Ryan Hensgen, Leonie Dunkley, Costa Skiadas 1)

After a slow start to the season, MJM Automotive secured there second win in this round, and are now fourth on the ladder, two games clear of fifth placed Sammy's Slammers, their opponents here.
MJM Automotive captain Andrew Kremor once again won his three singles, and with that moves from fourth to third on the aggregate, his number three, new recruit James Jarvis won two, and number two Nicole Hunt took a very hard fought win against Costa Skiadas 15-9, 17-19, 16-14.
MJM Automotive also won the second doubles when Kremor and Jarvis proved too good for Ryan Hensgen and Costa Skiadas. Once again it was close, the MJM pair winning 15-9, 13-15, 16-14.
For Sammy's Slammers, their captain Ryan Hensgen continues his lean run for the season. He won just one rubber, that against Nicole Hunt, and it was a bit of a struggle, 12-15, 15-11, 15-11. The two he lost, he lost in three sets also, so there are glimpses of his recent winter season form.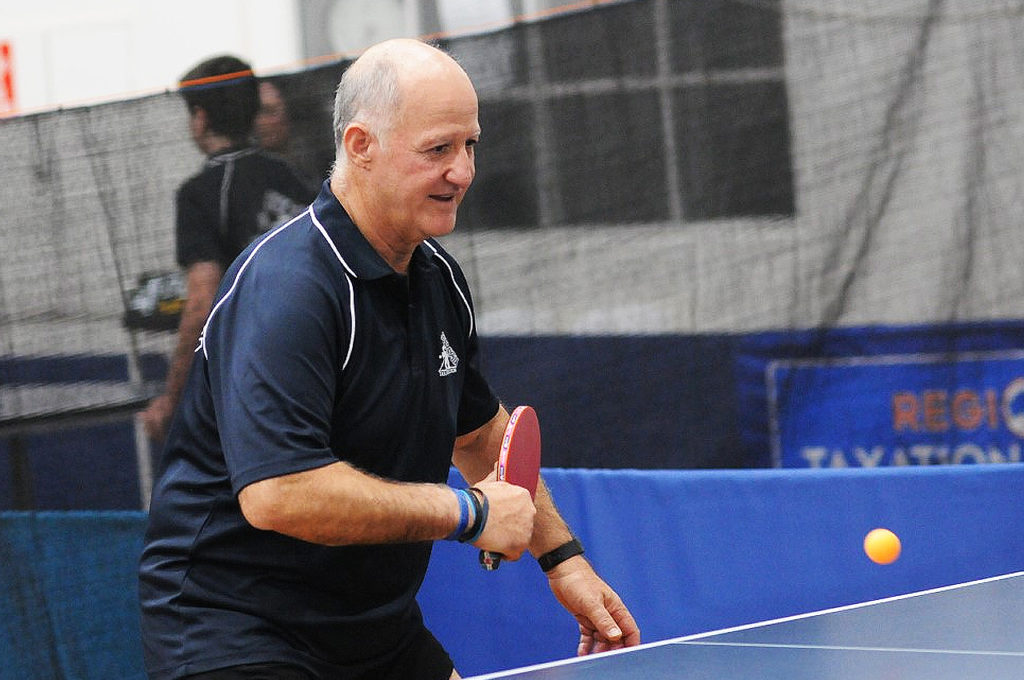 His team-mates, Leonie Dunkley and Costa Skiadas took a win each, Dunkley in two sets over Hunt, and Skiadas doing a good job to contain Jarvis, who at that time looked like he may emulate his captain Andrew Kremor and win three, Skiadas keeping his cool to win 10-15, 15-9, 15-8.
Final scores: 7 rubbers to 4 and 17 games to 11.
PENNANT FOUR:
In this Week's action, we saw a great effort by a number 3 player, but this was not enough to secure victory. In addition, two sister's woes continue as their losing streak lengthens.
– MJM Automotive 7 (Ben Hosking 3, Jamie Kealley 2, Jim Vale 1) def Mallee Meats 4 (Joy Sullivan 2, Wendy Simpson 1)
The last time these two teams met, it was a similar result with MJM Automotive winning 8 -3. This time things were slightly different with Jim Vale substituting for an unavailable Nycole Riordan. With Riordan unavailable MJM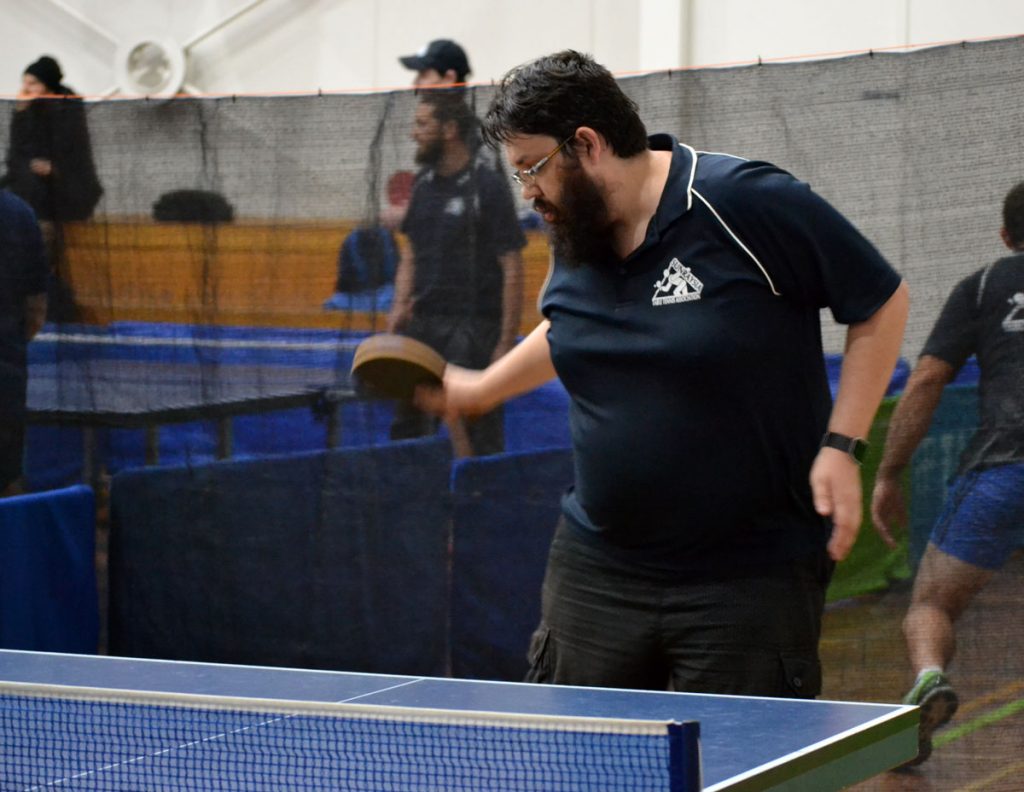 Captain Ben Hosking rallied the troops and led from the front. He was in impressive form winning three singles and along with young gun Jamie Kealley were seldom troubled during the night.
In the match of the night, Kealley was up against Mallee Meats Joy Sullivan. Sullivan was shell shocked early as Kealley rattled off point after point to take the first 15-11. Undeterred Sullivan fought back and stepped up her defensive game to blunt the Kealley onslaught to take the second 15-12. One would think that the more experienced Sullivan would have then wrapped this up easily in the third – wait but think again. In a great third set tussle both players refused to surrender as this went to a tiebreaker at 14 all. Both had their opportunities; however, it was Simpson who prevailed 17-15 to have a bright moment in an otherwise bleak night for her team.
Jim Vale added the icing on the cake to contribute an import singles victory that has secured a 7-4 victory for MJM Automotive as they continue their great run of form. For Mallee Meats they will be stewing on this loss, but must regroup quickly to turn their season around.
– Dunkley Scales 6 (Kelsey Davey, Glenn Leeson 2) def Tankard Dental 5(Tim Finck 3, Jacinta Ljubic, Abbey Carmichael 1)
Well this game had more twists and turns than a Chinese New Year's Dragon. The story of the night is the breakout form of young international recruit Tim Finck who claimed three singles victories for Tankard Dental. However, Dunkley Scales would prevail in a night of long rallies and high tension. Glenn Leeson and Kelsey Davey each claimed two singles victories for Dunkley's and along with teammate Raylee Waugh managed to win two thrilling doubles victories that secured victory.
The first of these titanic doubles matches was the pairing of Davey and Leeson up against Tankard Dental duo of Jacinta Ljubic and Abbey Carmichael. During the first set Dunkley's took control to take this 15-11 before a determined effort from Tankard's took the second 15-13 to square the match. The third was a repeat of the second with neither team in total control before Dunkley's edged out their opponents to take the third 15-13 and the match.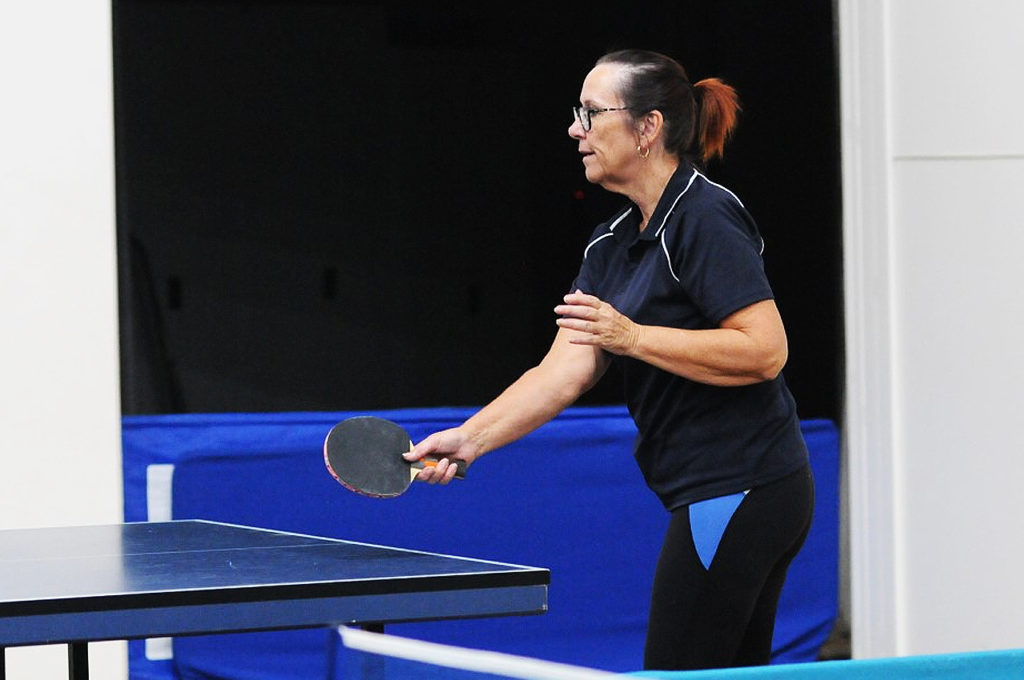 The second doubles match was another very close affair. The pairing of Leeson and Waugh took the first 15-12. The second set was remarkable with neither team finding the finishing touches until Ljubic and Finck took this 20-18 to set up a third set. The third set was an anticlimax with Leeson and Waugh in control to take this 15-10.
Overall, it was an entertaining match with many highlights. Well done to Tim Finck on winning of his singles matches but it was Dunkley Scales's night as they prevail 6 games to 5.