Read Time:
12 Minute, 59 Second
Two weeks ago Regional Taxation Services were languishing at the bottom of the ladder winless after four rounds. Advance two weeks and at the completion of round six matches of the Sunraysia Table Tennis "Cash Converters" pennant they have won two on the trot and this round defeated Mallee Bearings who after four rounds were undefeated and now have been defeated in the past two weeks.
STTA scoresheets – Rnd6 W 2019
PENNANT ONE:
– Regional Taxation Services 6 (Jackson Murphy, Joel Dorman 2, Matt Ljubic 1) d Mallee Bearings 5(Joel Thomas 3, Reece Kurrle 1)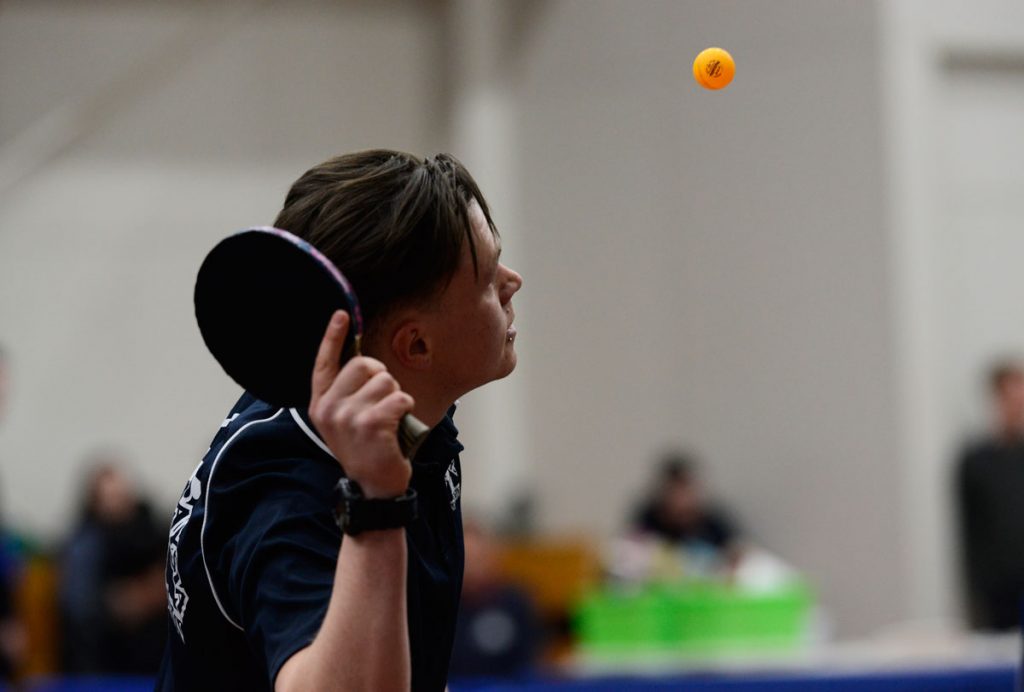 RTS number three Jackson Murphy has played an outstanding role in his teams revival proving that lightning may strike twice, last round Murphy with the match at five rubbers all trailed his opponent 7-10 in the fifth and looked gone only to rattle off five points in succession to score an outstanding win, this round again with the scores locked at five rubbers all against the top team Murphy again trailed in the fifth 8-10 against opponent Lee Thomas and this time he again came up trumps with a strong finish much to the delight of team mates Matt Ljubic and Joel Dorman.
Earlier in the first game of the contest Murphy fronted up against opposing number two Reece Kurrle and again tasted success in five sets 10-12 11-9 11-9 7-11 11-7.
Team mate Joel Dorman who has been in excellent form also enjoyed a good night winning two singles and taking part in the first doubles success with team mate Matt Ljubic. This combination inflicted a rare defeat on Joel Thomas and Reece Kurrle in another top class five setter.
Mallee Bearings Joel Thomas again won three singles while Kurrle won one and was unlucky going down in two lengthy five setters at the hands of Murphy and Joel Dorman. This was an excellent 6-5 win by the Regional Taxation Services trio.
– Exposed Signage/Apparel 6 (Nicholas Dorman 2, Kate Carmichael, Leslie Ncube 1) d Cash Converters 5 (Shannon Bowen 3, Jackson Tung 2)
Exposed/Signage Apparel also recorded their second win of the season with a solid 6-5 victory over Cash Converters who on a congested ladder have also recorded two victories for the season. This loss has pushed them to the bottom of the ladder albeit by percentage only. For the victors Nicholas Dorman won two singles while Kate Carmichael and Leslie Ncube chipped in with one each.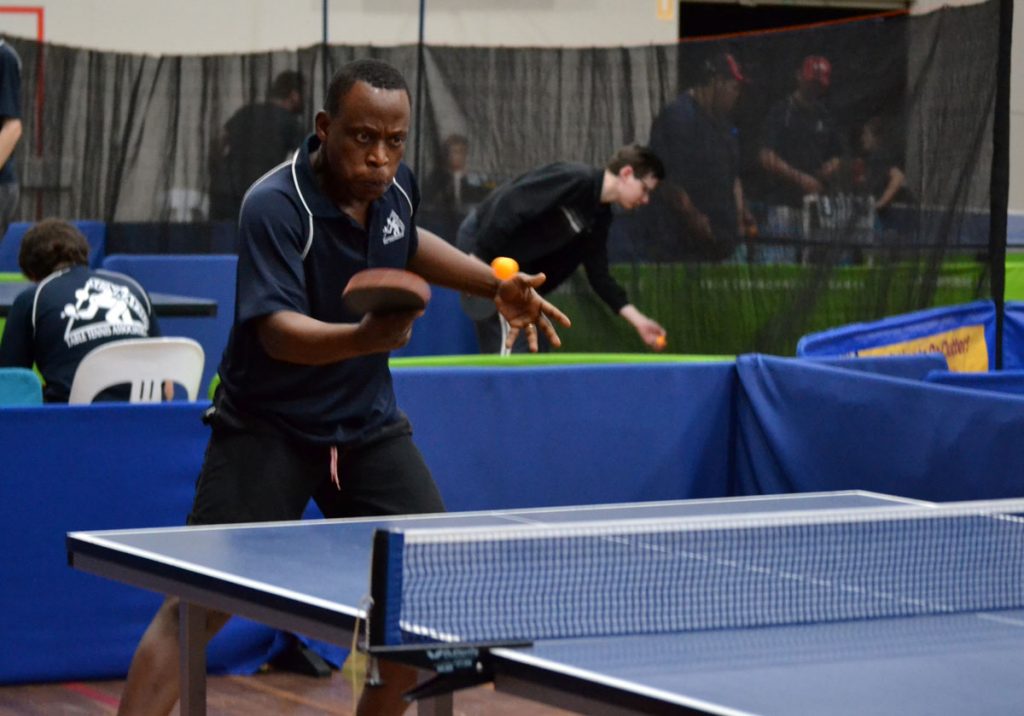 Exposed Signage took a 5-3 lead during the match and scores were levelled at five rubbers all courtesy of Shannon Bowen and Jackson Tung defeating Dorman and Carmichael in consecutive singles matches. At 5 rubbers all Ncube put last weeks defeat out of his mind and proved too strong in straight sets against Leon Brown.
Victory in both doubles in five sets by Exposed / Signage Apparel proved to be the difference. Amazingly over six rounds every match they have played in has been decided by the barest of margins 6-5.
– Max Miller Carpets 7 (Phil Smith 3, Gavin Carmichael 2, Ed Hung 1) d Tankard Dental 4(Wayne Carmichael 2, Mark Dorman 1)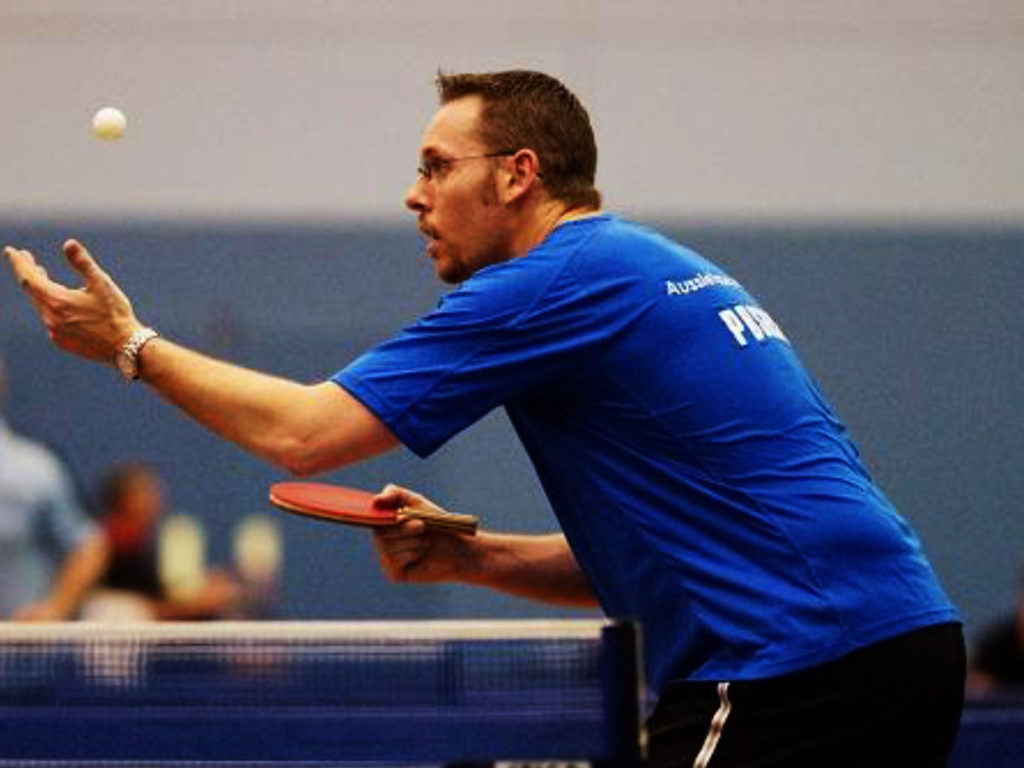 In the remaining match Max Miller Carpets were out of the blocks early to lead 5-1 against Tankard Dental. Tankards then won three in succession to get back in the match before the Carpeters skipper Phil Smith won his third singles in a tough five set slog against Mark Dorman. In an exciting final match Tankards young gun Liam Wood fought hard against Ed Hung. In an outstanding fifth game both players traded many fine blows before the experienced Hung hung on to win 9-11 11-3 11-4 6-11 11-9.
This win has enabled Max Miller Carpets to go one game clear on top of the ladder.
PENNANT TWO:
Max Miller Carpets regained top spot on the ladder with a win against Pinnacle Packers; Mallee Meats inflict the second loss on Weightmans Packaging for the season, defeating them as they did in round 1; and Cooke's Pools & Spas continue their form from last round with a win against MJM Automotive.

– Max Miller Carpets 6 (Russell Walder, Arthur Paar 2) d Pinnacle Packers 5 (Peter Midgley, Michael Hensgen 2, David Sergi 1)
Max Miller Carpets once again head the ladder, one game clear of their pursuers.
They might consider themselves a little bit fortunate in this game though, as Pinnacle Packers took five of the nine singles rubbers on offer, and Russell Walder and his side had to rely on wins in both doubles to get the win.
The first doubles rubber was what ultimately won the game for the Max Miller Carpets side. Russell Walder and Dylan Wood trailed the Pinnacle Packers pair of Peter Midgley and Michael Hensgen 1-2. At that point it appeared the game was out of their reach as Pinnacle Packers certainly had made the better score, leading 10-12, 13-11, 11-4. But after that loose third set, the Max Miller Carpets pair put their heads down to take the last two sets 11-8, 12-10.
The second doubles rubber also went to Max Miller Carpets, this time in straight sets.
As mentioned, the Pinnacle Packers side took five of the nine singles rubbers, Peter Midgley and Michael Hensgen two each, and the ever improving David Sergi one.
Sergi defeated Dylan Wood in straight sets, and whilst it is true the result of the match had already been decided, Sergi's commitment to the game at hand, is always going to prove a danger to any opponent. Don't forget, when this side played Weightmans Packaging in round 3, Sergi, although failing to win a rubber, took each of the Weightmans side to five sets.
Final scores: 6 rubbers to 5 and 23 games to 18.

– Mallee Meats 6 (Tony Malycha, Brad Warden 2, John Fitzpatrick 1) d Weightmans Packaging 5(Kevin Johns 3, Quentin Clark 1)
Mallee Meats, the only side to defeat Weightmans Packaging in the first five rounds, did it again here in round number six, and in so doing saw Weightmans fall to second on the ladder.
Mallee Meats captain Brad Warden and number two Tony Malycha each took two singles wins, but it was the performance of their number three John Fitzpatrick which caught the eye.
John was probably the reason the side won this game, as he played a great five setter to defeat his father, Peter, and then in the second doubles rubber, he and Malycha held their collective nerve to down the previously undefeated pairing of Kevin Johns and once again Peter Fitzpatrick. In both these games John (and in the doubles Tony Malycha) took the first two sets, then lost the next two, and each game was decided in a close fifth set. John also came oh-so close to defeating the Weightmans Packaging number two Quentin Clark. The young Fitzpatrick led 11-9, 5-11, 11-6, and had his chances to finish Clark off in the fourth set. Clark hung on desperately to win the fourth 16-14, then to John's disappointment, Clark took the fifth. However, a great performance.
For Weightmans Packaging, Kevin Johns again took three wins to keep his side in the match, but with only Quentin Clark able to support him, via that win against John Fitzpatrick, and then the first doubles rubber (also a five setter), they came up short against a side that is improving all the time.
Final scores: 6 rubbers to 5 and 23 games to 21.

– Cookes Pools & Spas 7 (Thanh Nguyen 3, Jeremy Corrin 2, Andrew Jones 1) d MJM Automotive 4 (Jason Gifkins 2, Terry Martin 1)
Cooke's Pools & Spas took their second win for the season, and their second win in a row, in this match against MJM Automotive. This sees them fifth on the ladder, equal on wins with fourth-placed Pinnacle Packers, but behind on percentage.
In a well-rounded performance, all members of the side took wins; captain Thanh Nguyen three, number two Jeremy Corrin had his best night so far this season with two wins, and Andrew Jones once again came up with one. Add to those wins the second doubles rubber when Nguyen and Jones won in straight sets against Jason Gifkins and Rohan Reimers, and this was a solid 7-4 victory.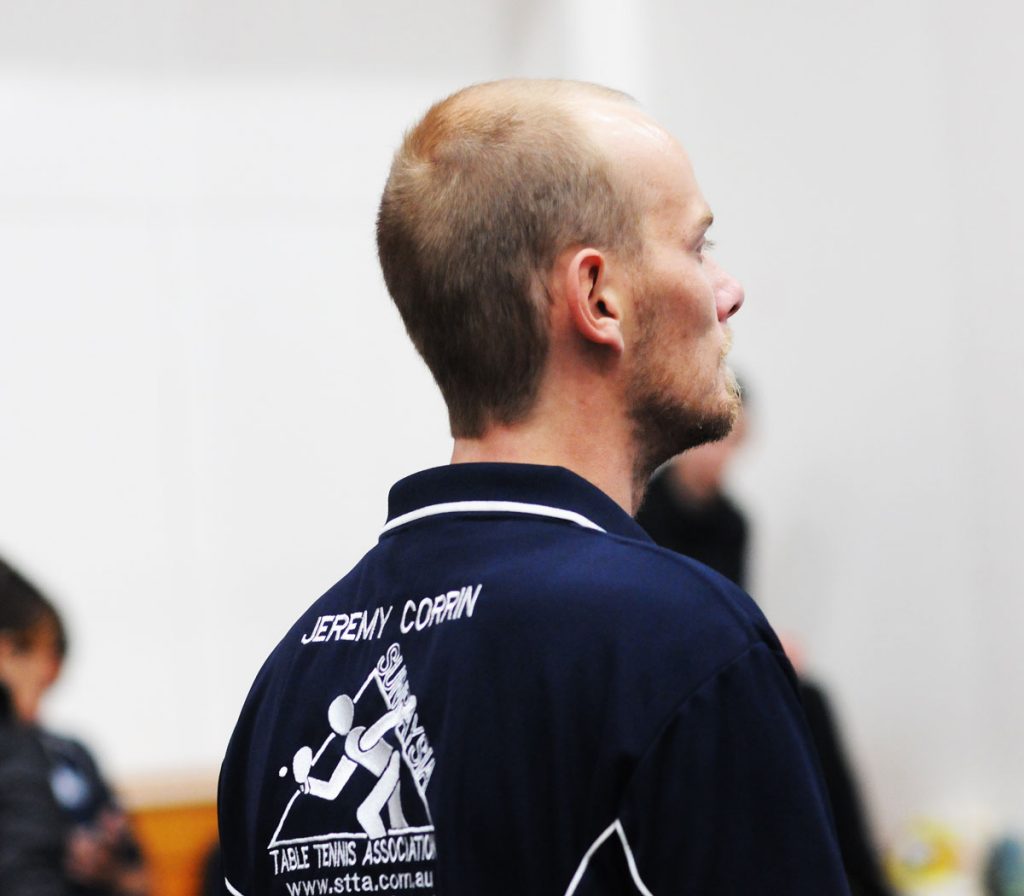 Corrin has had a season full of effort, but with little result up until now, but this game confirmed that Corrin's ranking at number two in this side is correct. In taking the first two sets 11-4, 11-7 of his match he gave MJM Automotive captain Jason Gifkins a scare, and although he lost the next three, those first two sets were a sign of things to come. He went
onto defeat both Terry Martin and Rohan Reimers in five sets to take two hard-fought singles rubbers.
In taking three singles rubbers for the third time in a row, Nguyen now sits only one game behind aggregate leader Michael Hensgen, 15 games to 16.
Final scores: 7 rubbers to 4 and 25 games to 20
PENNANT THREE:
Sammy's Slammers moved further ahead at the top of the table, now two games clear of their closest opposition; Regional Taxation Services moved from fourth to second with their win against Mallee Meats; and Cooke's Pools & Spas broke their drought, winning for the first time since round two.

– Sammy's Slammers 7 (Casper McCarthy, Huseyin Ismail 2, Ryan Hensgen 1) d Weightmans Packaging 4 (Aiden Riordan 3) SAMMY'S SLAMMERS v WEIGHTMANS PACKAGING
Despite Weightmans Packaging captain Aidan Riordan taking three singles rubbers, Sammy's Slammers had too much firepower in this round six match.
With Casper McCarthy and Huseyin Ismail both recording two wins, and Ryan Hensgen one, Sammy's Slammers then demonstrated just how settled a side they are by taking both doubles rubbers.
The two captains of these two sides are evenly matched; McCarthy leads Riordan on the aggregate 14 rubbers to 13, but in their clash it was Riordan who prevailed. After being down 2 sets to 1, Riordan played a solid fourth set winning 11-8, before taking the fifth easily 11-4.
And whilst it was expected that Riordan would have a close match with McCarthy, it was probably not expected that the Sammy's Slammers number three Ryan Hensgen would came within a couple of points of toppling Riordan. Hensgen's match with Riordan was closer than was that of McCarthy, but Riordan hung on to win 11-13, 12-10, 8-11, 11-8, 11-9.
Final scores: 7 rubbers to 4 and 25 games to 16.

– Regional Taxation Services 6 (Sabrina Fitzpatrick, Lachlan Prothero 2, Luke Ljubic 1) d Mallee Meats 5 (Marcus Cimino 3, Ayden Costa 1)
Regional Taxation Services took the win in this match, and in so doing jumped two spots on the ladder, from fourth to second.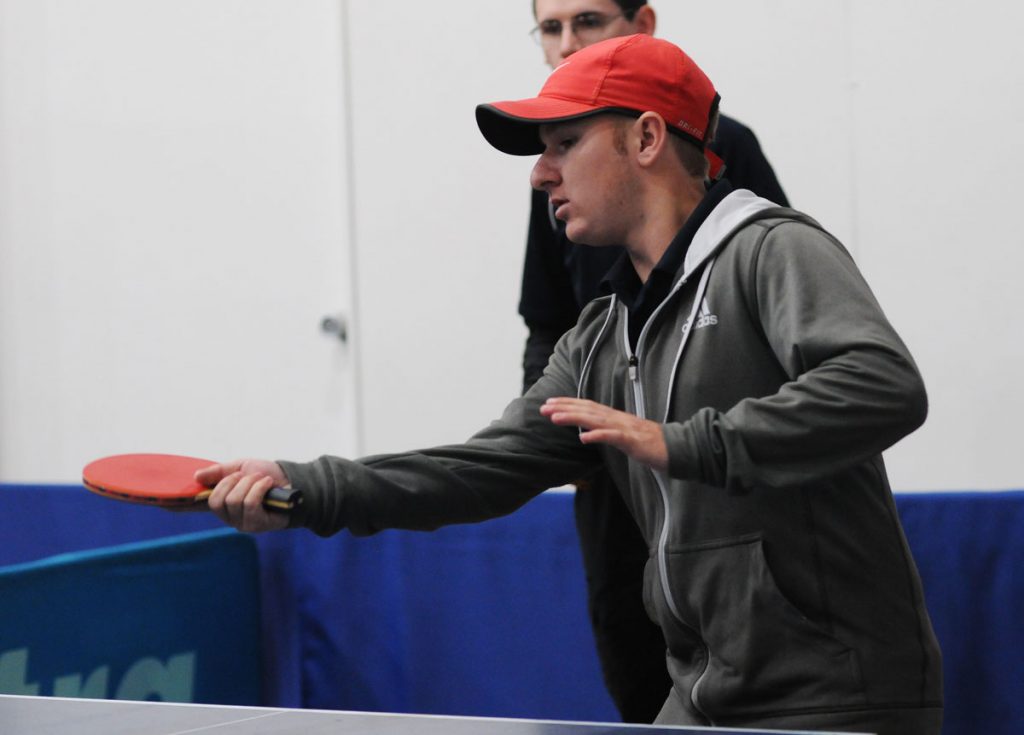 The Regional Taxation Services pair of Sabrina Fitzpatrick and Lachlan Prothero (subbing for Andrew Kremor) took two wins each, and their number three Luke Ljubic one. None of these players could topple Mallee Meats captain Marcus Cimono, who only dropped a single set on his way to three singles wins.
Fitzpatrick and Prothero combined well in the first doubles too, winning against Cimino and Leonie Dunkley 12-10 in the fifth set. Later, in the
second doubles, Prothero paired with Luke Ljubic, but they could not get the better of Cimino and Ayden Costa, who had to come from behind to win in five sets.
And speaking of Ayden Costa, Ayden won his first singles rubber for this season, and he certainly earned it. Ayden was playing well, but in his clash with opposite number Luke Ljubic he trailed two sets to love12-14, 10-12. Then things turned around, and Costa took the next three sets 8, 4 and 8 to take a much needed confidence boosting victory.
Final scores: 6 rubbers to 5 and 23 games to 21.

– Cookes Pools & Spas 5 (Shah Sandhu 3, Matt Cherry 2) d MJM Automotive 4 (Stephan Ljubic 2, Karly Leach 1)
Both captains were missing from this match, and as there were no replacements, this was a game of 2v2.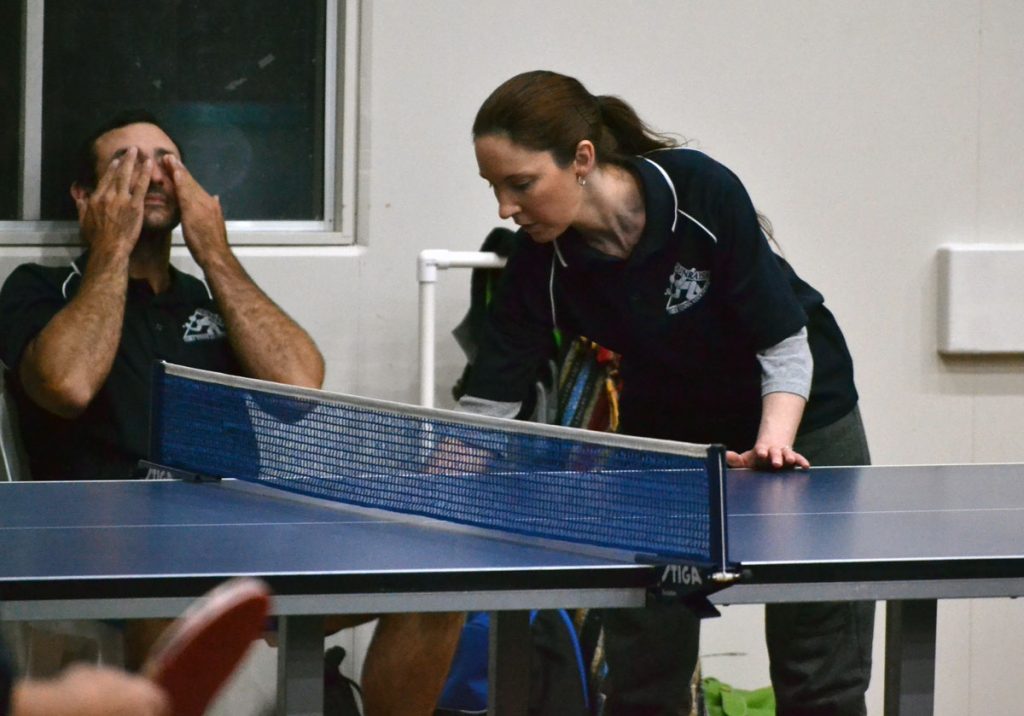 There were however, a couple of good games … Shah Sandhu and Karly Leach played a good five setter, Sandhu coming out on top, and in the next rubber played Leach and Stephan Ljubic turned the tables on their Cooke's Pools & Spas opponents to take the doubles rubber. They almost let the game slip from their grasp however, as after taking the first two sets 11-8, 11-8, they conceded the next two 11-6, 11-7, and then had to settle down to the "no pressure" fifth set. Luckily for them they did enough to win 11-8.
Final scores: 5 rubbers to 4 and 17 games to 15.
PENNANT FOUR:
Mallee Meats 11 (Dave Tanner, Costa Skiadas, Brian White 3) def Tankard Dental 0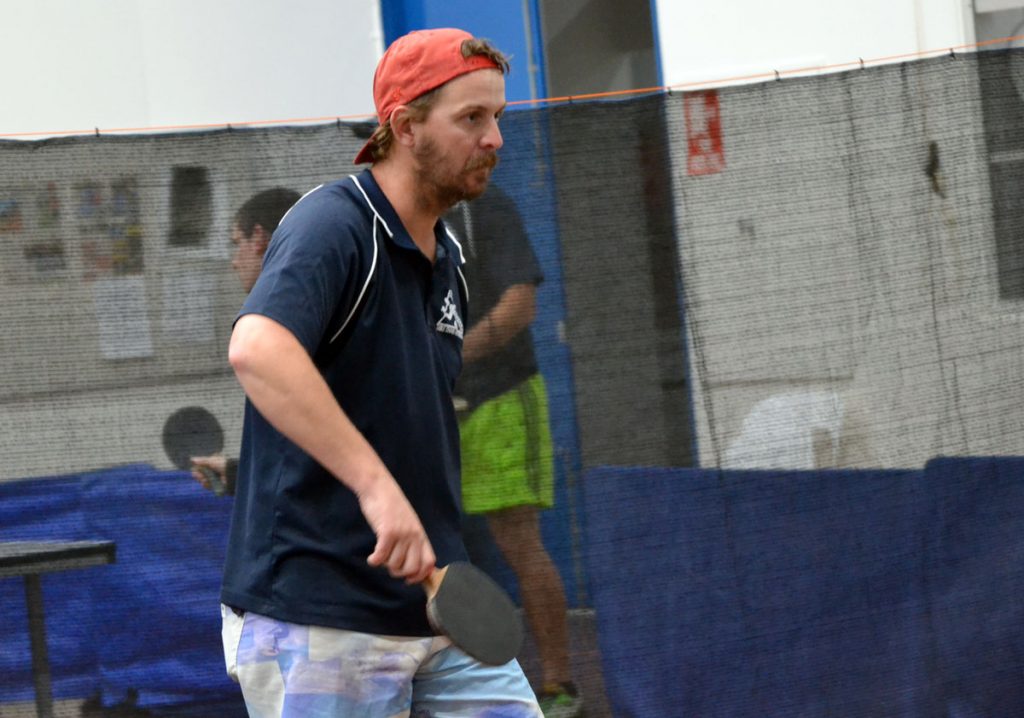 Mallee Meats have produced a rare feat in claiming an 11-0 clean sweep against Tankard Dental. While the score line looks like an easy night for the Butcher's they were indeed tested with nine of the eleven games going to at least four sets. Captain Dave Tanner has his team firing on all cylinders and his teammates Costa Skiadas and Brian White enjoyed their maiden three singles victories. Opposition Captain Jacinta Ljubic tried hard but she lost two of her games in very close five set matches to Skiadas and White. Maybe Tankard Dental are planning a 1916 Fitzroy plan of attack. This year the wooden spoon team also won the premiership. Could history repeat itself 103 years later?
Well done to Mallee Meats, who are going from strength to strength, in winning this match in emphatic style 11 – 0. Although beaten Tankard Dental's Wendy Simpson did quote, "It doesn't matter – our team is still enjoying playing together". Well done Wendy on your positive attitude. It will be interesting to see if the phoenix can rise from the ashes.
MJM Automotive 7 (Isaiah Bettess, Joy Sullivan, Nycole Riordan 2) def Dunkley Scales 4(Miya Lock 3)
The last time these two teams met in round three the result was the same. However, what is impressive about MJM's victory was the even contributions made across the team. It is not usual to see all plyers in a team win two singles apiece. For Dunkley Scales, Captain Miya Lock was in impressive form winning all of her singles matches.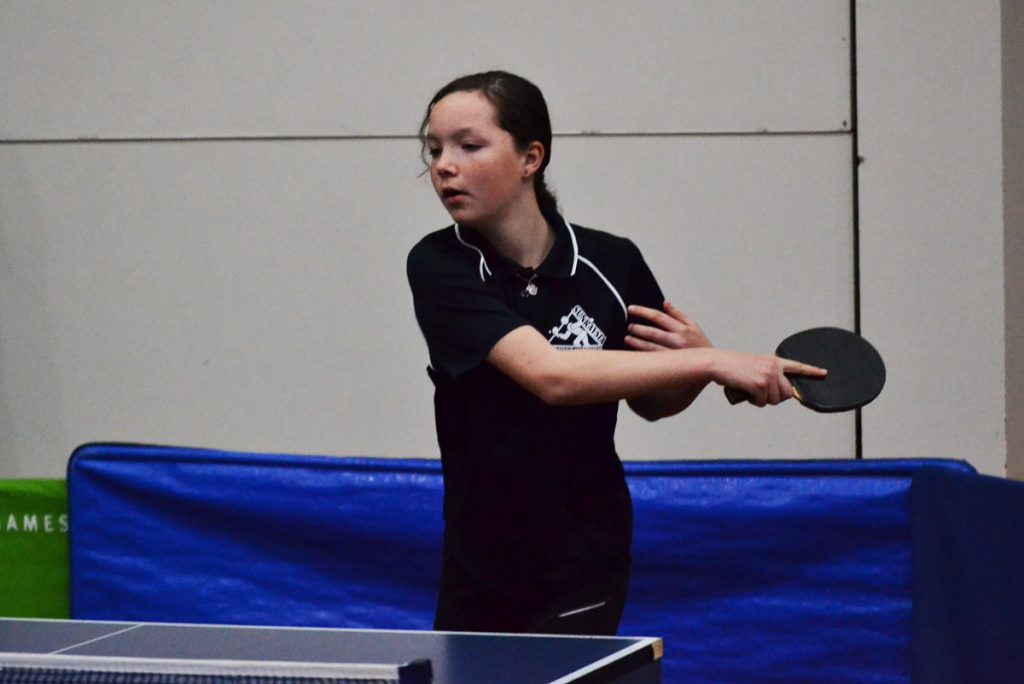 After a quiet week last week, MJM's Joy Sullivan found form in securing two singles victories. Such was her form reversal that she came very close to winning all three as she was pipped on the line by Lock. Lock narrowly winning this match 3-11, 11-6, 10-12, 11-3, 11-9.
Sullivan's teammate Nycole Riordan continued her great run of form in also claiming two singles victories. Captain Isiah Bettess also won two, however was outclassed by opposing Captain Miya Lock. In a much anticipated match the result was one way traffic as Lock won 11-4, 12-10, 11-6.
In summary well done to MJM Automotive in winning the match, 7 games to 4 and thus consolidating second spot on the ladder.