Read Time:
13 Minute, 7 Second
PENNANT ONE:

In an exciting round six of the "Cash Converters" Sunraysia Table Tennis pennant one competition all matches were decided by a 6-5 result. In an indication of the evenness of the teams the top two teams Mallee Bearings and Cash Converters were able to narrowly overcome the bottom two teams Exposed Signage / Apparel and Regional Taxation Services respectively while Max Miller Carpets skipper Shannon Bowen displayed his best form of the season to win three singles and lead his team to victory over fourth team Tankard Dental.
– Mallee Bearings 6 (Joel Thomas 3, Mark Ljubic, Ed Hung 1) d Regional Taxation Services 5 (Wayne Carmichael 2, Leslie Ncube, Reece Kurrle 1)
Ladder leader Mallee Bearings received a real scare from Regional Taxation Services despite Joel Thomas winning three singles for the sixth round in succession. In the end the difference was the singles victory by Mallee Bearings number three Ed Hung over Leslie Ncube. When these two met the scores were locked at three rubbers all. Hung won the first two games and as expected Ncube fought back to level the match, there were many lengthy rallies and it was Hung who took the initiative and eventually took the points narrowly 11-6 11-7 9-11 4-11 11-8 a huge win for his team.
Earlier Ncube had teamed up with Wayne Carmichael to outlast Joel Thomas and Mark Ljubic 11-9 in the fifth in the first doubles. RTS skipper Carmichael then scored the same result over Mark Ljubic in another entertaining five setter.
After he defeated Ncube, Hung then played a key role for his team when he partnered Joel Thomas to win the second doubles in straight sets over Wayne Carmichael and Reece Kurrle.
The final two singles featured victories to Ncube and Kurrle over Mark Ljubic and Ed Hung in a strong finish however the ladder leaders despite a real scare were able to grab the four points courtesy of the fine play by Ed Hung, his best table tennis for the season.
– Cash Converters 6 (Matt Avers 3, Mark Dorman 1) d Exposed Signage/Apparel 5 (Matt Ljubic, Nicholas Dorman 2, Jackson Murphy 1)
Cash Converters (five wins) were able to hold second position with a 6-5 win over fifth placed Exposed Signage/ Apparel. The Exposed trio had won their first match last round and despite winning five of the nine singles it was the doubles which proved their downfall. Both doubles were decided by the barest of margins in the fifth. The first featured Matt Avers and Mark Dorman for Cash Converters up against the hard hitting combination of Matt Ljubic and Nicholas Dorman. And what a match this proved to be with many long rallies and it was Avers and Dorman taking the match 7-11 11-6 12-14 11-6 13-11 in a thriller.
The second doubles saw Matt Avers partnered by
Kevin Johns taking on Matt Ljubic and Jackson Murphy. Again many long rallies and fine table tennis and despite trailing one game to two, Avers and Johns hung on to win 6-11 11-6 2-11 11-4 11-9.
Matt Avers capped off an excellent night winning three singles and featuring in both doubles victories. Oh so close for the Exposed trio and this talented team despite winning only one match in six rounds are only one win from the four and will trouble most teams.
– Max Miller Carpets 6 (Shannon Bowen 3, Kate Carmichael 2) d Tankard Dental 5 (Gavin Carmichael 2, Shane Carmichael, Jackson Tung 1)
With skipper Shannon Bowen displaying his best form for the season Max Miller Carpets were able to avenge an earlier loss in the season to Tankard Dental and win narrowly 6-5. In doing so the opened up a four point break on their opponents to hold third position on the ladder.
Going in to the second doubles Tankards had taken a 4-3 lead and this was a crucial match. Bowen and team mate Leon Brown after dropping the first game against Gavin and Shane Carmichael proved too good winning in four. This left the match tied up at four rubbers all. Bowen then matched up against Gavin Carmichael who he had lost to in round one. This contest was close in most games with Carmichael winning the first in a marathon 17-15. Bowen was then able to take control winning the second and third 11-6 13-11. It then looked that Carmichael may take the match to a fifth when he led 7-2 and later 10-6 in the fourth however it wasn't to be as Bowen lifted and in a fine comeback took the fourth and the match 13-11. The Carpeter's now took a 5-4 lead.
Kate Carmichael for Max Miller Carpets then was able to secure the four points for her team when she outlasted Jackson Tung in four sets. This was her second singles for the night offering good support to Bowen. Tankards Shane Carmichael then defeated Leon Brown in four to tighten the score line up however it was Max Miller Carpets who secured a 6-5 victory.
PENNANT TWO:

In this round, top side Cookes Pools & Spas were toppled by the side at the other end of the ladder MJM Automotive, Pinnacle Packers scrambled to a win against Max Miller Carpets, and Weightmans Packaging took top spot on the ladder with their win against Mallee Meats.
– MJM Automotive 7 (Geoff Wright, Quentin Clark, Jason Gifkins 2) d Cookes Pools & Spas 4 (Lee Thomas 3)
Despite Cookes Pools & Spas captain Lee Thomas finishing the night with three singles wins, MJM Automotive played a better team game to take the four points in this match.  Going into this game, Cookes Pools & Spas were on the top of the ladder, MJM Automotive on the bottom.
Although none of the MJM Automotive team could get the better of Thomas, they downed both her team mates in an even display.
James Chick, number two for Cookes Pools & Spas, had averaged 2 games per match going into this contest, so it was a surprise that he was held winless – his opposite number Jason Gifkins downed him in four, and later Quentin Clark accounted for him in just three sets.
Apart from Thomas' three singles wins, the only other rubber this side took was the first doubles – Thomas and Chick were largely untroubled in their four set win against Wright and Clark.
MJM Automotive are different side now that captain Geoff Wright is on the scene; they have won two of the three matches he has played in, and it is no co-incidence that in the same time, Jason Gifkins has scored two wins each week, in the previous three rounds he could only muster a single victory.
Final scores:  7 rubbers to 4 and 25 games to 16.
– Pinnacle Packers 6 (Peter Midgley, Brendan Alderton 2, Liam Wood 1) d Max Miller Carpets 5(Bernadette Fitzpatrick 3, Tony Malycha 1)
Pinnacle Packers scrambled home to topple Max Miller Carpets in this game.
Max Millers led 5-4 with two rubbers to play, thanks largely to Bernadette Fitzpatrick, who once again took three singles wins.
Brendan Alderton squared the game up 5-5 in his defeat of Tony Malycha in a tense five setter 3-11, 11-6, 7-11, 11-8, 11-8, and in the decider fill-in Liam Wood (up from Pennant 3 for the night), easily accounted for Terry Martin, who was filling in for Anthony Fox.
Pinnacle Packers captain Peter Midgley is yet this season to win three singles in a night, and once again he was denied, going down to Fitzpatrick in a good five setter 13-11, 12-14, 4-11, 11-9, 9-11.
However with good support from number two Brendan Alderton, who also took two wins, the scoreboard kept ticking over for Pinnacle Packers.  Alderton and Midgley won the first doubles against Fitzpatrick and Malycha in three sets to give their side a chance, so when it came to the crunch at the end, young Liam Wood delivered for them in a three set win against Terry Martin.  Wood has dominated Pennant Three so far this season, and he had a quiet introduction to this pennant, losing to Fitzpatrick in straight sets, then Malycha in four, before bobbing up with this crucial win.
Final scores:  6 rubbers to 5 and 24 games to 20.
– Weightmans Packaging 6 (Ash Morrison 3, Nick Barlow, Andrew Jones 1) d Mallee Meats 5 (Russell Walder 2, Arthur Paar, Sony Sefer 1)
 Weightmans Packaging came home with a wet sail in this match against Mallee Meats, and in taking the win also went to the top step of the ladder with four wins, one clear of their nearest rivals.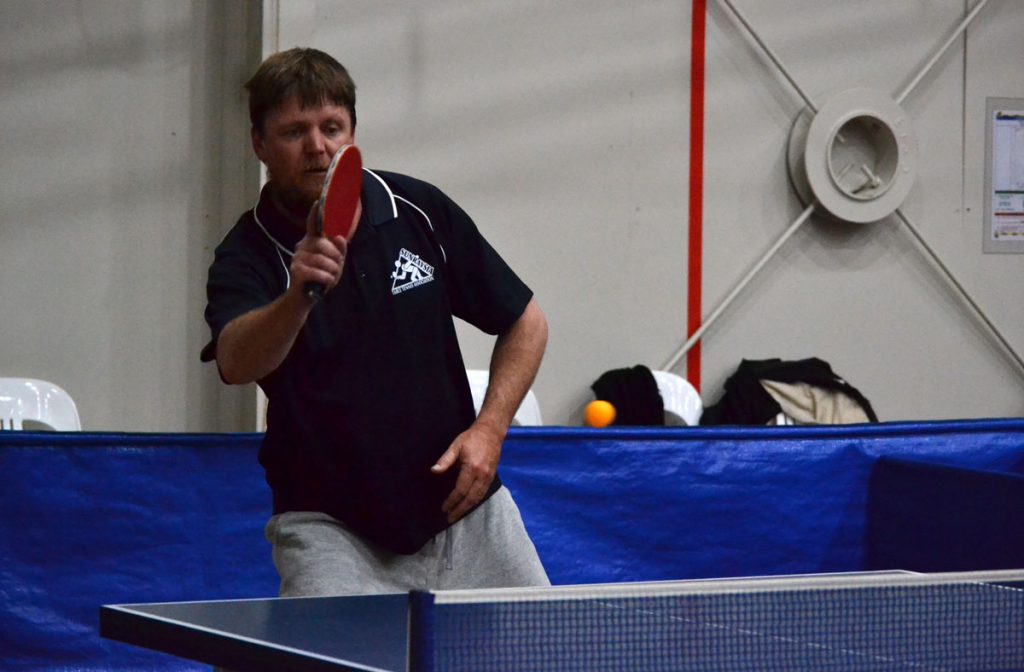 In taking three singles, Weightmans Packaging captain Ash Morrison had his best night so far, but after the completion of seven rubbers his side was in trouble, tailing 2 rubbers to 5.
The Mallee Meats side would not have been complacent, but it is highly probable they queried at least once, "surely we can win just one of the last four rubbers"?
But it was not to be – Morrison and Andrew Jones too good for Sony Sefer and Arthur Paar in the second doubles, and then Morrison, Nick Barlow and Jones took wins in the final round of singles against Russell Walder, Paar and Sefer respectively, all in four sets.
Final scores:  6 rubbers to 5 and 21 games to 21.
PENNANT THREE:

Weightmans Packaging went to the top of the ladder with their win against Sammy's Slammers, Mallee Meats took their second win for the year, and MJM Automotive had a big win against Tankard Dental.
– Weightmans Packaging 6 (Jeremy Corrin, Rohan Reimers 2, Dylan Wood 1) d Sammy's Slammers 5 (Liam Wood 3, David Sergi 1)
With three singles wins and then partnering captain David Sergi in the first doubles, Liam Wood once again proved to be the backbone of the Sammy's Slammers Packaging side.
However, even with that stand-out performance, it was not enough against Jeremy Corrin's Weightmans Packaging team.
Corrin had been looking forward to his match-up with Wood, but in the event, Wood was too consistent, winning in four sets 11-8, 11-7, 5-11, 11-7.
Corrin had no trouble in his other two singles rubbers, winning them both in three sets.  Rohan Reimers played well … he also picked up two singles wins, the second one of them in the deciding eleventh rubber.  With the scores locked at five all, Reimers met a very determined Brice Lock, and had to come from behind to win the match – 10-12, 11-8, 7-11, 15-13, 11-8.
Reimers also partnered Corrin to a three set win in the second doubles against David Sergi and Lock 11-9, 11-7, 14-12.
For Sammy's Slammers, the only other rubbers they could put with Wood's three, were the first doubles (Wood and Sergi defeated Corrin and Dylan Wood), and Sergi later defeated Dylan Wood in three sets to tie the scores up at 5 all, and set the scene for Reimers to show his wares against Lock.
Final scores:  6 rubbers to 5 and 21 games to 19.
– Mallee Meats 6 (Peter Fitzpatrick 3, Therese Fitzpatrick 2) d Regional Taxation Services 5 (Paul Fitzpatrick 2, Lachlan Prothero, Huseyin Ismail 1)
In a very close match, Mallee Meats defeated Regional Taxation Services 6 rubbers to 5.
All the Regional Taxation Services players took wins, captain Paul Fitzpatrick defeating Therese Fitzpatrick and Arnold Jago, and Lachlan Prothero and Huseyin Ismail also downing Jago.
However, solid performances from Mallee Meats captain Peter Fitzpatrick and his number two, daughter Therese, set Mallee Meats up for the win.  The senior Fitzpatrick played probably his best match of the year against opposing captain Paul Fitzpatrick to win in five sets and nudge his side ahead 5-4 with two rubbers to go.
Therese put the issue beyond doubt in rubber number ten with a dominant victory against Prothero in straight sets, 3, 9 and 6.
However, Mallee Meats almost did not get to the fortunate position of being able to challenge for the win – trailing 3-4 going into the second doubles, Fitzpatrick and Jago j-u-s-t squeaked home against Paul Fitzpatrick and Ismail 11-7, 13-15, 10-12, 12-10, 12-10 to level at 4-4.
Final scores:  6 rubbers to 5 and 21 games to 20.
– MJM Automotive 8 (Sabrina Fitzpatrick 3, Tom Morrison 2, Nick Kiapekos 1) d Tankard Dental 3(John Fitzpatrick 2, Luke Ljubic 1)
Tankard Dental had another horror night, crashing to their fourth straight loss in this match with MJM Automotive.
MJM Automotive were looking for a game to settle their season, and perhaps this was it.  Of their previous five games they had won only two, and had big losses in the other three, 2-9, 3-8 and 4-7.
Sabrina Fitzpatrick played a cameo; after debating whether to play at all, she delivered with three singles wins, and with captain Tom Morrison, a four set victory in the first doubles against son John and Karly Leach in a dominant performance.
Even captain Morrison could not top that – he won only two singles rubbers, losing to a fiercely determined John Fitzpatrick, who had earlier been upstaged (and upset) by his mother, Sabrina.  Morrison, in fact had a bit of a scratchy night, his two wins were both in five sets, against number two Leach 11-8, 9-11, 11-2, 6-11, 13-11 and then Luke Ljubic, who continues to improve and impress, Morrison won 12-10, 11-8, 11-13, 9-11, 11-9.
Final scores:  8 rubbers to 3 and 25 games to 18.
PENNANT FOUR:

In Round 6 Action we saw some lop-sided results.
– Tankard Dental 9 (Isaiah Bettess 3, Matt Sires, Austinn Taylor 2) d Mallee Meats 2 (Kim Avers 2)
Mallee Meats (with two fill in players) were never in the hunt and were soundly outplayed by Tankard Dental. The highlight of the night was the form of young gun Isaiah Bettess who had little trouble in winning his 3 singles and both doubles matches in which he featured. Isaiah had strong support from his teammates Matt Sires and Austinn Taylor who both won two of their three singles matches. For Mallee Meats fill in Kim Avers fought hard in winning two singles. Mallee Meats will hopefully regroup their original lineup and be back to full strength for next week.
Cookes Pools & Spas 9 (Matt Cherry 3, Miya Lock 2, Kayla Bettess 2) defeated MJM Automotive 2 (Dave Tanner 2)
The score line suggests a mauling took place, but on closer examination this result was a lot closer than the score suggests. Matt Cherry again reigned supreme for Cookes Pools & Spas winning 3 singles but he was pushed all the way by the ever improving Casey Taplin who fell just short of a surprise upset in the fifth set of this match. The second doubles match was the standout game of the evening with Matt Cherry and Kayla Bettess outlasting Dave Tanner and Shirley Whitecross 11-8 in the fifth set in a pulsating contest that could have gone either way. Kayla Bettess had a great night winning two singles, her best result so far this season. Overall the score line of 9-2 was a welcome percentage booster for Cookes Pools & Spas.