Read Time:
15 Minute, 33 Second
The much awaited singles clash took place in round seven of the "Cash Converters" Sunraysia Table Tennis pennant one competition. Sunraysia's leading two players Joel Thomas and Matt Avers took to the table and spectators witnessed a high class match where Thomas took the honours in four entertaining sets.
PENNANT ONE:
– Mallee Bearings 7 (Joel Thomas 3, Ed Hung, Mark Ljubic 1) d Cash Converters 4 (Matt Avers, Mark Dorman 2)
In the top of the table clash Thomas's Mallee Bearings was able to maintain their undefeated run defeating Cash Converters 7-4. Thomas enjoyed a successful night winning three singles as well as participating in both doubles victories. This victory has enabled Mallee Bearings to open up a two game break at the top of the ladder and even at this early stage it would be difficult to see them miss on the double chance come finals time.
Apart from Thomas winning three for the victors, Mark Ljubic also won a singles and teamed with Thomas to win the first doubles in four over the tough combination of Matt Avers and Mark Dorman. Team mate Ed Hung played an important role winning a marathon five setter over Kevin Johns 11-6 7-11 8-11 11-9 11-7 and earlier in the second doubles Hung combined with skipper Thomas to outlast Avers and Johns 12-10 6-11 11-6 6-11 11-8 in another important win. Hung has played a key role at important times over the last two rounds to maintain Mallee Bearings undefeated run.
– Max Miller Carpets 7 (Shannon Bowen 3, Kate Carmichael 2, Leon Brown 1) d Regional Taxation Services 4 (Wayne Carmichael 2, Leslie Ncube 1)
With their second win in as many rounds Max Miller Carpets have moved to third on the ladder one game from second place. This round the Carpeters finished strongly against Regional Taxation Services to win 7-4. With the scores locked at four rubbers all and the four points in the balance, Shannon Bowen, Kate Carmichael and Leon Brown defeated their opposite numbers in the final block of three singles to record an important win.
Skipper Shannon Bowen continued his good form winning three singles for the second round in succession. The first doubles was crucial with Bowen teaming with Kate Carmichael to defeat Wayne Carmichael and Leslie Ncube 11-7 13-15 11-5 6-11 11-8 a highlight match.
Carpeters number three Leon Brown, has shown good form over the past two rounds, he was able to defeat Reece Kurrle in their singles match and earlier pushed the talented Leslie Ncube to five sets just falling short.
– Exposed Signage/Apparel 7 (Matt Ljubic 3, Nicholas Dorman 1) d Tankard Dental 4 (Gavin Carmichael 2, Jackson Tung, Shane Carmichael 1)
The exciting Exposed Signage/Apparel trio of Matt Ljubic, Nicholas Dorman and Jackson Murphy tasted success for the second time in three rounds and are now showing the form that their opponents know they are capable of.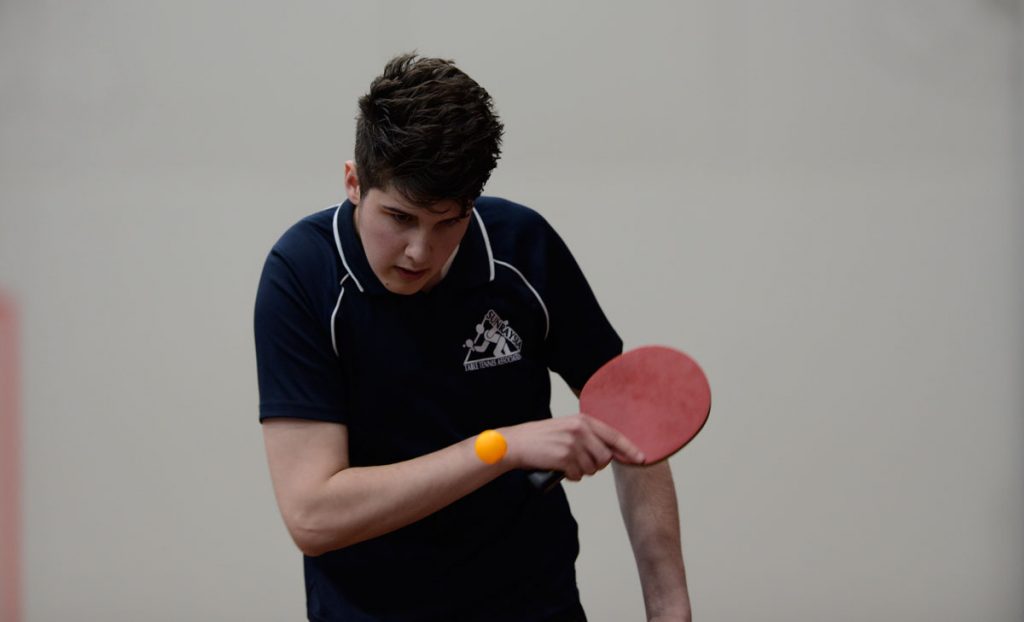 With Ljubic winning three singles and participating in two doubles victories and receiving good support from Nicholas Dorman who won two matches, the Exposed team defeated fourth placed Tankard Dental 7-4.  
PENNANT TWO:

What a fantastically close competition this pennant is turning out to be!  After round 7, half-way mark of the season, three teams are on 4 wins, and the other three teams have 3 apiece.  A win sees a team climb up the ladder, and a loss results in a dive down the ladder, as this week shows.
– Max Miller Carpets 6 (Bernadette Fitzpatrick, Tony Malycha 2, Anthony Fox 1) d Cookes Pools & Spas 5 (Lee Thomas 3, James Chick 1)
Max Miller Carpets took the points in the game – after coming into the game third on the ladder, one spot behind Cookes Pools & Spas.  At the end of the night, Max Miller Carpets had jumped two spots to the head of the ladder, and Cookes Pools & Spas dropped to fourth spot
This match featured the two players currently at the head of the aggregate, Bernadette Fitzpatrick playing for Max Miller Carpets and Lee Thomas, captain of Cookes Pools & Spas.  Their clash in rubber number nine was a game of wildly swinging fortunes.  Thomas easily took the first set 11-2; the next two sets were close, 11-8 to Fitzpatrick, then 13-11 to Thomas, the fourth was a walk-over for Fitzpatrick 11-3, and the fifth a non-contest win to Thomas 11-3.  That win gave Cookes Pools & Spas a 5-4 lead with two rubbers to go.
Fitzpatrick played in three of the four five-set contests in this game – earlier she had to come back from two sets to love down against a very determined James Chick to win 3-11, 8-11, 11-5, 13-11, 14-12 and in the second doubles rubber she and Tony Malycha gave Thomas and Seval Fuat a two set start, before they got themselves into gear.  They won 6-11, 8-11, 11-6, 11-8, 12-10.
Speaking of James Chick, he has had a couple of very quiet weeks.  At the conclusion of round 5 he was averaging over 2 wins per week.  Contrast that with just one win in his last two matches.
So with Cookes Pools & Spas leading 5-4, it was left to Tony Malycha and Anthony Fox to get Max Miller Carpets home.  Malycha dominated Chick in their game, winning 9, 6 and 8.  That evened the score 5-5 with Fox to play Fuat.  Fox's season has not yet produced many highlights, so this game,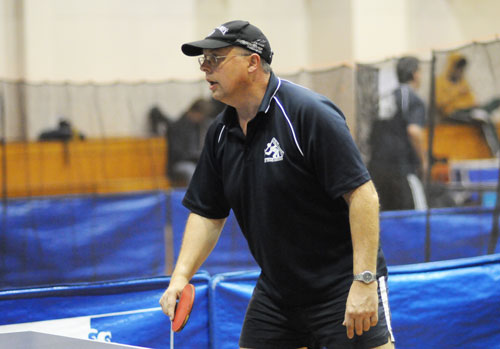 and subsequent win was certainly what Anthony needs to get some momentum for the games ahead.  As usual in a game featuring Seval, the game was tight, Fox edging his opponent 11-7, 7-11, 13-11, 14-12.
Final scores:  6 rubbers to 5 and 20 games to 22.
– Pinnacle Packers 8 (Peter Midgley, Liam Wood 3) d Mallee Meats 3 (Russell Walder, Sony Sefer, Arthur Paar 1)
Pinnacle Packers have had a disrupted year so far, and this week the team featured two fill-in's.  Kerry Wallace was once again a spectator, and this week the talented Liam Wood subbed for her.  Number three Brendan Alderton was away too, and Mark Kerr played for him.
Despite this chaos, though, the team had its best game so far.  Peter Midgley had his best night by far, picking up three singles wins for the first time, and then helping his temporary team-mates to wins in both doubles.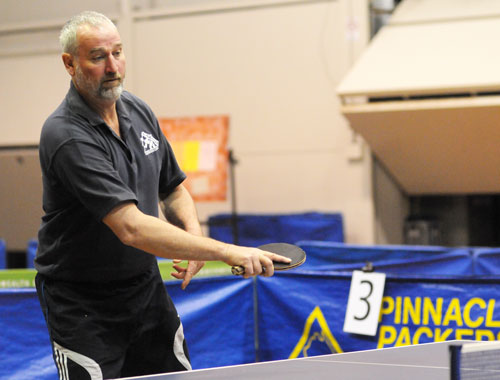 Midgley accounted for Mallee Meats captain Russell Walder and number two Sony Sefer in straight sets, but had a bit trouble with number three Arthur Paar.  Paar certainly had his chances, but Midgley prevailed winning their five set tussle 13-11 in the fifth.
Both doubles contests went to five sets, so Midgley certainly had a solid work-out.  He and Wood (more on him in a moment) had a great contest with Walder and Sefer winning 13-11 in the fifth set.  The second doubles rubber was a similar story, Midgley and Kerr edging Walder and Paar after five sets.
So there were five rubbers to Pinnacle Packers, and Liam Wood provided another three rubbers.  Having his second run in Pennant Two in two weeks, Wood was not concerned by his more experienced opposition, and incredibly ran through number one Walder in just three sets 7, 4 and 9.  Next was Arthur Paar, Wood took control of the match early, winning the first two sets 8 and 4, conceded the third 9-11, then finished 11-6 in the fourth.  It was the same against Sefer, Wood winning the first two sets once again 8 and 8, dropping the third 8-11, then unleashing his full range of shots in the fourth, cleaning Sefer up 11-2.  A very impressive performance.
This win saw Pinnacle Packers climb from fifth to third on the ladder, and Mallee Meats dropped from fourth to sixth
Final scores:  8 rubbers to 3 and 26 games to 17.
– MJM Automotive 6 (Geoff Wright 2, Jason Gifkins, Quentin Clark 1) d Weightmans Packaging 5 (Ash Morrison 3, Nick Barlow 2)
 Going into this match, these teams were at opposite ends of the ladder, Weightmans Packaging on top, and MJM Automotive on the bottom.
With captain Geoff Wright now playing, MJM Automotive are now a force to be reckoned with, however, and recorded their third win from their last four games.
This was a close game, and but for their dismal performance in the doubles rubbers, Weightmans Packaging probably deserved to win.
Weightmans captain Ash Morrison took three singles wins, in four sets against MJM Automotive number three Quentin Clark, a come-from-behind five set win against a rejuvenated Jason Gifkins, and an imperious straight sets win against Geoff Wright 7, 7 and 2.
Weightmans number two Nick Barlow, who sits third on the aggregate ladder with 14 singles rubbers, played well for two singles wins, but he and Midgley barely worried Wright and Gifkins in the first doubles, losing 5, 10 and 7.
It was the doubles rubbers which won the match for MJM Automotive, and with the first one in the bag, Wright and Quentin Clark held sway in the second winning against Morrison and Andrew Jones, 2, 8 and 8.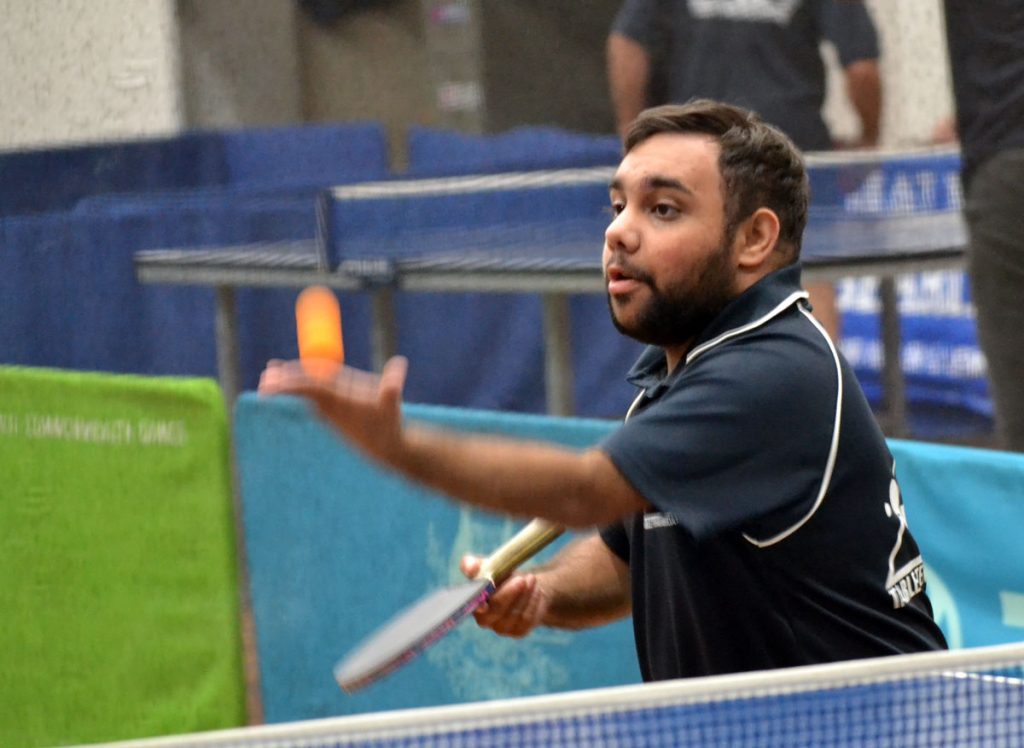 So MJM Automotive really just "accumulated" the required rubbers for the win, except for Quentin Clark who defeated opposite number Andrew Jones in a good five setter in the deciding rubber when the scores were locked at 5 all … number one Wright downing the opposition number two and three, number two Gifkins defeating number three Andrew Jones.
As with both the other matches in this grade, this result saw a change in position on the ladder for both teams – MJM Automotive finally getting off the bottom to fifth, and in dropping to second spot, Weightmans Packaging surrendered the lead to Max Miller Carpets.
Final scores:  6 rubbers to 5 and 23 games to 20.
PENNANT THREE:

Weightmans Packaging continues to dominate this pennant, Jeremy Corrin and his side picking up their sixth win from seven rounds; Sammy's Slammers with a win against MJM Automotive this round still one game only behind, and Tankard Dental and Mallee Meats swapping spots at the bottom of the ladder in the final game.
– Weightmans Packaging 7 (Dylan Wood, Jeremy Corrin, Rohan Reimers 2) d Regional Taxation Services 4 (Paul Fitzpatrick 3)
Weightmans Packaging played well to take this game 7 rubbers to 4.  Each player won two singles rubbers, captain Corrin failing against opposing captain Paul Fitzpatrick in a high standard four setter.
In picking up his two wins, number two Dylan Wood continued his consistent season, a fairly easy three set win against opposite number Lachlan Prothero, and a five set win against Huseyin Ismail.  Ismail led two sets to love but Wood found his range to take the win 6-11, 10-12, 11-4, 11-5, 11-6.
And number three Rohan Reimers played in what could have been his best night so far, after losing to Paul Fitzpatrick in four sets, he battled Ismail before winning 11-4, 12-14, 14-12, 11-7, and then went blow for blow with Prothero before winning in five, 13-11 in the fifth.
The first doubles rubber went to Weightmans – Corrin and Wood in straight sets against Fitzpatrick and Prothero, 4, 9 and 4.  In fact Weightmans led comfortably 5-2 after seven rubbers, and although Regional Taxation Services rallied to trail 4-5 after the ninth rubber, Reimers and Corrin, playing the final two games, sealed the match.
For Regional Taxation Services, Paul Fitzpatrick took all his singles rubbers, including the "captains-clash" defeating Corrin 11-7, 9-11, 11-9, 11-9.  But with the addition of just the second doubles – Fitzpatrick and Ismail holding Corrin and Reimers 7, 9 and 8 – Regional Taxation Services fell somewhat sort.
Final scores:  7 rubbers to 4 and 23 games to 18.
– Sammy's Slammers 7 (Liam Wood 3, David Sergi, Brice Lock 1) d MJM Automotive 4 (Sabrina Fitzpatrick 2, Tom Morrison, Nick Kiapekos 1)
For the second week in a row, Sabrina Fitzpatrick upstaged her captain Tom Morrison by winning more singles rubbers – last week it was 3 to Tom's 2, this week 2 to 1.  Ultimately though, it was not good enough for the win, with Sammy's Slammers running away 7-4.
At the other end of the table, Liam Wood did his usual thing – three singles wins, all in three sets. 
Captain David Sergi and number three Brice Lock helped the cause with a win each – Sergi a fighting win against opposing captain Morrison 14-16, 10-12, 11-7, 11-8, 11-7.  Similarly Lock – he too was two sets down against Nick Keipekos.
The game was actually quite close, with MJM Automotive leading 4-3 after seven rubbers.  Wood of course is dominating everyone in this grade, and with Sammy's Slammers taking the final four rubbers it looks like they dominated, but the two wins described above – Sergi over Morrison and Lock over Kiapekos were in the ninth and eleventh rubbers.  So had the results of those two rubbers gone to MJM Automotive, it would have seen a win for them.
Final scores:  7 rubbers to 4 and 23 games to 16.
– Tankard Dental 6 (John Fitzpatrick, Karly Leach, Luke Ljubic 2) d Mallee Meats 5 (Peter Fitzpatrick 3)
This was a match-up between the two teams who currently occupy the cellar positions on the ladder; before this match Mallee Meats were fifth and Tankard Dental sixth.  After the match, Tankard Dental were fifth, Mallee Meats sixth …
This was a close game, some good match-ups and a result to the side which was more consistent on the night.
Mallee Meats captain Peter Fitzpatrick won everything he played in, three singles and both doubles, and yet that was not enough to get his team home.  Neither Therese Fitzpatrick nor Arnold Jago could secure a singles rubber, which would have seen the result so their way.  It was certainly not for a lack of trying.
Scores were level at the conclusion of every second game, as neither side could get the break they desperately needed.  Tankard Dental's Karly Leach took first blood in a close five setter with Arnold Jago.  Arnold took the second and fourth sets, and Karly the first, third and fifth winning 16-14, 7-11, 11-9, 7-11, 11-9.
Tankard Dental continued to take singles rubbers through John Fitzpatrick over his sister Therese, and later against Jago, the young Fitzpatrick had to really fight to win, which he did in four sets 11-7, 12-10, 7-11, 16-14.  Luke Ljubic popped in with a win against Therese Fitzpatrick, giving his team a 4-3 leading into the second doubles.
It was the doubles which kept Mallee Meats in the game, the first going to father-and-daughter Peter and Therese Fitzpatrick against John Fitzpatrick and Leach in three sets, 4, 5 and 10.  The second doubles was also a three setter but much closer, although the Mallee Meats skipped through the second set fairly smartly on their way to a 14-12, 11-3, 12-10 victory.
That set the stage for a close finish, and close it was.  Father and son Peter and John Fitzpatrick duked it out in a five setter, dad winning this time 11-8, 14-12, 7-11, 8-11, 16-14.  Karly Leach evened the score again after four sets against Therese Fitzpatrick 11-5, 11-8, 9-11, 11-4.
That left it to the two number three's, Jago and Ljubic to provide the decision.  Arnold looked to have the win in the bag after two sets, having won both 11-5, 11-8. 
But then the "inner" Luke Ljubic was released, and Arnold had to answer for his shot-making as Luke blasted to victory in the last three sets 1, 4 and 3 to give his side a 6-5 win.
Final scores:  6 rubbers to 5 and 20 games to 22.
PENNANT FOUR:

In Round 7 Action we saw some form reversals and some never before seen match-ups in what is turning out to be a season of unpredictability.
Mallee Meats 7 (Andrew Kremor 3, Jacinta Ljubic 2) def MJM Automotive 4 (Dave Tanner 2, Shirley Whitecross 1, Isaiah Bettess 1)
A full strength Mallee Meats side returned to the winner's circle taking MJM Automotive to the slaughterhouse. A well-rested Andrew Kremor cruised through his three singles matches winning these in straight sets. The night for the 'Butchers' started well with an energetic Jacinta Ljubic winning a thriller against fill-in Isaiah Bettess 13-11 in the fifth. Again the doubles proved decisive with Mallee Meats winning both matches but not without a fight. Kremor and Beard won the first of these encounters outlasting the pairing of Dave Tanner and the evergreen Shirley Whitecross as they wrestled back momentum in the fifth winning 5-11, 11-8, 11-6, 2-11, 11-6.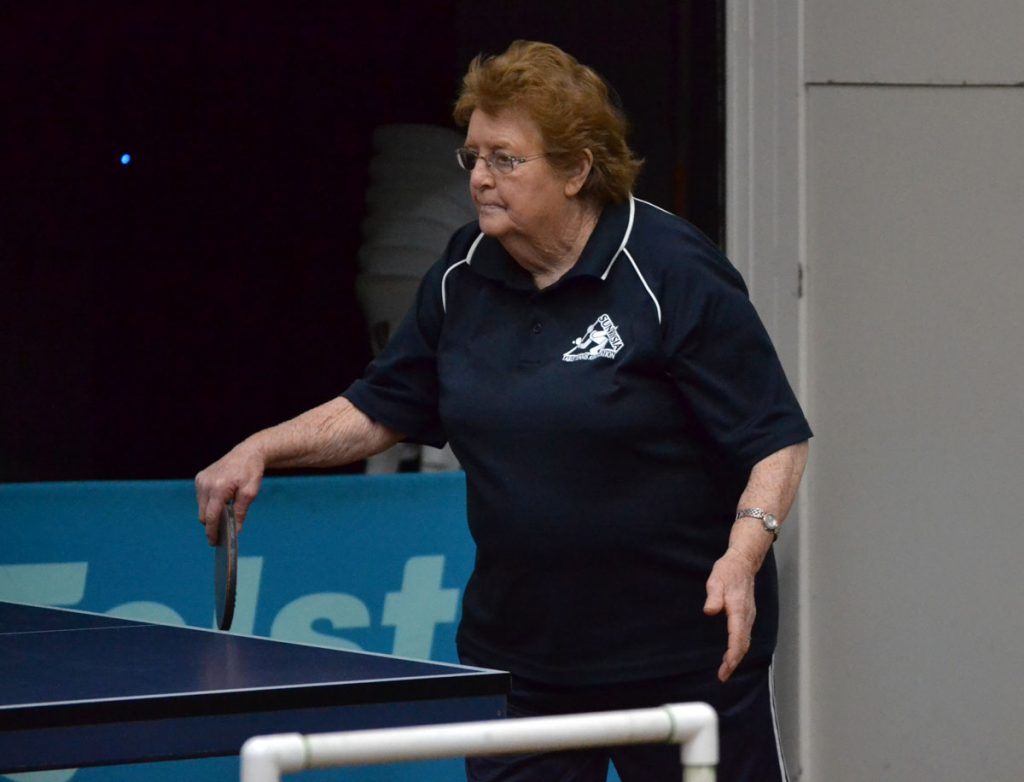 For 'MJM' Shirley had a busy night as she was involved in three close five setters from her four matches.
Dunkley Scales 6 (Kim Avers 2, Karl Whitney 2, Austinn Taylor 1) def Cookes Pools & Spas 3 (Matt Cherry 3)
In breaking news Austinn 'Powers' Taylor is the first player in Sunraysia Table Tennis history to play for two opposing teams on the same night thus leading to only 9 of the 11 rubbers to be played.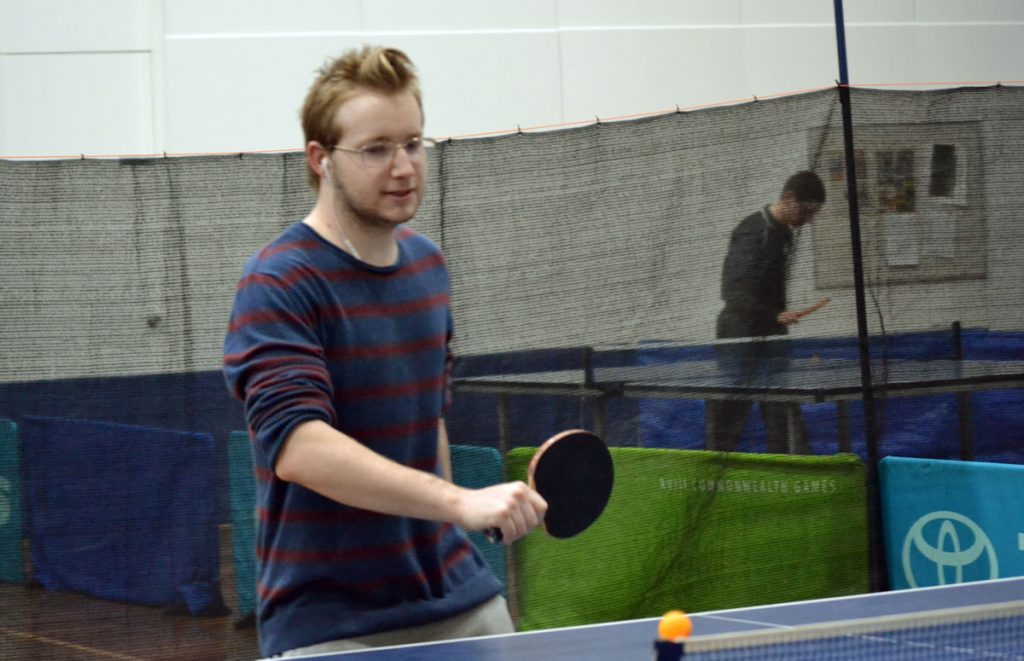 In dramatic developments Cookes Pools & Spas were down to two players at the start of the night and with Austinn (filling in originally for Dunkley Scales) now destined for the record books. After a huge 9 – 2 win last week 'Cookes' were never in the hunt. Matt Cherry again played well to win his three singles but 'Cookes' could not match the consistency of their opponents. The feature match of this night was not Austinn V Austinn. It was in fact the first doubles in which Avers and Whitney fought intensely to defeat the tenacious pairing of Cherry and Bettess 11-9, 11-5, 11-13, 10-12, 11-5. This defeat leaving Cookes Pools & Spas to tread water as they trailed 0-4 at this stage and were to never recover.