Read Time:
4 Minute, 3 Second
PENNANT THREE GRAND FINAL:

SAMMY'S SLAMMERS TOOK THE PENNANT THREE TROPHY AFTER A TIGHT TUSSLE WITH MALLEE MEATS.

REGULAR PENNANT THREE PLAYER SAM HENSGEN DIED SUDDENLY EARLIER THIS YEAR, AND IN A MOVE TO REMEMBER HIM, LEONIE DUNKLEY OF SPONSOR DUNKLEY SCALES, REQUESTED THAT THIS TEAM BE RENAMED SAMMY'S SLAMMERS FOR THE SEASON.

SAMMY'S SLAMMERS FINISHED THIRD ON THE LADDER AT THE END OF THE HOME-AND-AWAY SEASON, AND TO GET TO THE GRAND FINAL HAD TO NEGOTIATE TWO ELIMINATION MATCHES.
– Sammy's Slammers 6 (Paul Fitzpatrick 2, Marcus Cimino, Leonie Dunkley 1) d Mallee Meats 3(Jeremy Corrin 2, David Sergi 1)
After winning the first of these, the first semi-final knockout, in the fifth set of the eleventh and final rubber, Sammy's Slammers gained confidence, disposing of minor premiers MJM Automotive the next week 6-2.  Aggregate winner Paul Fitzpatrick was leading by example, and it was his team-mates who seemed to move up a gear, Marcus Cimino all of a sudden becoming a very dangerous opponent, and Dunkley hitting her shots with more authority.
The first rubber featured Cimino and Mallee Meats captain and aggregate runner-up Jeremy Corrin.  Cimino almost pulled off what would have been one of the biggest upsets of the year, but fell 11-9 in the fifth to the hugely-relieved, but mainly madly-frustrated Corrin.  Mallee Meats were on notice that this was going to be a difficult night.
David Sergi, playing a steady brand of table tennis, took an easier four set win against Dunkley to give his side a 2-0 lead.  Paul Fitzpatrick warmed up against his sister, Therese, but had to be careful, winning 12-10, 11-4, 11-5.
Paul and Cimino, who also won the doubles aggregate for the season, remaining undefeated, made this another to add to their tally, accounting for Corrin and Therese Fitzpatrick in just three sets.
That made the scores 2-2, and then followed four five set contests, and by winning three of them, Sammy's Slammers set themselves up for the win.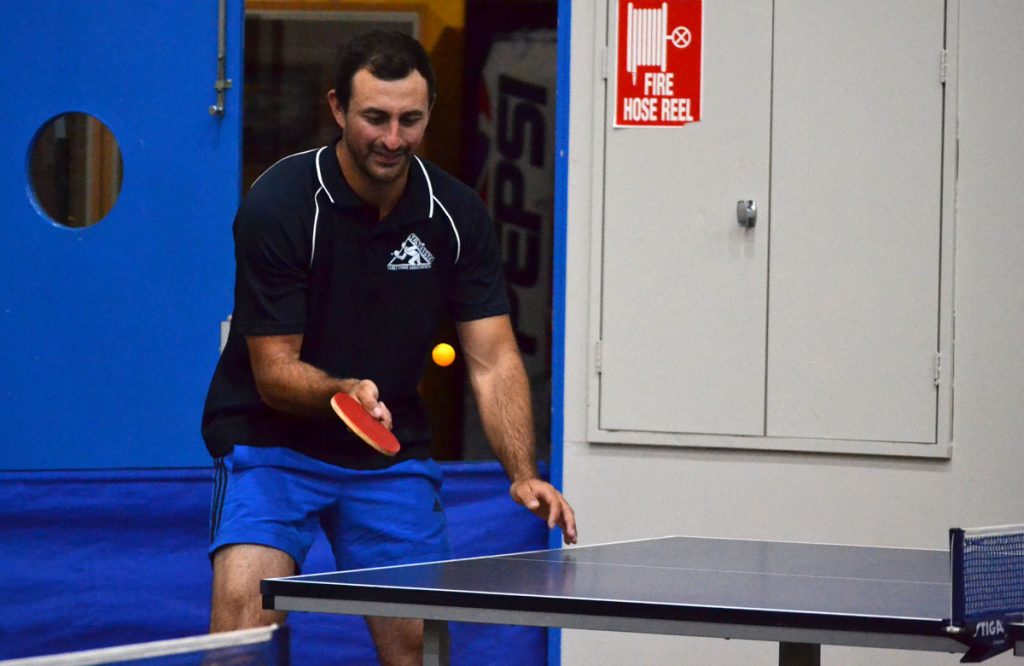 In the first of these, Cimino showed just how dangerous he had become.  Playing easily his best table-tennis of the season, Cimino pulled off some amazing shots to upset David Sergi's game.  The sets he lost were close, the sets he won became easier at the match went on.  Sergi took the first set 14-12, Cimino responded 13-11 in the second.  Cimino looked like he had Sergi beaten when he raced to a 2-1 lead when he took the third set 11-2.  Sergi regrouped to graft out a 12-10 win in the fourth, only for Cimino to come out full of running in the fifth to run away with the set 11-2.
Jeremy Corrin squared the scores at 3-3 after a magnificent captains' match against Paul Fitzpatrick.  Corrin egged himself on, there seemed to be a bit of desperation in Fitzpatrick's game, and that combination made for a fabulous contest, as neither player could gain the ascendency.  At the end of five sets though, Corrin had the win 13-11, 8-11, 11-7, 8-11, 18-16.
Therese Fitzpatrick gave her all, and looked a real threat to give Mallee Meats the lead again, however, Leonie Dunkley wore her down, to give the advantage to her side instead, 8-11, 11-6, 8-11, 11-6, 11-8.
The second doubles therefore loomed large as the game which could give Sammy's Slammers the trophy, or the game which would put Mallee Meats right back in contention.
The Mallee Meats pair of Corrin and Sergi were looking good after two sets, at that stage leading 11-9, 11-8.  Paul Fitzpatrick really made the third set his own, utterly dominating play, he almost single-handedly winning the set, sending down winners on just about every occasion his bat struck the ball, he and Dunkley taking that set 11-3.  Corrin and Sergi recovered and almost took the match in the fourth set, however Fitzpatrick and Dunkley held them out 12-10 to take the game to the fifth.  The Sammy's Slammers pair held off their opponents in the last set 11-8 to give themselves a 5-3 lead with the final round of singles to go.
After that five set work-out, it was hardly necessary for Sergi and Paul Fitzpatrick to warm up for rubber number nine, and Fitzpatrick made every post a winner for his side, downing Sergi in straight sets to give his side the premiership.
Leonie Dunkley's gesture of renaming her side had produced a wonderful result – the memory of Sam Hensgen is remembered by Sammy's Slammers win in this season 2017.
Final scores:  6 rubbers to 3 and 23 games to 15.