Read Time:
3 Minute, 53 Second
PENNANT FOUR GRAND FINAL:

IT HAS BEEN SOME TIME SINCE A TEAM WOULD HAVE GONE INTO A GRAND FINAL AS SUCH HOT FAVOURITES AS DUNKLEY SCALES WERE GOING IN TO THIS GAME AGAINST MJM AUTOMOTIVE. DURING THE HOME AND AWAY SEASON THEY HAD WON SIX OF THEIR EIGHT MATCHES 10-1 HOWEVER AS WE KNOW FINALS CAN BE DIFFERENT. FOR MJM MATT CHERRY HAD PLAYED WELL THE WEEK BEFORE WHILE TEAM MATE KIM AVERS HAD DEFEATED BOTH DUNKLEY'S BIG GUNS BRICE LOCK AND LUKE LJUBIC IN THE SUPER 8'S COMP.
 – Dunkley Scales 6 (Brice Lock, Luke Ljubic 1) d MJM Automotive 3 (Kim Avers 2, Matthew Cherry 1) 
After the first block of three singles Dunkley Scales found themselves in unfamiliar territory ….trailing!! Yes courtesy of skipper Matt Cherry, MJM were first away when he accounted for the improving Isaiah Bettess in straight sets 11-3 11-2 11-4, this was a good win from Matt and he too has improved since starting this season.
Brice Lock then levelled the match when he defeated Laura Bettess in straight sets.
The next match was the match of the grand final with MJM number two Kim Avers matching up against Luke Ljubic. Young Ljubic has had an outstanding season remaining undefeated in the home and away games, however he had been defeated by Kim in the Super 8's before he turned the tables in the final. He also went down to Kim in the second semi so he was keen to bounce back and that he did early winning two of the first three games, the third was very close. Kim steadied in the fourth and fifth, both were close but Kim was able to draw away to go on and win in a great contest 8-11 11-7 10-12 11-8 11-7. The score now 2-1 in MJM's favour.
The first doubles was now huge for both sides and it was the powerful combination of Brice Lock and Luke Ljubic who proved too good for Matt Cherry and Kim Avers who gave it their best but went down 7-11 10-12 4-11. The score now stood at two rubbers all.
The two captains played the next singles Brice Lock up against Matt Cherry and this was a close tussle all the way with Matt keeping the pressure on the aggregate winner. In the end Brice was able to keep Matt at bay to win 11-8 14-12 12-10 a great fight by Matt.
Kim Avers then won her second singles and levelled the match at three rubbers all when she defeated Isaiah Bettes in three sets. The ladder leaders were in unfamiliar territory as not often through the season were the scores level after six rubbers.
Dunkley's Luke Ljubic bounced back from his earlier loss to defeat Laura Bettes 11-2 11-5 11-4 and give his team the edge 4-3 going in to the second doubles. Brice and Isaiah lined up for Dunkley's in their most important doubles for the year against Matt and Laura, Dunkley's took the first comfortably however in the second and third Matt and Laura maintained the pressure before Brice and Isaiah took the match 11-5 13-11 11-9. Dunkley's were now making the break and took a 5-3 lead. Later Brice and Isaiah were presented with the doubles aggregate trophy. Amazingly this pair had went through the season undefeated in nine matches. A top performance!!!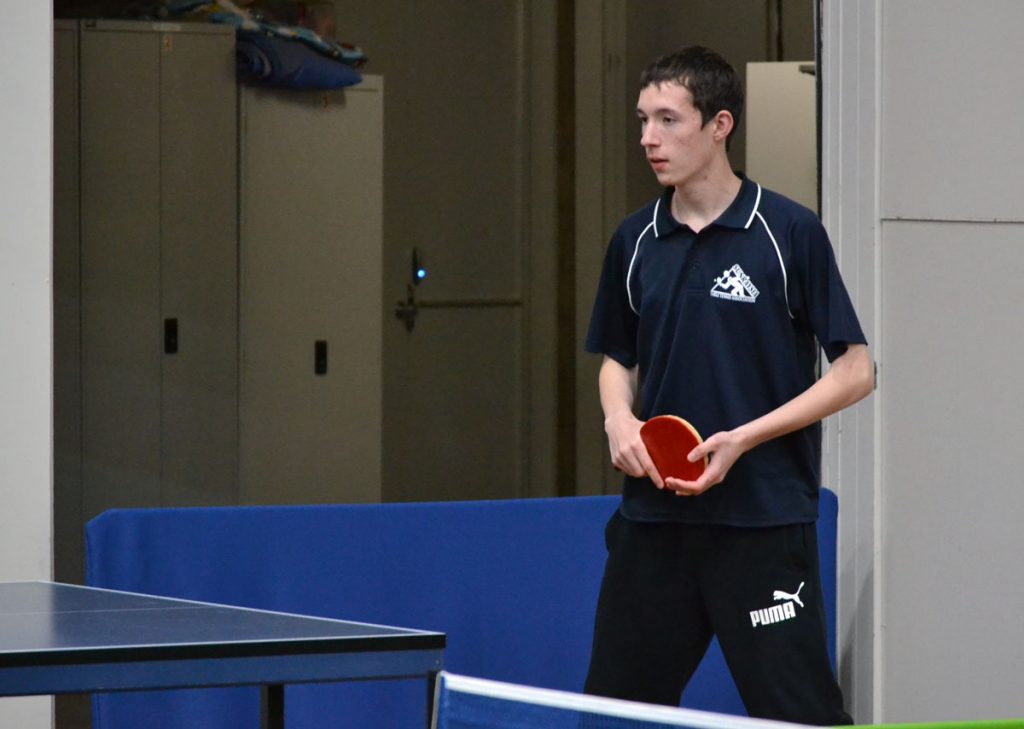 Up next were Brice Lock and Kim Avers and given that Kim had defeated Brice in the Super 8's the thought was this would be close and it was an entertaining match with many long rallies. In the end Brice had proven too steady winning 11-4 8-11 11-7 11-3. Kim had given it her best and had improved greatly over the season.  Brice had enjoyed a very good season and this victory had given Dunkley's Scales a 6-3 win. Whilst they had dominated the season they were made to work hard in the grand final.
For Dunkley's Scales this was back to back premierships for Luke Ljubic and the first grand final for Brice Lock and first year player Isaiah Bettess who had shown great improvement over the year.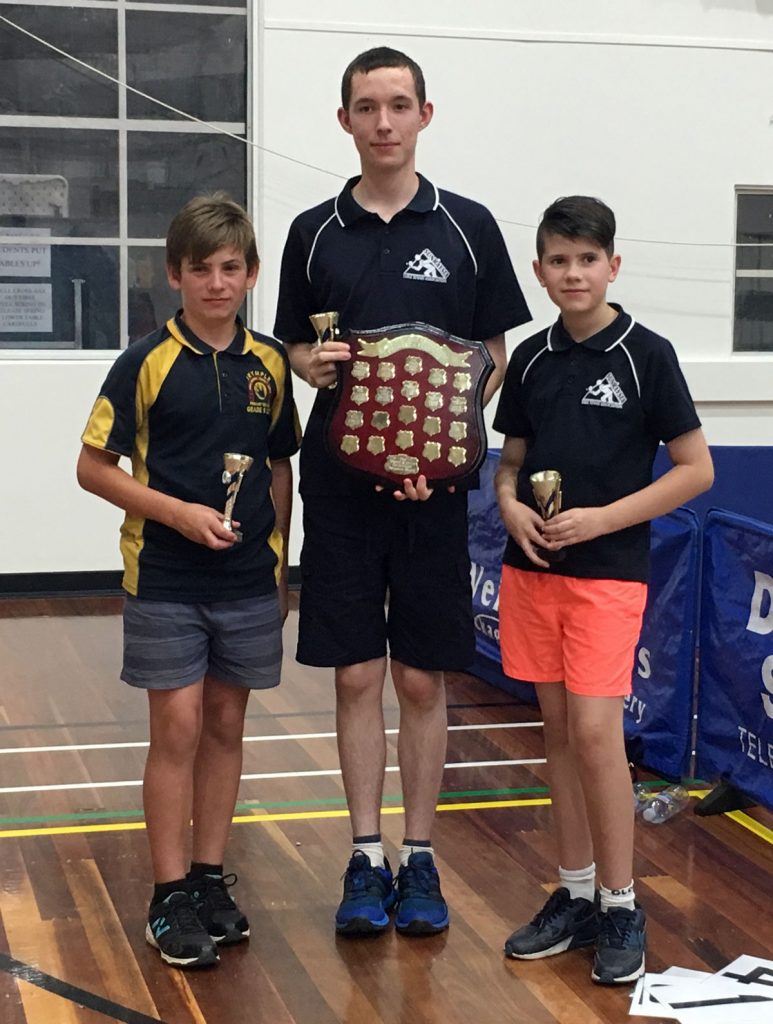 The runners up MJM Automotive were brave in defeat and the trio of Matt Cherry, Kim Avers and Laura Bettess have all improved throughout the season. They had tested the premiers.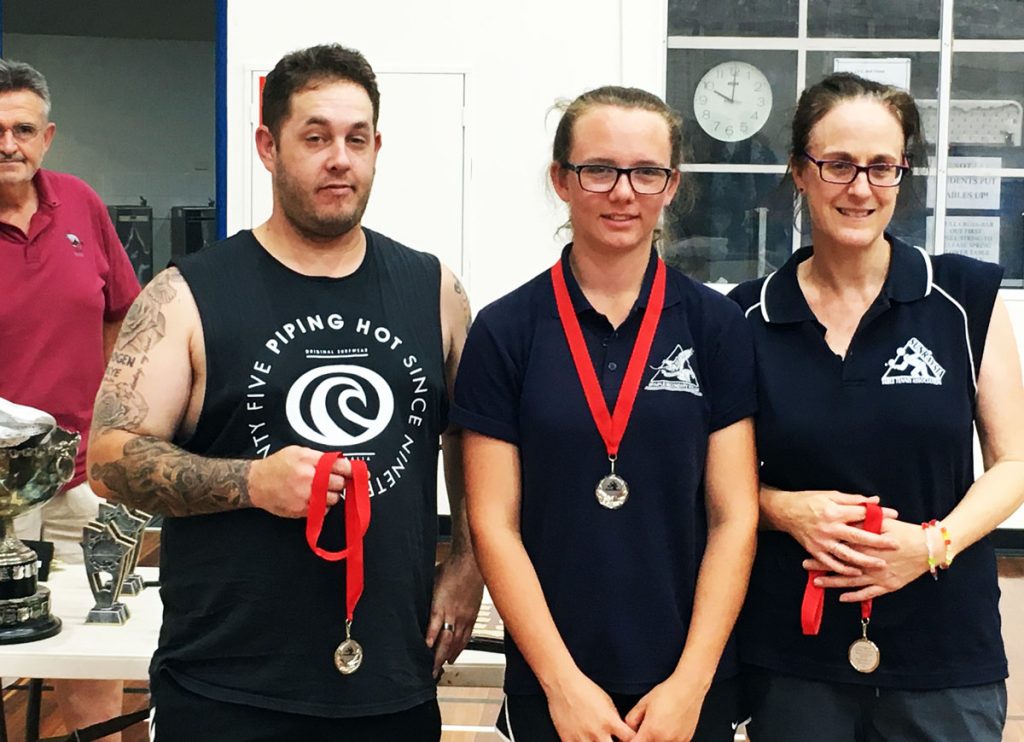 Chris Carmichael presented the winners with the Wayne and Chris Carmichael perpetual Shield to wind up the season.