Read Time:
12 Minute, 38 Second
After only one match in several months sixty players took to the tables at the Irymple Leisure Centre in the much anticipated round one matches of the first Sunraysia Table Tennis Pennant of the year.
Despite a lengthy  break several top class contests took place in the three matches played in pennant one. The association has welcomed two new exciting players to pennant one , Sang Mang and Lewis Yang. Mang has been ranked a number one and played well in his debut winning two singles. After dominating the cricket field this season the talented Shannon Bowen has returned after a break from table tennis.
Also coming in to pennant one is exciting 16 year old Dylan Wood who won the singles aggregate in pennant two last year. Also promoted was the experienced Ashley Morrison who has been a perennial good performer in pennant two.
PENNANT ONE:
– Cookes Pools & Spas 9 (Jackson Tung 3, Gavin Carmichael 2, Lee Leeson 2) d Exposed Signage/Apparel 2 (Sang Mang 2)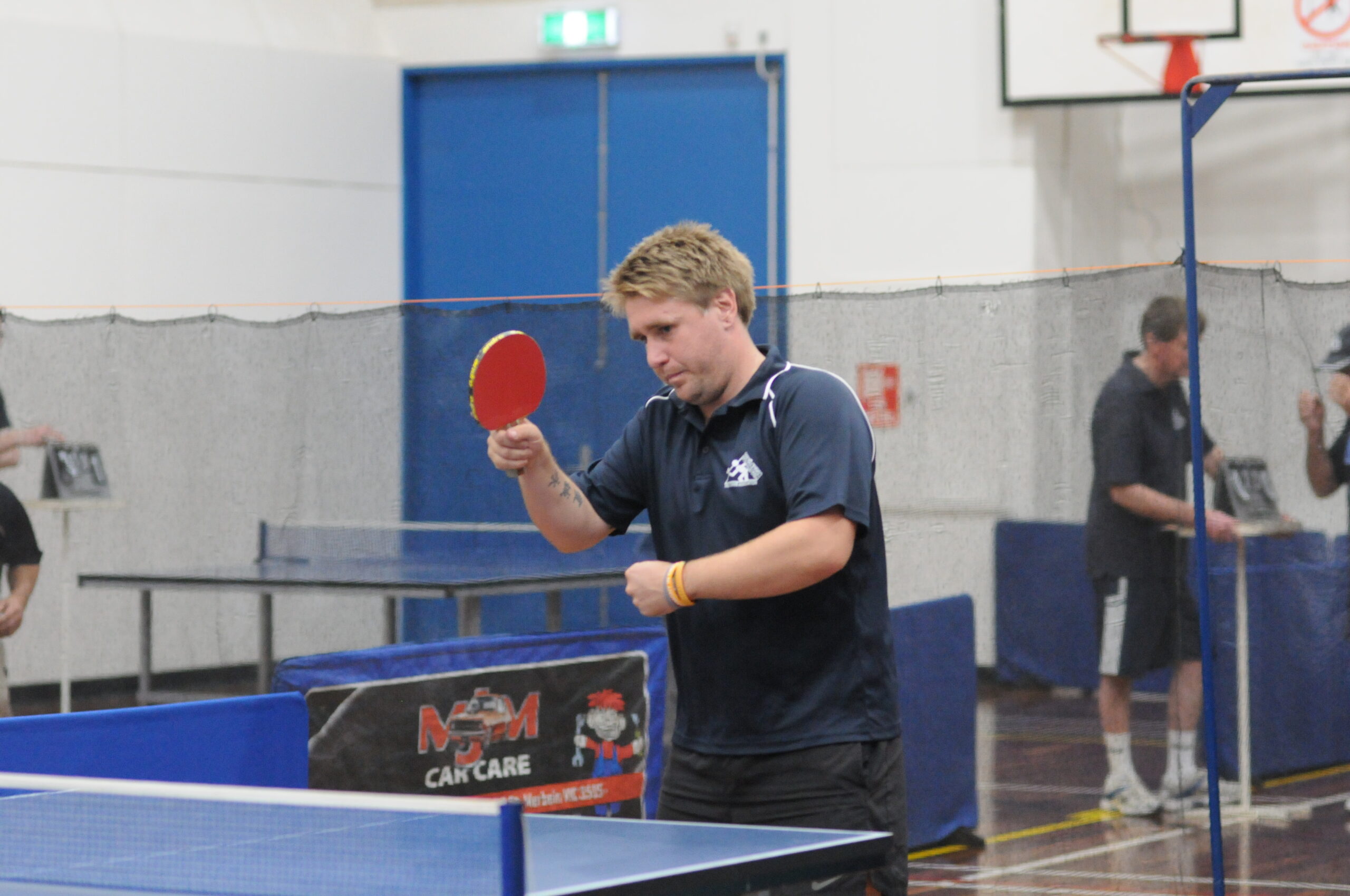 Cookes Pools and Spas commenced the season in fine style by defeating Exposed Signage and Apparel 9-2 .The score board looked one sided however there were several close matches. For the victors Jackson Tung started strongly winning three singles. This is the first time Tung has been ranked a number one in this pennant and this promotion comes as a result of being the best performed number two player in 2021. Tung's number three Lee Leeson was outstanding winning two singles including an entertaining five set win over Reece Kurrle 9-11 11-7 9-11 11-9 11-8. Team mate Gavin Carmichael also won two singles.
In his debut match in the STTA Exposed's skipper Sang Mang showed he will be an excellent recruit by winning two singles including a five set marathon against Gavin Carmichael 9-11 11-9 9-11 11-8 13-11.
– Tankard Dental 7 (Kate Carmichael 3, Mark Dorman 2, Dylan Wood 1) d Max Miller Carpets 4 (Leon Brown 2, Shannon Bowen 1)
Led by three singles victories from Kate Carmichael Tankard Dental were able to extract a solid win over Max Miller Carpets 7-4.
Carmichael received good support from veteran Mark Dorman who won two singles including a straight set victory over the talented Shannon Bowen 17-15 11-8 11-9 a great tussle. Youngster Dylan Wood also performed well winning an important singles against the experienced Ed Hung. Wood also partnered Carmichael in the second doubles and after losing 0-11 in the first game against Shannon Bowen and Hung the Tankard pair bounced back to win in five.
Leon Brown was the Carpeter's best performer winning two singles and partnering Bowen to win the first doubles against Carmichael and Dorman.
– Regional Taxation Services 7 (Matt Ljubic 3, Mark Ljubic 2) d Mallee Bearings 4 (Wayne Carmichael 2,Thahn Nguyen 1)
The final match featured the singles clash between Matt Ljubic and Wayne Carmichael when their respective teams Regional Taxation Services and Mallee Bearings met. Carmichael had won their past two meetings however after dropping the first game 14-16 Ljubic took control in what was a good display by these two top players.
Ljubic helped Regional Taxation Services to a 7-4 win by winning 3 singles as well as participating in both doubles victories.
RTS fill in Mark Ljubic played well winning two singles as did Wayne Carmichael for Mallee Bearings. Carmichael's team mates Thahn Nguyen and Ashley Morrison both won a singles as well, but it was their inability to score a doubles victory which proved costly.
PENNANT TWO:
Five players from last season's Pennant Three competition made their debut in Pennant Two in this first round of competition for 2022. Four of the five had a win, one with two wins …
– Pinnacle Packers 9 (Jeremy Corrin 3, Rohan Reimers 3, Ryan Hensgen 2) d Max Miller Carpets 2 (Raymund Manzanares1)
Pinnacle Packers had an easy win again Max Miller Carpets, with the side almost making it a clean sweep in the singles matches.
Captain Jeremy Corrin was untroubled winning his three matches in straight sets, number two Rohan Reimers also won three, two of them in straight sets, but took a while to get a handle on his game with John Fitzpatrick, eventually coming back from two sets to love down to prevail. And debutante Ryan Hensgen had a great night, picking up two wins. His first, in the game's first rubber against John Fitzpatrick, was a case of "working his way into the match". Hensgen trailed 3-11, 5-11 before steadying in the third set. After taking that set 13-11, he got the upper hand, taking the final two sets 11-9, 11-6. His second win was against his opposite number Jamila Belbaze in the night's final rubber. A very encouraging first-up performance.
The doubles' rubbers were shared – in the first, Corrin and Reimers were too steady for Max Miller captain Raymond Manzanares and Fitzpatrick, whilst in the second doubles rubber Manzanares and Jamila Belbaze combined well to down Corrin and Hensgen in four sets.
Manzanares picked up the final rubber for Max Miller Carpets, defeating the impressive Hensgen.
Final scores: 9 rubbers to 2 and 28 games to 10.
– MJM Automotive 8 (Casper McCarthy 3, Andrew Jones 2, Therese Fitzpatrick 1) d Cookes Pools & Spas 3 (David Sergi 2, Terry Martin 1)
MJM Automotive recorded a big win against Cookes Pools & Spas.
MJM Automotive captain Casper McCarthy bagged three wins,
evergreen Andrew Jones took two, and last season's Pennant Three aggregate winner Therese Fitzpatrick chipped in with one, downing fellow Pennant Three adversary James Jarvis.
MJM Automotive proved too strong in both doubles too, McCarthy and Fitzpatrick winning a great five setter against regular Pennant Two players Terry Martin and David Sergi. The MJM Automotive pair trailed
two sets to love down 8-11, 9-11, and it was then they started to sprinkle their magic, taking the last three sets 11-5, 11-9, 13-11. The second doubles was over in three sets, but was far from easy – McCarthy and Jones won a close encounter of the table tennis kind 13-11, 12-10, 11-9.
Sergi was the best performed for Cookes Pools & Spas with two wins, while captain Martin was only good for one.
Final scores: 8 rubbers to 3 and 28 games to 16.
– Weightmans Packaging 6 (Jason Gifkins 3, Sony Sefer 2) d Mallee Meats 5 (Quentin Clark 2, Marcus Cimino 1, Isaiah Bettess 1)
In the closest match of the round, Weightmans Packaging edged home, defeating Mallee Meats.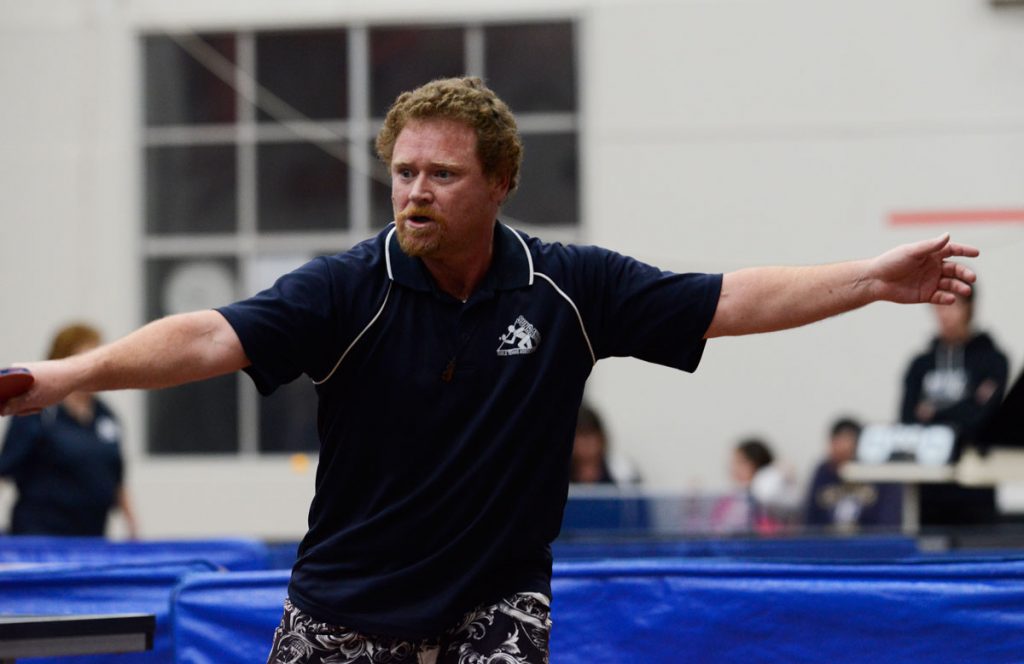 Weightmans Packaging captain Jason Gifkins started the season where he left of the previous one, taking three singles wins. As was to be expected, he defeated the Mallee Meats number two and three in straight sets, but had to really work against Mallee Meats captain Quentin Clark. Gifkins took the first set comfortably 11-5, but Clark hit back, hard, taking the second and third sets 7 and 9. That was the wake-up call for Gifkins, he kept his cool to take the fourth set 12-10, and kept Clark at bay in the fifth to win that on 11-7.
Sony Sefer subbed for Weightmans Packaging number two Andrew Kremor, and won two important rubbers, he won in four sets against Mallee Meats number three Isaiah Bettess, and later in the night triumphed over number two Marcus Cimino.
The final rubber for Weightmans Packaging came, appropriately from Gifkins and Sefer, they combined to win the second doubles in four sets, a very entertaining game against Clark and Bettess, the scoreline 11-8, 10-12, 11-2, 12-10.
For Mallee Meats, Clark won two, and Cimino and Bettess one each.
Final scores: 6 rubbers to 5 and 21 games all.
PENNANT THREE:
Welcome all to the 2022 Winter Pennant Season. I hope you all have lots of fun and that your game keeps evolving against the different styles of play you will encounter.
Weightmans Packaging 7 (Sabrina Fitzpatrick 3, Jacinta Ljubic, Tom Gilmour 1) def Dunkley Scales 4 (Rodney Galvin, Dianne Hannig 2)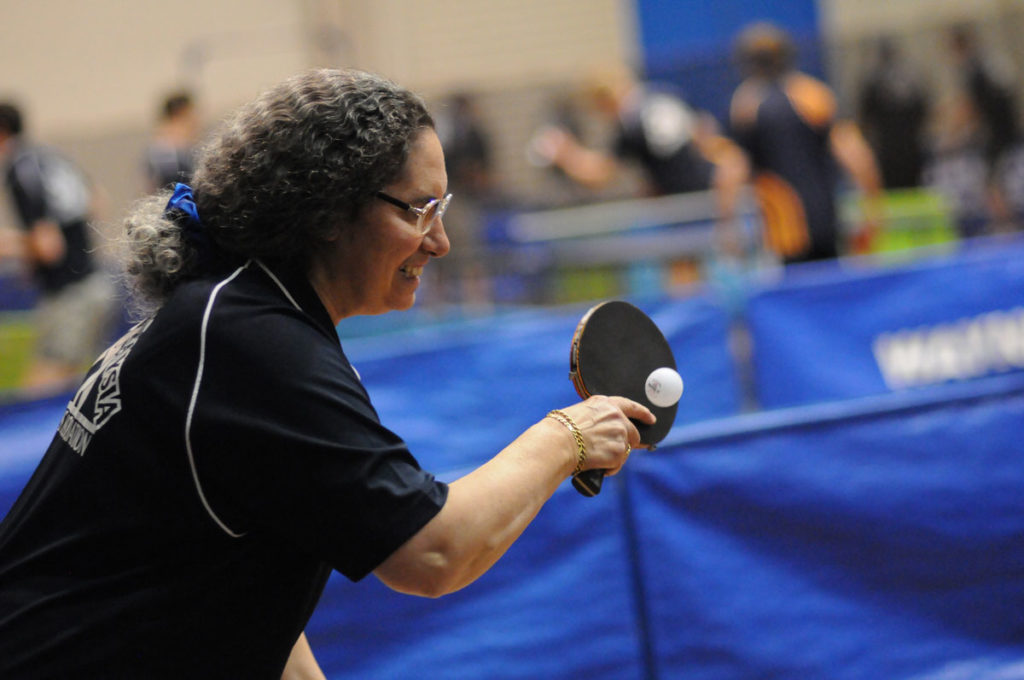 Weightmans Packaging has had an excellent win thanks to the excellent form of Captain Sabrina Fitzpatrick, who was involved in 3 singles and two doubles victories during the evening. Fitzpatrick also had solid support from Jacinta Ljubic and Tom Gilmour who each contributed a singles victory. On the other side of the ledger, new players Rodney Galvin and Dianne Hennig played well contributing two wins each for Dunkley Scales.
Weightmans Captain Fitzpatrick was seldom challenged on the night and player her consistent brand of table tennis to wear her opponents down. She teamed well with Ljubic and Gilmour to record solid doubles victories with each pairing.
There were a number of close games during the night – but none closer than the encounter between Galvin and Ljubic. Ljubic started the better by taking the first two 11-8, 13-11 before a monumental third set where Galvin staved off match points to take this 17-15 to keep the match alive. Galvin continued to match it with Ljubic and with the fourth set locked at 10 points all he was able to then take the next two points to send this match into a fifth set. The fifth set mirrored the previous two sets and the set again needed a tie-break to split the two players. Galvin was able to land blows at crucial times and won this set 14-12 to take the match. As I shuffle the beads on the abacus, we find there was an impressive 123 points played (62 won by Galvin and 61 won by Ljubic). I am sure there were many in the stadium that we happy not to umpire this lengthy match!
With the match score 5 rubbers to 3 in favour of Weightmans Packaging Fitzpatrick delivered a fine four sets victory over a defiant Rodney Galvin 11-8, 8-11, 11-8, 11-6 to deliver victory for her team. In the next game Hennig would defeat Ljubic 11-6, 7-11, 8-11, 11-6, 11-6) in five relatively quick sets as compared to the earlier five set marathon in the evening. Gilmour would wait until the final game of the evening to register a solid four sets victory over Jim Vale.
The final analysis sees Weightmans Packaging wrap up this match 7 rubbers to 4 (25 games to 16) against a very competitive Dunkley Scales outfit.
Mallee Meats 8 (Steve Pongrac 3, Nhat Dat 2, Wendy Simpson 1) def Tankard Dental 3 (Nick Kiapekos 2, Shaun Gifford 1)
A solid team effort from Mallee Meats have gone a long way to contributing a win against Tankard Dental.
The 'Butchers' Captain Steve Pongrac showed the way with excellent support from Nhat Dat and Wendy Simpson. For the 'Dentists' Shaun Gifford made an impressive debut winning one singles and losing on by the barest of margins in the fifth set. The form of Gifford was the only good news for Tankard Dental as their Captain Nick Kiapekos was forced from the court late in the evening during the second doubles match at 2 sets all with what appears to be a lower leg injury.
Looking to the positives the feature match of the evening was against Shaun Gifford and Wendy Simpson. Even though this was a dead rubber (Mallee Meats leading 7 rubbers to 2) it was still GAME ON! Gifford started in fine style and won the import points to bank the first two sets 11-9, 11-6. Simpson then found her range to take the next two 11-6, 11-5. The last set Gifford was on fire and
raced through this 11-2 to take a much-needed rubber for Tankard Dental. Simpson had played well throughout the night and this was her second five set defeat for the evening, which may have been a contributing factor in the final set of the evening she played.
In the final analysis, Mallee Meats were deserving winners 8 rubbers to 3 (28 games to 14). I would also like to acknowledge Keith Sharman who filled in earlier in the night to play a game as one of the players were unavoidably late this evening. Thanks for your contribution Keith. In addition, we all wish Nick a speedy recovery from his injury.
Sammy's Slammers 7 (Dave Tanner, Jamie Kealley 3) def MJM Automotive 4 (Karly Leach, Levi Williams, Alicia Tyres 1)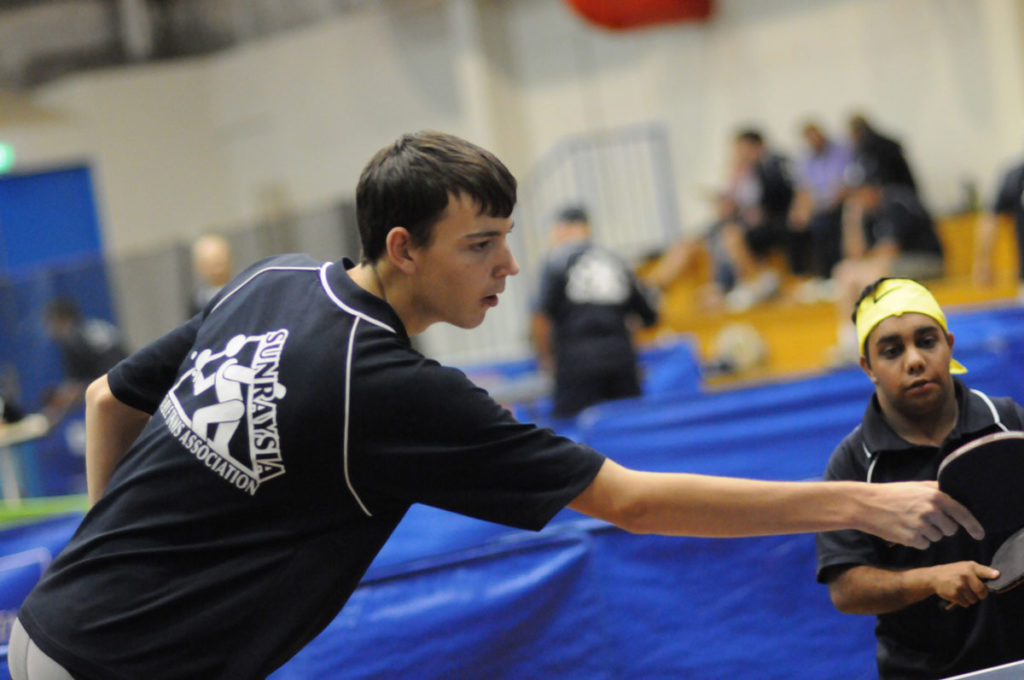 This week marks the five-year anniversary of the passing of Sam Hensgen for which the Sammy's Slammers team is named in honour of – so it seems fitting that the Slammers had a win on the opening night of the season.
On paper this looked a comfortable win for Sammy's Slammers; however on closer inspection of the results there was really four crucial points difference over the whole night.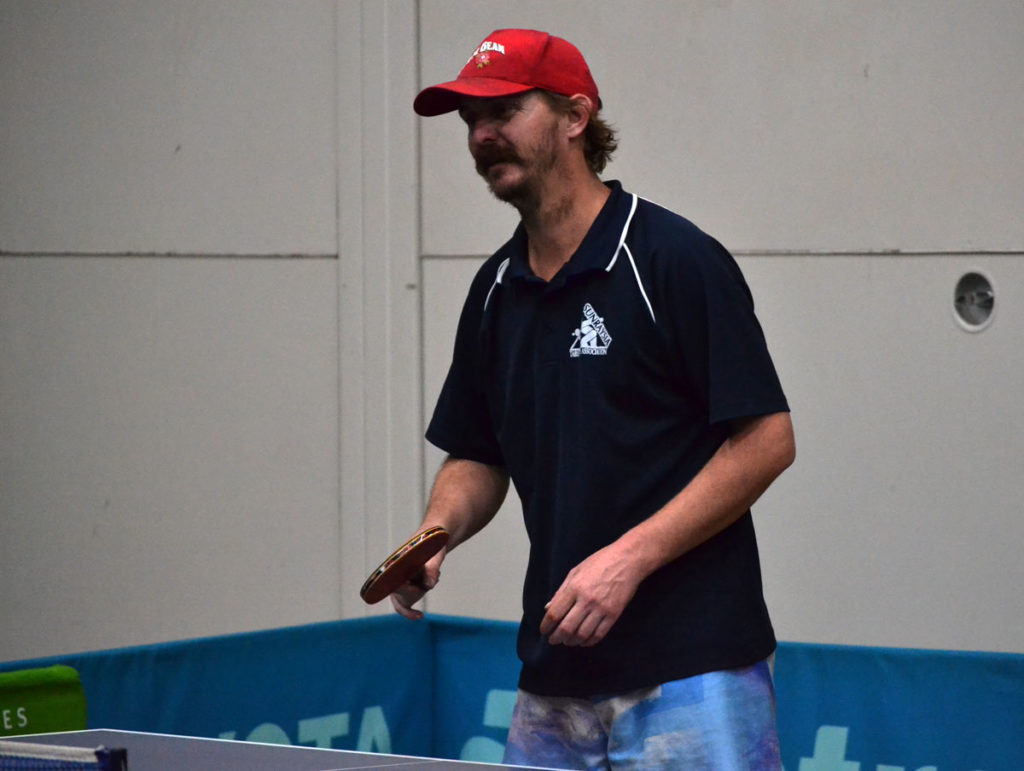 Captain Dave Tanner led the way for the Slammers with three singles victory along with Jamie Kealley who also added three singles victories (two of which were five set classics). For MJM Automotive Karly Leach had one singles victory along with newcomers Levi Williams and Alicia Tyres also each having one maiden singles victory.
The two highlight matches of the evening both involved young gun Kealley. The first of these Kealley was up against debutant Williams in a match that went the full distance. There were several momentum shifts in this match with Kealley taking the first tense set 12-10 and then Williams gaining the ascendency breezing through the second 11-3. In a total reversal of form and fortunes, Kealley took the third 11-5 before Williams steadied to take the fourth 11-9. The last set was again hard fought with Kealley edging out Williams to take the set 12-10 and the match.
In our second highlight match, Kealley again featured, this time playing Leach in a must win game for MJM as they trailed 3 rubbers to 5. A win for Kealley would seal victory for Sammy's Slammers. Kealley was in red-hot form during the first two sets as he won these comfortably 11-3, 11-7 and looked on course for a straight sets victory. Leach then ramped up her game and took the next two close sets 11-9, 11-9 to set up a fifth set. Both players were looking for that knockout blow – that was duly delivered by Kealley who snuck over the line 11-9 in another great final set that delivered the crucial sixth rubber of the evening ensuring that Sammy's Slammers would be victorious.
The last game of the evening newcomer Alicia Tyres played against Maria Starikov. Tyres played a very steady game and outlasted Starikov in straight sets to give MJM a consolation singles victory.
In summary Sammy's Slammers win 7 rubbers to 4 (22 games to 19) in a very close fought win.
See you all next Wednesday where we will see what transpires in Round 2.