Read Time:
15 Minute, 21 Second
PENNANT ONE GRAND FINAL:

Spectators witnessed an enthralling climax to the Sunraysia Table Tennis "Cash Converters" 2017 pennant at the Irymple Leisure Centre last week with Cash Converters winning 6-4 over Regional Taxation Services in an entertaining Grand Final.
During the season these two teams had met twice with a 6-5 result to each team and again this match was expected to be close.
– Cash Converters 6 (Kate Carmichael 3, Matt Ljubic 2) d Regional Taxation Services 4 (Shannon Bowen 2, Mark Dorman 1)
The highlight of the grand final was the form of Kate Carmichael who continued her excellent form over the finals series by winning three singles. With the scores standing at one rubber all Carmichael matched up against RTS number one Shannon Bowen and this was to be the match of the night going to five sets with many fine rallies. Bowen took the first in a close game while Carmichael took the second and third by the barest margin. Throughout the match Bowen had troubled Carmichael with his serve and he was able to break away in the fourth to level the match.
Despite both players appearing to be nervous there were many long rallies in the fifth, Bowen held a two point break at 7-5 and again deep into the match 9-7, both had had some fortune with the net in this game. Carmichael struck back late and grabbed the ascendancy to take a couple of match points which Bowen saved, he too had an opportunity to win and in an exciting climax Carmichael on her trademark backhand forced Bowen back deep in the court at 13-12 and this rally went on and on with Bowen defending well and looking for an error from Carmichael which did not come and finally Carmichael tasted success 9-11 12-10 13-11 6-11 14-12 in what had been a high class contest.
Going into the first doubles the score in Cash Converters favour was 2-1. Carmichael paired up with Matt Ljubic to play RTS combination Bowen and Mark Dorman and again another five set struggle took place and in another thriller it was Bowen and Dorman who were able to take the points 11-7 8-11 13-11 5-11 11-9 against the pair who were later declared the leading doubles combination of the season at the presentation of trophies.
The score now stood at three rubbers all and it was to be Cash Converters number one Matt Ljubic playing the experienced Mark Dorman, when they last met Dorman had taken the points and he was away to a good start leading 7-0 in the first games forcing errors before Ljubic came back to just fall short. Ljubic starting landing a few trademark forehands in the second while Dorman still managed to apply pressure however Ljubic was able to level. The third saw Dorman again off to a flyer leading 7-0 again as he forced Ljubic into errors however in an amazing comeback Ljubic rattled off several points landing many forehands to come back and take the third. He then stamped his authority on the fourth racing away to win 8-11 11-7 11-9 11-3. A fine effort by young Ljubic under pressure.
RTS skipper Shannon Bowen levelled the scores at three rubbers all when he accounted for Kevin Johns but not before trailing 8-10 in the first only to recover and run away with the match.
Kate Carmichael then won her second singles at the expense of Lee Thomas and Cash Converters going in to the all-important second doubles took a 4-3 lead. For RTS Thomas and Bowen got off to the perfect start against Matt Ljubic and Kevin Johns taking the first game however from there Converters pair Ljubic and Johns took control winning 8-11 11-3 11-7 11-5 proving too steady for their counterparts.
With the last block of three singles to commence Cash Converters now took a lead of 5-3 as the two number one players Matt Ljubic and Shannon Bowen took to the table. These two produced another entertaining match with many top rallies, big forehands and long points. Ljubic grabbed the first game however the desperate Bowen attempting to keep his team alive took the second and third and then the fourth went on and on before Bowen won 16-14 to reduce the deficit to 4-5.
Buoyed by her earlier victories over Bowen and Thomas, Kate Carmichael started well against Mark Dorman and was able to maintain the ascendancy over the three games to win 11-8 11-3 11-7 and give the 2017 title to Cash Converters.
This was Carmichael's third singles win while team mate Matt Ljubic won two. Number three Kevin Johns played an important role in the second doubles. For Regional Taxation Services Shannon Bowen won two singles while Mark Dorman won one.
The premiers were presented with the Red Cliffs Club Shield which dates back to the 1950's. For Matt Ljubic this was his second title winning last year while for Kate Carmichael this was her first. She is the first female to win three singles in a final and over the finals series she won seven of eight singles matches. For veteran Kevin Johns this was his seventh success in a grand final with his first dating back to 1984.
With a mixture of youth and experience Cash Converters had gelled well over the season finishing third on the ladder and peaking at the right time.
PENNANT TWO GRAND FINAL:

Pinnacle Packers kept their winning record intact against Mallee Bearings, as they swept to victory in the Grand Final.
–  Pinnacle Packers 6 (Geoff Wright, James Chick 2, Brendan Alderton 1) d Mallee Bearings 0 
The only three matches Mallee Bearings lost this season were at the hands of Pinnacle Packers, so they went into the season finale psychologically on the back foot.
Further, this was the third time in four weeks they had played, and lost to Pinnacle Packers, and it seemed as this match progressed, they were mentally tired.  The one week they did not play Pinnacle Packers they played Weightmans Packaging in a topsy-turvy preliminary final match which taxed their emotions.
And of course, the opposite was true for Pinnacle Packers.  Coming off those two wins, round 10 and the first semi final match, they had had a week's break, and so they came to this match fresh.
After a lengthy first set, Quentin Clark proved to be no competition for James Chick, Chick winning 17-15, 11-7, 11-3.
It seemed that Geoff Wright and Andrew Jones had barely started their match, that it finished, Wright running through Jones 4, 6 and 3.
Brendan Alderton reminded Peter Midgley that on their last meeting, the aggregate runner up had fallen to him in five sets.  Alderton ground away once again, and this time Midgley fell in four sets, Alderton winning 14-12, 11-9, 6-11, 12-10.
Midgley and Clark won the first set of the next rubber, the first doubles, 11-6, and just for a moment it seemed that there was a distant chance of a comeback.  It was not to be, as Wright and Alderton hit their stride, taking the next three sets 8, 5 and 5.
At four love down, victory seemed a remote possibility, however, Quentin Clark did not think so.  Clark played magnificently against the much better credentialed Geoff Wright in the fifth rubber.  Wright led two sets to love 11-7, 11-6, and went into the third set at half throttle.  Clark seized his chance taking the set 11-8.  Wright got his mind off the grand final trophy in the fourth, but Clark now had a head of steam and held Wright off again, winning the fourth 13-11 to take the game to the fifth set.  The fifth set was close, however Wright held the advantage and was happy to see the number three off with a score line of 11-9.
James Chick, Pinnacle Packers number three, was drawn to play Mallee Bearings captain Peter Midgley in the next rubber.  Nothing had gone (w)right? for them in the match so far, and this rubber proved no different.  Under no pressure, Chick played a relaxed game, and at the end of three close sets, victory was his 16-14, 11-8, 13-11.
A deserved win to Pinnacle Packers, who were off the radar most of the season, as they played second fiddle to their opponents here, ladder leaders Mallee Bearings.  The Packers took the minor premiership after winning in the final round, and from that point on, they looked the team most likely to take the premiership.
Final scores:  6 rubbers to 0 and 18 games to 4.
PENNANT THREE GRAND FINAL:

Sammy's Slammers took the Pennant Three trophy after a tight tussle with Mallee Meats.

Regular Pennant Three player Sam Hensgen died suddenly earlier this year, and in a move to remember him, Leonie Dunkley of sponsor Dunkley Scales, requested that this team be renamed Sammy's Slammers for the season.

Sammy's Slammers finished third on the ladder at the end of the home-and-away season, and to get to the grand final had to negotiate two elimination matches.
– Sammy's Slammers 6 (Paul Fitzpatrick 2, Marcus Cimino, Leonie Dunkley 1) d Mallee Meats 3(Jeremy Corrin 2, David Sergi 1)
After winning the first of these, the first semi-final knockout, in the fifth set of the eleventh and final rubber, Sammy's Slammers gained confidence, disposing of minor premiers MJM Automotive the next week 6-2.  Aggregate winner Paul Fitzpatrick was leading by example, and it was his team-mates who seemed to move up a gear, Marcus Cimino all of a sudden becoming a very dangerous opponent, and Dunkley hitting her shots with more authority.
The first rubber featured Cimino and Mallee Meats captain and aggregate runner-up Jeremy Corrin.  Cimino almost pulled off what would have been one of the biggest upsets of the year, but fell 11-9 in the fifth to the hugely-relieved, but mainly madly-frustrated Corrin.  Mallee Meats were on notice that this was going to be a difficult night.
David Sergi, playing a steady brand of table tennis, took an easier four set win against Dunkley to give his side a 2-0 lead.  Paul Fitzpatrick warmed up against his sister, Therese, but had to be careful, winning 12-10, 11-4, 11-5.
Paul and Cimino, who also won the doubles aggregate for the season, remaining undefeated, made this another to add to their tally, accounting for Corrin and Therese Fitzpatrick in just three sets.
That made the scores 2-2, and then followed four five set contests, and by winning three of them, Sammy's Slammers set themselves up for the win.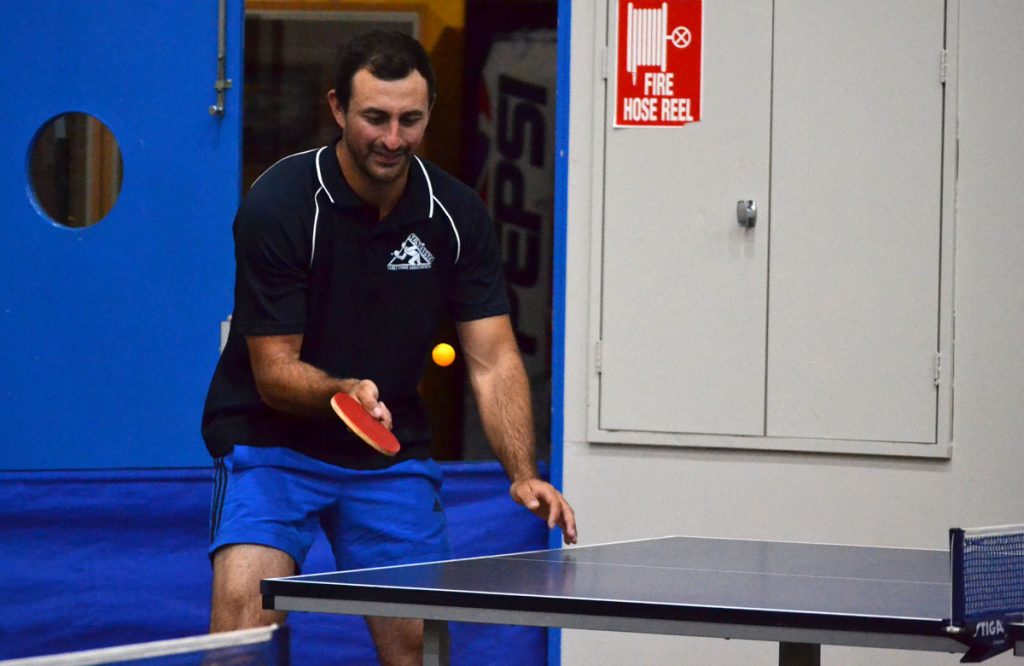 In the first of these, Cimino showed just how dangerous he had become.  Playing easily his best table-tennis of the season, Cimino pulled off some amazing shots to upset David Sergi's game.  The sets he lost were close, the sets he won became easier at the match went on.  Sergi took the first set 14-12, Cimino responded 13-11 in the second.  Cimino looked like he had Sergi beaten when he raced to a 2-1 lead when he took the third set 11-2.  Sergi regrouped to graft out a 12-10 win in the fourth, only for Cimino to come out full of running in the fifth to run away with the set 11-2.
Jeremy Corrin squared the scores at 3-3 after a magnificent captains' match against Paul Fitzpatrick.  Corrin egged himself on, there seemed to be a bit of desperation in Fitzpatrick's game, and that combination made for a fabulous contest, as neither player could gain the ascendency.  At the end of five sets though, Corrin had the win 13-11, 8-11, 11-7, 8-11, 18-16.
Therese Fitzpatrick gave her all, and looked a real threat to give Mallee Meats the lead again, however, Leonie Dunkley wore her down, to give the advantage to her side instead, 8-11, 11-6, 8-11, 11-6, 11-8.
The second doubles therefore loomed large as the game which could give Sammy's Slammers the trophy, or the game which would put Mallee Meats right back in contention.
The Mallee Meats pair of Corrin and Sergi were looking good after two sets, at that stage leading 11-9, 11-8.  Paul Fitzpatrick really made the third set his own, utterly dominating play, he almost single-handedly winning the set, sending down winners on just about every occasion his bat struck the ball, he and Dunkley taking that set 11-3.  Corrin and Sergi recovered and almost took the match in the fourth set, however Fitzpatrick and Dunkley held them out 12-10 to take the game to the fifth.  The Sammy's Slammers pair held off their opponents in the last set 11-8 to give themselves a 5-3 lead with the final round of singles to go.
After that five set work-out, it was hardly necessary for Sergi and Paul Fitzpatrick to warm up for rubber number nine, and Fitzpatrick made every post a winner for his side, downing Sergi in straight sets to give his side the premiership.
Leonie Dunkley's gesture of renaming her side had produced a wonderful result – the memory of Sam Hensgen is remembered by Sammy's Slammers win in this season 2017.
Final scores:  6 rubbers to 3 and 23 games to 15.
PENNANT FOUR GRAND FINAL:

It has been some time since a team would have gone into a grand final as such hot favourites as Dunkley Scales were going in to this game against MJM Automotive. During the home and away season they had won six of their eight matches 10-1 however as we know finals can be different. For MJM Matt Cherry had played well the week before while team mate Kim Avers had defeated both Dunkley's big guns Brice Lock and Luke Ljubic in the Super 8's comp.
 – Dunkley Scales 6 (Brice Lock, Luke Ljubic 1) d MJM Automotive 3 (Kim Avers 2, Matthew Cherry 1) 
After the first block of three singles Dunkley Scales found themselves in unfamiliar territory ….trailing!! Yes courtesy of skipper Matt Cherry, MJM were first away when he accounted for the improving Isaiah Bettess in straight sets 11-3 11-2 11-4, this was a good win from Matt and he too has improved since starting this season.
Brice Lock then levelled the match when he defeated Laura Bettess in straight sets.
The next match was the match of the grand final with MJM number two Kim Avers matching up against Luke Ljubic. Young Ljubic has had an outstanding season remaining undefeated in the home and away games, however he had been defeated by Kim in the Super 8's before he turned the tables in the final. He also went down to Kim in the second semi so he was keen to bounce back and that he did early winning two of the first three games, the third was very close. Kim steadied in the fourth and fifth, both were close but Kim was able to draw away to go on and win in a great contest 8-11 11-7 10-12 11-8 11-7. The score now 2-1 in MJM's favour.
The first doubles was now huge for both sides and it was the powerful combination of Brice Lock and Luke Ljubic who proved too good for Matt Cherry and Kim Avers who gave it their best but went down 7-11 10-12 4-11. The score now stood at two rubbers all.
The two captains played the next singles Brice Lock up against Matt Cherry and this was a close tussle all the way with Matt keeping the pressure on the aggregate winner. In the end Brice was able to keep Matt at bay to win 11-8 14-12 12-10 a great fight by Matt.
Kim Avers then won her second singles and levelled the match at three rubbers all when she defeated Isaiah Bettes in three sets. The ladder leaders were in unfamiliar territory as not often through the season were the scores level after six rubbers.
Dunkley's Luke Ljubic bounced back from his earlier loss to defeat Laura Bettes 11-2 11-5 11-4 and give his team the edge 4-3 going in to the second doubles. Brice and Isaiah lined up for Dunkley's in their most important doubles for the year against Matt and Laura, Dunkley's took the first comfortably however in the second and third Matt and Laura maintained the pressure before Brice and Isaiah took the match 11-5 13-11 11-9. Dunkley's were now making the break and took a 5-3 lead. Later Brice and Isaiah were presented with the doubles aggregate trophy. Amazingly this pair had went through the season undefeated in nine matches. A top performance!!!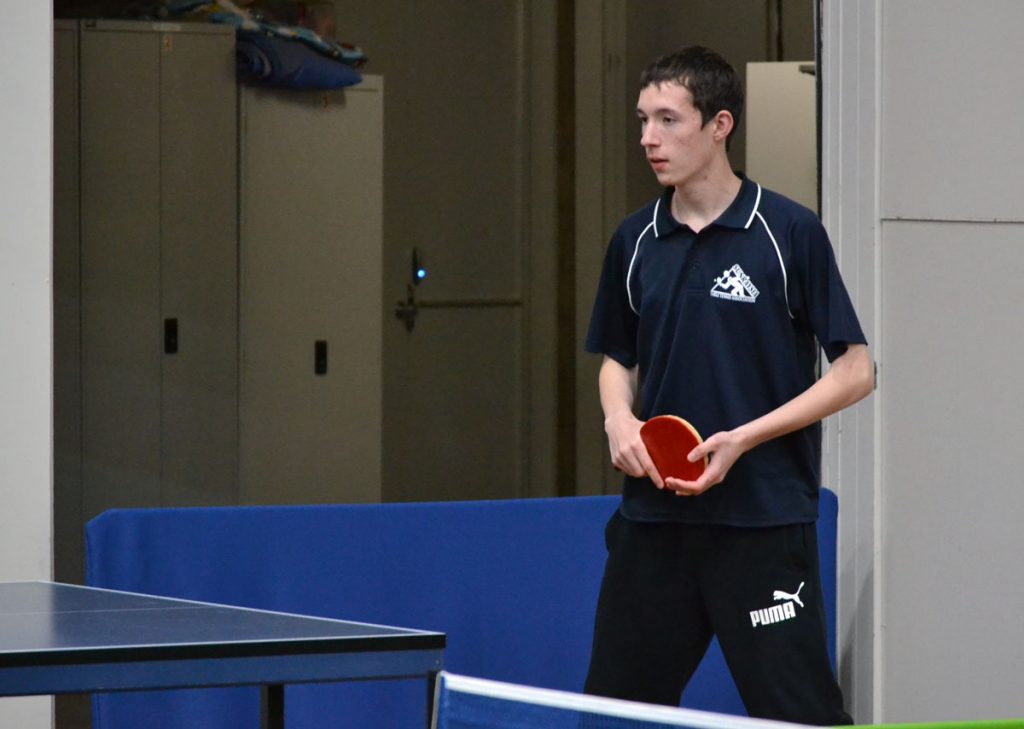 Up next were Brice Lock and Kim Avers and given that Kim had defeated Brice in the Super 8's the thought was this would be close and it was an entertaining match with many long rallies. In the end Brice had proven too steady winning 11-4 8-11 11-7 11-3. Kim had given it her best and had improved greatly over the season.  Brice had enjoyed a very good season and this victory had given Dunkley's Scales a 6-3 win. Whilst they had dominated the season they were made to work hard in the grand final.
For Dunkley's Scales this was back to back premierships for Luke Ljubic and the first grand final for Brice Lock and first year player Isaiah Bettess who had shown great improvement over the year.
The runners up MJM Automotive were brave in defeat and the trio of Matt Cherry, Kim Avers and Laura Bettess have all improved throughout the season. They had tested the premiers.  
Chris Carmichael presented the winners with the Wayne and Chris Carmichael perpetual Shield to wind up the season.