Read Time:
17 Minute, 9 Second
PENNANT ONE:

After six rounds of the Sunraysia Table Tennis "Cash Converters" summer pennant only one rubber separates the top three teams on the ladder. These three teams Regional Taxation Services, Weightmans Packaging and Cash Converters have a four win two loss record with Exposed Signage/Apparel four points in arrears in fourth position.
– Regional Taxation Services 6 (Matt Ljubic, Gavin Carmichael 2, Leon Brown 1) d Mallee Bearings 5(Shannon Bowen 3, Reece Kurrle 1)
Regional Taxation Services enjoyed their third win in succession when they were able to avenge a round one loss against sixth placed Mallee Bearings. The 6-5 victory came about when for the second week in succession RTS number three Leon Brown was able to win with the scores locked at five rubbers all.
This round he was able to defeat Ed Hung in four sets to get his team over the line.
Victory came to RTS despite Mallee Bearings skipper Shannon Bowen again playing well to win three singles and he sits second to Matt Avers in the singles aggregate race.
– Weightmans Packaging 6 (Wayne Carmichael 3, Leslie Ncube 1) d Tankard Dental 5 (Darren Robinson, Shane Carmichael 2, Andrew Cannard 1)
Weightmans Packaging also won their third contest in succession when they proved too good for Tankard Dental 6-5 in a close affair.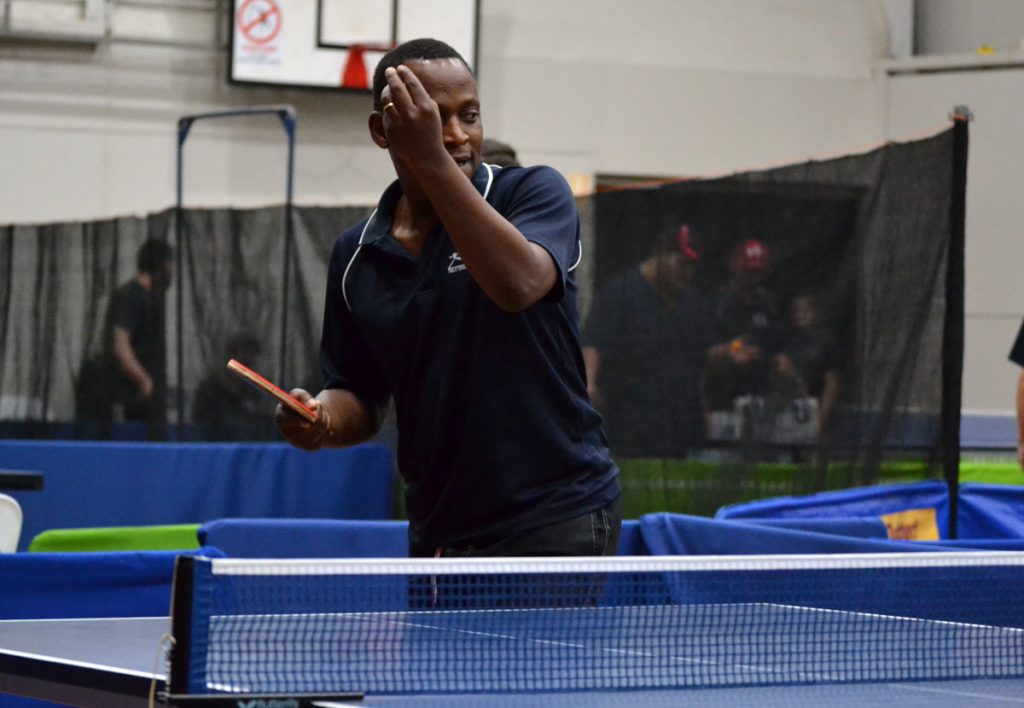 The telling match here was when Weightmans number two Leslie Ncube recovered from a two game deficit against Tankard number one Andrew Cannard to win 5-11 9-11 11-6 11-8 11-4 in a strong finish. This match featured many long rallies with some fine retrieving from the hard working Ncube.
For Weightmans Wayne Carmichael was in top form winning three singles as well as taking part in both doubles victories. Partnering Bernadette Fitzpatrick in the second doubles Carmichael again was in control and in a crucial result the Weightmans pair were able to defeat Darren Robinson and Andrew Cannard 11-6 11-13 11-9 8-11 12-10.
Despite Robinson and Shane Carmichael winning two singles and Andrew Cannard one it was their lack of success in the doubles which was costly.
– Cash Converters 7 (Nicholas Dorman, Michael Hogarth, Mark Ljubic 2) d Exposed Signage/Apparel 4 (Matt Avers 3)
In an even team performance Cash Converters trio Nicholas Dorman, Mark Ljubic and Michael Hogarth all won two singles to record a 7-4 victory over Exposed Signage /Apparel who have lost three matches on the trot to drop from first on the ladder to fourth. This was a more even contest than the scores may indicate as there were five five set matches with four of these going the way of Cash Converters.
For the fourth round in succession singles aggregate leader Matt Avers had to fight off an opponent in five sets to maintain his unbeaten run. His match against the very hard hitting Nicholas Dorman was a highlight as the score line of 10-12 11-4 11-9 10-12 11-4 indicates.      
Exposed Signage number two Kate Carmichael did not fare well in five set matches losing to Dorman in five sets after leading early, later she was defeated in five by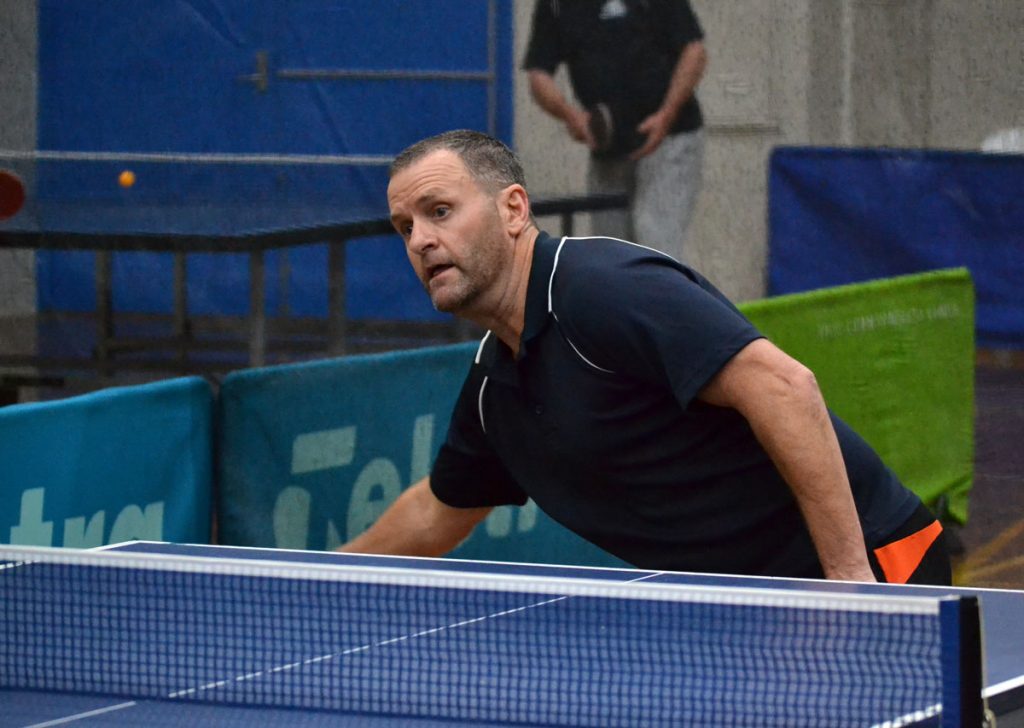 Michael Hogarth and in the first doubles Carmichael along with partner Avers again went down in five at the hands of Dorman and Mark Ljubic.
PENNANT TWO:

Three tight games this week, all games decided by the closest of margins 6-5.  Mallee Bearings put last week's loss behind them, and are again a game clear at the top of the ladder; Jackson Murphy, aided and abetted by Tony Malycha steered Weightmans Packaging to a win against second placed Mallee Meats; and Pinnacle Packers, showing that their last two weeks were not just a fluke, took their third win, this time against Max Miller Carpets.
– Mallee Bearings 6 (Kevin Johns 3, Terry Martin, Anthony Fox 1) d MJM Automotive 5 (Zac Healy 2, Arthur Paar, Michael Hensgen 1)
Mallee Bearings captain Kevin Johns was the star of this game, winning three singles and with Terry Martin, the first doubles.
This was a deserved win to Mallee Bearings, however, had MJM Automotive captain Arthur Paar been playing anywhere near his best, the result could have so easily gone the other way.
Paar could only register a win against Anthony Fox, who was subbing for the absent Claire Ljubic.  He allowed Terry Martin to dictate terms in their match, and consequently fell in four sets, and it was a similar result with Kevin Johns in the final round of singles.
What made this a "could-have-been" match was the performance of MJM Automotive number two Zac Healy.  Where Paar conceded to Martin in four sets, Healy, after dropping the first set 4-11, took charge of his encounter with Martin, winning the next three sets 11-9, 12-10, 11-7.  In the next round of singles, Healy raced away to a two sets to love lead against aggregate leader Johns 11-6, 11-9, and Johns had to draw on all his experience and then some to get the better of the youngster at the other end of the table. 
Johns blasted back into the game, taking the third set 11-2, but Healy was not done, and although ultimately defeated, he gave a good account of himself losing the last two sets 8 and 7.  To round the night off, Healy made short work of his match against Fox, winning 2, 7 and 8 against his more experienced opponent.  After losing the first doubles with Michael Hensgen to Johns and Martin 8-11, 7-11, 11-5, 7-11, he and captain Paar took the fight right up to Johns and Fox, and in a high standard five setter took the honours 11-5, 5-11, 8-11, 14-12, 11-9.
Mallee Bearings therefore won with those three singles wins by Johns, one each to Terry Martin (against Paar), and Fox (against Michael Hensgen), plus the first doubles.  "Could-Have-Been" MJM Automotive scored two rubbers courtesy of Healy, one each to Paar (against Fox) and Hensgen (against Martin), and the second doubles.
Final scores:  6 rubbers to 5 and 23 games to 21.
– Weightmans Packaging 6 (Jackson Murphy 3, Tony Malycha 2) d Mallee Meats 5 (Peter Midgley 2, Geoff Peters, Peter Fitzpatrick 1)
Weightmans Packaging captain Jackson Murphy is undefeated in singles play so far this season, yet his team only recorded its second win in this round.
His number two Tony Malycha had a good night, winning two singles to help the cause, and when Murphy and Paul Fitzpatrick managed to winkle the second doubles from the Mallee Meats pair of Peter Midgley and Peter Fitzpatrick the game was theirs.
Although undefeated in singles play, Murphy is second on the aggregate, having missed a week, and so he is two games behind Kevin Johns, who leads on 17 games to Murphy's 15.
This was a close contest throughout.  Wins to Malycha and Murphy gave Weightmans the early ascendency, however Midgley and Geoff Peters evened things up with a heart-stopping five setter against those same two, winning 7-11, 3-11, 11-6, 18-16, 11-7.  Mallee Meats took two of the next three rubbers, Midgley downing Malycha, and Peters accounting for Paul Fitzpatrick.
So the second doubles loomed as a crucial rubber for Mallee Meats – a win would make it 5-3, a loss 4-4.  After a difficult first set, the Mallee Meats pair of Peter Midgley and Peter Fitzpatrick looked they were going to be the favoured pair.  They lost the first set 12-14, but were comfortable in the next two, taking them 8 and 3.  That is when the game livened up, Murphy and the younger Fitzpatrick the equal of the two Peters.  The last two sets were nip and tuck the whole way, and the game slipped away from the Mallee Meats pair 12-10, 11-9.
Mallee Meats were up against it now, and so it proved.  Murphy showed his superiority against Midgley, winning 9-11, 11-3, 13-11, 11-7; Malycha likewise against Geoff Peters, winning that one in just three sets 11-9, 12-10, 11-6 to get the required six rubbers.
And although Paul Fitzpatrick lost to his father Peter in the final rubber, he had already earned his keep with that win in the second doubles.
Final scores:  6 rubbers to 5 and 20 games to 19.
– Pinnacle Packers 6 (Ashley Morrison, Brendan Alderton 2) d Max Miller Carpets 5 (Russell Walder 3, Quentin Clark, Jason Gifkins 1)
 Ashley Morrison is starting to enjoy himself now that he has his full line-up of team mates. 
The Pinnacle Packers captain had to wait until round four for the first of them to turn up, the team celebrated with a win, last round the second member turned up, they won again, and just to show that was no fluke, they took the points again in this round.
Morrison did not have things all his own way, however, with opposing captain Russell Walder undefeated in his three singles rubbers to keep his side in the game.  However, Brendan Alderton in his second game of the season, backed Morrison well, with two wins; in the most important he simply outclassed Jason Gifkins to take a straight sets 9, 4 and 8 win in the first rubber.
With Max Miller Carpets winning five of the nine singles rubbers, the doubles games were the pivot on which the game turned.  They were both hard fought contests, and Pinnacle Packers needed to, and did, win them both.  Morrison and Alderton matched it with Walder and Gifkins to take a "come-from-behind" victory 6-11, 11-7, 11-13, 11-3, 11-8.  Later Morrison and Seval Fuat duked it out with Walder and Quentin Clark, the Pinnacle Packers pair getting the advantage every other set, winning 11-9, 2-11, 11-6, 8-11, 11-4.
So, an encouraging win for Pinnacle Packers; and they could be the team to upset the rest of the competition from here on in.
Final scores:  6 rubbers to 5 and 23 games to 20.
PENNANT THREE:

Weightmans Packaging, who have headed the ladder since Round 1, finally lose that honour in the battle between first and second; Regional Taxation Services drop another spot with their loss in the third versus fourth clash; and Tankard Dental celebrate with their first win of the season, against Mallee Meats in the match-up between the teams fifth and sixth on the ladder.
– Dunkley Scales 7 (John Fitzpatrick 3, Sabrina Fitzpatrick 2, Rachel Fitzpatrick 1) d Weightmans Packaging 4 (Mark Kerr 2, Arnold Jago 1)
In the battle for top spot on the ladder, Dunkley Scales took a convincing 7-4 win against Weightmans Packaging.
These two sides were only separated by percentage going into this match, but now Team Fitzpatrick are a game clear of Mark Kerr's Weightmans Packaging team.
With John Fitzpatrick, playing at number two, again taking three singles victories, for the fourth time this season, the Fitzy's had a great foundation for a win.  John only dropped one set on the way to these three wins, and that to the very experienced Arnold Jago; John winning there 12-10, 11-7, 6-11, 11-7.  That was a crucial game too, the score at that stage 5-4 to Dunkley's, but John rose to the occasion, and not only downed his opponent, but secured the win for the team.
Sabrina chipped in with two wins, defeating Arnold Jago in straight sets, and finishing the night with a five set victory against Ryan Hensgen to push the score out to 7-4.
Rachel had a quiet night, conceding wins to her opposite number Mark Kerr, and also to Jago, but in addition to her hard fought four set win against Ryan Hensgen, she and John took a straight sets win in the first doubles, downing their older opponents Kerr and Jago 9, 8 and 8.
For Weightmans Packaging, Mark Kerr took two wins, defeating Rachel and Sabrina; Arnold Jago took one, against Rachel; and Kerr and Hensgen were too good for Rachel and Sabrina in the second doubles, winning easily in three sets, 9, 5 and 1.
Final scores:  7 rubbers to 4 and 22 games to 16.
– MJM Automotive 6 (Thanh Nyugen 3, David Sergi 2) d Regional Taxation Services 5 (Jeremy Corrin 2, Huseyin Ismail, Jeremy Corrin 1)
Regional Taxation Services dropped to fourth on the ladder this week after this loss to MJM Automotive.  After sitting second on the ladder from round one, up until the end of round four, they have dropped two spots in two weeks.
The winners here, MJM Automotive, have now won their last four games and are only one game away from being top of the table.
The reason for their great form is Thanh Nguyen, and once again Thanh had a big influence on the outcome of the game.  He took his now customary three singles wins, and in so doing dropped just one set, this to opposing captain Jeremy Corrin.
In addition to these rubbers, Nguyen and Nick Kiapekos took the second doubles rubber in four sets against Corrin and Karly Leach.
So Nguyen's influence was felt in those four rubbers, and there was a real opportunity for Regional Taxation Services to capitalise, but Nguyen's number two, David Sergi played superbly to get his team out of trouble, with two singles wins, and only losing to Jeremy Corrin in a five setter 11-9, 3-11, 7-11, 11-5, 5-11.  Sergi later downed Karly Leach in four sets, and then in the last round of singles, he was too good for
Husseyin Ismail, downing him in just three 8, 4 and 8.
After a slow start to the season, this is definitely the danger team in this grade, and their match-up in the next round against Team Fitzpatrick should be a highlight.
Final scores:  6 rubbers to 5 and 21 games to 18.
– Tankard Dental 8 (Sam Hensgen 3, Rohan Reimers 2, Leonie Dunkley 1) d Mallee Meats 3(Cambell McKenzie, Marcus Cimino, Helen Frania 1)
Tankard Dental captain Sam Hensgen finally found some form, scoring three wins, and leading his side to its maiden win for the season.
In winning those three singles, Hensgen jumped four spots on the aggregate ladder, and now sits sixth.
His team-mates played very well too.  Rohan Reimers certainly got his money's worth this round – all his singles rubbers went to five sets, and he won two of them.  He dropped the first two sets in his clash with opposing captain Cambell McKenzie 7-11, 7-11, but thereafter he was the stronger of the two, winning the final three sets 7, 6 and 9.  He could not dominate Marcus Cimino in their match, but held on to win 11-9 in the last.  He held a two sets to one lead against Helen Frania,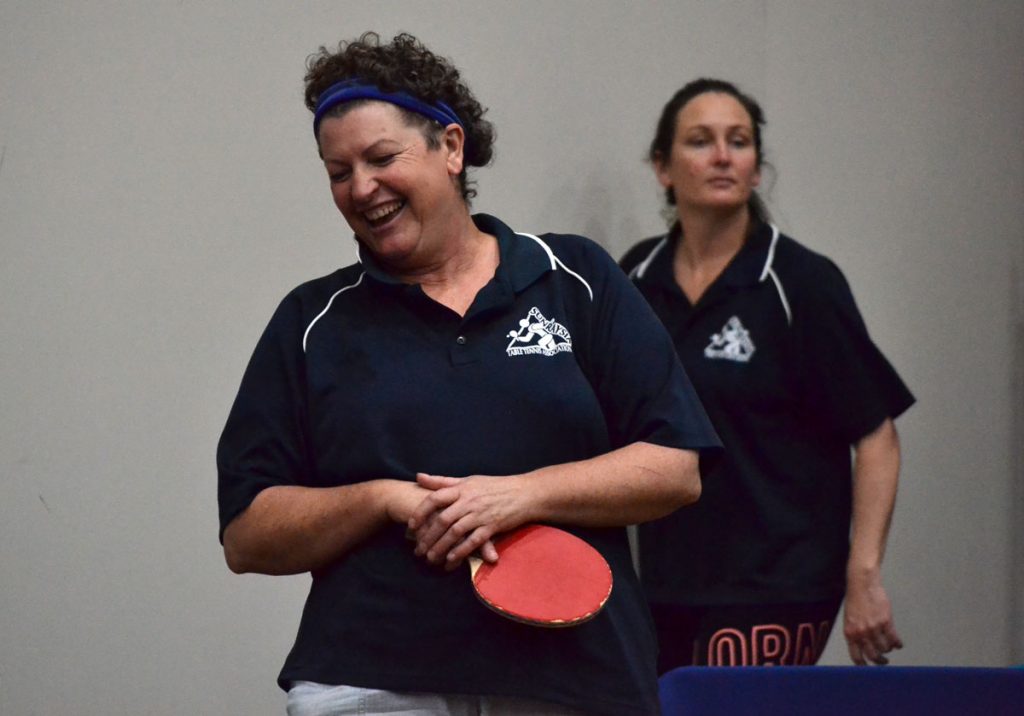 but Frania held sway in the final two sets of that game, downing Rohan 11-7 in the fifth.
After that giant-killing effort, Frania was defeated by her opposite number Leonie Dunkley in the eleventh rubber.  Dunkley was too consistent winning 11-7, 9-11, 11-9, 11-6.
In addition to these six rubbers, Tankard Dental took both doubles encounters; Hensgen and Reimers won a close three setter against McKenzie and Cimino 11-9, 11-9, 11-9.  Later Hensgen and Dunkley won another close game, one that came very close to going to five sets, winning 11-6, 7-11, 11-8, 17-15.
So, this was a big win to Tankard Dental in this game.  If they can replicate that form in the coming weeks, they are still a chance of making the finals.
Final scores:  8 rubbers to 3 and 30 games to 15.
PENNANT FOUR:

Two 6-5 results and a 7-4 which indicates a good round. Good to see Michael Bacon filling in having a hit for the first time for a while. By winning three singles Tom Morrison is now equal leader in the singles aggregate with Stephan Ljubic. For the second time this season Sarah Hogarth won three singles for her team to win 6-5.
Congratulations to Tom Cooper on winning his first singles for the season. Well done Tom keep at it!!!
– Tankard Dental 6 (Ben Hosking, Peter Lock 2, Luke Ljubic 1) d Dunkley Scales 5 (Stephan Ljubic, Aaron Sawyer 2)
This was an unusual game to say the least with ladder leader Tankard Dental flying out of the blocks to take a 5-0 lead before their opponents got on a roll and in the end Dunkley Scales fell one rubber short in their comeback. By winning 6-5 Tankard hold top position by percentage from Mallee Meats.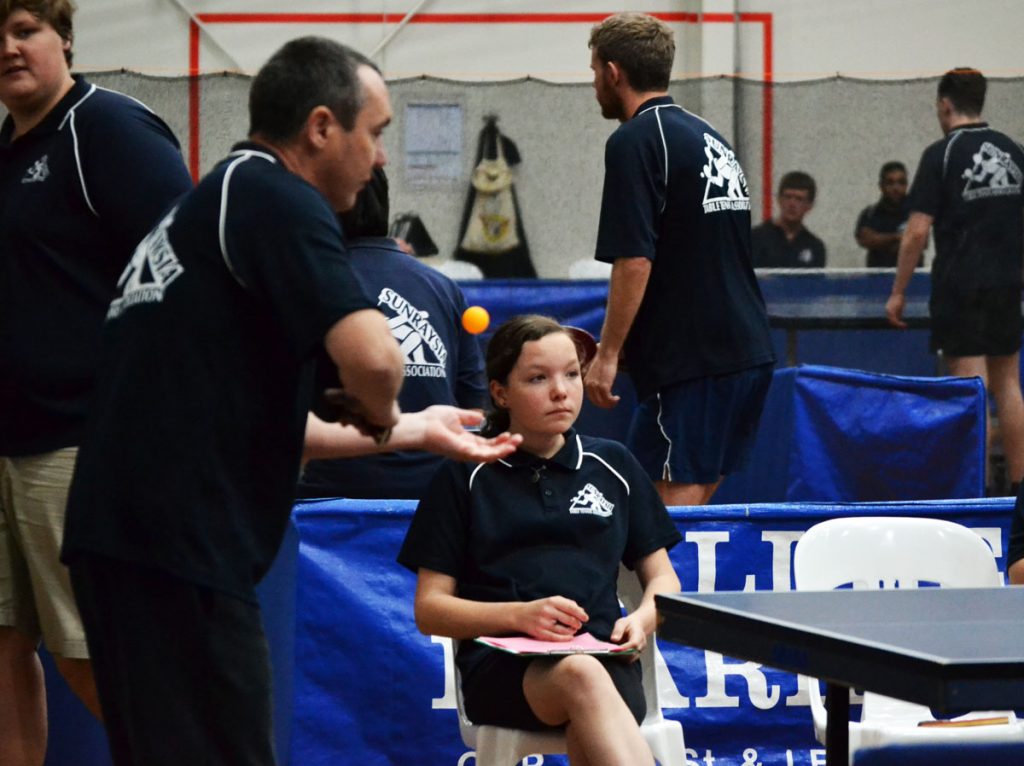 For Tankards Peter Lock claimed a big scalp when he defeated Stephan Ljubic in four sets. No player could win three singles as later in the match Peter was defeated by Aaron Sawyer who was in good form winning two singles. Aaron was able to defeat Peter in a lengthy five setter 11-9 9-11 11-6 9-11 11-3 to give his side a chance.
Aaron combined with Stephan in the second doubles and in another five setter defeated Ben Hosking and Luke Ljubic 11-5 11-5 6-11 11-13 11-8.
Ben won two singles on the night and Luke one while for Dunkley's Stephan and Aaron won two matches each.
– Regional Taxation Services 6 (Sarah Hogarth 3, Kim Avers 2, Jacinta Ljubic 1) d MJM Automotive 5 (Mick Bacon 2, Shirley Whitecross 1)
MJM were without Joel Hogarth and Paul Kerr going into this round and they were replaced by Michael Bacon and Tomas Hawkes. Good to see Michael hitting as it has been a while.
This was a topsy turvy match and late in the contest MJM had taken a 5-4 lead and were on the verge of their first win however a late surge by Regional Taxation Services saw them win 6-5 in a thriller. With her team under pressure Sarah Hogarth won her third singles for the night when she defeated Shirley Whitecross in straight sets.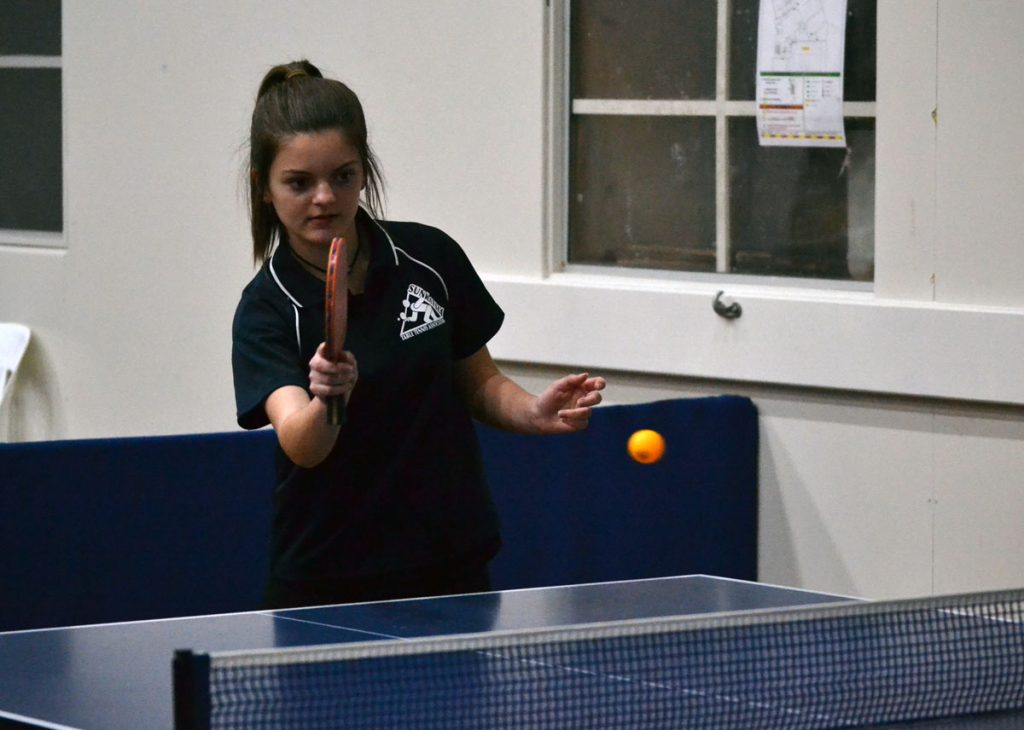 Sarah scored an impressive win against Michael Bacon in the first block of singles which was vital in her team grabbing the four points. This win enabled RTS to hold fourth spot on the ladder.
For MJM Michael won two singles including a long five setter after he grabbed the first two games against Kim Avers. Kim struck back to win the following two games and it was a real tussle in the fifth before Michael grabbed the match 11-7 11-9 11-8 11-9 11-8.
Despite losing both doubles the RTS trio of Sarah with three singles, Kim two and Jacinta Ljubic one were able to take the points by the narrowest of margins.
– Mallee Meats 7 (Tom Morrison 3, Dave Tanner, Tom Cooper 1) d Weightmans Packaging 4(Therese Fitzpatrick, Brice Lock 2)
Despite Weightmans Packaging taking a 2-1 lead early they were unable to take advantage later and it was Mallee Meats who won this match 7-4. Weightmans were not disgraced and tried hard however this result meant that second placed Mallee Meats have taken a two game break over Weightmans.
Tom Morrison was on fire in this match winning three singles as well as taking part in both doubles victories.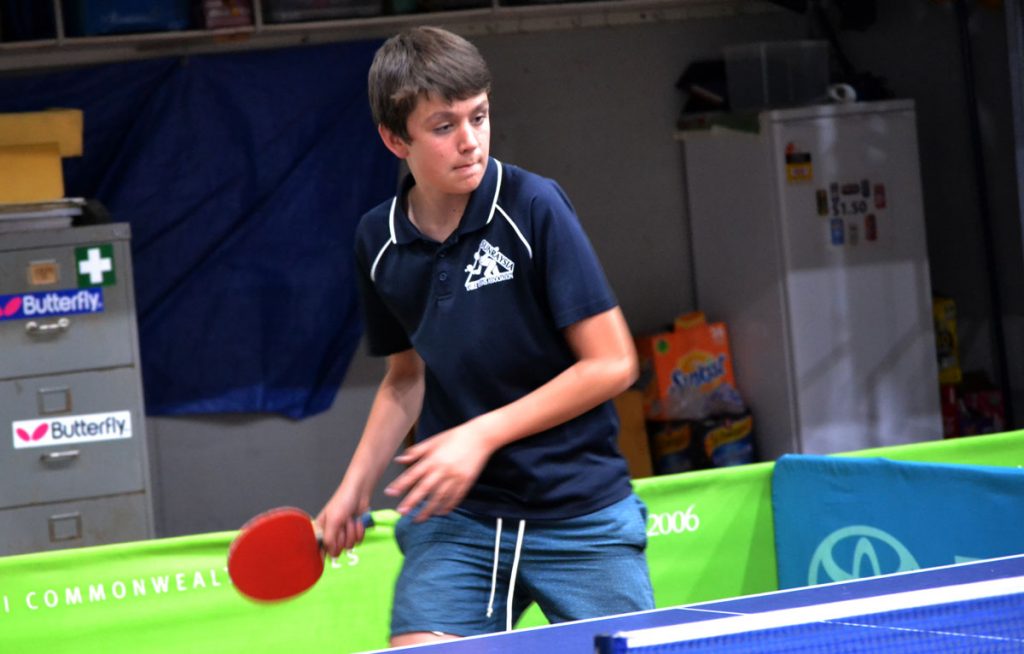 Two matches stood out in the result and it was also another Tom who played a key role. Tom Cooper offered Tom Morrison good support in the second doubles when they matched up against Therese Fitzpatrick and Miya Lock. This was a really entertaining match with the two Toms winning 9-11 11-6 11-4 9-11 11-9 in a thriller. Tom Cooper then went on in the last match to win his first singles for the season in a really close tussle with improving youngster Miya Lock 12-10 11-8 7-11 12-10.
Both Tom's had played a key role while Dave Tanner chipped in with one singles to give Weightmans a 5-1 record after six rounds.