Read Time:
16 Minute, 14 Second
To the foot of the mountain!
Nicholas Dorman got closer than no other in toppling no 1 Joel Thomas in rnd 6 action. In what was a classic 5 setter Nicholas led 2-0 and then 8-6 in the 5th but the experience of Joel showed through holding on for a win. Nevertheless a great effort indeed.
Pennant 1:

In an amazing statistic the top three teams were defeated by the bottom three sides in round six of the Sunraysia Table Tennis "Cash Converters "winter pennant. Three teams now head the ladder with three wins while the remaining three teams sit one win away in what is shaping as a close season.

The other feature was the form of Nicholas Dorman who as well as playing in his own team also filled in for Weightmans Packaging. In a busy night he came within a couple of points of doing what no one else has been able to do in several seasons: defeat Joel Thomas in singles.
Weightmans Packaging 6 (Gavin Carmichael, Nicholas Dorman 2, Shane Carmichael 1) d Tankard Dental 5 (Joel Thomas 3, Kate Carmichael 1)
With young Dorman showing his best form for the season and winning two singles Weightmans Packaging were able to defeat second placed Tankard Dental 6-5, their third win in succession after a slow start to the season.  
In his first singles Dorman defeated Leon Brown in four sets. His second singles match raised eyebrows when he raced away to a two game lead against Sunraysia's number one player Joel Thomas.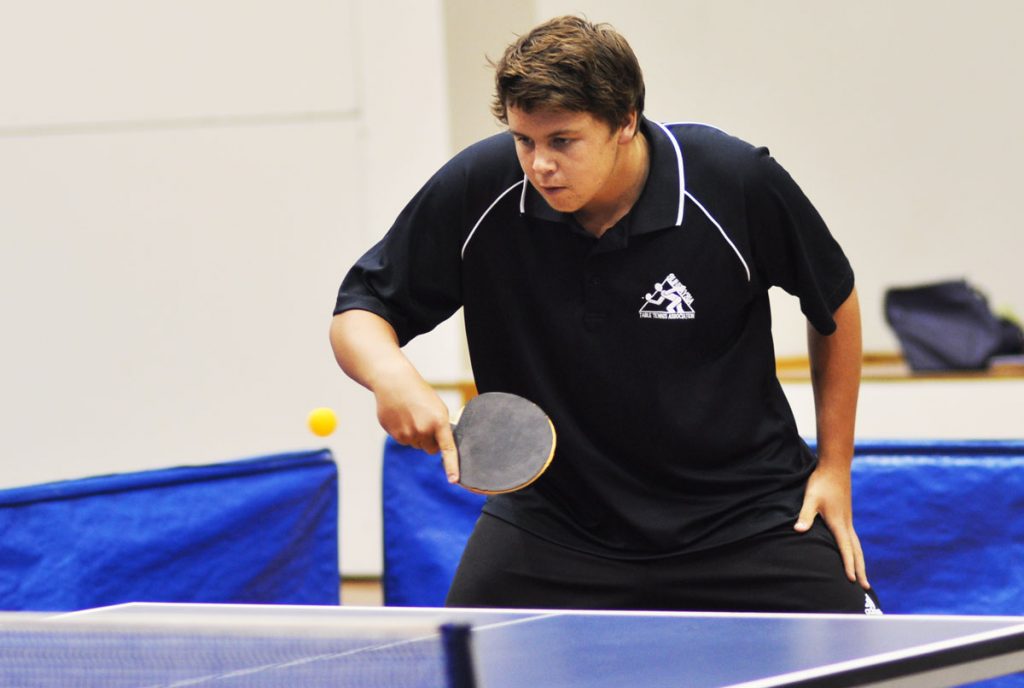 Dorman showed good control and some amazing power shots on both the backhand and forehand side. As he always manages when in these rare circumstances Thomas was able to lift a gear and win the next two games despite Dorman still playing well. The fifth was a beauty and Dorman showing exceptional touch raced to a 5-1 lead at the change however slowly but surely Thomas raised the bar and late in the match took a 9-7 lead only for Dorman to fight back to nine points all. Thomas remained calm and finished the exciting match winning the next two points. Thomas would go on to win his three singles as usual however this was the biggest challenge he had faced for some time.
In his third singles Dorman avenged a five set loss last round defeating Kate Carmichael in straight sets. Shane Carmichael for Weightmans also played a key role winning his singles at five all against Leon Brown having earlier played in the winning second doubles.
Mallee Bearings 7 (Shannon Bowen, Matt Ljubic, Nicholas Dorman 2) d Regional Taxation Services 4 (Wayne Carmichael 3)
Fifth team Mallee Bearings enjoyed their second win of the season defeating ladder leader Regional Taxation Services 7 rubbers to 4. In an even display Shannon Bowen, Matt Ljubic and Nicholas Dorman won two singles each. The first doubles was a marathon when Bowen and Ljubic teamed up against Wayne Carmichael and Mark Ljubic. The Mallee Bearings combination took a two game lead against their more experienced opponents however the third and fourth went the other way narrowly setting up an exciting climax. Bowen and young Ljubic played well to win 11-8 11-4 10-12 10-12 11-8.
The first match of the night was another crucial five setter in the Ljubic father and son clash. Mark took the first narrowly against his son Matt and then the second as they provided many fine rallies before the younger
Ljubic took control winning for the second time this season against his father 12-14 7-11 11-6 11-8 11-6, a great comeback.
Of the four five setters in the match Mallee Bearings were able to win two. These five setters indicated the closeness of the contest. Wayne Carmichael was able to win three singles for RTS, two of these were in five as both Shannon Bowen and Matt Ljubic both placed extreme pressure on the talented leftie. Bowen actually took a two games to love lead and their matches over the past few seasons tend to go the maximum distance.
In a busy night Nicholas Dorman won two singles for Mallee Bearings, one a tough three setter against Reece Kurrle and the other an entertaining four setter against Mark Ljubic. Dorman enjoyed a really successful night with many power laden attacking shots hitting their mark.
Exposed Signage/Apparel 8 (Matt Avers 3, Mark Dorman 2, Michael Hogarth 1) d Cash Converters 3 (Rick McMeekin 2, Jackson Tung 1)
Exposed Signage scored their second victory of the season and their second against Cash Converters winning convincingly 8-3.
Fifteen year old Matt Avers was on fire winning his three singles and participating in both doubles victories. Avers won all his singles in straight sets and his 11-7 11-9 11-4 win over opposing number one Rick McMeekin was a top class match.
Avers team mates Mark Dorman and Michael Hogarth provided excellent support winning two and one singles respectively. The inability of Cash Converters to pick up a doubles did not help their cause.
PENNANT Two:

Big news of this week: Max Milers Carpets, the team on the bottom of the ladder, scored their first win against top-seeded Pinnacle Packers.  Mallee Meats and Mallee Bearings continued their good form with wins over Weightmans Packaging and MJM Automotive respectively, and became joint ladder leaders.
– Mallee Meats 7 (Geoff Wright 3, Russell Walder 2, Andrew Jones 1) d Weightmans Packaging 4(Ashley Morrison, Arthur Paar, Kerry Wallace 1)
Mallee Meats are looking like the team to beat at this stage; captain Geoff Wright has dropped only one game since his first match in Round 3, and Andrew Jones and
Russell Walder are two of the pennant most consistent performers.
Mallee Meats sped off the line to a 3-0 start and kept Weightmans Packaging playing catch-up all evening.  Wright, Walder and Jones won 3, 2 and 1 games respectively and added a second doubles to secure a comfortable win.  By virtue of this win, Mallee Meats jump Pinnacle Packers on the aggregate and level with Mallee Bearings in the top spot.
Weightmans Packaging did not get much of a look in; each player only getting one game.  Captain Ashley Morrison beat Walder in straight sets, 11-3, 11-6, 11-0.  Arthur Paar and Kerry Wallace both had remarkable five set victories against the opposition's number two Jones.  Morrison and Paar collaborated to take the first doubles from Wright and Walder, coming back from 2-1 down to win in five 12-10, 8-11, 10-12, 11-9, 12-10.
Final scores:  7 rubbers to 4 and 27 games to 17.
– Max Miller Carpets 6 (Ed Hung 3, Sony Sefer, Brendan Alderton 1) d Pinnacle Packers 5 (5 (Kevin Johns 2, Peter Midgley, Jason Gifkins 1)
In a fine team performance, Max Miller Carpets' trio of Ed Hung, Sony Sefer (subbing for an absent Arnold Jago) and Brendan Alderton toppled the highly favoured Pinnacle Packers side; Kevin Johns, Peter Midgley, and Jason Gifkins.
Ed Hung lead the way for Max Miller's, winning all his singles and partnering with Sefer to take the second doubles.  His fight with opposing captain Johns was typical of each player's never-say-die attitude.  Hung was up 2 sets to 1 before Johns ran away with the fourth set 11-4, necessitating a fifth in which Ed got the break to win 11-9.
Sefer and Alderton supported their captain, both contributing one vital singles; Sefer in three over Gifkins and Alderton coming back from 2 sets down to best Midgley.
Kevin Johns won his two remaining games and, with Midgley, the first doubles.  Midgley and Gifkins added a win apiece to bring their team's score to five.
Final scores:  6 rubbers to 5 and 22 games to 20.
– Mallee Bearings 8 (Lee Thomas 3, Jackson Murphy, Terry Martin 2) d MJM Automotive 3(Bernadette Fitzpatrick 2)
Mallee Bearings inflicted another sound win on MJM Automotive to jump Pinnacle Packers on the ladder and, by percentage, to take top spot.
Weightmans' Lee Thomas was the best player on court, winning her three singles: against Seval Fuat 11-1, 11-7, 11-5; opposing captain Bernadette Fitzpatrick 11-6, 7-11, 11-9, 11-8; and Tony Malycha also in four, 8-11, 11-5, 11-9, 11-6.  With these wins, she is now the outright leader of the singles aggregate.  She was ably backed by her captain Jackson Murphy and number three Terry Martin, who both contributed two victories.  Murphy and Martin united to win the second doubles, taking three sets to dispose of Fitzpatrick and Fuat, 11-5, 11-7, 13-11.
MJM Automotive captain Bernadette Fitzpatrick won two singles for her side, against Murphy in four and Martin in three. The only other win for MJM's was the first doubles where Fitzpatrick and Malycha survived a net and edge filled game to come out on top of Murphy and Thomas 11-8, 8-11, 13-11, 11-8.
Final scores:  8 rubbers to 3 and 26 games to 12.
PENNANT Three:

Round 6 was a tight night of surprises with all games recording a 6-5 score.  The unbeaten Mallee Meats suffered their first loss of the season against the unstoppable Tankard Dental and Dunkley Scales took their first win after turning the tables on Weightmans Packaging.
– MJM Automotive 6 (Peter Fitzpatrick 3, John Fitzpatrick 1) d Regional Taxation Services 5 (Vin Brown, Quentin Clark 2, David Sergi 1)
MJM Automotive came into this game with their number two and three players missing, Jeremy Corrin and Anthony Sergi.  They would be replaced by John Fitzpatrick and Therese Fitzpatrick respectively, John doubling up from his regular duties in Pennant Four and Therese having her first hit for the year, up from the juniors.
Their opponents Quentin Clark, Vin Brown and David Sergi have taken only one win this season, and were hoping to improve on that in this match, and for the most part, that looked like it was going to happen.
MJM Automotive captain Peter Fitzpatrick made sure that his team was in the match … he took three singles to keep any bad result from being a rout.
But the bonus, as the match progressed was that the younger Fitzpatricks were great doubles partners.  The first doubles between Clark and Brown versus Peter and son John was a very close affair, and to the delight of the MJM Automotive captain, they came away with a win, taking it 9-11, 11-9, 11-9, 17-15.  Two rubbers all.
Similarly, by the time the second doubles came around, Regional Taxation Services led four rubbers to three, as up to that stage, neither of the youngsters could grab a singles win (not surprisingly).  So the second doubles, Peter and daughter Therese, against Clark and Sergi and once again it was over in four sets 12-10, 11-7, 7-11, 11-9.  That win was certainly unexpected, and when the MJM Automotive captain won his third singles in the next rubber, they hit the front for the first time.
Quentin Clark quickly evened the score to leave his team-mate David Sergi to play John Fitzpatrick.  By the time that happened, John was playing his ninth rubber for the night, and was understandably less than showroom new, but he loves a fight.  John took the close first set 11-9, but lost the second badly 3-11.  This loss stirred him into action, the last two sets were close, but John had the edge in both, winning them 8 and 9 to give MJM Automotive an unexpected win.
Final scores:  6 rubbers to 5 and 18 games to 19.
– Tankard Dental 6 (Zac Healy 2, Rohan Reimers, Michael Hensgen 1) d Mallee Meats 5 (Rod Healy 3, Claire Ljubic 2)
After a series of remarkable wins, Tankard Dental finally met again with the unbroken Mallee Meats and just made it over the line to collect another win.
Neither team was able to get much of a break in this meeting.  Although the majority of the matches were only three setters, the overall game was close, each team swapping one win after another.
The player of the night was undoubtedly Tankard Dental's Zac Healy, who won two singles and his doubles with captain Michael Hensgen while handicapped with a broken playing hand.  His only loss was to the opposing captain and aggregate leader Rod Healy in straight sets 8-11, 7-11, 11-13.
A crucial gain for Tankard Dental was the winning of both doubles.  When down 1-2 after the first three singles, Hensgen and team-mate Rohan Reimers just managed to take the win from opposition's Rod Healy and second player Claire Ljubic.  Taking the first easily 11-3, they then dropping the next two 9-11, 9-11 before taking the last 11-9, 11-9.  The second doubles was not quite as difficult as Hensgen and Zac downed Rod and team-mate Marcus Cimino in four, 11-8, 11-9, 10-12, 11-8.
Entering the last round of singles at 4-4, both teams were looking for two wins. 
Mallee Meats' Rod continued his marvellous form and beat Hensgen in four close sets, 8-11, 11-4, 13-11, 11-9.  But Zac Healy and Reimers were not fazed by their captain's defeat.  Healy took out the relentless Claire Ljubic in three, 11-8, 11-9, 11-5, and Reimers beat Cimino likewise in three, 11-8, 13-11, 11-9.  With this win, Tankard Dental now level themselves with Mallee Meats on the aggregate with 1 loss and 5 wins, and with a better win/loss, they now sit at the top of the ladder.
Final scores:  6 rubbers to 5 and 21 games to 18.
– Dunkley Scales 6 (Cambell McKenzie 3, Huseyin Ismail 2) d Weightmans Packaging 5 (Sam Hensgen 2, Paul Fitzpatrick, Karly Leach 1)
Dunkley Scales were all smiles as they secured their first win for the season against Weightmans Packaging in Round 6.
Weightmans Packaging commenced play probably quite confident for a victory, getting off to a good start.  Captain Paul Fitzpatrick and second player Sam Hensgen both won their first singles.  They then collaborated in the first doubles to beat opposing captain Cambell McKenzie and no.2 player Rachel Fitzpatrick in a close five sets, 8-11, 12-10, 11-5, 9-11, 11-6, giving their side a 3-1 lead.
But the lead was short lived as Dunkley Scales bounced back in the next round of singles.  First, Captain McKenzie brought down Hensgen in three, 11-8, 12-10, 11-7.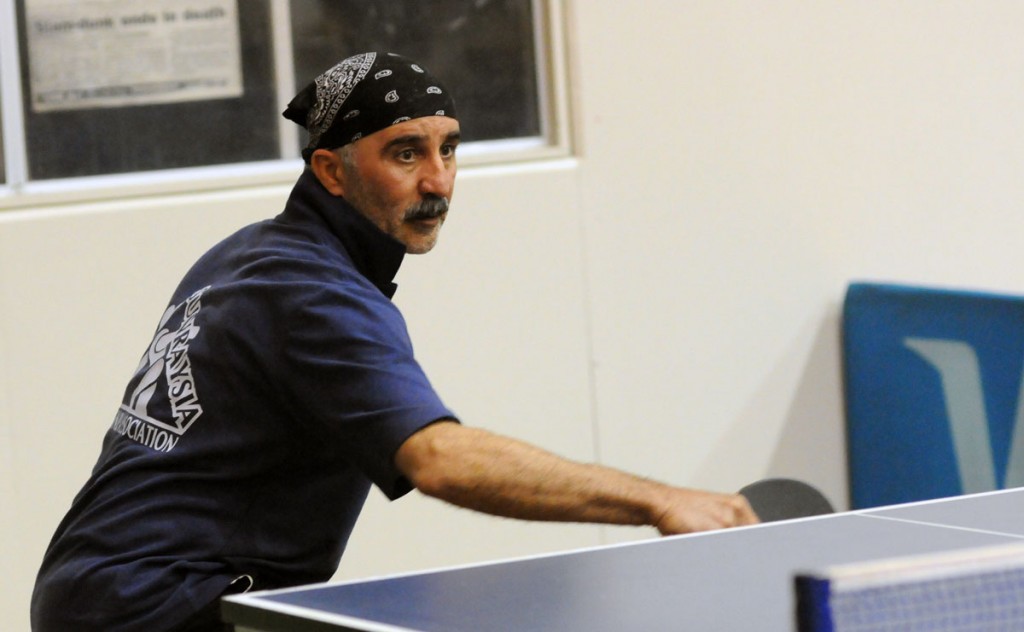 Then, no.3 Huseyin Ismail took his first game of the season against captain Paul Fitzpatrick in a well-played four sets, 6-11, 11-3, 11-9, 11-7.  Unable to get the last of the three singles, the team managed, however, to take succeeding doubles which saw McKenzie and Ismail beat Fitzpatrick and team-mate Karly Leach in four, 11-4, 11-5, 9-11, 11-8.
Now at 4-4, Weightmans Packaging desperately tried to win two of the last three singles.  Hensgen continued his good play and beat Dunkley Scales Rachel Fitzpatrick in five, 11-7, 7-11, 10-12, 11-8, 11-8, but McKenzie and Ismail played too well for Weightmans Packaging. McKenzie shattered opposing captain Paul Fitzpatrick in three, 11-7, 11-9, 11-9, and Ismail took a second game to get the team home, beating Karly Leach in four 10-12, 11-3, 11-4, 11-8.
Final scores:  6 rubbers to 5 and 26 games to 19.
PENNANT Four:
A glance at the ladder before going into this round showed an amazing evenness in this pennant. All five teams after 6 rounds sat on two wins, two losses and a bye. This was a grading committee dream!!! A check of the rubbers for and against showed ladder leader Dunkley Scales 23 rubbers for and 21 against while fifth team MJM Automotive, by narrow percentage, revealed 21 rubbers for and 23 against. All other teams from second to fourth had won 22 rubbers and lost 22 rubbers an amazing stat.

In the singles aggregate race things were tight there as well. John Fitzpatrick, Leonie Dunkley and Sabrina Fitzpatrick all sit on ten wins and two losses going into this round while Mallee Meats pair Nick Kiapekos and Ryan Hensgen sit on nine wins with Stephan Ljubic one back on eight wins.

Top team Dunkley's Scales had the bye this round and would sit back and watch their opposition battle it out.
 Mallee Meats 7 (Sabrina Fitzpatrick 3, Helen Frania 2, Tom Cooper 1) d Weightmans Packaging 4 (Ryan Hensgen 2, Nick Kiapekos 1)
Third placed Mallee Meats proved too good for second placed Weightmans Packaging winning 7-4. A good team effort bought about this win with Sabrina Fitzpatrick, Helen Frania and Tom Cooper winning three, two and one singles respectively. The first doubles was a real highlight with Sabrina and Helen recovering from an early deficit against Ryan Hensgen and Nick Kiapekos to win in five 11-9 4-11 7-11 11-8 11-6.
Weightmans win was even more meritorious given Ryan and Nick have been in good singles form this season. The five setter between Sabrina and Ryan was a beauty both showing great concentration. A strange score line in the end with some scores one sided, the score in Sabrina's favour 5-11 11-2 10-12 11-3 11-4.
This win enabled Sabrina to stay atop of the singles aggregate with son John who also won three singles this round. In only his third match in seniors Weightmans Tom Cooper won another singles for the second week in succession. He is improving weekly and this has come about from a lot of hard work by him on a Monday at training.
MJM Automotive 6 (Stephan Ljubic, Kim Avers 2, Jacinta Ljubic 1) d Regional Taxation Services 5 (John Fitzpatrick 3, Brice Lock 1)
This was fourth vs fifth with MJM Automotive taking the four points with a solid 6-5 win enabling them to move from the bottom of the ladder. Victory came about despite an in form John Fitzpatrick winning three singles for Regional Taxation Services and also despite trailing 3-4 before the second doubles when the Ljubic's Stephan and Jacinta combined to defeat Fitzpatrick and Brice Lock in four close sets.
As she has done on other occasions since her comeback to competition table tennis Jacinta Ljubic won an important singles defeating Shirley Whitecross in a lengthy five setter 11-1 9-11 11-5 14-16 11-8. Later Jacinta was on the cusp of winning a second singles however this time she just went down against a determined Brice Lock who won 11-8 9-11 11-7 7-11 15-13 an exciting finish.
John Fitzpatrick had a busy night as he also doubled up in pennant three partnering his father Peter and his sister Therese who was filling in as well. Together they formed Team Fitzpatrick and conquered the opposition, a proud moment for dad.