Read Time:
16 Minute, 11 Second
ROUND 6
PENNANT ONE:
In contrast to the previous round all matches were close in round six action of the Sunraysia Table Tennis Summer Pennant. In addition there were some amazing singles of top quality played including what to some was the rally of the season played between Matt Ljubic and Wayne Carmichael.
– Exposed Signage/Apparel 6 (Nicholas Dorman, Leon Brown 2, Thahn Nguyen 1) d Cash Converters 5 (Phil Smith 3, Jackson Murphy 1)
Ladder leader Cash Converters late in their match against Exposed Signage and Apparel took a 5-4 lead and it looked like they would avenge their round one loss of 1-10 however two three set victories by Exposed duo Leon Brown and Thahn Nguyen enabled their team to grab the match 6-5 and push their team from third to second.
Brown won two singles and his late match heroics was his second singles victory of the night while Nguyen defeated giant killer of the past two rounds rising youngster Liam Wood in three sets.
The loss by the Converters team pushed them to third on the ladder albeit by percentage only. Even though his team did lose Converters skipper Phil Smith again won three singles for the fourth round in succession , his match against opposing number one Nicholas Dorman was high class and went to three sets. Despite this loss Dorman won two singles and combined to win the first doubles with team mate Leon Brown which helped set up an early ascendancy.
– Max Miller Carpets 6 (Mark Ljubic, Matt Ljubic, Lee Leeson 2) d Tankard Dental 5 (Wayne Carmichael 3)
In another result where the victor snatched the points from the jaws of defeat , Max Miller Carpets with a late surge were able to win 6-5 over the luckless Tankard Dental who were on track to win their second match in succession when leading 5-4 however it wasn't to be.
Victory came for the Carpeters despite Wayne Carmichael playing outstanding table tennis for Tankards. He was in season best form winning three singles and taking part in both doubles victories.
Carmichael's singles match against Matt Ljubic was outstanding with some rallies having to be seen to believed such was the standard of the game.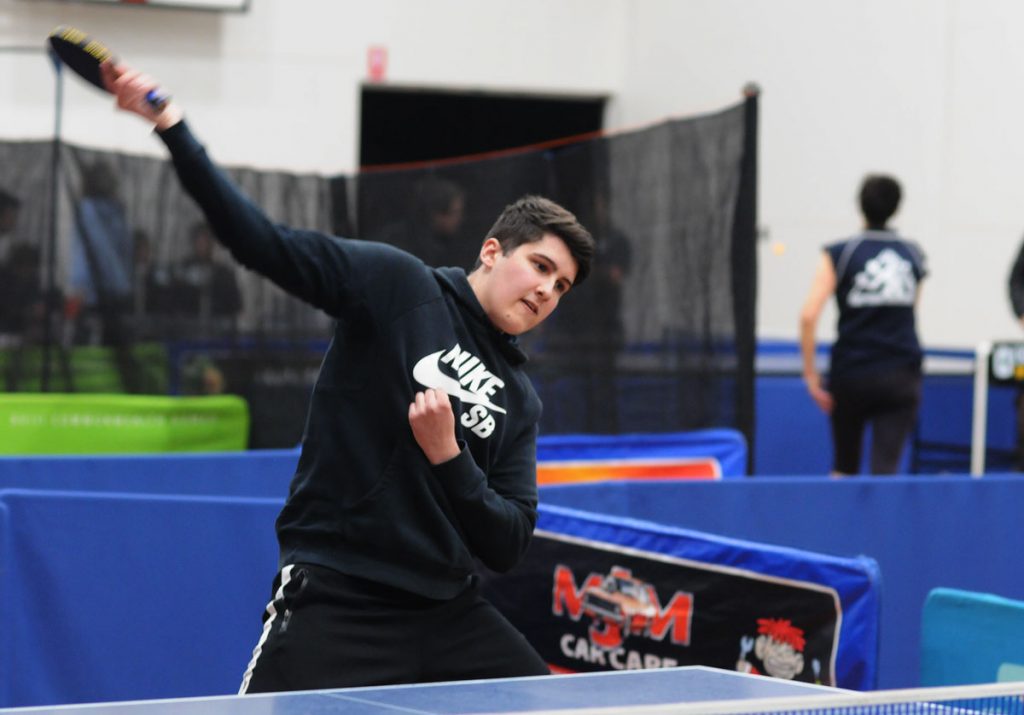 Ljubic threw everything at Carmichael however the elder statesmen prevailed 15-13 16-14. After losing two singles in round three Carmichael has now won nine singles in succession and his clash with Phil Smith this week will be a highlight.
With their 6-5 victory, courtesy of an even team effort by Matt and Mark Ljubic and Lee Leeson who all won two singles each, Max Miller Carpets have taken first position on the ladder with four rounds to play.
– Mallee Bearings 7 (Joel Dorman 3, Gavin Carmichael 2, Michael Hensgen 1) d Regional Taxation Services 4 (Kate Carmichael, Mark Dorman, Ed Hung 1)
The remaining match featured an even team effort from Mallee Bearings who were able to defeat Regional Taxation Services 7-4. For the victors Joel Dorman , Gavin Carmichael and Michael Hensgen won three, two and one singles respectively.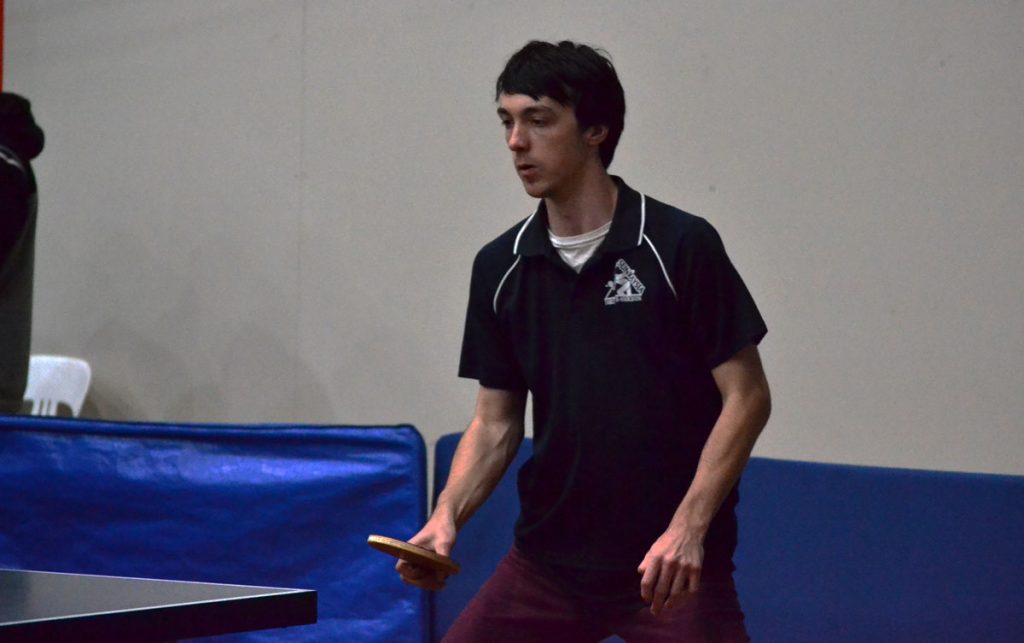 The highlight match here was the victory by Mallee Bearings number three Hensgen over opposing number one Kate Carmichael in three sets, a great achievement for the first year player.
Mallee Bearings now occupy fourth place on the ladder one win clear of Regional Taxation Services
PENNANT TWO:
Top team Max Miller Carpets suffered their first defeat for the season at the hands of fourth placed Pinnacle Packers; Cooke's Pools & Spas win their fourth game in a row, this time against second placed MJM Automotive; and in the battle for the bottom of the ladder, Weightmans Packaging took their second win for the season by defeating Mallee Meats, again.
– Pinnacle Packers 6 (Ashley Morrison, Bernard McCarthy 2, David Sergi 1) d Max Miller Carpets 5 (Jeremy Corrin 3, Jason Gifkins 1)
A rejuvenated Pinnacle Packers side toppled top side Max Miller Carpets in a close match.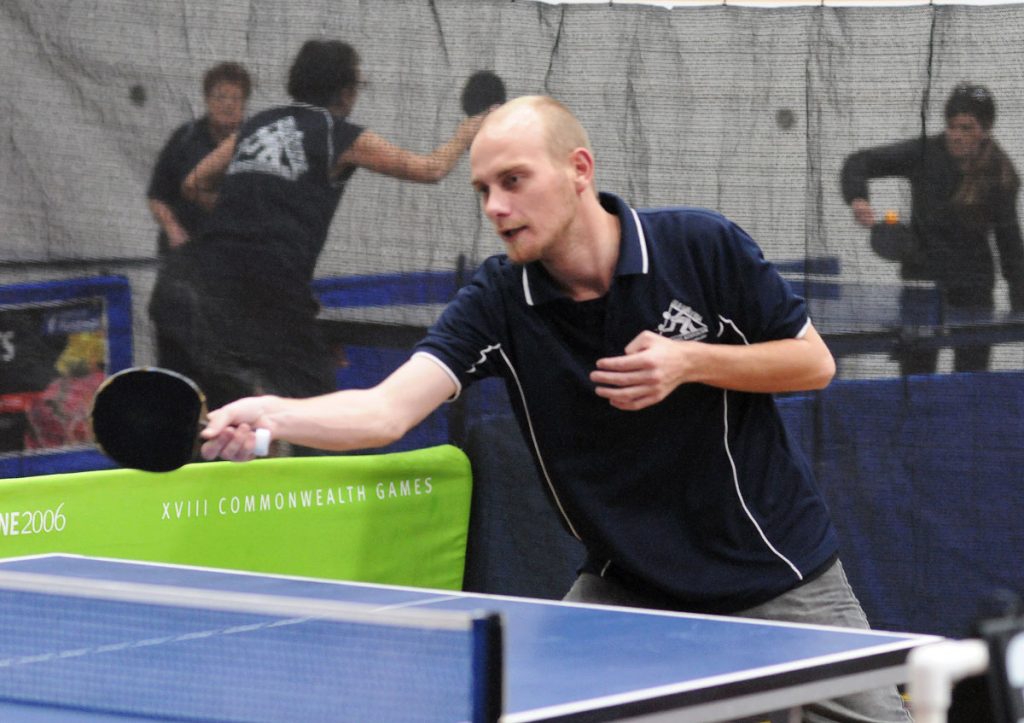 You could forget about who was ranked number one, two and three for each side in this game … that all went out the window. Aggregate leader (going into this round) Jason Gifkins won just one rubber, a three set contest against Pinnacle Packers number three David Sergi in the first round of singles … hardly inspiring stuff. Yet his number three Jeremy Corrin won everything he played, including a comprehensive victory against Pinnacle Packers captain Ash Morrison in two sets 15-11, 15-12. He backed that up with a good three set win against Pinnacle Packers number two Bernard McCarthy in the last round of the singles, 15-10, 10-15, 15-8 to even the scores at five all. Corrin, with Gifkins, won the all important second doubles against Morrison and Sergi 15-12, 12-15, 15-12, levelling the scores at four all. While Jeremy was having a night of nights, number two Arthur Paar was having a night he would rather forget. McCarthy cleaned him up in two sets 13 and 8, as did Morrison 12 and 5, and with the game hanging in the balance in the final rubber, drawn to play Pinnacle Packers number three David Sergi, he again capitulated 10 and 8.
Over at Pinnacle Packers it was much the same. They, however, had the consolation of winning the match. After his defeat at the hands of Corrin, Morrison defeated Paar in straight sets and Gifkins in three 14-16, 15-7, 15-11. McCarthy defeated Paar, then Gifkins in a good three setter 16-14, 6-15, 15-10 before falling to the rampaging Corrin, and Sergi won the deciding rubber against Paar to give his side five of the nine singles rubbers. The sixth rubber came from the first doubles … after giving away the first set 4-15, Morrison and McCarthy squeaked home against Gifkins and Paar in the final two sets 15-12, 17-15.
Both sides probably left the stadium a little shell-shocked, but for different reasons. Corrin would have left feeling justifiably satisfied, his three wins here no fluke … he did win three in the last round too, one of
those against Weightmans Packaging captain Tony Malycha. Gifkins and Paar probably left scratching their heads … "what went wrong", whilst the Pinnacle Packers side, happy with their win would be more elated than confused.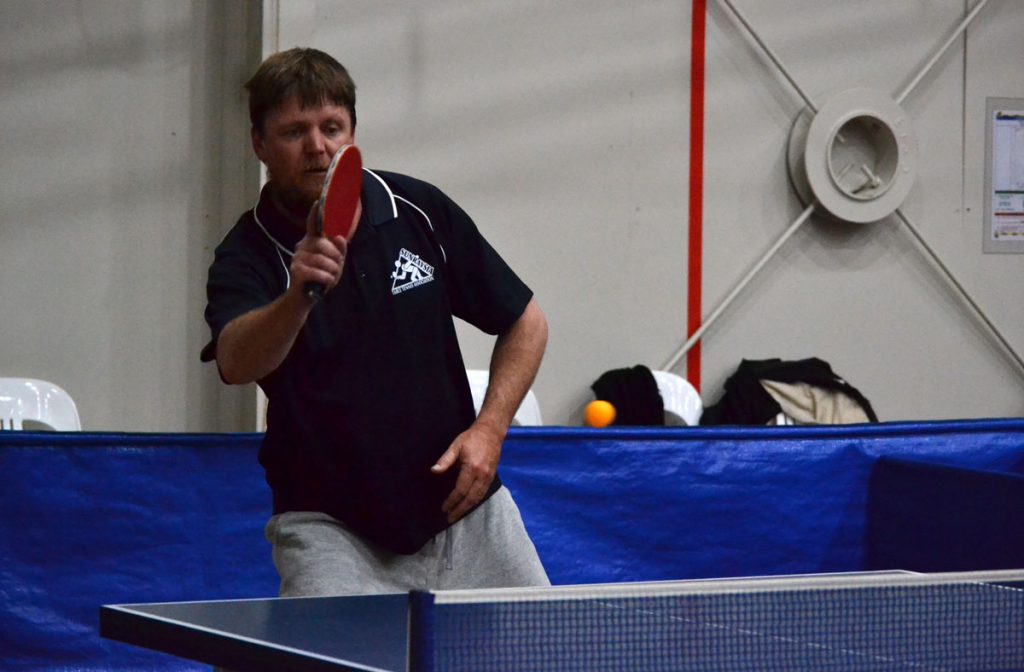 Morrison, as a number one, knows he has a target on him against everybody so his loss to Corrin would be disappointing, but not the end of the world. McCarthy played well, his loss to Corrin palatable knowing that his captain lost to him too, and Sergi would be happy knowing he just beat a number two, and a player who has three times as many wins as he in this competition, 9 to 3!!
Final scores: 6 rubbers to 5 and 15 games to 13.
– Cookes Pools & Spas 6 (Russell Walder 3, Casper McCarthy, Rohan Reimers 1) d MJM Automotive 5 (Terry Martin 2, Paul Kealley, Marcus Cimino 1)
Russell Walder's Cooke's Pools & Spas side lost the first two games of this current season, but have not looked back since. Their opponents here, MJM Automotive won their match with them in round one 8-3, but Walder, and his team-mates Casper McCarthy and Rohan Reimers have improved since then, and in this match, were too good, winning a close match 6-5.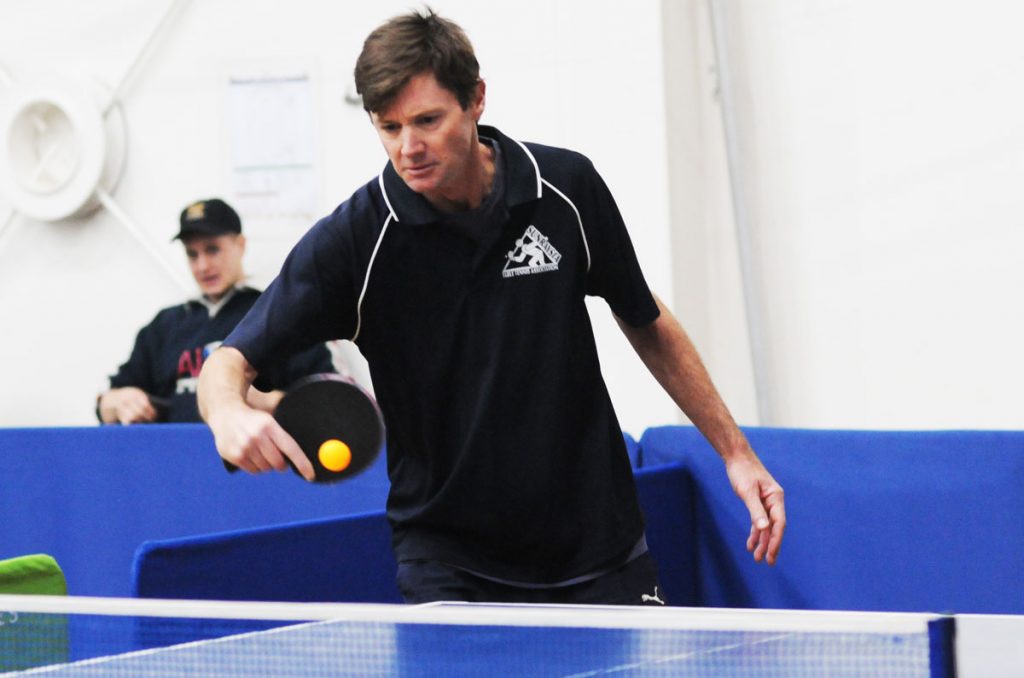 Walder continued his good form, picking up another three game haul of singles rubbers, the third time he has done so this season. He now sits at the top of the aggregate with 15 wins for the season, two games clear of four players who have won 13; McCarthy, after impressively taking the scalp of MJM Automotive captain Paul Kealley in the first round of singles 18-16, 12-15, 16-14, could not find that form again, and in the next round Cooke's number three Marcus Cimino defeated him in three 15-8, 12-15, 15-10, and in the final round of singles Terry Martin accounted for him cheaply 6 and 11. Number three Reimers has improved steadily this season, and with the scores locked at 5 all, was drawn to play his opposite number Marcus Cimino, a player in his first season in this grade and who has taken to this grade like a duck to water. This game took a long to play as both Reimers and Cimino tend to concentrate on keeping the ball in play, and the longer it went, the more spectators it seemed to attract. Those spectators were rewarded with some great play by both participants, and Reimers eventually took the honours 15-10, 13-15, 22-20.
MJM Automotive then, did not really get to fire … with captain Paul Kealley kept to just one singles rubber, it was always going to be difficult to win, and so it proved. His number two Terry Martin won two, those against McCarthy and Reimers, and number three Cimino contributed one
– his three set win against McCarthy, and as related he almost won the game for his team in that final rubber against Reimers.
Both doubles were keenly contested – Kealley and Martin defeated Walder and McCarthy 14-16, 15-12, 15-9, later the Cooke's Pools & Spas duo of Walder and Reimers won a nail biter against Kealley and Cimino 15-12, 16-18, 15-12.
Final scores: 6 rubbers to 5 and 14 games to 13.
– Weightmans Packaging 7 (Tony Malycha, Dylan Wood 3) d Mallee Meats 4 (Andrew Jones, Quentin Clark, Peter Fitzpatrick 1)
Weightmans Packaging recorded their second win for the season by defeating Mallee Meats for the second time.
Mallee Meats were without captain Brad Warden, and Andrew Jones subbed for him.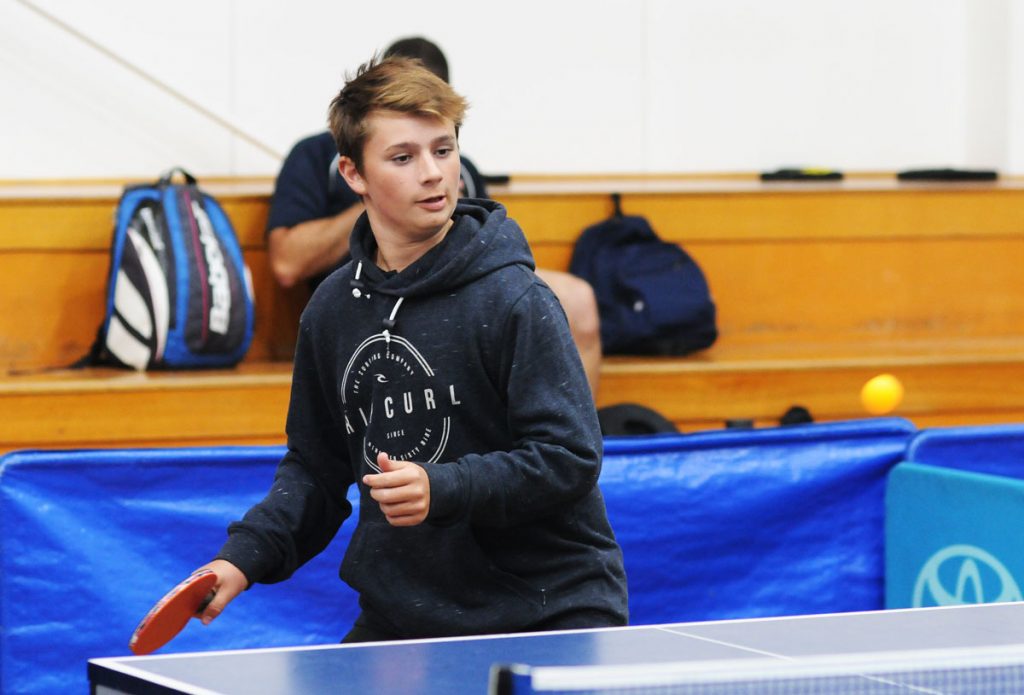 After their drubbing at the hands of ladder leaders Max Miller Carpets 9-2 last round, the Weightmans team showed much more purpose. Captain Tony Malycha and number two Dylan Wood both won three singles rubbers – Malycha without dropping a set, and Wood conceding just one. And when these two teamed in the first doubles rubber, they proved too good for Jones and Quentin Clark, winning 16-14, 15-9. That left number three John Fitzpatrick. John had a winless night, but not for the want of effort. He lost all his singles rubbers in three sets: Andrew Jones winning 13-15, 15-9, 15-9; Quentin Clark only just getting home against John 15-17, 15-13, 16-14; and then he lost to his father Peter in the final rubber.
Those three wins against the younger Fitzpatrick, plus the second doubles rubber were the sum total for Mallee Meats – Weightmans Packaging running out comfortable 7-4 winners, after leading 5-1 after six rubbers.
Final scores: 7 rubbers to 4 and 17 games to 9.
PENNANT THREE:
Mallee Meats scored a big 8-3 win against Regional Taxation Services; Weightmans Packaging an even bigger 9-2 win over Sammy's Slammers; and MJM Automotive won the closest match 6-5 against Cooke's Poole & Spas.
– Mallee Meats 8 (Emily Carmichael 3, Aiden Riordan 2, Karly Leach 1) d Regional Taxation Services 3 (Kieren McRae 2, Peter Rhodes 1)
Mallee Meats bounced back from their 3-8 defeat in the last round to inflict that same score on their opponents here, Regional Taxation Services.
With only two games going beyond two sets, the match was over in fairly short order. Mallee Meats captain Aidan Riordan, although on the winning team, did not dominate, rather it was fill-in number two Emily Carmichael who took the honours.
Emily, subbing for Brice Lock, was impressive, winning all matches in two sets. Her sternest test was expected to be Regional Taxation Services captain Kieren McRae, who now leads the aggregate by three, but Emily dealt with him 15-13, 15-9. And when she and captain Riordan joined forces in the second doubles against the combination of McRae and Peter Rhodes, it was again a two set victory, 15-6, 15-11.
Riordan took two wins, and number three Karly Leach one. Riordan and Leach were victorious too, in their doubles against McRae and Brian White, another two set contest 15-9, 15-8.
For Regional Taxation Services, only McRae and Rhodes could break through for a win, McRae defeating Riordan (15-8, 9-15, 15-12) in a good contest, after earlier defeating Leach in straight sets. Rhodes took a single win, a close three set victory against Leach 10-15, 15-13, 15-13.
Final scores: 8 rubbers to 3 and 18 games to 6.
– Weightmans Packaging 9 (Nick Kiapekos, Isaiah Bettess 3, Sabrina Fitzpatrick 2) d Sammy's Slammers 2 (Leonie Dunkley 1)
After four rubbers, the score was two all, and it looked like this would be a good contest, however Weightmans Packaging did not think that way and took the remaining seven rubbers to run away with the match 9-2.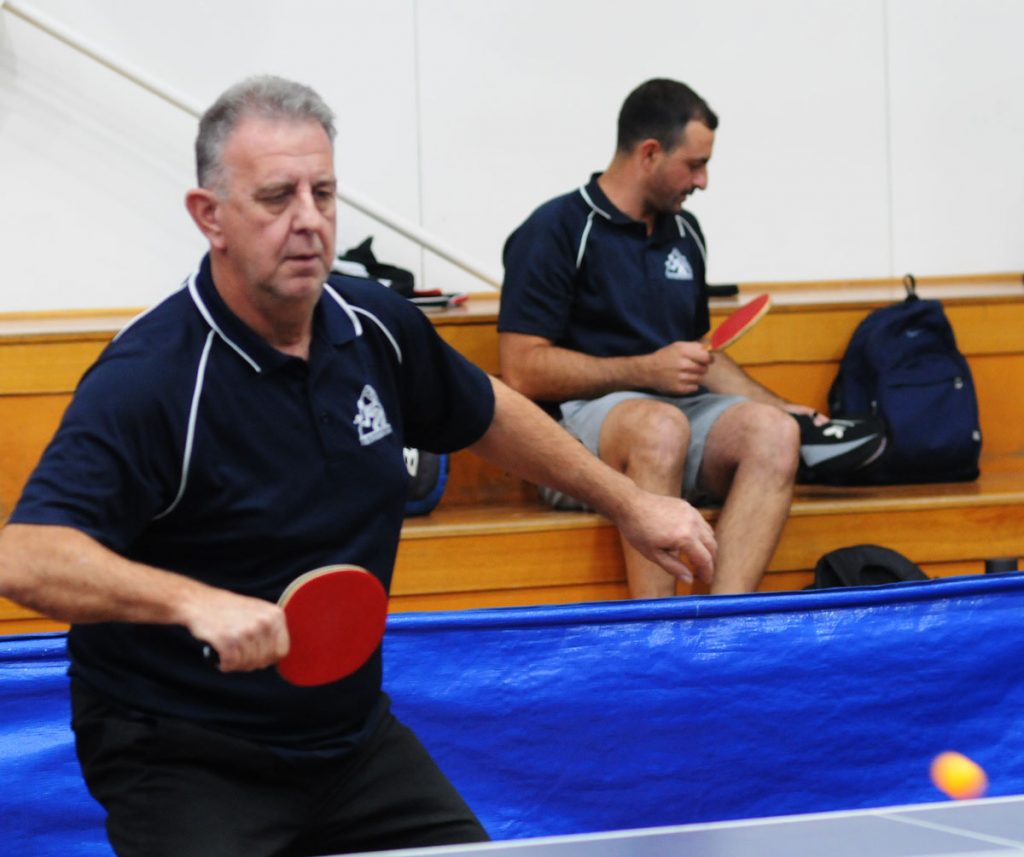 The Weightmans Packaging number two and three Nick Kiapekos and Isaiah Bettess won three singles rubbers apiece, number three Bettess particularly impressive as his wins all came in straight sets. Bettess, in
his first season in this grade, now sits second on the aggregate, three games adrift of Kieren McRae. Kiapekos, on the other hand, always threatens, but not often does he end up with a three game haul. He started his campaign in this match with a three set win against number three Costa Skiadas, then followed up with another three set win, this time against Sammy's Slammers captain Ryan Hensgen 15-13, 11-15, 15-13. Curiously, against his opposite number Leonie Dunkley, Kiapekos won in a straightforward two sets 15-12, 15-11.
After falling to Leonie Dunkley 15-7, 10-15, 8-15, Sabrina Fitzpatrick followed up with wins against Skiadas and Hensgen, and so added another two rubbers to this already impressive tally.
The final rubber was the second doubles, fittingly, Kiapekos and Bettess, the two players who performed best winning 15-10, 15-10 against Hensgen and Skiadas.
Final scores: 9 rubbers to 2 and 19 games to 7.
– MJM Automotive 6 (Peter Fitzpatrick 3, Nicole Hunt, James Jarvis 1) d Cookes Pools & Spas 5 (Therese Fitzpatrick, Emily Carmichael 2)
In the closest game of the round, MJM Automotive won the final rubber, and so defeated Cooke's Pools & Spas 6-5.
MJM Automotive were without captain Andrew Kremor, Peter Fitzpatrick subbing for him. Fitzpatrick did win three singles, however he played in only one doubles, and was unsuccessful there, so this match was finely balanced.
Those three wins were not all straightforward either … Emily Carmichael in particular giving Fitzpatrick and solid workout, Fitzpatrick doing just enough to win 11-15, 15-12, 15-12.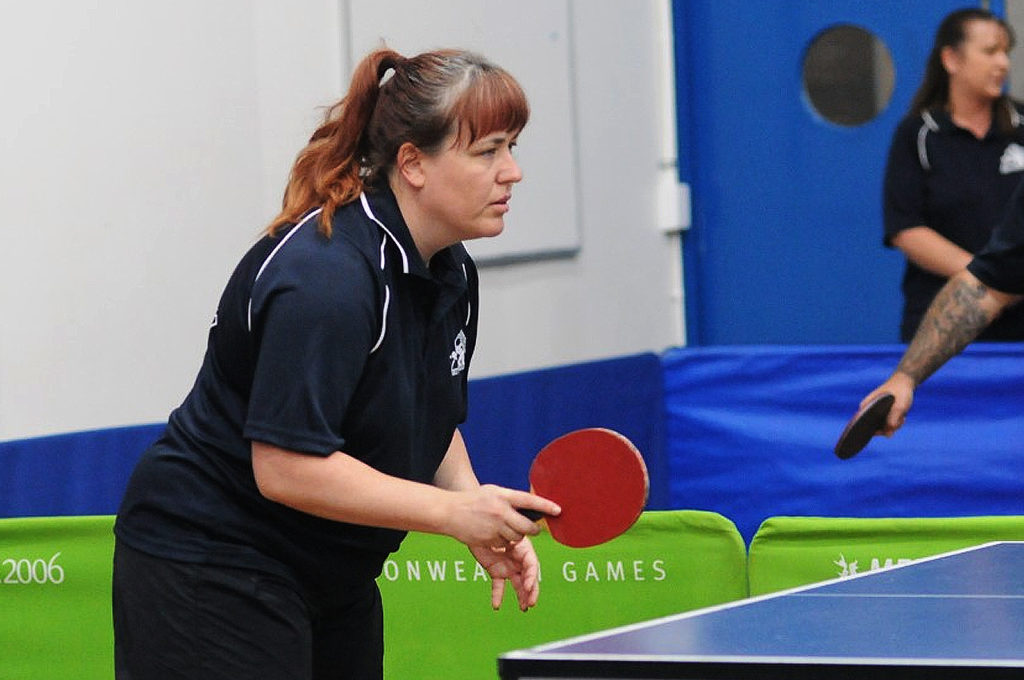 Teammates Nicole Hunt and James Jarvis certainly contributed to their win, both winning a singles rubber against Dave Tanner, subbing for the absent Miya Lock, and together they won the second doubles, a high scoring encounter against Therese Fitzpatrick and Tanner, a game which could have so easily gone the other way, 21-19, 16-14.
With two wins apiece to Therese Fitzpatrick and Emily Carmichael, Cooke's Pools & Spas kept themselves in the match, and these two players combined to win the first doubles rubber, an easy two set win against Peter Fitzpatrick and Nicole Hunt 15-4. 15-13.
With their loss here and a win by Weightmans Packaging, Cooke's Pools & Spas drop to third on the ladder, Weightmans Packaging jumping them, and taking their second place.
Final scores: 6 rubbers to 5 and 14 games to 11
Pennant Four
In this week's action we see MJM Automotive in ominous form and a remarkable form reversal from Mallee Meats.
MJM Automotive 8 (Ben Hosking, Jamie Kealley 3, Nycole Riordan 1) def Dunkley Scales 3 (Kelsey Davey, Glenn Leeson 1)
Well the season is called the "Fast Fifteens" and this game was in affect done and dusted early in the night. In the first match of the evening opposing skippers wasted little time in playing each other. MJM's Ben Hosking got off to a blistering start and in the blink of an eye took the first match 15-7, 15-7 giving his opposite number Kelsey Davey no time to settle. Hosking's teammate Nycole Riordan had the exact same approach, in her first match, as she defeated Raylee Waugh 15-7, 15-10. Just to round off the first set of singles Jamie Kealley also put a win on the board for MJM as he defeated Glenn Leeson 15-13, 15-11 in a tight match to get his team off to the perfect start.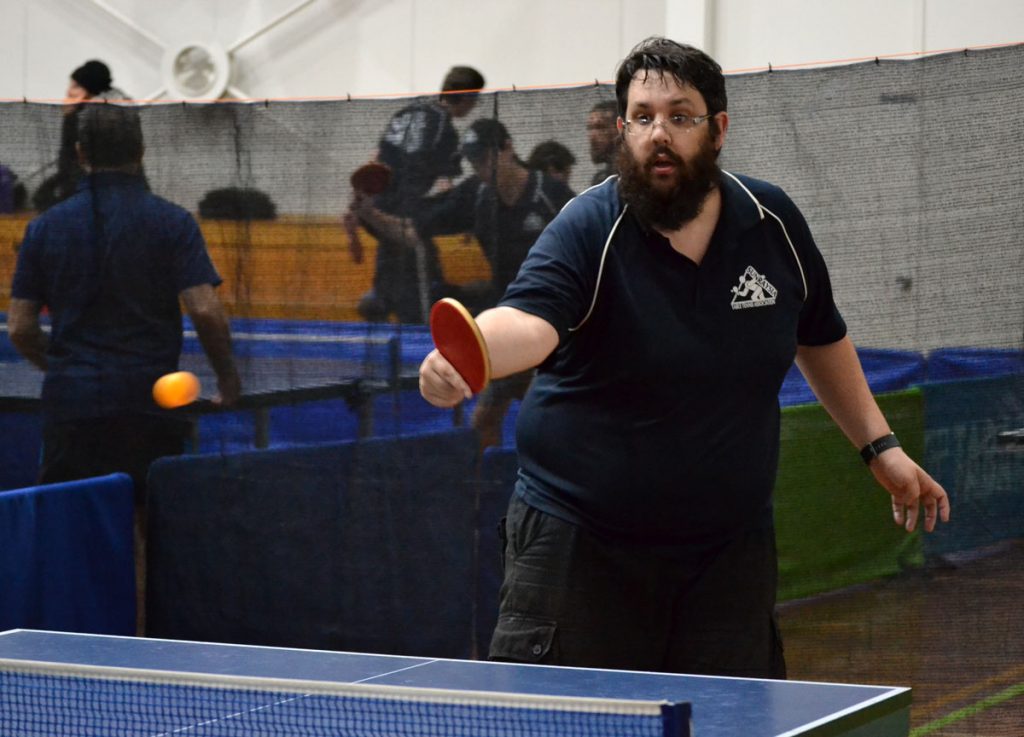 After a poor start Dunkley's fought on gamely but were outplayed by their opponents. For the winners Ben Hosking continues his good form with three singles victories, which was matched by the fast improving Jamie Kealley. In fact Kealley is now leading the aggregate and with four rounds to play may be hard to catch. Well done to MJM who have won this contest 8 rubbers to 3.
Mallee Meats 6 (Joy Sullivan 3, Wendy Simpson 2, Jim Vale 1) def Tankard Dental 5 (Jacinta Ljubic 2, Billy Stephens 1)
Well a week is a long time in sport. Last week the following comment was printed:
'For Mallee Meats they will be stewing on this loss, but must regroup quickly to turn their season around.'
This week Mallee Meats have turned up the heat to record a hard fought victory over Tankard Dental. Pivotal to their success was the form of skipper Joy Sullivan, who recorded three impressive singles victories and Wendy Simpson with two of her own had their team on course for victory. Although the Butchers did not win a doubles match, their sixth rubber came from super sub Jim Vale who always seems to contribute a singles victory to the team he is playing for. Tankard Dental also played with a substitute player as last week's hero Tim Finck was out injured. Some sources tell me he has sore shoulders from carrying the team last week. This rumor is yet to be confirmed.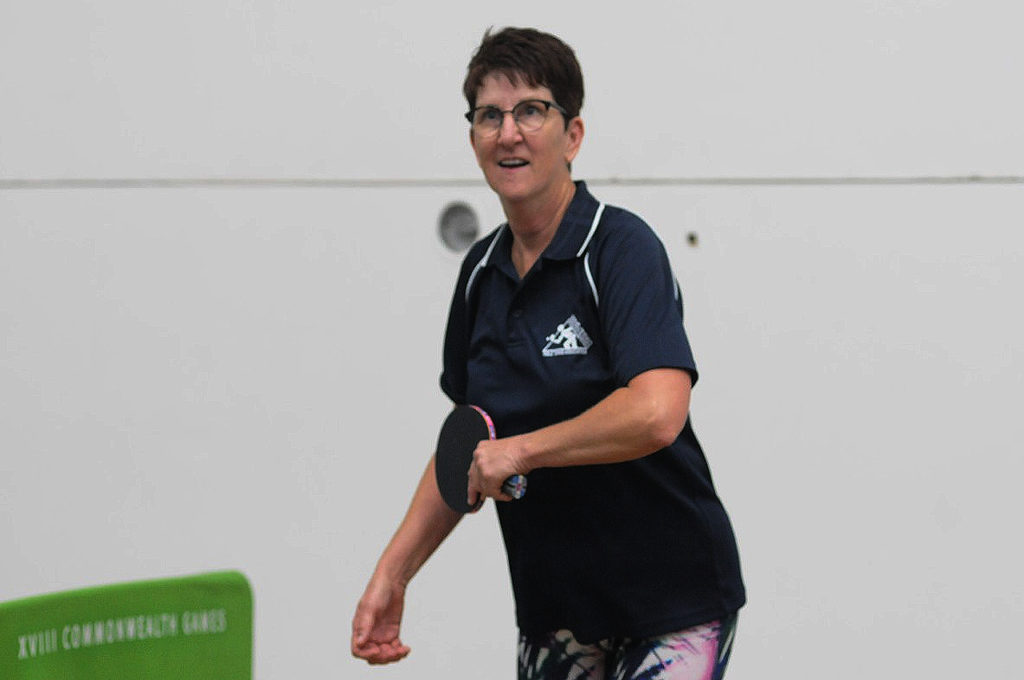 The match of the night in this contest was a grueling match between Wendy Simpson and Tankards' Jacinta Ljubic. Simpson took the first set comfortably 15-8 before Ljubic hit back to take the second 15-10 to set up a final set showdown. Both of these players rely on staunch defense and try to outlast their opponents. The final set was a classic case of the immovable object going head to head with an irresistible force. Both players slugged it out and with the scores at 14 all, then 15 all, 16 all…when would this madness end? At 20 all there was a big problem in this match – yes, they ran out of numbers on the scoreboard – maybe continue the count on fingers and toes? The confusion was short lived as Ljubic finally took her chance to close this out with the incredible score line of 22-20. This victory was a consolation prize as Mallee Meats have broken their poor run of form to prevail 6 rubbers to 5.