Read Time:
15 Minute, 55 Second
The evenness of the competition in the Sunraysia Table Tennis "Cash Converters" winter pennant again came to the fore in round seven matches.
Cash Converters 7 (Rick McMeekin 3, Jackson Tung, Leslie Ncube 1) d Mallee Bearings 4 (Matt Ljubic, Nicholas Dorman 2)
This week bottom team Cash Converters scored a 7-4 win over fourth placed Mallee Bearings and in doing so took fourth position on the ladder from their opponents. Skipper Rick McMeekin was in good form winning three singles as well as participating in both doubles victories. The very first doubles was a highlight when McMeekin teamed with Jackson Tung and early in their match against Nicholas Dorman and fill in Kate Carmichael the Cash Converters pair were deep in trouble however they managed to turn the match around and go on to win 7-9 9-11 11-5 12-10 12-10 in a nail biter.
This doubles was crucial as was the next match when Jackson Tung defeated Kate Carmichael 12-10 12-10 5-11 11-8.
McMeekin then won a five set slog against the inform Nicholas Dorman. McMeekin's team mate Leslie Ncube also played his part in the win by partnering McMeekin to victory in the second doubles as well as scoring an important singles win earlier in the match.
Weightmans Packaging 7 Isaac Liu 3, Gavin Carmichael 2, Shane Carmichael 1) d Regional Taxation Services 4 (Wayne Carmichael 2, Reece Kurrle 1)
Weightmans Packaging in an amazing turnaround defeated Regional Taxation Services 7-4. When these two teams last met Weightmans were trounced 2-9 by the same opponents. This time around Weightmans were out of the blocks quickly and raced to a 5-0 lead in a great team effort. Firstly Shane Carmichael produced his best match of the season to defeat Mark Ljubic in four sets, Gavin Carmichael then survived a scare from Reece Kurrle who was in good form but went down in a tough five setter 11-7 13-11 7-11 9-11 11-8 against his more experienced opponent.
In the biggest result for the night Weightmans Isaac Liu then inflicted the first defeat on Wayne Carmichael for the season. This was an outstanding four setter where at times Carmichael held the edge but Liu was able to grab critical points at the right time. The score line of 12-10 12-10 6-11 11-8 reveals a top class match and indicates what a good recruit to the association Liu is. He went on to win three singles in his best display for the season. Team mates Gavin Carmichael and Shane Carmichael won two and one singles respectively to enable Weightmans to avenge their big defeat of earlier in the season.
 Tankard Dental 6 (Joel Thomas 3, Kate Carmichael 2) d Exposed Signage/Apparel 5 (Mark Dorman 2, Matt Avers, Michael Hogarth 1)
Tankard Dental maintained their hold on first positon on the ladder, albeit by percentage, with an exciting 6-5 victory over Exposed Signage. Again it was Joel Thomas who led the way winning his three singles while the second doubles also played a big part in the win. Thomas teamed with Leon Brown against Matt Avers and Michael Hogarth to win 13-11 9-11 11-8 11-5 in a close tussle. While Thomas played a key role as usual he did get good support from Brown and this match went a long way toward scoring the four points for Tankards.
Tankards number two Kate Carmichael had an eventful night with all her singles going to five sets. The first was against the experienced Mark Dorman and was close all the way with Dorman winning 11-8 11-13 7-11 11-8 11-9. With her side trailing 4-5 Carmichael played rising youngster Matt Avers and this was the match of the night with Carmichael racing out to a two game lead only for Avers to level at two games all. The match contained many long exchanges and impressive points with Carmichael grabbing a 10-8 lead late in the fifth. With team mates on the edge of their seats and many spectators taking note Avers fought back to 10 points all. Carmichael remained calm and disappointingly for Avers he served a fault on the final point to conclude an entertaining win by Carmichael 11-9 11-5 4-11 7-11 13-11. The score now stood at five rubbers all.
A busy Carmichael then played Michael Hogarth and again another five setter with Hogarth worrying Carmichael with lots of top spin and good control with his deft touch. Hogarth took a two game to one lead and it was the determined Carmichael who gained the ascendancy in the fourth and fifth to win 6-11 11-6 6-11 11-6 11-5 in a spirited fight back.
Despite being under pressure all night Tankard Dental were able to extract the points and hold top position.
PENNANT TWO  
Fourth and fifth-seeded, Weightmans Packaging and MJM Automotive, clashed in a match that ended in a 6-5 result, third-seeded Pinnacle Packers levelled themselves with second-seeded Mallee Meats after taking them down in an 8-3 victory and Max Miller Carpets collect their second win against the top-seeded Mallee Meats.
 – Weightmans Packaging 6 (Ashley Morrison, Arthur Paar 2, Kerry Wallace 1) d MJM Automotive 5(Bernadette Fitzpatrick 2, Tony Malycha, Seval Fuat 1)
 Weightmans Packaging and MJM Automotive tangled with the former managing to take the necessary six after a much desired break following the second doubles.
This great game for Weightmans Packaging opened with a gripping five setter between Weightmans Packaging's Kerry Wallace and opposing Tony Malycha.  Malycha won the first two sets both in an 11-8 score, but Wallace struck back and took the next two narrowly 11-8, 11-9, to tie the score 2-2.  But Malycha was just too good for Wallace and downed her on the last 11-4.
Entering on to the first doubles, Weightmans Packaging was down 1-2.  But then came their big break.  After captain Ashley Morrison together with no.2 Arthur Paar, took the doubles victory away from opposing skipper Bernadette Fitzpatrick and Malycha in five, 3-11, 11-8, 11-7, 9-11, 11-9, Morrison went on to beat Malycha in four, 11-1, 8-11, 11-6, 11-5. 
His team-mates followed his example, both winning their respective matches, Wallace downing Fitzpatrick in four, 11-9, 7-11, 11-3, 11-5, and Paar taking down opposing no.3 Seval Fuat in straight sets, 11-9, 11-6, 11-6.  This gave Weightmans Packaging a comfortable 5-2 lead.
The three following matches were all five setters; MJM Automotive wasn't going down without a fight.  Fitzpatrick and Fuat took the next doubles in five against Morrison and Wallace, 7-11, 11-8, 11-5, 1-11, 12-10.  Then Fitzpatrick and Morrison fought in a terrific five setter.  Morrison won the first set 11-8, then Fitzpatrick took the next two 11-7, 12-10.  Morrison retaliated to take the fourth 11-7, but just couldn't make it in the fifth, going down 10-12.  Fitzpatrick had played sensationally to get her team to 4-5, but Paar was also playing well on that night and beat Malycha in five 10-12, 11-4, 11-4, 8-11, 11-5.  With Fuat's win over Wallace, 9-11, 11-7, 11-3, 11-8, the score was 6-5.  A third win for Weightmans Packaging.
Final scores:  6 rubbers to 5 and 25 games to 21.
– Pinnacle Packers 8 (Kevin Johns, Peter Midgley, Jason Gifkins 2) d Mallee Meats 3 (Sony Sefer 3)
Pinnacle Packers really sent Mallee Meats packing after knocking them down with an 8-3 defeat.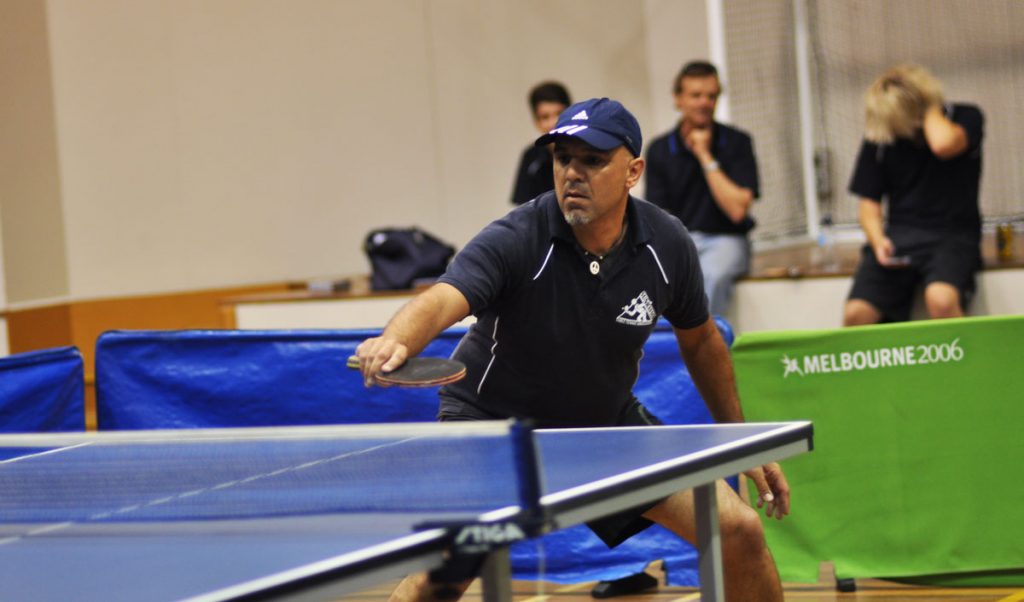 Mallee Meats captain Geoff Wright was absent tonight and was replaced by Sony Sefer.  And, as it turned out, Sefer was Mallee Meats player of the night, being the only one on the team to win a match…in fact, all three of his matches.  To begin with, he faced down opposing captain Kevin Johns in four, 12-10, 11-7, 6-11, 11-8.  Then, at 5-1, he beat opposing no.2 Peter Midgely in a straight three, 11-6, 11-9, 11-9, and, lastly, he took the opposition's third player Jason Gifkins to four and downed him 11-7, 4-11, 13-11, 11-9.
Other than in these three games, Sefer and team-mates, Andrew Jones and Russell Walder, were unable to do anything against the Pinnacle Packers trio, only bringing the opposition to five sets in three games.  The first game was the primary doubles where Walder and Sefer managed to take the first two games away from Johns and Midgely, 11-6, 12-10, before being beaten 2-11, 6-11, 7-11.  The second was Jones' game against Gifkins in which the latter won 6-11, 14-12, 11-7, 8-11, 11-6.  And in the third game, the second doubles, Jones and Sefer nearly snatched victory away from Johns and Gifkins.  Coming back from losing the first two sets 11-7, 11-3, they managed to get hold of the next two, winning 11-8, 11-8.  However, Johns and Gifkins sprang back to win the last 11-5.
With this well-played victory, Pinnacle Packers consolidate their position as second on the team aggregate, just one game beneath the leading Mallee Bearings.
Final scores:  8 rubbers to 3 and 26 games to 17.
– Max Miller Carpets 7 (Brendan Alderton, Ed Hung 2, Sony Sefer 1) d Mallee Bearings 4 (Lee Thomas 3, Jackson Murphy 1)
In an incredible 7-4 win, Max Miller Carpets beat the top team Mallee Bearings and scored their second game of the season.
A factor that contributed greatly to Max Miller Carpets' win was the scoring of both doubles.  In the first of the two,
captain Ed Hung and team no.2 Sony Sefer only just managed to sneak passed opposing Jackson Murphy and Lee Thomas to win the tight five setter.  Murphy and Thomas took the first set 11-5, before Hung and Sefer bounced back to win the second 11-7.  The Mallee Bearings duo struck back to take the third 11-8, but dropped the fourth 8-11.  Hung and Sefer then just managed to take the fifth 12-10.  The second doubles was much less of a thriller with Hung and the team's third player, Brendon Alderton, downing Murphy and team-mate Terry Martin in three, 11-9, 11-6, 11-2.
In addition to the doubles, Hung and Alderton each won two of their singles, both losing only to Thomas.  Sefer contributed one singles which may be attributed to the fact that he had to sub for the absent Geoff Wright in the Pinnacle Packers-vs-Mallee Meats match.
With this loss, Mallee Bearings are now even on games won and lost with both Mallee Meats and Pinnacle Packers.  And with their win, Max Miller Carpets jump MJM Automotive on the team aggregate and assume fifth place.
Final scores:  7 rubbers to 4 and 28 games to 16.
PENNANT THREE 
Dunkley Scales record a second win for the season, beating MJM Automotive.  The top-team, Mallee Meats, struggled against Regional Taxation Services, just managing to pull through with a 6-5 score, and Tankard Dental continued their winning streak, taking out Weightmans Packaging.
Dunkley Scales 8 (Cambell McKenzie 3, Rachel Fitzpatrick, Huseyin Ismail 2) d MJM Automotive 3(Jeremy Corrin 2)
After taking down Weightmans Packaging last week, Dunkley Scales collected their second game of the season against MJM Automotive in a decisive 8-3 win.
Dunkley Scales barely gave their opponent much of a look-in as they tore away to six games straight from the first rubber.  Sensational table tennis play came from the threesome with captain Cambell McKenzie going through the night undefeated save for the second doubles in which he and Huseyin Ismail were beaten by opposition's Jeremy Corrin and Anthony Sergi in four, 11-9, 11-5, 9-11, 11-8.
  His team-mates Rachel Fitzpatrick and Huseyin Ismail also played very well, both contributing two singles.  Fitzpatrick also collaborated with McKenzie to win a tight five-set doubles against Corrin and fill-in Peter Lock who subbed for MJM Automotive's absent skipper, Peter Fitzpatrick.  Dropping the first set 8-11, the Dunkley Scales duo came back to win the next two 11-4, 11-6 before their opposition took the fourth 11-5. They then succeeded in winning the last 11-9.
MJM Auotmotive's only player to score a rubber was Jeremy Corrin, who scored against both Fitzpatrick and Ismail.  The third game the team won was the second doubles.
Recording a game score of 8-3, Dunkley Scales finally move off the bottom rung of the aggregate ladder, only a single game clear of Regional Taxation Services.
Final scores:  8 rubbers to 3 and 26 games to 15.
Mallee Meats 6 (Rod Healy 3, Claire Ljubic 2) d Regional Taxation Services 5 (Quentin Clark 2, David Sergi, Vin Brown 1)
Top-seeded Mallee Meats had to fight hard for their win against fifth-seeded Regional Taxation Services, just making home with a 6-5 score.
All up until the closing matches, Regional Taxation Services ran head-to-head with their opponents until Mallee Meats made their break in the last singles.
Captain for Mallee Meats, Rod Healy, again recorded a perfect score in his singles, winning all three.  Second-player Claire Ljubic contributed to the team's win with two of her matches.  Her only loss was to the opposition's chief Quentin Clarke in a rousing five setter.
Clarke won the first set narrowly 11-9 and Ljubic snatched the second 11-5 before he had a chance to catch his breath.  Clarke bounced back in the third, winning 11-6, but Ljubic stayed right on his heels, taking the fourth 11-6 to make the score 2-2.  In the fifth, both players fought vigorously with Clarke just managing to make home in 14-12.
At the close of the second doubles, in which Clarke and no.2 Vin Brown downed Healy and Ljubic in four, 11-8, 6-11, 11-6, 11-7, the match score was 4-4.  Healy then took his third match against Clarke, 11-7, 11-13, 11-6, 11-7, making the score 5-4.  Then Ljubic downed opposing David Sergi, 9-11, 11-9, 15-13, 11-9, to record another win for her side.  Brown then beat Mallee Meats Marcus Cimino to conclude the game at 6-5
Final scores:  6 rubbers to 5 and 24 games to 18.
Tankard Dental 8 (Zac Healy 3, Rohan Reimers, Michael Hensgen 2) d Weightmans Packaging 3(Paul Fitzpatrick 2)
It was all too easy for the unstoppable Tankard Dental in this round, beating Weightmans Packaging 8-3.
They began their win with a quick 3-0 lead.  The only time that Weightmans Packaging worried them here was when their second player Rohan Reimers struggled in five sets to beat opposing Karly Leach, 11-13, 11-9, 14-16, 11-6, 11-4.
Weightmans Packaging managed to pulled themselves together and take the next two matches.  Skipper Paul Fitzpatrick and second player Sam Hensgen beat opposing captain Michael Hensgen and Reimers in the first doubles impressively in four, 11-9, 7-11, 11-2, 11-5. 
After which, Fitzpatrick beat Reimers likewise in four, 13-11, 11-6, 7-11, 11-9.  This brought the score to 3-2.
But Tankard Dental then sped away, taking five of the remaining six matches.  The only rubber Weightmans Packaging could take away from them was Fitzpatrick's match against Hensgen which he won in four, 11-4, 11-13, 11-8, 12-10.  Reimers then beat Sam Hensgen in three, 11-2, 11-7, 11-8, before third player Zac Healy took his third game for the night against Leach, 11-9, 11-7, 11-7, to record another remarkable win for Tankard Dental.
Final scores:  8 rubbers to 3 and 27 games to 14.
PENNANT FOUR   
Positions on the ladder continue to remain close after round seven matches. Fourth and fifth on the ladder defeated second and third while top team Weightmans Packaging had the bye. Four teams have three wins while Dunkley's Scales have won two.
Mallee Meats 7 (Ryan Hensgen 3, Nick Kiapekos 2)d MJM Automotive 4 (Kim Avers 2, Stephan Ljubic, Jacinta Ljubic 1)
Bottom team Mallee meats were on fire in this match defeating second placed MJM Automotive 7-4 in a strong display. Both Ryan Hensgen and Nick Kiapekos were in good form winning three and two singles respectively. Ryan now moves to second in the singles aggregate two behind leader John Fitzpatrick. Against opposing number one Stephan Ljubic, Ryan had a fight on his hands but took the match in four 11-6 11-5 5-11 11-6.
Nick Kiapekos is also positioned well in the aggregate and his victory over Stephan was an entertaining five setter with Nick taking the points 11-6 10-12 9-11 11-7 11-8 a great tussle.
For MJM Kim Avers played well to win two singes particularly her four set win over Nick. Her team mate Jacinta Ljubic won her customary singles and she has been a very consistent number three. Victory in both doubles also helped Mallee meats cause.
Regional Taxation Services 7 (John Fitzpatrick 3, Ben Hosking, Brice Lock 1) d Dunkley Scales 4(Leonie Dunkley, Joel Hogarth 2)
In this match Ben Hosking came into the RTS combination to replace the absent Shirley Whitecross while junior player Miya Lock took the place of Caitlin Elstone. This gave Miya the opportunity to play her brother Brice.
Regional Taxation Services took an early 3-1 lead and from here Dunkley's Scales were always playing catch up RTS eventually winning 7-4. Skipper John Fitzpatrick for the fifth time this season was in command winning his three singles. He also took part in two doubles victories to cap off a good night. Team mates Ben Hosking and Brice Lock won a singles each to play their part as well as taking part in the doubles victories.
Brice played his sister Miya in the last match of the night and took the bragging rights 11-6 11-5 11-1 showing no mercy in the last, it would have been an interesting trip home in the car with their dad Peter.
For Dunkley's skipper Leonie Dunkley and improving youngster Joel Hogarth both won two singles. Leonie has proven consistent over the season as has Joel who has won two matches each round apart from one.