Read Time:
12 Minute, 32 Second
ROUND 2
PENNANT ONE:
Again in round two of the Sunraysia Table Tennis senior pennant , there was some impressive table tennis with several five set matches taking place . Both Matt Ljubic and Kate Carmichael remain undefeated in singles while Dylan Wood impressed again since being promoted from pennant two this season, again defeating the opposing number three and participating in a successful doubles match.
– Tankard Dental 9 (Kate Carmichael, Mark Ljubic 3, Dylan Wood 1) d Exposed Signage/Apparel 2 (Reece Kurrle, Sang Mang 1)
Tankard Dental scored their second win of the season with a resounding 9-2 victory over Exposed Signage . Tankards Kate Carmichael again won three singles to lead the way and fill in Mark Ljubic was in outstanding form also winning three singles including a five set slog against Sang Mang who had led two games to one. Ljubic finished strongly and showed he has lost none of his touch. Tankards number three Dylan Wood continued his promising start to the season partnering Carmichael to win the second doubles and then outpointing the experienced Russell Walder in five sets 11-13 18-16 8-11 11-6 11-6
– Cookes Pools & Spas 7 (Gavin Carmichael, Jackson Murphy 2, Lee Leeson 1) d Mallee Bearings 4 (Wayne Carmichael 3, Thanh Nguyen 1)
Despite Wayne Carmichael winning three singles for Mallee Bearings , their opponents Cooke's Pools and Spas proved too steady winning 7-4 to maintain their unbeaten record and remain on top of the ladder. For the victors Jackson Tung and Gavin Carmichael won two singles both going down in five to Wayne Carmichael.
Tung played extremely well against Carmichael and when he took a 7-4 lead in the fifth it looked like he may cause an upset however it wasn't to be with Carmichael taking seven of the next nine points to record a hard fought win.
In the battle of the Carmichael brothers Gavin took a two set to love lead however Wayne then took control winning 6-11 11-13 11-6 11-4 11-4 .
– Max Miller Carpets 7 (Kate Carmichael, Leon Brown, Ed Hung 2) d Regional Taxation Services 4 (Mark Ljubic 3)
In the remaining match Max Miller Carpets recorded their first win 7-4 against Regional Taxation Services. In an even display fill in Kate Carmichael , Leon Brown and Ed Hung won two singles each.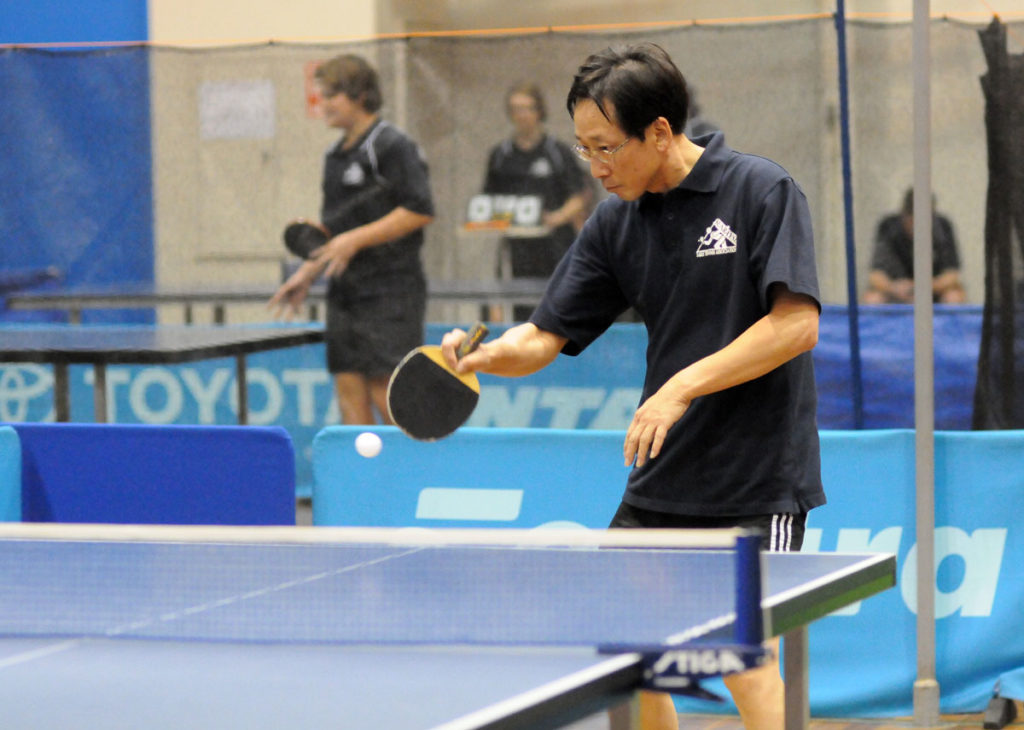 In particular this was an impressive display by number three Hung who defeated opposing number two Lewis Yang in four sets and then later he won in straight sets against Kevin Johns. To cap off a successful night Hung also combined in the second doubles with Leon Brown to win in straight sets over Matt Ljubic and Johns. The new rubber has pleased Ed…look out opponents!
PENNANT TWO:
Pinnacle Packers and MJM Automotive backed up their first round wins with another win this round and Max Miller Carpets eased past Cookes Pools & Spas to take their first win for the year.
– Pinnacle Packers 7 (Jeremy Corrin, Rohan Reimers 2, Ryan Hensgen 1) d Mallee Meats 4 (Quentin Clark, Marcus Cimino 2)
After eight rubbers the score was four rubbers each, and up to that point the game belonged to either side.
As expected Pinnacle Packers number two Rohan Reimers won the match with replacement (and junior) Jamie Kealley, but the win was by no means a walkover. Reimers could not shake Kealley until 14-12 in the first set, then dropped the second set 8-11. Although he went on to win the next two sets, Kealley certainly kept him honest in going down 7-11, 10-12.
Then, in an unexpected result, two rubbers later, Pinnacle Packers captain Jeremy Corrin was trounced by Mallee Meats number two Marcus Cimino in straight sets 7, 7 and 7.
Next the first doubles, and in a match which was close for four of the five sets, the Pinnacle Packers pair of Corrin and Reimers stormed home 11-1 in the fifth set against Quentin Clark and Cimino to square the match at 2 rubbers each.
Quentin Clark worked hard to down the persistent Reimers in five sets; Corrin recovered from his earlier malaise to win in three sets against Kealley, and Cimino continued his good form in defeating Ryan Hensgen.
Pinnacle Packers squared the match again with a win in the second doubles – Corrin and Hensgen too good for Clark and Kealley.
With the game in the balance, both sides were expecting a close finish, but in the event, Pinnacle Packers owned the three rubbers – Corrin dropping the first set to opposing captain Quentin Clark then holding steady for a 6-11, 11-9, 11-8, 11-8 win; Reimers too strong for Cimino, winning in three, and Hensgen had to work hard to down the talented Kealley in four sets.
Final scores: 7 rubbers to 4 and 25 games to 18.
– MJM Automotive 7 (Paul Kealley, Andrew Jones, Therese Fitzpatrick 2) d Weightmans Packaging 4 (Jason Gifkins 3)
MJM Automotive were without their captain Casper McCarthy this week, replaced by the very capable Paul Kealley.
Games went as expected in the first round of singles – Weightmans Packaging captain Jason Gifkins defeated MJM Automotive number three Therese Fitzpatrick in straight sets, Kealley had no trouble against Weightmans Packaging number three Peter Fitzpatrick winning in three sets also, and Andrew Jones completed a trifecta of three set wins downing the "other" Andrew, Kremor.
In what was a bit of a surprise, the first doubles went to the Weightmans Packaging pairing of Gifkins and Fitzpatrick, who got the better of Kealley and Jones in four sets.
That made the game score 2 rubbers each, and as it turned out, that was as close to a win as Weightmans Packaging were going to get in this match.
Gifkins won the next rubber against his opposite number Kealley, in an entertaining four set contest Gifkins proved too strong in the 12-10, 8-11, 11-8, 11-9 win.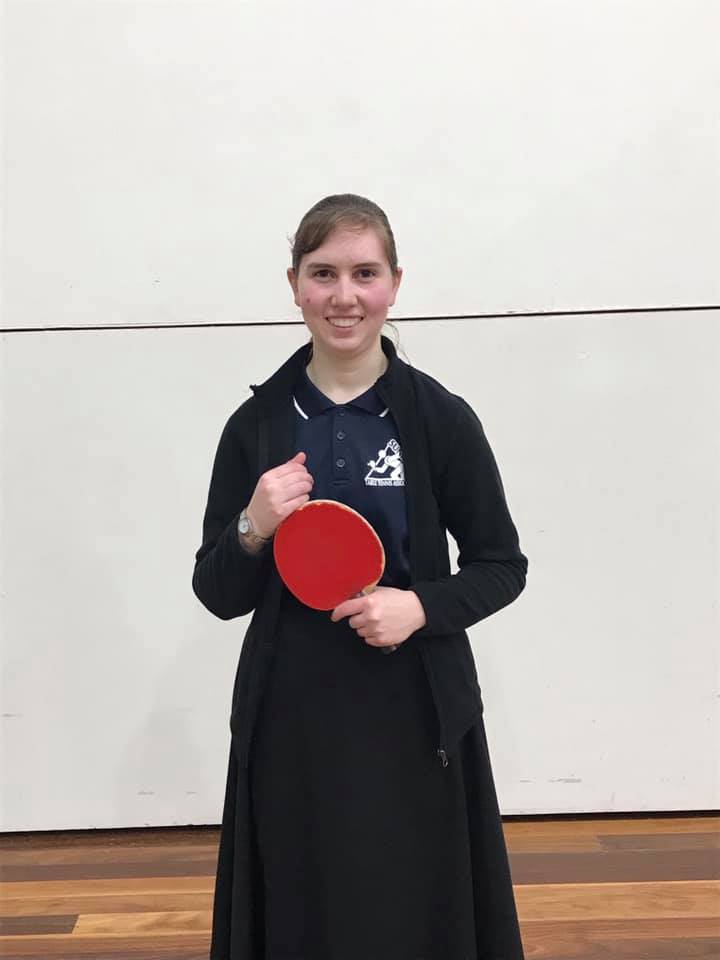 Therese Fitzpatrick showed why she was the recent Pennant Three aggregate winner, simply overpowering Andrew Kremor in her match, winning 5-11, 11-8, 11-5, 12-10.
Andrew Jones made in two out of three win for this bracket of matches, disposing of Peter Fitzpatrick in straight sets.
Kealley and Therese Fitzpatrick clicked immediately and had little trouble in the second doubles, defeating Gifkins and Kremor in three sets.
Leading 5-3, MJM Automotive were on the verge of a win now, and Kealley sealed the victory when he played Kremor, although not without some stern resistance from the Weightmans Packaging player. Kealley won 11-9, 18-16, 11-5.
Jason Gifkins saved some face for Weightmans Packaging, picking up their fourth rubber with a difficult win against Andrew Jones. Gifkins led comfortably two sets to love, 11-5, 11-5. Jones, of course, can be very difficult to get away, so much so he took the next two sets 11-9, 11-8. Gifkins was a picture of total concentration in the final set, and, not giving Jones a chance, won it 11-3.
Therese Fitzpatrick rounded out a good night, for herself, and for MJM Automotive, with a win against her father Peter, in five sets.
Final scores: 7 rubbers to 4 and 25 games to 15.
– Max Miller Carpets 6 (John Fitzpatrick, Jamila Belbaze, Raymund Manzanares 2) d Cookes Pools & Spas 5 (Sony Sefer, James Jarvis 1)
Solid singles play earned Max Miller Carpets this win against Cookes Pools & Spas.
Cookes Pools & Spas were without regular captain Terry Martin, this round, replaced by Sony Sefer.
Cookes Pools & Spas were down three sets to love after the first round of singles, – Raymund Manzanares defeated David Sergi,
John Fitzpatrick prevailed in a five set contest with James Jarvis, and Jamila Belbaze defeated Sefer – but then got themselves back into the match with wins in three of the next four rubbers – Sefer and Sergi took the first doubles, Sefer warmed up with a solid five set win against Manzanares and Jarvis weathered the storm that is Belbaze to win that rubber in four sets.
Cookes Pools & Spas when they took the second doubles (to go with their win in the first), Sefer and Jarvis winning a close five setter against Manzanares and Fitzpatrick 11-7, 8-11, 6-11, 11-7, 11-9.
They then took the lead, Sefer recovering from losing the first set against Fitzpatrick to win in four, with two rubbers to go.
Jamila Belbaze played a solid and consistent rubber against David Sergi with an 11-8, 11-8, 11-8 scoreline. Manzanares and Jarvis were left to determine the outcome of the match, and Manzanares was little troubled really, taking the rubber in straight sets.
Max Miller Carpets won by virtue of their three players winning two singles rubbers each. Both doubles rubbers eluded them, the first one gone in four sets, the second much closer, but lost in five. Belbaze, will I think, be the big improver in this team.
Final scores: 6 rubbers to 5 and 25 games to 19.
PENNANT THREE:
There was some excellent table tennis on display this week with some close and hard fought matches. With a number of players out this week, we must again thank those who have come out to play to make up teams so that everyone gets a full workout.
Sammy's Slammers 6 (Stephan Ljubic 3, Ben Hosking 2) def Mallee Meats 5 (Steve Pongrac 2, Ildi Healy, Nhat Dat 1)
This was the closest match of the round with little separating these teams. For Sammy's Slammers Stephan Ljubic (filling in) dusted off his bat and proceeded to win his three singles matches. Ben Hosking also returned this week and played well in winning two singles; one of which that would ultimately decide tonight's victor. For Mallee Meats Captain Steve Pongrac contributed two singles victories while Ildi Healy (returning this week) and Nhat Dat both contributed one singles victory each.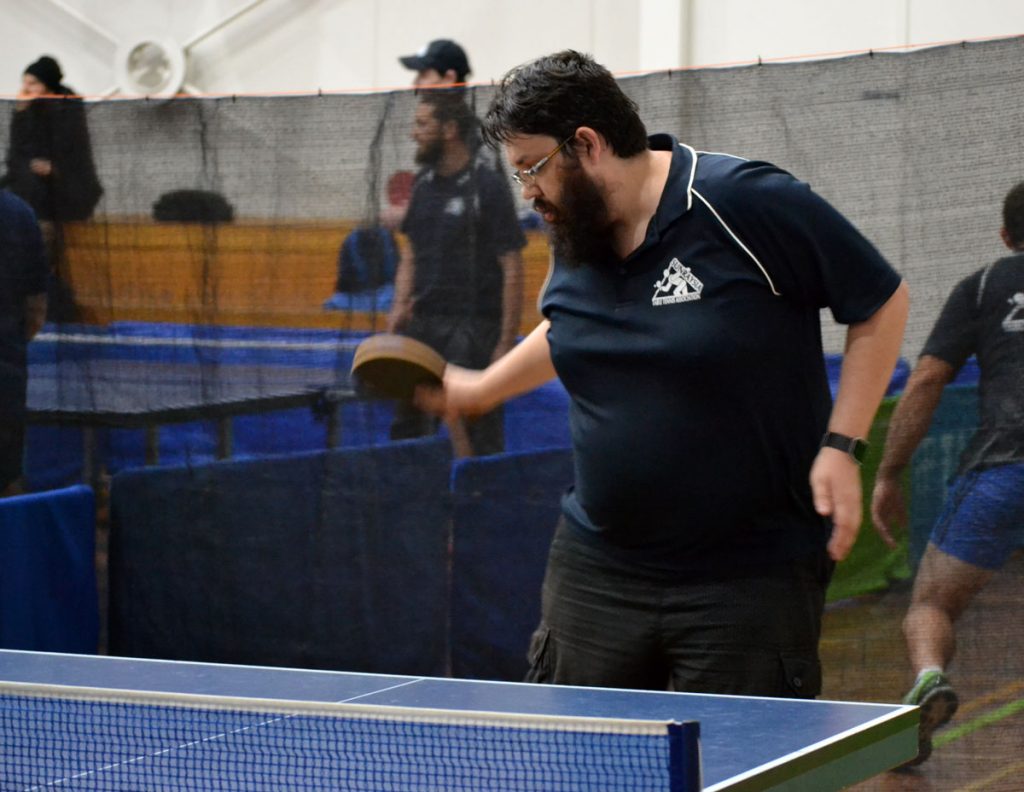 The feature game of the evening was the encounter between Hosking and Dat. These two had never played each other before so the first couple of sets played was a time when each player was trying to work out what the other was dishing up. Hosking won the first set 11-8 and Dat the second 11-9. The third set saw the momentum clearly with Dat as he raced through the set 11-5 and seemed on course for victory. Hosking, using his big game experience, rallied to square the match taking the fourth set 11-4 to set up a deciding set. The fifth set saw a dour struggle develop with each player unable to break the shackles and a tiebreak at 10 points all was required. Hosking played the next two points the better to take the match 12-10. This win giving his team Sammy's Slammers a very import rubber that on reflection was the difference between the two sides.
In conclusion a great match that could of gone either way with Sammy's Slammers, for the second week in a row, just edging out their opponent to go on and win 6 rubbers to 5 (18 games all) against a gallant Mallee Meats.
Weightmans Packaging 7 (Sabrina Fitzpatrick, Dianne Hennig 3) def MJM Automotive 4 (Karly Leach, Levi Williams, Alicia Tyres 1)
Weightmans Packaging have kept their perfect start to the season going by defeating MJM Automotive.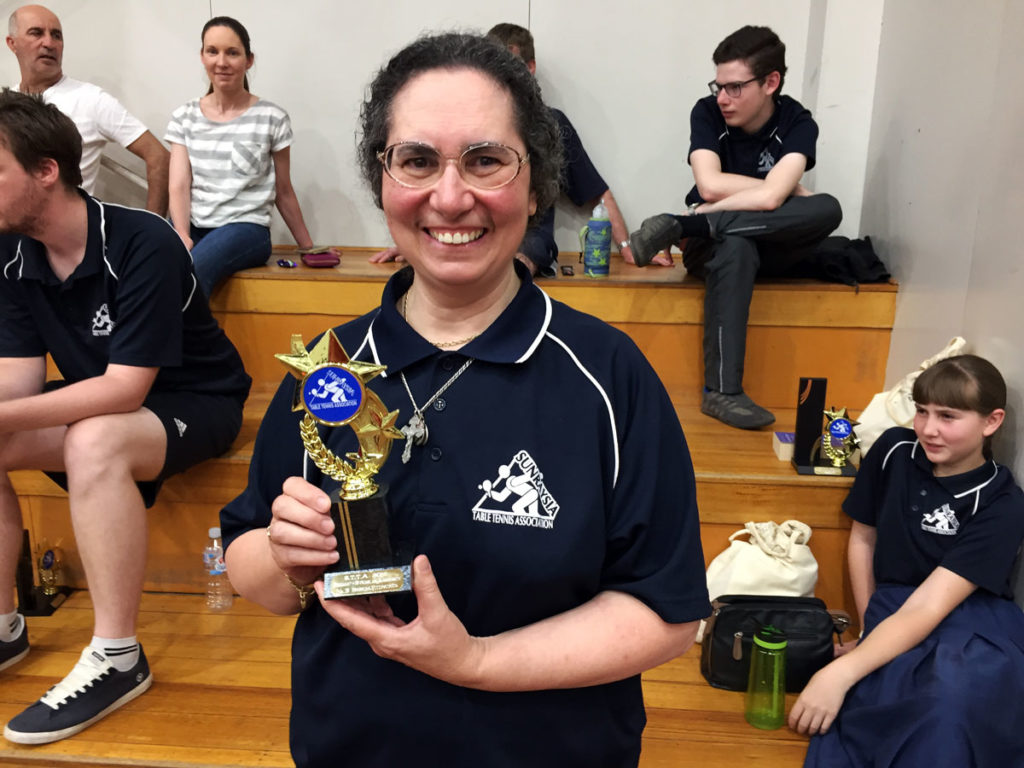 For the second week running, Sabrina Fitzpatrick was in great form winning three singles matches along with super-sub Dianne Hennig also having a great night in also winning her three singles matches. For MJM Automotive Karly Leach, Levi Williams and Alicia Tyres all contributed one singles victory (as they coincidently did last week).
The evening started well for MJM Automotive with Williams getting his team off to the perfect start with a four set win over Gilmour. Williams immediately had Gilmour on the back foot taking the first 11-2. Gilmour then quickly reassessed what he had to do and took the second 11-8. However, Williams had all the answers to take the next two sets 11-6, 11-9 and the match. This is where the good news ended for MJM as their early lead turned to a 1-4 deficit after five matches.
Hennig was a key contributor to the Packers success this evening. During the third match of the evening, she played MJM's Captain Leach, in what turned out to be a pivotal match. Leach was quickly out of the blocks, winning the first 11-7 before Hennig steadied to take the second 11-7. The third set, punctuated with many long rallies, with neither player giving an inch. Hennig broke the
deadlock in claiming this set 13-11 and went on to take the fourth 11-8 to secure an important win for her team.
The final analysis saw Weightmans Packaging to go on and record a comfortable 7 rubbers to 4 (24 games to 15) victory over MJM Automotive. MJM sit winless at the bottom end of the table after two rounds – however, a win is only around the corner with their inexperienced team members Levi Williams and Alicia Tyres improving each week and their captain Karly Leach about to fire.
Tankard Dental 8 (Shaun Gifford, Tom Morrison 3, Phuong Hung Nguyen 1) def Dunkley Scales 3 (Rodney Galvin, Tom Gilmour 1)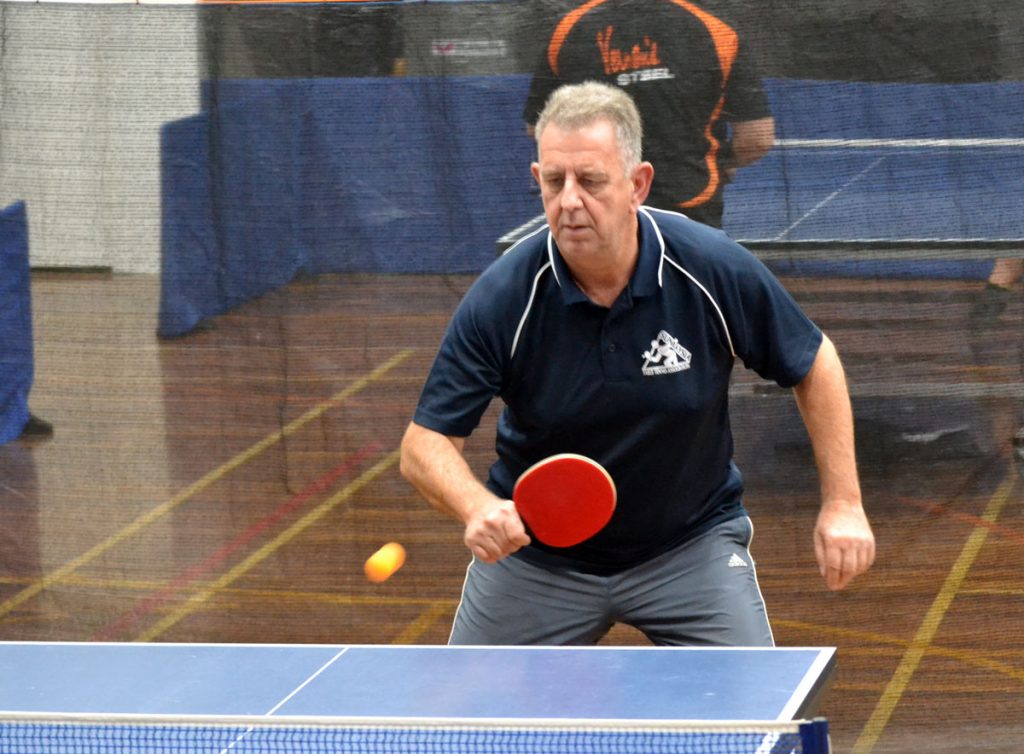 Tankard Dental were poor last week; and with their Captain Nick Kiapekos out with injury, things were looking bleak. Well, as they say, a week is a long time in sport with Tankard Dental recapturing their smiles in recording a huge win against Dunkley Scales.
For Tankard Dental young guns Tom Morrison and Shaun Gifford led the charge in decisively winning three singles matches each and teaming together in their doubles match to blast the opposition off the table. For Dunkley Scales Rodney Galvin and Tom Gilmour (filling in) both contributed one singles victory each.
The night did start brightly for Dunkley Scales as Gilmour accounted for Nguyen in three tight sets 13-11, 12-10, 11-9. However, the next four matches went the way of the Dentists and very quickly Dunkley Scales night had turned sour. Dunkley's Captain Rodney Galvin did try to turn the fortunes of his team around by claiming the sixth game of the night in straight sets 11-8, 11-7, 11-6 against Nguyen. He then teamed with Jim Vale during the doubles to record a solid straight sets win 11-4, 11-6, 11-8 over Morrison and Nguyen – however it was to no avail.
As they say winners are grinners and that is exactly what Tankard Dental are as they have had a dramatic change of fortunes this week in claiming victory against Dunkley Scales 8 rubbers to 3 (24 games to 11).
Bring on week three of action. See you all on Wednesday.