Read Time:
15 Minute, 5 Second
ROUND 3
PENNANT ONE:
The highlight of round three of the Sunraysia Table Tennis pennant was the evenness of the match results with all being decided by a margin of 6-5, whilst in singles results Matt Ljubic is the only player to remain undefeated after he accounted for Kate Carmichael in this round.
– Max Miller Carpets 6 (Shannon Bowen 3, Leon Brown 2) d Cookes Pools & Spas 5 (Jackson Tung 2, Gavin Carmichael, Lee Leeson 1)
Ladder leader Cookes Pools & Spas suffered their first defeat of the season going down 5-6 to third placed Max Miller Carpets. The Carpeters skipper Shannon Bowen showed that he will be a force this season by winning his three singles. Leon Brown offered great support to Bowen by winning two singles, his win over veteran Gavin Carmichael in the very first match of the night was instrumental in his team's victory. After trailing 0-2 Brown showed real maturity to record a 5-11 9-11 11-7 11-7 11-9 win, his first over Carmichael in many meetings and a nice way to celebrate his birthday.
All Brown's matches went to five, his three singles and the doubles he played with Bowen. With the scores locked at five rubbers all Brown was under real pressure against Cooke's Lee Leeson and again he was able to recover from a deficit to win 5-11 11-9 4-11 11-9 11-7.
This was an excellent hard fought victory by The Carpeters and showed they will be able to match it with any team in the competition.
– Tankard Dental 6 (Kate Carmichael, Mark Dorman 2, Dylan Wood 1) d Regional Taxation Services 5 (Matt Ljubic 3, Jackson Murphy 1)
Tankard Dental were up against it early during their match against Regional Taxation Services and at one stage trailed 2-4 however the second doubles proved to be the difference in this battle for the four points. The Tankard pair of Kate Carmichael and 16 year old Dylan Wood were outstanding against the tough combination of Matt Ljubic and Kevin Johns. Every game was close and featured some excellent rallies with Carmichael and Wood scraping through in an outstanding win 9-11 13-11 11-9 8-11 14-12 …..a thriller!
For RTS Matt Ljubic won his three singles to remain undefeated and now leads the aggregate by one from Kate Carmichael and Wayne Carmichael. For Tankards Kate Carmichael and Mark Dorman won two singles and with this victory Tankards moved to the top of the ladder and are the only team undefeated.
– Mallee Bearings 6 (Wayne Carmichael 3, Thanh Nguyen 1) d Exposed Signage/Apparel 5 (Sang Mang, Reece Kurrle 2, Russell Walder 1)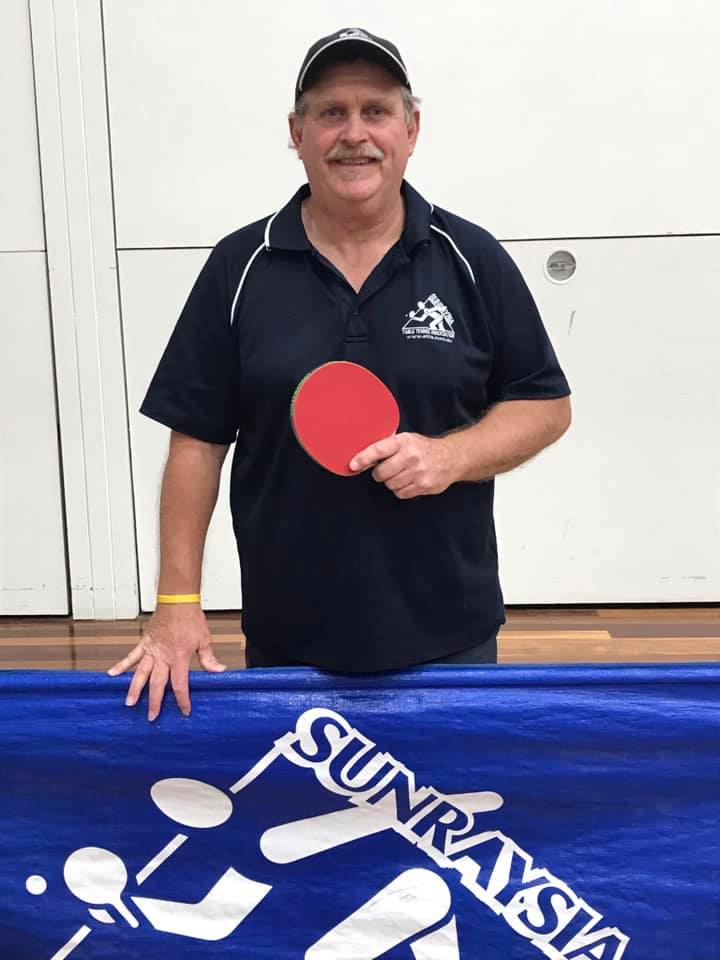 With Wayne Carmichael winning three singles and taking part in both doubles victories Mallee Bearings recorded their first victory of the season at the expense of Exposed Signage / Apparel 6-5.
The match decider for the four points was the second doubles when Carmichael teamed up with Ashley Morrison to take on Exposed's Sang Mang and Russell Walder. Carmichael and Morrison took the first however Mang and Walder lifted their game taking the next two games before Carmichael and Morrison steadied to win in a hard fought five setter 11-8 7-11 8-11 11-2 11-6.
Despite their loss the Exposed trio showed signs victory may not be far away with both Mang and Reece Kurrle winning two singles while Russell Walder won one.
PENNANT TWO:
MJM Automotive and Pinnacle Packers both recorded their third straight win for the season, and Mallee Meats their first.
– Mallee Meats 8 (Quentin Clark, Marcus Cimino 3) d Cookes Pools & Spas 3 (Terry Martin, David Sergi, James Jarvis 1)
In taking their first win for the season, Mallee Meats took third on the ladder, by virtue of a better percentage than the other two teams who have also recorded just the one win so far. This is mentioned because their two losses so far have been not that bad, (5-6 and 4-7) and they won here 8-3.
Mallee Meats captain Quentin Clark and number two Marcus Cimino both took three singles wins, and with the side winning both doubles rubbers, they ended the night with their healthy 8-3 victory.
Clark eased past David Sergi in the first round of singles in four sets, but had to work much harder in the second round against Cookes Pools & Spas number three, James Jarvis. Although this win was also in four sets, Quentin knows the next time he plays Jarvis, who is fresh up from Pennant Three, a win will be much harder to come by. On this occasion the Mallee Meats captain got home 11-9, 13-15, 14-12, 13-11. In the final round of singles, Quentin defeated opposing captain Terry Martin in three sets, but that score is skewed really, as Terry had taken a fall earlier in the night, and was sporting an injury to a knee.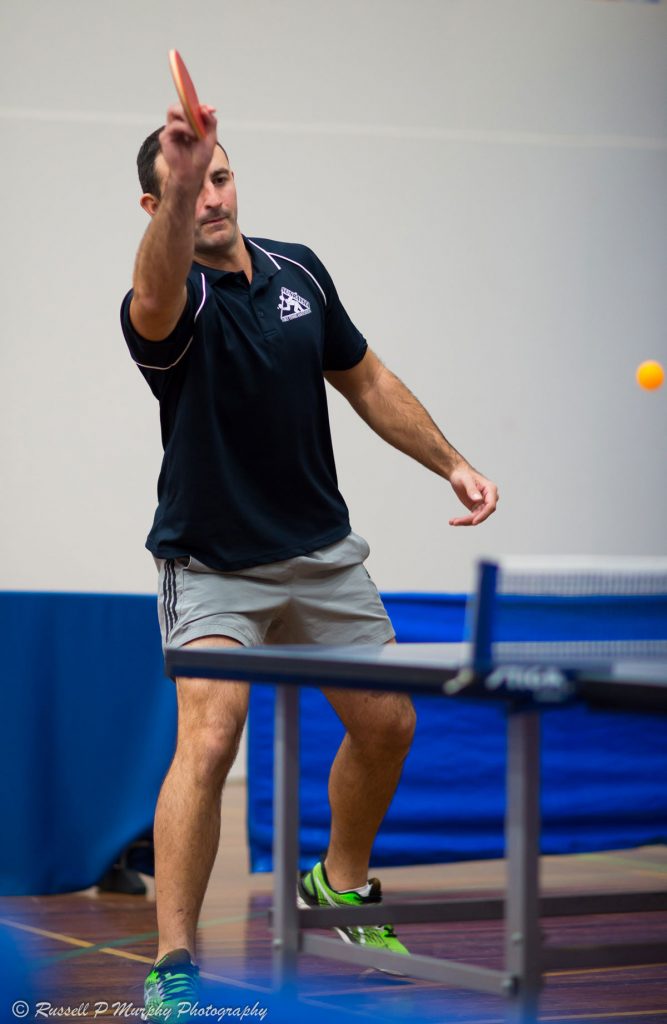 Cimino had much less trouble with Jarvis, winning his encounter in straight sets, he also defeated Martin in three, but had a good ding-dong battle with old sparring partner David Sergi in the last round. This rubber went the distance, Marcus winning the fifth set 11-6.
Clark and Cimino defeated Martin and Sergi in the first doubles in four sets, and later Clark and Isaiah Bettess got the better of Martin and Jarvis, winning in four sets also.
The only rubbers Cookes Pools & Spas could pick up then, were those against the Mallee Meats number three Bettess. Martin and Sergi both won in straight sets, but Bettess's opposite number Jarvis was a good match, the win to Jarvis coming at 11-6 in the fifth set.
Final scores: 8 rubbers to 3 and 26 games to 15.
– MJM Automotive 7 (Casper McCarthy 3, Andrew Jones 2) d Max Miller Carpets 4 (Raymund Manzanares 2, John Fitzpatrick, Jamila Belbaze 1)
MJM Automotive have been very impressive to this point in the season, three wins from three games, two 7-4 and the other 8-3. They are now at the head of the ladder, equal with Pinnacle Packers, but with a better percentage.
MJM Automotive captain Casper McCarthy again took three wins, number two Andrew Jones a solid two wins, and the side won both doubles rubbers.
McCarthy was in good form, downing Jamila Belbaze in four sets, John Fitzpatrick in three, and opposing captain Raymund Manzanares in four.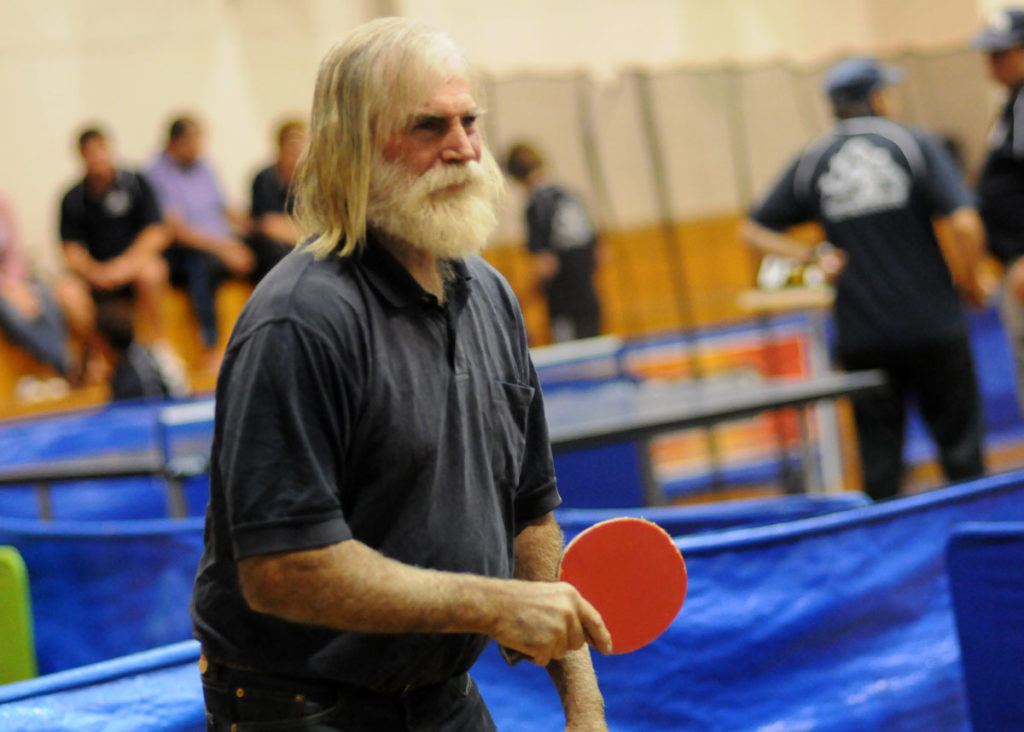 Jones had to work harder for his wins – Belbaze made the MJM Automotive number two work for every point in their clash, Jones winning 9-11, 11-8, 10-12, 11-9, 13-11. John Fitzpatrick did not go down without a fight, losing in four to the veteran.
McCarthy and number three Therese Fitzpatrick won their second doubles rubber for the year, this time downing Manzanares and Belbaze in five sets, and the second doubles also went to the MJM Automotive pairing of McCarthy and Jones, defeating Manzanares and Fitzpatrick in four sets.
For Max Miller Carpets, captain Raymund Manzanares won two rubbers and John Fitzpatrick and Jamila Belbaze one each.
Final scores: 7 rubbers to 4 and 24 games to 20.
– Pinnacle Packers 6 (Jeremy Corrin, Rohan Reimers 2, Ryan Hensgen 1) d Weightmans Packaging 5 (Jason Gifkins 3, Andrew Kremor 1)
Pinnacle Packers chalked up their third win of the season in this match with Weightmans Packaging.
A good all-round team effort saw them take the win in the final rubber of the match.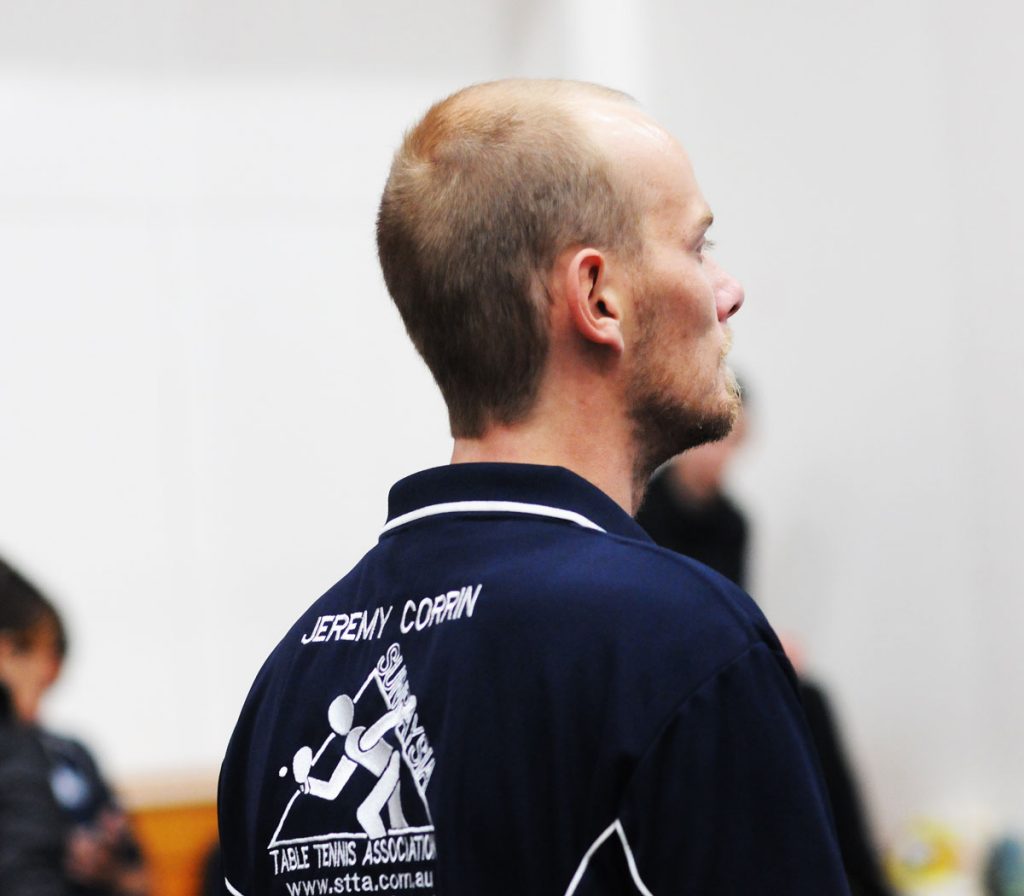 Pinnacle Packers captain Jeremy Corrin and number two Rohan Reimers both took two wins (both defeating Andrew Kremor and Peter Fitzpatrick), and Ryan Hensgen one (against Fitzpatrick).
Corrin and Hensgen proved too strong for Jason Gifkins and Kremor in the second doubles, winning that in four sets, and squaring the match at 4 rubbers each at that point.
For Weightmans Packaging, captain Jason Gifkins again led from the front with three wins. These three wins puts Jason at the head of the aggregate ladder; and he is already two games clear of his closest pursuers. Number two Kremor took one, and Gifkins and Fitzpatrick outlasted Corrin and Reimers in the first doubles rubber, winning a tense encounter11-9, 11-8, 7-11, 11-13, 11-8.
Final scores: 6 rubbers to 5 and 21 games to 18
Pennant 3 – Round 3
During round three two new players making their debuts and are instrumental in getting their respective teams over the line.
Dunkley Scales 6 (Tague Morris 3, Rodney Galvin 2) def MJM Automotive 5 (Levi Williams 2, Dianne Hannig, Alicia Tyres 1)
In the closest result of the evening 5th placed Dunkley Scales have prevailed in defeating the 6th placed MJM Automotive. The standout performed for the evening came from debutant Tague Morris as he took all before him in winning three singles matches for Dunkley Scales as well as a crucial doubles victory when he teamed with his Captain Rodney Galvin. For MJM Automotive young gun, Levi Williams had a break out night as he secured two singles along with the steady Dianne Hannig contributing one. In addition, Alicia Tyres also contributed one singles victory for the third week running but it wasn't quite enough to get MJM over the line.
Tauge Morris has been putting in some hours to improve his game and is a regular attendee at Monday night hitting. This practice is paying off, as he looked assured winning all his singles in straight sets. Morris, along with Dunkley Captain Galvin teamed in the first doubles match of the evening against the MJM pairing of Hannig and Williams. MJM got off to the ideal start and breezed through the first 11-4 before Morris and Galvin found their feet and won the next two sets 11-5, 11-1. The fourth set would be close requiring a tiebreak that fell the way of Morris and Galvin 12-10 to take the match in four sets.
Our second feature match of the evening saw MJM Automotive's Levi Williams up against Dunkley Scales Rodney Galvin. With MJM trailing 4-5 in matches won this was a necessary win game for Williams to keep his team's winning chances alive. In a tight first set, Williams would take the first 11-9 before Galvin would take the next two sets 11-7, 11-9. The fourth set was keenly contested with neither player willing to take a backward step. Williams would win this set 14-12 to set up a decider. Already this season Galvin has shown, he can go the distance (123-point marathon in a first round match) and he would again be ready for a fight. A fight is what it was and Williams, knowing that failure was not an option, would take this set 11-9 and squaring the evening at five rubbers all.
The last match of the evening saw Morris clinch the win in three sets against Tyres thus propelling Dunkley Scales to their first win of the season 6 rubbers to 5 (21 games to 16) against a very competitive MJM Automotive.
Tankard Dental 8 (Stephan Ljubic 3, Shaun Gifford 2, Mehdi Sanat Pour 2) def Sammy's Slammers 3 (Dave Tanner 2)
In a strange twist, Stephan Ljubic would be playing against the team he played for last week. Seven days ago, Ljubic was instrumental in getting Sammy's Slammers over the line; but this week was the chief architect and destroyer of this team. Tankard Dental have enjoyed a solid win this evening thanks to Ljubic winning three singles matches. As this is a team sport – you cannot win on your own and Ljubic had great support from Shaun Gifford and debutant Mehdi Sanat Pour each contributing two important singles victories. For Sammy's Slammers returning Captain Dave Tanner won two singles matches.
The story of the night was debutant Sanat Pour who was involved in some classic five set battles – some may say he had a 'Baptism Of Fire'. Sanat Pour did not have to wait long to get involved in the action as he took on seasoned campaigner Ben Hosking during the first match of the evening. Hosking was dominant early in claiming the first 11-4, before Sanat Pour fought back to win the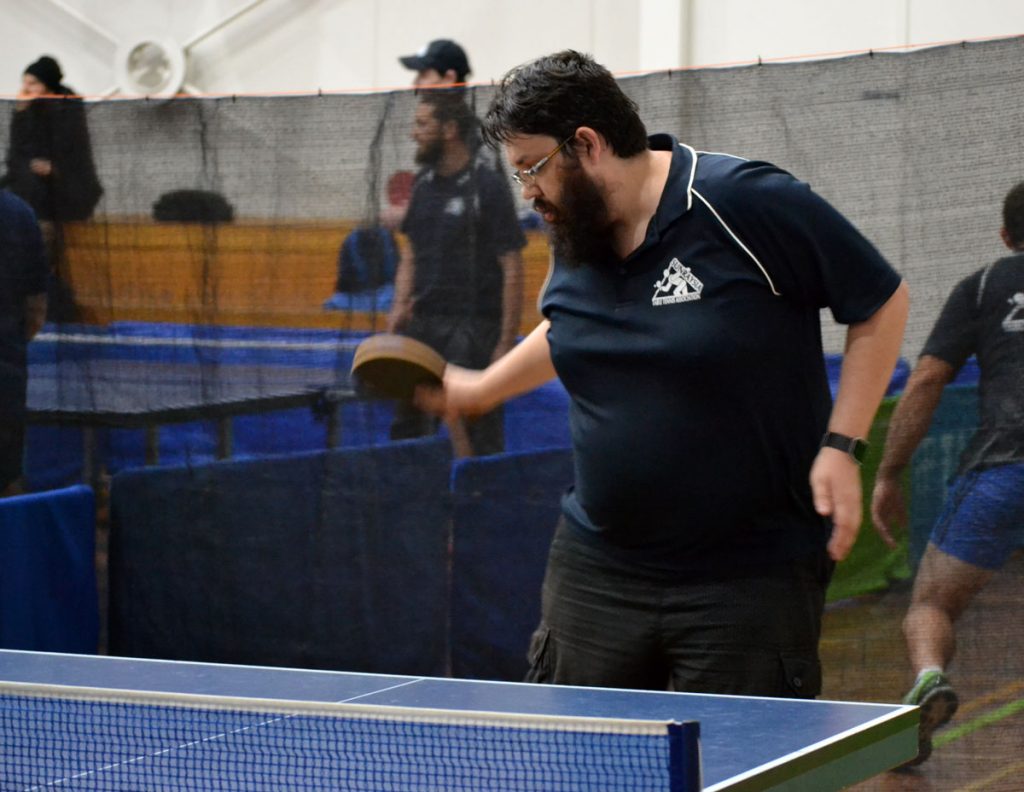 second 11-9. Hosking reasserted his authority in the third and went on to win this comfortably 11-4 and one may have thought the fourth set would have been a formality for Hosking to win. There was then a monumental momentum swing in this match with Sanat Pour taking the fourth 11-2 and continued on his way in the fifth 11-4 to claim his maiden victory.
In the second five set match of the evening, Sanat Pour would take on Sammy Slammer's Dave Tanner. This match seemed to have a slight scoring end advantage as Tanner took the first and the third 11-7, 11-9 and Sanat Pour the second and the fourth 11-8, 11-9. The five set was again tight with Tanner using all his experience in just sneaking over the line 11-9. Even though this was a great win for Sammy's Slammers, they still trailed 2-4 with a lot of work in front of them to get back into the match. As it turned out the match slipped out of their grasp later in the evening when Ljubic defeated Tanner in straight sets to have Tankard's in control 6-3 with two matches to play.
Ben Hosking was having a rare dirty night and looked forward to some late night redemption when he took on Tankard's Shaun Gifford. With Tankard's already with the win under their belt Gifford took the first two sets 11-8, 11-8 and looked set for a big victory before Hosing fought back to take the next two 11- 8, 12-10. The fifth set saw both players giving their all but it would be the younger player Gifford in securing the set 11-7. Sanat Pour then accounted for Maria Starikov in the last game of the evening that secured a big win for the Dentist's.
Final analysis sees Tankard Dental winning 8 rubbers to 3 (28 games to 13) against the previously undefeated Sammy's Slammers.
Mallee Meats 7 (Tom Morrison 3, Ildi Healy, Nhat Dat 1) def Weightmans Packaging 4 (Sabrina Fitzpatrick, Luke Ljubic 2)
Well the news this week is that Mallee Meats have turned the heat right up in disposing of previous ladder leaders Weightmans Packaging. Tom Morrison was in imperious form in winning three singles and was well assisted by Ildi Healy and Nhat Dat as they each partnered Morrison in winning doubles matches and each contributed a singles victory of their own. For Weightmans Packaging Sabrina Fitzpatrick again played well in winning two sets and Luke Ljubic won two singles (filling in for his Mum Jacinta).
Luke Ljubic stated the night well for Weightmans with a tight win over Mallee Meat Nhat Dat. Ljubic started well and was hitting his trademark forward smash well in taking the first two sets 12-10, 11-7 before Dat got his own attacking game into overdrive to win the next two sets 13-11, 11-4. Although Ljubic is a young player, he still has many more years of experience than Dat and used this to his advantage to get his team off to the dream start taking this deciding set 11-6.
The next match of the evening was the battle of the Tom's – or should we say, 'A Tale Of Two Tom's'. Well that it was with young Tom Morrison showing the way with a comfortable straight sets win over Tom Gilmour to now level the scores at 1 rubber all.
Later in the evening, with the match score at five rubbers to three in favour of Mallee Meats, it was time for the respective Captains to square off. Both Fitzpatrick and Morrison have not tasted singles defeat so far this season so this looked to be a battle to the end. Mallee Meat's Morrison was looking to end this match quickly taking the first two sets 11-6, 11-4. Fitzpatrick then mounted a stirring fightback to squeak over the line in the third set 15-13 and then take the fourth 11-8. The fifth set promised plenty but didn't deliver, as Morrison broke clear to win 11-4 in a very important win for his team to get them over the line.
With Mallee Meats already victorious, it would be up to Weightmans Ljubic to save percentage as he took on Ildi Healy. In an entertaining match punctuated with long rallies, Ljubic eventually broke through in four sets. At the end of the match press conference it has been reported that when Healy was asked how the games of Luke and his mother Jacinta compare she replied, "Very similar, however Luke much harder to beat."
The last match of the evening saw Mallee Meat's Nhat Dat taking on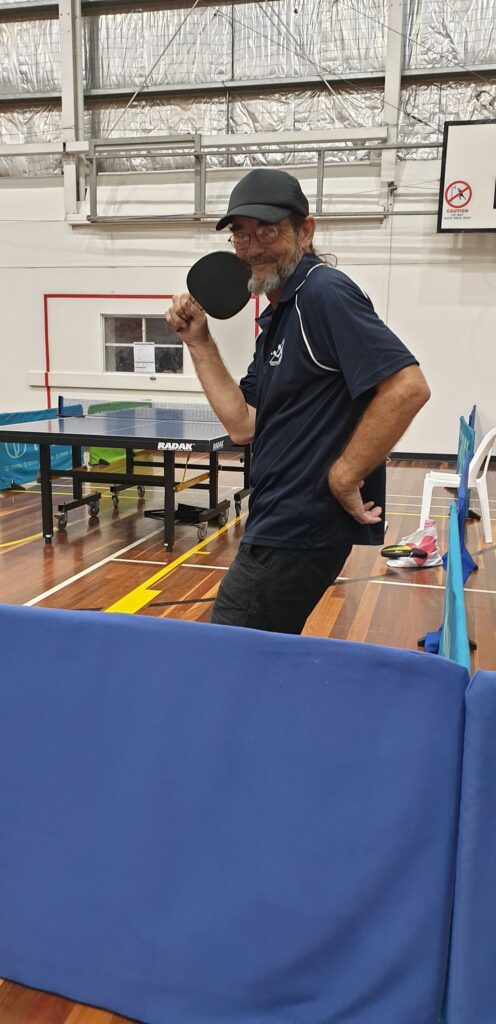 Weightmans Packaging player Tom Gilmour. Both of these players have met previously during the 2021 season with these clashes being lengthy affairs. Looking closely at the ladder the outcome of this match would ultimately decide if Weightmans Packaging would retain top of the ladder status after 3 rounds. Mallee Meats Dat would go on to win this match in straight sets against Gilmour, thus pushing Weightmans from holding top spot.
Overall an entertaining match with Mallee Meats winning 7 rubbers to 4 (24 games to 15) against Weightmans Packaging. We will see you all next Wednesday night for round four. Just to let you know there will be a short break in play as the President Peter Fitzpatrick will make some important announcements. The short break in play may be around 8 o'clock. Bring on round four.