Read Time:
15 Minute, 4 Second
ROUND 4
PENNANT ONE:
After four rounds of Sunraysia Table Tennis pennant one matches , one win separates first to fourth on the ladder and to date there is no team that stands out from the rest going in to the school holiday break.
Cookes Pools and Spas regained top position albeit by percentage after Tankard Dental suffered their first loss while Max Miller Carpets with their third win in succession are third on three wins, the same as the ladder leaders.
– Mallee Bearings 6 (Wayne Carmichael 3, Thanh Nguyen 2) d Tankard Dental 5 (Kate Carmichael 2, Mark Dorman, Dylan Wood 1)
With Wayne Carmichael winning three singles and Thanh Nguyen two, Mallee Bearings snatched victory from the previously undefeated Tankard Dental 6-5. The highlight of this match was the form of Mallee Bearings number two Thanh Nguyen who showed his finest form in this pennant winning two singles and the doubles he participated in with Wayne Carmichael. This doubles was crucial in the final result, it was a five set slog against Kate Carmichael and Mark Dorman, with the Mallee Bearings pair winning 11-7 in the fifth.
Nguyen later matched up against Mark Dorman with his side up 5-4. Nguyen looked in trouble early losing the first two games and the steady Dorman was in control, however Nguyen steeled himself and came back in stunning style to win the next three games , a five set victory 7-11 9-11 11-6 11-7 11-7 and the four points banked for his team who occupy fourth position on the ladder.
– Cookes Pools & Spas 6 (Jackson Tung, fc 2, Lee Leeson 1) d Regional Taxation Services 5 (Matt Ljubic 3, Lewis Yang 1)
Cookes Pools & Spas with a narrow 6-5 victory over Regional Taxation Services regained first position on the ladder. The victory came despite Matt Ljubic winning three singles to remain undefeated in singles matches. He now leads the aggregate by one from Wayne Carmichael.
Ljubic was tested briefly in this round when Gavin Carmichael took the first game and led 10-9 in the second before Ljubic steadied to take the match in four. In an even team performance Jackson Tung and Gavin Carmichael both won two singles as well as the first doubles when they partnered up against Ljubic and Lewis Yang.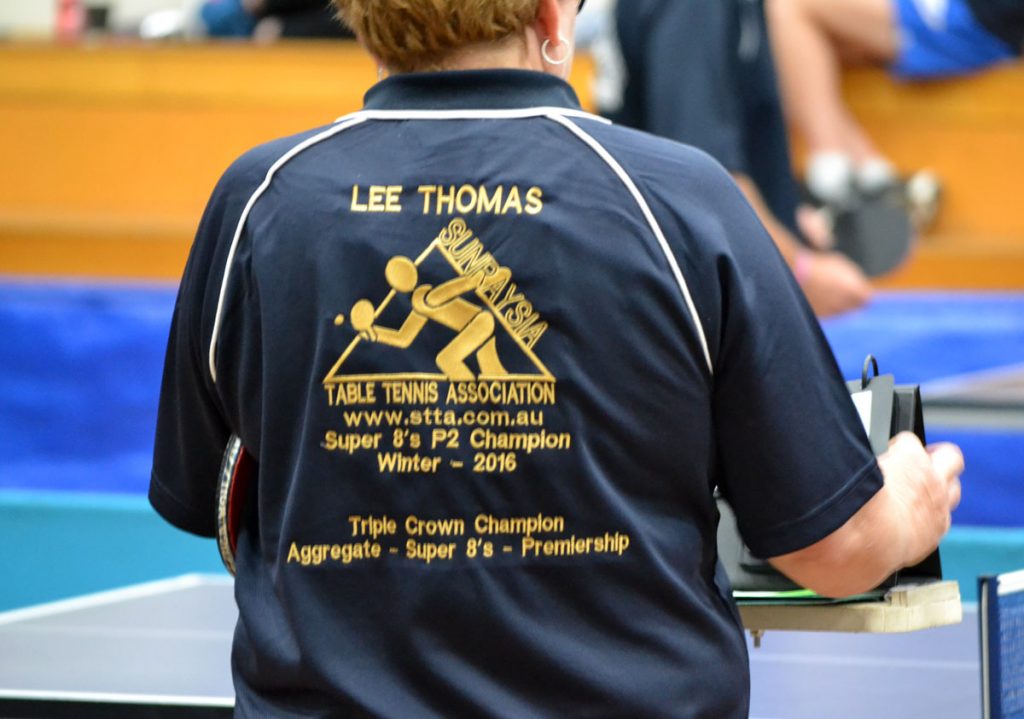 Cookes number three Lee Leeson showed nerves of steel when she met veteran Kevin Johns with the scores locked at five rubbers all.
Displaying excellent concentration and nimble footwork Leeson won 11-8 11-3 13-11, Johns consistently displays a never say die attitude and with the score 3-9 in the third he rattled off seven points in succession to grab a game point before Leeson steadied and ensured her team grabbed top spot albeit by percentage.
– Max Miller Carpets 7 (Mark Ljubic 3, Shannon Bowen 2) d Exposed Signage/Apparel 4 (Reece Kurrle 2, Sang Mang, Russell Walder 1)
Max Miller Carpets won their third match in succession this time defeating the luckless Exposed Signage / Apparel 7-4. The consistent Leon Brown was a late withdrawal for the Carpeters and was replaced by super sub Mark Ljubic who has been in outstanding form this season when called upon. In this match Ljubic was on fire winning three singles. He also partnered Shannon Bowen in the first doubles to win in five over Mang Sang and Reece Kurrle.
For the Carpeters Skipper Shannon Bowen won two singles and the highlight for the Exposed team despite their loss was the form of Reece Kurrle who won two singles including an amazing five set win over the talented Bowen.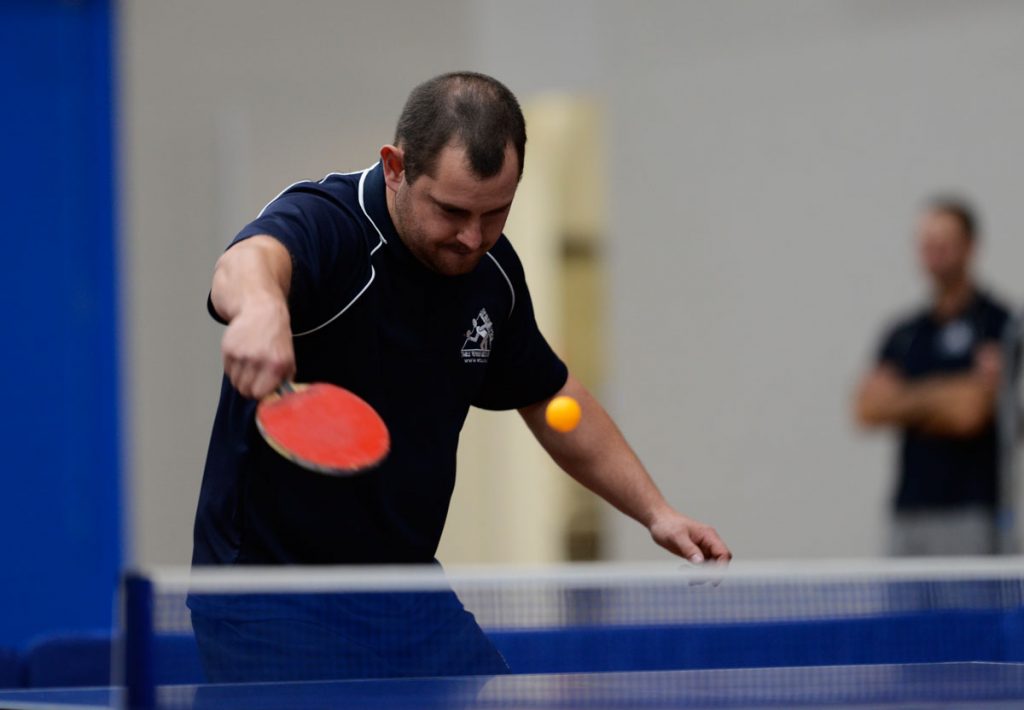 After losing the first two games Kurrle was in trouble however a win in the third kept him alive. At 7-1 up in the fourth Bowen looked home however it was at this point Kurrle turned the match with some brilliant hitting. Kurrle stormed home to win 7-11 9-11 11-7 13-11 11-6 , a great fight back.
PENNANT TWO:
MJM Automotive kept their winning streak intact, downing previously undefeated Pinnacle Packers. The most exciting thing from this round though, was the performance to the two ladies in the grade, Jamila Belbaze and Therese Fitzpatrick. Playing in different teams at number three, this is their first year in the grade, and they both took a big scalp in their two wins apiece. Read on …
– MJM Automotive 7 (Casper McCarthy, Andrew Jones, Therese Fitzpatrick 2) d Pinnacle Packers 4 (Paul Kealley 2, Rohan Reimers 1)
These two sides came to this round undefeated, and therefore at the top of the ladder. Pinnacle Packers unfortunately, were without captain Jeremy Corrin and number three Ryan Hensgen. Corrin had the very capable Paul Kealley subbing for him, whilst Hensgen was replaced by Tom Morrison.
Pinnacle Packers led for the first half of this match – after five rubbers, the score was 4-1. In that time Paul Kealley defeated MJM Automotive number three Therese Fitzpatrick (no surprise); Pinnacle Packers number two Rohan Reimers downed MJM Automotive captain Casper McCarthy in straight sets 7, 8 and 5 (big surprise); Kealley and Reimers won the first doubles against McCarthy and Fitzpatrick in five sets (an even contest); and Kealley in the first round of the second singles defeated MJM Automotive number two Andrew Jones in four sets (predictable). Before all this though, Jones took the first rubber against Morrison in straight sets (no surprise).
That was it though, for the Packers, as MJM Automotive reeled off wins in the next six rubbers. McCarthy defeated Morrison in four sets; then Therese Fitzpatrick caused the biggest upset of the match in defeating Rohan Reimers in five great sets.
Therese did not waver from her forceful style of play, Reimers on the other hand tried all his tricks and variations (to varying degrees of success) to get the upper hand, but at the end Therese had the win, 11-7, 6-11, 11-9, 9-11, 11-9. The second doubles went to the pairing of McCarthy and Jones, who proved too strong for Kealley and Morrison in three sets. McCarthy by now had recovered from his earlier loss to Reimers, taking a tight four set contest against opposing captain Kealley. Jones sealed the win when he defeated Reimers in another four setter, and the night was rounded out with Fitzpatrick winning another five set contest, this time against Morrison.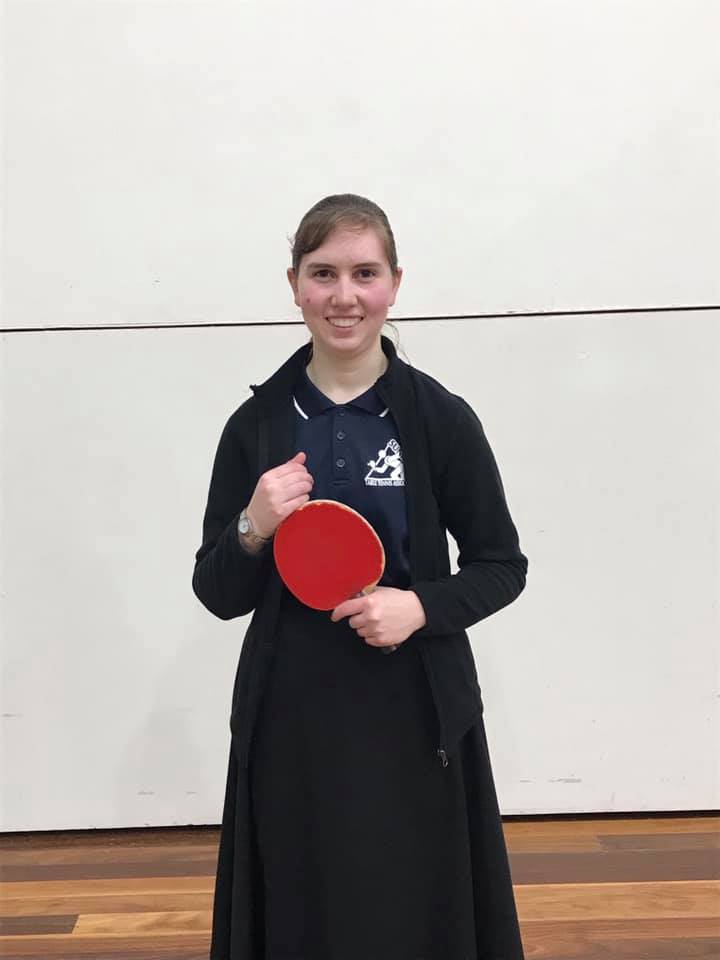 McCarthy, Jones and Fitzpatrick all won two rubbers each and with the second doubles, the side secured their seven for the night.
For Pinnacle Packers, Kealley won twice, Reimers once, and those same two won the first doubles.
Final scores: 7 rubbers to 4 and 25 games to 19.
– Max Miller Carpets 7 (Raymund Manzanares 3, Jamila Belbaze 2, John Fitzpatrick 1) d Mallee Meats 4 (Marcus Cimino 2, Quentin Clark 1)
These two sides had won just one match from their first three of the season, so both teams were eager for the win in this round.
Max Miller Carpets started strongly, winning the first three rubbers. Max Miller Carpets number two John Fitzpatrick proved too strong for the impressive Isaiah Bettess, winning in three sets; Jamila Belbaze the produced the shock of the night in downing opposing captain Quentin Clark in five sets, stamping her authority over her opponent in the fifth 11-3. Her captain Raymund Manzanares completed the trifecta for the side with a four set win against Mallee Meats number two Marcus Cimino.
From that point on, the match was shared equally, but for Mallee Meats of course, the damage was already done.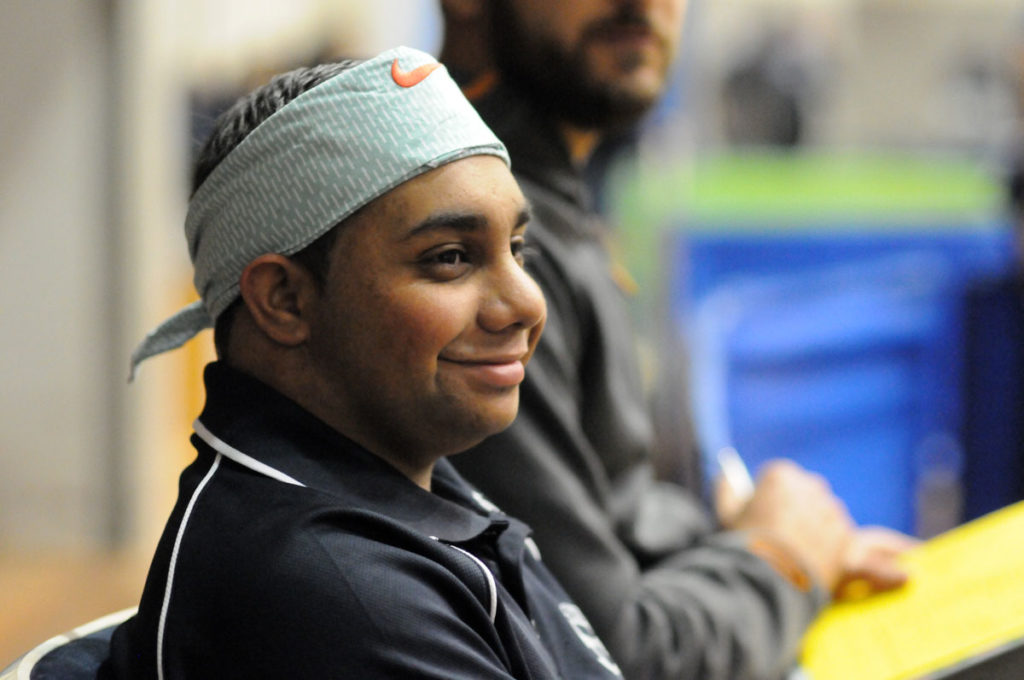 Clark and Cimino won the first doubles in four sets against Manzanares and Fitzpatrick; Clark followed that up immediately with a quick-fire three set win against Fitzpatrick; Manzanares responded in the next, but needing four sets to subdue Bettess; then Cimino battled through five sets to defeat earlier giant-killer Belbaze, making the score 4-3 heading into the second doubles.
Manzanares and Belbaze won that match against Clark and Bettess, avenging the loss of the first doubles. The Max Miller Carpets pair were stronger throughout winning three sets to one. With Mallee Meats having taken three of the last five rubbers, and the score at 5-3, the match was still up for grabs, but Manzanares put the issue beyond doubt in defeating Clark in the next rubber in a good five set contest 11-5, 15-17, 6-11, 11-4, 12-10.
The sides shared the final two rubbers, Mallee Meats number two Cimino downing Fitzpatrick in four sets, and Max Miller Carpets Belbaze holding off the tenacious Bettess in four sets also.
For Max Miller Carpets, Manzanares had a good night then, winning three singles and one of the doubles, Fitzpatrick took just the win against Bettess, and Belbaze scored two.
Over at Mallee Meats, Marcus Cimino was the best performed with two wins, captain Quentin Clark had a frustrating night with just the one.
Final scores: 7 rubbers to 4 and 26 games to 19.
– Cookes Pools & Spas 6 (Terry Martin, David Sergi 2) d Weightmans Packaging 5 (Jason Gifkins 3, Andrew Kremor, Peter Fitzpatrick 1)
These two sides now occupy the two bottom positions on the ladder – Weightmans Packaging were fourth coming into this round, Cookes Pools & Spas sixth, and at the end of the night, Cookes Pools & Spas were still sixth, but Weightmans Packaging had dropped to fifth.
Weightmans Packaging captain Jason Gifkins remains undefeated in singles play this season, and although he won three here, he did have resistance. James Jarvis played Gifkins in the first round of singles, and although the match was over in four sets, Jarvis did not go away quietly.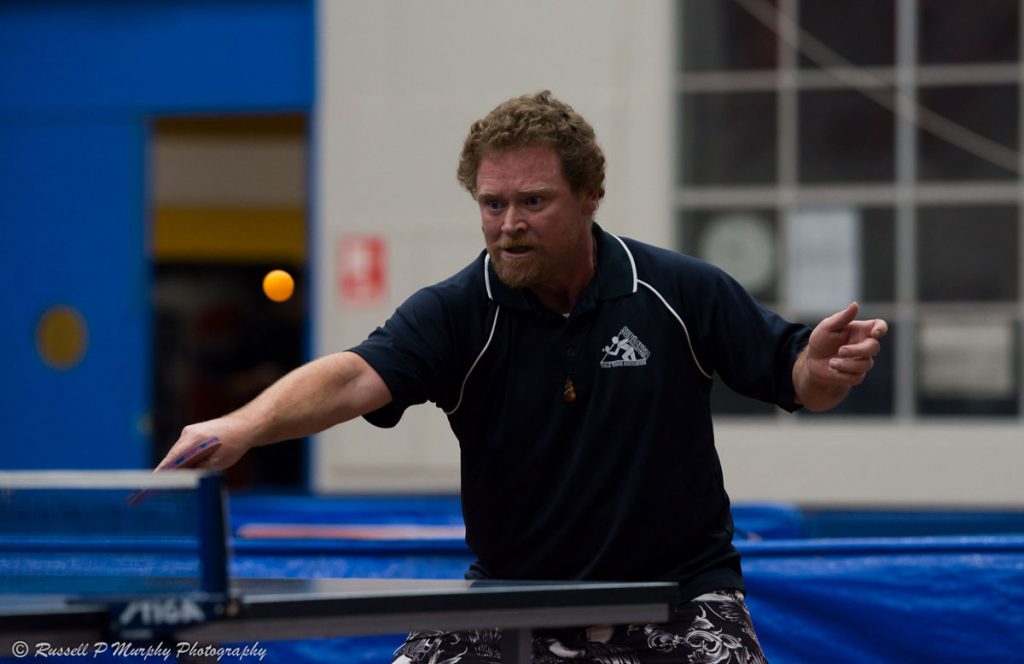 Gifkins eased away to win the first set 11-9, was more confident in the second 11-7, but then Jarvis bounced back to take the third 11-6, sending a bit of a wake-up call to his better credentialed opponent. Gifkins, duly woken-up played a careful fourth set winning that 11-8. He took no chances against David Sergi in the next round of singles, winning that in three, before really having to concentrate against opposing captain Terry Martin in the third last rubber. Gifkins took the first set 12-10, only for Martin to rip through the next two sets 11-2, 11-7 setting Gifkins back on his heels. With some exuberant play, Gifkins regained control of the match taking the last two sets 4 and 4.
That really was the high point for Weightmans Packaging as Cookes Pools & Spas had the match won with a rubber to play.
Martin and Sergi won two sets each, and the side took both doubles.
Final scores: 6 rubbers to 5 and 21 games to 22
Pennant 3
As we head into the Easter break (return to completion play on 27th April), we find that each team has tasted success at least once during this season. The breaking news from this pennant this week is the form of Mallee Meats who comfortably sit at the apex of the ladder after a huge victory this week.
Mallee Meats 9 (Steve Pongrac 3, Ildi Healy, Nhat Dat 2) def Dunkley Scales 2 (Huseyin Ismail 2)
Mallee Meats Captain Steve Pongrac returned this week to win three singles matches to ignite his team to a comprehensive win this week. Pongrac had great support from both Ildi Healy and Nhat Dat who both showed their best form of the season in winning two singles each and combined brilliantly in the doubles matches to record victories in these matches. For Dunkley Scales Huseyin Ismail played very well in winning two singles; but with Captain Rodney Galvin missing this week it was always an uphill battle to be competitive this week.
The match of the night was against Pongrac and Ismail. Both of these players are returning this week after recent absences. Pongrac started the better in taking the first two sets 11-8, 11-8 before Ismail took the next two 11-7, 12-10. Pongrac would go on to record a thrilling 11-9 fifth set victory.
Although beaten this was a great effort by Ismail as this was his first competitive match this season. Ismail would continue his good form this evening in claiming two straight sets victories in his remaining singles matches. However, this was the only good news of the evening for Dunkley Scales, as Pongrac, Healy and Dat would sweep all before them in claiming a huge win.
The final analysis sees that the 'sizzling' Mallee Meats have really cooked their opponents Dunkley Scales in recording an emphatic victory 9 rubbers to 2 (27 games to 8)
MJM Automotive 7 (Jamie Kealley 3, Levi Williams, Alicia Tyres 1) def Tankard Dental 4 (Nick Kiapekos 2, Shaun Gifford 2)
MJM have broken through for their first win of the season in defeating Tankard Dental. Jamie Kealley was instrumental in getting MJM over the line in winning all of his singles matches as well combining with Levi Williams and Alicia Tyres to win both doubles matches. On the other side of the ledge Tankard's Captain Nick Kiapekos returned after injury to win two singles as did Shaun Gifford.
Kealley was involved in the two five set matches which ultimately would decide tonight's winner. In the first of these clashes, he took on the rapidly improving Shaun Gifford. In a tight match, Kealley would outlast Gifford to take the fifth set 11-9 to record a very important win.
In the second of these five set battles, Kealley was up against the experienced Kiapekos. At this point in the evening Tankard Dental – with their backs to the wall trailed 3 – 5 and needing to win all remaining matches. Kealley took the first set 11-9 before Kiapekos levelled the match in taking the second 13-11.
Kiapekos ramped up the pressure in the third taking this set 11-9. Kealley hit back hard in the fourth set, breezed through this set 11-4, and with momentum clearly with him looked like he had this match for the taking. Kiapekos would dig deep in the fifth and with the score at 11 points all it was anyone's match. It would be Kealley, showing nerves of steel that would win the final two points and the match thus propelling MJM to it's maiden win of the season.
With the winner of this evening sorted there were still some scores to settle. MJM's Levi Williams and Tankard's Shaun Williams would play an entertaining five set match. Williams took the first two sets 11-9, 11-7 and looked well on track to secure victory. Gifford had other ideas and launched a
counter attack in taking the next three sets 11-4, 11-6, 11-6 to secure a consolation win for his team. This victory being important for Gifford as after four rounds he sits second on the aggregate table for singles victories – a great effort to date.
In the final game of the evening MJM's Alicia Tyres would keep her steak of one singles victory per night so far this season when she defeated Tom Gilmour in straight sets. Overall well done to MJM Automotive in securing their first win of the season in defeating Tankard Dental 7 rubbers to 4 (23 games to 19).
Weightmans Packaging 5 (Sabrina Fitzpatrick 3, Tom Gilmour 2) def Sammy's Slammers 4 (Ben Hosking 2, Maria Starikov 1)
When reading the score line you may think the editor has made an error as we know that five plus four does not equal eleven. The reason for this unusual score line is that this was a two player versus two player match – as a consequence there was no result for the singles match and doubles match that couldn't be played due to players missing this week. In addition, there are a number of forfeits counted due to these players missing – hence why Sabrina Fitzpatrick has been credited with three singles victories but only actually playing two matches. I hope this has cleared up any confusion.
Even though there were only five matches completed, this match did hinge on the last game played during the evening. Sammy's Slammers Maria Starikov played Weightmans Packaging Tom Gilmour with the winner to take all.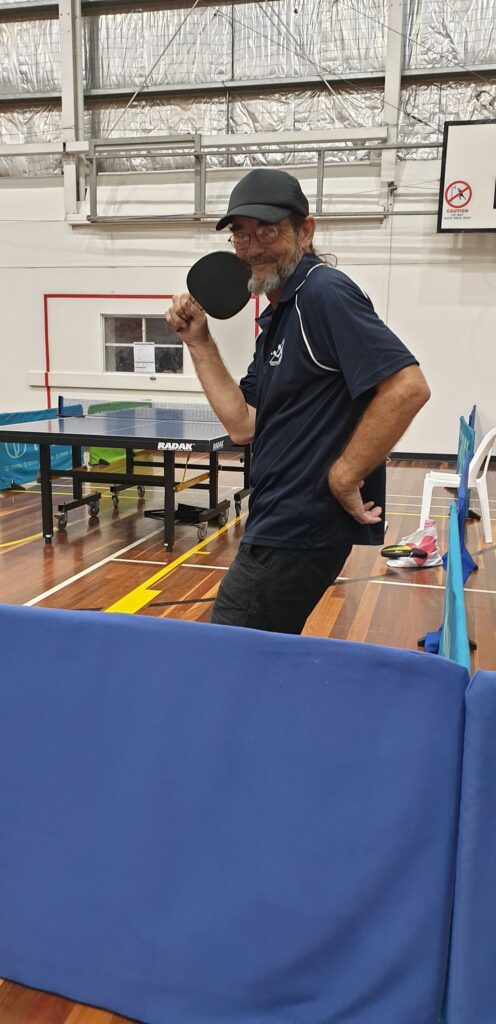 Gilmour got off the blocks quickly and pocketed the first set 11-8. The second set was one of the longest sets so far in any grade of competition this year. Both players had their opportunities with both holding game points. Starikov is well known for her brick wall defence; whilst Gilmour for his tenacity in all games he plays. At 17 points all the umpire was starting to feel a little nervous that there may not be enough numbers on the scoreboard to complete this epic set. The end did come with Starikov taking this set 19-17 to level the match. Gilmour regained his breath after the long second set to secure the third 11-7; however, Starikov was not finished and pushed this match to the fifth set in taking the fourth 11-8. The fifth set was a tense affair with long rallies the order of the day. Gilmour held his nerve to take this set 11-7 and the match. Well done to both players with their fighting efforts during this lengthy match. In the final analysis Weightmans Packaging have crept over the line in defeating a gallant Sammy's Slammers 5 rubbers to 4 (15 games to 14).
I would like to thank the 11 players who have filled in so far this season in pennant three – your help is greatly appreciated. Also there is hitting on Monday night during the break – please check Facebook for further information. Have a safe a relaxing break over Easter and we look forward to seeing you all back playing soon.