Read Time:
11 Minute, 35 Second
PENNANT ONE:

The standout contest of round 3 of the Sunraysia Table Tennis "Cash Converters" pennant one competition was the Mallee Bearings versus Exposed Signage contest which resulted in a 6-5 win to the undefeated Mallee Bearings combination.
– Mallee Bearings 6 (Joel Thomas 3, Mark Ljubic 2, Shane Carmichael 1) d Exposed Signage/Apparel 5 (Matt Ljubic 2, Nicholas Dorman 1)
Despite Exposed Signage not winning a match as yet they showed they are not far away. Three five set matches stood out as highlights. The first game of the night produced one of the best when Mallee Bearings number two Mark Ljubic played Nicholas Dorman and what a marathon this turned out to be with many long rallies and some excellent power hitting from both players. Ljubic was able to give his team a positive start with an amazing score line of 11-9 7-11 17-19 12-10 17-15 a thriller and crucial in the end result.
The second five setter enabled Exposed Signage to level the match at two rubbers all when Matt Ljubic and Dorman defeated the experienced pair of Joel Thomas and Mark Ljubic in the first doubles. The next four matches resulted in two wins to each team and it was the last block of three singles which would decide the four points.
The first of these singles featured the best match of the night as the spectators were treated to top class table tennis when Mallee Bearings skipper Joel Thomas took on Matt Ljubic. This was an outstanding match and Ljubic was able to place enormous pressure on Thomas who has not lost a singles as yet this season. As he has done many times Thomas was able to with stand the pressure and narrowly win 11-9 in the fifth.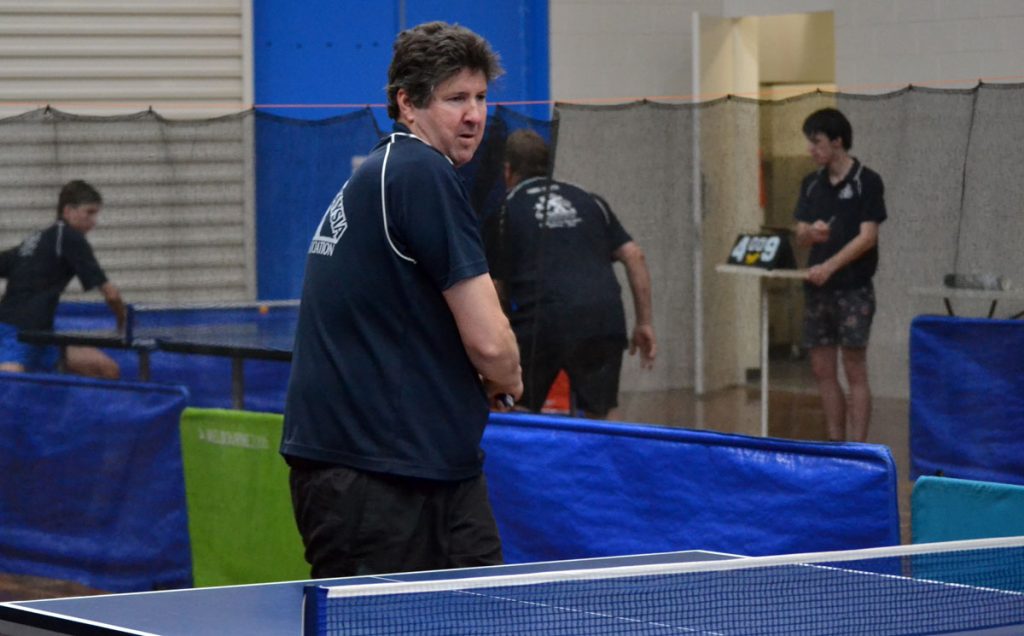 With the scores locked at five all Mark Ljubic defeated Jackson Murphy in straight sets to enable his team to maintain their undefeated run.
For Mallee Bearings Joel Thomas won three singles while team mates Mark Ljubic and fill in Shane Carmichael won two and one respectively. Matt Ljubic was the best player for Exposed Signage winning two singles whilst he also took part in two winning doubles however his team fell short by one rubber.
– Cash Converters 8 (Matt Avers 3, Mark Dorman, Kevin Johns 2) d Max Miller Carpets 3 (Shannon Bowen, Kate Carmichael 1)
In a strong performance Cash Converters bounced back from an ordinary performance last round to soundly defeat Max Miller Carpets 8-3.
The trio of Matt Avers, Mark Dorman and Kevin Johns were all in good form winning three, two and two singles each to win their second match of the season.
– Tankard Dental 6 (Gavin Carmichael 3, Leslie Ncube 2) d Regional Taxation Services 3 (Nicholas Dorman 2, Reece Kurrle 1)
In the remaining match with both teams a player short Tankard Dental outplayed Regional Taxation Services 6 rubbers to 3. Gavin Carmichael won three singles for the victors while team mate Leslie Ncube won two.
The best match in this contest was the singles played between Gavin Carmichael and fill in for Regional Taxation Services Nicholas Dorman. This match was tight all the way before Carmichael was able to make a break in the fifth to win 9-11 11-9 11-7 9-11 11-6.
Tankards have now won two of their three matches to be well in the mix.
PENNANT TWO:

Despite suffering her first defeat of the season, Bernadette Fitzpatrick took the top spot on the aggregate ladder this round.  While that was going on, four teams have two wins from their three games and are only separated by four games on the ladder.
– Cookes Pools & Spas 7 (Lee Thomas 3, James Chick 2, Seval Fuat 1) d Mallee Meats 4 (Russell Walder 2, Sony Sefer 1)
Cookes Pools & Spas assumed top spot on the ladder after a strong team performance against Mallee Meats.
With captain Lee Thomas proving too good in singles play against all the Mallee Meats players, James Chick backing up with two strong wins (only losing his third rubber in five sets), and Seval Fuat proving too steady against Arthur Paar, Cookes Pools & Spas had the game in the bag, and then added a doubles rubber to push the score out a little more.
Thomas did not have things all her own way, though.  Sony Sefer took the game right up to Thomas, and lost a close contest 11-8 in the fifth set.  Russell Walder started well against Thomas, taking the first set 11-9, but could not keep up the intensity necessary, losing the last three sets 6-11, 12-14, 4-11.
James Chick will probably learn something from his loss to Russell Walder.  Probably that Russell is a slow starter.  Chick led easily two sets to one, 11-5, 11-2.  At that point Walder got his act together, edging Chick in the next two sets 12-10, 15-13, and with the momentum Russell took the last set 11-7 in a remarkable comeback.
Chick was unstoppable in other rubbers, downing Sefer and Arthur Paar in four sets, and with captain Lee Thomas he won the tight first doubles rubber against Walder and Sefer 11-8, 12-10, 11-9.
For Mallee Meats Walder picked up two rubbers, Sefer one, and Sefer and Paar proved the stronger combination in the second doubles against Thomas and Fuat, winning that in straight sets.
Final scores:  7 rubbers to 4 and 24 games to 17.
– Max Miller Carpets 7 (Bernadette Fitzpatrick, Tony Malycha 2, Anthony Fox 1) d MJM Automotive 4(Connor Lavery, Quentin Clark 2)
Bernadette Fitzpatrick was defeated in singles play for the first time this season in this match, however she still took outright top spot on the aggregate ladder.
The loss to Connor Lavery in the ninth rubber came at a time when the match was already decided.  That made no difference to Lavery, who played tenaciously to win 11-7, 5-11, 8-11, 16-14, 11-5.
Fitzpatrick left her mark on the rest of the match though, winning her other two singles – three sets against Jason Gifkins, and getting a scare from MJM Automotive number three Quentin Clark in a high standard affair winning 11-9, 9-11, 6-11, 11-9, 11-9.  She also helped team-mates Tony Malycha and Anthony Fox to four set wins in the doubles rubbers.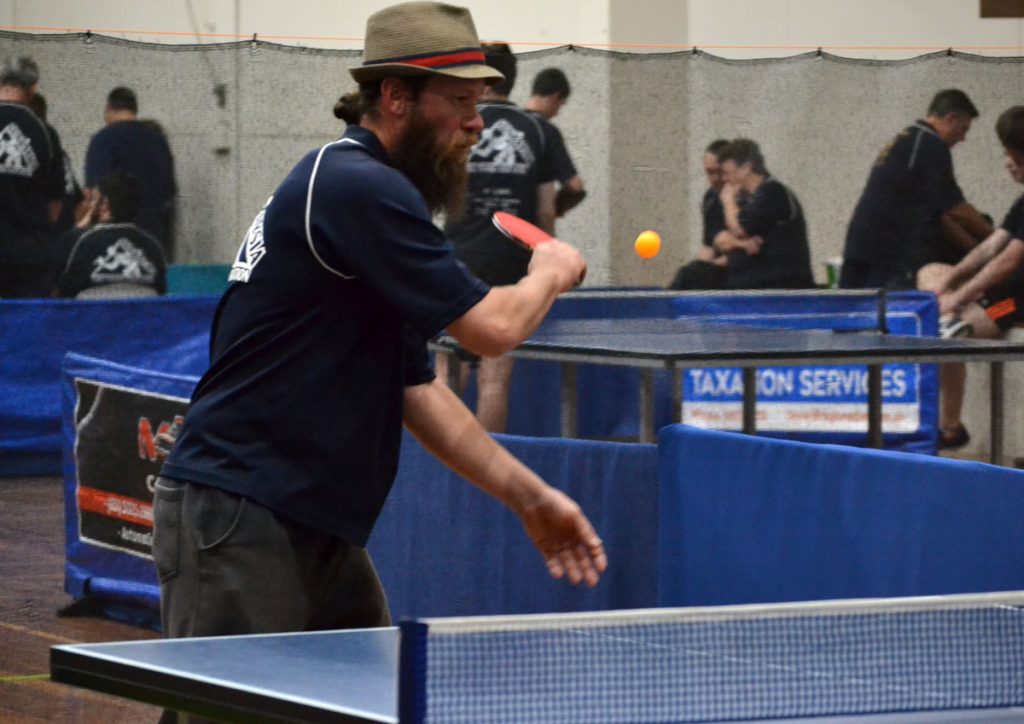 With Tony Malycha contributing with two wins (Lavery in three and Gifkins in four), and Fox winning his first rubber for the season against Gifkins, Max Miller Carpets eased away to a 7-4 win.
For MJM Automotive both Lavery and Clark took two wins – Lavery downing Anthony Fox prior to his win against Fitzpatrick, and Clark played well to defeat both Malycha and Fox in four sets.
Final scores:  7 rubbers to 4 and 25 games to 19.
– Weightmans Packaging 8 (Andrew Jones, Adrian Fox, Nick Barlow 2) d Pinnacle Packers 3 (Peter Midgley 2, Brendan Alderton 1)
 In a stand-out performance, Adrian Fox subbing for Ash Morrison, helped Weightmans Packaging clean up against Pinnacle Packers.
Fox proved too strong for the Pinnacle Packers trio of Peter Midgley, Kerry Wallace and Brendan Alderton.
After warming up in a four set win against Kerry Wallace, then helping Andrew Jones to a win in the first doubles, Fox out-manoeuvred evergreen Peter Midgley in the second round of singles in five sets, to give his adopted side (for the night) a five love lead at that stage.
His only "blemish" came in the second doubles rubber, when he and Nick Barlow were bested by Kerry Wallace and Brendan Alderton in five sets.
With team-mates Nick Barlow and Andrew Jones also chipping in with two wins apiece, Weightmans Packaging racked up a big score.
Barlow upset Midgley in five sets, then lost in five to Alderton, before bouncing back to win in four against Kerry Wallace.
Andrew Jones trod a similar path, defeating Alderton in comfortably in four and Wallace in three.
For Pinnacle Packers, the pickings were pretty slim, Midgley defeating Jones in four sets, Alderton winning against Barlow, and Alderton and Wallace taking the second doubles rubber in five sets against Fox and Barlow.
Final scores:  8 rubbers to 3 and 29 games to 18.
PENNANT THREE:

Liam Wood continued on his winning way in this round, and now sits atop the aggregate ladder, one game clear.  And as he is undefeated in individual play, so Regional Taxation Services is the only undefeated team at this stage, now a game clear of Sammy's Slammers and Weightmans Packaging, who both won again this week.
– Regional Taxation Services 6 (Peter Fitzpatrick 3, Lachlan Prothero 1) d Tankard Dental 5 (John Fitzpatrick, Karly Leach 2. Luke Ljubic 1)
This game was close throughout, with many commendable performances.
The first rubber of the match set the tone – Matt Cherry, in his first game in this grade, and subbing for absent Huseyin Ismail, came oh-so-close to an upset win against Karly Leach.  Cherry took the first set 13-11, conceded the next two 8 and 4, fought back to take the fourth 11-8, but then just fell short in the fifth 11-6.  Karly was relieved, Matt was happy and Tankard Dental were 1-0.
Regional Taxation Services captain Paul Fitzpatrick quickly redressed the deficit with a straight sets win against youngster Luke Ljubic.  John Fitzpatrick made in 2-1 to Tankard Dental after four sets against Lachlan Prothero.  Prothero is improving in leaps and bounds this season, as the score here shows, Fitzpatrick won 11-2, 8-11, 11-9, 11-9.  Once Prothero got his eye in, Fitzpatrick had a fight on his hands.
Another great tussle in the first doubles, a five set fight between Paul Fitzpatrick and Prothero on one end, and John and Karly Leach on the other.  At the end of five sets it was 2-2.
Paul Fitzpatrick made it 3-2 with a straight sets win over Leach, but once again John Fitzpatrick squared things up with a win against Cherry in three.
There was nothing in the next rubber between Prothero and Ljubic.  Luke was disappointed, but he need not have been, as he put up a magnificent show in going down 15-13, 9-11, 8-11, 11-9, 9-11.
The intensity of the game continued, Paul Fitzpatrick and Cherry against John Fitzpatrick and Ljubic in the second doubles.  The first four sets saw the score 2 sets all, but the Tankard Dental pair faded in the fifth set, losing that set 11-3.
The game was starting to get away.
The two Fitzpatrick brothers played in rubber number nine, both captains of their respective teams, both having had just one loss for the season thus far.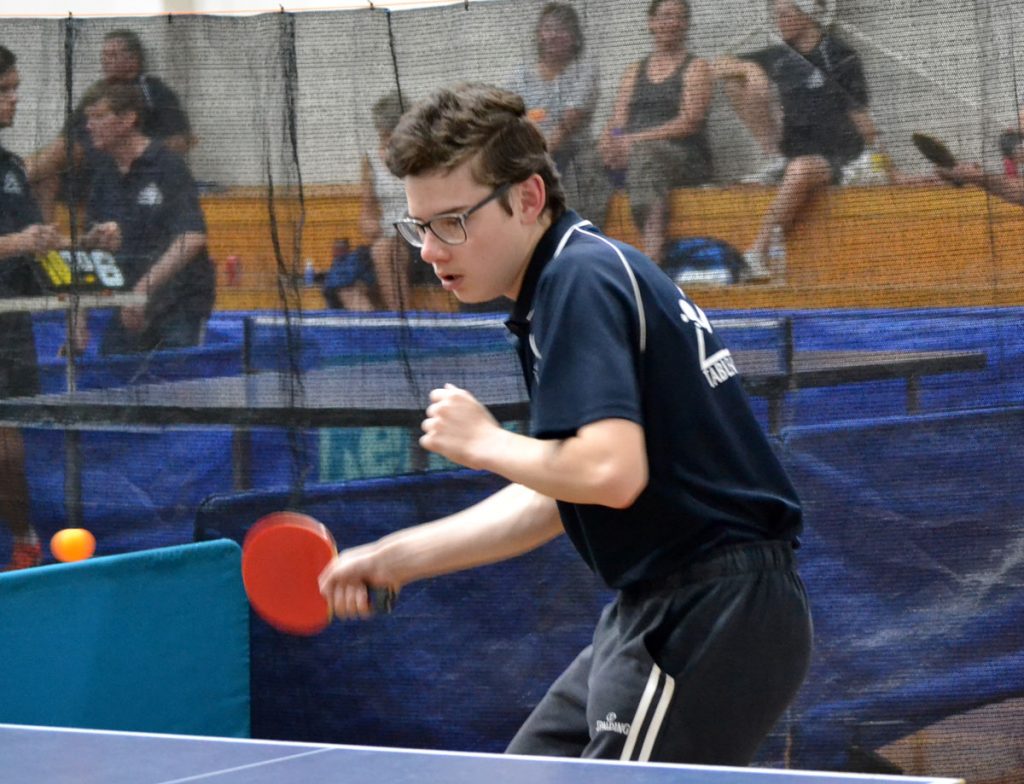 For a pair of brothers, there was everything to fight for.  And they did not disappoint.  Another five setter ensued, and Paul, with a bit more experience, got the edge on younger brother John to win 11-7, 9-11, 6-11, 11-6, 11-9.
Although that rubber decided the result of the match, Tankard Dental fought on to the end, and in so doing took the final two rubbers to narrow the score to 6-5 and the games to 24-23.  Karly Leach needed another five set contest to down her opponent Prothero, and Luke Ljubic picked up a four set win against Cherry.
Final scores:  6 rubbers to 5 and 24 games to 23.
– Sammy's Slammers 7 (Liam Wood 3, David Sergi 2) d Mallee Meats 4 (Peter Fitzpatrick 2, Therese Fitzpatrick, Arnold Jago 1)
Liam Wood set Sammy's Slammers on the road to victory in this game against Mallee Meats.
Wood, for the third time in as many games remained undefeated in singles play, and as a result is now the leader of the aggregate.
With his captain David Sergi taking two wins, and the team both doubles, they won comfortably.
Wood downed Mallee Meats captain Peter Fitzpatrick and veteran Arnold Jago in three sets, however,
Therese Fitzpatrick, the youngest member of the Mallee Meats side, stuck with Wood and took a set before losing in four.
Mallee Meats had their chances to win here … both doubles went to five sets, had they won both, they would have won the match, so although the result was 7-4 against them, there was not a lot in it.
Final scores:  7 rubbers to 4 and 25 games to 18.
– Weightmans Packaging 8 (Jeremy Corrin 3, Dylan Wood, Rohan Reimers 2) d MJM Automotive 3 (Tom Morrison, Sabrina Fitzpatrick 1)
Weightmans Packaging were much too good for MJM Automotive in this clash.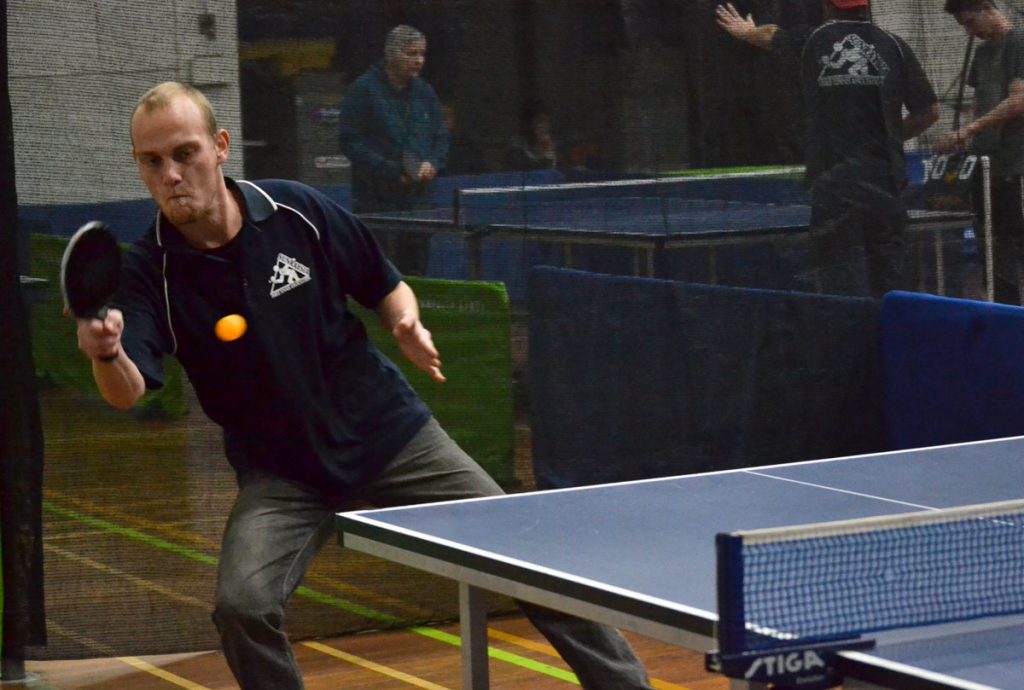 Weightmans captain Jeremy Corrin was not really extended, although he did drop a set to both Sabrina Fitzpatrick and opposing captain Tom Morrison.
Both his number two and number three, Dylan Wood and Rohan Reimers took two wins, Wood falling to Morrison, and Reimers going down to Fitzpatrick.
That gave Weightmans seven rubbers, and with the second doubles also going to them when Corrin and Reimers defeated Morrison and Chelsea Prothero, the score became a handsome 8-3.
For MJM Automotive, Morrison and Fitzpatrick took just one singles win, and they combined in the first doubles rubber to out-last Corrin and Wood 11-6, 2-11, 11-6, 9-11, 14-12.
Final scores:  8 rubbers to 3 and 27 games to 14.
PENNANT FOUR:
– MJM Automotive 7 (Dave Tanner 3, Matt Sires 2) d Tankard Dental 4 (Isaiah Bettess 2, Miya Lock, Austinn Taylor 1)
– Mallee Meats 7 (Andrew Kremourn, Jacinta Ljubic 2, Nathan Beard 1) d Dunkley Scales 4 (Kim Avers 3, Casey Taplin 1)