Read Time:
14 Minute, 47 Second
PENNANT ONE:

The feature of round twelve matches of the "Cash Converters" Sunraysia Table Tennis pennant was the clash of top of table teams Mallee Bearings and Cash Converters with top team Mallee Bearings prevailing by the barest of margins while third placed Max Miller Carpets with a narrow 6-5 win over Regional Taxation Services have given themselves a possibility to grab the double chance going in to the pointy end of the season.
– Mallee Bearings 6 (Joel Thomas 3, Mark Ljubic, Ed Hung 1) d Cash Converters 5 (Matt Avers, Mark Dorman 2)
The feature of round twelve matches of the "Cash Converters" Sunraysia Table Tennis pennant was the clash of top of table teams Mallee Bearings and Cash Converters with top team Mallee Bearings prevailing by the barest of margins while third placed Max Miller Carpets with a narrow 6-5 win over Regional Taxation Services have given themselves a possibility to grab the double chance going in to the pointy end of the season.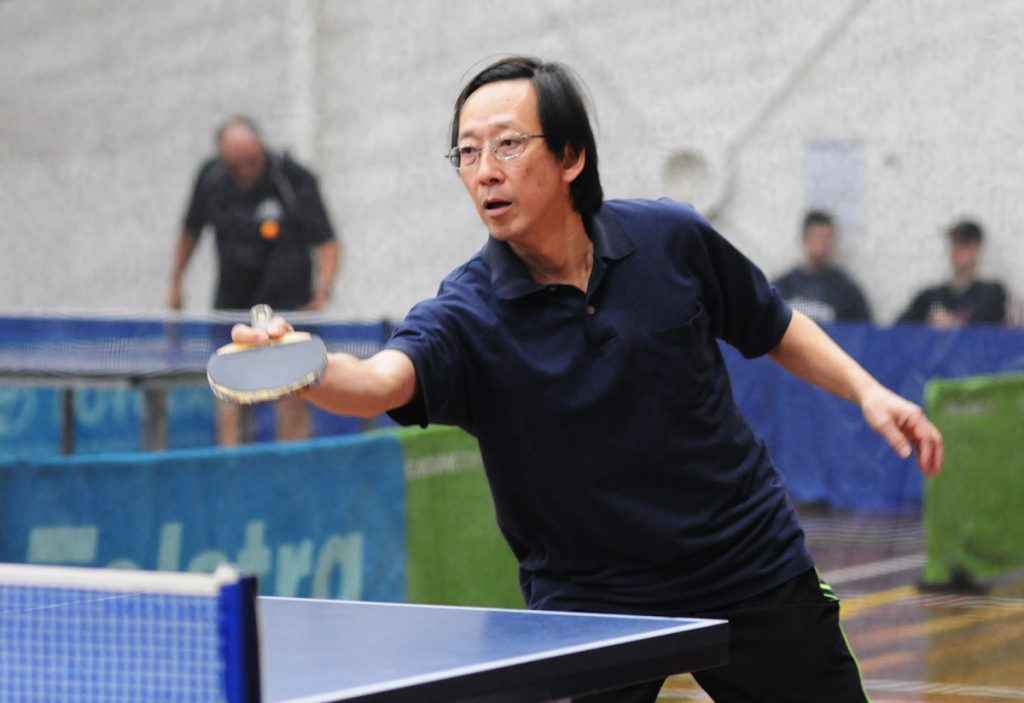 Top team Mallee Bearings were under extreme pressure to maintain their undefeated run when their number three Ed Hung trailed Cash Converters Kevin Johns two games to one with the match at five rubbers all. With his team under the pump Hung was able to steady and much to the enjoyment of team mates Joel Thomas and Mark Ljubic, Hung was able to jostle back control to win 5-11 16-14 8-11 11-4 11-6.
Earlier Thomas recorded his third singles win of the night with a positive win over the talented Matt Avers 11-8 11-7 8-11 11-3. Thomas has now played 36 matches without a loss. Cash Converters gave it a good shot and showed they can match it with their opponents when they took a 4-3 lead but the strong finish by Mallee Bearings to win three of the last four matches to maintain their excellent undefeated run.
Both doubles matches went to five sets and were shared between each team indicating the evenness of these two teams. For Cash Converters both Avers and Mark Dorman won two singles each.
– Max Miller Carpets 6 (Shannon Bowen 3, Kate Carmichael 2) d Regional Taxation Services 5(Wayne Carmichael 2, Leslie Ncube, Reece Kurrle 1)
Third placed Max Miller Carpets, by winning their fifth match in the last seven rounds, have now joined second placed Cash Converters on seven wins and now are a chance to grab the much-sought double chance with three rounds to play. With Shannon Bowen and Kate Carmichael winning three and two singles respectively the Carpeters were able to claim a narrow 6-5 victory over Regional Taxation Services.
Trailing 3-4 going into the second doubles Bowen and Leon Brown were able to level the contest with a hard fought 11-8 11-13 10-12 11-6 11-9 win over Wayne Carmichael and Reece Kurrle. Bowen then gave his team the lead when he disposed of Wayne Carmichael in straight sets and in the following match Kate Carmichael for the third time in six singles matches over the past two rounds was able to win a five setter by the barest of margins.
Her victim on this occasion was Leslie Ncube who won the first two games, Carmichael won the third 13-11 the fourth 11-6 and in the tense final game she grabbed the final two points to win 11-9 in a thriller and in doing so secured the four points for her team.
– Exposed Signage/Apparel 8 (Matt Ljubic 3, Nicholas Dorman 2, Jackson Murphy 1) d Tankard Dental 3 (Jackson Tung 2m Gavin Carmichael 1)
Fourth placed Exposed Signage / Apparel opened up a one game break on fifth position on the ladder when they easily accounted for Tankard Dental 8-3 in an excellent percentage boosting win.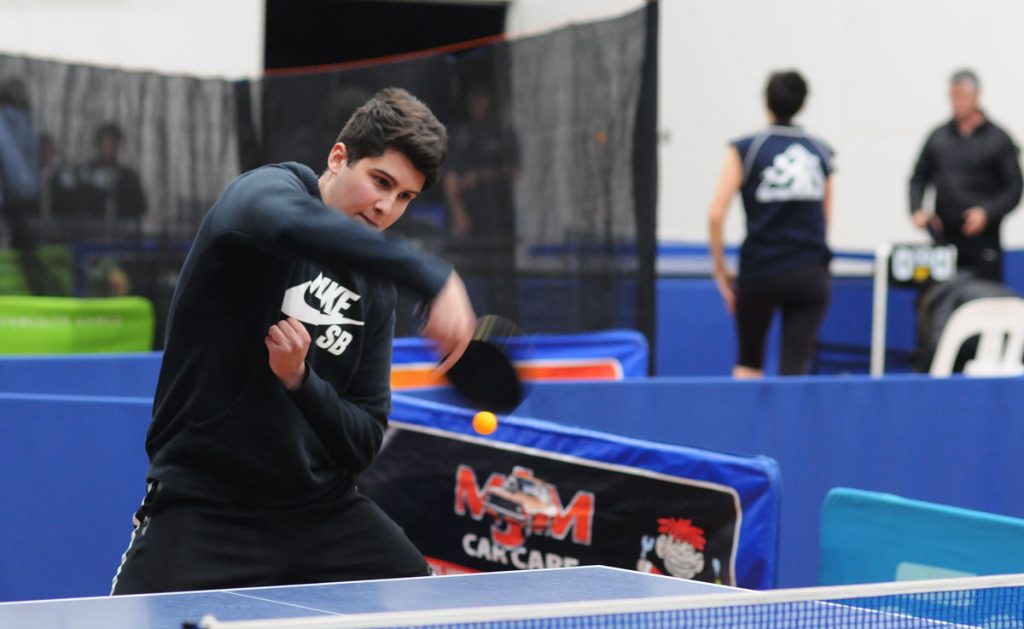 Skipper Matt Ljubic, Nicholas Dorman and Jackson Murphy won three, two and one singles respectively in an even team display. To top off a successful night for Ljubic he took part in both doubles victories.   
PENNANT TWO:

Pinnacle Packers kept their resurgence going this week with a win over ladder leaders Mallee Meats; MJM Automotive consolidated second spot on the ladder with a win against Weightmans Packaging; and Cookes Pools & Spas won against Max Miller Carpets.
– Pinnacle Packers 6 (Peter Midgley, Brendan Alderton 2, Kerry Wallace 1) d Mallee Meats 5(Russell Walder, Sony Sefer 2)
Pinnacle Packers continued their return to form in this game, taking a 6-5 win against ladder leaders Mallee Meats in the final rubber.
In fact, Pinnacle Packers seemed to be on course for a crushing win when they led 5-1, but in an attempt to repeat their party trick from last week when then won the final five rubbers, Mallee Meats levelled the score at 5-5.  They were denied the final rubber by Kerry Wallace, who in this game took just the one rubber, but a valuable one at that.
Mallee Meats were without regular number three, Arthur Paar, replaced this week by Paul Keally.  Although he failed to win a singles, Keally and Sony Sefer combined well to take the second doubles against Peter Midgley and Brendan Alderton in four sets.
Pinnacle Packers were served well by Midgley and Alderton, who both took two singles; Midgley winning against Mallee Meats captain Russell Walder and Keally, whilst Alderton took rubbers against fill-in Keally and danger man Sefer.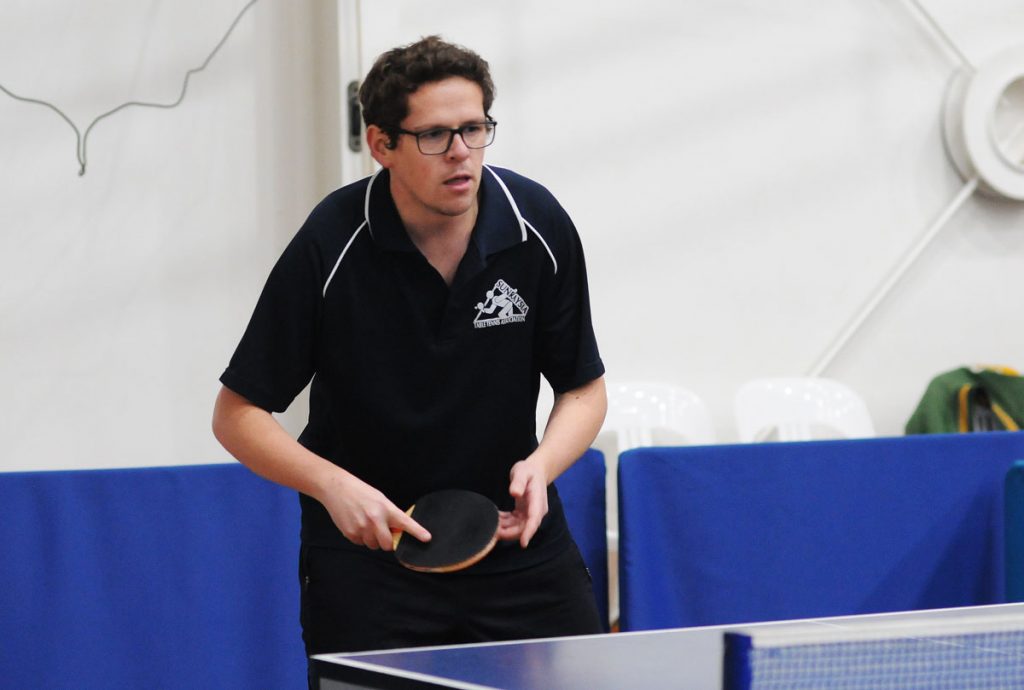 With Alderton downing Sefer in the second round of singles, Midgley may have fancied his chances when he played Sefer in the ninth rubber, but Sefer rose to the occasion.  After four sets of nip and tuck, Sefer streeted Midgley in the fifth 11-2, narrowing the score 4-5 at that stage.
For Mallee Meats, both Walder and Sefer took two singles rubbers, but with Keally kept scoreless and the doubles shared, they fell one rubber short for a win.
Final scores:  6 rubbers to 5 and 25 games to 19.
– MJM Automotive 7 (Geoff Wright 3, Jason Gifkins 2, Quentin Clark 1) d Weightmans Packaging 4(Ash Morrison, Nick Barlow, Andrew Jones 1)
For the last couple of rounds, MJM Automotive have been in second spot on the ladder, one game behind Mallee Meats.  With Russell Walder's side playing well, it seemed that it may remain that way indefintely, however, with Mallee Meats stumbling this week, Geoff Wright took full advantage defeating Weightmans Packaging, and joining Mallee Meats on seven wins at the head of the ladder.
Wright was in blistering form in singles, and did not drop a set.  He conceded 19 points to opposing captain Ash Morrison, just 15 to Andrew Jones, and only a handful more, 20, to Nick Barlow.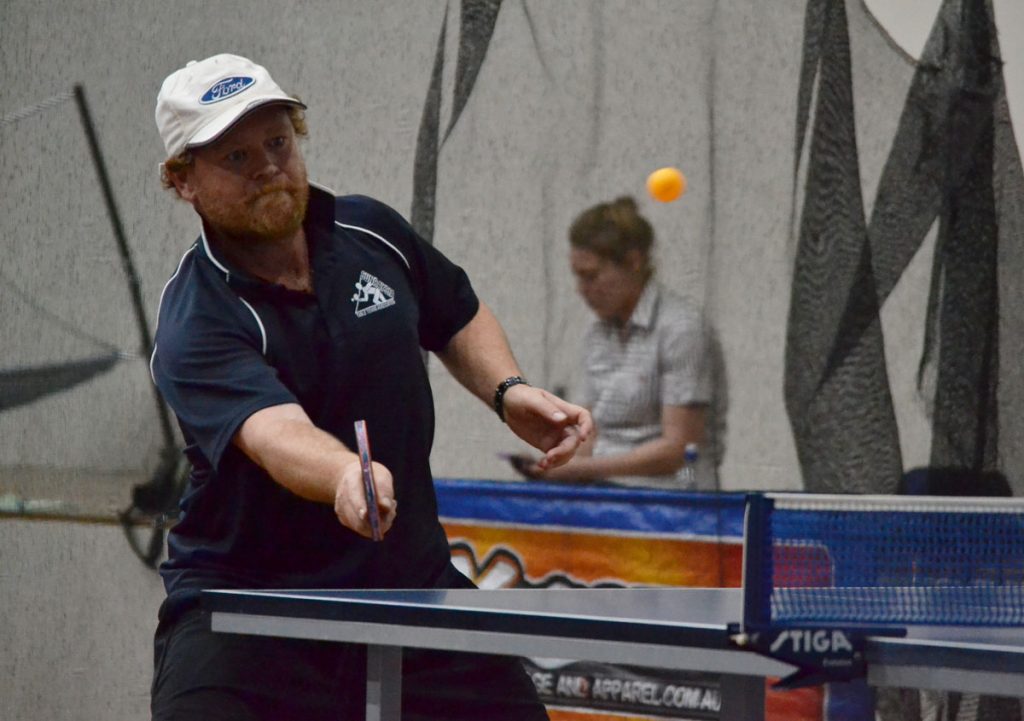 With Jason Gifkins now playing as well as ever, MJM Automotive set themselves up for a deserved win.  Gifkins begrudgingly conceded a set to Andrew Jones 10-12, but in winning the other three sets in that match allowed Jones just a further 12 points.  His next two encounters against Nick Barlow and Ash Morrison were both close and hard – Gifkins won against Barlow in five having won the first two sets, then lost to Morrison also in five after having lost the first two sets.
Number three Quentin Clark continues to be a thorn in the side of higher ranked players – this week he fell to Weightmans Packaging number two and three, Barlow and Jones, but trounced their captain Ash Morrison 11-6, 11-7, 12-14, 11-6.
The result of the match was effectively achieved when Wright and Gifkins won the second doubles in four sets against Barlow and Jones.
In a disappointing game, the Weightmans Packaging side took just one singles rubber each, plus the first doubles, Morrison and Barlow too good for Wright and Clark.
Final scores:  7 rubbers to 4 and 25 games to 17.
– Cookes Pools & Spas 6 (Lee Thomas, James Chick 2) d Max Miller Carpets 5 (Bernadette Fitzpatrick 3, Tony Malycha, Anthony Fox 1)
 Cookes Pools & Spas went into this match in sixth and last spot on the ladder, and by virtue of the win, now sit fourth, equal with fifth and sixth placed teams on five wins, but a better percentage.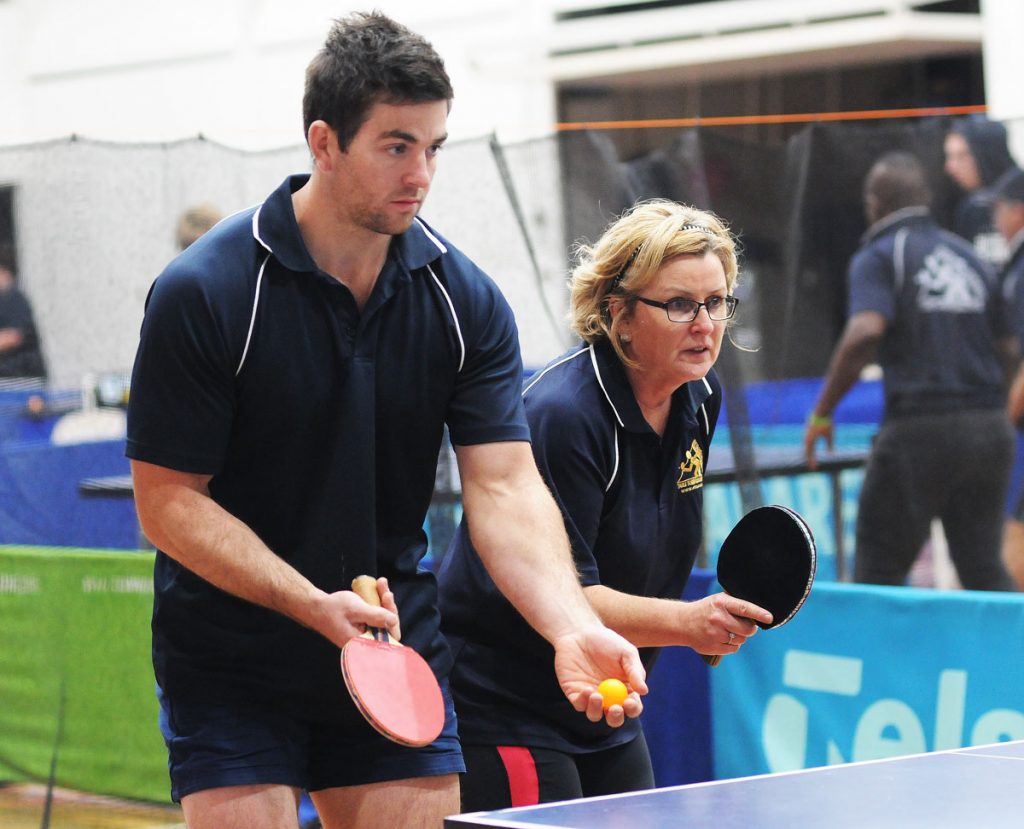 Lee Thomas and James Chick took two rubbers each, neither able to topple aggregate leader Bernadette Fitzpatrick, although it must be said it was not for a want of trying.  Their matches with Fitzpatrick both went to five sets, but in both cases Bernadette dominated the deciding set, 11-5 against Chick and 11-3 against Thomas.
To those four rubbers, Cookes Pools & Spas added both doubles – the first a straightforward three setter against Fitzpatrick and Tony Malycha, the second a come from behind five set contest against Fitzpatrick and Anthony Fox 11-5, 12-14, 4-11, 11-7, 11-5.
That second doubles is probably the one that cost Max Miller Carpets the game, as the team had played pretty well apart from that loss.  Fitzpatrick with her three wins, Malycha making sure with one win, against Mark Kerr, and Anthony Fox also downing Kerr in five put themselves in with a chance, but losing both doubles spoiled their chances.
Final scores:  6 rubbers to 5 and 24 games to 18.
PENNANT THREE:

Weightmans Packaging brushed Regional Taxation Services aside in this round; Sammy's Slammers likewise with MJM Automotive; and Tankard Dental followed up last week's win with another one, this time against last placed Mallee Meats.
– Weightmans Packaging 10 (Rohan Reimers, Jeremy Corrin 3, Dylan Wood 2) d Regional Taxation Services 1 (Paul Fitzpatrick 1)
Weightmans Packaging continue to make light work of their opponents in this pennant, this week their victims being Regional Taxation Services.
Regional Taxation Services captain Paul Fitzpatrick has been neck-a-neck with Weightmans Packaging captain Jeremy Corrin on the aggregate table for the entire season, but in the last couple of weeks Weightmans number two Rohan Reimers has become a force to be reckoned with, and in this game, kept Fitzpatrick to just one win, allowing Corrin to jump two games clear on the aggregate table.
This match saw Weightmans concede just one rubber to their opposition, when Regional Taxation Services captain Fitzpatrick defeated number two Dylan Wood in straight sets.  For the rest of the night, the scorer put the win against Weightmans Packaging, although Regional Taxation Services came very close in another three rubbers, losing them in five.  One notable game was the Huseyin Ismail-Corrin match.  Ismail led two sets to one, but Corrin's power game was the difference in the end, taking the last two sets 6 and 8.  Similarly, Regional Taxation Services led the second doubles two sets to one, but Corrin and Reimers finished better, 8 and 8 in the final two.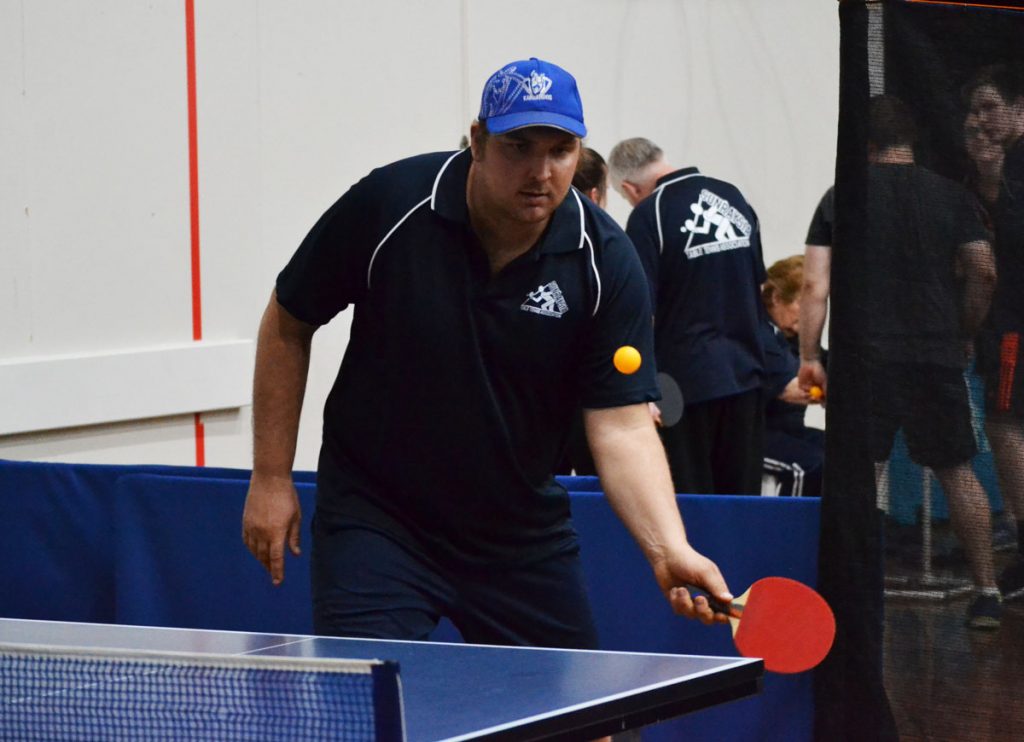 And in the next rubber, Paul Fitzpatrick also led Rohan Reimers two sets to one, but with Reimers playing better the longer the season goes, Fitzpatrick was unable to maintain his advantage, Reimers winning the last two sets 4 and 9.
Final scores:  10 rubbers to 1 and 30 games to 14.
– Sammy's Slammers 9 (David Sergi, Liam Wood 3, Brice Lock 1) d MJM Automotive 2 (Tom Morrison, Sabrina Fitzpatrick 1)
After their big loss to Weightmans Packaging in the last round, Sammy's Slammers regained some confidence with a resounding 9-2 win against MJM Automotive in this round.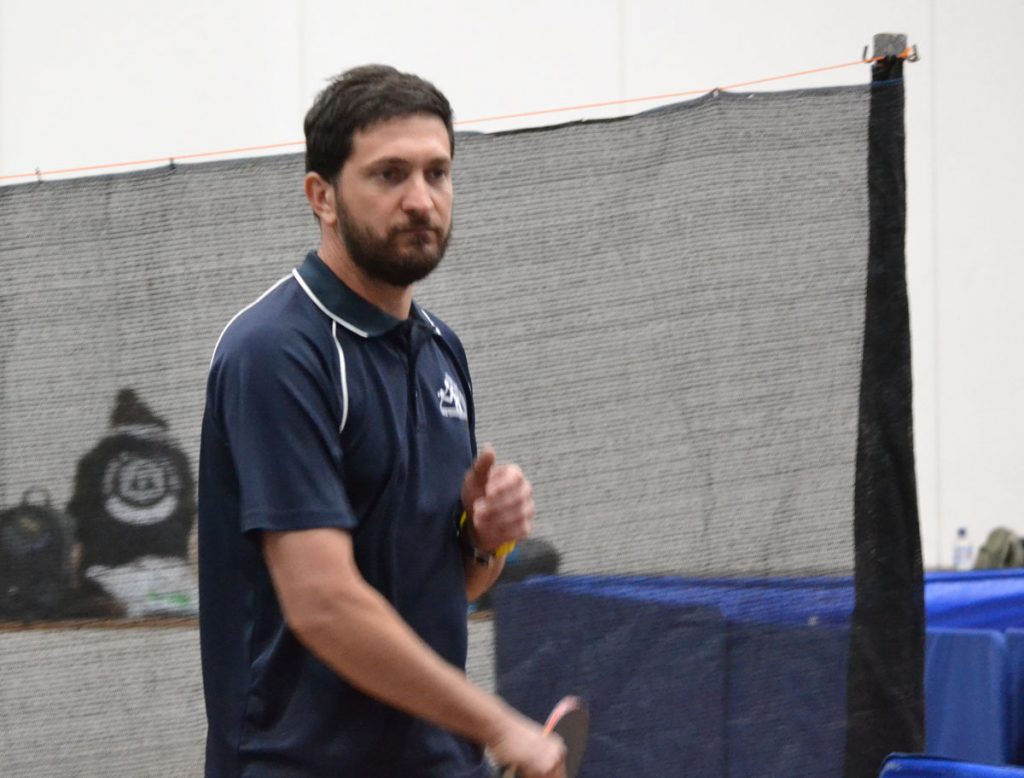 In a welcome result, Sammy's Slammers captain David Sergi took three singles wins.  The last time he did that was also against this side, in round two.  Liam Wood was not to be denied his three wins this week, conceding just one set to both Tom Morrison and Nick Kiapekos.  And number three Brice Lock helped the cause with one win, with a strong performance against Kiapekos in the final rubber.
With no matches going beyond four sets, Sammy's Slammers were clearly on top – the only ones they lost were when Brice Lock faced MJM Automotive captain Morrison and his number two Sabrina Fitzpatrick.  The rest of the time, Sammy's Slammers gave no encouragement to their opposition, the first doubles went in four sets, the second in three.
Final scores: 9 rubbers to 2 and 27 games to 12.
– Tankard Dental 6 (John Fitzpatrick 3, Karly Leach, Luke Ljubic 1) d Mallee Meats 5 (Peter Fitzpatrick, Therese Fitzpatrick 2)
With wins in the last two rounds, Tankard Dental now see themselves equal fourth on points, on the ladder, but fifth to MJM Automotive as they have an inferior percentage.
This was a close contest, and the 6-5 result only came in the final rubber.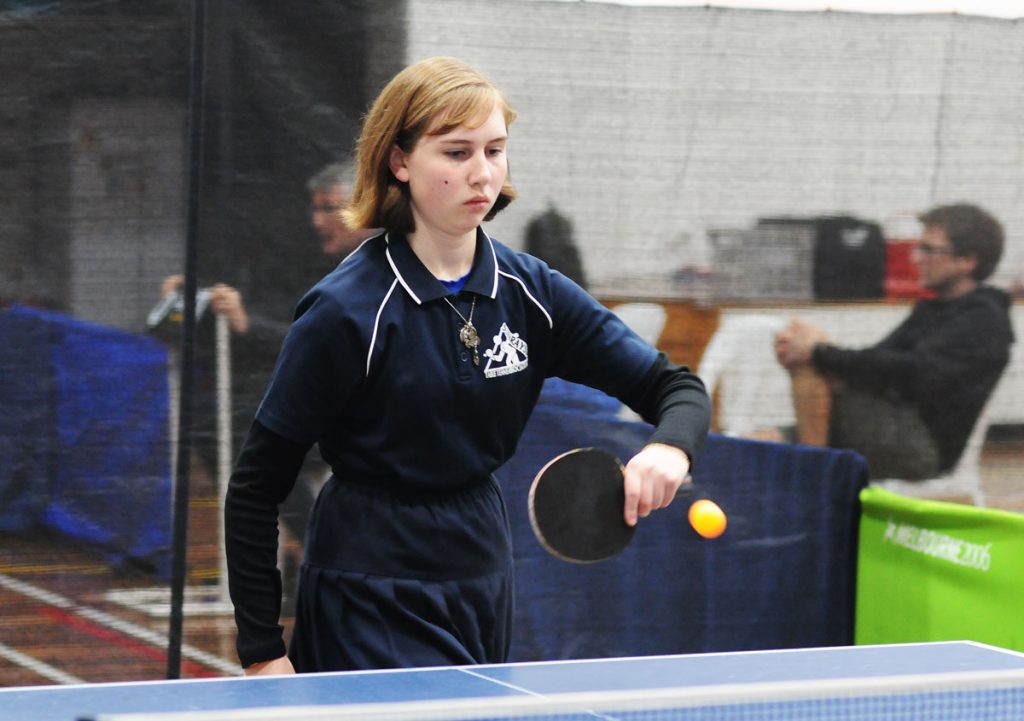 Mallee Meats opened the scoring when Therese Fitzpatrick held off exuberant Luke Ljubic in a close five set contest 12-10, 12-14, 3-11, 11-6, 11-7.  Therese and her father Peter combined to take the first doubles against John Fitzpatrick and Karly Leach in a good display, winning 6, 9 and 11 to give them a 3-1 lead at that stage.
In the second round of singles, Arnold Jago had a good tussle with Leach, taking the first set 11-6, but thereafter Karly had the edge, with the final three sets going to her 12-10, 11-7, 12-10.
The scores were locked at 4-4, when John Fitzpatrick and Ljubic downed Peter Fitzpatrick and Jago in the second doubles in three sets.
John dominated his father in the ninth rubber, winning in three, Therese levelled the scores again after a highly entertaining four setter with Karly Leach 7-11, 11-8, 13-11, 13-11 and Arnold Jago had chances to win against the youngest Ljubic, but Luke played a steady game to win 11-9, 4-11, 16-14, 11-9 and give his side a two game break over cellar-dwellers Mallee Meats.
Final scores:  6 rubbers to 5 and 21 games to 18.
PENNANT FOUR:
– Dunkley Scales 6 (Karl Whitney 3, Kim Avers, Raylee Waugh 1) d Cookes Pools & Spas 5 (Matt Cherry, Miya Lock 2)
Well a couple of weeks ago a bold prediction was made about a premiership favorite but how times have changed with Cookes Pools @ Spas sinking to their second defeat during the last two weeks and this time it was Dunkley Scales metering out the treatment. This match featured many highlights and a few stand out performances. In the first game of the evening the ever improving Miya Lock took on Karl Whitney. Lock was out of the blocks quickly taking the first set 11-5 before Whitney found his range and won the second 12-10 and then the third 11-9. Lock wasn't to be denied and won the fourth 11-8 setting up an absorbing fifth set battle. In the end it was Whitney who was the steadier of the two and ran out with the fifth set 11-7. Now this win under his belt Whitney had his eye in and set his sights on the in-form Matt Cherry.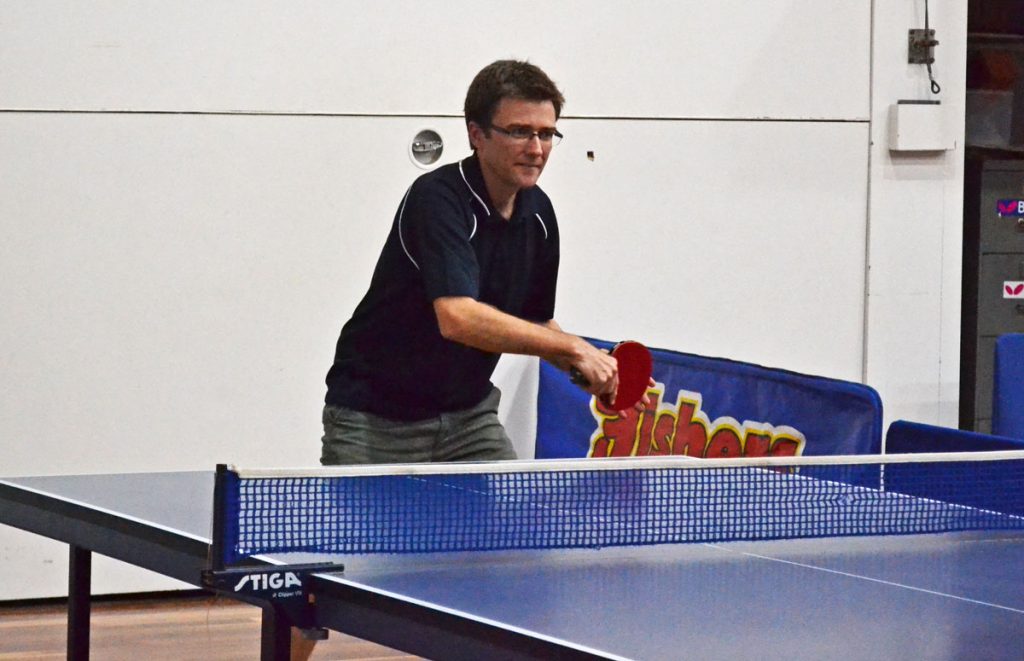 Again Whitney got off to a slow start and as Cherry took the first 11-9, but as was the case earlier in the night Whitney steadied and took the second 12-10. Cherry then found another gear and won the third 11-8 but Whitney refused to yield and won fourth 13-11. Cherry has not found himself too often in this position of being in a five setter in a singles match this year and it showed as Whitney wore him down to take this match 11-6. With this match the highlights just kept coming and now we turn our attention to the 7th game of the night where it was a real family affair. Raylee Waugh was pitted against granddaughter Kayla Bettess, and what a battle it was. Each player held set points during this lengthy first set– concerning umpire Matt Cherry that he may run out of numbers on the scoreboard. In a tug-of-war Waugh did win the first set 20-18. In the second set Bettess cruised through 11-4 levelling the match at one set all. The next two sets were tight but Waugh just managed to keep Bettess at bay and won these 11-8 and 12-10 thus securing a most important win for her team. Overall a great team effort by Dunkley Scales to win the night 6-5 with a slightly odd 18-21 rubbers score line favoring Cookes Pools @ Spas.
– Mallee Meats 6 (Andrew Kremor 3, Jacinta Ljubic 2) d MJM Automotive 5 (Dave Tanner 2, Casey Taplin, Shirley Whitecross 1)
Mallee Meats has done it again by squeaking over the line to down MJM Automotive. For the Butchers Andrew Kremor was again in fine form and picked up his three singles without dropping a game. He was well supported by teammate Jacinta Ljubic who won important matches throughout the night with her five set marathon against MJM's Casey Taplin a deciding factor in this fixture. In a game that displayed several momentum changes Taplin took the first set 11-5 before Ljubic steadied to take the second 11-9 and again the third by the same margin. In the fourth set Taplin came out all guns blazing and in the blink of an eye the set over 11-2 and off to a fifth set.
In a real struggle both players had their opportunities before Ljubic fell over the line 11-9. For MJM Dave Tanner showed glimpses of his best but on this occasion in was Mallee Meats victors 6-5.