Read Time:
15 Minute, 38 Second
PENNANT ONE:
– Max Miller Carpets 6 (Matt Avers 3, Geoff Wright 1) d Cookes Pools & Spas 5 (Kate Carmichael, Gavin Carmichael 2, Lee Thomas 1)
Round four of the Sunraysia Table Tennis "Cash Converters" summer pennant featured top team Max Miller Carpets receiving a scare from bottom team Cookes Pools & Spas however despite trailing 4-5 with two singles to play they were able to maintain their undefeated run winning 6-5 courtesy of Matt Avers winning three singles again to remain undefeated. He also partnered team mates Geoff Wright and Reece Kurrle to win both doubles and with Avers in this form it is difficult to see where they may lose a match.
With the scores at five rubbers all Carpeters fill in Geoff Wright, who came in to the team to replace the absent Darren Robinson, was able to outlast the determined Lee Thomas to win in two sets. Earlier Thomas had given her team a chance when she recovered from a deficit to defeat opposing number two Reece Kurrle 7-15 15-17 15-10 in a lengthy match.
– Tankard Dental 6 (Nicholas Dorman 3, Mark Dorman, Bernadette Fitzpatrick 1) d Mallee Bearings 5 (Matt Ljubic, Shane Carmichael 2)
In the match of the round Tankard Dental grabbed fourth position on the ladder when they defeated third placed Mallee Bearings 6-5. With the scores locked at four rubbers all the final three singles were enthralling. In the first Mallee Bearings skipper Matt Ljubic suffered his first loss for the season in an excellent three set contest against Nicholas Dorman. Ljubic took the first comfortably and Dorman then took the second in a close one, he was able to then take control in the third to give his team a 5-4 lead winning 9-15 17-15 15-13. Tankards Mark Dorman then played Shane Carmichael and in a surprise to most Carmichael levelled the match at five rubbers all by winning in straight sets.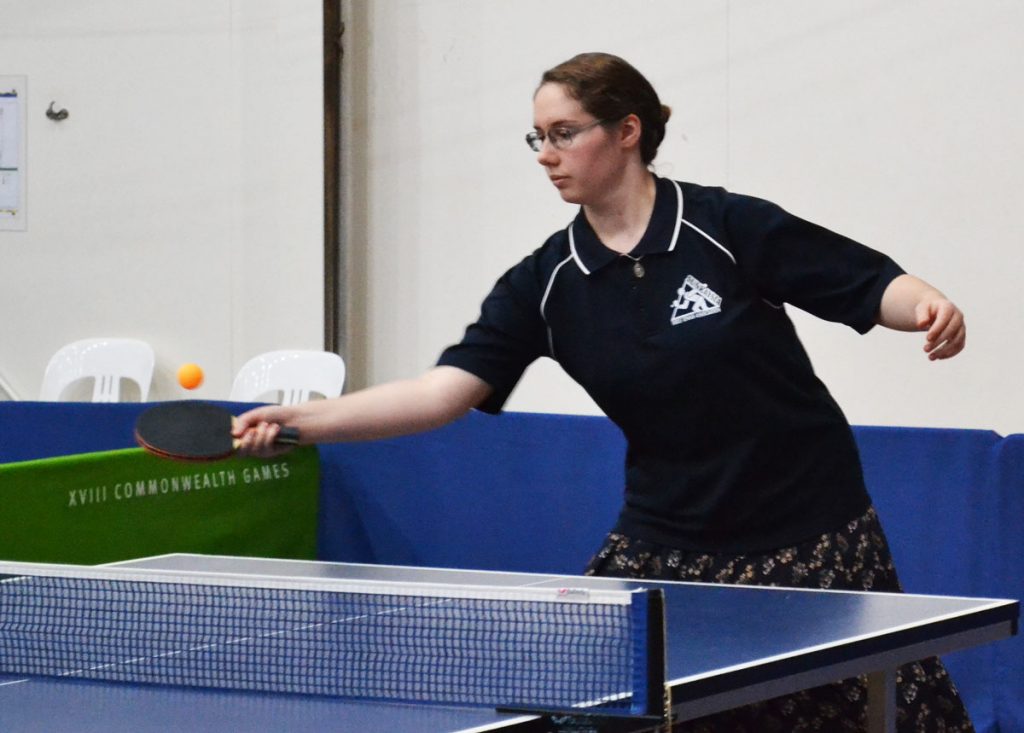 The final match was a thriller when Tankards Bernadette Fitzpatrick outlasted her far more experienced opponent Ed Hung in three sets. In the third Fitzpatrick looked gone when she trailed 10-14 however showing maturity beyond her years Fitzpatrick won six points in succession to win a thriller 15-10 9-15 16-14.
Earlier Fitzpatrick had teamed with Nicholas Dorman to win the second doubles 15-7 13-15 15 -13 in yet another three setter. In total there were four three setters and they were all won by Tankards. Skipper Nicholas Dorman was outstanding winning three singles for the victors.
– Regional Taxation Services 7 (Wayne Carmichael, Andrew Cannard 2, Leon Brown 1) d Cash Converters 4 (Phil Smith 3, Leslie Ncube 1)
Despite Phil Smith winning three singles for Cash Converters, Regional Taxation Services proved too strong taking the match seven rubbers to four. Smith was able to give his team a flying start by defeating Andrew Cannard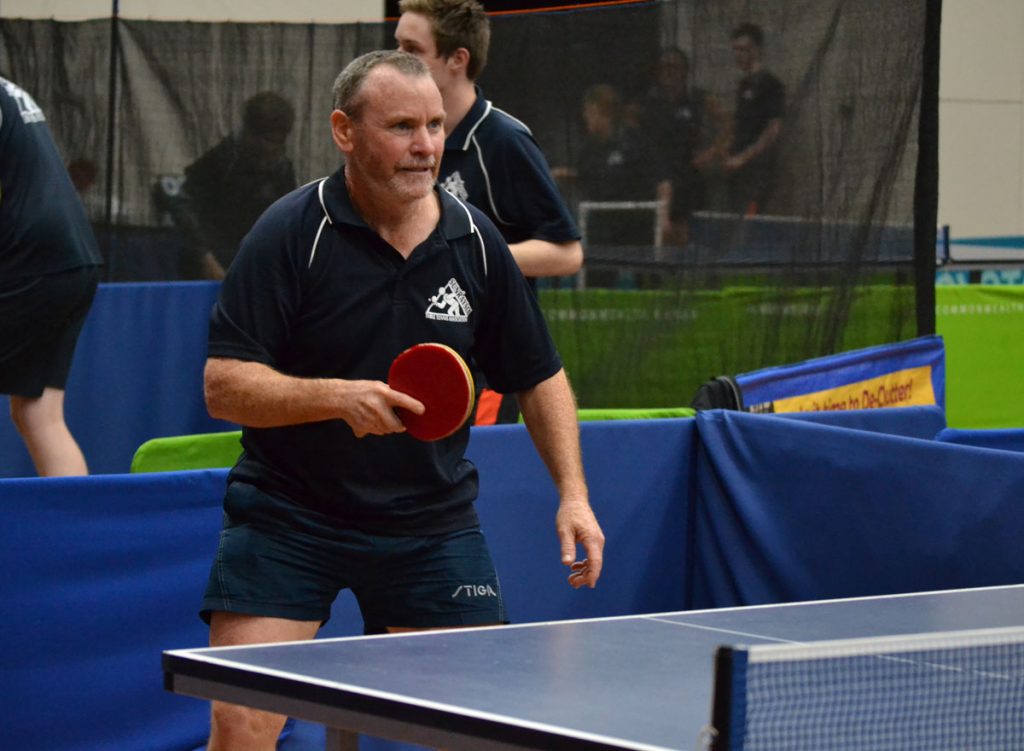 in three sets and when Leslie Ncube won in straight sets over Leon Brown and all of a sudden, the Converters were away.
Regional Taxation Services skipper Wayne Carmichael was able to arrest the trend with a win over opposing number three Jackson Murphy to reduce the deficit and now the first doubles was vital to both teams. RTS pair Wayne Carmichael and Andrew Cannard started well to win the first game and from there the match was a real arm wrestle. Cash Converters pair Phil Smith and Ncube grabbed the second game and again the third was close however it was Carmichael and Cannard who were able to extract a hard fought victory 15-11 14-16 18-16 to level the match.
The next block of singles resulted in RT S taking two wins and also featured the match of the night when Phil Smith accounted for Wayne Carmichael in an excellent three setter. Carmichael took the first 15-13 with Smith bouncing back to take the second 15-10, he took a healthy lead in the third and looked home comfortably before Carmichael staged a comeback to level at 13 points all before Smith steadied to win 15-13 in what had been a top class match.
Despite this inspirational win by Smith the wheels fell of at this point for Cash Converters who conceded the next four rubbers finally going down 4-7. Smith had been the shining light for his team however with one doubles victory and Carmichael and Cannard winning two singles each and Leon Brown one for RTS they were able to win their third match in four rounds and occupy second on the ladder.   
PENNANT TWO:

Pinnacle Packers just snuck home against MJM Automotive in this round; Weightmans Packaging jumped from third to the head of the ladder with their win against Exposed Signage & Apparel, and Mallee Meats were just too strong for Max Miller Carpets.
– Pinnacle Packers 6 (Ash Morrison 3, Arthur Paar 2, Jeremy Corrin 1) d MJM Automotive 5 (Nick Barlow 2, Quentin Clark 1)
Pinnacle Packers and MJM Automotive matched each other rubber for rubber in this match, the result coming in the final game of the night.
In a game where Pinnacle Packers outplayed their opponents in singles play, the MJM Automotive squad nevertheless refused to concede, and took the game to the wire.
The Pinnacle Packers trio of Ash Morrison, Arthur Paar and Jeremy Corrin dominated their opponents, taking three, two and one singles rubbers respectively.
Despite this impressive performance, MJM Automotive kept themselves in the running by taking both doubles rubbers, Nick Barlow and Quentin Clark having little trouble defeating Morrison and Paar, winning 15-9, 15-9. The second doubles rubber was over in straight sets too, Barlow and Anthony Fox winning 15-12, 15-12.
With the scores at 5-5, Jeremy Corrin was drawn to play Anthony Fox to decide the contest,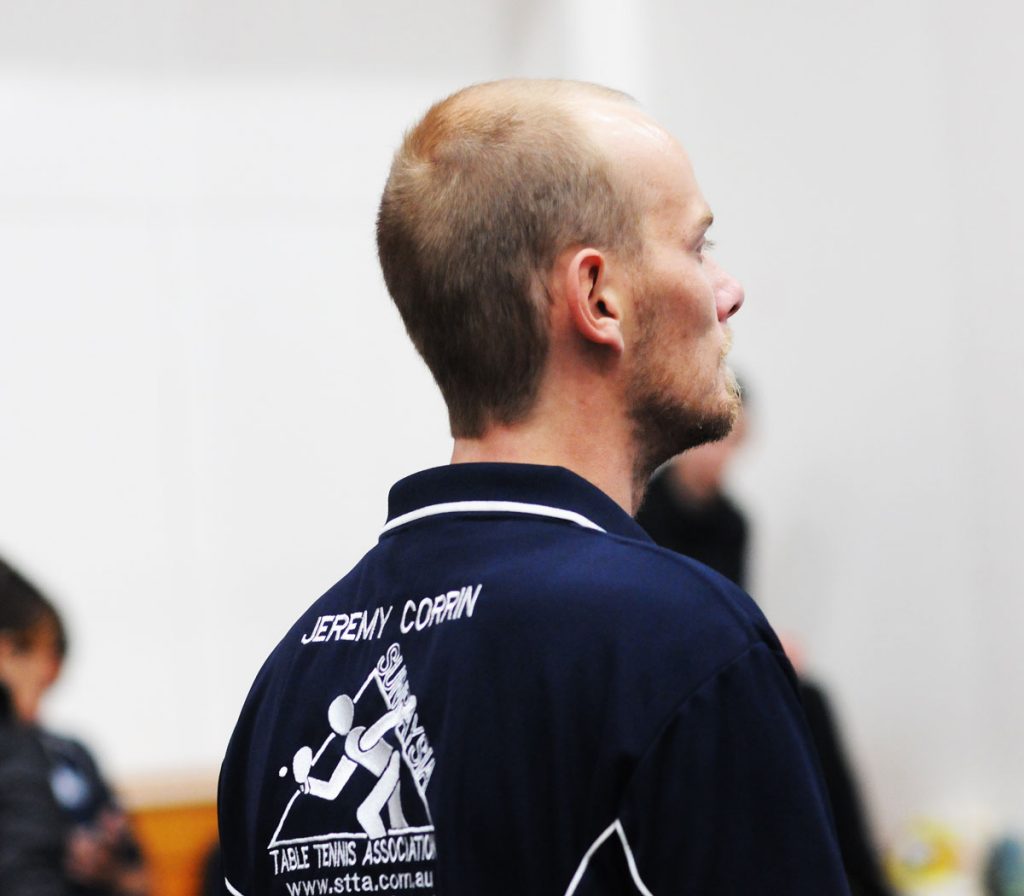 Corrin getting the better of Fox to win 7-15, 15-12, 15-6. Earlier in the night, Corrin had gone down narrowly to Quentin Clark 9-15, 15-13, 11-15.
Final scores: 6 rubbers to 5 and 13 games all.
– Weightmans Packaging 7 (Kevin Johns, Michael Hensgen 3, Andrew Jones 1) d Exposed Signage/Apparel 4 (Paul Kealley, Dylan Wood 1)
Weightmans Packaging captain Kevin Johns kept his unbroken string of wins going in this match against Exposed Signage & Apparel, who went into this match undefeated.
Thanh Nguyen and Dylan Wood have served Exposed Signage & Apparel well so far this season with impressive wins in those first three rounds. However, things were a lot tougher here, and Nguyen was kept winless.
Johns disposed of Nguyen and Wood in straight sets, but was kept honest by Paul Kealley, who took his match to the full three sets, Johns winning 15-11, 14-16, 15-8.
The other outstanding performer here for Weightmans Packaging was Michael Hensgen, who was subbing for the absent Paul Fitzpatrick.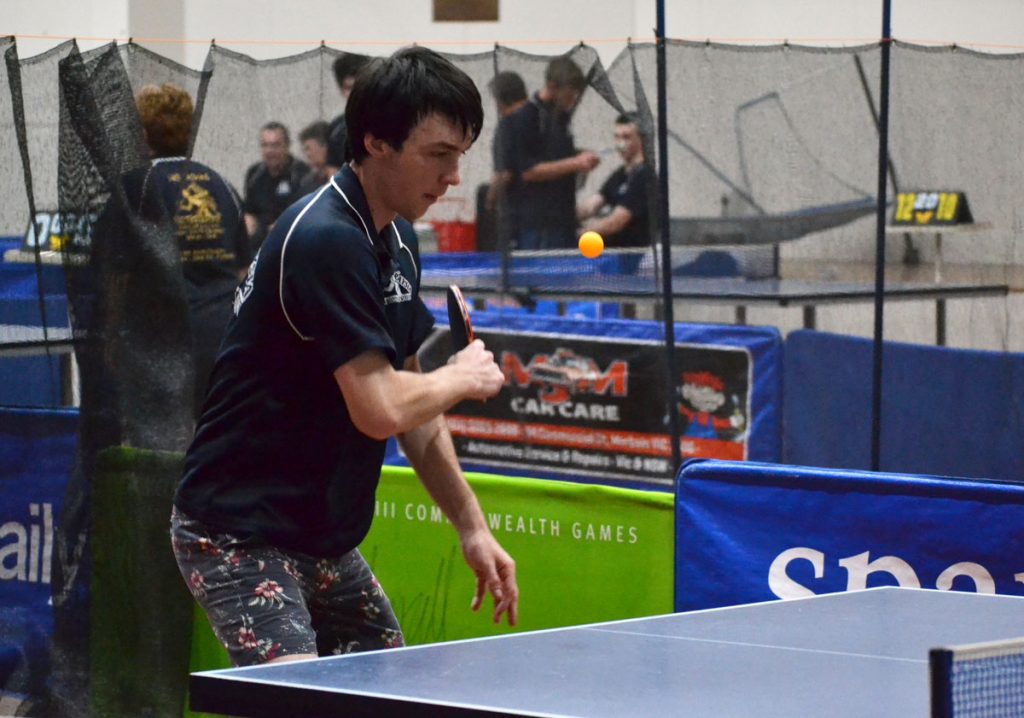 Hensgen has not played competition table-tennis for over twelve months, but that did not work to his detriment, as he recorded three impressive wins. He ripped through Dylan Wood 15-3, 15-8, then played a close and calculating game against Paul Kealley to win 15-13, 15-13, and then played in the match of the night against Nguyen, coming from a set down to win 11-15, 15-11, 15-13.
Andrew Jones took the final rubber for the victors to make their tally seven.
Exposed Signage & Apparel kept the score respectable by taking both doubles and the other two singles rubbers against Jones. The doubles were high standard affairs, and whilst Nguyen and his team-mates were outplayed in singles, they fought to the end to secure these two rubbers. Nguyen and Kealley got enough of a break in the third set to take the first of the doubles against Johns and Jones 15-13, 13-15, 15-13. Nguyen and Wood had it a little easier against Johns and Hensgen, easing away in the third set to win 15-13, 10-15, 15-7.
Final scores: 7 rubbers to 4 and 17 games to 10.
– Mallee Meats 7 (Jason Gifkins 3, Tony Malycha 2) d Max Miller Carpets 4 (James Chick 2, Liam Wood, Jeremy Corrin 1)
In a match where the result of each rubber was provided in the minimum two sets, Mallee Meats had too much fire-power for Max Miller Carpets.
Both sides were fielding substitute players, Anthony Riordan in place of John Fitzpatrick for Mallee Meats, and Jeremy Corrin subbing for Max Miller Carpets' Peter Fitzpatrick.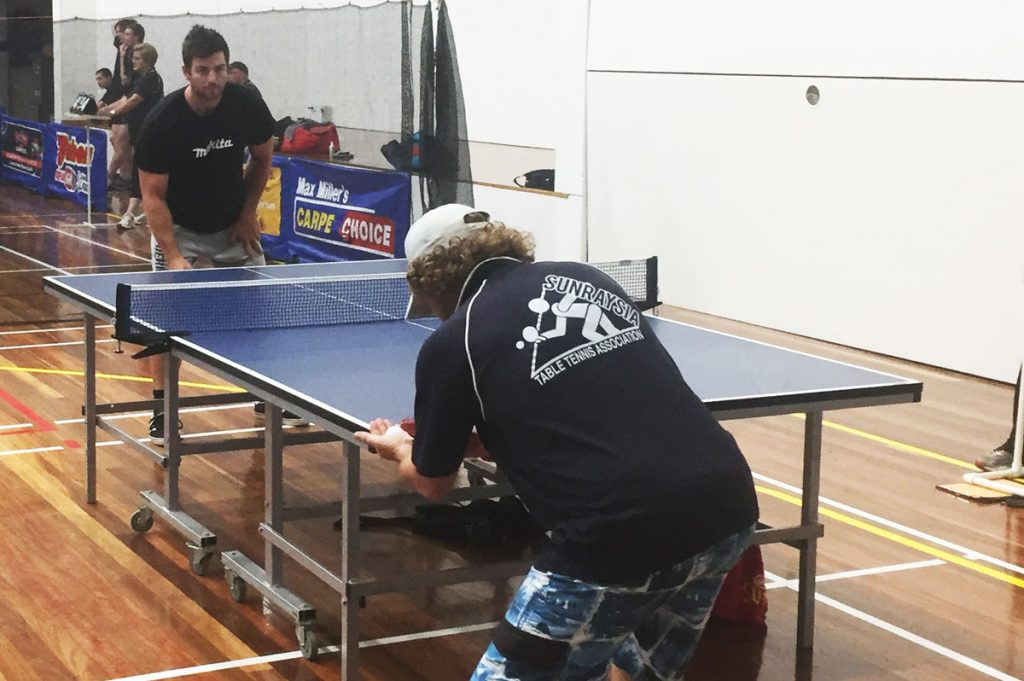 Mallee Meats captain Jason Gifkins took three wins, and his number two Tony Malycha secured two.
Added to these rubbers, Mallee Meats, followed the trend in the other matches this round, in that one side took both doubles rubbers.
Gifkins and Malycha were untroubled against James Chick and Liam Wood in the first doubles, winning 15-9, 15-10, and in the second Gifkins and Riordan, after a close first set, dominated Chick and Corrin winning 16-14, 15-10.
For Max Miller Carpets, Chick won two singles rubbers, and Wood and Corrin one each.
Final scores: 7 rubbers to 4 and 14 games to 8.
PENNANT THREE:

MJM Automotive keep their spot at the head of the ladder after this win against Regional Taxation Services; Mallee Meats, in downing Weightmans Packagin, move up to second spot, separated from MJM Automotive only by percentage, and Cookes Pools & Spas with their win against Sammy's Slammers jump from sixth to fourth.
– MJM Automotive 6 (David Sergi 3, Andrew Kremor, Luke Ljubic 1) d Regional Taxation Services 5 (Marcus Cimino, Karly Leach 2)
Even at this stage of the season, it appears that these two teams, plus Mallee Meats are going to be the teams to determine the result of this pennant.
Neither of these teams could grab a match winning break, and so it came down to the final rubber to determine the outcome in what was a very even contest.
MJM Automotive captain David Sergi was the man to beat in this game, his only loss coming in the second doubles rubber. Although unable to take a set from Sergi, Regional Taxation Services number three Matt Sires played well in his 11-15, 12-15 loss. Unsurprisingly Karly Leach proved a stubborn opponent, but she too fell short 16-18, 9-15. By the time Sergi played his opposing captain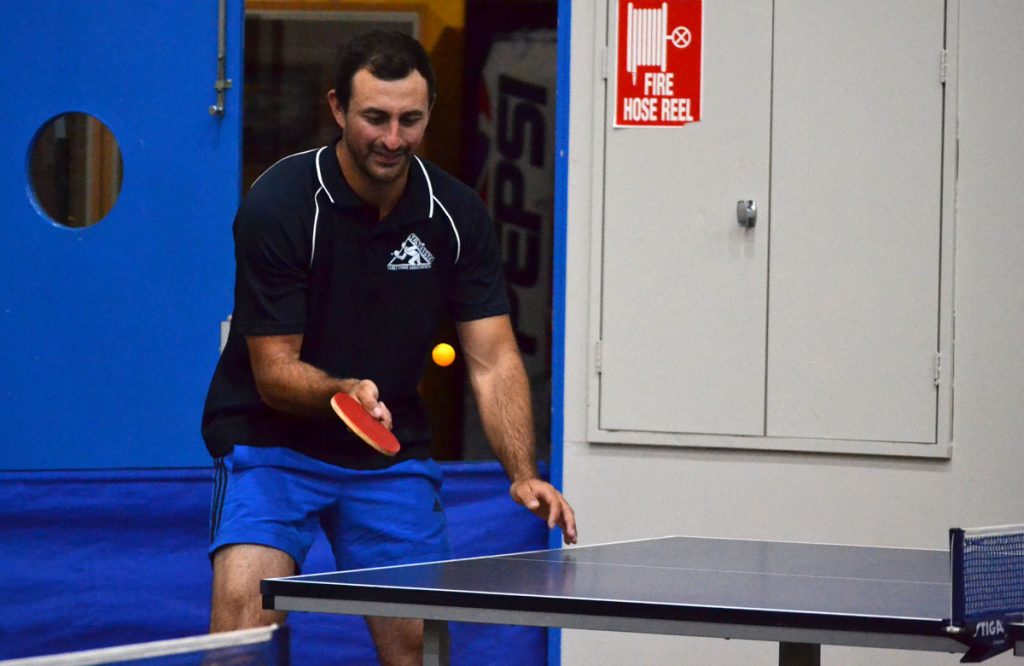 Marcus Cimino, he was primed for battle, and ultimately had little trouble winning 15-13, 15-4.
Over at Regional Taxation Services, Cimino and Leach were playing steadily, Cimino seeing off Andrew Kremor and Luke Ljubic for wins in two sets, and whilst Leach likewise defeated Ljubic, she took an important win against Kremor in the tenth rubber 16-14, 7-15, 15-11 to level the scores at 5-5.
Earlier, both sides had each won one doubles rubber, Sergi and Kremor, after a slow start against Cimino and Leach won the first 8-15, 15-13, 15-8, whilst the Regional Taxation Services duo of Cimino and Sires accounted for Sergi and Ljubic 15-10, 9-15, 15-10.
Final scores: 6 rubbers to 5 and 14 games to 12.
– Mallee Meats 7 (Tom Morrison 3, Rachel Fitzpatrick 2, Leonie Dunkley 1) d Weightmans Packaging 4 (Lachlan Prothero 2, Jessica Dorman 1)
Mallee Meats captain Tom Morrison now stands atop the aggregate ladder after picking up three singles rubbers in this match against Weightmans Packaging.
Morrison may have been a little lucky to do so, as he was playing a side which was made up of substitute players, and these substitute players acquitted themselves admirably. His win against Emily Carmichael was easy enough, given Emily has not played for some time, but Jessica Dorman came within a whisker of victory, only losing 10-15, 19-17, 13-15. Lachlan Prothero was a match for Morrison too, only going down 18-16 in the third set.
Be that as it may, Morrison had good support from Rachel Fitzpatrick in her two wins, striking early against Dorman to win in two sets, then really having to work against Carmichael to recover from a set down to win 10-15, 15-5, 15-12.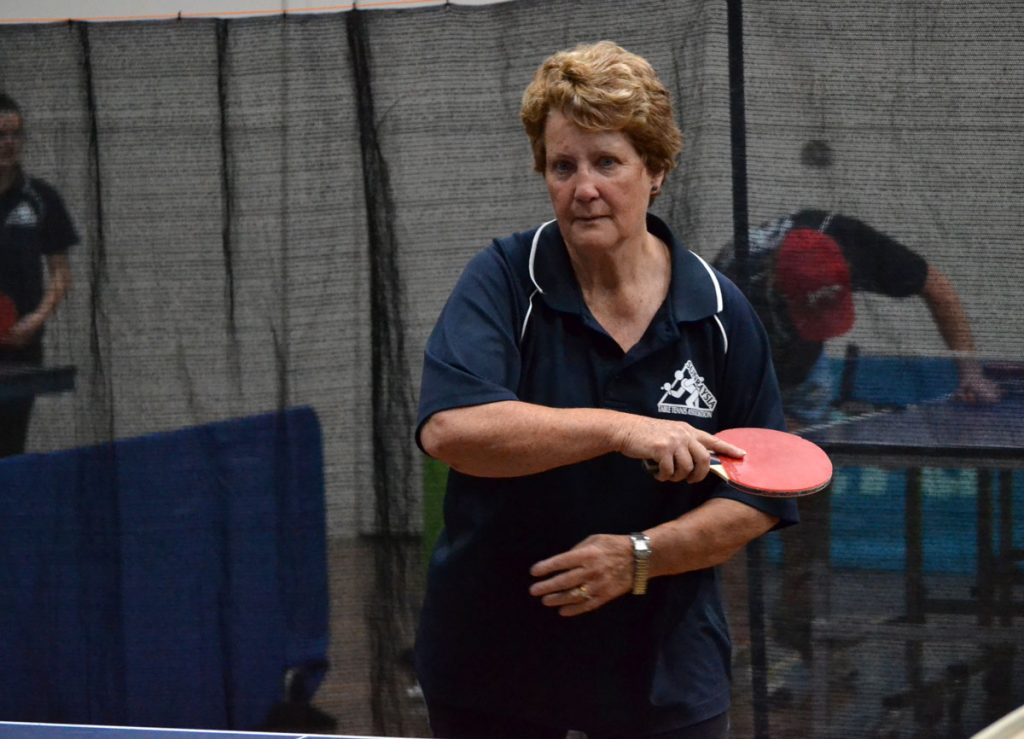 Leonie Dunkley played well too, picking up one win, defeating Carmichael in an entertaining three setter 12-15, 18-16, 15-10, and almost matching it with Dorman in her 15-9, 9-15, 13-15 loss in rubber number eleven.
That gave Mallee Meats six rubbers – they picked up the seventh in the first doubles. This was no easy win either, Prothero and Carmichael nearly won the rubber in two sets, but the two Mallee Meats players finally got on top in the third set to win 11-15, 18-16, 15-9.
For Weightmans Packaging Lachlan Prothero took two singles rubbers, Jessica Dorman one, and these two combined well to score a solid two set victory against Morrison and Dunkley.
Final scores: 7 rubbers to 4 and 15 games to 13.
– Cookes Pools & Spas 5 (Aiden Riordan 3, Huseyin Ismail 2) d Sammy's Slammers 4 (Rohan Reimers 2, Nick Kiapekos 1)
Cookes Pools & Spas won a shortened match against Sammy's Slammers to lift themselves off the bottom of the ladder and into fourth spot.
Unfortunately, there were not enough replacements for this round to substitute for absent players, so Cookes Pools & spas were represented by Huseyin Ismail (subbing for Therese Fitzpatrick) and regular player Aiden Riordan. Sammy's Slammers had Peter Lock absent, but captain Rohan Reimers and number three Nick Kiapekos were present. So, in addition to any wins they secured, each player was credited with a further win against their absent opposition player.
Player of the match here was Aiden Riordan having his best night so far, with three wins – in an impressive display Aiden outplayed Reimers 15-10 in the first set, then held his nerve to take the second set and the match
18-16. He also defeated Kiapekos, and with the credit of a win against the absent Lock, Riordan picked up three singles rubbers.
Ismail took two wins. He had to work hard against Kiapekos, who dominated the first set 15-5. Ismail worked his way back into the match winning the second 15-11, and then held his opponent out in the third 15-13.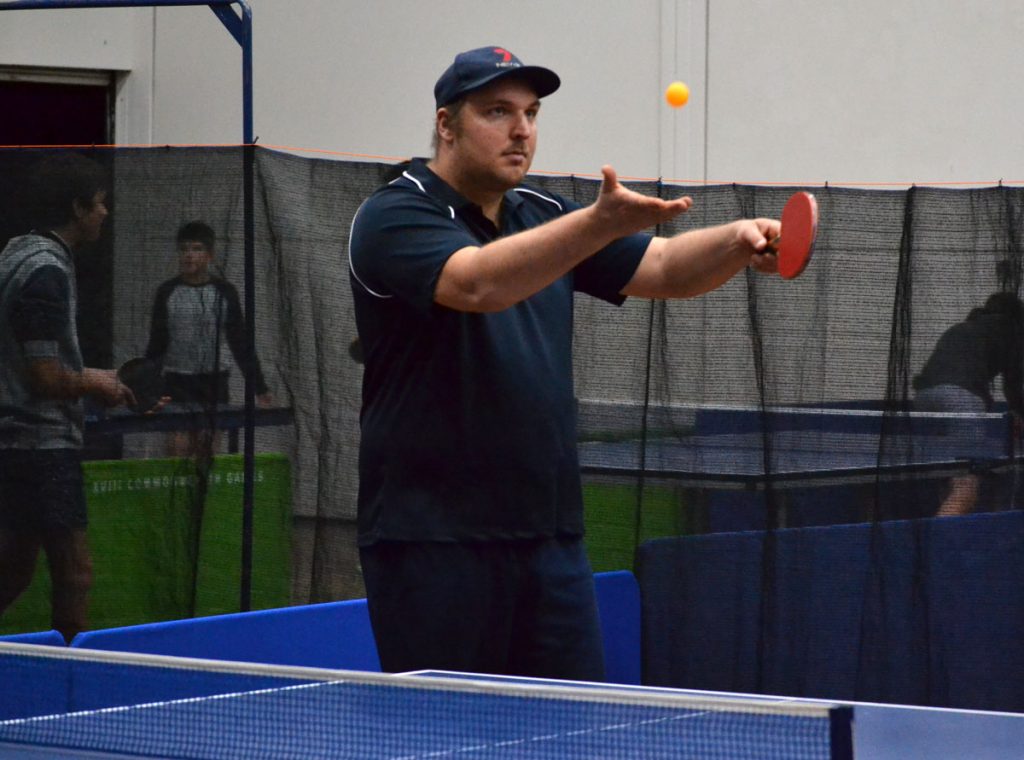 For Sammy's Slammers, Reimers took one win, this against Ismail 16-14, 15-10.
The doubles rubber also went to Sammy's Slammers in one of the two three set contests, Reimers and Kiapekos winning the final two sets 15-11, 15-9, against Ismail and Riordan after dropping the first set 6-15.
Final scores: 5 rubbers to 4 and 11 games to 9.
PENNANT FOUR:
This week saw the introduction of two new faces playing their very first game. We warmly welcome Shah Sandhu who popped by last Monday's training session to see what it is all about and all of a sudden is playing. We also welcome long time table tennis watcher Lindy Cannard who has finally made her debut. Now to the games.
Mallee Meats 8 (Shah Sandhu 3, Isaiah Bettess 2, Jacinta Ljubic 2) def Dunkley Scales 3 (James Bennett 2)
It didn't take long for Shah Sandhu to make his mark as he was impressive in winning three singles and the doubles match he participated in. With his Mallee Meats team members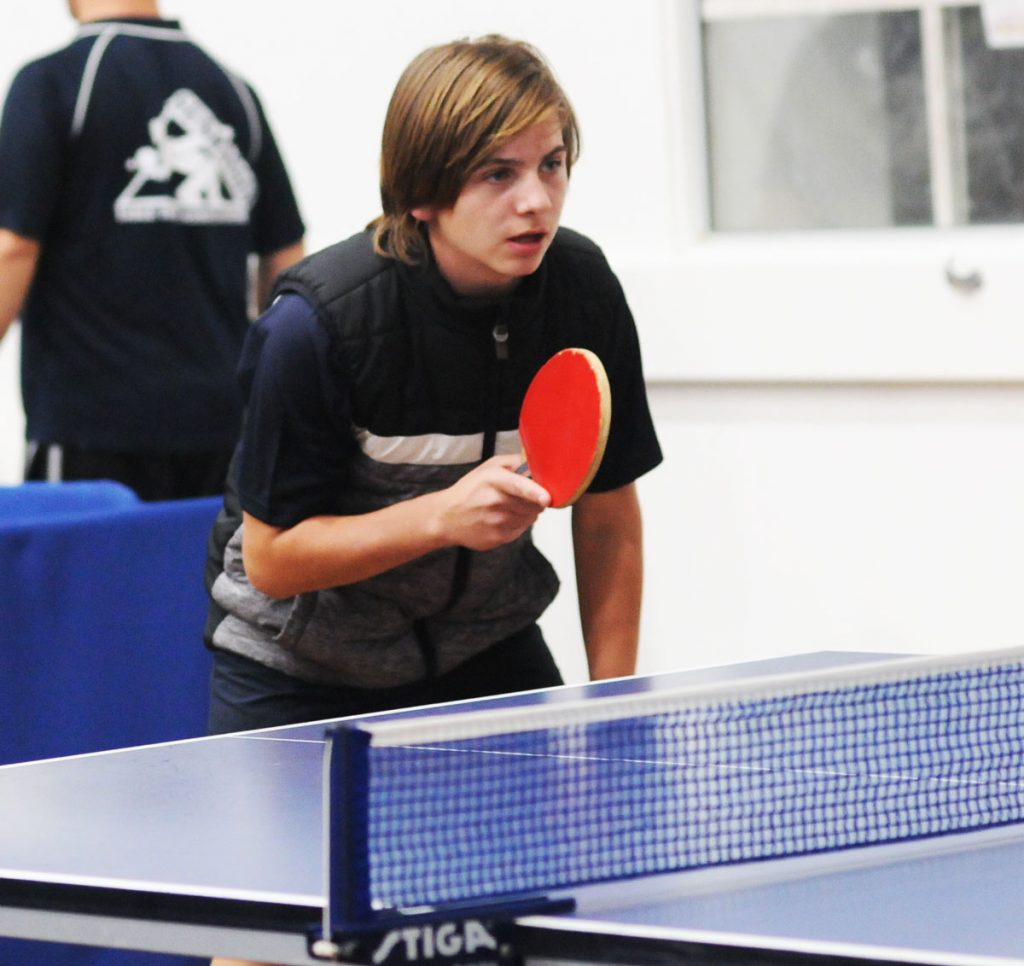 Isaiah Bettess and Jacinta Ljubic also winning two matches apiece this meant a big win for the Butches. In the second match of the night fill ins James Bennett (playing for Dunkley Scales captain Dave Tanner) played Shah Sandhu (filling in for Mallee Meats Hollie Lock). The first set was close with Sandhu edging out Bennett 15-13. With Sandhu familiarizing himself with the conditions he won the second comfortably 15-1 and the match. Before Dunkley Scales could work out what was going on the were 0 – 3 down and needed to right this flagging ship. In the first doubles match Dunkley's pairing of Bennett and Abbey Carmichael played Meat's combination of Bettess and Ljubic. In a tight contest Dunkley's won the match 15-13, 15-13 to secure their first match of the night. Unfortunately for Dunkley's the highlights from then on were few and far between and the end score line of 8-3 was in favour of Mallee Meats.
Tankard Dental 6 (James Bennett 3, Casey Taplin 2) def MJM Automotive 5 (Kim Avers 2, Shirley Whitecross 1, Lindy Cannard 1)
James Bennett was instrumental in guiding Tankard Dental home in winning three singles and was well supported by Casey Taplin who showed a return to good form in winning two. The night stated well for Tankard's as Casey Taplin took the first match of the evening in defeating a gallant Lindy Cannard in three sets. Taplin got a real surprise as he comfortably took out the first 15-6 to then be outplayed by Cannard as she took the second 15-12. Taplin steadied and took out the third set and the match. The feature match of the night was always going to be the battle between MJM's Kim Avers and Tankard's James Bennett. This battle took place with games locked at 4 all.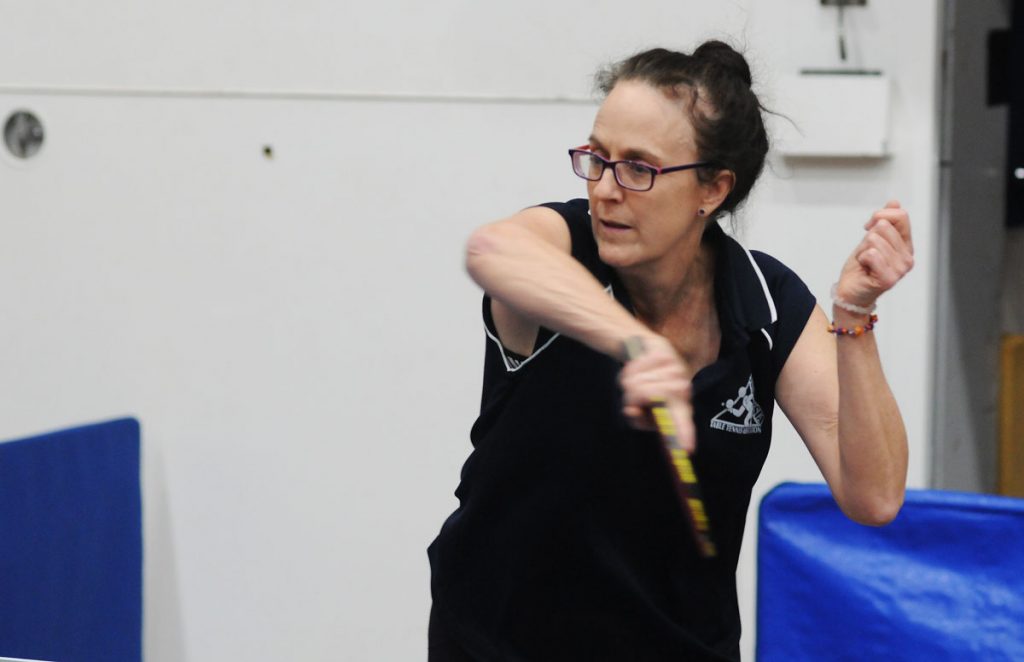 Avers has been hitting well and would need to be at the peak of her powers to beat Bennett. Both players exchanged very good rallies during this match, however it was Bennett who outlasted Avers to take this one out 15-11, 15-12. With this win Tankard were on the precipice of victory now leading 5-4. Next up was Tankards Casey Taplin pitted against MJM's Shirley Whitecross. Whitecross' strategy consists of strangling her opponents by keeping the ball in play and basically wears the opposition down. On the other side of the coin Taplin is a little more flamboyant and usually makes a few more unforced errors. Well as it turned out Taplin was able to mix his game with good defense and quality attack to get past Whitecross 15-12, 15-10 and secure the win for the Dentists. The last game of the night was a dead rubber but worth mentioning as MJM's Lindy Cannard took on Tankard's Raylee Bettess. In a tight match with some very long rallies Lindy was able to gain the upper hand and take this one 15-9, 15-12 to secure her maiden singles victory. Long-time supporter of Lindy, husband Andrew was delighted with the result. So in the end Tankard win 6-5.