Read Time:
15 Minute, 56 Second
ROUND 5

In an eventful round five of the Sunraysia Table Tennis "Cash Converters" summer pennant top team Max Miller Carpets suffered their first loss at the hands of Mallee Bearings while Cookes Pools & Spas who were winless were able to get off to a flyer against their opponents Regional Taxation Services and win 7-4.

A feature of the round was the form of the three sexagenarians who played match winning roles for their respective teams. For Mallee Bearings Ed Hung won two singles as did Mark Dorman for Tankard Dental while Gavin Carmichael showed his best form for some time to win three singles as well as participating in both doubles victories.
– Mallee Bearings 7 (Matt Ljubic, Andrew Cannard, Ed Hung 2) d Max Miller Carpets 4 (Matt Avers 3)
With a 7-4 victory by Mallee Bearings over the previously undefeated Max Miller Carpets the competition has evened up at the half way mark. For the Carpeters Matt Avers continued his undefeated singles run, he also teamed with Darren Robinson to win the first doubles however Robinson and team mate Reece Kurrle were unable to pick up a singles victory.
For Mallee Bearings it was an even team performance with skipper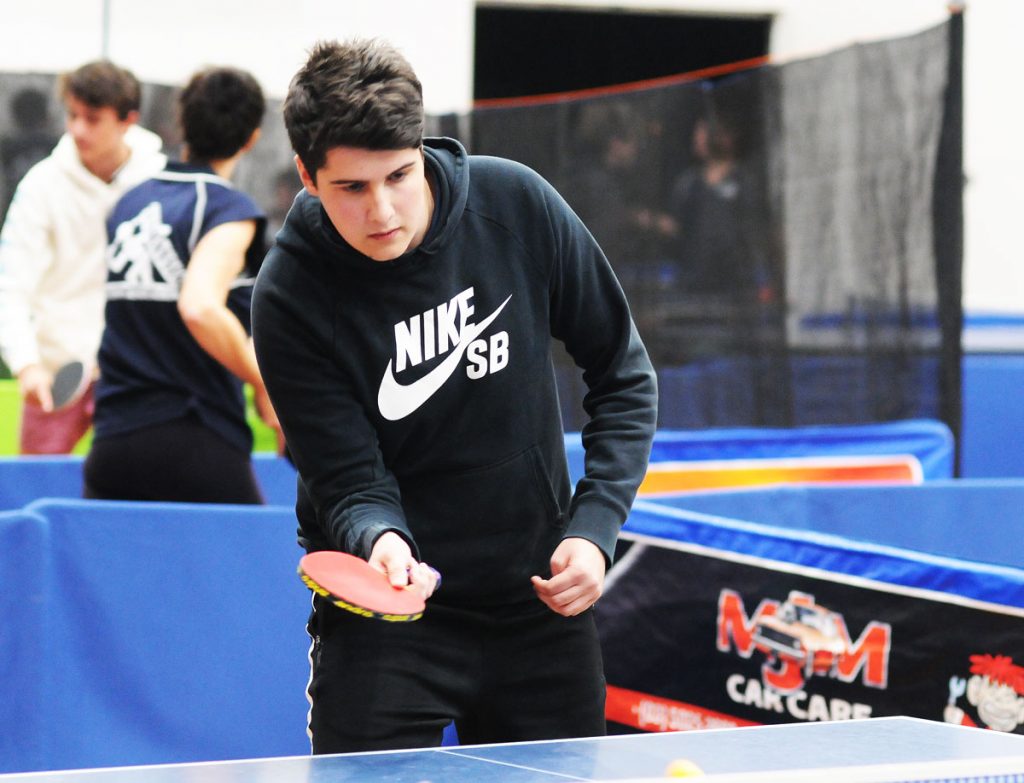 Matt Ljubic, fill in Andrew Cannard and Ed Hung all winning two singles. Ljubic and Cannard were able to win the second doubles resulting in a comfortable victory and second place on the ladder, one win from top position.
– Cookes Pools & Spas 7 (Gavin Carmichael 3, Kate Carmichael 2) d Regional Taxation Services 4(Wayne Carmichael 2, Leon Brown, Andrew Cannard 1)
It has taken five rounds for Cookes Pools & Spas to click and in an amazing start to the match they grabbed six of the first eight matches against Regional Taxation Services who lost only their second match of the season. The key for Cookes was their ability to grab both doubles and the first was a top class match when Kate and Gavin Carmichael played RT S pair Wayne Carmichael and Andrew Cannard. This was a three setter which went to the wire and unfortunately two late faults by Carmichael and Cannard in the close third game handed a 9-15 15-11 15-13 to the Carmichael combination.
The match was over by the second doubles with Cookes Gavin Carmichael and Lee Thomas outpointing Wayne Carmichael and Leon Brown 15-12 15-12.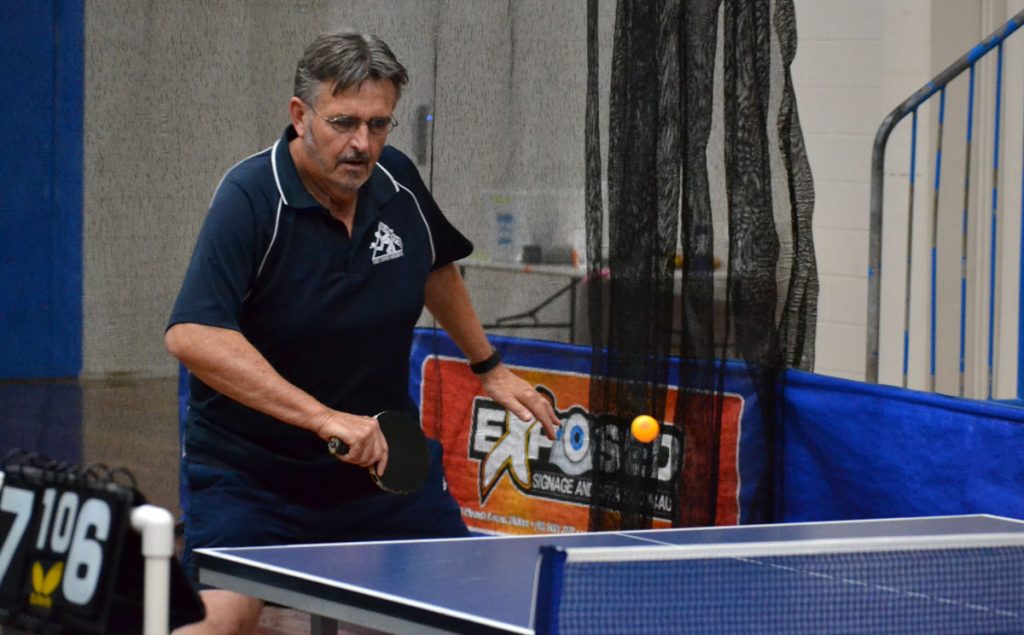 For Cookes Gavin Carmichael enjoyed his best form for some time by winning three singles including a rare win over brother Wayne who appeared to be hampered with a bad back. Kate Carmichael won two singles for the victors and her match against Andrew Cannard was action packed with both players on the attack from the outset.
– Tankard Dental 7 (Nicholas Dorman 3, Mark Dorman 2, Bernadette Fitzpatrick 1) d Cash Converters 4 (Phil Smith 2, Leslie Ncube 1)
Tankard Dental took the early initiative against Cash Converters and never looked back going on to win 7-4 to record their third win of the season.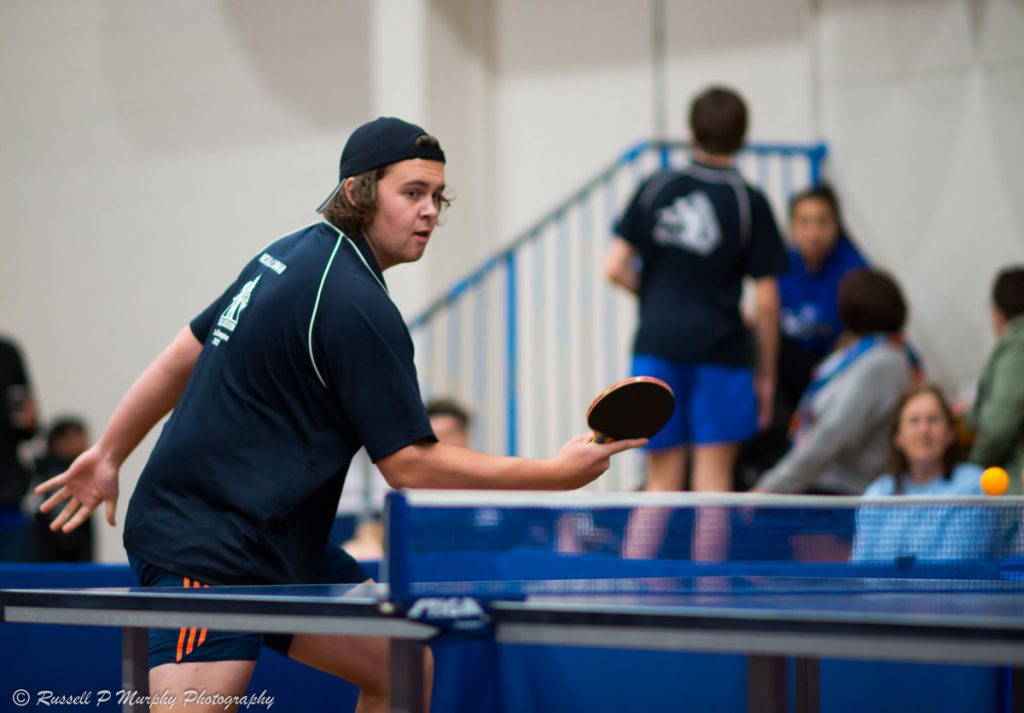 Nicholas Dorman for the second round in succession recorded three singles victories all in straight sets, he also combined with father Mark to win the first doubles in three sets against Leslie Ncube and Jackson Murphy. Dorman senior also won two singles to cap off a successful night for the Dorman's. Team mate Bernadette Fitzpatrick defeated Jackson Murphy in the final game to assist Tankards percentage. They sit in fourth position but only one win away from the ladder leaders Max Miller Carpets who they match up against in the next round.      
PENNANT TWO:

Weightmans Packaging are now in a two way tussle with Pinnacle Packers at the head of the ladder after downing Max Miller Carpets in this round; Mallee Meats won their match against MJM Automotive in the final rubber; and Pinnacle Packers, once they got started, took an easy win over Exposed Signage & Apparel.
– Weightmans Packaging 6 (Kevin Johns 3, Terry Martin 1) d Max Miller Carpets 5 (James Chick, Andrew Jones 2, Peter Fitzpatrick 1)
Weightmans Packaging took a 6-5 win against a fighting Max Miller Carpets side in this game to complete round 1 of this Summer Competition.
Although the result of the match was determined in the ninth rubber, the Max Miller Carpets side kept the damage to a minimum with Andrew Jones and Peter Fitzpatrick winning the final two rubbers to give their side 5 rubbers for the night.
Once again, Weightmans Packaging captain Kevin Johns took all before him, winning all his singles contests, and combining with team-mates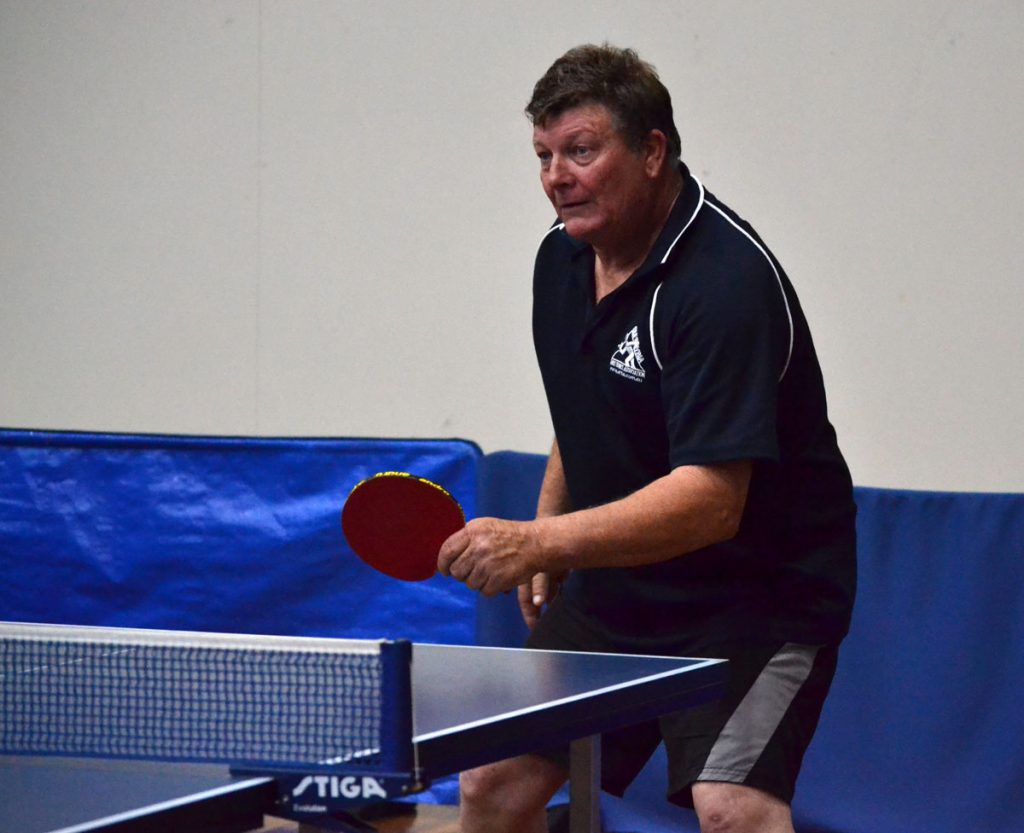 Terry Martin and Paul Fitzpatrick to win both doubles.
The first doubles rubber was a fairly straight forward win, Johns and Martin defeating James Chick and Andrew Jones (subbing for Liam Wood) in straight sets, however, but for a string of four cheap points to their opponents in the third set, the Max Miller Carpets pair of Chick and Fitzpatrick were in with a real show in the second doubles, Johns and Paul Fitzpatrick running out winners 15-8, 10-15, 15-11.
In the first game of the night, Peter Fitzpatrick almost took an upset win against Terry Martin, falling agonisingly short 13-15 in the third set.
Those two losses were the chances that Max Miller Carpets had to take the match, but of course, Weightmans Packaging were stronger and took them, so were the deserved winners.
For Weightmans Packaging, there is plenty of improvement to come from Paul Fitzpatrick, and Martin was playing below his best.
Final scores: 6 rubbers to 5 and 13 games all.
– Mallee Meats 6 (Jason Gifkins 3, Tony Malycha 2) d MJM Automotive 5 (Nick Barlow 2, Anthony Fox, Quentin Clark 1)
Mallee Meats captain Jason Gifkins, with a three game haul, led his side to a narrow 6-5 win against MJM Automotive.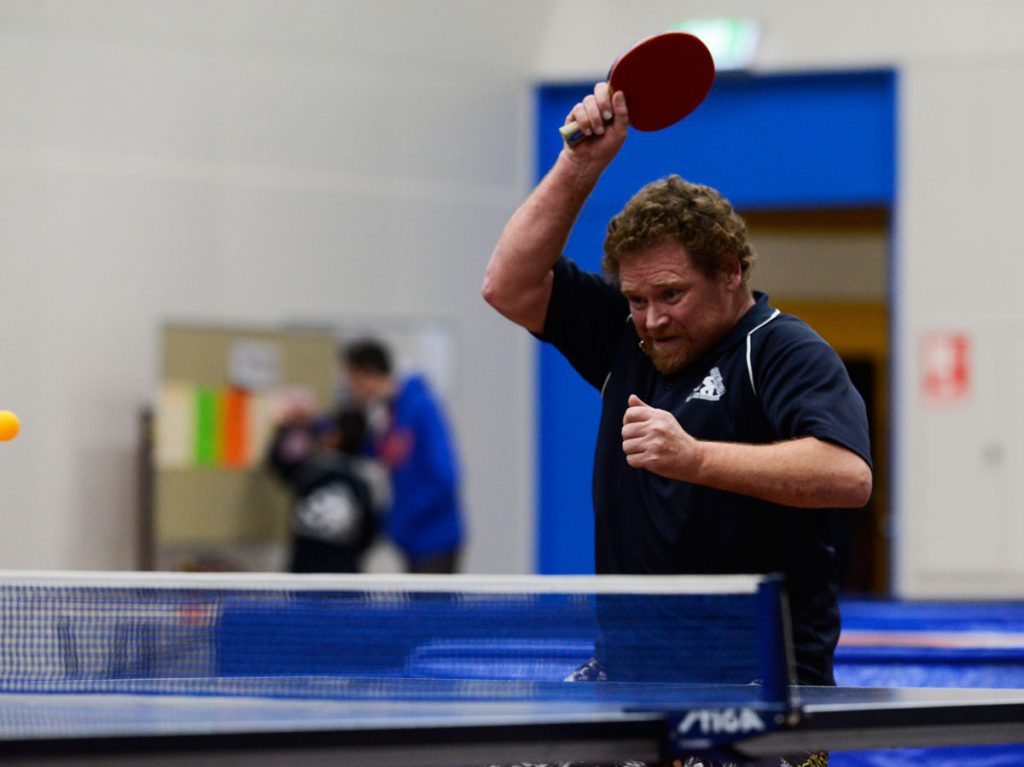 In a match of contrasts, after trailing 1-4 after the first five rubbers, Mallee Meats turned the game around, winning the next four. MJM Automotive's Anthony Fox steadied the ship for his side with a win against John Fitzpatrick to equal the scores, and it was left to the two number two's to determine the outcome. Tony Malycha saw off a determined Quentin Clark 9-15, 15-12, 15-7 to take the win.
Along with his captain, Malycha almost qualified for "Man of the Match", as along with wins in singles against Clark and Anthony Fox, he lost a high class three setter to MJM Automotive captain Nick Barlow 12-15, 15-12, 13-15 and with Gifkins took the second doubles 19-17, 15-11 over Barlow and Fox.
MJM Automotive just couldn't match it with Mallee Meats in this game – captain Nick Barlow won two singles, but lost to his opposing number Gifkins in a good three setter, and Quentin Clark and Anthony Fox picked up one each, both defeating John Fitzpatrick. Their fifth rubber was the first doubles, Barlow and Clark besting Gifkins and Fitzpatrick 15-5, 10-15, 15-7.
Final scores: 6 rubbers to 5 and 14 games to 11.
– Pinnacle Packers 8 (Ash Morrison 3, Arthur Paar 2, Jeremy Corrin 1) d Exposed Signage/Apparel 3 (Thanh Nguyen 2, Paul Kealley 1)
After losing the first two rubbers, Pinnacle Packers steam-rolled their opponents Exposed Signage & Apparel to take an impressive 8-3 win.
Things started well enough for Exposed Signage & Apparel – captain Thanh Nguyen holding Arthur Paar at bay to win 15-11, 15-13, and number two Paul Kealley took a fighting win against Jeremy Corrin 15-7, 2-15, 15-11. With Pinnacle Packers taking the next eight rubbers that was pretty much where it ended. They did not taste victory again until the final rubber, to salvage a little bit of pride.
Exposed Signage & Apparel were not totally outclassed as three of those eight wins went to three sets, but Pinnacle Packers won them all.
The first of those three setters was the first doubles rubber which was very even, Ash Morrison and Arthur Paar defeating Nguyen and Kealley 15-12, 11-15, 15-11. The clash of the captains, was similarly close, but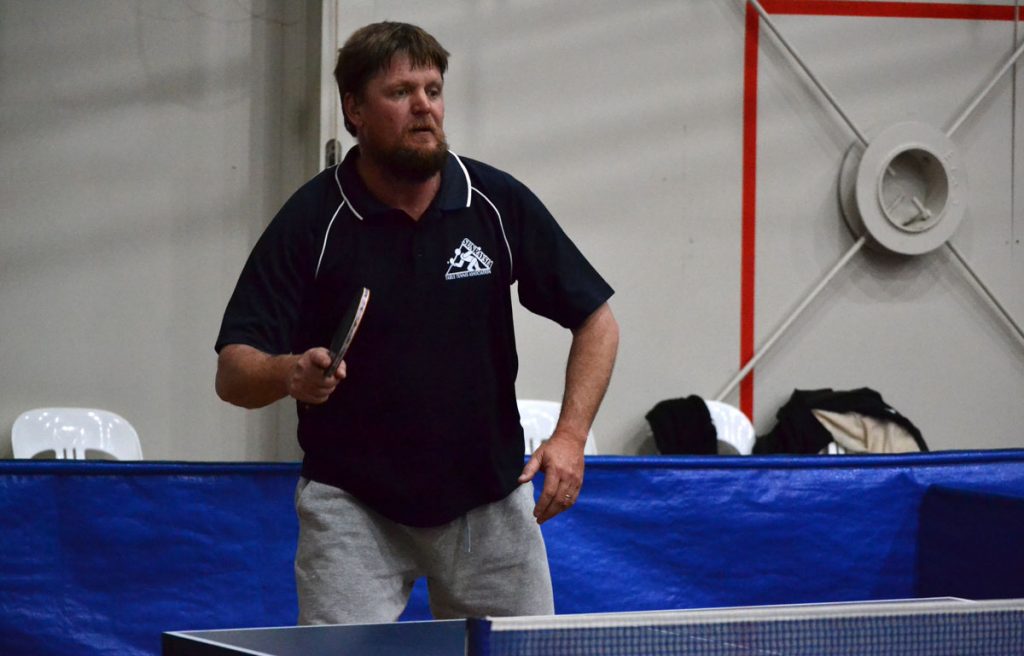 Morrison had his opponent's measure throughout in his 13-15, 15-6, 15-13 defeat of Nguyen.
The third of those three setters saw Jeremy Corrin prevail against Anthony Riordan, who was subbing for Dylan Wood. After losing to Morrison in the first round of singles 13-15, 11-15, Riordan is beginning to show signs of his previous form, and he started brightly against Corrin taking the first set 15-8. Corrin responded to the challenge with a 15-6 win in the second set, and the two players were neck-a-neck for the third set, Corrin going on to win 15-13.
This big win lifted Pinnacle Packers from third to the top of the ladder, now leading Kevin Johns' Weightmans Packaging side by percentage.
Final scores: 8 rubbers to 3 and 17 games to 7.
PENNANT THREE:

Weightmans Packaging stole their match from under the nose of Cookes Pools & Spas; a burst of four rubbers secured Sammy's Slammers a win over Regional Taxation Services, and fast finishing MJM Automotive downed Mallee Meats.
– Weightmans Packaging 6 (Sabrina Fitzpatrick, Brice Lock 2, Ayden Costa 1) d Cookes Pools & Spas 5 (Therese Fitzpatrick, Aidan Riordan 2)
Cookes Pools & Spas led Weightmans Packaging 5-2 after seven rubbers, but could not get the one more rubber needed for victory.
Cookes Pools & Spas captain Therese Fitzpatrick and Aiden Riordan were responsible for those five rubbers, both taking two singles rubbers, and then combining in the first doubles to take a two set win against Sabrina Fitzpatrick and Brice Lock.
Riordan ambushed Sabrina Fitzpatrick in the first round of singles with a 15-7, 15-10 win. Sabrina was probably a bit rusty, having missed the last two rounds, having spent time in the non-table tennis town of Halls Gap.
Riordan was on course for a three game haul until he met Brice Lock in the final round of singles. It was close, but Lock had too much fire-power, overpowering Riordan to win 15-13, 15-12.
What of Weightmans Packaging then? Well, Sabrina Fitzpatrick and Brice Lock won two singles each – after falling to Riordan early,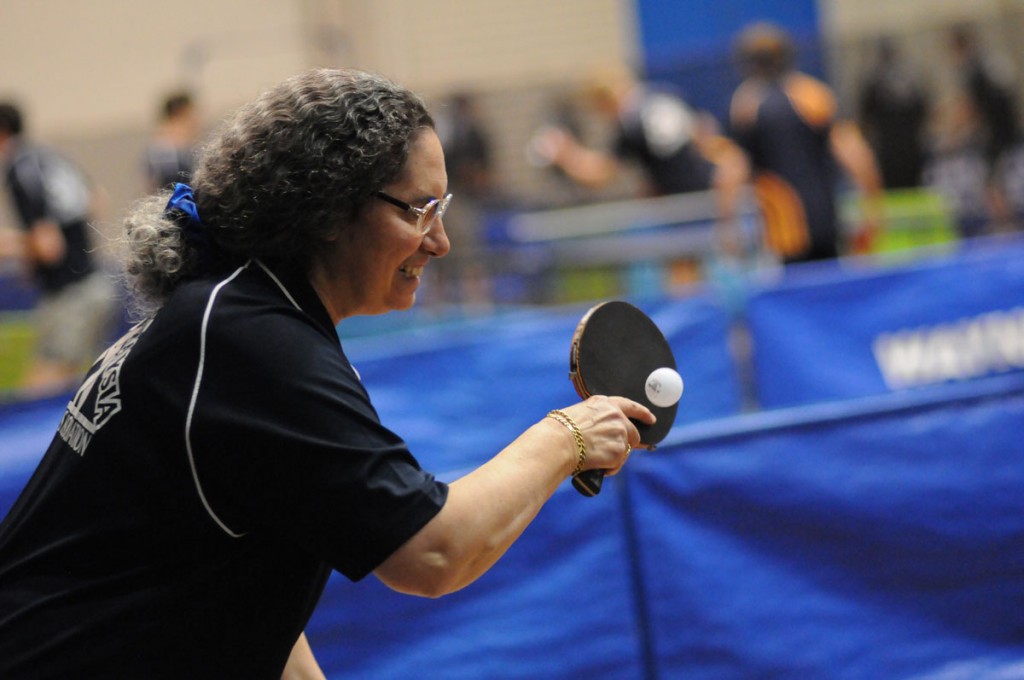 Sabrina accounted for new recruit Shah Sandhu in the next round, then accounted for opposing captain, Therese Fitzpatrick in the final round 15-13, 15-13.
Lock defeated Shahu also, and in the penultimate rubber, and to level at 5-5 he defeated Riordan.
In taking the second doubles, Weightmans Packaging put a halt to Cookes Pools & Spas run of wins, Lock and Ayden Costa needing three sets to get the better of Therese Fitzpatrick and Sandhu, to win 15-5, 7-15, 15-7.
Costa then won the final rubber against the improving Sandhu 15-12, 15-7 to complete the reversal for Weightmans Packaging.
Final scores: 6 rubbers to 5 and 14 games to 10.
– Sammy's Slammers 7 (Rohan Reimers 3, Peter Lock, Nick Kiapekos 1) d Regional Taxation Services 4 (Matt Sires, Andrew Kremor 2)
This match was an even contest for the first six rubbers, but then Sammy's Slammers put the hammer down and took the game right away from Regional Taxation Services.
Regional Taxation Services took the first two rubbers – Regional Taxation Services number three Matt Sires took an impressive two set win against Sammy's Slammer's number two Peter Lock 15-12, 15-11, and Andrew Kremor (subbing for Regional Taxation Services captain Marcus Cimino), defeated Nick Kiapekos 8 and 6.
But it seemed from then on that Regional Taxation Services were unable to do anything to stop the onslaught of Sammy's Slammers, who took seven of the next eight rubbers.
Leading the charge was Sammy's Slammers captain Rohan Reimers who had a great night –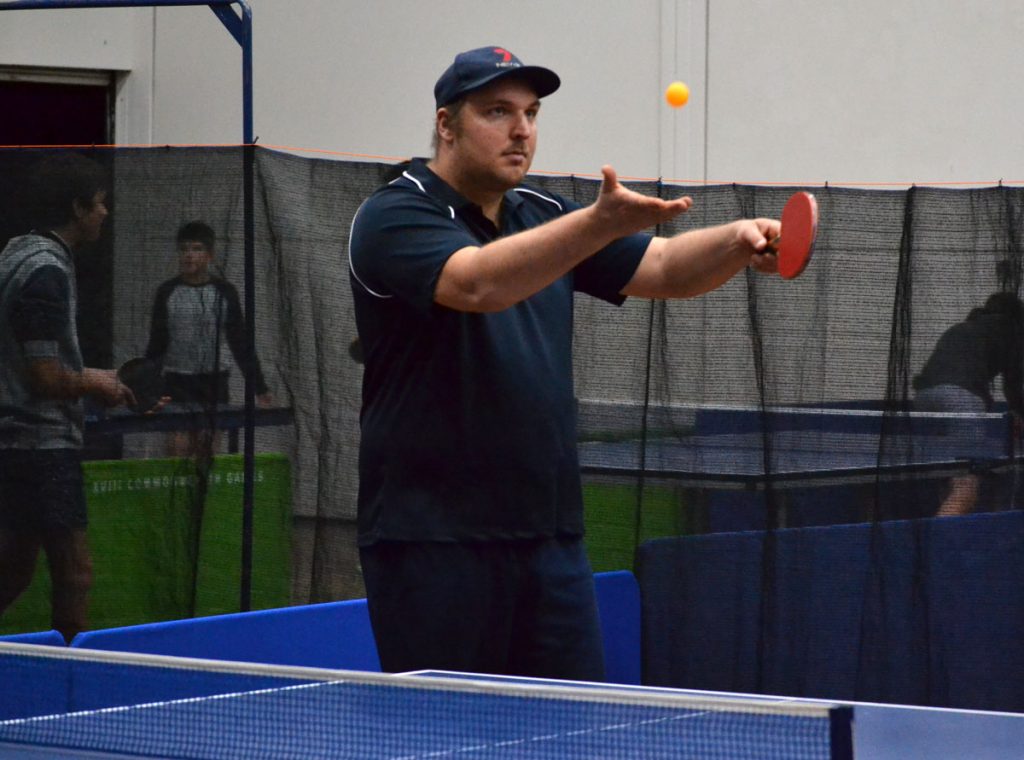 three singles wins and a hand in both doubles wins. Reimers hand his hands full with the dogged Karly Leach, only getting a breather in the final set to win 11-15, 16-14, 15-10. Straight after this game, he paired with Lock to take the first doubles, an entertaining match, against Kremor and Leach, winning 15-10, 13-15, 15-11.
Sammy's Slammers number three Nick Kiapekos continues to improve; this week he downed Karly Leach, playing at number two for her team, in straight sets. The final rubber saw him play his opposite number Matt Sires, and they played the match of the night, Sires winning 7-15, 15-13, 21-19.
Both Andrew Kremor and Sires won two rubbers each for Regional Taxation Services, but with both doubles rubbers going to Sammy's Slammers, and Karly Leach being kept winless, they could not get on even terms with the winners here.
Final scores: 7 rubbers to 4 and 15 games to 12.
– MJM Automotive 7 (David Sergi 3, Andrew Kremor, Luke Ljubic 1) d Mallee Meats 4 (Rachel Fitzpatrick 2, Tom Morrison, Leonie Dunkley 1)
In a game befitting the teams at the head of the ladder, this clash was determined by a strong performance from MJM Automotive captain David Sergi, coupled with an unusually quiet night from Mallee Meats captain Tom Morrison.
Leonie Dunkley is not one to give in easily, although losing to Sergi 11-15, 21-23, she demonstrated the depth of the Mallee Meats. Sergi and
Morrison had a customary tight contest, Sergi prevailing 15-11, 14-16, 15-11.
Both doubles rubbers went to three sets, and neither side was willing to concede without a big fight. Sergi and Andrew Kremor could only start to breathe a little easier in the final set against Morrison and Rachel Fitzpatrick in their 13-15, 20-18, 15-6 win. The second doubles was not much different, Sergi and Luke Ljubic winning another close contest, this time against Morrison and Dunkley, 15-9, 13-15, 16-14.
The best performed player for Mallee Meats was their number two, Rachel Fitzpatrick.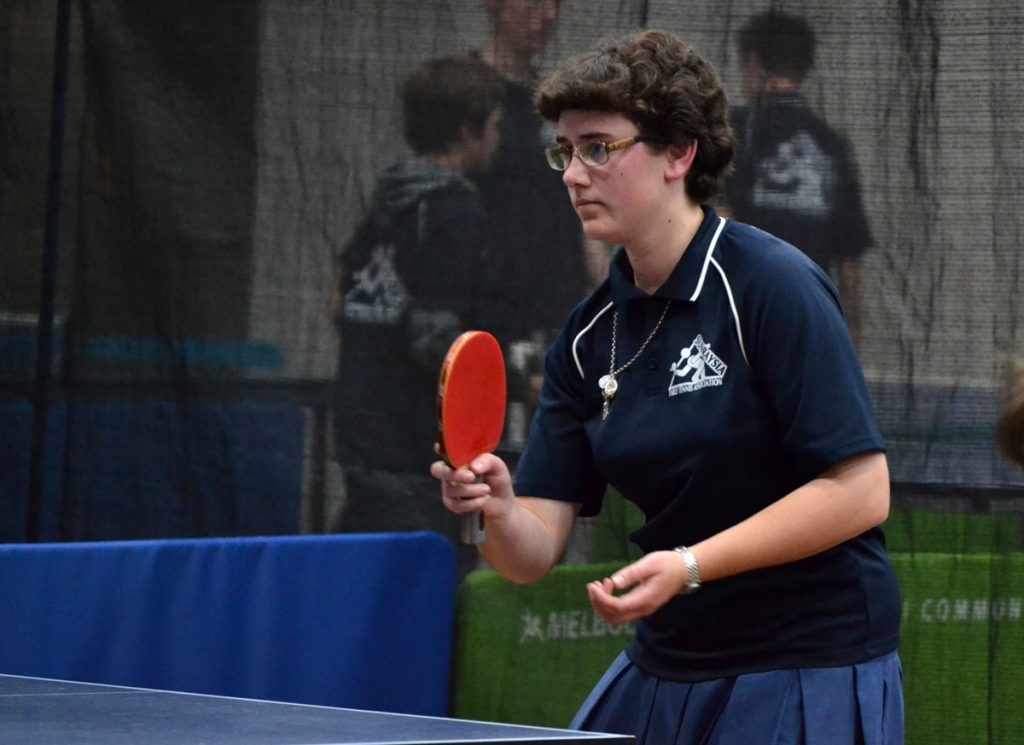 Rachel showed good form, downing both Luke Ljubic and Andrew Kremor in straight sets.
By the time he got to the final round of singles, Mallee Meats captain Tom Morrison had had a fairly tough night. He defeated Kremor in straight sets, but then lost the first close doubles rubber, was outplayed by opposing captain Sergi in the next round of singles, then lost the second doubles. So by the time Luke Ljubic presented at the other end of the table, Tom was looking for a bit of an easier time. Well, Luke was not going to give it to him, taking the first set impressively 15-10. Morrison edged Ljubic for the second set 15-13 to draw level, but Luke was a man on a mission, and held Tom out 15-13 in the third set to take the match.
A 7-4 scoreline, but some wonderful games, five three setters, all closely contested.
Final scores: 7 rubbers to 4 and 15 games to 12
PENNANT FOUR:
– Mallee Meats 6 (Isaiah Bettess 3, Jacinta Ljubic 2) d MJM Automotive 5 (Kim Avers 2, Shirley Whitecross, Nathan Beard 1)
Well this was undoubtedly the tussle of the night as Mallee Meats and MJM Automotive locked horns in a night of high drama. It would be games four, five and six of the night that showed that these teams were playing for keeps. The first doubles match (game four) saw Mallee Meats pairing of Isaiah Bettess and Jacinta Ljubic up against the MJM Automotive duo of Kim Avers and Shirley Whitecross. Avers and Whitecross got off to the ideal start as they outplayed their opponents to take the first set 15-11. With the game on the line Bettess and Ljubic took control of the second 15-6 and then the last 15-12 to win this encounter. The next game of the night saw Whitecross take on Ljubic in what promised to be a close encounter with both players having a reputation of keeping the ball in play and never giving an inch. The first set saw Ljubic take her chances to take it 15-13.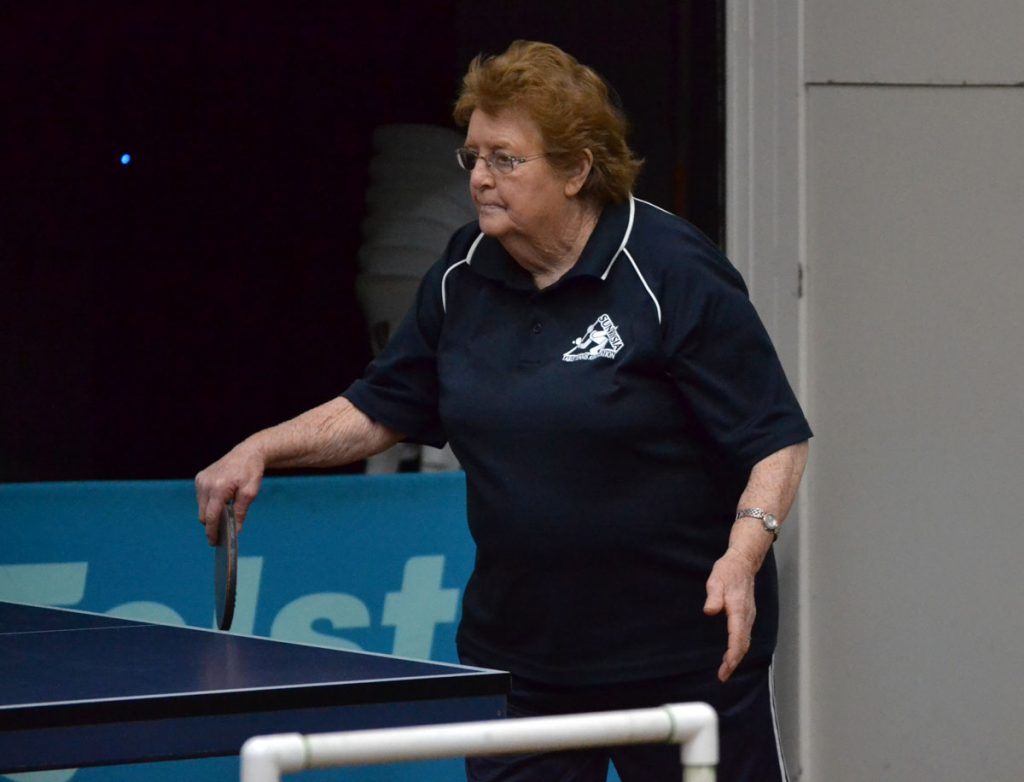 The next set had to go to extra points with Whitecross taking it 17-15 to keep the match alive. The third was another lengthy affair before Ljubic pulled away to take it and the match 15-12. With this win the Butchers have now raced at a 4-1 lead. The next match saw the battle of the captains as Bettess took on Avers. Bettess took the first 15-11 before Avers hit back hard in taking the second 15-12 to set up another third set classic. In a dramatic final set both players exchanged blows with neither taking a backward step before Bettess landed the knockout blow to win this one 18-16 to give the Butchers a 5-1 lead. In a night of fluctuating fortunes MJM Automotive didn't give in and reeled off the next four matches to level at 5 all. The last match saw Bettess take on Nathan Beard. Beard played well but Bettess took the points and with this has propelled Mallee Meats to a hard fought victory 6 games to 5.
– Tankard Dental 6 (Dave Tanner 3, Raylee Waugh 2) d Dunkley Scales 3 (Miya Lock 2, Rylie Sindely 1)
With the unavailability of a player from each team this tuned into a two versus two contest and as you would notice only nine of the usual eleven games can be accounted for.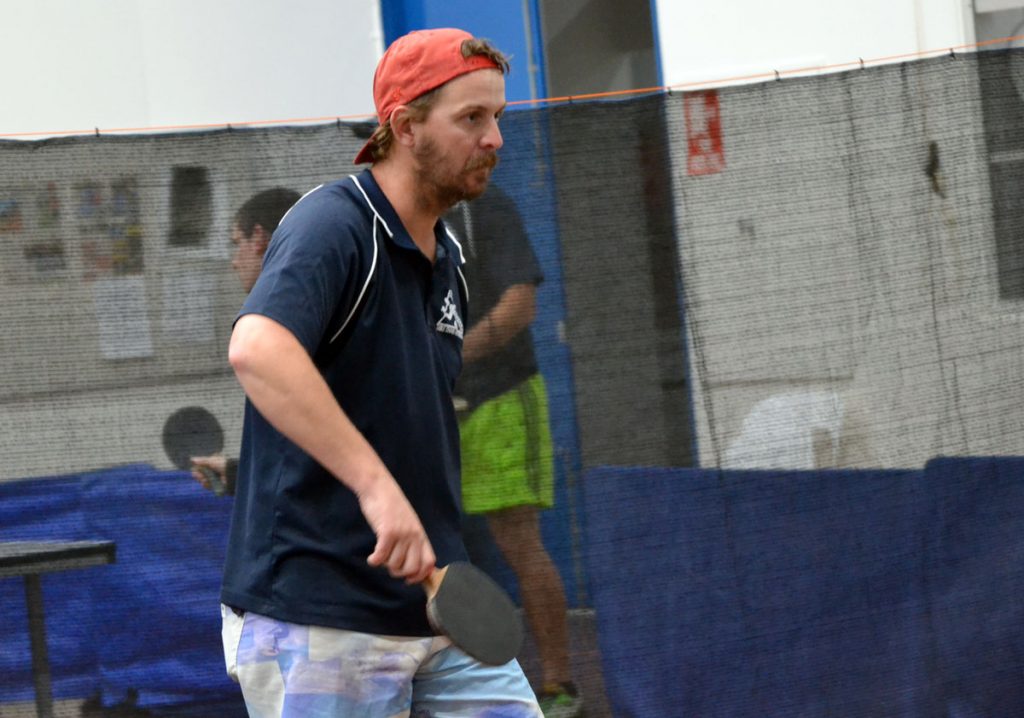 Tankard's Dave Tanner returned to form and was instrumental in his team's performance winning his three singles matches for the evening. Tankard's did not have it all their own way and had to fight tooth and nail with some very close finishes to matches. The first doubles match saw Tankards Dave Tanner and Raylee Waugh take on Dunkley Scales pairing of Miya Lock and Rylie Sindely. The first set was a riveting affair as Dunkley's crept over the line 16-14. The second set saw a big momentum shift with Tankard's taking it 15-6. The third set was close all the way but Tankard won the big points when it mattered most and took this out 15-13. In the battle of the Captain's Lock took on Tanner. Tanner raced through the first 15-4 before Lock returned fire and won the second 15-13. At one set all and everything to play for it would be Tanner to grab the points 15-12 to secure an important win for the Dentists. In the last game of the night Raylee Waugh took on Rylie Sindely. Both of these players are still learning their craft and have improved their games quite considerably over a short period of time. On this occasion it was Waugh who won in straight sets and thus Tankard Dental have won the night 6 games to 3.