Read Time:
14 Minute, 29 Second
PENNANT ONE:

After looking to be down and out early Exposed Signage/Apparel amazingly recovered from a 1-4 deficit to win 6-5 and are the 2016 Sunraysia Table Tennis Association "Cash Converters" summer pennant one premiers.

Their season is an outstanding story given after round three they were undefeated on top of the ladder only then to lose four matches in succession and then hold on to fourth position narrowly by one rubber leading in to the finals. In the elimination final they defeated top team Regional Taxation Services 6-5
– Exposed Signage/Apparel 6 (Matt Avers 3, Kate Carmichael 2, Lee Thomas 1) d Weightmans Packaging 5 (Wayne Carmichael 2, Bernadette Fitzpatrick 1)
In the grand final opponents Weightmans Packaging took the first two singles courtesy of Bernadette Fitzpatrick defeating Lee Thomas in four sets and then in the first of five five set matches for the night Wayne Carmichael scored a five set 11-7 12-10 9-11 6-11 11-3 win against niece Kate Carmichael. Wayne looked to be in control early however Kate raised the bar in the third and fourth before Wayne steadied in the fifth.
Matt Avers for Regional Taxation Services then recorded his team's first win when he accounted for fill in Michael Hogarth in straight sets. The first doubles was crucial for Exposed Signage and when Matt Avers and Kate Carmichael took a 2 games to love lead it looked like victory might enable them to level the match however Wayne Carmichael and Michael Hogarth had other ideas and they fought back superbly to win 7-11 4-11 11-9 14-12 11-7 in a top class doubles match. The score now stood at 3-1 in Weightmans favour and with Wayne Carmichael to play Lee Thomas it was difficult to see how Weightmans could be stopped. Carmichael defeated Thomas in straight sets to take a 4-1 lead.
Again Matt Avers arrested the carnage when he was able to defeat the determined Bernadette Fitzpatrick but not without a fight. Bernadette upgraded bats this season and has played some fine matches, she fought hard before going down to Avers who won 15-12 12-10 8-11 11-6.
The next match was a beauty with Kate Carmichael taking a 2-0 lead against Hogarth before the match turned with Hogarth fighting back to level. The fifth was dramatic with both players nervous realising the importance and it was Carmichael who was able to hang on to win 14-12 11-5 4-11 9-11 11-8. Exposed Signage had reduced the deficit to 3-4 with the second doubles to be played.
For Weightmans Wayne Carmichael and Bernadette Fitzpatrick combined well in the second doubles to defeat Matt Avers and Lee Thomas 11-6 11-4 20-18. With three singles remaining, Weightmans now took a commanding 5-3 lead.
The first of the final block of three singles was undoubtedly the match of the night when the two lefties Wayne Carmichael and Matt Avers stepped up to the table. The experienced Carmichael took the early ascendancy leading two games to one. Spectators witnessed a classic match of attack and defence. Avers had not been defeated in singles in this pennant and needed victory here to keep his team in the premiership race. The fourth and fifth were close all the way however Avers showed maturity beyond his years to win in an amazing match 11-9 6-11 7-11 11-9 11-9.
In an excellent fightback by the Exposed team now trailed 4-5 but were still under extreme pressure as Weightmans Michael Hogarth took on Lee Thomas. This was to be a nail biter and again would go to five sets as Thomas raced to a 2-0 lead before Hogarth swept through the third and fourth. The fifth had their team mates on the edge of their seats as late in the match it looked like Hogarth was over the line however Thomas playing determined table tennis snatched victory at the end with a score line of 11-6 12-10 2-11 3-11 12-10.
Exposed Signage had won the last two singles by the barest of margins in the fifth to level the match at five rubbers all, what a comeback. The final match of the night featured Weightmans Bernadette Fitzpatrick against Kate Carmichael and it was Carmichael who was able to maintain control and win 11-8 11-3 11-8 much to the delight of her team mates.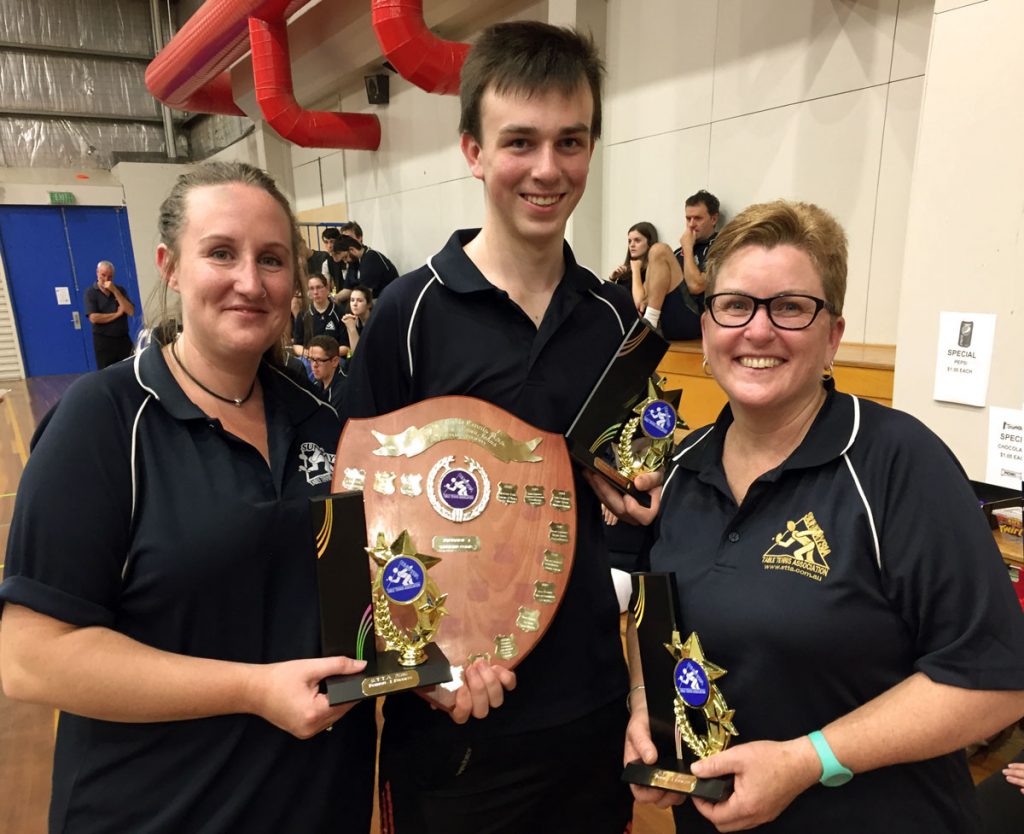 Exposed Signage/Apparel had put together an amazing comeback winning five of the last six matches to claim the EW Rowe and Kevin Johns perpetual Shield. Victory came despite not winning a doubles. In an excellent team effort Matt Avers, Kate Carmichael and Lee Thomas won three, two and one singles respectively. Local historians have indicated that this is the first team to win a premiership with two females taking part in the one team in pennant one.
Weightmans were not disgraced and had enjoyed a good season in what was an even competition with five of the six teams a realistic chance to play off in the grand final.  
PENNANT TWO:

Pinnacle Packers, who finished second on the ladder, two games behind their opponents here, Mallee Bearings, won the Pennant Two Summer Grand Final in style.
– Pinnacle Packers 6 (Ashley Morrison 3, Brendan Alderton 1) d Mallee Bearings 3 (Kevin Johns 2, Terry Martin 1) 
At the conclusion of the home-and-away season, Pinnacle Packers were the most successful team in this grade, having lost just one game.  Mallee Bearings finished second, two games behind, and significantly those three games were at the beginning of the season when Ashley Morrison's team-mates Brendan Alderton and Seval Fuat were both absent.
From Round Four though, this side showed they were a force to be reckoned with.  Fuat played the rest of the season, however Alderton actually only played three games out of the eight rounds.  What this is all leading to is that once Morrison had one or both of these team-mates, his side remained undefeated, and in Round 5 inflicted that single defeat on Mallee Bearings.
So, Pinnacle Packers deserved favouritism for this game, even if raw numbers did not seem to back it up.
Once the game started, it was clear they were going to be hard to beat.
Brendan Alderton, a notorious slow starter, dropped the first set to Claire Ljubic 11-4, but that only spurred him into action.  Alderton hardly gave Ljubic a chance after that, winning the next three sets 5, 4 and 5.
Seval Fuat almost provided the upset of the night in the next rubber.  Facing the aggregate winner, Kevin Johns, Fuat was on fire, and led two sets to love 11-8, 12-10.  Johns was under enormous pressure, and Fuat almost closed the game out in the third set, holding set point at 10-9, but Johns scrambled out of the situation to take that set 12-10.  He quickly made it two sets all with an 11-6 result in the fourth, but once into the fifth the nerves set in again, and he just managed to edge Fuat 11-9 to win the match.  (Fuat came close to the exact same thing in the Semi Final last week when he took Mallee Meats captain Peter Midgley to five sets, having held set points in the fourth and fifth sets).
So, one all, and Mallee Bearings seemed to be doing it hard.
Ashley Morrison soon made it 2-1 with a three set win against Terry Martin.  Martin was outgunned in the first 11-2, but thereafter this was a close contest, and indeed, it deserved to go to another set.  However, Morrison would have none of it, taking the second and third sets 11-9, 16-14.
Next up, the first doubles.  Johns and Martin, who later in the night would receive a trophy each for being the most successful Pennant Two doubles pairing for the season, faced Morrison and Alderton.  This was close from the start, and although they led two sets to love 11-8, 15-13, Johns and Martin knew this was no guaranteed three setter.  In fact, their worst fears were realised.  Morrison and Alderton chipped away at them, taking the third set 11-7, denying the Mallee Bearings pair a set point in the fourth, winning that 12-10, and holding them at bay 11-9 in the fifth.
Mallee Bearings were certainly in trouble at 3-1 down.
Johns made that 3-2, defeating number two Alderton in three sets.
Morrison countered, with a three set win against number three Ljubic.
Martin made it three rubbers for Mallee Bearings, dominating Fuat, to win in straight sets 5, 7 and 6.
In the scheme of things then, the second doubles loomed large.  If Mallee Bearings could continue their fight back, a win would make the scores 4-4, a loss would see them staring down the barrel of defeat.
Johns and Claire Ljubic must have thought it would be the former alternative at the conclusion of the first set, for they blasted Morrison and Fuat 11-2 in a very one-sided set.  Undeterred, the Pinnacle Packers pair set about squaring things up.  They took the second set with a confidence boosting 11-6 score line, and from then on, the two sides slugged it out.  Morrison and Fuat took a nervous 13-11 win in the third set, and in the fourth, made fewer mistakes than their opponents to take the set 11-8, and the rubber.
Leading 5-3, Pinnacle Packers knew victory was theirs to lose, and Ashley Morrison was not about to throw this one away.
The two captains met in the next rubber, and put on a great display, the match going to five sets.  Johns really was the better player up to the 2-2 mark of this game, winning 41 points to Morrison's 32.  When he won a set, he won it convincingly, when he lost, it was by the narrowest of margins.  But in the fifth set it all came good for Morrison, who has a ferocious, if not particularly consistent, forehand drive.  In that fifth set he made nary a mistake, and had Johns scrambling at the other end.  So, the win and the shield went to Pinnacle Packers, Morrison finishing Johns off 12-10, 6-11, 11-9, 3-11, 11-5.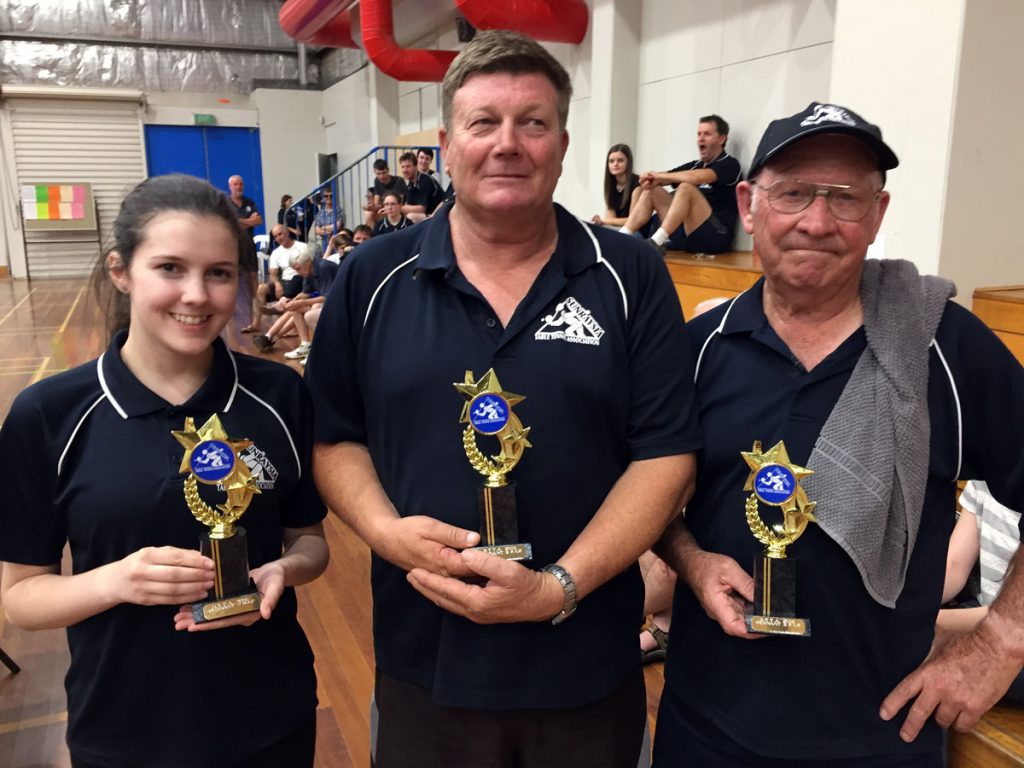 Final scores:  6 rubbers to 3 and 20 games to 15.
PENNANT THREE:

Weightmans Packaging took a dominant win against Dunkley Scales to claim the Pennant Three Summer Trophy.
– Weightmans Packaging 6 (Mark Kerr, Arnold Jago 2) d Dunkley Scales 2 (Rachel Fitzpatrick, Sabrina Fitzpatrick 1)
Weightmans Packaging always had the upper hand in this Grand Final clash with Dunkley Scales.
The teams met twice during the season:   in round 1 Weightmans Packaging took the honours with an 8-3 win, but Dunkley Scales reversed the result in round 6 with a 7-4 victory.
With the return of Arnold Jago to table tennis in round 3, Weightmans were readying themselves for the end of the season games.
And as it turned out, they timed their run to perfection.  Following on from last week's demolition of Regional Taxation Services in the Semi Final, where they recorded a 6-1 win, Weightmans were on top throughout this game, and Dunkley Scales did not really get a look in.
Jago got the ball rolling for his side, taking the first rubber in four sets against the energetic and determined John Fitzpatrick.  Fitzpatrick took the first set 11-8, but Jago was soon on top, taking the next three 4, 8 and 9.
Weightmans Packaging captain Mark Kerr made it 2-0 with a straight sets win against Sabrina Fitzpatrick, but Rachel Fitzpatrick got her team on the score-board with a four set win against Ryan Hensgen.  Hensgen proved difficult to get away, and the score line reflected a clash of two players whose rankings were not Number One and Number Three.  Rachel won 12-10, 7-11, 11-7, 11-9.
The first doubles was the next rubber, and this has been a weak point in this Dunkley Scales side throughout the season.  Rarely have they won the first doubles, and it was no different in this game, Rachel and Sabrina outplayed by Kerr and Jago in just three sets.
Weightmans Packaging moved inexorably on – Kerr winning in three sets again, this time against John, to now lead 4-1.
Rachel looked like she might claim her side's second rubber when she led Arnold Jago two sets to one, but Jago re-asserted his control of the match in the final two sets to snuff out any realistic chance Dunkley Scales might have had of victory.  Jago won 11-4, 8-11, 8-11, 11-5, 11-2.
Now needing just one more rubber to claim the shield, Ryan Hensgen tried to be the man to do it, but Sabrina Fitzpatrick was equally determined to keep her side in the game.  Hensgen actually won more points in the game, but Sabrina won three sets to two, 11-9, 6-11, 4-11, 13-11, 11-6.
Hensgen was rewarded with a win (and the shield !!) in the next rubber when he and captain Mark Kerr took the second doubles against Rachel and John in four sets.  The Fitzpatrick pair tried hard, but Kerr and Hensgen were too good, winning 7-11, 11-7, 11-8, 11-5.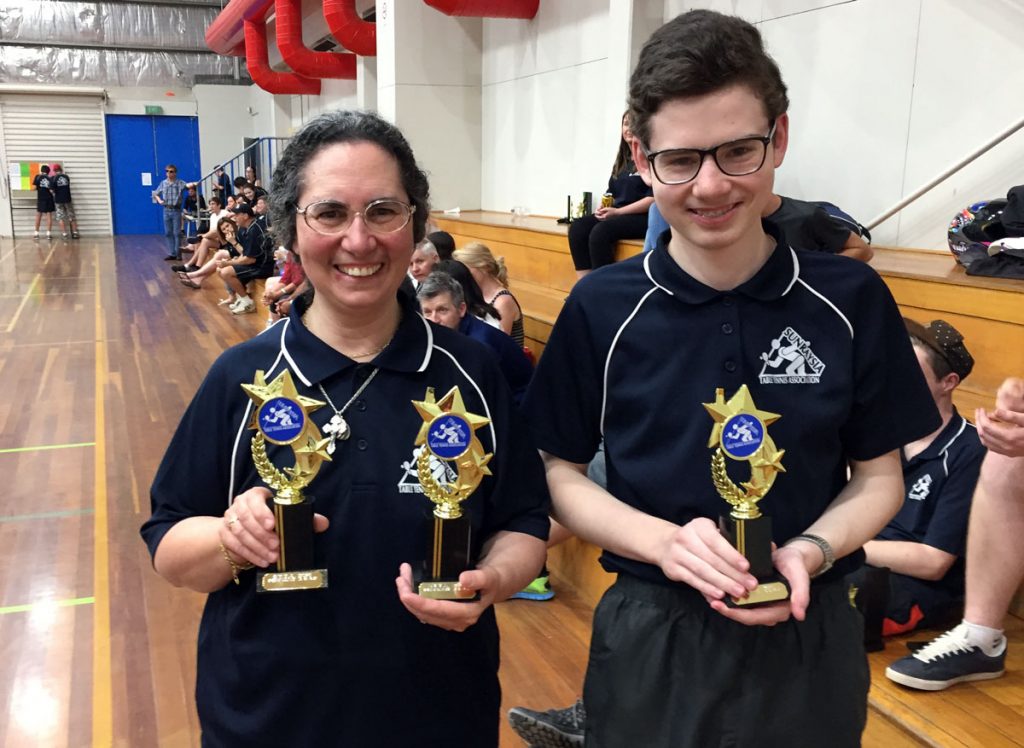 So, with their consistent play, and the ability to win games when the going got tough, this is a well-deserved win to Weightmans Packaging.
Final scores:  6 rubbers to 2 and 21 games to 10.
PENNANT FOUR: 

This was a contest between the teams that finished first (Mallee Meats) and second (Tankard Dental) on the ladder. These two were the best performed teams in this pennant and the match was expected to be close. Only one win separated these two teams and Mallee Meats had lost only one match for the season and that was at the hands of their opponents in the grand final.
– Mallee Meats 6 (Tom Morrison 3, Dave Tanner 1) d Tankard Dental 3 (Ben Hosking, Peter Lock, Luke Ljubic 1)
Tankard Dental were off to a positive start as expected when Peter Lock accounted for Mallee Meats number three however from this point Mallee Meats took control winning the next four matches. In the second and third singles Tom Morrison and Dave Tanner accounted for Luke Ljubic and Ben Hosking respectively in straight sets and it was Mallee Meats leading two rubbers to one after the first round of singles.
Knowing they needed to win the first doubles Tankard pair Ben Hosking and Peter Lock started positively against Tom Morrison and Dave Tanner winning the first game.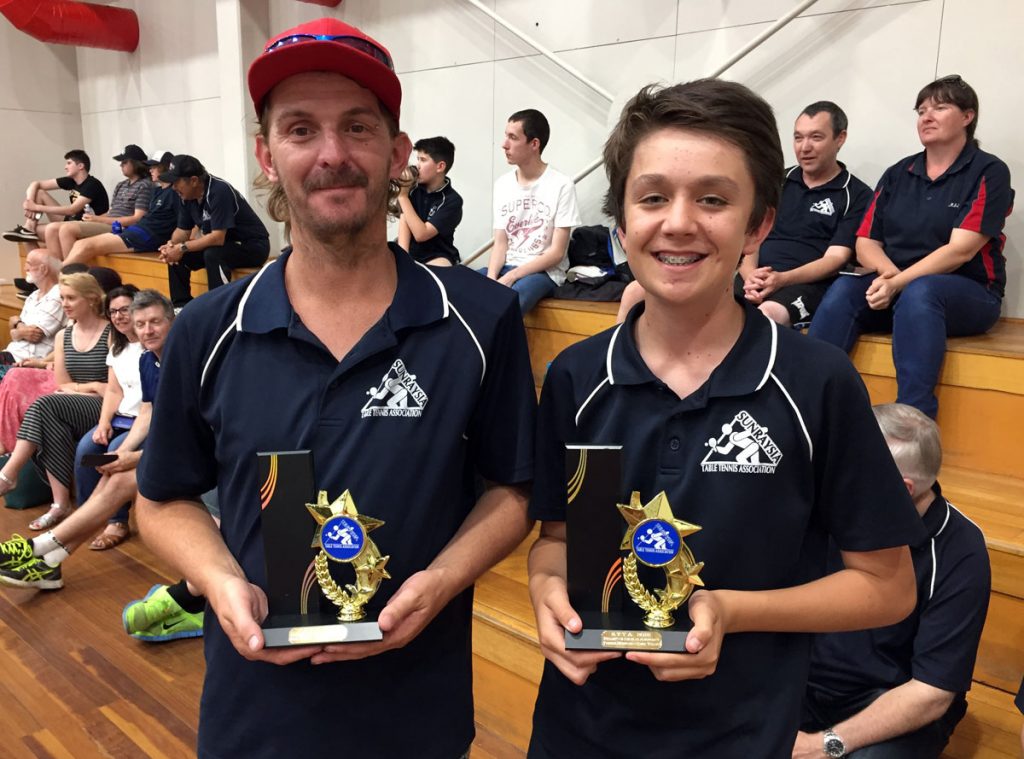 Tom and Dave had been the most successful doubles combination in this pennant losing only one match and that was against Ben and Peter in round five. On this occasion though they would turn the tables winning the second third and fourth to take the match 9-11 11-7 11-5 14-12 and in doing so Tankards now took a 3-1 lead.
Tankards in form player Peter Lock then played singles aggregate joint winner Tom Morrison and it was Tom who came out on top with some fine looping forehands. This 11-5 12-10 5-11 11-8 win by Tom took his team Mallee Meats to a 4-1 lead.
Tankards skipper Ben Hosking then reduced the lead by defeating Tom Cooper in straight sets and then in the match of the night Tankards Luke Ljubic played inspiring table tennis to keep his team alive and reduce the deficit to 3-4. This was a thriller and went to five sets and in the end Luke showed great maturity for such a young player winning 13-11 8-11 11-8 8-11 13-11 much to the delight of his team mates who now felt they could turn the match.
The Two Toms' however threw a spanner in the works in the second doubles with a comprehensive three set 11-5 11-7 11-1 victory against Ben Hosking and Luke Ljubic. It was now Mallee Meats leading 5-3 and in sight of the premiership. They needed one win from the last block of three singles.
Mallee Meats skipper Tom Morrison had enjoyed an excellent grand final already by winning two singles and taking part in both doubles victories, he now lined up against opposing skipper Ben Hosking. Hosking was off to a flyer winning the first game 11-2 by forcing Morrison into errors however after that hiccup Tom took control and went on to win the match 2-11 11-6 11-4 12-10 , Hosking had tried hard against the singles aggregate winner however it was Mallee Meats who were premiers.
Tom Morrison had proven to be a match winner and what better time than in a grand final. Mallee Meats were worthy premiers with their 6-3 victory over Tankard Dental.