Read Time:
8 Minute, 14 Second
Cooke's Pools and Spas Leon Brown (left) serving to Jackson Murphy, Murphy won this match however earlier in a big upset Brown defeated Nicholas Dorman in straight sets.
ROUND 3
PENNANT 1
After three rounds of the Sunraysia Table Tennis senior pennant Mallee Bearings remain the only undefeated team.
Mallee Bearings 8 (Wayne Carmichael 3, Jackson Tung 2, Russell Walder 1) d Exposed Signage/Apparel 3 (Lau Yee Huang 2, Mark Dorman 1)
After their 8-3 victory over Exposed Signage / Apparel. Bearings skipper Wayne Carmichael was in good form winning three singles and he also participated in both doubles victories.
The highlight match was the contest between Carmichael and Exposed's Mark Dorman.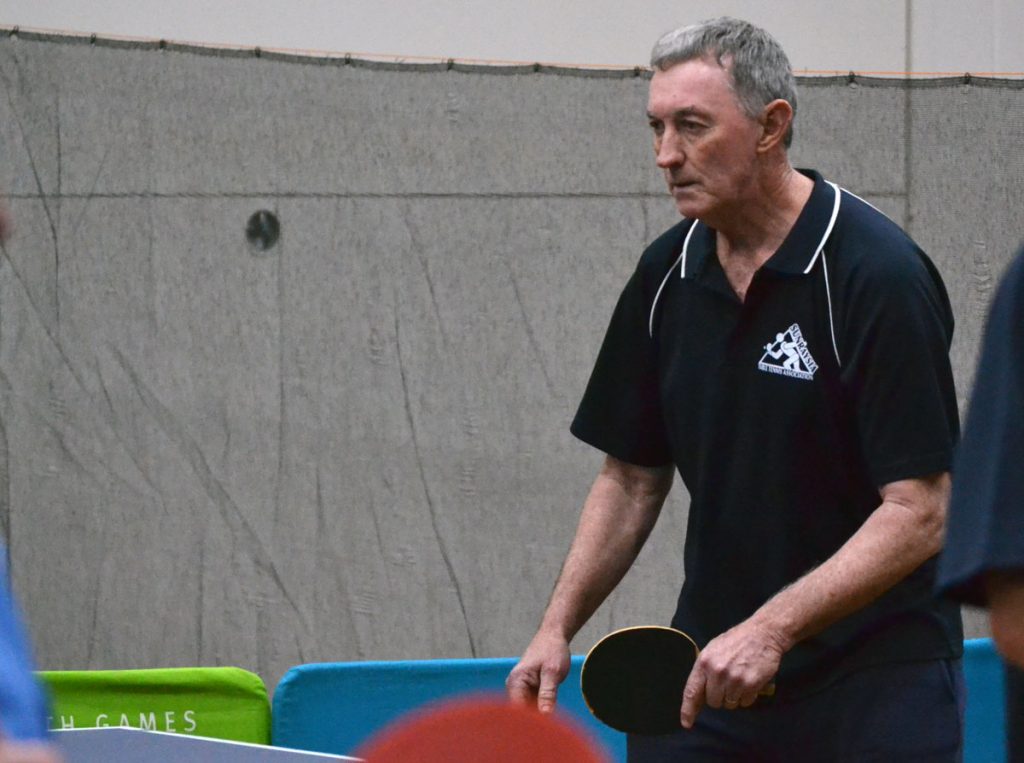 The two lefties as they have for numerous decades now put on a classy display with Carmichael just getting over the line 11-5 11-6 7-11 10-12 12-10 a marathon !
Apart from Carmichael playing well team mates Jackson Tung and Russell Walder offered good support winning two and one singles respectively.
Tankard Dental 7 (Matt Ljubic 3, Gavin Carmichael 2) d Regional Taxation Services 4 (Kate Carmichael 2, Reece Kurrle, Thahn Nguyen 1)
Second placed Tankard Dental extracted a solid win over Regional Taxation Services 7-4. After trailing one rubber to two Tankards stamped their authority on the match winning six of the next seven rubbers to secure the four points. Matt Ljubic for Tankards enjoyed a good night winning three singles and to cap it off he played in both successful doubles matches.
The first doubles was a thriller with Ljubic and team mate Gavin Carmichael recovering from a two game deficit to defeat Kate Carmichael and Reece Kurrle 5-11 11-13 11-8 11-8 11-9.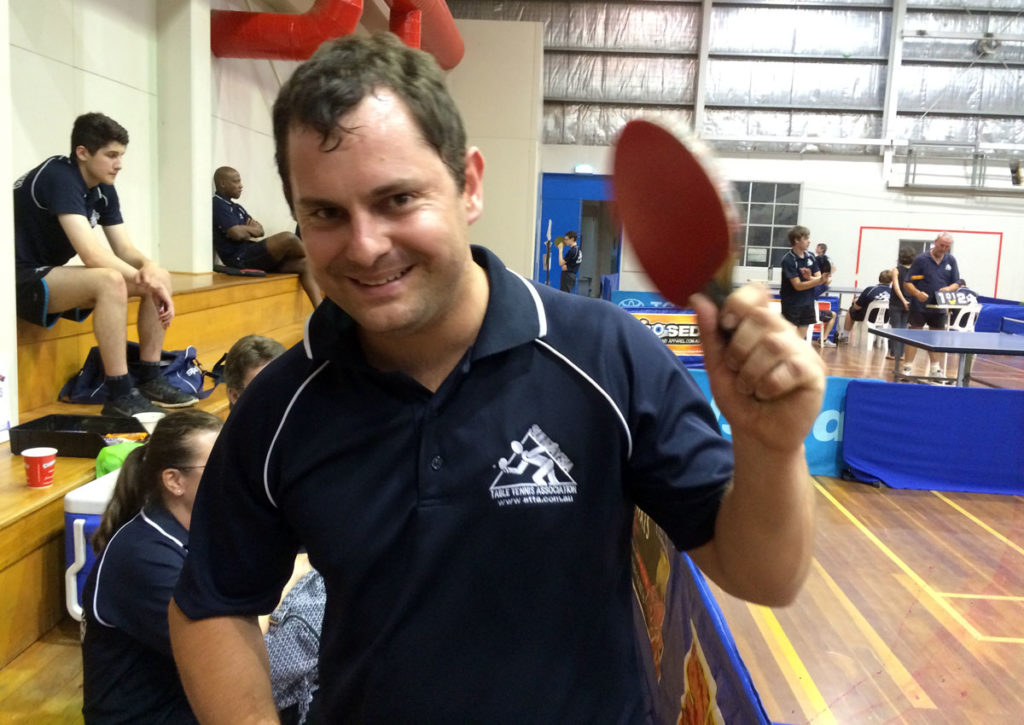 For Regional Taxation Services Kate Carmichael won two singles with her most satisfying win a victory over father Gavin 13-11 in the fifth after trailing late in the match.
Cookes Pools & Spas 7 (Joel Thomas 3, Lee Leeson, Leon Brown 1) d Max Miller Carpets 4 (Jackson Murphy 2, Ed Hung, Nicholas Dorman 1)
Cookes Pools & Spas moved to third on the ladder with a solid 7-4 victory over Max Miller Carpets. Joel Thomas maintained his undefeated singles run with another three victories for Cookes although he was made to work hard against the improving Jackson Murphy. After Murphy took the first Thomas steamed through the second. In the third Murphy took a 10-9 lead but Thomas was able to steady and win 12-10 and he then proceeded to win in four sets.
Murphy was able to win two singles for the Carpeters and just came up short with skipper Nicholas Dorman in the first doubles going down 10-12 in the fifth against Thomas and Leon Brown. This was an important win for Cookes.
Leon Brown in the week of his birthday also recorded one of his best singles victories of his career when he accounted for opposing number one Nicholas Dorman in straight sets.
PENNANT 2
Cookes Pools & Spas rose to the top of the ladder in this round after a solid win against Mallee Meats; Max Miller Carpets snuck home against luckless MJM automotive; and Pinnacle Packers defeated Weightmans Packaging in a nail-biter.
Cookes Pools & Spas 7 (Ashley Morrison 3, John Fitzpatrick 2, Rohan Reimers 1) d Mallee Meats 4 (Quentin Clark 2, Terry Martin 1
An upset win by Cookes Pools & Spas number two John Fitzpatrick over Mallee Meats captain Terry Martin in the first round of singles gave his side the advantage in this clash of the teams who were first and second on the ladder.
Martin took the first two sets comfortably 11-8, 11-8 and looked to be on course to put his side in a 2-1 lead. Fitzpatrick, however, fought furiously, took the next two sets 11-9, 11-9, and having got the upper hand, took the last 11-7.
Mallee Meats did equalise immediately in the first doubles, but from this point on, they did not have the game winners that Cookes did. Captain Ash Morrison won his three encounters all in straight sets, Fitzpatrick backed up his earlier win with a second, and Rohan Reimers chipped in with a win in the eleventh rubber.
Mallee Meats captain Martin finished a night he would rather forget with a solitary win, Quentin Clark played well for two wins, and together Martin and Clark took the first doubles.
Final scores: 7 rubbers to 4 and 27 games to 15.
Max Miller Carpets 6 (Kieren McRae 3, Casper McCarthy 2) d MJM Automotive 5 (Dylan Wood 2, Jeremy Corrin, Marcus Cimino 1)
Max Miller Carpets had to win the last two rubbers to take the win against MJM Automotive.
Captain Kieren McRae capped a good night with three wins, the first for the season. With these wins all coming in four sets, the signs are that McRae is becoming a force in this pennant. His number Casper McCarthy had another good night with two wins, and when these two combined in the doubles they won in straight sets against Dylan Wood and Jeremy Corrin. Number three Andrew Kremor deserves an honourable mention too – he almost downed MJM Automotive captain Wood, just falling short 12-10 in the fifth set.
The MJM Automotive trio all took wins, Wood with two, and Corrin and Marcus Cimino one each. Wood and Cimino won the second doubles.
Final scores: 6 rubbers to 5 and 22 games to 20.
Pinnacle Packers 6 (Peter Midgley, David Sergi 2, Raymond Manzanares 1) d Weightmans Packaging 5 (Jason Gifkins 3, Andrew Jones 1)
This was a close match throughout, with the lead never more than one rubber. That being the case, the contest had to be decided in the final rubber by the number threes.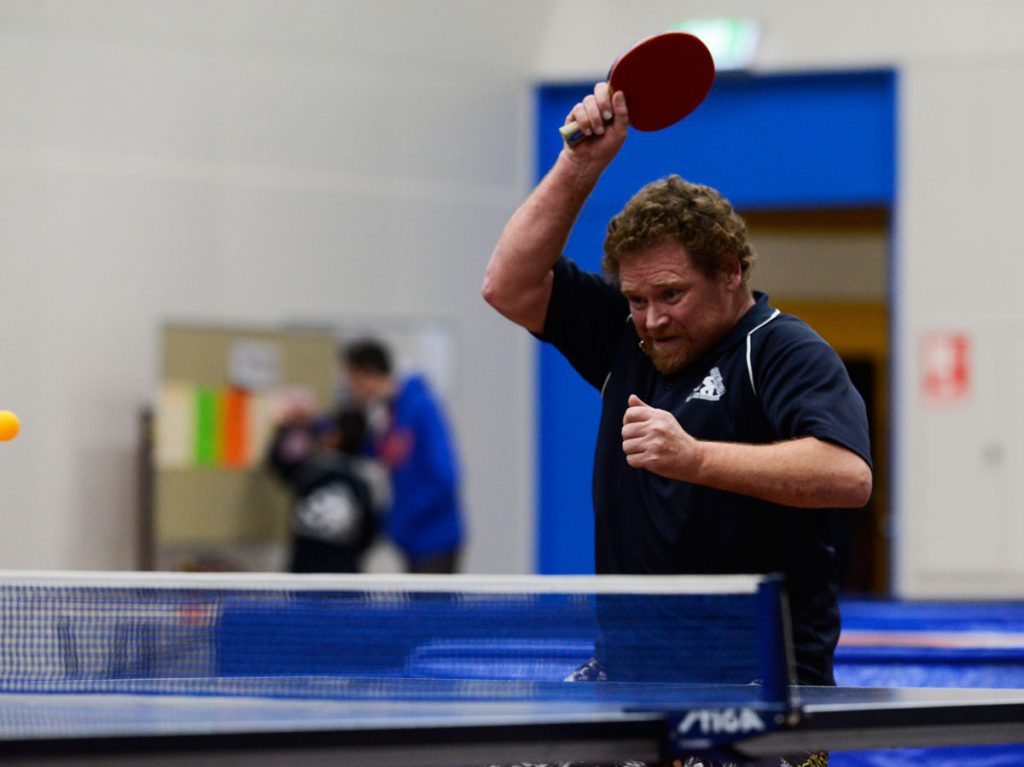 Despite being on the losing side, Jason Gifkins was dominant in singles play, with three wins. His win against opposing captain Peter Midgley was a great effort – down two sets to love and on the verge of losing in three, Gifkins pulled himself back into the game with a 15-13 win in that third set. His number two Andrew Jones could only manage one win, as he could not shake off the Pinnacle Packers number three David Sergi. Sergi won in five sets, coming back from 2-1 down.
Pinnacle Packers had an even night – Midgley and Sergi won two rubbers each, and number two Raymond Manzanares one. Midgley and Manzanares combined well in the first doubles rubber to win easily against Gifkins and Steve Pongrac 11-4, 11-8, 11-4.
Final scores: 6 rubbers to 5 and 24 games to 16.
PENNANT 3
With the first full round of competition now complete in this grade, MJM Automotive is the only undefeated side, this week winning 6-5; whilst Weightmans Packaging displaced Mallee Meats at second on the ladder with a strong 7-4 win against Sammy's Slammers.
MJM Automotive 6 (Peter Rhodes, Isaiah Bettess 2, Nick Kiapekos 1) d Mallee Meats 5 (Anthony Fox 3, Ryan Hensgen 1)
Both captains were absent for this contest, MJM Automotive captain Sabrina Fitzpatrick replaced by Peter Rhodes, and Anthony Fox subbed for the absent Therese Fitzpatrick.
Fox had the better night, winning three singles rubbers, and the second doubles with Ryan Hensgen, but it was not enough to get his side over the line, as only Hensgen could contribute any further rubbers.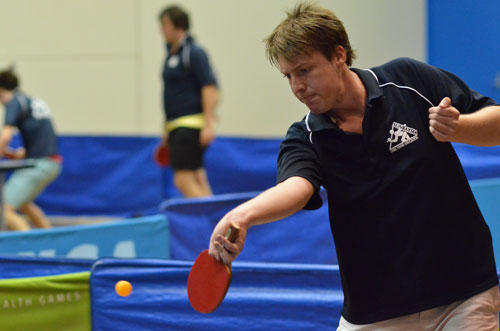 Hensgen played well, he took Rhodes to four sets, losing 12-10 in the final set, and in the second round of singles inflicted the first defeat of the season on MJM Automotive number two Nick Kiapekos. Kiapekos has been running hot this season, up to this point was undefeated in singles play, but Hensgen downed him in five sets.
Even with this great play from the Mallee Meats end of the table, the MJM Automotive trio played just that little bit better.
Kiapekos was kept quiet, but chalked up one win against Ben Hosking; Rhodes won two, but had to pull out all the stops to win his second rubber against Ben Hosking, winning that one in five, and Isaiah Bettess quietly went about his business with two wins, and looking like he could make it three, but ultimately falling to Anthony Fox in five sets. Kiapekos and Rhodes won the first doubles in four sets over Fox and Hosking, and Kiapekos and Bettess came close to winning the second doubles against Fox and Hensgen, but the Mallee Meats pair won points at the right time to win that contest in five sets.
Final scores: 6 rubbers to 5 and 24 games to 20.
Weightmans Packaging 7 (Karly Leach, James Jarvis 2, Brian Ormesher 1) d Sammy Slammers 4 ( Huseyin Ismail, Dave Tanner 2)
In defeating Sammy's Slammers, and with Mallee Meats being defeated by MJM Automotive, Weightmans Packaging moved into second spot on the ladder after this win.
Weightmans Packaging captain James Jarvis and his number Karly Leach both scored two wins, number three Brian Ormesher returning to the
game after a long time away, one, and the side had to rely on wins in the doubles contests for the rest. Jarvis and Ormesher won confidently in three sets; Jarvis and Leach struggled early in their match before taking the fourth and fifth sets 11-2, 11-5.
For Sammy's Slammers, Huseyin Ismail and the much-improved Dave Tanner won two rubbers each – Ismail defeated Ormesher and Leach, Tanner defeated Jarvis in a good four set match and later defeated Ormesher in five.
Final scores: 7 rubbers to 4 and 26 games to 16.