Read Time:
15 Minute, 2 Second
PENNANT ONE

The feature of round fourteen of the Sunraysia Table Tennis "Cash Converters" winter pennant was the sound win of 9-2 by Exposed Signage/Apparel over Weightmans Packaging.

The timing of this win by the Exposed Signage trio of Mark Dorman, Matt Avers and Michael Hogarth was impeccable as this victory moved them to fourth position on the ladder, the first time they have been in the four since way back in round 3. Victory also meant they took the place of Weightmans who were previously fourth.
– Exposed Signage/Apparel 9 (Matt Avers 3, Mark Dorman, Michael Hogarth 2) d Weightmans Packaging 2 (Gavin Carmichael, Shane Carmichael 1)
Matt Avers led the way with three singles victories as well as partnering both Dorman and Hogarth in the two doubles to five set victories in both. Both Dorman and Hogarth also won two singles and in particular
Hogarth enjoyed a good night defeating opposing number one Gavin Carmichael for the first time 9-11 11-7 11-7 8-11 11-8. Hogarth was in good form and retrieved the ball magnificently with excellent reflexes to outlast Carmichael in a fine win.
– Mallee Bearings 6 (Shannon Bowen, Nicholas Dorman 2, Matt Ljubic 1) d Tankard Dental 5 (Joel Thomas 3, Kate Carmichael 1)
After winning two from their first six matches top team Mallee Bearings, by defeating Tankard Dental 6-5 in a close one, have now won their past seven matches and with one round to play before finals they have moved into firm favouritism to take out the title. In this match against the second placed Tankards it was a solid team effort with
Shannon Bowen and Nicholas Dorman winning two singles while team mate Matt Ljubic won one.
Bowen and Ljubic combined to win the all-important first doubles and this match was a real highlight against the spirited opposition of Joel Thomas and Kate Carmichael. It went right to the wire with the Mallee Bearings duo winning 11-4 10-12 11-9 9-11 12-10 in a thriller.
For Tankard's Joel Thomas won his usual three singles however after comfortably winning the first two games against the unorthodox Shannon Bowen, it was Bowen then that took control for the next two games before Thomas wrested back the match to win in an entertaining display from both 11-6 11-4 7-11 7-11 11-7.
– Regional Taxation Services 7 (Wayne Carmichael 3, Mark Ljubic, Reece Kurrle 1) d Cash Converters 4 (Rick McMeekin, Jackson Tung 2)
With their season on the line bottom team Cash Converters were brave against third team Regional Taxation Services however it wasn't to be and they went down 4-7. Overall there were four five set matches with the honors shared.
For Regional Taxation Services
Wayne Carmichael won three singles as well as playing in both doubles victories. For Cash Converters Rick McMeekin won two singles as did team mate Jackson Tung. Tung defeated both Mark Ljubic and Reece Kurrle in five setters both11-9 in the final game.
With one round to play before the finals fourth position on the ladder can still change while the all important double chance is still up for grabs.
PENNANT TWO
Pinnacle Packers downed bottom side MJM Automotive with a close 6-5 result; Mallee Bearings kept things ticking along with a 7-4 victory against Weightmans Packaging, and Max Miller Carpets continued their relentless charge through the field, downing the hapless Mallee Meats and in so doing moved into third spot on the ladder.
– Pinnacle Packers 6 (Kevin Johns, Peter Midgley 2) d MJM Automotive 5 (Bernadette Fitzpatrick 3, Tony Malycha, Seval Fuat 1)
Top side Pinnacle Packers almost met their match in this game against bottom side MJM Automotive.
For the sixth time this season MJM Automotive lost 6-5.  Bernadette Fitzpatrick once again proved to be the class of the field, taking three singles wins, and on a night when her team-mates Tony Malycha and Seval Fuat both took wins also, both downing Jason Gifkins, a win was there for the taking.
But it was not to be; the rubber which could have given them the win, the second doubles slipped away in the fourth and fifth sets when Fitzpatrick and Fuat played Kevin Johns and Gifkins.  After a slow start, when they lost the first set 1-11, the MJM Automotive pair played themselves back into the match, and had a chance to take the game in the fourth set.  At that stage the score-sheet read 1-11, 12-10, 11-8, 11-13.  After losing that vital fourth set, a bit of the sting went out of their game and Johns and Gifkins cruised to take the fifth set 11-5.
With this win, Pinnacle Packers remain on top of the ladder one game clear of Mallee Bearings.
Fitzpatrick's dominant form sees her join Lee Thomas at the head of the aggregate ladder, both tied on 33 games.
Final scores:  6 rubbers to 5 and 22 games to 20.
– Mallee Bearings 7 (Jackson Murphy 3, Lee Thomas 2) d Weightmans Packaging 4 (Ashley Morrison 2, Arthur Paar, Kerry Wallace 1)
Mallee Bearings were in control of this game throughout.
With Mallee Bearings captain Jackson Murphy in a welcome return to form, his team had the match wrapped up after the second doubles.
That is not to say that everything is going swimmingly for them though – number three Terry Martin is still carrying an injury, and conceded all his singles rubbers in just three sets.  He did however, fire up in the second doubles when he and Murphy played Ashley Morrison and Arthur Paar.  The Weightmans pair did not really get a look in, and lost in four sets.
The other highlight of this game was that Lee Thomas, who has led the aggregate for some time, finally found herself with a joint leader, Bernadette Fitzpatrick.  Fitzpatrick had been threatening the lead for a while, and in taking three wins in her game, gave herself the best chance.  Thomas in this game, stumbled.  Her first rubber was probably indicative of her form.  She really struggled to get going against Arthur Paar and found herself two sets to love down 6-11, 14-16 and Paar all fired up. 
Lee recovered however to take the last three sets 8, 7 and 3 to get her first win on the board.  Then after a shaky start against Kerry Wallace, losing the first 9-11, Lee had to reset to take the last three there 5, 6 and 6.  But there was no room to move against Ashley Morrison.  Morrison powered through the first two sets 11-8, 11-6, before Thomas got a look-in in the third set, taking that 11-5, but Morrison was too strong in the fourth and closed the game out 11-8.
So, no doubt Fitzpatrick and Thomas will be watching each other in the final round next week … a fair result would probably be a tie.
– Max Miller Carpets 7 (Ed Hung 3, Rod Healy, Sony Sefer 1) d Mallee Meats 4 (Geoff Wright, Russell Walder 2)
Max Miller Carpets continued their climb up the ladder, this week capturing third spot, and almost guaranteeing themselves a spot in the finals.
It has been said before, but it is worth repeating.  After losing the first five rounds, Max Miller Carpets have won seven of their nine subsequent matches.  Only ladder leaders Pinnacle Packers can match that.  This team is a genuine threat for the flag, and their two losses have been to Mallee Meats, whose form continues to baffle, and to ladder leaders Pinnacle Packers.
This game confirmed their credentials as finals contenders.  On the previous two meetings, Mallee Meats had defeated the Carpeters, but to show their form was genuine, they took this game by the scruff of the neck after the fifth rubber.  At that stage they trailed 2-3, but in a powerful display, took the next five rubbers to put the game out of reach of their opponents.
Ed Hung was ecstatic in taking three singles wins for his team, and with wins to Sony Sefer and Rod Healy (subbing for Brendan Alderton) both against Andrew Jones, their wins in both doubles sealed the win.
Hung and Sefer led the first doubles two sets to love 11-9, 12-10 in a close contest against Geoff Wright and Russell Walder.  The Mallee Meats levelled at two sets all with wins in the third and fourth sets 11-8, 11-9, and the game went to a close fifth sets, 12-10 to Hung and Sefer.
The second doubles fell to Hung and Healy in just three sets 14-12, 11-7, 11-8 against Wright and Jones.
Max Miller Carpets should make it into the finals … it would have to be a big loss next against Weightmans Packaging to put them out, and Mallee Meats would have to win, something they haven't done for a while.
Final scores:  7 rubbers to 4 and 22 games to 19.
PENNANT THREE
The news from this round is that Regional Taxation Services (finally) made their move for the finals.  After languishing at or near the bottom for most of the season, this week they climbed off the bottom with their win over Dunkley Scales.  With the bottom three teams separated by only one win, any one of them could be the team to take fourth spot, and Regional Taxation Services which looks like it will be the one.
– Tankard Dental 9 (Michael Hensgen, Rohan Reimers, Zac Healy 2) d MJM Automotive 2(Jeremy Corrin 1)
Tankard Dental once again ran through MJM Automotive in this round 14 match.
MJM Automotive may be third on the ladder, but they are clearly "just making up the numbers" when it comes to whether they are a threat for the premiership.
Tankard Dental won the first six rubbers, lost two, then won the final three to comprehensively outplay their opponents.
Only Zac Healy failed to score three singles wins – he went down to Jeremy Corrin in three sets.
With six three set contests, and just one five setter, this was clearly Tankard Dental's game.
Final scores:  9 rubbers to 2 and 28 games to 11.
– Regional Taxation Services 7 (Quentin Clark, Vin Brown 2, David Sergi 1) d Dunkley Scales 4(Cambell McKenzie, Rachel Fitzpatrick 2)
Regional Taxation Services captain Quentin Clark was excited about his team's finals prospects after downing Dunkley Scales in this round.  Although the win still sees them in fifth spot, up from sixth, next week they are drawn to play Weightmans Packaging (now in sixth) who they defeated 8-3 in round 10.  The other team in the picture for fourth spot is Dunkley Scales, who currently sit fourth and who have an almost identical win-loss score, but they meet Michael Hensgen's big hitting Tankard Dental squad.  On their previous two meetings Dunkley Scales have lost to Tankard Dental 2-9 and 3-8.
So, perhaps Quentin's optimism is well-founded.
If the team's performance in this game was anything to go by, then fourth spot will be theirs next week.
Although his team did not dominate the game, Quentin's men all took a singles' win, Clark and Vin Brown taking two each.  Wins in both doubles will surely add to their confidence, as both doubles ran to five sets – Clark and Brown in a very close tussle with Cambell McKenzie and Rachel Fitzpatrick came from two sets to love down to win 11-13, 11-13, 13-11, 11-9, 11-6.  The second doubles was close too, this time Clark and David Sergi just outlasting McKenzie and Huseyin Ismail 4-11, 12-10, 7-11, 12-10, 11-9.
After his comeback season to table-tennis, Vin Brown had a night he will fondly remember.  His first up five set win against Ismail, then his doubles win with his captain, followed by a boil-over three set victory against opposing captain McKenzie will surely be a highlight.
Number three David Sergi in his win, also against Ismail, had to work; it took him five sets in a close run contest.
If Regional Taxation Services maintain that form, they will be a threat.
Final scores:  7 rubbers to 4 and 26 games to 22.
– Mallee Meats 6 (Rod Healy 3, Claire Ljubic, Marcus Cimino 1) d Weightmans Packaging 5(Paul Fitzpatrick, Karly Leach 2)
When these teams last met in round 9, Weightmans Packaging sprang a surprise on Mallee Meats, inflicting what was, then only their second defeat for the season.  Since then Mallee Meats have remained undefeated, and Weightmans were looking to down them again.
They came close, but with their number two Sam Hensgen not firing (he has won just one singles rubber in the last five rounds), Weightmans Packaging were up against it.  In this game, he came away with another zero, losing badly to his opposite number Claire Ljubic in three, and after leading two sets to love 13-11, 11-8 against danger man Marcus Cimino, he fell in the final three sets 5-11, 16-18, 6-11.
Mallee Meats captain Rod Healy was his usual consistent self, taking three wins, but as he was doubling up in Pennant Two, Weightmans had a chance to grab a win on him.  Hensgen took him to five sets in the first round of singles, and in the last round of singles Weightmans captain Paul Fitzpatrick too slugged it out with him for five sets, but Rod prevailed.
The other performance worthy of note was that of Karly Leach –
Karly going away with two singles wins, and the second doubles with captain Paul Fitzpatrick.  Karly played the first rubber of the night against Claire Ljubic and her dogged game finally gave her a win she often deserves.  Her 11-8, 10-12, 12-10, 8-11, 11-8 win was a great start for her team, and she followed this performance with a win in the final rubber against that man Cimino, also in five9-11, 11-4, 11-3, 3-11, 11-6 in a wildly swinging game.  So, it was only right that the doubles win should be five sets also, she and Fitzpatrick getting their money's worth against Healy and Ljubic, drawing away in the fifth to win 14-12, 7-11, 11-8, 9-11, 11-5.
Apart from Tankard Dental, Weightmans are the only other team to seriously worry Mallee Meats, and their round 9 win is proof of that.  Unfortunately, the win did not come their way here, and with the game against Tankard Dental next week, their season may be over then.
Final scores:  6 rubbers to 5 and 26 games to 22.
PENNANT FOUR
This round Mallee Meats secured a spot in the finals with a 7-4 win over second placed Regional Taxation Services while Weightmans Packaging moved two games clear at the top of the ladder by defeating Dunkley's Scales 7-4. MJM Automotive had the bye. An exciting final round will take place this week as fourth and fifth placed Dunkley's Scales and MJM Automotive will be fighting it out for the fourth spot and a spot in the finals. They actually match up against each other which adds to the excitement. In affect for these two sides the finals commence in round fifteen. Good luck to both teams.
– Weightmans Packaging 7 (Sabrina Fitzpatrick 3, Kim Avers 2) d Dunkley Scales 4 (Therese Fitzpatrick 2, Joel Hogarth, Caitlin Elstone 1)
Weightmans Packaging were led superbly in this match by skipper Sabrina Fitzpatrick who won three singles and took part in both of her teams doubles victories. Her positive play enabled her team to defeat finals aspirants Dunkley's Scales 7-4.
The experienced Sabrina accounted for both Caitlin Elstone and Joel Hogarth in straight sets however found the match against daughter Therese, who was filling in for Leonie Dunkley, much tougher. This contest was a real struggle and whilst Sabrina won in four games each was decided by the barest margin of two points, the final score line in her favour 12-10 12-10 9-11 13-11.
Kim Avers who was filling in for the absent Helen Frania also played a key role for Weightmans by winning two singles including a marathon five set victory over Joel Hogarth 11-8 8-11 14-16 11-5 12-10 a great match.
For Dunkley's Therese Fitzpatrick tried very hard to win two singles while Caitlin Elstone won one match outlasting Tom Cooper 7-11 12-10 8-11 12-10 11-9 another long five setter which could have gone any way.
– Mallee Meats 7 (Mick Bacon, Ben Hosking 2, Luke Ljubic 1) d Regional Taxation Services 4(John Fitzpatrick 3, Shirley Whitecross 1)
Mallee Meats were without Ryan Hensgen and Nick Kiapekos going into this contest and they were replaced by Michael Bacon and Ben Hosking respectively. Despite this Mallee Meats were able to score a very encouraging 7-4 win over Regional Taxation Services which has now ensured they will play finals table tennis.
Even though his side was defeated Regional Taxation Services number one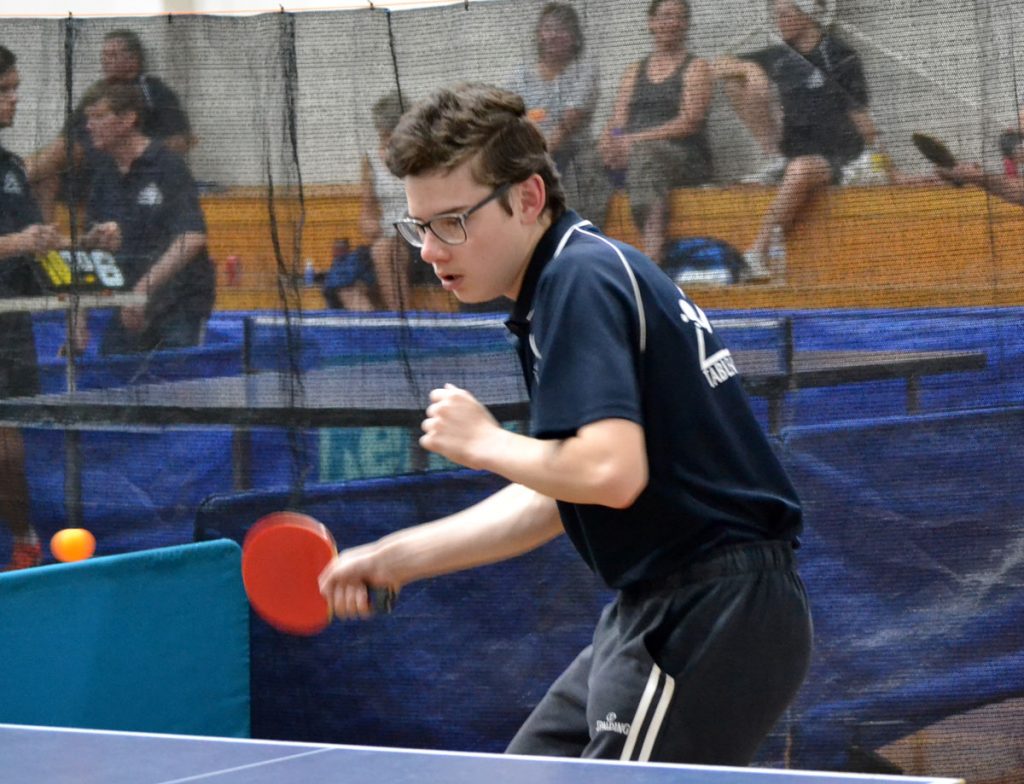 John Fitzpatrick still managed to win three singles for the eighth time this season and in doing so has guaranteed himself the singles aggregate given his nearest rival, Ryan Hensgen, is three wins in arrears of John and has the bye in round 15. John was under the pump in his third singles match which was against the experienced Michael Bacon. Trailing two games to love John upped the ante and struck back to go on and win 9-11 8-11 11-9 11-5 11-6.