Read Time:
2 Minute, 51 Second
PENNANT FOUR: 

This was a contest between the teams that finished first (Mallee Meats) and second (Tankard Dental) on the ladder. These two were the best performed teams in this pennant and the match was expected to be close. Only one win separated these two teams and Mallee Meats had lost only one match for the season and that was at the hands of their opponents in the grand final.
– Mallee Meats 6 (Tom Morrison 3, Dave Tanner 1) d Tankard Dental 3 (Ben Hosking, Peter Lock, Luke Ljubic 1)
Tankard Dental were off to a positive start as expected when Peter Lock accounted for Mallee Meats number three however from this point Mallee Meats took control winning the next four matches. In the second and third singles Tom Morrison and Dave Tanner accounted for Luke Ljubic and Ben Hosking respectively in straight sets and it was Mallee Meats leading two rubbers to one after the first round of singles.
Knowing they needed to win the first doubles Tankard pair Ben Hosking and Peter Lock started positively against Tom Morrison and Dave Tanner winning the first game.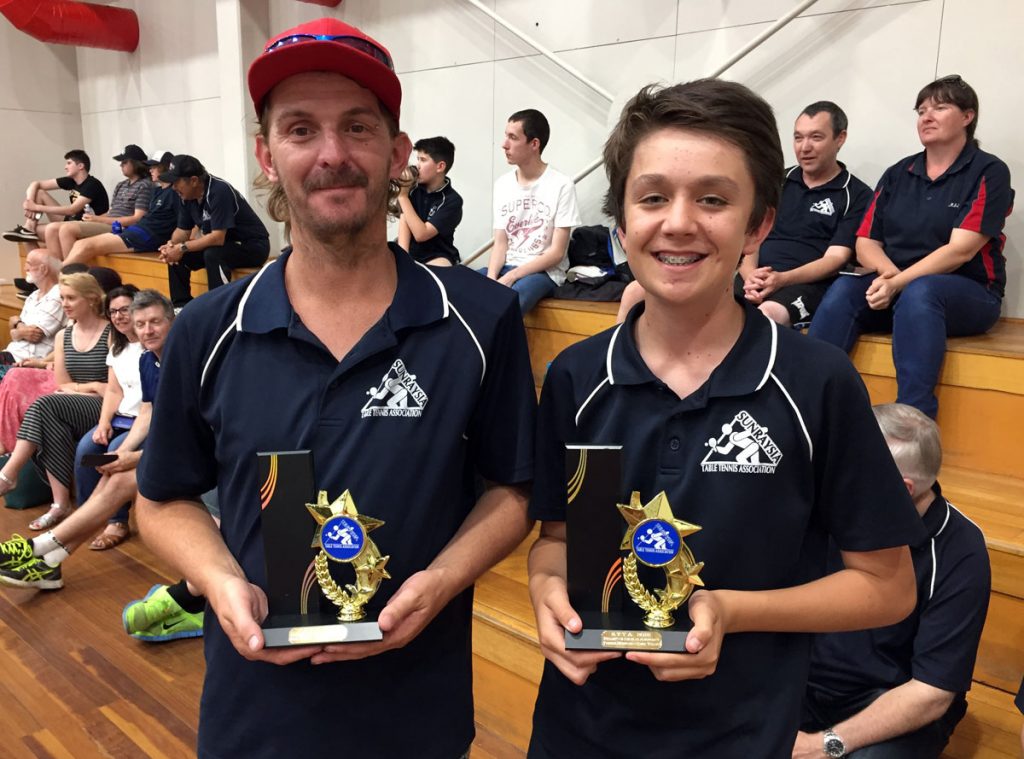 Tom and Dave had been the most successful doubles combination in this pennant losing only one match and that was against Ben and Peter in round five. On this occasion though they would turn the tables winning the second third and fourth to take the match 9-11 11-7 11-5 14-12 and in doing so Tankards now took a 3-1 lead.
Tankards in form player Peter Lock then played singles aggregate joint winner Tom Morrison and it was Tom who came out on top with some fine looping forehands. This 11-5 12-10 5-11 11-8 win by Tom took his team Mallee Meats to a 4-1 lead.
Tankards skipper Ben Hosking then reduced the lead by defeating Tom Cooper in straight sets and then in the match of the night Tankards Luke Ljubic played inspiring table tennis to keep his team alive and reduce the deficit to 3-4. This was a thriller and went to five sets and in the end Luke showed great maturity for such a young player winning 13-11 8-11 11-8 8-11 13-11 much to the delight of his team mates who now felt they could turn the match.
The Two Toms' however threw a spanner in the works in the second doubles with a comprehensive three set 11-5 11-7 11-1 victory against Ben Hosking and Luke Ljubic. It was now Mallee Meats leading 5-3 and in sight of the premiership. They needed one win from the last block of three singles.
Mallee Meats skipper Tom Morrison had enjoyed an excellent grand final already by winning two singles and taking part in both doubles victories, he now lined up against opposing skipper Ben Hosking. Hosking was off to a flyer winning the first game 11-2 by forcing Morrison into errors however after that hiccup Tom took control and went on to win the match 2-11 11-6 11-4 12-10 , Hosking had tried hard against the singles aggregate winner however it was Mallee Meats who were premiers.
Tom Morrison had proven to be a match winner and what better time than in a grand final. Mallee Meats were worthy premiers with their 6-3 victory over Tankard Dental.