Read Time:
2 Minute, 43 Second
PENNANT THREE:

Weightmans Packaging took a dominant win against Dunkley Scales to claim the Pennant Three Summer Trophy.
– Weightmans Packaging 6 (Mark Kerr, Arnold Jago 2) d Dunkley Scales 2 (Rachel Fitzpatrick, Sabrina Fitzpatrick 1)
Weightmans Packaging always had the upper hand in this Grand Final clash with Dunkley Scales.
The teams met twice during the season:   in round 1 Weightmans Packaging took the honours with an 8-3 win, but Dunkley Scales reversed the result in round 6 with a 7-4 victory.
With the return of Arnold Jago to table tennis in round 3, Weightmans were readying themselves for the end of the season games.
And as it turned out, they timed their run to perfection.  Following on from last week's demolition of Regional Taxation Services in the Semi Final, where they recorded a 6-1 win, Weightmans were on top throughout this game, and Dunkley Scales did not really get a look in.
Jago got the ball rolling for his side, taking the first rubber in four sets against the energetic and determined John Fitzpatrick.  Fitzpatrick took the first set 11-8, but Jago was soon on top, taking the next three 4, 8 and 9.
Weightmans Packaging captain Mark Kerr made it 2-0 with a straight sets win against Sabrina Fitzpatrick, but Rachel Fitzpatrick got her team on the score-board with a four set win against Ryan Hensgen.  Hensgen proved difficult to get away, and the score line reflected a clash of two players whose rankings were not Number One and Number Three.  Rachel won 12-10, 7-11, 11-7, 11-9.
The first doubles was the next rubber, and this has been a weak point in this Dunkley Scales side throughout the season.  Rarely have they won the first doubles, and it was no different in this game, Rachel and Sabrina outplayed by Kerr and Jago in just three sets.
Weightmans Packaging moved inexorably on – Kerr winning in three sets again, this time against John, to now lead 4-1.
Rachel looked like she might claim her side's second rubber when she led Arnold Jago two sets to one, but Jago re-asserted his control of the match in the final two sets to snuff out any realistic chance Dunkley Scales might have had of victory.  Jago won 11-4, 8-11, 8-11, 11-5, 11-2.
Now needing just one more rubber to claim the shield, Ryan Hensgen tried to be the man to do it, but Sabrina Fitzpatrick was equally determined to keep her side in the game.  Hensgen actually won more points in the game, but Sabrina won three sets to two, 11-9, 6-11, 4-11, 13-11, 11-6.
Hensgen was rewarded with a win (and the shield !!) in the next rubber when he and captain Mark Kerr took the second doubles against Rachel and John in four sets.  The Fitzpatrick pair tried hard, but Kerr and Hensgen were too good, winning 7-11, 11-7, 11-8, 11-5.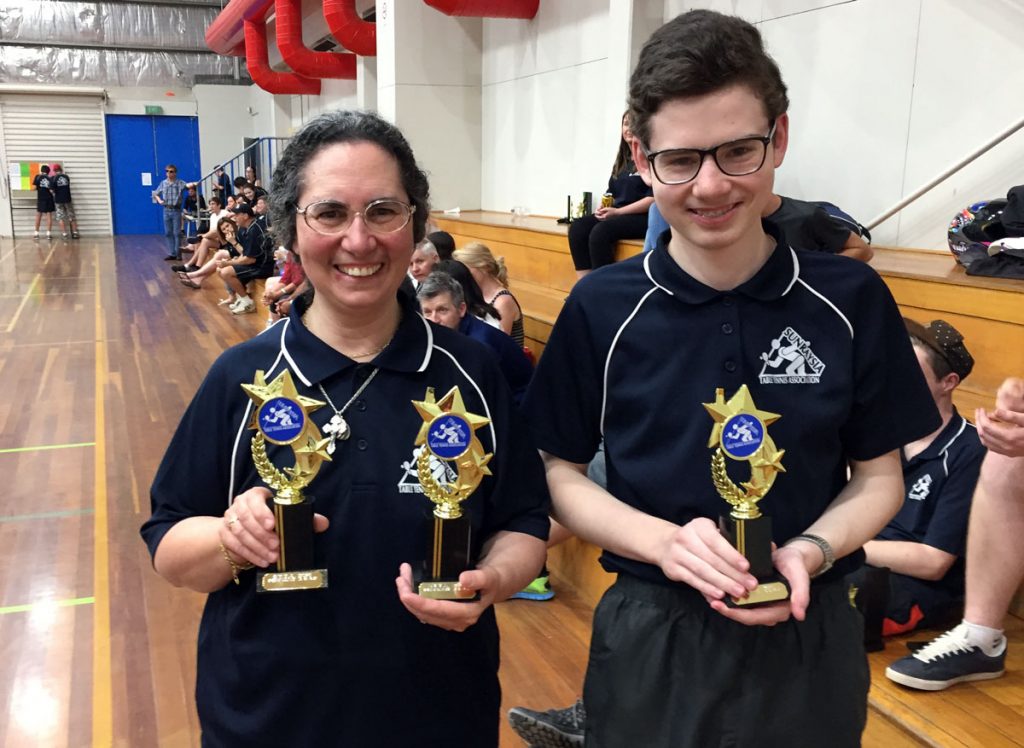 So, with their consistent play, and the ability to win games when the going got tough, this is a well-deserved win to Weightmans Packaging.
Final scores:  6 rubbers to 2 and 21 games to 10.