Read Time:
3 Minute, 54 Second
In a first for the Stta, senior competition points were played for on the Monday night. Barring the odd heckler on the sidelines Stta Committee members were pleased with the nights overall success and indicated there may be more to come with Vice-president Mark Dorman endorsing the concept quoted as saying 'Wow thats big. Maybe this Monday night table tennis competition will take off'. Other supporters of the concept was secretary/player liason officer Gavin Carmichael who also indicated that we could look at marque matches being taken to the clubs around the district to 'Get our game out there'.
– Mallee Meats 6 (Sony Sefer, Arthur Paar 2, Russell Walder 1) d MJM Automotive 5 (Geoff Wright, Jason Gifkins 2)
With the unavailability of some personnel for the traditional Wednesday comp, a proposal was put forward that would see the match between P2 teams MJM Automotive and Mallee Meats shifted to the Monday. With both captains signing off, the match delivered with the winner being decided very late into the contest. 
With the pressure being applied to meet the 10pm finish time, the match between Geoff Wright v Russell Walder and Sony Sefer v Quentin Clark start simultaneously with Wright proving too steady for Walder and Sefer edging out Clark to leave the rubbers at 1 all. The third match of the first round of singles saw Arthur Paar, fresh from a weekend away in the Riverland keep the excitable Jason Gifkins at bay to help Mallee Meats to a two to one lead.
The first doubles featured the first strategic play of the night with MJM captain Geoff Wright deciding to call up Quentin Clark to partner himself against a strong MM combo of Walder and Sefer. It was Walder and Sefer who kept the pressure on winning in three sets to now take a mini break overall score of three rubbers to one.
The first singles of the second round saw Walder quick out of the blocks against Clark before Clark began a mini comeback in the third. Big angled topspin strokes saw Walder see off Clark and now set up a 4 -1 rubber lead to Mallee Meats.
The next game was arguably the game of the night with Paar holding his nerve to push Wright into a fifth set. Growing in confidence and support from team-mates Walder and Sefer, Paar moved to a 10-8 lead. With two match points Paar went for his traditional cross court smash and on both occasions managed to push them wide. With scores now at 10 all Wright steadied and took the final rubber 12-10 to pull a Houdini escape act and keep MJM alive and now trailing 4-2.
Gifkins then pulled out a clever tactical game in playing an extremely short chop game in which Sefer took too long to adjust to losing in 3 sets to now bring the match rubber score to 4-3.
With Sefer and Paar suffering successive loses they now had to pair up in the doubles against Wright and Gifkins which had began to now play with more aggression and ran away with an 11-3 fifth set win to now square the rubbers up at 4-4.
The third round of singles were very tense and Quentin Clarke made his intentions clear from the outset in telling Paar that he would beat him. Clark raced out to a 2-0 lead with some devastating forehand smashes. When Clark pulled the shot of the night 'cross court backhand smash on the run' to take a 9-7 lead Paar looked in big trouble. Paar shortened his strokes and managed to pinch the third 13-11 and in a team lifting come from behind victory to win in five. This stopped the run of three rubbers on the trot by MJM and now gave Mallee Meats a 5-4 lead.
The tenth game of the night featured good mates Gifkins and Walder in another classic 5 set encounter between these two. Gifkins come from behind win in the fifth set squared the match score at 5 rubbers all.
Going into the last game at 5 all, both Wright and Sefer got straight into it with very few words exchanged, which is unusual for these two. It was however over in a hurry with Wright failing to keep Sefer's forehand smashes at bay with Sefer taking it out in three. Mallee Meats winning 6-5 in successive weeks to now move into the top two.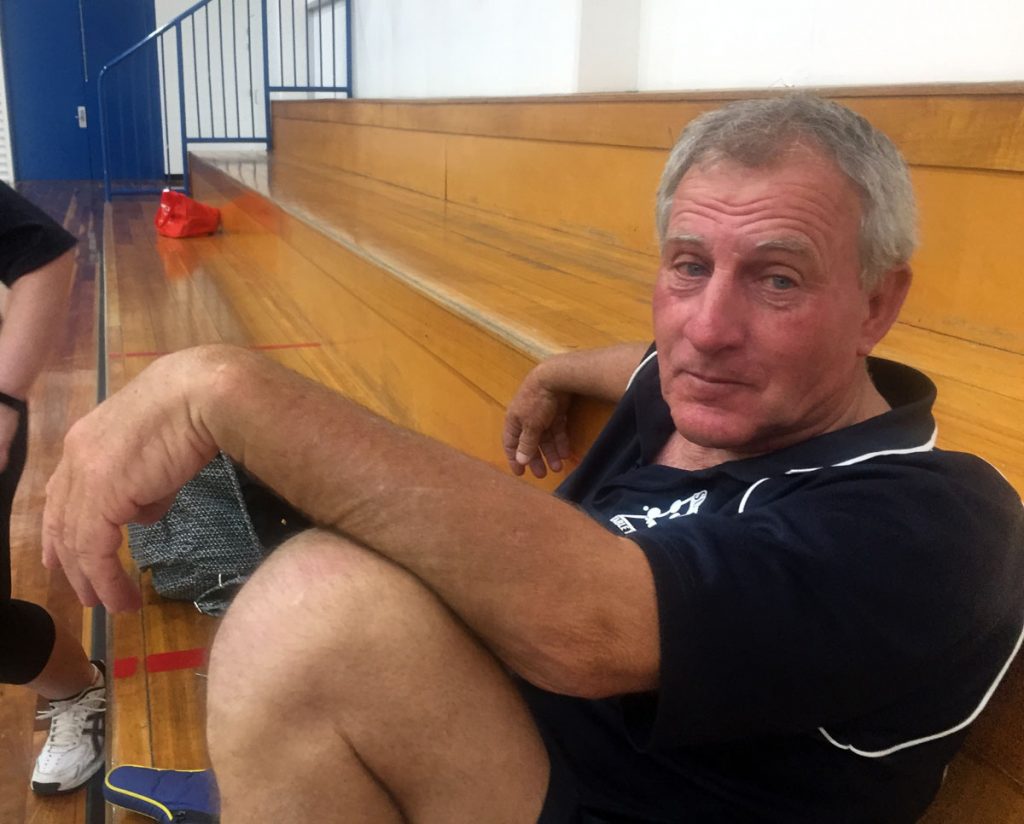 The night ended at Maccas …. again, with the usual crew as well as Arthur, Dave and Reece. Notable absentees were Geoff and Quentin.