Read Time:
15 Minute, 23 Second
ROUND 9
PENNANT ONE:
Going in to round nine of Sunraysia Table Tennis Summer Pennant all the teams in the top four were level on five wins and three losses. In a strange twist the three teams positioned from second to fourth were defeated.
Courtesy of a strong win by top team Max Miller Carpets over second placed Exposed Signage / Apparel the Carpeters have virtually assured themselves of top position with one round to play. Third placed Cash Converters and fourth team Mallee Bearings also suffered losses to the fifth and sixth teams to take the pressure off Max Miller Carpets.
– Max Miller Carpets 8 (Matt Ljubic, Mark Ljubic, Lee Leeson 2) d Exposed Signage/Apparel 3 (Leon Brown 2, Nicholas Dorman 1)
In an even team performance the Carpeters were too strong for Exposed Signage / Apparel winning 8-3. For the victors Matt Ljubic, Mark Ljubic and Lee Leeson won two singles each. By winning both doubles in straight sets victory came easier than expected. At one stage the scores were locked at three rubbers all however the Carpeters flexed their muscles to win the last five rubbers.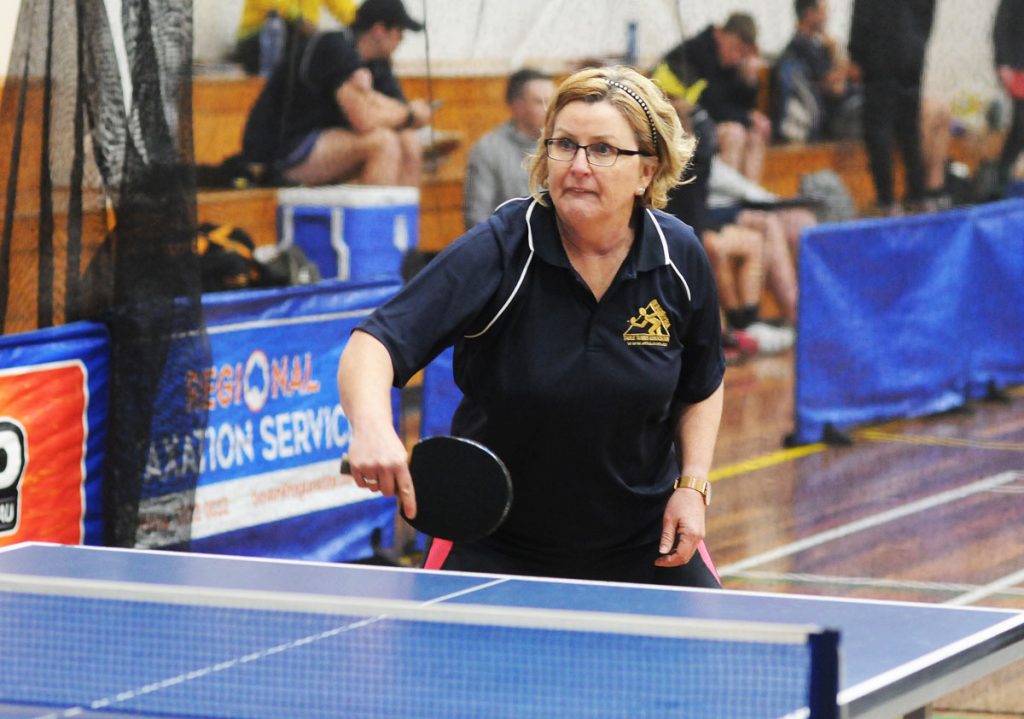 The Carpeters number three Lee Leeson played excellent table tennis to win two singles including a three set defeat of opposing number one Nicholas Dorman 13-15 16-14 16-14. She also participated in a winning doubles.
Going in to this match Matt Ljubic was leading the singles aggregate by two from Nicholas Dorman and despite Dorman defeating Ljubic , Dorman actually lost ground after being defeated by Mark Ljubic and Lee Leeson respectively both in lengthy three setters.
– Regional Taxation Services 6 (Kate Carmichael 2, Mark Dorman, Ed Hung 1) d Cash Converters 5 (Phil Smith 3, Liam Wood 2)
Bottom team Regional Taxation Services surprised second placed Cash Converters winning 6-5 despite Phil Smith and Liam Wood winning three and two singles respectively for the Converters. The doubles were crucial and both won in three sets by Regional Taxation Services. The first doubles was tight all the way and in an important victory Kate Carmichael and Mark Dorman took the points 12-15 15-10 16-14 over Cash Converters pair Phil Smith and Liam Wood.
For RTS despite losing to Smith, Kate Carmichael enjoyed a good night winning two singles as well as playing a key role in both doubles victories.
– Tankard Dental 6 (Reece Kurrle 2, Wayne Carmichael, Kevin Johns 1) d Mallee Bearings 5 (Gavin Carmichael 3, Joel Dorman 2)
In the final match again it was the doubles which proved to be the key for victors Tankard Dental who defeated Mallee Bearings 6-5. A feature of this match was after an excellent winning streak of 16 singles matches in succession Wayne Carmichael was defeated twice. His first loss came at the hands of brother Gavin in what was a drawn out affair with Gavin taking the points 20-18 in the third. Later Joel Dorman accounted for Carmichael in straight sets, however amazingly Tankard Dental were still able to grab the four points by winning both doubles.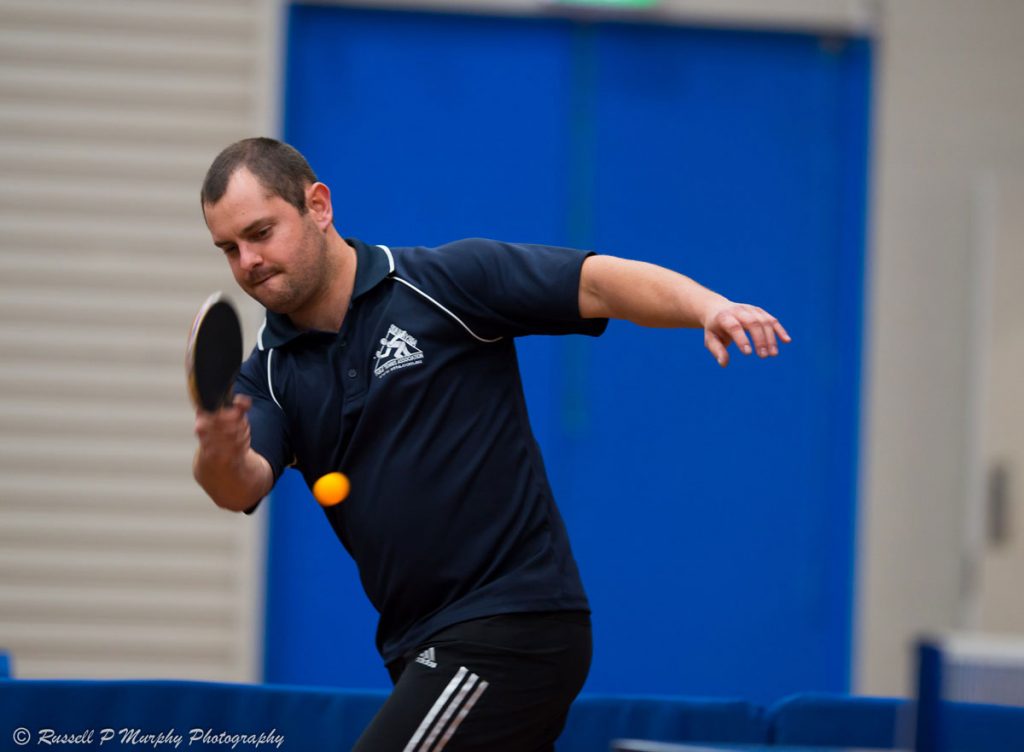 Tankards Reece Kurrle played a key role winning two singles including a straight sets victory over Mallee Bearings number one Joel Dorman. Kurrle also teamed with Wayne Carmichael to win the first doubles over Joel Dorman and Gavin Carmichael.
Kurrle's team mate Kevin Johns defeated Michael Hensgen in straight sets at five rubbers all to enable their team to take the four points.
Carmichael and Dorman won three and two singles respectively however their teams lack of success in the doubles proved to be the difference.
PENNANT TWO:
Just when we thought it was safe to go back into the water … no, safe to assume this pennant had some sort of predictability, this round proved otherwise. In three close matches, top team Max Miller Carpets were defeated by bottom side Mallee Meats and second-placed team Cooke's Pools & Spas downed by second-bottom side Weightmans Packaging. The only teams to play to the script were MJM Automotive and Pinnacle Packers, third-placed MJM Automotive defeated fourth placed Pinnacle Packers.
– Mallee Meats 6 (Brad Warden 3, Quentin Clark 1) d Max Miller Carpets 5 (Jason Gifkins, Arthur Paar 2, Jeremy Corrin 1)
Probably the upset of the season. Mallee Meats, who had managed just one win going into this round, toppled long time ladder leaders Max Miller Carpets in a thrilling match.
The game went down the wire, Mallee Meats captain Brad Warden winning the match in the final rubber in three sets against Max Miller Carpets number two Arthur Paar. Paar started better, winning the first set 15-13, Warden responded with a similar score in the second set, then held Paar off to take the third 15-7.
The Max Miller Carpets trio had won five of the nine singles rubbers on offer, but with both the doubles rubbers going to Mallee Meats, they could not assert any authority on the game at those crucial points.
Both Jason Gifkins and Arthur Paar won two singles rubbers (both falling to Warden), and Jeremy Corrin one, but those doubles losses cost them dearly. Corrin and Paar fell to Warden and Quentin Clark 7 and 13, and later Corrin and Gifkins just failed in their match against Warden and Peter Fitzpatrick, losing 15-10, 8-15, 16-18.
The saviour for Mallee Meats was undoubtedly captain Brad Warden. Warden has shown clear potential all season, but this was the first round where he won all singles rubbers. He was analytical in his match against opposing captain Gifkins winning 15-8, 15-11, but Corrin and Paar made him work much harder, Warden defeating Corrin 15-13, 9-15, 15-7, and then the nail-biter against Paar in the final rubber.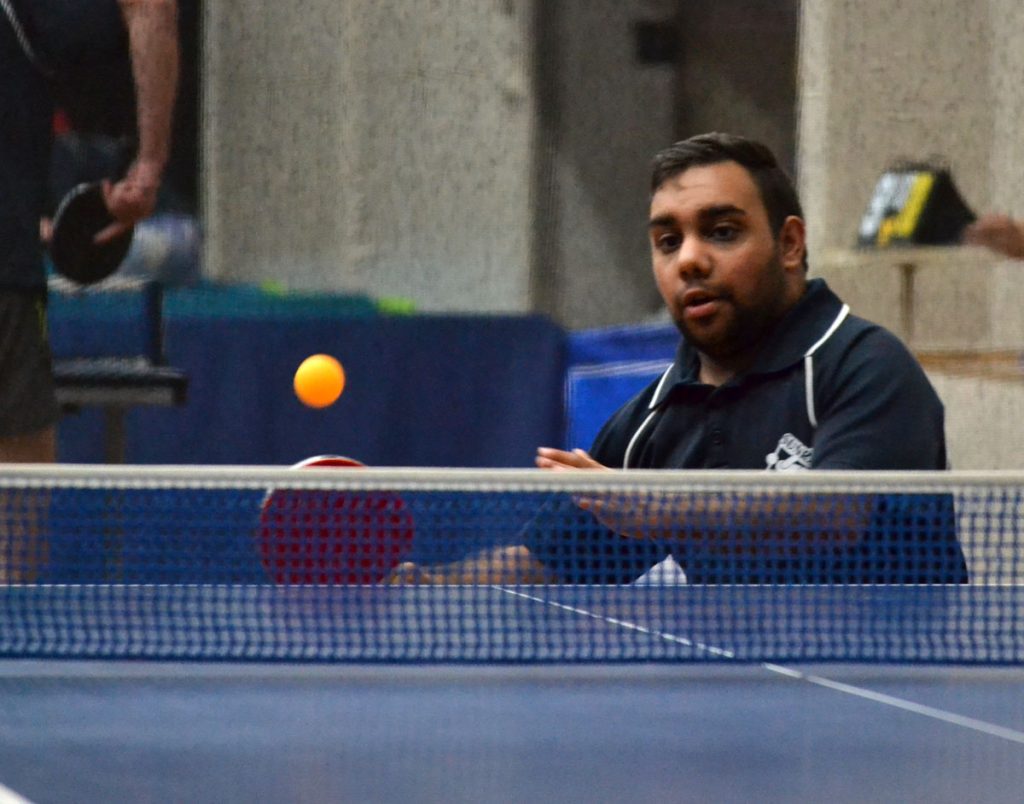 Quentin Clark won just one rubber, but it was a crucial one at that. Trailing 4-5, and with defeat the only option should he lose, Clark played a much more subdued match against the explosive Corrin to win 15-12, 9-15, 15-11.
The win here does not change anything for these two team on the ladder, Mallee Meats remain on the bottom, but now with two wins, whilst Max Miller Carpets are still on top of the ladder on percentage, but level on wins with both Cooke's Pools & Spas and MJM Automotive.
Final scores: 6 rubbers to 5 and 14 games all.
 – Weightmans Packaging 6 (Dylan Wood 3, Tony Malycha 2, John Fitzpatrick 1) d Cookes Pools & Spas 5 (Russell Walder 2, Casper McCarthy 1)
Although easily outplayed in both doubles rubbers, second-bottom side Weightmans Packaging still caused the second upset of the round in their defeat of second-placed side Cooke's Pools & Spas.
With captain Tony Malycha securing just two rubbers, it was number two Dylan Wood who stepped up to give his side the chance of a win. His first round match against Cooke's Pools & Spas number three Rohan Reimers was the most difficult. Wood only took control of the match in the third set, winning 15-12, 10-15, 15-5. He certainly had the measure of Russell Walder, who even after this round still leads the aggregate by two rubbers, defeating Walder in two sets 15-8, 17-15. And in the final round of singles he proved much too strong for Casper McCarthy, winning 7 and 6.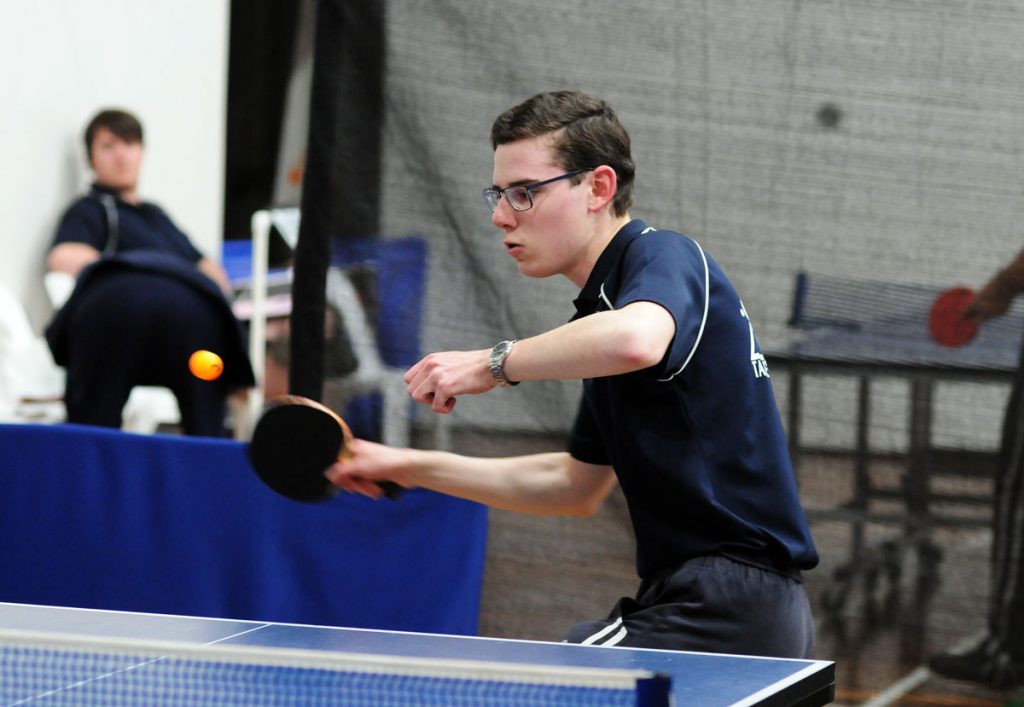 The other important win for Weightmans Packaging was the clash of the number threes; John Fitzpatrick getting his first singles win since round 4, when these two sides last played. John battled away against Rohan Reimers to take the win 15-6, 11-15, 15-13.
Reimers almost won the match for his side too. In the tenth rubber, with his side trailing 4-5, he almost got the better of Weightmans Packaging captain Tony Malycha, losing the flip-of-the-coin third set 20-22. Had the coin landed tails instead of heads the score would have been 5-5, with Rohan's captain Russell Walder to play John Fitzpatrick in the last (which Russell unsurprisingly won).
Final scores: 6 rubbers to 5 and 13 games to 12.
– MJM Automotive 6 (Paul Kealley 2, Terry Martin, Marcus Cimino 1) d Pinnacle Packers 5 (Ash Morrison 3, Bernard McCarthy 2)
In the only match to follow any sort of form, third placed MJM Automotive defeated fourth placed Pinnacle Packers. It was not a forgone conclusion by any means that MJM Automotive would win, as these two teams were separated by just one match, a win by Pinnacle
Packers would have them equal on five wins, but still behind on percentage.
In another match that was resolved only in the final rubber, MJM Automotive had to rely on wins in both doubles rubbers to get them home.
The Pinnacle Packers duo of captain Ashley Morrison and number two Bernard McCarthy won three and two singles respectively, McCarthy just falling short of three wins when he fell to MJM Automotive captain Paul Kealley 15-6 in third set.
So whilst MJM Automotive success in singles play was modest, they nonetheless took wins to keep them in the match. Kealley and Terry Martin won the first doubles 11 and 12 to square the match at that point 2 all. And later Kealley and Marcus Cimino once again squared the match at 4 all when they defeated Morrison and David Sergi 13-15, 15-7, 15-12.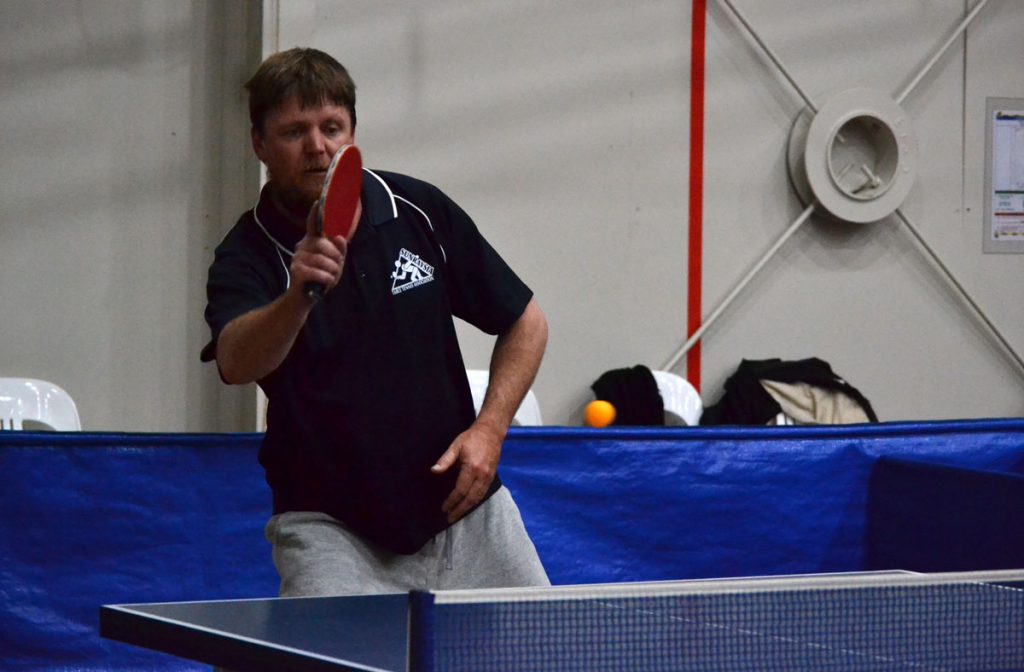 With Morrison taking his third win for the night against Martin in rubber number nine, followed by Kealley winning for MJM Automotive against McCarthy, it was left for Cimino and Sergi, the two number threes, to battle it out for the win. And the match between these two was close and high standard, Cimino winning the tough three setter 15-10, 16-18, 15-11.
There were six three set contests in this match, and crucially the winners won four of them. A very close contest, and it finished at 14 games all.
Final scores: 6 rubbers to 5 and 14 games all.
PENNANT THREE:
Teams first, second and third on the ladder won this round; Cooke's Pools & Spas big winners over Sammy's Slammers 9-2; Mallee Meats took a strong 7-4 win against Weightmans Packaging to remain equal on wins wih Cooke's Pools & Spas; and MJM Automotive won in similar fashion, 7-4 against Regional Taxation Services to remain just one game behind the leading two teams on the table.
– Cookes Pools & Spas 9 (Therese Fitzpatrick, Emily Carmichael 3, Miya Lock 1) d Sammy's Slammers 2 (Ryan Hensgen, Leonie Dunkley 1)
In a very one-sided match, Cooke's Pools & Spas cleaned up against bottom side Sammy's Slammers.
Captain Therese Fitzpatrick and number two Emily Carmichael both won three singles, number three Miya Lock defeated her opposite number Costa Skiadas for one win, and the team won both doubles rubbers.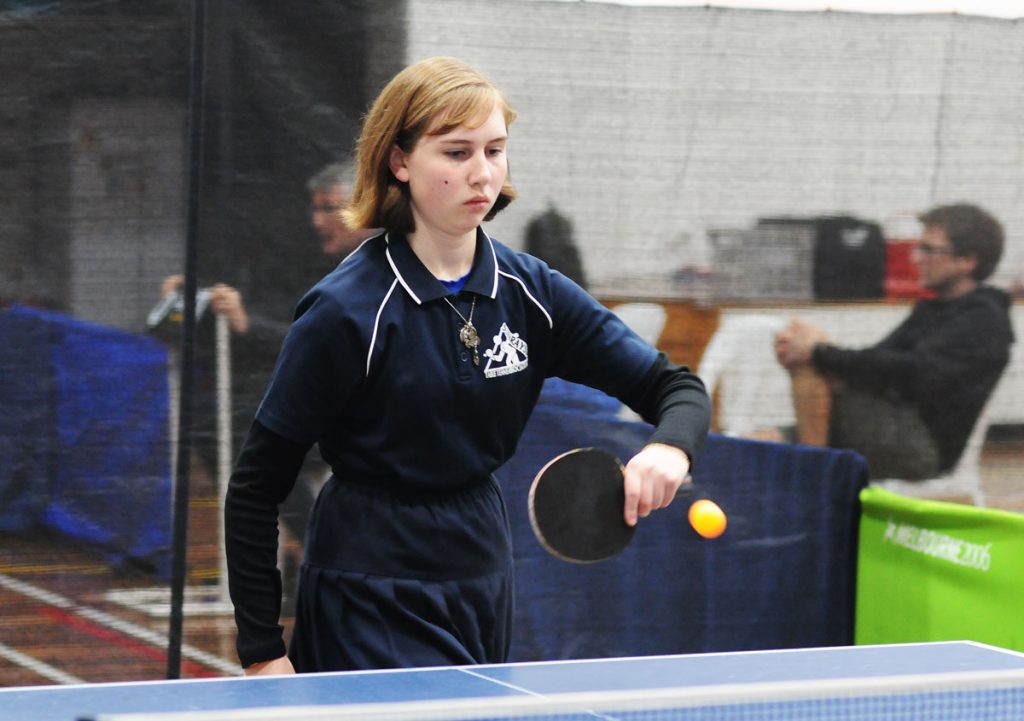 In taking her three rubbers, Fitzpatrick did not have things all her own way. Leonie Dunkley came the closest of the Sammy's Slammers players to pull off a win against Therese, the Cooke' Pools & Spas captain winning 13-15, 15-1, 15-13. Therese was also taken to three sets by Sammy's Slammers captain Ryan Hensgen, but after two close sets, ran away with the third 15-4.
Emily Carmichael had a closer match with Hensgen, winning a three setter 15-13, 5-15, 15-9, but was more dominant in her remaining matches.
Number three Miya Lock continued her good form in this grade, defeating her opposite number Costa Skiadas in two sets, and with her captain Fitzpatrick winning the second doubles rubber in straight sets against Hensgen and Skiadas.
Final scores: 9 rubbers to 2 and 19 games to 8.
– Mallee Meats 7 (Aiden Riordan, Brice Lock 3, Karly Leach 1) d Weightmans Packaging 4 (Sabrina Fitzpatrick, Isaiah Bettess 1)
The Mallee Meats pair of Aidan Riordan and Brice Lock dominated the singles rubbers in this clash with fourth placed Weightmans Packaging.
Riordan and Lock won three rubbers each, Riordan winning in two sets against improving Isaiah Bettess 10 and 12, also two sets against opposing captain Sabrina Fitzpatrick 10 and 8, but needing to be on his
guard, and three sets, against Nick Kiapekos winning that match 15-17, 16-14, 15-9.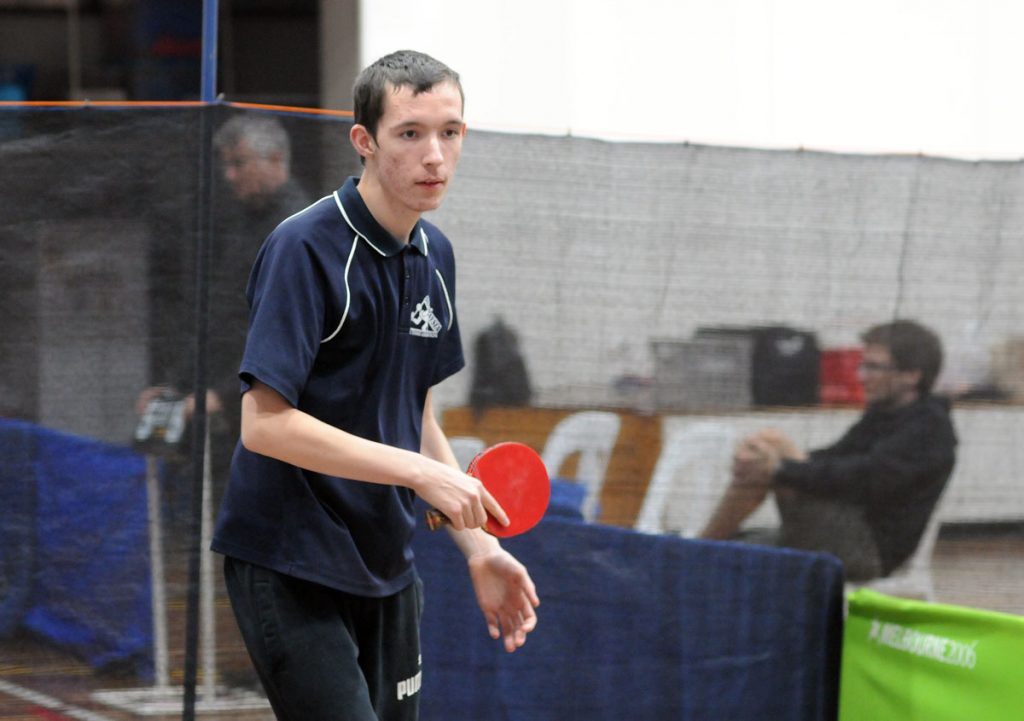 Lock was back to his best … he backed up his return to form from last week when he won two rubbers, having failed to score in his previous two outings. Lock played well, defeating consistent Sabrina Fitzpatrick in two sets 15-12, 18-16, after losing the first set to Isaiah Bettess 11-15, Lock asserted his authority in the last two sets 15-11, 16-14 to take a close win; and it was a similar story against opposite number Nick Kiapekos – Lock dropped the first close set 15-17, then won the next two 15-12, 15-12 in a high class encounter.
Number three Karly Leach contributed one – this one a three set win against Kiapekos 8-15, 15-12, 15-8.
Weightmans Packaging won the balance of the rubbers; Fitzpatrick and Bettess both defeating Leach in two sets, and both doubles rubbers. Fitzpatrick and Kiapekos won the first doubles against Riordan and Lock in three very close sets 13-15, 15-13, 15-13, and the second doubles was not much different, Kiapekos and Bettess only getting a winning break in the third set to win 12-15, 15-12, 15-9 against Riordan and Leach.
Final scores: 7 rubbers to 4 and 16 games to 12.
– MJM Automotive 7 (Andrew Kremor, Frank Hickey 2, James Jarvis 1) d Regional Taxation Services 4 (Kieren McRae 3, Peter Rhodes 1)
After defeating Regional Taxation Services in this round, MJM Automotive have cemented third spot on the ladder ahead of the finals. Sitting on six wins, they are one game behind teams in first and second spot and two games ahead of Weightmans Packaging in fourth.
Aided by wins in both doubles, MJM Automotive took a solid 7-4 win against Regional Taxation Services, a side which has won just two games for the season, but boasts the aggregate leader, Kieren McRae.
McRae once again made a clean sweep of singles play, as he has in seven of the nine round played. He dominated the singles rubbers, winning them all in two sets.
MJM Automotive though, while unable to match the individual talent of McRae, won five of the remaining six singles rubbers, captain Andrew Kremor two, Frank Hickey two and James Jarvis one.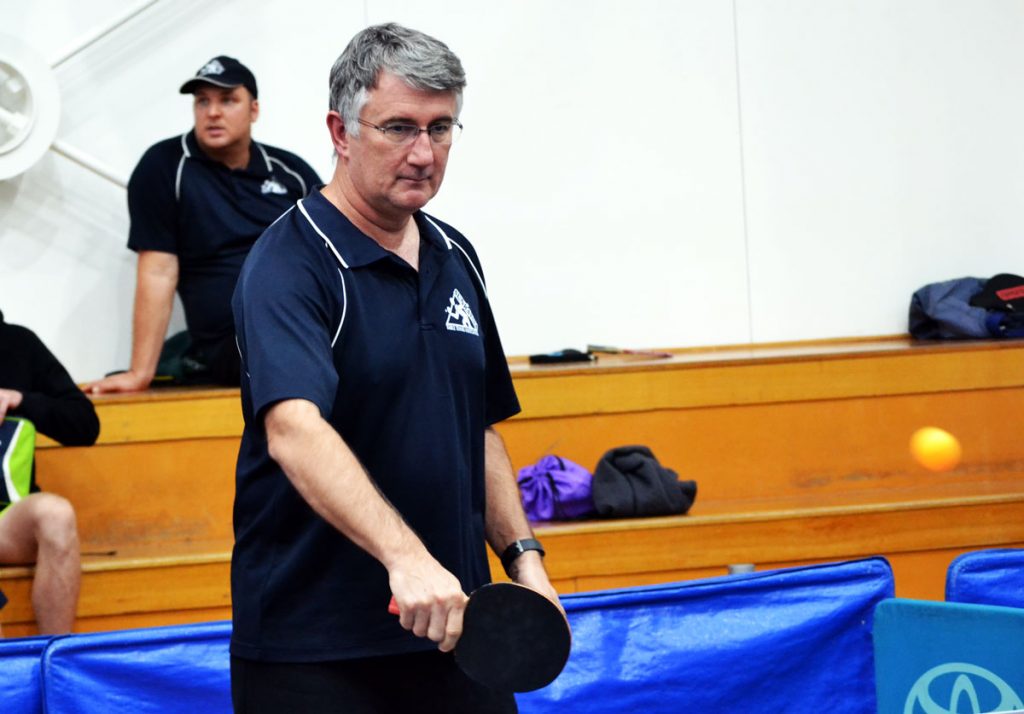 The MJM Automotive combinations proved stronger in doubles play too. Kremor and Hickey won a close two set contest against McRae and Peter Rhodes 15-13, 15-10; and later Kremor and Jarvis were too strong for McRae and Brian White, winning that also in two sets.
Final scores: 7 rubbers to 4 and 15 games to 8.
Pennant Four:
In this weeks' action we see MJM Automotive continue on their winning way and another big defeat for a beleaguered Mallee Meats outfit.
MJM Automotive 6 (Nycole Riordan 3, Jamie Kealley 2) def Dunkley Scales 5 (Glenn Leeson 2, Raylee Waugh, Nathan Beard 1)
MJM, without their skipper Ben Hosking, have won a thrilling contest against Dunkley Scales. The story of the night was the form of Nycole Riordan who has stepped up to the plate in the absence of her skipper to win three crucial singles matches thus giving her team the edge. She was well supported by teammate Jamie Kealley who contributed two singles and with these singles victories has clearly won the aggregate in Pennant 4 this season. For Dunkley Scales Glenn Leeson won two singles matches, Raylee Waugh one singles match as did returning player Nathan Beard.
The closeness of this match was highlighted with seven of the eleven matches being decided in the third set. Unfortunately, for Jim Vale (filling in for Dunkley Scales Kelsey Davey), he was on the wrong end of all his singles matches that were decided in three sets but did team with Nycole Riordan to win his doubles match in three tight sets. Now that's a lot of table tennis Jim!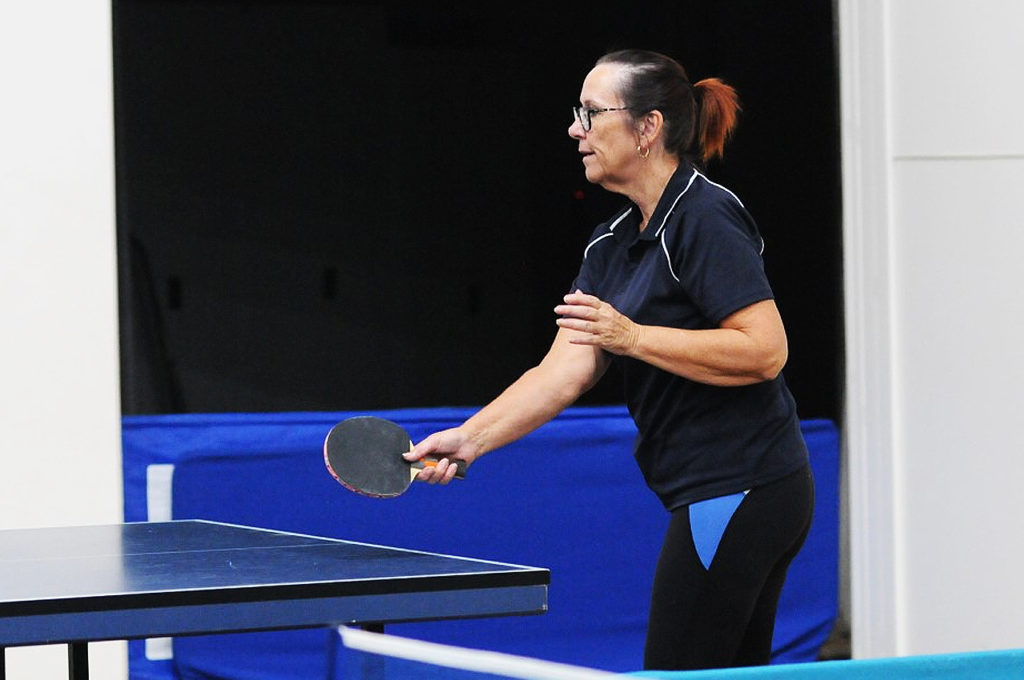 This match went to the last game of the evening with rubbers tied at five all. It would be MJM's Jamie Kealley who held his nerve to defeat Raylee Waugh in two close sets to claim victory for his team. In a great contest MJM Automotive have continued on their winning way with a 6 rubbers to 5 victory over a gallant Dunkley Scales.
Tankard Dental 8 (Jacinta Ljubic, Billy Stephens, Tim Finck 2) def Mallee Meats 3 (Wendy Simpson 2, Joy Sullivan 1)
Tankard Dental have continued their recent run of great form with a crushing victory over Mallee Meats. There was no one standout player for the winners with all players contributing two singles each and with clinical precision took out the two doubles matches played.
In the first game of the evening, it looked like Mallee Meats were out to avenge their recent losses. Meats Wendy Simpson took on Tankard's Jacinta Ljubic in a match that had all the hallmarks of being a close contest. The basis of this comment lies in the fact that Ljubic last defeated Simpson in round 6 with the third set being decided 22-20. As it turned out Simpson won this match comfortably in straight sets to get Mallee Meats off to the perfect start.
After winning the first match of the evening things went pear shaped for Mallee Meats very quickly with Tankard Dental rattling off the next seven matches, with Finck and Stevens running rampant, took total control of the match. For Mallee Meats Simpson and Sullivan did win consolation matches late in the evening but Tankard Dental have prevailed 8 rubbers to 3.
With only one round remaining in the season the ladder positions cannot change. The first week of the finals will see MJM Automotive play Mallee Meats and Tankard Dental play Dunkley Scales. So next week I am sure all players will be looking to tune up their game heading into these finals matches.