Read Time:
17 Minute, 6 Second
ROUND 10
PENNANT ONE:
Max Miller Carpets courtesy of winning 7-4 over Regional Taxation Services have finished at the head of the ladder after ten rounds of the Sunraysia Table Tennis Summer pennant. Knockout semi-finals take place this week at the Irymple Leisure Centre.
Max Miller Carpets finished on top with two other teams one win back.
3 singles winners Wayne, Matt Ljubic and Phil Smith , interesting stat , Wayne wins 1 last week and his team win, last night he wins 3 and they lose
Jackson Murphy played well to win 2 singles while Thahn helped to get his team over the line by winning two singles to finish the second best performed number 3
– Max Miller Carpets 7 (Matt Ljubic 3, Mark Ljubic, Lee Leeson 1) d Regional Taxation Services 4 (Kate Carmichael, Mark Dorman 2)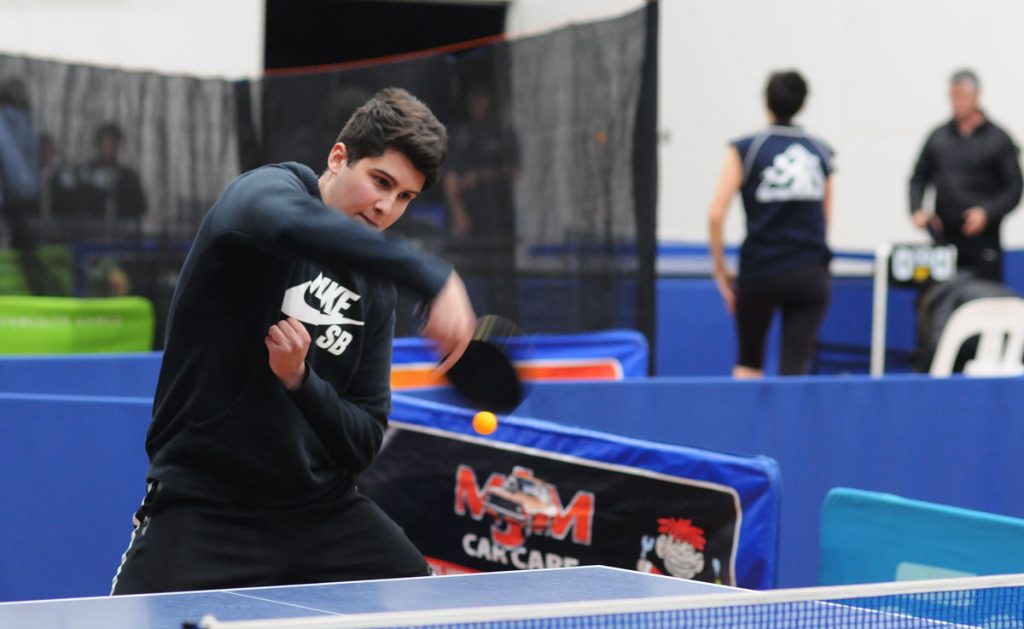 For the Carpeters skipper Matt Ljubic again was in form winning three singles as well as playing in both doubles victories. Ljubic has enjoyed a good season winning three singles on seven occasions throughout the ten rounds. He will be a key player for his team in the finals. For Regional Taxation Services both Kate Carmichael and Mark Dorman won two singles each.   
– Exposed Signage/Apparel 6 (Nicholas Dorman, Thanh Nguyen 2, Leon Brown 1) d Tankard Dental 5 (Wayne Carmichael 3, Reece Kurrle 1)
Second placed team Exposed Signage / Apparel survived a late fight back to win 6-5 against Tankard Dental. At one stage they had raced to a 5-2 lead only to later see the match levelled at five rubbers all, courtesy of Wayne Carmichael again winning three singles for sixth time this season.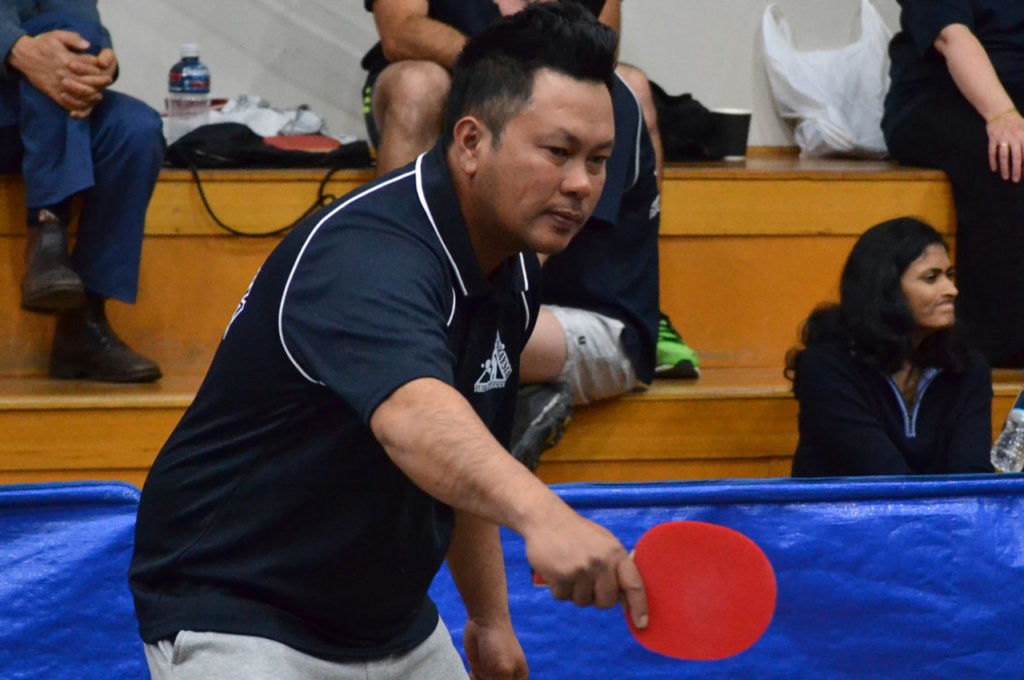 With the match in the balance Exposed number three Thahn Nguyen defeated fill in Bernadette Fitzpatrick in straight sets to record his second win of the night . Earlier in the first match of the night Nguyen outlasted the in form Reece Kurrle 13-15 16-14 15-11.For Exposed Nicholas Dorman won two singles as did Nguyen, while Dorman partnered Leon Brown to win the important first doubles.
– Cash Converters 7 (Phil Smith 3, Jackson Murphy 2, Liam Wood 1) d Mallee Bearings 4 (Joel Dorman 2, Gavin Carmichael 1)
Cash Converters jumped from fourth to second with a strong 7-4 victory over Mallee Bearings. Phil Smith for the Converters led the way winning three singles and he received excellent support from team mates Jackson Murphy and Liam Wood who won two and one singles respectively.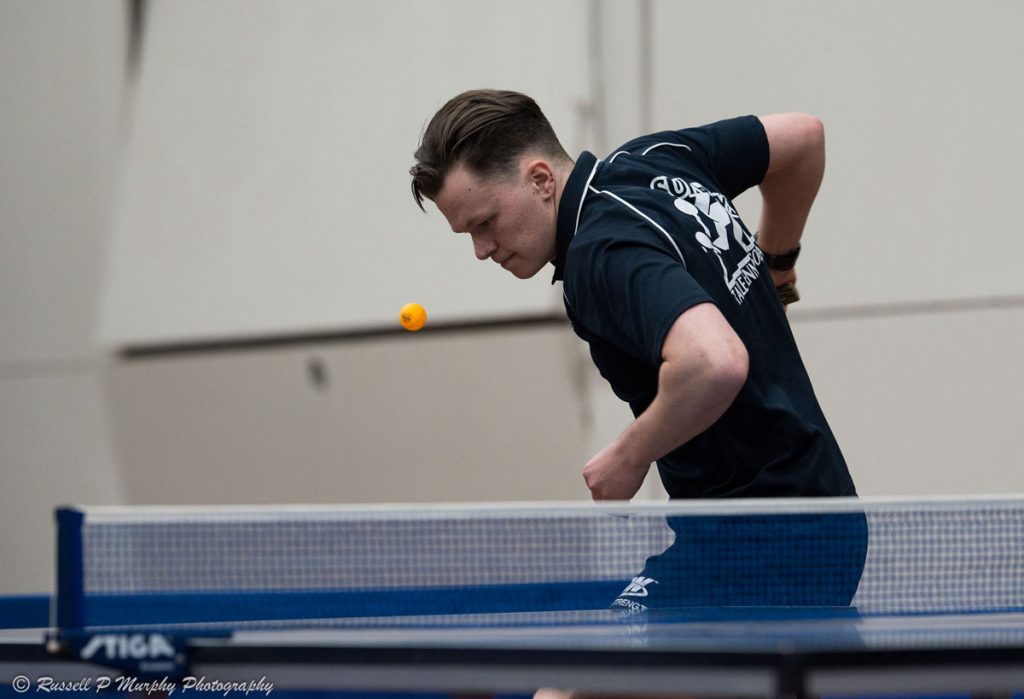 A good sign for the Converters was the form of Murphy leading into the finals. One of his victories was over the experienced Gavin Carmichael in straight sets, the second in a convincing manner. For Mallee Bearings Joel Dorman continued his solid form again winning two singles as he has done in all ten rounds.
PENNANT TWO:
In one fell swoop, long-time ladder leaders Max Miller Carpets fell from top of the ladder to third spot – their loss to fifth-placed Weightmans Packaging being the reason for that. In the other games, MJM Automotive assumed number one spot defeating Mallee Meats; and Cooke's Pools & Spas followed MJM Automotive up the ladder, into second spot, when they defeated Pinnacle Packers.
Top team Max Miller Carpets were beaten and tumbled down the ladder to possibly third.
Russell Walder and Brad Warden won 3 , Brad may have propelled himself into the super 8's as Quentin who was two clear scored a duck , he was very disappointed to say the least.
Marcus did well to win 2
– MJM Automotive 8 (Paul Kealley, Terry Martin, Marcus Cimino 2) d Mallee Meats 3 (Brad Warden 3)
Now in top spot on the ladder, MJM Automotive had an easy win against Mallee Meats in this final round before the finals.
The only effective opposition Mallee Meats came from their captain Brad Warden who won all his singles rubbers. That was it … MJM Automotive won everything else.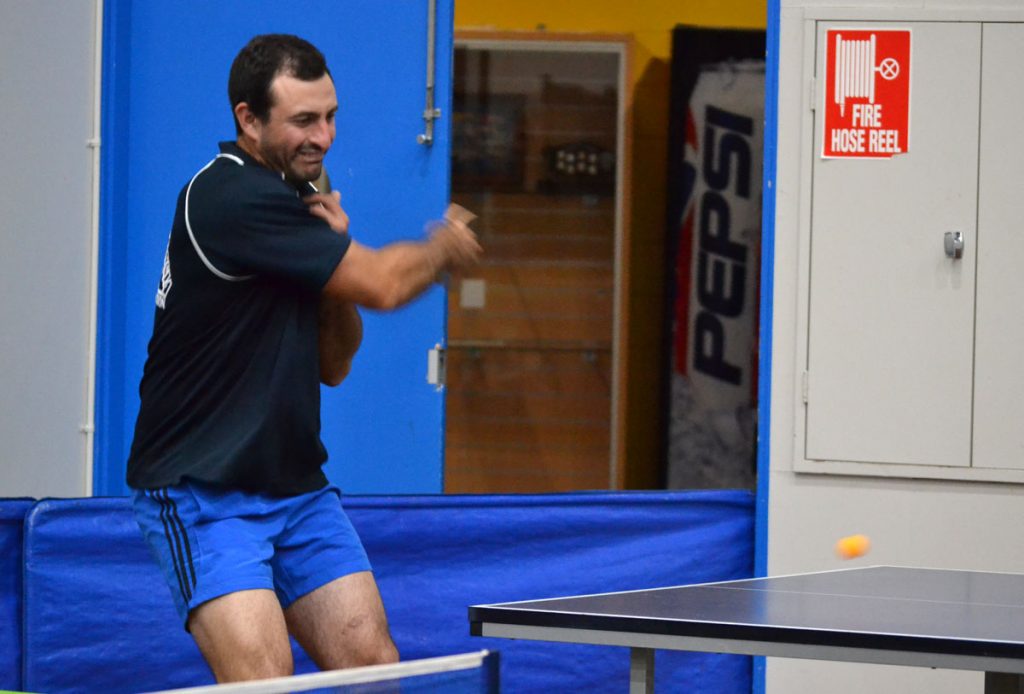 MJM Automotive were in front from the start when their number three Marcus Cimino cleaned up Mallee Meats number two Quentin Clark in straight sets. Number two Terry Martin made that two wins defeating Peter Fitzpatrick in three sets.
Brad Warden, with an eye to playing in the Super Eights next Monday, took the first of his three wins downing opposing captain Paul Kealley in a hard-fought three setter 15-10, 14-16, 15-11.
Doubles play has not been a strong point for Mallee Meats this season, and in this game it was no different. Kealley and Martin easily won the first doubles rubber against Warden and Clark 15-9, 15-12.
Cimino continued on his winning way, this time defeating his opposite number Fitzpatrick with a score, very similar to that with which he defeated Clark earlier. Clark spent a bit more time at the table with Kealley in their match, however, Kealley proved too good winning in three. Then it was time for Warden, this time defeating Martin, again a three setter.
As with the first doubles, MJM Automotive made short work the second time around, Kealley and Cimino winning 15-9, 15-10 against Warden and Fitzpatrick.
Unsurprisingly Kealley defeated Fitzpatrick in straight sets in the final round of singles, although the first set score was a bit of a surprise, Kealley not getting the win until 17-15. Warden took his third win, now
against Cimino, but once again it took him three sets to claim it. Clark started confidently in the final rubber against Martin taking the first 15-12, but Martin took over after that with wins in the next two sets 15-9, 15-6 to round out a good night for MJM Automotive.
With this win putting them on top spot, they will play fourth-placed Pinnacle Packers next week in the first week of finals. On the two occasions they met during the season, Paul Kealley and is men won both times, but it was close both times at 6-5. Expect another close match.
Final scores: 8 rubbers to 3 and 19 games to 9.
– Cookes Pools & Spas 8 (Russell Walder 3, Casper McCarthy 2, Rohan Reimers 1) d Pinnacle Packers 3 (Ash Morrison 2, Bernard McCarthy 1)
Coming into this round, Cooke's Pools & Spas had five wins, and Pinnacle Packers four. This was the last chance for Pinnacle Packers to draw level on games won for the season. In the event, Cooke's Pools & Spas ran away with the match, winning 8-3.
Cooke's Pools & Spas captain Russell Walder won his three singles rubbers, his first for the night being a close contest for the first two sets. Pinnacle Packers number two Bernard McCarthy looked like he had Walder's measure after two sets. At that stage sets were one apiece, Walder won the first 18-16, McCarthy the second 15-13, but Walder must have decided that that was enough, and raced through the final set 15-3. His third win, against Pinnacle Packers captain Ashley Morrison was also decided in three sets; Morrison took the first 15-10, but Walder turned the game around with wins in the next two 15-13, 15-11.
Walder's number two Casper McCarthy contributed two wins – firstly a three set victory against the never to be underestimated David Sergi, 15-10, 14-16, 15-6. His second win was against his opposite number, his father Bernard, and Casper won in style, 15-13, 15-11.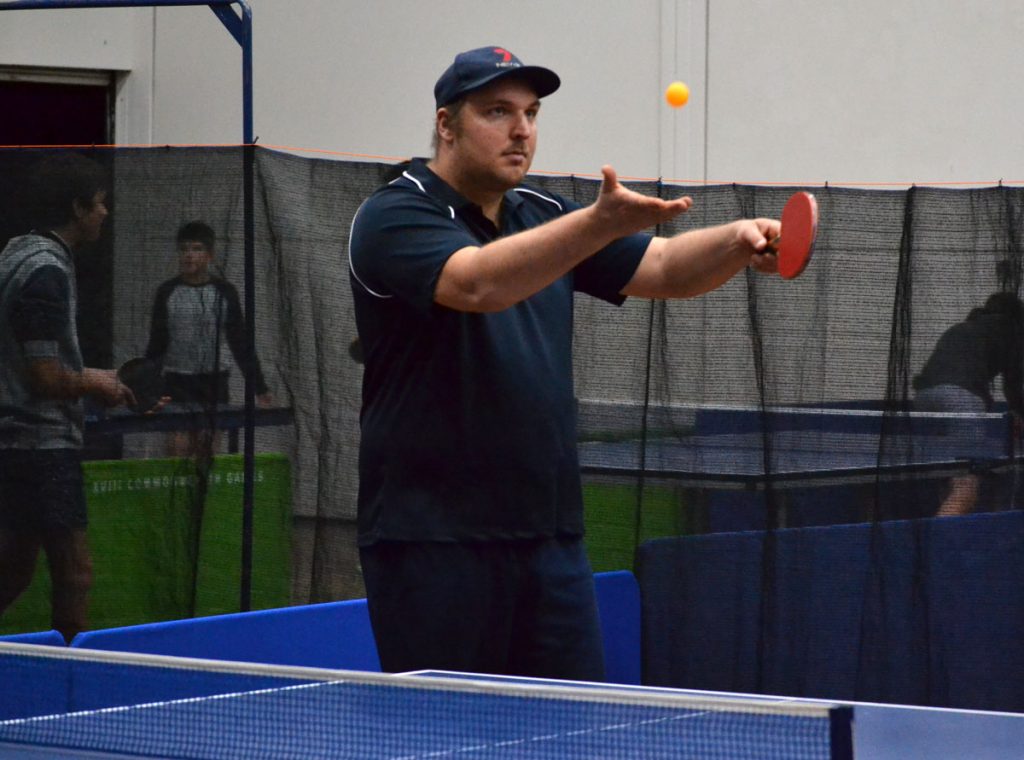 Number three Rohan Reimers won one rubber to contribute to a good all-round team effort. He made short work of David Sergi in the final rubber.
With Cooke's Pools & Spas taking six of the available nine singles rubbers, Pinnacle Packers failed to make any inroads into the match, and things were made worse when both doubles contests also went to the other end of the table. Walder and Casper McCarthy won in three against Morrison and Bernard McCarthy 15-11, 12-15, 15-8; and later Walder
and Reimers had a straight sets win against Morrison and Sergi 15-12, 15-7.
This win moves Cooke's Pools & Spas into second spot – they will play Max Miller Carpets in the first round of the finals next week. Max Miller Carpets won 7-4 in round two, Cooke's Pools & Spas 7-4 when they played in round seven. It may be a close one, but factor in that the form of Max Miller Carpets has fallen off a cliff since round five. At that stage they had won five in a row; from rounds six to ten, they could manage only one. Cooke's Pools & Spas have had a much stronger finish to the season, winning four of their last five matches.
Final scores: 8 rubbers to 3 and 16 games to 10.
– Weightmans Packaging 6 (Tony Malycha, Dylan Wood 2, John Fitzpatrick 1) d Max Miller Carpets 5 (Jason Gifkins, Jeremy Corrin 2)
And so to the match which ultimately reshaped the final four for this season. Going into this round, Weightmans Packaging were fifth on the ladder, one game and a fair percentage behind fourth-placed Pinnacle Packers, so the chance of them making the finals was pretty remote. In the end, although they won this match, and drew level with Pinnacle Packers on games won, they missed the cut, but not by a lot.
With wins in each match, Max Miller Carpets on the other hand, had a perfect first half of the season. But then the rot set in – their number two Arthur Paar could not buy a win, in three of the four losses in those final five rounds Paar failed to score. And in two of the losses, the side lost 5-6. So near, yet so far …
Once again, Arthur's form deserted him, as he once again took home a lolly bag with nothing in it. He fell to Weightmans Packaging number three John Fitzpatrick in the opening rubber 13 and 12. He performed much better in the next round of singles, but opposing captain Tony Malycha edged him when it mattered 16-14, 19-17. He played his best game in the final round of singles, but ultimately Dylan Wood prevailed, winning 8-15, 15-12, 15-11.
So that was three rubbers to Weightmans Packaging – Malycha and Wood won another each; Malycha defeated his opposite number Jason Gifkins in straight sets and Wood just that much better than Jeremy Corrin in their clash, winning 15-13, 16-14.
The doubles rubbers were shared, Malycha and Wood won in straight sets against Gifkins and Paar; and later the Max Miller Carpets pair of Gifkins and Corrin won in similar fashion against Malycha and Fitzpatrick.
Let's hope that Max Miller Carpets slide in form stops here, they are a better side than one which always loses four from five.
Final scores: 6 rubbers to 5 and 12 games to 11.
PENNANT THREE:
Cooke's Pools & Spas overpowered Mallee Meats to take outright top spot on the ladder; Sammy's Slammers proved to be no competition for MJM Automotive; and Regional Taxation Services solidly defeated Weightmans Packaging.
Three game winners ……..Therese , Andrew Kremor and Frank Hickey
Kieren finished an excellent debut season with 3 singles to win the aggregate by 7 from Therese who missed two matches.
A crucial win here by second team Cookes over Mallee Meats who were first , they now trade places and Cookes now play fourth team Weightmans (Therese v Sabrina dinner table banter coming up this week)
– Cookes Pools & Spas 8 (Therese Fitzpatrick 3, Emily Carmichael 2, Miya Lock 1) d Mallee Meats 3 (Aiden Riordan 2, Brice Lock 1)
Going into this round, these two sides were equal on games won, seven, with Cooke's Pools & Spas ahead on percentage, but any thoughts of a close contest were dispelled in the second half of this match.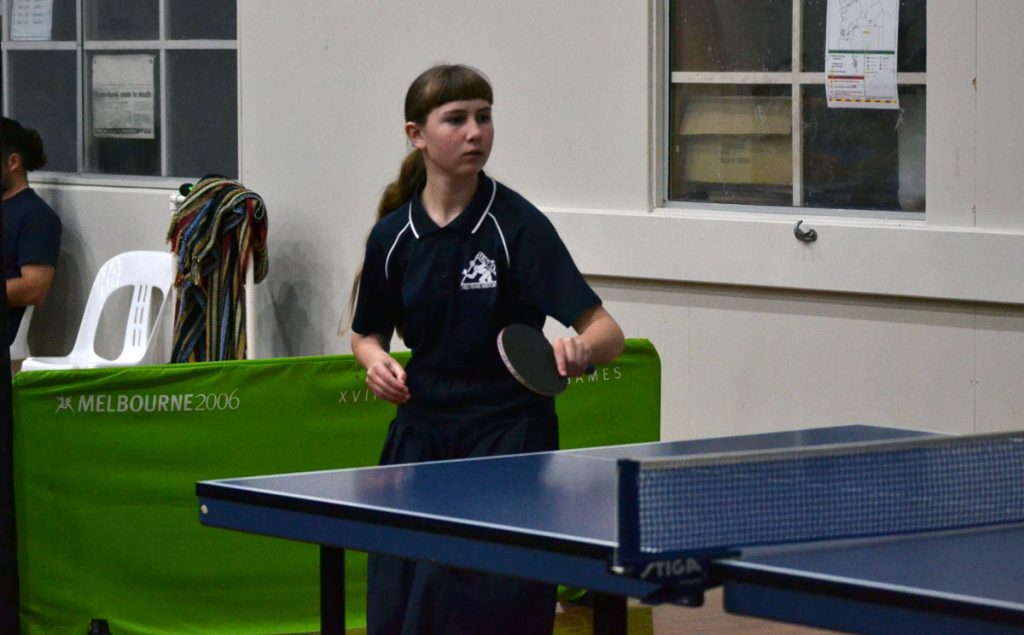 In taking three singles rubbers, Cooke's Pools & Spas captain Therese Fitzpatrick dealt with all-comers. Against the enigmatic Brice Lock she won 15-4 in the first set, then a much closer 17-15 in the second. Karly Leach gives everyone one a good deal for their money, and although she lost in two sets, Therese needed scores of 18-16, 15-11 to do so. Then against opposite number Aidan Riordan, Therese dropped the first set 6-15, but rebounded to match Aidan in the second, taking it 16-14, and keeping Aidan at arm's length in the third to win that 15-10.
Cooke's Pools & Spas number two Emily Carmichael is proving to be a fine number two, as she had averaged to this point two wins for every game she has played this season.
Miya Lock also picked up a win against Leach, a good three set contest 12-15, 15-12, 17-15.
Both the doubles rubbers went the way of Cooke's Pools & Spas, but they had to work for them. Fitzpatrick and Carmichael took the first set against Riordan and Lock in brisk fashion 15-7; the two boys dug in in the second set to level at one set all 17-15, and the third set was won by the narrow margin 15-13. Fitzpatrick and Miya Lock dropped the first set of the second doubles rubber 10-15 to Riordan and Leach, but then took control winning the final two sets 15-10, 15-7.
For Mallee Meats Riordan and Brice Lock won two rubbers each; Riordan defeating Miya Lock and Carmichael both in three sets, and Brice Lock a close three set win against his sister Miya 15-12, 6-15, 17-15, and then a very close two setter against Carmichael 17-15, 17-15.
This loss by Mallee Meats, coupled with a win by MJM Automotive, sees Mallee Meats drop from second to third on the ladder, swopping places
with MJM Automotive, who they will play next week in the first week of the finals.
Final scores: 7 rubbers to 4 and 19 games to 10.
– MJM Automotive 10 (Andrew Kremor, Frank Hickey 3, James Jarvis 2) d Sammy's Slammers 1 (Leonie Dunkley 1)
MJM Automotive dominated this match in no uncertain fashion, conceding just one rubber.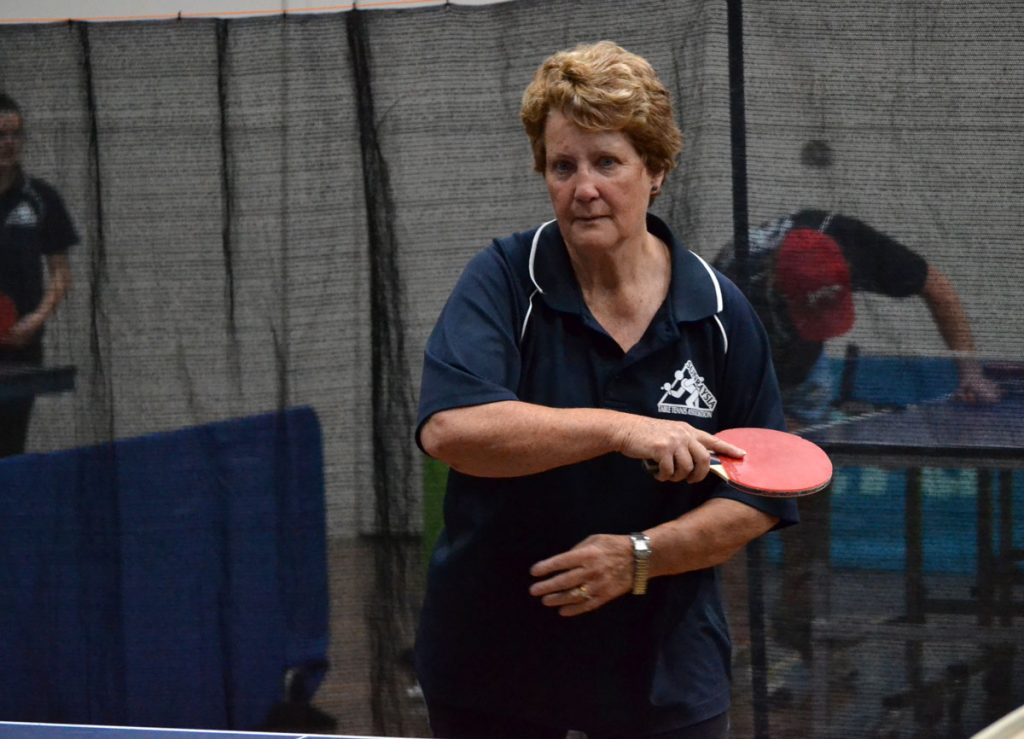 The rubber MJM Automotive conceded was the first one, Sammy's Slammers number two Leonie Dunkley defeating James Jarvis in two sets 15-4, 16-14.
For the rest of the match, the score sheet noted wins on the MJM Automotive side.
MJM Automotive number three James Jarvis, after that loss to Dunkley, showed how much he has improved by defeating the Sammy's Slammers captain Ryan Hensgen in three sets 15-9, 4-15, 16-14. Jarvis played in another two set rubbers – in the second doubles he partnered with his captain Andrew Kremor in winning against Hensgen and Costa Skiadas 14-16, 15-11, 15-6. And in his third singles Costa Skiadas could not keep enough pressure on his younger opponent, with Jarvis winning 15-8, 10-15, 15-10.
All the other rubbers were over in two sets, the closest of them being Kremor and Dunkley, Kremor winning 15-13, 15-13.
Final scores: 10 rubbers to 1 and 20 games to 5.
– Regional Taxation Services 7 (Kieren McRae 3, Peter Rhodes, Costa Skiadas 1) d Weightmans Packaging 4 (Sabrina Fitzpatrick, Isaiah Bettess 2)
Weightmans Packaging started the season in great fashion, taking wins in the first three rounds, they then lost two in a row, but came back to win in round six. Since then though, they have not been able to recapture that form, losing 7-4 three times and 9-2 once. Regional Taxation Services have the aggregate leader as captain, Kieren McRae. That side did not record their first win til round number five, and going into this game, had taken just one more. The numbers suggested that Weightmans Packaging would win this clash, but after a good start, and with the score at three
rubbers each, Regional Taxation Services put on a spurt, taking four in a row to seal the win.
McRae, for the eighth time this season, won all singles rubbers in straight sets, conceding just 20 point to Nick Kiapekos, 14 to Isaiah Bettess and 13 to opposing captain Sabrina Fitzpatrick.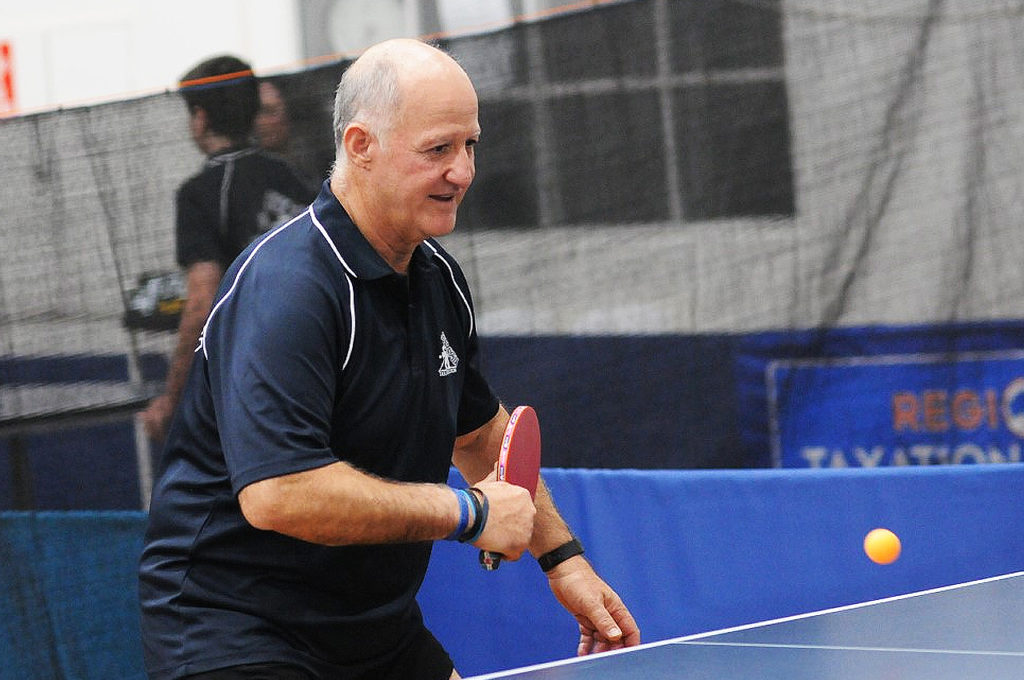 Peter Rhodes and Costa Skiadas each won a rubber – both defeating Kiapekos, Rhodes in straight sets, and Skiadas a good three setter 15-12, 15-17, 15-9.
Regional Taxation Services denied Weightmans Packaging both doubles rubbers too – McRae and Rhodes after dropping the first set to Sabrina Fitzpatrick and Kiapekos 11-15, settled into a better rhythm with wins in the next two 15-12, 15-9. McRae and Costa were never in trouble against Kiapekos and Bettess, winning 6 and 11.
For Weightmans Packaging, Fitzpatrick and Bettess won two rubbers each, both defeating Rhodes and Skiadas.
Even though they lost here, Weightmans Packaging will still play in the finals, as they are still one game ahead of Regional Taxation Services, who moved to three wins.
Final scores: 7 rubbers to 4 and 15 games to 10.
PENNANT FOUR:
In Round 10 action this week, we said goodbye to a player and we find a team that may well be at very short odds to take out the finals series starting next week.
Two big results here…………
Glenn and team mate Kelsey in form winning 3 singles as did Nycole Riordan for MJM who finished on top of the ladder.
On his last night Tim played well to win 2 singles of the three his team won.
MJM Automotive 8 (Nycole Riordan 3, Ben Hosking 2, Jamie Kealley 1) def Tankard Dental 3 (Jacinta Ljubic 2, Tim Finck 1)
MJM have firmed as flag favorites as they have again flexed their muscles in defeating Tankard Dental. The recent form of Nycole Riordan (who has won her last 9 singles matches) has been instrumental in MJM building momentum during the round robin matches. MJM also boast singles aggregate winner Jamie Kealley who had a quiet night by only contributing one singles victory, but may be saving himself for an assault during the finals series.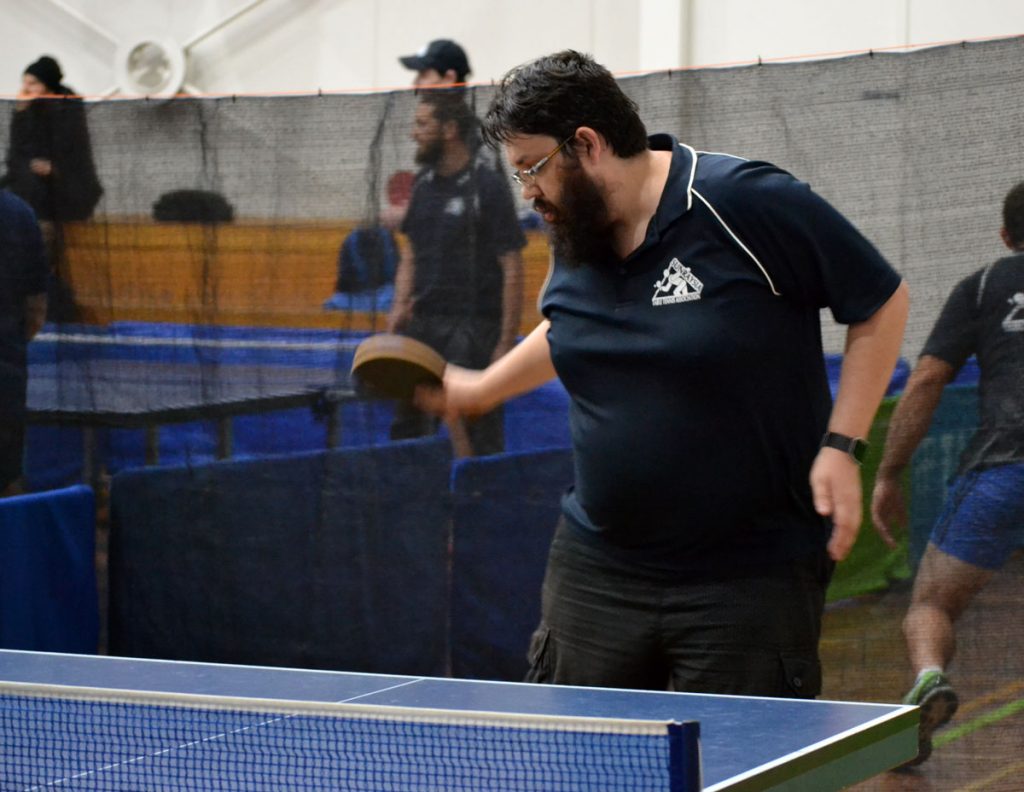 With Ben Hosking contributing two singles, MJM were never in trouble. Tankard Dental did try their best but it was never going to be their night as regular number two player Billy Stephens was a late withdrawal and his replacement Jim Vale sustained a leg injury and was unable to complete his matches. We all wish Jim a speedy recovery.
Next week Tankard Dental will be without international recruit Tim Finck who is finishing his educational exchange program. We wish Tim all the best. Even though he had a quiet night, he did leave on a winning note as he defeated Ben Hosking 11-15, 15-13, 15-9.
In conclusion, the juggernaut that is MJM Automotive keep rolling on as they extend their winning streak with an emphatic 8 rubbers to 3 victory over Tankard Dental.
Dunkley Scales 9 (Kelsey Davey, Glenn Leeson 3, Raylee Waugh 1) def Mallee Meats 2 (Wendy Simpson 1, Kade Carmichael 1)
Dunkley Scales are on fire and they have sizzled their opponents Mallee Meats in a big win.
Dunkley's Kelsey Davey and Glenn Leeson were unstoppable as they both had great nights in securing three singles victories apiece.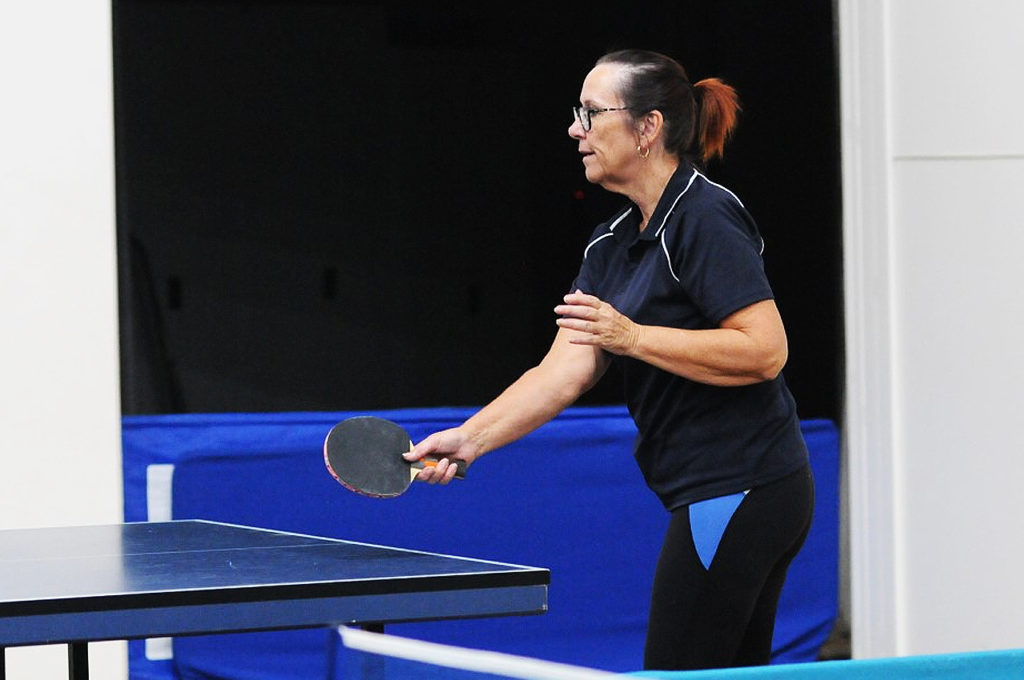 They were well backed by Raylee Waugh who contributed a singles victory and in addition won her doubles match when teamed with Leeson.
Mallee Meats Kade Carmichael, making his P4 debut in place of Wendy Simpson, did not look out of place and played some excellent table tennis to take a singles victory late in the night. Joy Sullivan also contributed a singles victory with a hard fought win over Waugh in three tight sets. Alas, these two victories were the only two highlights of the evening as Dunkley Scales have won this contest 9 rubbers to 2 in an ominous display leading into the finals next week.
P.S. Also don't forget the Super 8's is running Monday night.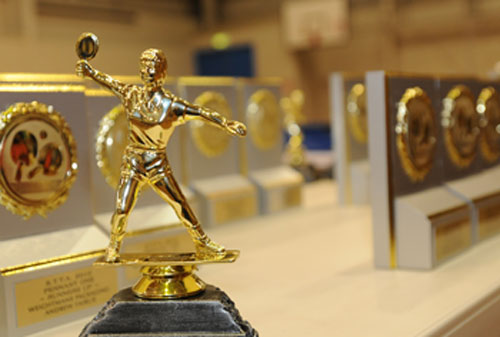 P.P.S. There is a job vacancy for the editor of Pennant Four next year. Please see Mr. Gavin Carmichael if interested. If you think you have been getting some bad press then you can certainly fix this!