Read Time:
16 Minute, 58 Second
SEMI FINALS
PENNANT ONE:
Max Miller Carpets and Cash Converters courtesy of winning their Sunraysia Table Tennis semi finals will face off in this weeks grand final. After ten rounds of table tennis these two teams finished first and second on the ladder respectively and a close match is expected.
Going into the semi-final the Carpeters were up against Mallee Bearings who despite finishing fourth had defeated the top team on the two occasions they had met during the home and away matches albeit only narrowly 6-5 on each occasion.
Despite Joel Dorman winning three for Mallee Bearings , top team Max Miller Carpets through to the grand final
With Phil Smith out with a back Kate Carmichael was a late addition to the Cash Converters team , she won three singles and played in both
winning doubles and at 5 all Liam Wood played an outstanding game to defeat Thahn Nguyen , a great season by Exposed has come to an end.
– Max Miller Carpets 6 (Matt Ljubic, Mark Ljubic 2, Lee Leeson 1) d Mallee Bearings 5 (Joel Dorman 3, Gavin Carmichael 1)
In this match Mallee Bearings were off to a solid start and took a 4-2 lead. The first doubles was a great match with Joel Dorman and Gavin Carmichael surging late in the third to defeat the Ljubic pair of Matt and father Mark 15-8 11-15 15-11.
The second doubles was an easy victory to Matt Ljubic and Lee Leeson over Dorman and Michael Hensgen which was the first doubles the Carpeters had won this season over Mallee Bearings and this victory levelled the match at four rubbers all.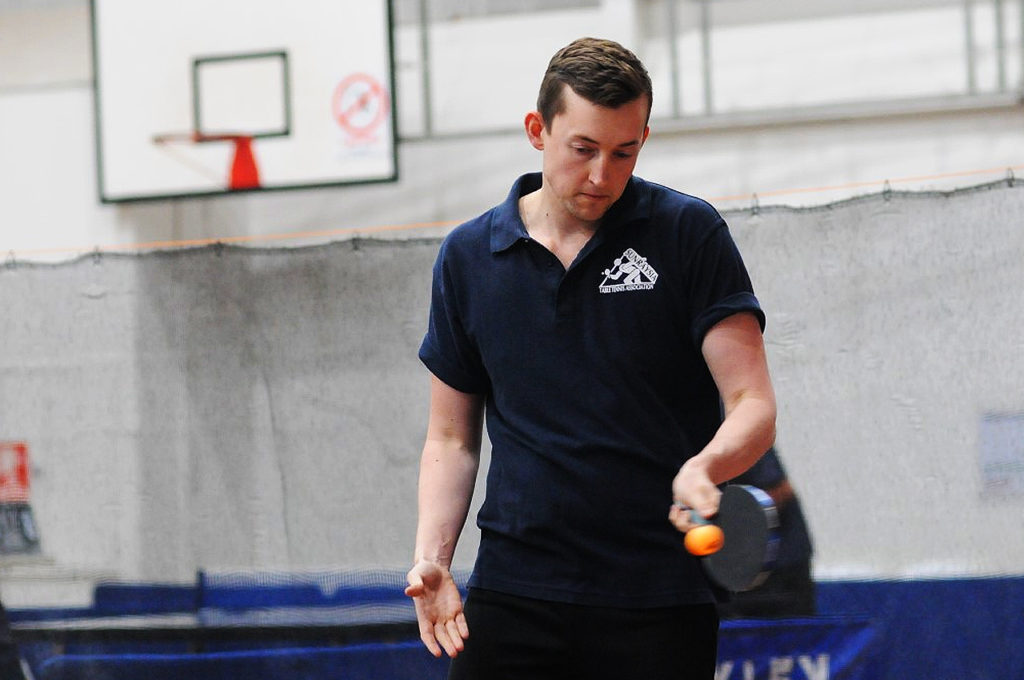 Spectators then witnessed the match of the night when the two skippers Matt Ljubic and Joel Dorman took to the table. There were many outstanding rallies with Dorman attempting to keep Ljubic off his favoured forehand. Dorman narrowly took the first with deft touch and some strong hitting and in the second Ljubic, the singles aggregate winner, took control to outplay Dorman. The third again featured some outstanding table tennis , this time it was Dorman who rallied late in the match to force Ljubic into errors which enabled Dorman to record a tremendous 17-15 7-15 15-11 victory and give his team a 5-4 lead. Dorman had recorded three singles victories for the first time for the season and what a time to do it.
From here however the wheels fell off for Mallee Bearings with Carpeters players Mark Ljubic and Lee Leeson in their singles matches methodically disposing of their respective opponents Gavin Carmichael and Michael Hensgen in straight sets to give Max Miller Carpets a 6-5 win and a passage through to the grand final this week.
– Cash Converters 6 (Kate Carmichael 3, Liam Wood 1) d Exposed Signage/Apparel 5 (Nicholas Dorman, Leon Brown 2, Thanh Nguyen 1)
Second placed Cash Converters in an action packed match outlasted third placed Exposed Signage & Apparel to advance to the grand final. Converters skipper Phil Smith was a late withdrawal with a back injury and he was replaced by Kate Carmichael.
Carmichael went on to have an outstanding final winning three singles and taking part in both doubles victories for Cash Converters. Her match against opposing number one Nicholas Dorman was a top class affair. Dorman is known for his powerful forehand and backhand drives and he did not disappoint however Carmichael was able to defend on most occasions and use her angles to advantage. This match was a lengthy three setter with Carmichael winning 13-15 15-10 15-9 much to the delight of her teammates Jackson Murphy and Liam Wood.
With the scores locked at five rubbers all Wood played a very intelligent match against Thahn Nguyen, both players have enjoyed a successful season and despite being nervous Wood showed great maturity to outlast Nguyen 15-12 15-10 and take the Converters to the grand final.
PENNANT TWO:
MJM Automotive, ladder leaders at the end of the season were bundled out of the finals by fourth-placed Pinnacle Packers; in the second semi-final, Cooke's Pools & Spas won their eighth match from the last nine games, defeating Max Miller Carpets who led this competition for the majority of the season.
The top team have been bundled out by the fourth team Pinnacle Packers 6 -3 , Ash Morrison in fine form winning 3 singles and both doubles.
Another 6 -3 in the other semi with Cookes winning thru to the grand final
Russell and Casper 2 each with Rohan winning an important singles. The doubles were shared.
– Pinnacle Packers 6 (Ash Morrison 3, Bernard McCarthy 1) d MJM Automotive 3 (Paul Kealley 2, Terry Martin 1)
On the two occasions these sides met during the season, MJM Automotive came away victorious, 6-5 on both occasions. The most recent was just two weeks ago.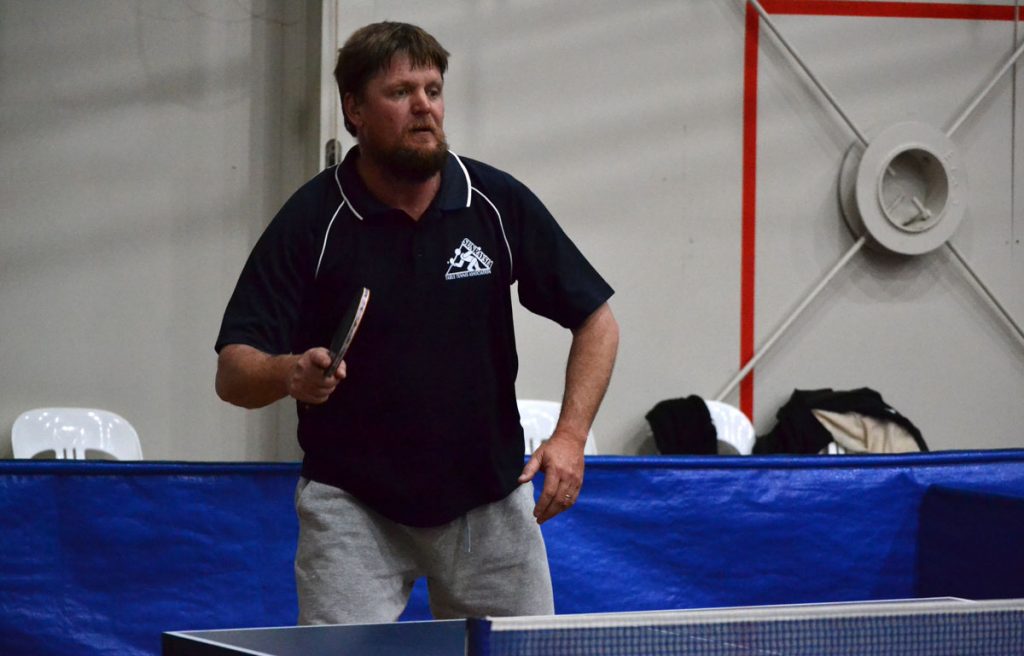 Ashley Morrison, Pinnacle Packers captain was primed for this match. Putting those two previous defeats behind him, he led his team to a 6-3 win here. First, he navigated victory against Terry Martin. After losing the first set 2-15, Morrison needed to dig deep to get a foothold, and Martin was not giving up his advantage easily. Morrison edged Martin in the second set 15-13 to give himself a chance, then in the third set, with his confidence growing, took the match 15-9. After defeating MJM Automotive number three Marcus Cimino in the second round of singles, and with his team leading 5-3, Morrison hardly gave MJM Automotive captain Paul Kealley a look in, taking a straight sets victory 15-10, 15-11.
That was impressive, but the other factor working for Pinnacle Packers was their wins in both doubles rubbers. MJM Automotive were simply kept out of the match … the first doubles rubber going to Morrison and Bernard McCarthy 15-13, 15-9 against Kealley and Martin. The second doubles was the one which probably broke MJM Automotive. Had they won that rubber scores would have been 4-4, in the event Morrison and David Sergi had little trouble defeating Kealley and Cimino 15-9, 15-12, and so taking a 5-3 lead with three rubbers to play. And the next rubber was the Morrison-Kealley match-up which became the final rubber.
The sixth rubber for Pinnacle Packers came from Bernard McCarthy, when he defeated Cimino in the opening rubber. All the other rubbers, i.e. the ones which MJM Automotive won, were expected to go the way they did, so the difference between the two sides was the performance of Morrison.
Final scores: 6 rubbers to 3 and 13 games to 7.
– Cookes Pools & Spas 6 (Russell Walder, Casper McCarthy 2, Rohan Reimers 1) d Max Miller Carpets 3 (Jason Gifkins, Jeremy Corrin 1)
Cooke's Pools & Spas have put together an impressive string of wins in this competition, this being their eighth win from their last nine matches. And with their rise, Max Miller Carpets has almost been the mirror opposite, in that they lost five of their last six matches for the season.
Like the previous match, the result was 6-3, but there was no player recording three singles rubbers. Cooke's Pools & Spas captain Russell Walder won two, but fell to his opposite number Jason Gifkins in straight sets 15-10, 15-9. But Gifkins himself was pretty much demolished by Walder's number two Casper McCarthy. In the opening rubber, McCarthy came out firing and rushed through the first set 15-4, and although Gifkins did better in the second set, McCarthy was a level ahead of his opponent, and took that set 15-11.
McCarthy played only two singles' rubbers, and in the second, defeated the much improved Jeremy Corrin, again in two sets 15-8, 15-13. It was no surprise then, that when Walder and McCarthy played the first doubles rubber they were victorious against Gifkins and Corrin 15-12, 15-13.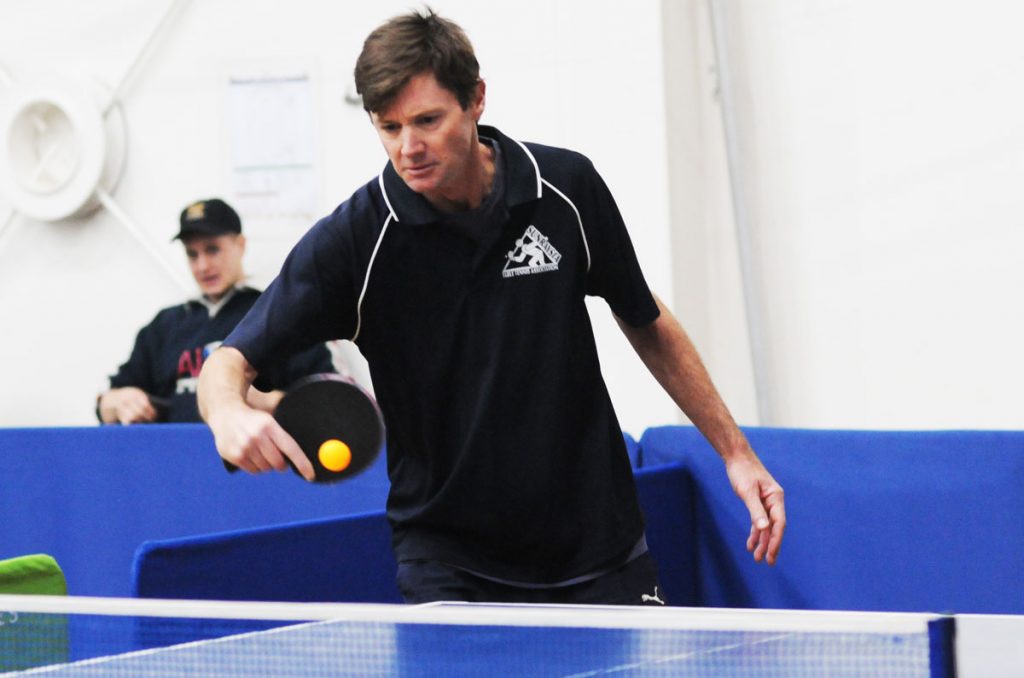 Walder's second rubber was his win against Arthur Paar, a player who on his night, is as good as any player in this pennant. Paar took the first set 15-13, but could not hold Walder out, with Walder taking the next two sets 15-8, 15-11.
That was five rubbers for Cooke's Pools & Spas. The sixth was the important win by number three Rohan Reimers over Paar, in straight sets no less, 15-10, 15-12.
Max Miller Carpets three rubbers came from wins by Corrin over Reimers, 15-10, 15-11, Gifkins over Walder 15-10, 15-9, and the second doubles Gifkins and Paar just crept over the line in a fabulous three setter against Walder and Reimers 19-21, 15-12, 15-13.
Final scores: 6 rubbers to 3 and 13 games to 7.
As for the Grand Final –
Cooke's Pools & Spas have defeated Pinnacle Packers twice, 8-3 both times. The numbers say they should win again. Cooke's captain Walder won the aggregate for this grade with 26 wins from a possible 30, Pinnacle Packers captain Morrison was second with 23 wins from a possible 30. For the number two's, Pinnacle Packers number two Bernard McCarthy finished the season with 14 wins from 27 games played, whilst his opposite number for the Grand Final, his son Casper right behind on 13 wins from 27 games played. And for the
number three's, Cooke's again have the advantage, Rohan Reimers winning 8 rubbers from 30 games played, twice the number of his opposite number David Sergi, who scored 4 from 30 games played.
PENNANT THREE:
Number one team Cooke's Pools & Spas made short work of their semi-final match with Weightmans Packaging, conceding just one rubber on their way to victory; MJM Automotive had a much tougher time of it with Mallee Meats, using wins in both doubles rubbers to take their win.
Top team Cookes breezed thru to win 6-1 Both Therese and Emily winning two while Miya won one.
Weightmans skipper Sabrina F tried HARD WINNING 1 SINGLES AND FORCING Emily TO 3
In a longer match MJM defeated Mallee Meats defeated 6-4
Winning both doubles was a key while Andrew and Frank won two singles each as did Aidan and Brice for Mallee Meats
– Cookes Pools & Spas 6 (Therese Fitzpatrick, Emily Carmichael 2, Miya Lock 1) d Weightmans Packaging 1 (Sabrina Fitzpatrick 1)
Cooke's Pools & Spas showed once again why they finished on top of the ladder, this week with a clinical win against Weightmans Packaging in this semi-final match.
Not that it was any sort of a walk-over, mind. They simply knew when to put the hammer down, when to ease off.
In the first rubber, Emily Carmichael conceded the first set to Sabrina Fitzpatrick (dangerous thing to do) 8-15, but thereafter controlled the match winning the next two 15-10, 15-9. Next up, number three Miya Lock took what was really an unexpected win. Playing the very patient number two Nick Kiapekos, Miya simply played her heart out, winning the first set 15-12, dropping the second 11-15, then after at various times having a healthy lead in the third set, edging Kiapekos 16-14 to put her team up two rubbers to nil.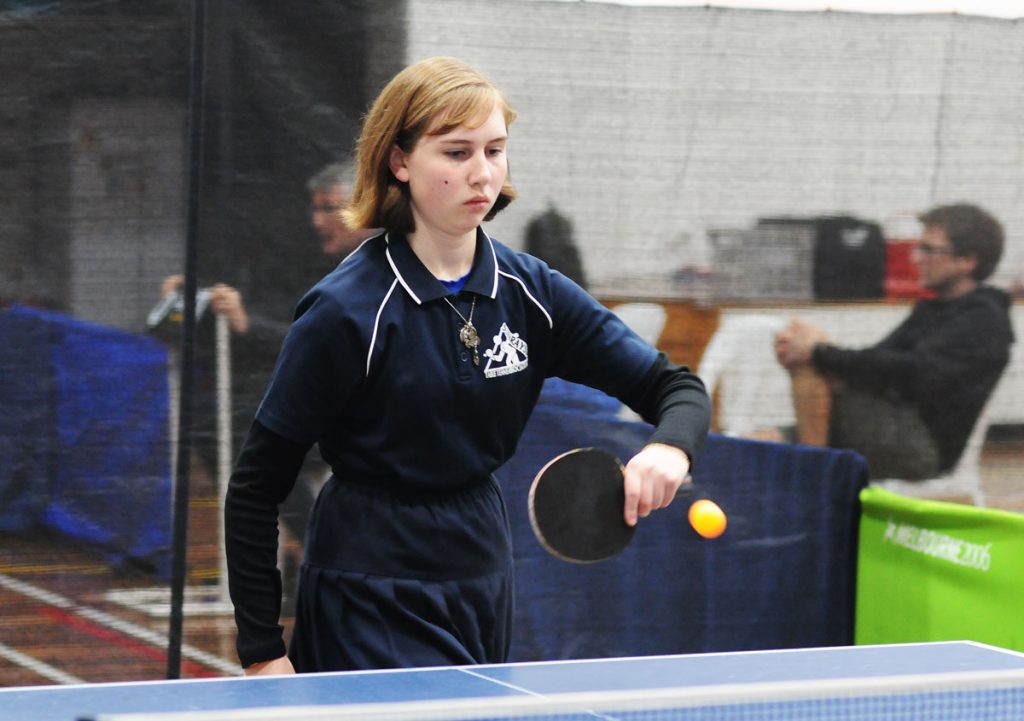 The next rubber saw Therese Fitzpatrick at her dominant best. Therese went for winners at every opportunity, and whilst her opponent Isaiah Bettess, landed a few punches of his own, her performance was pretty overpowering, winning 15-7, 15-11.
The first doubles rubber saw Therese and Emily up against Sabrina and Nick and after the first set 15-7 it seemed that the domination by Cooke's Pools & Spas was to continue. The Weightmans Packaging pair fought back however in the second set, hanging on to take it 18-16. Sadly, they did not get much of a look-in in the final set with the Cooke's pair racing through the set 15-8.
That made it 4-0, and it blew out to 5-0 after Therese defeated Nick Kiapekos 16-14, 15-5.
In the sixth rubber, finally a win for Weightmans Packaging … Sabrina made sure that Miya Lock was not going to continue her giant-killing ways with her. Sabrina controlled the match to win 15-6, 15-8 and with Isaiah Bettess to come the possibility of a second. Bettess carefully matched his opponent Emily Carmichael for the first two sets,
Carmichael took the first 15-12, Isaiah the second 17-15. At that point Emily took her game to overdrive and did not give Isaiah another look in, winning the third set 15-5.
Final scores: 6 rubbers to 1 and 12 games to 6.
– MJM Automotive 6 (Andrew Kremor, Frank Hickey 2) d Mallee Meats 4 (Aiden Riordan, Brice Lock 2)
This was a much closer game … four players won two singles rubbers and six of the ten rubbers played went to the full three sets.
After four rubbers the score was two all … Brice Lock defeated the improving James Jarvis in two sets 15-10, 18-16, MJM Automotive equalised when Andrew Kremor defeated Karly Leach in two sets; then Mallee Meats' Aidan Riordan won against Frank Hickey, also in two sets.
The first doubles went to MJM Automotive courtesy of Kremor and Hickey defeating Riordan and Lock in three sets; Mallee Meats then got a small break taking the next two rubbers. Mallee Meats number two Brice Lock defeated MJM Automotive captain Kremor in a good three setter 15-6, 11-15, 16-14. Riordan followed up with a three set win of his own over Jarvis, and Mallee Meats started to count the rubbers down.
Alas, MJM Automotive struck back, denying Mallee Meats of any further wins. Hickey won in two sets against Leach; the second doubles also went to MJM Automotive as Kremor and Jarvis came from a set down to defeat Riordan and Leach 13-15, 15-11, 15-10. The scores were now even again, 4-4.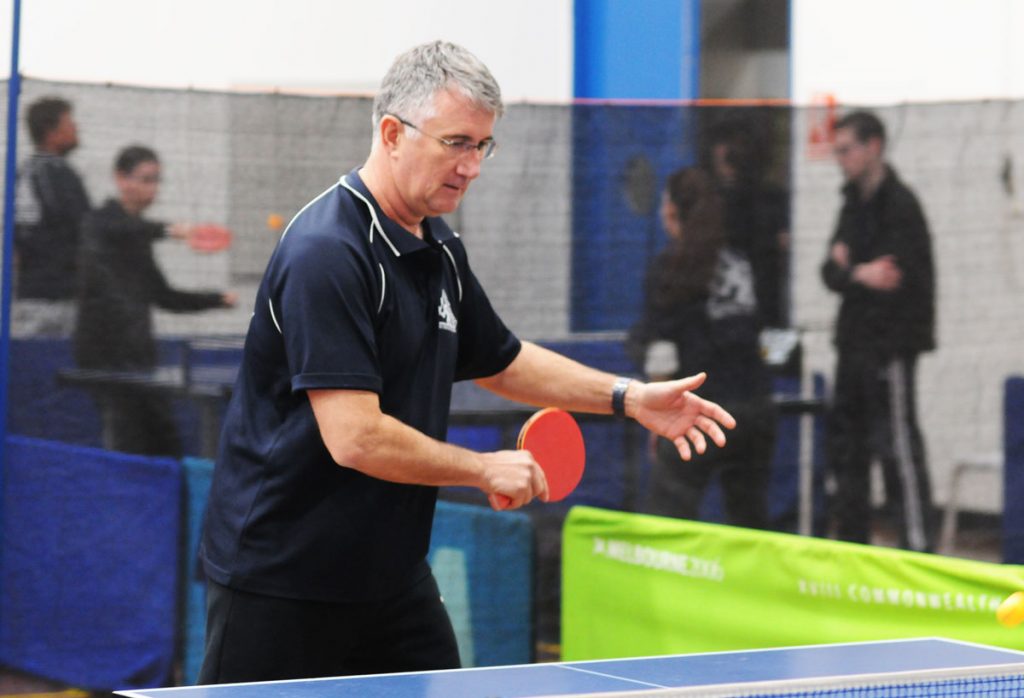 The clash of the captains saw Kremor win a close three setter against Riordan 15-13, 10-15, 15-13, and Hickey followed up with the match winning rubber by defeating Lock, also in three after also losing the first set, 12-15, 15-11, 15-11.
Final scores: 6 rubbers to 4 and 14 games to 12.
As to a tip for the Grand Final
It is very difficult to predict a winner here. The composition of MJM Automotive changed in round 7 when Frank Hickey joined the team. In the four rounds he played, he won 10 singles rubbers from a possible 12, outscoring his captain in the same period. So these two team have not played each other in the form in which they will
meet in the Grand Final. On the two occasions they met during the season, they had a win each, and on each occasion the margin was 6-5
PENNANT FOUR:
The first week of the finals saw MJM Automotive roar into next week's decider with a big win while Tankard Dental have scored a hard fought victory to book their place.
Top team MJM raced thru to the grand final with a 6-1 victory over Mallee Meats
Dave , Nycole and Jamie won two singles each
Second placed Tankard Dental defeated Dunkley Scales 6-3
For the victors Billy Stephens won two as did Glenn Leeson for Dunkleys.
Re fill ins……………….Billy Stephens is out of P4
MJM Automotive 6 (Nycole Riordan, Jamie Kealley 2, Dave Tanner) def Mallee Meats 1
MJM Automotive have had an early night by emphatically defeating Mallee Meats. This contest only needing seven matches and with Nycole Riordan, Jamie Kealley and Dave Tanner (filling in for Ben Hosking) each winning the two singles matches in which they played thus this result was academic.
The first match of the night MJM's Jamie Kealley was up against Meats Wendy Simpson. The last time these two combatants faced off was in round eight with Kealley sneaking over the line 15-13 in a gripping third set. This time around Simpson took the first 16-14 and Kealley the second 15-10 to again set up a grand finish. A point for point battle ensued in this tight tussle for this set with both players determined to find the victory line. History did repeat itself with Kealley prevailing 16-14 in this set giving his team the perfect start.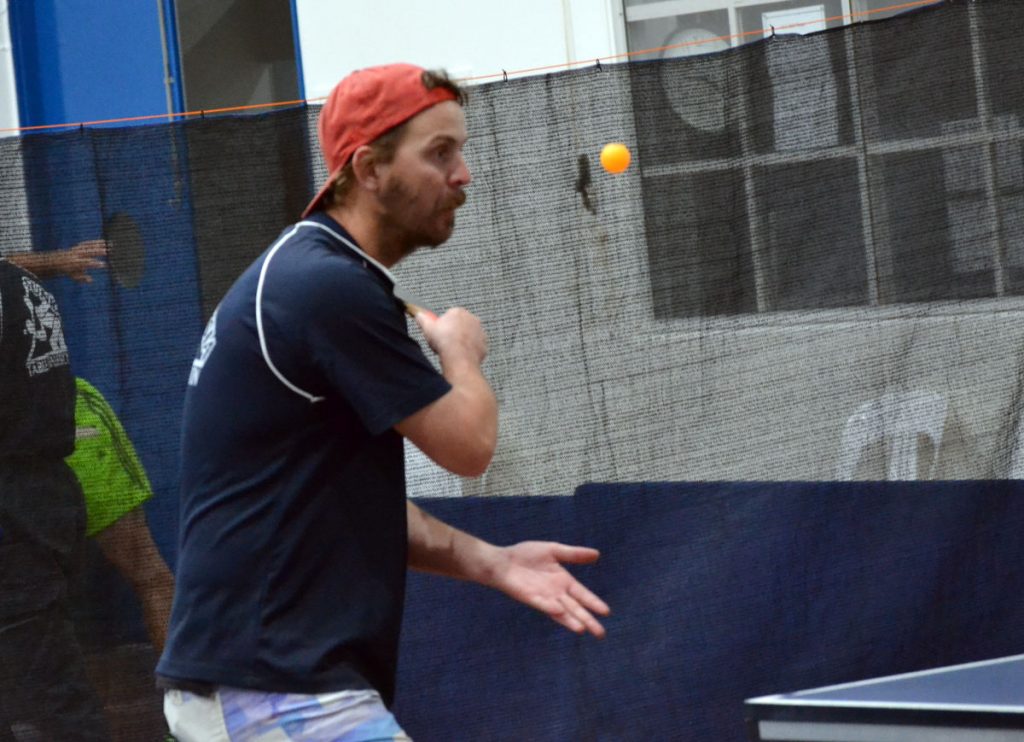 In the second match Dave Tanner accounted for Hollie Lock in straight sets to give MJM a 2-0 lead. The third match was critical for Mallee Meats as skipper Joy Sullivan took on MJM's giant slayer Nycole Riordan in a must win match for the Butcher's. Sullivan and Riordan exchanged some lengthy rallies in the first set before Sullivan took this 16-14. The second set was a near repeat of the first with Riordan levelling things up by taking it 16-14. Riordan has hit a purple patch this season, up to this point had won her last nine singles matches, and was desperate to extend her winning streak. In the third set Riordan was able to capitalize on her great form and pulled away to record a great win by taking the third 15-7.
The only highlight for Mallee Meats was when Simpson and Sullivan combined to defeat Riordan and Tanner in a tight three set doubles match. Alas, it was too little too late. In conclusion, MJM Automotive had the right ingredients this night to sizzle opponents Mallee Meats to the tune of 6 rubbers to 1.
Tankard Dental 6 (Billy Stephens 2, Jacinta Ljubic, Abbey Carmichael 1) def Dunkley Scales 3 (Glenn Leeson 2, Kelsey Davey 1)
A great team effort from Tankard Dental have propelled them into next week's Grand Final. Tankard Dental's Billy Stephens was the difference between the two teams in securing two singles victories and an important doubles victory with skipper Jacinta Ljubic. In addition, Abbey Carmichael (filling in for Tim Finck) played a vital role in securing a singles victory and again teamed with Ljubic to win a vital doubles match.
Dunkley Scales got off to a bright start when Glenn Leeson took on Tankard's Jacinta Ljubic. In a close match, there were many momentum swings but it was Leeson who won 15-10, 10-15, 15-13 to get his team off to the perfect start. Tankard's hit back immediately with Stephens defeating Dunkley's Raylee Waugh in straight sets.
The third game of the evening saw Abbey Carmichael and Kelsey Davey play an entertaining match. Carmichael took the early ascendency to take the first 15-10 before Davey turned the tables to take the
second 15-10 and with momentum with her secured the third 15-11 to give her team an early advantage.
At the start of the season, Tankard Dental found it difficult to win a doubles match. Well, all this has changed with Ljubic and Stephens taking the first of these contests against Leeson and Davey in straight sets to again level the evening at 2 rubbers all. Later in the evening, the second doubles was also crucial with Ljubic and Carmichael taking this in three tight sets against Leeson and Waugh.
The last match of the evening saw Stephens up against Davey. Davey needed to win this match to keep her team alive. Stephens, displaying his best form to date, had other ideas in defeated Davey in straight sets. With this win Tankard Dental continue their journey along the Yellow Brick Road into next week's Grand Final whereas Dunkley Scales journey ends. Well done to both teams on a fine finals match. Tankards have prevailed over Dunkley Scales 6 rubbers to 3.
Next week's Grand Final
MJM Automotive against Tankard Dental. I hope all players, friends and family can come out to support the players and make this a great night. Also, don't forget there are trophies to hand out to Grand Final Winners, Aggregate Winners, Super 8 Winners. See you all next week.